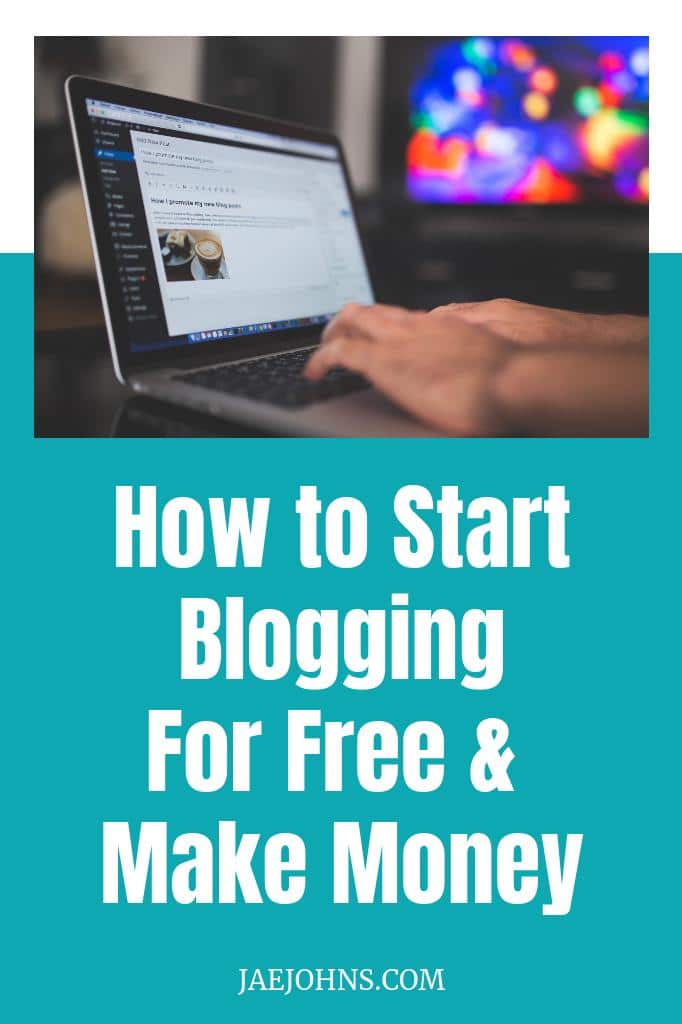 Disclosure: There are some affiliate links below and I may receive commissions for purchases made through links in this post, but these are the products that I highly recommend. I won't put anything on this page that I haven't verified and/or personally used.
What is a blog?
A blog is a collection of articles that informs, inspires, or entertains the people you're trying to communicate to. Think of it as an online magazine.
Should you learn how to start blogging for free?
Absolutely! One thousand percent YES!
Learning how to start blogging for me has personally changed my life, and not just mine but many other bloggers as well.
For me, blogging gave me so much. It allowed me to live my day to day like how I wanted to live it. The perks of learning how to start blogging for free incredibly outway the cons. Before I started to seriously blog I researched many other bloggers to find out what their thoughts were.
I found many bloggers from people who have been blogging for several years to people who recently started. To my delight, I found so many people who had their lives positively changed by it. People like Michelle from Making Sense of Cents, Allison Lindstrom, Tom Blake from This Online World, and so much more.
Are there people who haven't had success with it?
Oh, I'm sure there are! However, I haven't seen anyone not have success with it as long as the person is committed to doing the work. This includes me. In a few short months, I've had incredible success.
Blogging Benefits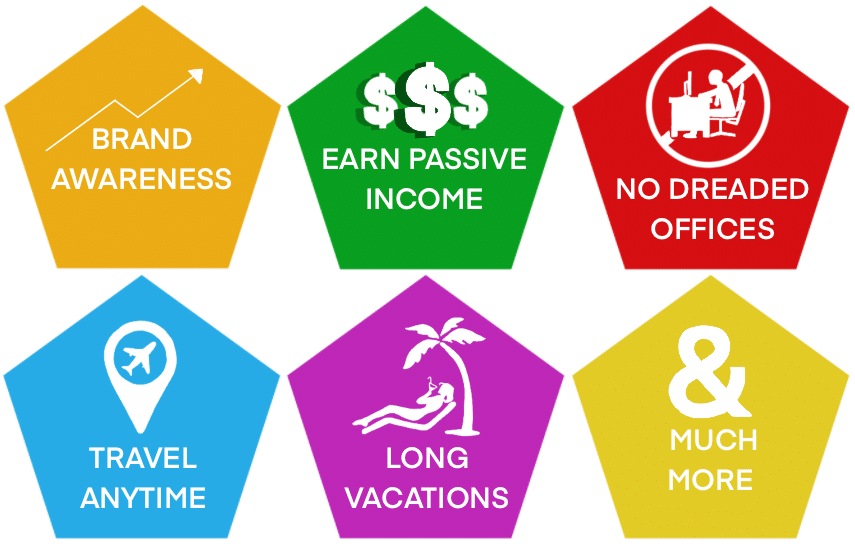 These are the benefits I've gotten just from 6 months of learning how to start blogging for free:
Way more freedom
Making passive income
Wake up when I want to wake up and work when I want to work
Increasing my brand awareness
Don't have to go to an "office" to work. I can work from the comforts of my bed, friend's house, or take a stroll to a coffee shop
Get more exercise
Way less stress
Gives me more mental clarity
Every day I'm fulfilled to work the next day
Travel anytime my wife and I want
Extra-long vacations
and I'm sure there are other things I can't think of at the moment
Additional Perks to Starting Your Blog
In addition to these perks, there are a few things that I like about knowing how to start blogging for free that virtually no other business can give you:
There is no limit to the money you can earn. When you work at a 9-5, your earning potential is limited. With blogging, it is not. As long as you put in the work, there is no cap to how much you can make. Michelle from Making Sense of Cents earns over $100,000/month blogging. That's insane! Now I'm not there yet but knowing that I can shoot for $10,000/month puts a smile on my face.
You don't need to spend any money after you buy hosting and a domain. In most other businesses you need a good amount of start-up capital. For example, my relative recently opened a restaurant and she had to spend thousands of thousands of dollars just to open the business. With blogging, you only need money for your domain and hosting, which is less than $100. You can get it for as low as $2.95/month if you sign up with my Bluehost link. However, blogging is completely free after that. Bluehost provides you with a self-hosted site, which is necessary for you to be able to make passive income with your blog.
You'll make passive income. At most other businesses you'll have to trade the number of hours you put into the job for a certain amount of money. With blogging, you can earn money from doing nothing. Now it takes a good bit of work to get to that point, but still, it's a possibility that many bloggers achieve. And you can, too! Remember to have a self-hosted site to make passive income. You can do this by clicking on the Bluehost link above.
You don't need to be an expert or savvy with computers. In any other job, you'll need a resume or credentials to qualify for the job. With blogging, you don't need any of that. You might be asking, "I'm not great with computers and wouldn't know how to set a blog up". When you signup with Bluehost, it has a super easy WordPress automatic setup that does it in less than 5 minutes and in 1 click. Once that's done, you can start writing articles. It's that easy!
I use to work a 9-5 job and nearly made a 6 figure income. I wanted to live life on my terms and spend more time with my family. Knowing how to start blogging for free has been a blessing for me.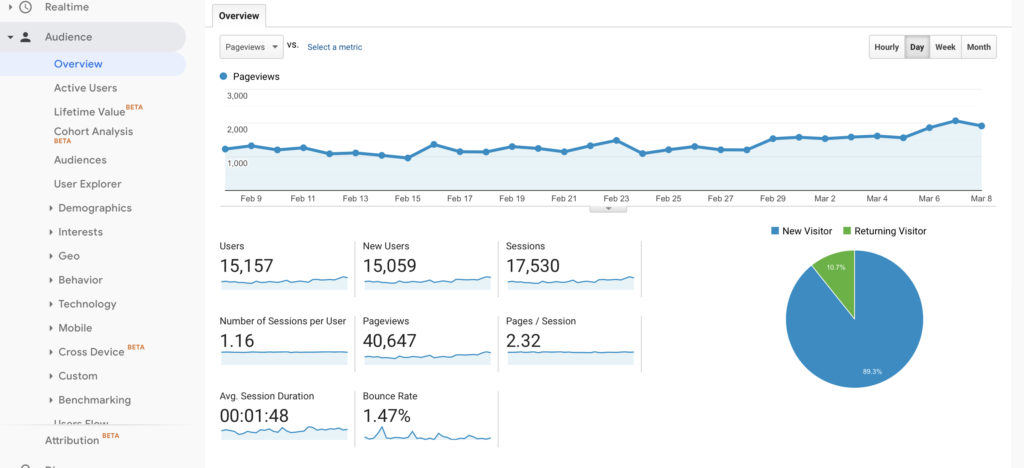 I'm currently over 40,000 views in a month with my blog and earning passive income in less than 6 months. It didn't happen overnight. It took dedication and work, but I will honestly say this. Anybody can have success in blogging. I'm nobody special. I just put in the work.
So do I think you should start a blog? Absolutely YES!
As long as you're looking for similar things I've listed in my perks listed above.
How do you come up with a blog name?
You can choose a company brand name or use your personal name for your blog.
I've researched many bloggers, who are now earning a full-time income from blogging. A company brand name and personal brand name both work.
It's a matter of what you prefer. I'd recommend if you already are known for a specific name, then go with that one. If not, then I recommend using your name. I've seen bloggers use their name and it works just fine.
Instead of thinking too much about a name, it's more important if that name is easy to say. If the name is easy to say, then it's most likely easy to remember.
Having a name that is easy to remember is hugely beneficial to the longevity of your brand.
The other reason I suggest to use your name is that I've seen people come up with a company name only to not like it after a few years. If you like your name, chances are you'll be fine with a blog named after you for 5, 10, 20 years.

Which blog site is easy to use and best to earn money?
There is a reason why 60% of bloggers and 30% of all sites use WordPress. It is without a doubt the easiest to use, it's free, and it is the best platform to earn money.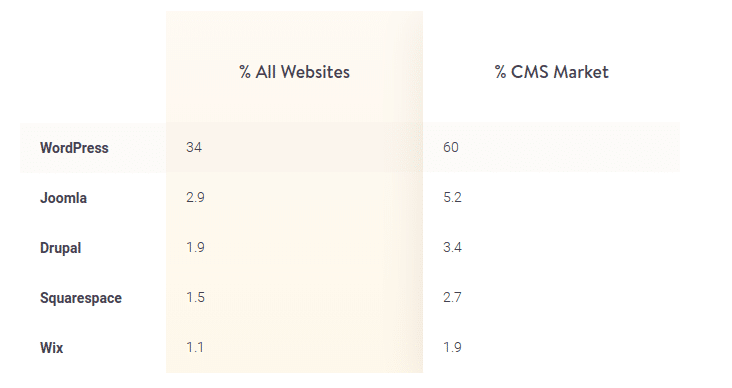 The reason why WordPress is the best in terms of learning how to start blogging for free and to earn money is because it's a platform that is universally accepted.
For example, once you start increasing your traffic on your blog, you'll want to start monetizing your traffic. The way to do that is by working with an ad network and placing ads on your site.
Certain ad networks only work with certain blogging platforms. WordPress is a blogging platform that EVERY ad network works with and more and more people use it each year.

It would suck if you choose a blogging platform, put in a tremendous amount of work to grow your traffic, and then find out you can't work with an ad network to make money from the number of visitors coming to your site.
How to install WordPress
I highly recommend using Bluehost. When you click on this link, you can get it for $3.95 a month. Whenever I have a question or concern, they always respond to me quickly and go the extra mile in helping me.
What do you blog about?
One question I hear a lot about how to start blogging for free is "do I have to be an expert?" You don't.
I have over 100 articles on my site, and I'm not an expert on all the articles. I blog about things that I think can truly help other artists. Every article I have solves some concerns or struggle an artist has.
You only have to know more than 1 person to blog about something.
You can also start a blog about things that you're learning instead of trying to only blog about things that you know very well.
Knowing how to start blogging for free is not about proving or showcasing how much of an expert you are, but rather by being helpful to the demographics you want to help.
Learning something new and blogging about what you've learned and the struggles of it is extremely helpful.
Whether you blog about things you know extremely well or things you're learning, you should be asking yourself, "does this help at least 1 person?". If it does then you're bringing value.
Where to get images for your blog
Blogs and images go together like kimchi and rice. Images are immensely important when knowing how to start blogging for free.
I used to have almost no images on my blog posts. My posts were formatted well with proper subheadings and all but didn't include much images.
Then I got some personal advice from Neil Patel, and I knew how important it was. Since then I make the effort to include at least a few images in all my posts when I publish them.
Why is this important?
Adding images to your blog posts break up the wall of text and help enhance the usability. This is crucial in learning how to start blogging for free. After I updated my previous posts and current posts with images, then I reindexed those pages I saw an improvement to my Google search rankings.
Now that you know how adding images can grow your traffic, you might be asking, "Where can I get images for free?"
Unsplash – One of the most popular free stock photography sites. 10 new images get added every week, and this site has an extensive collection of images that is important to learning how to start blogging for free.
Pexels – Another popular stock photography site; however, Pexels conveniently has free stock videos.
Stocksnap – A high-quality stock image site that prides itself on you being able to use the images completely for free. This includes freely using the images for commercial purposes.
Magdeleine – A great resource for handpicked photos.
Fancycrave – Free stock photos for personal and commercial use.
Pixabay – A free stock image site that not only includes photos but also vectors, videos, and illustrations.
The Stocks 2 – Unlike other stock image sites, The Stocks 2 is a collection of several stock images sites.
Your Camera – This is a great option, as it can be the most convenient. With smartphone cameras getting so much better, images taken from your camera a great option to help add some authenticity to your blog posts.
Promote your blog to increase traffic
I have to admit that I was resistant to promoting anything when I first started learning how to start blogging for free. It felt a little daunting to me; however, I kept hearing you should spend more time promoting your content than producing your content when I worked in marketing.
As I got more into promoting my blog posts, I realized it's like everything. There's no need to shy away from it.
Promoting my blog posts has been significant in growing my traffic. As you can see in the screenshot I'm getting thousands of views just from using Pinterest alone!
Here are some free ways you can promote your posts.
Conclusion
If you want more freedom in your life, if you want to make passive income, if you want to live a less stressed life with more mental clarity, then I highly recommend learning how to start blogging for free around a topic you're interested in.
If you're a creative looking to increase your brand awareness and eventually make a full-time income, then following this guide on how to start a blog can be a great turning point in your artistic career like it was for me. I use Bluehost and WordPress and both have been invaluable tools as the starting point to growing my traffic, getting more emails, and earning more income each month.
What are your thoughts on blogging? Did you ever think blogging could be a great way to improve your art business?