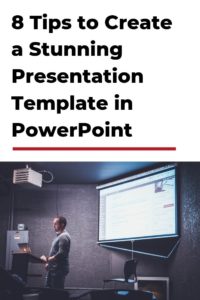 Making a presentation template in PowerPoint is a skill that can save you and your company a lot of time. The use of a good template can help expedite many processes for you.
A template is a powerful tool that you can reuse time and time again. Rather than spending time customizing every single time, a template allows you to just add information and go. This is a particularly useful tool for people who make frequent presentations.
Templates are a great way to make sure that you stay true to your brand. They offer you a complete setup that can easily be manipulated to provide quality information. This is perfect for making sure that your brand and company remain consistent.
It makes it easier for anyone to take on the task of creating a new presentation. This process also shows customers that you have a commitment to your brand and values by providing consistency. It is an invaluable tool.
Need more templates to help your company? Check out these articles. 

Focus On Your Brand
The most important thing to consider when it comes to making a tool like this is your brand. Under no circumstances should you design a template that doesn't match your brand. This means you will want to use anything that might be expected from your brand.
Common considerations include color scheme and font choice. Staying true to what people expect here can be helpful when solidifying your brand in their mind.
Presentations can change in tone depending on the information being presented. However, it is generally best for these changes to be managed by the presenter. Instead of drastically changing the appearance of your PowerPoint presentations, you can let the presenter change the tone.
This does an excellent job of allowing you to stay professional with considerations for the audience. Using a template can help provide that perfect professional backdrop for a speaker in any circumstance.
For your presentation template in PowerPoint, you will want to focus on staying true to your marketing material. It does not have to be identical to your marketing, but it should be in the same ballpark. Some companies leverage this by providing a twist on their traditional branding.
It might mean leveraging one color more than another in your color scheme. It could involve changing the lighting or imagery. You want it to be recognizable without looking like an advertisement.
Choose A Good Theme
The right theme can go a long way with a good presentation. When you're making a presentation template in PowerPoint, you want to find the right one. Since the goal is to make this presentation reusable, you want to find a theme that will work every time.
Themes can vary greatly depending on if you modify existing options or build your own. Regardless, you want to make sure you put your best foot forward here.
Within PowerPoint, you have themes and variants. These themes are PowerPoint template designs that make it easy for you to provide a color scheme and look to your presentation. Themes can be applied across slides of different kinds and can make it easy for you to manage your looks.
Variants are themes that are the same with a different color scheme. In many cases, these can be incredibly useful for different kinds of functions.
Using themes and variants is a great way to provide consistent presentations while still allowing for some changes. You might use different color elements for sales presentations over marketing presentations. You can easily use this to manage how you interact with different groups of people while still staying true to your brand.
PowerPoint offers a variety of existing themes that you can alter with your color scheme to make your own. You can also custom create a theme and go from there.
Make Good Use of Your Logo
A great way to make a presentation template in PowerPoint is to include the use of your logo in the design. Adding your logo is a perfect way to stay true to your brand. More importantly, it showcases your company.
This makes it easy for people to affiliate this with your brand with your message. Using this approach is even better if you will be sending the presentation so people have the information.
Including your logo is an excellent way to make your template design that much more professional. You might not want to make every slide have your logo as a background. That can be a little excessive. However, using it in a smaller capacity in the corner of each slide is great for showing your business off.
This enables you to quickly and easily remind people who they are working with and show off your great branding. This is crucial for instilling confidence in your client.

Find The Right Presentation Elements
When it comes to designing a good presentation template in PowerPoint, you'll want to find the right elements. This is a combination of design options that can bring your presentation to the next level. You've already read about the importance of theme and logo use.
There are plenty of other important design elements like fonts, images, and tables. Finding the right elements with these can save you a lot of time when making a presentation.
Every single presentation needs to have the right fonts. This can change depending on your needs as a company. Some companies have specific fonts that they use for all marketing content. This would be an instance where you would likely use those fonts.
However, if you have creative control, you have more options when it comes to finding the right fonts. You'll want font options for headers and body content. You'll need to make sure that your font is easy to read and appealing to look at.
You might not need a chart for every presentation, but having one prebuilt can save so much time. If all you have to do is plug in your information, you can quickly create stunning presentations. This makes it possible for you to create great designs on the go. It also allows you to have complete consistency when it comes to adding in charts.
Depending on how you use images, it can be helpful to have stock ones on hand. These images should all look relatable and in the same color scheme. You'll want them to look consistent so they appear correctly throughout the design.
It can be helpful to have premade slides for certain kinds of content with consistent imagery. This makes it easy for you to get the most out of your template regardless of circumstance.
Consider The Information You'll Need
An effective way to create a presentation template in PowerPoint is to think about what you want to say. In most circumstances, you'll be reusing this template multiple times. Understanding what kind of information will be going into it can help a lot with design.
You'll find that when you have a consistent kind of content to relay, it becomes easier to manage formatting. If you already know what you're going to need, this can make it easy for you to reuse certain design elements.
The information that you are offering will determine how you design this project. First, you'll need to consider the kind of content that you will be sharing and how it should be laid out. If you're using a template to show a client any business decisions or anything like that, it should always be the same.
Finding the most effective way to share information can help you perfect your template. You'll find that this consistency makes giving the presentations that much easier.
Following a specific pattern with templates is a great way to always be ready to knock it out of the park. By using a consistently formatted template, you'll realize just how much easier it makes things.
Finding the overall presentation design that aligns with your focus is crucial before you make a template. You'll want to tweak your approach as needed and then prepare the final draft for reuse.

Prepare A Slide For Every Use Case
A crucial element when it comes to making a template presentation in PowerPoint is remembering to create a slide for every option. You'll want to make sure that your bases are covered for any presentation if you need to modify.
By focusing on making sure that every use case is covered, you can save time down the line. You might not need every slide every time. However, it more than pays off to be able to just add a slide or remove a slide as needed. A little work, in the beginning, can take you a long way when it comes to template use.

Focus On A Clean Design
An important part of making a presentation template in PowerPoint is to perfect your design. Finding a good design can help you to successful relay information. Focus on keeping your design clean and orderly so people can follow along.
Remember, a presentation should never have every single detail. Keep your written content to relevant information only. Let the presenter speak to the rest of it. Creating a simple design is the best way to maximize on using it.
A clean design can drastically impact the way that your company presents itself. Good design choices can make your company look more professional and well-prepared.
This is even more important when it comes to getting the most out of a template because more people will see it. You want to make sure that you put your best foot forward when you create a template. Get it right the first time so it works time and time again.
Only Include Relevant Pre-Filled Content
A big mistake people make when using a template is focusing on the content. A template should be designed for reuse. This means you don't want your template to be filled with information. Make sure that the only details added to your template are important for the use of every single presentation.
You might use consistent opening and closing slide content. These can be filled in and left as the same for multiple projects, so this is a good use of pre-filled content. You want to avoid just reusing the same complete presentation when you design. To dodge this, you'll need to erase all of the content that won't be applied to every single presentation.
Conclusion
When it comes to creating a good template presentation in PowerPoint, you'll want to focus on the overall feel. Make sure that your presentation is something that can be easily reused. To make a template, it can be helpful to create the perfect presentation and convert it after.
All you have to do is get it made, then empty the content before saving it as a template. This is a great way to make sure that it is fully functional.
You can always adjust templates as needed. To focus on getting the most out of your template, try out a few presentations and adjust as needed. You might learn that one slide is more effective further on in a presentation. In some instances, you could find that your color scheme isn't working.
These changes can be identified and updated if you need them to be. Don't worry about getting it right the first time. Sometimes you'll need to make adjustments before you can move forward. It is all a part of the process.
How often do you have to create presentations?