Pastel pencils are a beautiful hybrid between colored pencils and soft pastels. These art supplies are perfect for making detailed art that also shares the smooth natural feel of soft pastels.
When you are new to this medium, you might be wondering where to start. Finding a quality product that isn't too expensive can be a bit of a challenge.
Fortunately, I brought together this fun list of pastel pencils for beginners to help you get started with this exciting art style!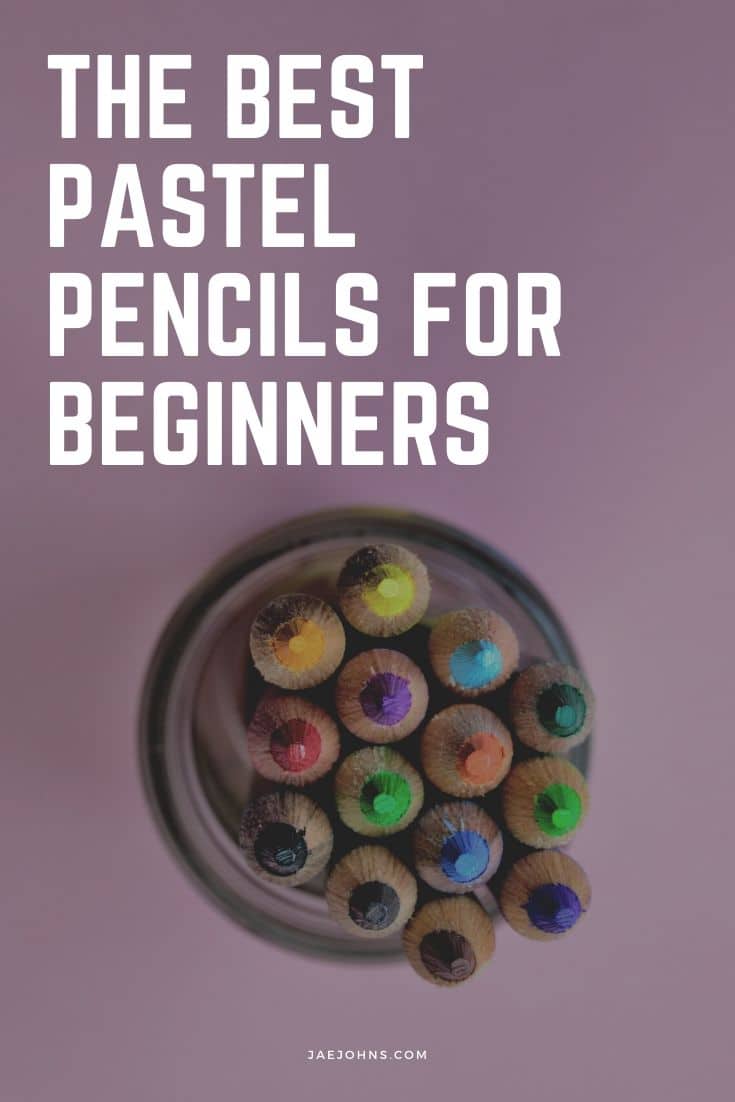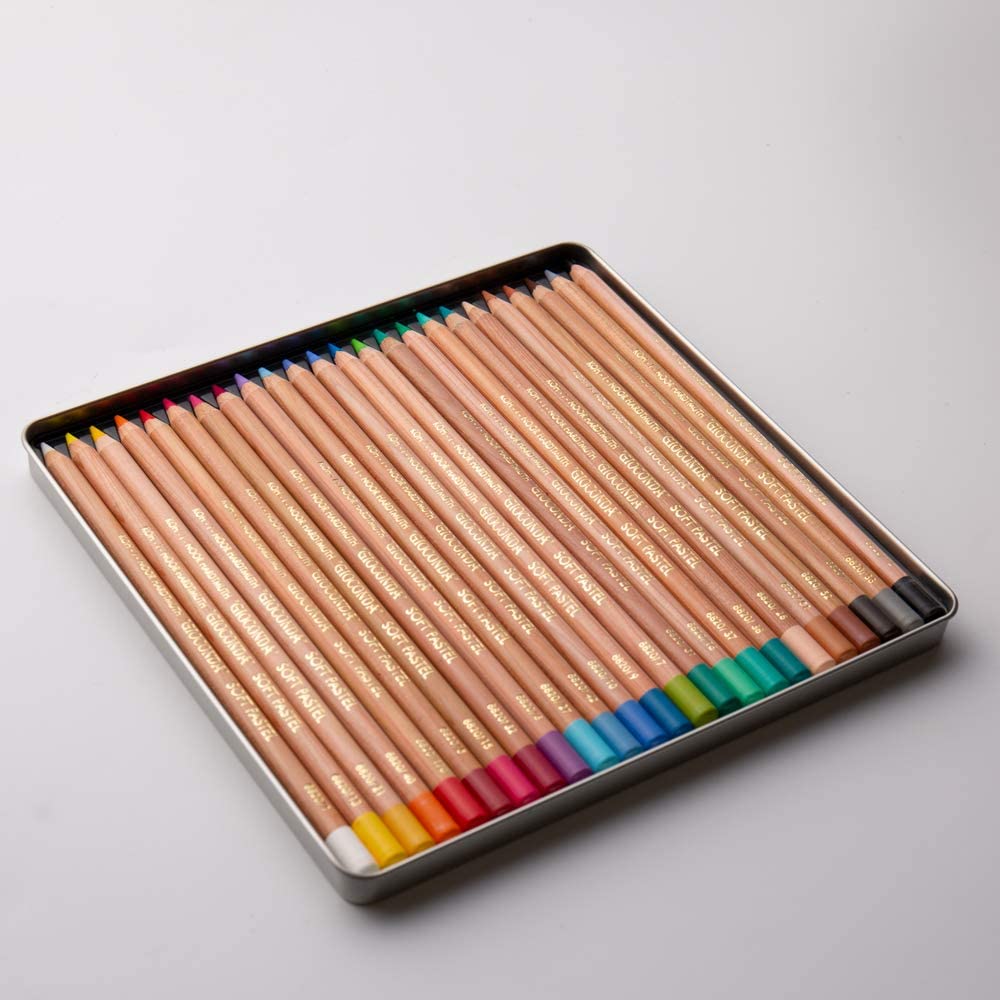 —When it comes to pastel pencils for beginners, this set is amazing. You get all of the wonder of working with pastels in the form of a pencil. This is all that a beginner needs to get started in the pastel pencil world. You can explore the freedom and fun of pastels within the control and size of the pencil form. Many people find this to be a beautiful hybrid between actual pastels and colored pencils.
They are known for being slightly more firm than the average pastel. Transversely, this set is perfect because it provides a softer alternative to the average colored pencil. For fans of both mediums or people who are simply looking to explore, you really can't go wrong here.
This set provides you with 24 beautiful pastel pencils. They come in stunning colors that you will love to work with. Though they are pastel in shade, they are still bold and vibrant in their way. This stunning collection of shades is great for bringing about something special for pattern work. You can make some incredibly amazing pieces of art using this set.
What these pastel pencils for beginners are designed to do
These pastel pencils are designed to stand alone or work well with actual pastels to make more complex works of art. These pure micro-pulverized pigments can withstand light and fading. It makes them perfect for creating long-lasting images. These work great with a fixative for long-lasting art that is perfect for selling or gifts!
These pastel pencils are perfect for beginners because they are a good balance of quality and price. You can enjoy a great set of pastel pencils. However, you won't have to spend an arm and a leg to explore this fun medium.
This product costs a mere $22.37 plus shipping. Unfortunately, this product does not come with Amazon Prime shipping, but it is still absolutely worth the extra money!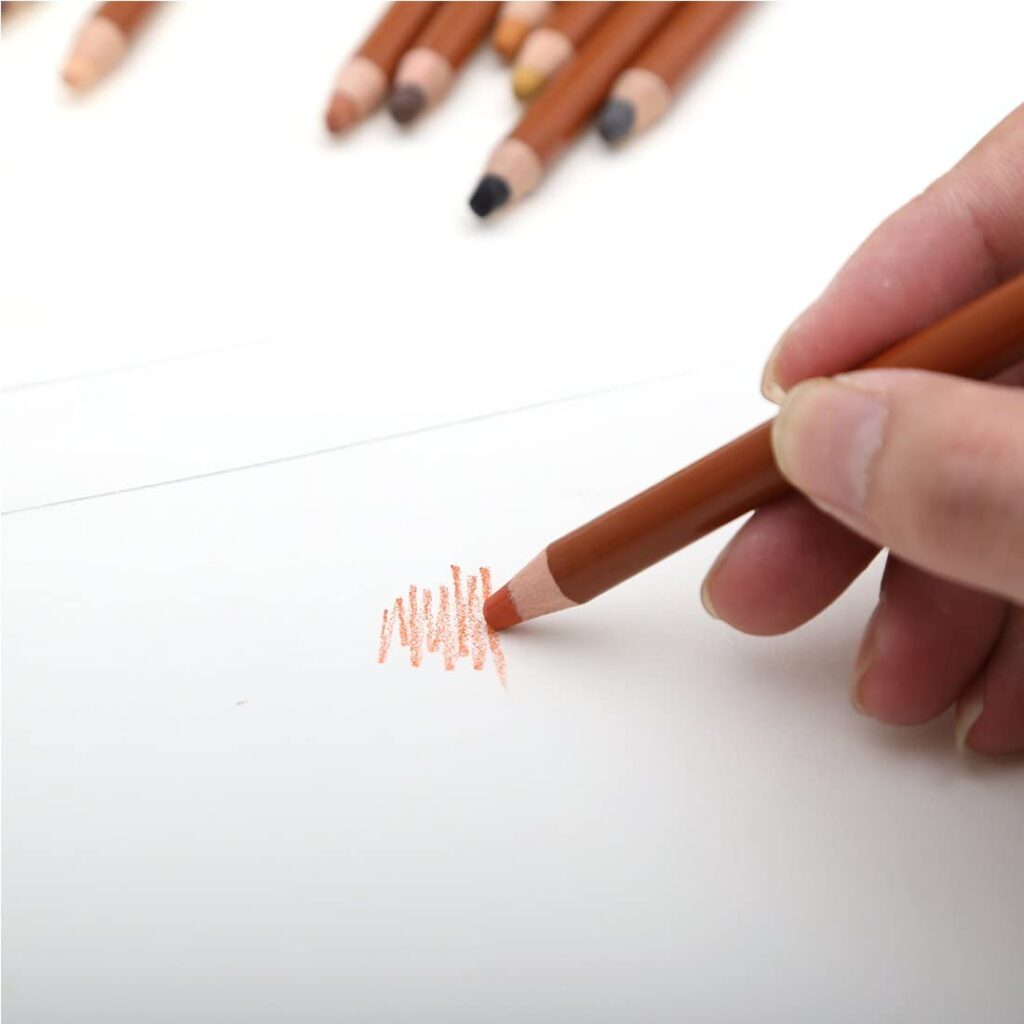 —For the artist looking for pastel pencils for beginners that also prefers to focus on drawing people, we have you covered. This amazing set of skin tone pastel pencils is probably just what you have been looking for. Instead of relying on pastels pencils for beginners that come in bizarre colors with one or two normal ones, this is perfect for you.
You can enjoy a diverse range of skin tones that matches people of all backgrounds. You can even enjoy mixing these pencils to make a more custom or glowing skin tone. This set is perfect for drawing anyone and every one of the human race.
Dainayw offers this great set of pastel pencils for all of your portrait needs. The set itself comes with 12 different pastel pencils that are an absolute marvel. Each one matches a unique skin tone with exception to the final one. One is a pure white pencil that is intended to help you blend out skin tones as needed in the event you need a different.
The benefit to these skin tone pastel pencils for beginners
This makes it possible to adhere to reality every single time. The real benefit here is that the colors are designed to make natural glowing skin tones. This means that you can create dreamy drawings of individuals with dewy skin so that everyone looks their best. It is an excellent way to create beautiful portrait drawings in a delightful pastel pencil style.
These pastel pencils, which market themselves with "the beauty of pastels with the convenience of a pencil" are great. They are ideal for using various pastel techniques including smudging blending. The pencils work well whether you are smudging with tools or just your fingertips. You can easily set the pigment and frame your work for all the world to see. The set is an unbelievable $12.57 on Amazon, and they even offer prime shipping!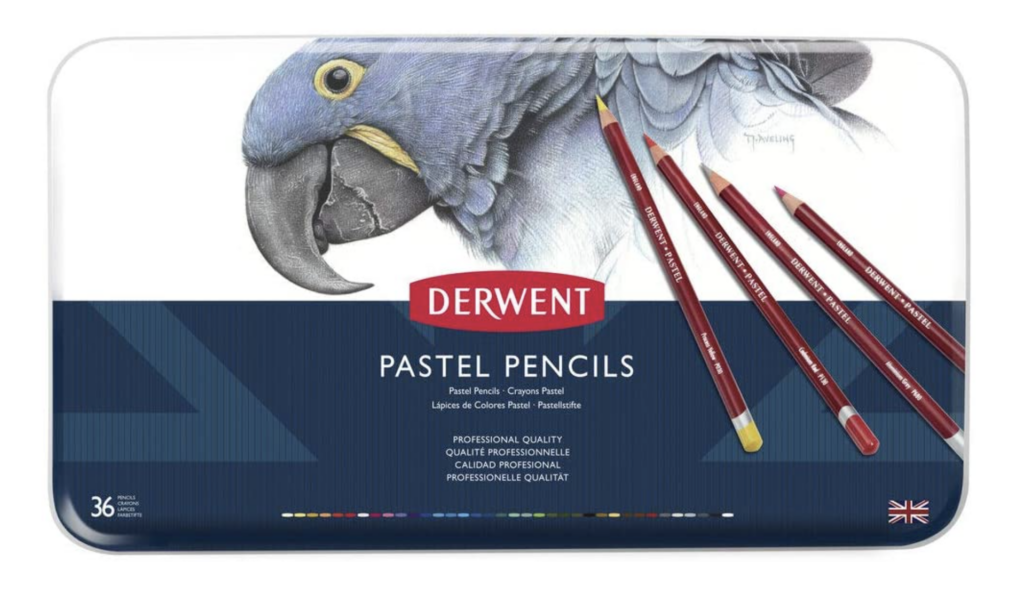 —Sometimes even beginners like a little something nice. Not all pastel pencils for beginners are going to be what you are looking for. Though there are benefits to getting a cheaper and more reasonable set, sometimes you want a little something more. This set offers that for a little extra money, but the quality difference is completely noticeable.
The first indicator that you are dealing with a more professional set here is the case that the pencils come in. The metal case offers complete protection for your pencils so that the tips are always safe. Many people find that this is a comfort, particularly given how soft pastel pencils are.
This set offers a total of 36 pastel pencils in a wide range of colors. You can explore the possibility of creating all kinds of different art using these amazing tools. The Derwent set offers a lot more color options than the majority of pastel pencil sets around. This makes it an automatic win and certainly worth the extra money. You simply get more products with this purchase.
Why these pastels are perfect for beginners
When you factor in the overall quality boost of this product, you can easily see why artists love it. Not all pastel pencils for beginners are the right fit for your needs. If you are new to pastels, but don't want to necessarily deal with a complete beginner experience, you can start with this bigger set. It is easy to use and offers all of the best perks for pastel pencils.
These highly pigmented pencils are known for providing great quality. They offer a little more versatility than some of the other pastel pencil options. Not only does this set come with more colors, but it offers line flexibility. This means that you can easily use them to make sharper lines or press a little more for more pigment distribution. Additionally, these pastel pencils were made with mixing in mind.
Each one was carefully designed to offer you the chance to mix colors to make new ones. This is something that can only be done successfully with high-quality pastel pencils. For $62.39, these pencils are worth the investment.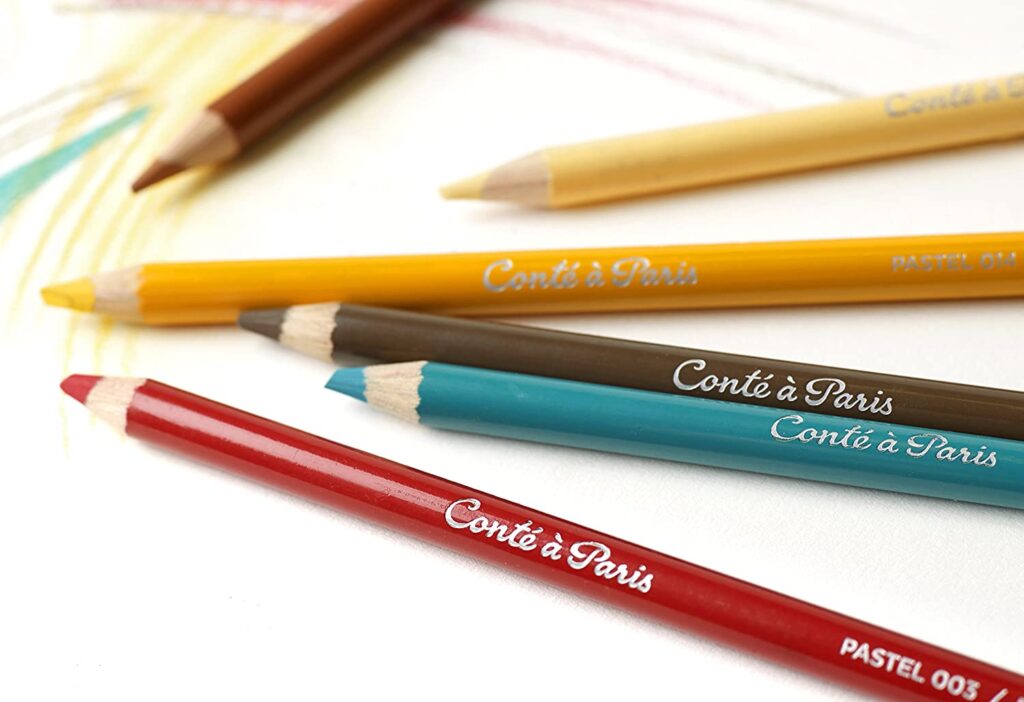 —Looking for pastel pencils for beginners can feel like a bit of a challenge if you don't know what you are looking for. Some pastel pencils are designed to stand completely alone. On the other hand, other kinds are made to work alongside traditional soft pastels. Not every new artist looking for pastel pencils for beginners necessarily knows what they want out of it.
Don't be overwhelmed by the idea. You don't need to choose right now. This set allows you the versatility to use it, either way, to bring about the opportunity to try both ways. While these pastel pencils can stand alone, they also work splendidly next to traditional soft pastels.
The real benefit of these pastel pencils
The real benefit to these pencils is their ability to produce high-quality detail. This is what makes them so perfect alone as well as alongside soft pastel work. Since they are slightly sturdier than the traditional soft pastel, you can do more with them. They are functional enough to allow you to make complex art without needing to rely on anything else.
This ability to offer more detail is what makes them such a beneficial addition to softer pastel options. With these, you can make detailed drawings and then do the styling with softer pastels. This is a great option for people who love traditional pastel work but want to add a little more on the fine detail side.
The Conté à Paris collection offers you a total of 48 assorted pastel pencils. For most artists, this amount of colors is a complete win. There are so many options when it comes to making great art with these pastel pencils. Though you might end up paying a little more, when you factor in the quality and number of colors, it works out well.
Plenty of artists have found that this is one set that more than suits their needs. You can enjoy this amazing product for $72.82. Though they do not offer Amazon Prime shipping, they do offer protection plans.
When you are purchasing expensive art supplies, this can be a beneficial decision if something goes wrong. Replacing an entire set is a pain, but a program like this makes it easy and much less costly.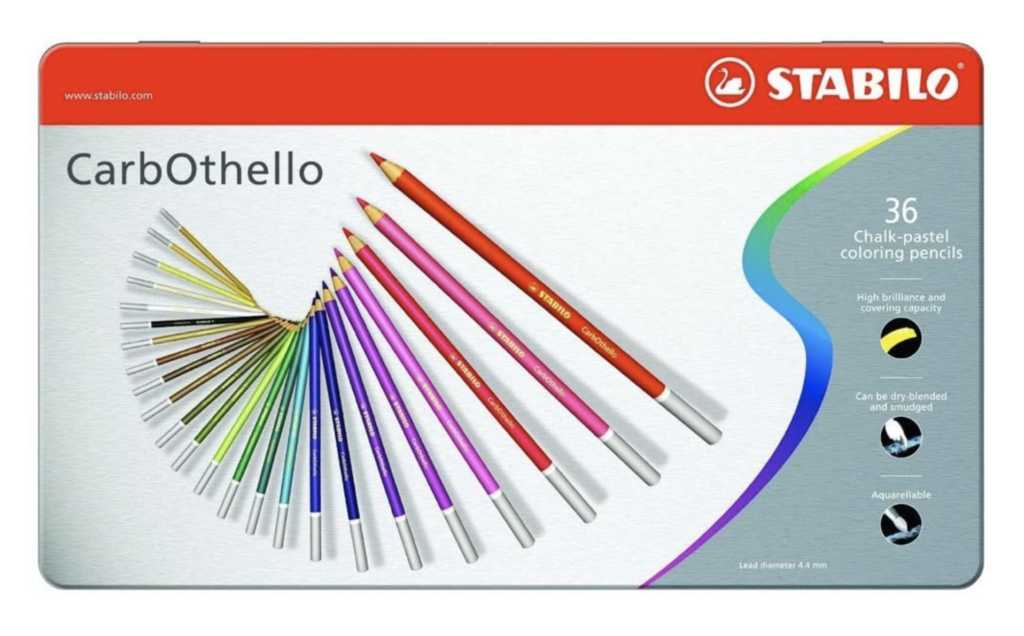 —When you are looking at products to start a new hobby, you generally want a good balance between quality and price. Pastel pencils for beginners do not necessarily need to be true beginner level products. Some beginners are better suited to use a higher grade of the product without going over the top. You rarely want to buy completely high-end products when you start something new.
This is because you are more prone to making mistakes as you learn, which can destroy the product. Additionally, you might not be certain if you are going to like the medium. On the other hand, using cheap products can rob you of the true experience. Fortunately, these products offer a great cross between the two.
You will love the way that these pencils feel. They offer a high-quality pastel pencil experience without going too over the top. The products provide a color tip that is a great balance of firm and soft for a true pastel pencil experience. This makes it easy for you to focus on making the best kind of art that you can make.
These versatile tools do an excellent job of introducing you to the pastel pencil craft. You will find it easy to transition to these powerful tools. Before long, you will be making some truly amazing works of art. As a bonus, these pastel pencils can be effectively blended with water. Many artists find this to be an invaluable asset when it comes to truly taking control of their art.
What to consider when shopping for your first pastel pencil set
The product itself offers a total of 36 completely original colors. When shopping for pastel pencils for beginners, it is important to remember that more colors are more fun. Sure, you can start small, but if you want to truly hit the ground running, you need colors.
This is the perfect amount of colors to create some truly beautiful works of art. They even work well sharped to any tip, giving you complete control over the general appearance of each line. For $49 and free shipping, you will love what you can do with these pencils.
[do_widget id=custom_html-20]
Conclusion
Pastel pencils are a fun tool to make some pretty amazing art with. Whether you want a standalone drawing or to add more detail with your soft pastels, these are a total win.
You will have a ton of fun exploring this new medium no matter what you do, so don't hesitate to step up and experiment. This little-known art tool is great for creating some truly beautiful works of art, so find a good set and run with it!
Have you used pastels before? How was your experience with them? What type of art do you make with pastels?