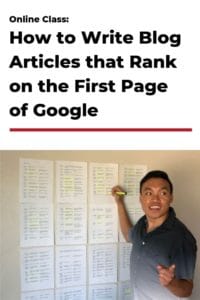 You might be a new blogger or you may have been blogging for a little while. Even if you are a blogging pro, it might be a challenge to come up with blog posts that will skyrocket your traffic.
According to Neil Patel, the foremost SEO and digital marketing expert, it can take an average of 3 months or 100 days to rank on Google's first page for a long-tail keyword.
Neil is an amazing digital marketer, who surely knows his craft. He has done thorough research to come to this conclusion. If Neil says it takes 100 days to achieve first page results then we can be sure to take him at his word, right?
Well, you could unless your name is Jae Johns and was able to do it in less than 50 days. I'm not saying this to diminish any abilities from Neil or out of any cocky nature.
I'm saying this because I want to share a process I discovered that got me results much faster than an analysis from the world's most authoritative SEO expert.
In July of 2019, I wrote an article called "3 Ways on How to Clean an Oil Paint Brush Without Paint Thinner". About 45 days later in early September, my article ranked on Google's first page for it's designated keyword. I did this without building any links. I did this without a high domain authority. I did this while my blog had less than 50 pageviews the month before.
How to Increase Traffic to Your Blog
So by now, you can see I got results, but how did I get on Google's first page in less than 3 months? Let's dive into the process I used to increase traffic to my blog.
Identify the broad term that your blog will focus on
– Some examples of broad terms: Running, Healthy Eating, Archery
In Google, search that term.

Scroll down to the "People also ask" dialog that lists several questions

Go through the questions and find one with an article that was published at least more than a year ago
– Google loves fresh, recent content so by writing a more recent article it is highly favorable for you
If the article was published more than a year ago, then you want to create an article based on this question. *It may take some investigating to find the publishing date, but all articles have one.

In the screenshots in bullet point #5, you can see that both "What running does to your body?" and "What's a good 5k time?" would make great topics to write about. Since the 5K topic has an older date, I recommend doing that first.
Research 30 topics using this method and create a list of 30 headlines from these topics.
After you have 30 headlines, you'll want to write 30 blog posts.
– Guidelines for articles

Write 30 quality articles in 30-60 days. If you can do 1 article a day, it's better for your traffic.
Each article should be 2000 words minimum. Avoid the fluff and only put in content that relates to the headline.
Make sure each article has 1 main image, but you can always go back to adding more images or videos to the article after all 30 are finished.
Each article should have 1-3 introductory paragraphs, 3-7 subheadings that relate to the headline, and a conclusion. Don't get too fancy with the concluding paragraph and just title it "Conclusion".
These 30 articles are like planting seeds in a garden. As time passes your articles will start to rank in Google and if you did a great job with your SEO then your articles will rank in the top pages!
Conclusion
So many people are stuck with not knowing what to write about. If you want to write things that people end up searching for to help you increase your traffic, then these steps will help you increase your traffic by 2100%, decrease your bounce rate by more than 50%, and increase your organic traffic as well.
How much traffic are you getting to your blog?