Do you want to know how much does Skillshare cost? Are you curious to know whether the Skillshare price is worth it? Saying yes? Today, I will explain how much does Skillshare cost, and you'll be able to answer is Skillshare worth it for you.
Skillshare is a great online learning platform that offers more than 27000 online courses with high-quality and great content taught by in-house expert teachers. It is an amazing opportunity not only for the students but for the teachers as well.
Students can learn new content whereas the instructors can earn money by teaching the lessons. It delivers lessons on a variety of real-life topics (further explained in this post) which are designed for real-life people.
Apart from delivering real-life lessons taught by expert teachers, the user interface of Skillshare is very user-friendly. You can not only search for new courses but can also navigate between the courses, see recommendations, or view your finished classes very easily. In short, the whole user-interface along with the lessons is well-structured on Skillshare.
Group workshops, downloadable classes, and community student groups, a high standard of learning, and informative and entertaining lectures are what make Skillshare apart from other learning platforms.
Now the question that arises here is how much does Skillshare cost? Is it expensive or an affordable option? This post shares everything that you need to know about Skillshare so if you want to learn new skills, just keep reading.
If you want to know about the best pricing plans of Skillshare, you must read this post till the end. This is an ultimate Skillshare review as here, you will get to know whether Skillshare is really worth the cost or not.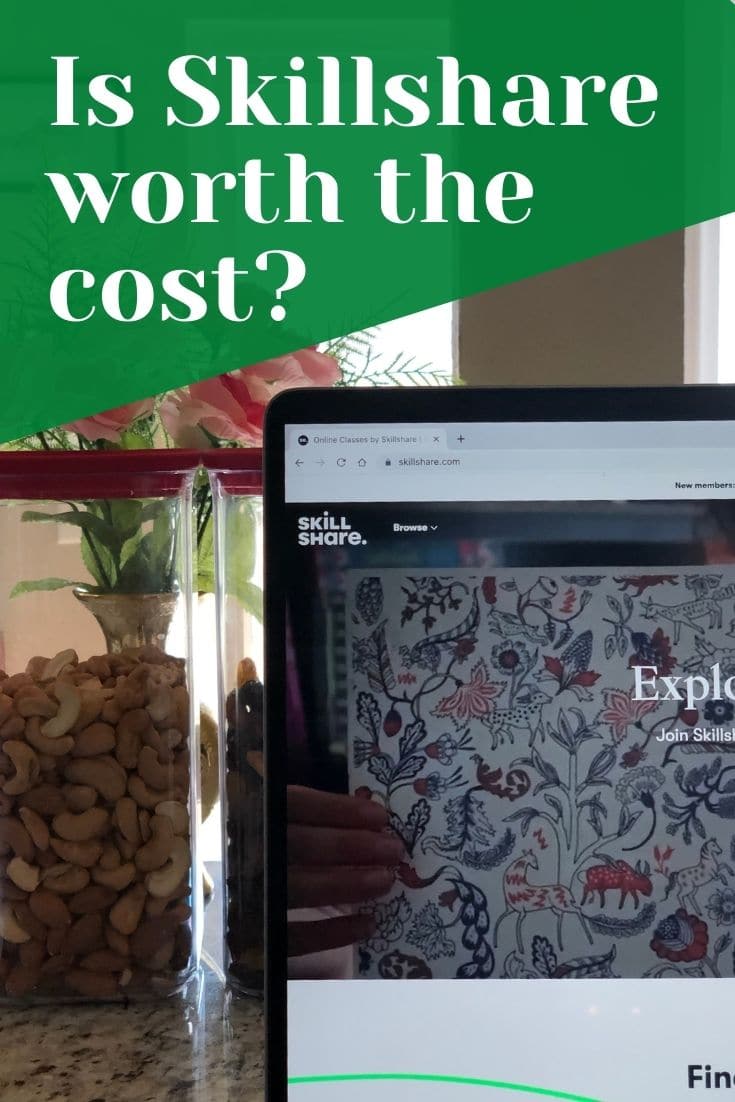 If you are new to Skillshare and do not know what it is, let me explain to you what Skillshare is and how it works.
Skillshare is one of the best online learning platforms that may allow people to take the next step in creativity by joining the courses offered by Skillshare. With its mission to inspire discovery through creativity, it is offering more than 27000 courses and actionable lessons in diverse niches that may fit into the real world.
These lessons are taught by experienced instructors who are excited to share with you what they have learned.
The main focus of this platform is on applicable skills and knowledge so whether you want to learn a new skill or improve existing skills, you can definitely go for joining Skillshare. It is the perfect learning platform for photographers, bloggers, entrepreneurs, freelancers, video makers, content creators, designers, marketers, and a lot more people whose focus is on personal development.
Skillshare is a subscription-based service. Talking about its pricing plans, it offers free and premium membership plans. In the free plan, you can avail of courses for up to a week. On the other hand, the premium membership plan is divided into a monthly or annual plan.
Skillshare offers a variety of courses in the four major domains: Creative, Business, technology, and Lifestyle. Few of the courses in each category include:
Animation
Creative Writing
Photography
Music
Management and Leadership
Business Analytics
Graphic Design and User Interface Design
Illustration
Fine Art
Productivity
Lifestyle
Marketing
Freelance and Entrepreneurship
Film and Video
Web Development and much more!
One thing that must be mentioned here is that the above points are just the names of the categories. If you go deep into the details of each category, you will discover a massive range of lessons!
The following points explain why Skillshare is the best learning platform:
Skillshare offers more than 27000 lessons covering a wide range of topics
All lessons are added in the course constantly and are well-made and produced
All lessons are taught by expert instructors that share actionable techniques with students
There is a free trial period of 7 days
There is no compromise on the quality of the lessons
Allows community student groups so that students can have group discussions
You can also download the classes so you can watch them when you are offline (Note: This facility can be availed only if you access lessons from tablets or smartphones)
Offers group workshops
You can even cancel the membership if you are not satisfied with the services
How Can You Determine Whether the Selected Course Is Worth your Time and Effort?
There is a huge collection of courses that Skillshare provides. You can learn how to become a freelancer or an entrepreneur. Moreover, you can also get learning for building a website, creating a YouTube channel, sketching and drawing tips, or becoming a successful blogger, and a lot more.
So, I can say that there are a lot of courses covering a wide range of topics but the question that arises here is which one to choose?
For choosing a high-quality class that best suits your requirements, you need to do thorough class research. It means that before joining a class, you need to choose a category that you may be interested in. Study the course contents thoroughly. Remember every course has an introduction video so you can check whether the course is the best fit for you or not.
For checking the quality of the class, you can also check what other students (who have previously enrolled in the course) say about it and what type of projects they have completed in the entire course. If the course does not look appealing, just skip it and look for another course.
No review of Skillshare can be completed without considering the most important factor and that is how much is Skillshare. So, let's get straight to it! The cost of Skillshare totally depends on the membership option that you selected at the time of signing up. It means that you need to understand its pricing structure before joining Skillshare.
If we talk about the Skillshare membership, there are mainly two plans. The first one is the Skillshare Basic (free membership – no cost) and the second one is Skillshare Premium (cost may depend on the billing cycle). Let's get into the details of each membership plan.
The free version of Skillshare is, in fact, Skillshare Basic in which you can enjoy high-quality classes for seven days. In this time period, you can enjoy approximately 10 percent of the courses without paying any money. As Skillshare offers over 27000 courses so just imagine how many courses (10 percent) you can avail in the free plan!
You can browse free courses on Skillshare by typing in the search box or choosing the free category of courses. All you need to have is a valid email address and an internet connection.
Skillshare Basic provides courses on a variety of topics. These may include, photography, interior design, Facebook ads, eCommerce, and much more. It is a great plan for the people who are not sure whether they should take the premium plan or not. In this way, by getting the free plan, they can not only get a feel of how Skillshare can service them but if they are not satisfied with the service, they can cancel it at any time. And the good news is: you do not need to pay even a single penny!
But in spite of all these benefits, with the free plan, you cannot participate in discussions or workshops.
Although there are several course categories that you can enjoy with the Skillshare Basic plan, remember, you can avail 10 percent of the courses for free. It means that if you want to learn Adobe Illustration, Adobe Lightroom, or any other course that is not in the free plan, you can definitely get the benefit of the premium plan.
In the case of the Skillshare premium membership, there are two payment options. The first one is the monthly plan and the other is an annual plan. The Skillshare premium price of the monthly plan is $15 per month whereas that of the annual plan is $99 per year.
If we consider the Skillshare pricing for a monthly plan, it may cost $15 per month and $180 per year. If you want to use this learning platform for a few months, then it is better to go for the free plan.
On the other hand, the annual plan of Skillshare may cost $8.25 per month and $99 annually. Not only this, but the Skillshare annual plan may also facilitate you to enjoy benefits from various companies including Adobe, Shutter stock, Invision, Square space, and much more!
The premium account users of Skillshare can access their account from multiple devices including desktops, laptops, Android phones, or iPhones. They can not only get unlimited access to classes but can also participate in discussions, groups, or workshops.
Apart from the perks that Skillshare provides, there are some cons as well so let's be honest here.
Skillshare does not provide certificates on the completion of the course which means that its courses are not accredited. Although online courses' certificates hold no accreditation, they definitely give students a feeling that they have achieved something.
You may cancel the Skillshare membership but its cancellation process is a bit confusing. It takes 2 or 3 times of confirmation about the cancellation. At times, people think that they have canceled the membership. This may create confusion when they get a bill at the end.
Most people claim that the quality of some courses on Skillshare is poor. Plus, most courses are outdated as well so make sure to check the review of the course first before joining it.
In the case of the free plan, the ads may pop up after a certain time period which may interrupt you and make it difficult for you to get back in the flow. To get rid of such annoying ads, it is always recommended to go for a premium version.
Yes, it is possible to cancel the membership of Skillshare, no matter it is a free plan or a premium plan. All you need to do is:
Navigate to Profile and go to the Account settings
Click on the "Payments" option
Go to "Cancel Membership"
The last step is very important. Most people think that when they click on "Cancel Membership" in the third step, the cancellation process is finished. But you need to click "Continue with the Cancellation of Membership" for the completion of the whole cancellation process. This prompt will appear in the bottom left corner of the screen.
Asking about a Skillshare scam is one of the most common questions that people search on Google. Let me answer this question today.
Skillshare is completely legitimate, it is not a scam. It is an American-based company that has been providing video lessons on several topics since 2010. Up till now, it has helped over 8 million students with its diverse range of entertaining yet informative lessons.
It has also received high ratings and positive reviews from the people. The only negative reviews it has got are related to the concerns of users who were charged even after the free plan. If you have joined Skillshare for free but do not cancel its free trial, you will be charged automatically as the trial is finished. So, it is better to cancel the free trial so you cannot be charged at the end of the month or year.
Yes, Skillshare does provide a refund but this refund policy is only applicable for the annual premium plan. It is not applicable to the monthly plan. Therefore, it is always recommended to join Skillshare for free for a week and if you are not satisfied with the service, cancel the subscription before the trial ends.
Keeping in view the perks that Skillshare provides, I can conclude that yes, Skillshare is worth the cost as you will definitely get what you pay for. Whether you choose its free plan or a premium plan, it may allow you to get inspired, learn new skills in a variety of subjects, and then make some amazing discoveries. You can not only get access to hands-on projects but can connect with the experts in your field as well. It has very few cons so I can say that the Skillshare price is well worth it.
In addition, if you compare Skillshare with other online learning platforms, you will come to know that the Skillshare cost is far better and attractive than other platforms. Although it does not provide certificates at the end, there is definitely something better than you can get with Skillshare.
Conclusion
Do you want to learn some new real-life topics? I hope that now you have come to know what Skillshare is, how much is Skillshare, is it right for you, and whether it is Skillshare worth it. This online course platform does not only offer actionable or realistic lessons but is well-structured or informative as well.
Plus, it has a great review system in which you can give your review regarding the quality of lessons, engaging teachers, clarity of instructions, or whether your expectations are met or not.
Remember, this learning platform is not for everyone. It has some key features that make it stand out but there are other areas as well that need improvement. If you are interested in a dense subject such as biology, chemistry, data science, artificial intelligence, etc., then Skillshare is not for you.
However, if you want to learn a new skill or start a new business by learning something, then Skillshare is the right learning platform for you.
Considering Skillshare cost, I can conclude that it is well-worth for what you get. With more than 27000 classes and affordable membership plans, it delivers an amazing value at a competitive price. You can gain practical knowledge and expand your skills with Skillshare.
If you have more questions regarding Skillshare, you may let me know in the comments section, I would love to hear from you. Happy Learning!