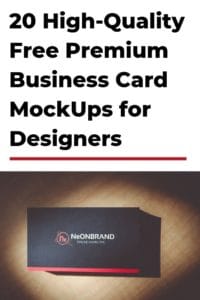 When you're in the design world, free business card mockups are absolutely amazing. Business card mockups are a growing trend that can bring a lot to your design.
These crucial elements can help tie together a look or advertisement in no time at all. They range greatly in terms of content and focus, so there is truly something for everyone.
You don't need to look far to find something that is right for you. You can even experiment by using multiple to find what is right for your project! Fortunately, we have compiled this list of mockups for you to get started.
If you're interested in mockups or templates for your business, check out this other content:
— Sometimes your mockups just need a little extra flair. These creative designs and free business card mockups are perfect for helping you get the right business card. Since business cards are so important for showing who you are, these are perfect for getting you noticed.
They provide a clean design with a pop of fun to show off a little spirit. They might not suit every business need, but small business owners should definitely look out for this one. This design is not only engaging but nice to look at.
— In case you like options with your business card mockups, go here. This collection of business card mockups is perfect for all of your needs. These modern and dynamic images are great for helping you to find what is right for your design.
They come in a range of styles for your added convenience. You can have fun and find the perfect look for your design! It pays to get several mockups in one, so don't miss out on this amazing bundle. Each one is tailored to different circumstances. You can use this time and time again.
— This bundle includes access to beautiful mockups. They can change a scene or just add to them. The looks vary, but there is a sort of look to them that speaks volumes. Whether you're looking for a basic backdrop or a splash of color, these have you covered.
You'll be amazed by how well these simple designs match your projects. They're an excellent set to pull from to add imagery to your design. This is a perfect setup for people who are new to using mockups.
— A business card doesn't have to be lonely all the time. This mockup includes a delightful clip to join the business card. It is a fun and easy way to relay the idea of true business. The mockup itself is simplistic and appealing in design. It is neutral enough to match a lot of different settings.
This makes it a perfect one to keep in your arsenal. It straddles the line of traditional mockups, but adds a little more detail for added effect. For some reason, the clip really does add a lot to it.
— When you first begin your business card process, it can be helpful to start small. This mockup helps you to do exactly that by giving you a basic design. This means that it is easy for you to quickly conjure up quality cards. While you might want something more special down the line, this can be a great place to start.
Think of it as the perfect filler while you sort your brand. You can't go wrong with a basic design in any circumstances. While there is something appealing about fancy designs, less can be more. This is a great place to start.
— This mockup is absolutely modern in the best way. The cards in the mockup are nice to look at and come with an exciting design. This is a great way to add a little flavor to any design. The fun pattern on the card will catch the attention of anyone who looks.
When you add in the pop of color, it becomes obvious why people love these. It's easy to see how they can add to just about any design. Something about this just tells people that you are a modern business designer looking to make magic happen.
— Sometimes a typical business card just isn't enough for your design. These business card mockups provided a folded business card for even more entertainment. You can quickly add these to your new design with exciting results.
It is a unique twist on a more basic approach. While not everyone uses folded business cards, this mockup looks simply amazing.
— Not every scene demands flying cards, but these are so great you'll wish they did. This fun mockup is an excellent way to show people that you are in action. It can add a proper sort of energy to a good design and will surely catch the eye of the audience. With these delightful cards and active designs, you can happily find something worth your while here.
— This design is a healthy balance between professional and modern. You can enjoy a trendy look that is still totally refined. It makes it easy for you to add it into a good design. There is enough color to be interesting, but nothing to overwhelm.
The neutral nature of it makes it perfect for on the fly designs. As an added bonus, the quality of the image is absolutely something worth noting.
— Business card mockups can come in a lot of fun colors, but this is the best. These fun and bright business cards look absolutely amazing. They are perfect for adding a bit of flair to your design. You can use them surrounded by other bright colors or use them as an accent. Either way, there is much to be gained by giving these a shot. They look great in every setting.
— If you're looking for the kind of scene that will grab attention, start here. These bright yellow business cards are beyond eye-catching. They are sure to liven up any design and balance fun with function.
The fact that they are propped up adds a little something special. With the giant stack of cards, you can make people believe that they will be rolling in dough. It's the entrepreneur's dream.
— In the world of business card mockups, sometimes you want something a little extra. This mockup is perfect for showing a brilliant design with fun color elements. You might be amazed to see just how well they fit into your design. This simplistic mockup is incredibly appealing for people who want a distinct and well-organized look.
— This is another folded business card mockup that you won't want to miss. It is a sleek and exciting modern look. Something about it transitions from a brilliant design to something very trendy. The font choice and overall image is great for any of your design needs. It will be a great benefit to plenty of different backgrounds.
— There are times when your business card mockups need more energy. There is no better way to show off an active scene than flying business cards. You can enjoy the amazing look and feel of this design. It brings a specific kind of mobile energy that your audience will love. Depending on your needs, this one can be stunning in the right design.
— Purple isn't for everyone, but you have to admit that it looks pretty amazing here. This vibrant backdrop alongside beautiful cards is worth a second look. Somehow despite the color, it still manages to be a highly professional image.
This mockup can be used to add color to any design. You can add it in a purple theme or let it stand out alone. Either way, this mockup is sure to impress.
— Business card mockups don't always come with a holder, but this one does. If you want to show people that they can easily get their business going, this is where to start. The image itself works well with the idea that someone will promote their own business.
It speaks to the entrepreneurial spirit that small business owners absolutely love. Don't miss out on a good chance to use this.
— You don't have to be a square when you do design. This mockup comes complete with rounded edges for a unique look. You'll love the way this simple image complements any design. It is neutral and balanced in a way that makes it fit anywhere. It's easy to understand why you would reach for a mockup like this. This look is absolutely business ready.
— This mockup is for the bold and the brave. It shows off two flashy and creative business cards to draw immediate attention. It's amazing to see how well these cards can draw attention in no time at all. You will want to add this for a bold effect that will surely make your audience take a second look.
As far as design items go, these are absolutely amazing. You'll enjoy bringing this flash of color to your design in an engaging way. It helps that they look like a piece of fine art. This makes it easy to find them interesting and captivating.
— This sleek image is perfect for a business-focused project. You'll love the way these products can easily grab the attention without overwhelming. They might be a simple black on a dark backdrop, but they stand out all the same. This image is well designed and perfect for professional looks.
It's just edgy enough to be modern and interesting. You won't regret using it. Sometimes simplicity is better than anything else, and this mockup thrives with that in mind. You will love showing off this amazing imagery to any audience. It can truly pull a design together.
— This mockup is simple and modern at the same time. The cards themselves bring a modern design, but it isn't over the top. This makes it so easy to add it just about anywhere. You can quickly add this in a variety of scenes with its neutral coloring. If you're feeling daring, match it to your background for an added effect.
This is not only a great way to present a nice mockup, but it can bring something extra to your design. You'll enjoy the energy that this mockup can bring to a design. Don't hesitate to see where this little burst of excitement can get you when you are designing. It is a great source of inspiration, and more than a little bit fun.
Conclusion
When it comes to designing, there are times when you need to reach out for resources. These amazing free business card mockups can help you get the most out of your overall design. You'll be amazed by how much these mockups can actually add to your overall project.
They are all beautifully designed and completely free. You can't beat high-quality free resources, so download all of them and see what you can do. You never know when they will come in handy. If there is one thing that you can count on, it is the fact that these will be great for just about any design.
What are some of your favorite mockups you use to help elevate your designs?