When it comes to dressing up your Instagram, you can use an animated Instagram post template to save you a lot of time. A great way to bring your page into the future is the use of free animated Instagram templates.
These tools are a valuable asset for taking your pictures and making them pop.
If you watch a lot of professional Instagram stories, you might have noticed they have a legitimate design.
That is where these free animated mockups come in. Paying for mockups can be incredibly expensive.
If you are just now considering stepping into the future with this change, you might not think it is worth the investment.
Fortunately, there are plenty of exciting free animated Instagram templates that will help you try before you buy.
Using these free animated mockups can give you an easy way to determine if this is the right approach for you.
There is absolutely nothing wrong with a little bit of fun experimenting. This is a great way to see what you can do!
Navigating your way through animation on Instagram can seem intimidating, but you only need a couple of things to get started.
To use these, you will need a variation of Photoshop.
You can get this for a monthly price of $20 or a lower price if you are a student. This will provide you with the system requirements to customize these amazing templates.
Free animated Instagram stories aren't too rare, but finding the best ones that work for your project can be difficult.
The results that you end up with might very well just be worth the investment to you. If nothing else, you are guaranteed to end up with some seriously cool results.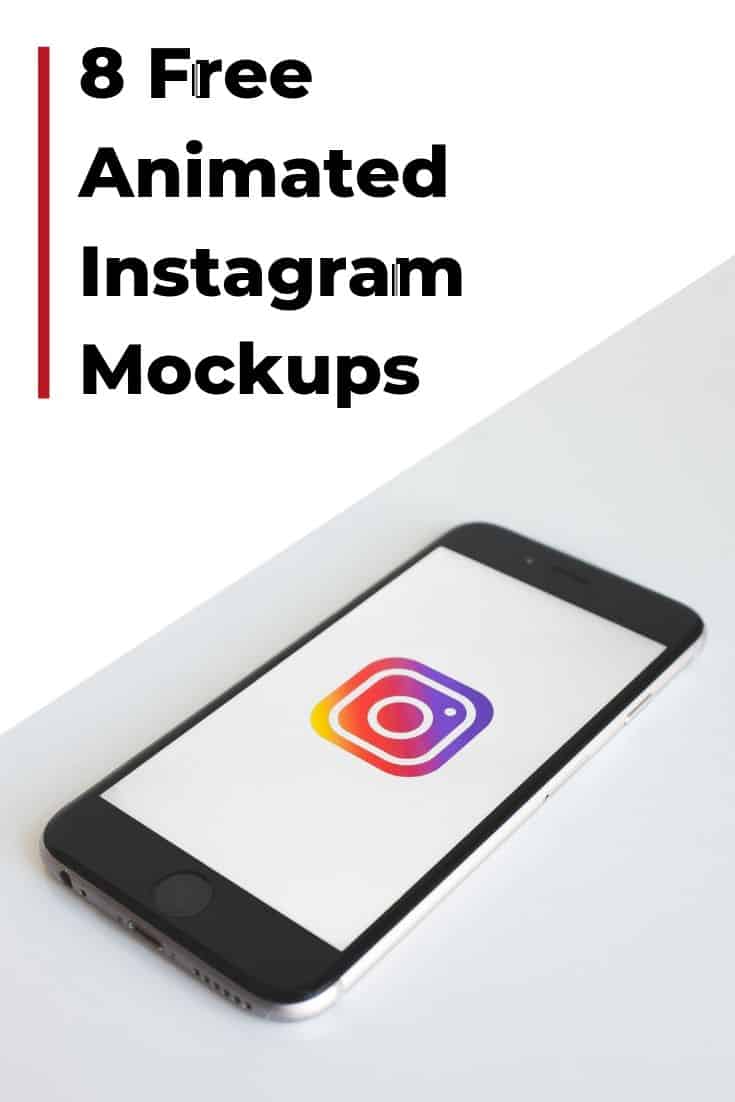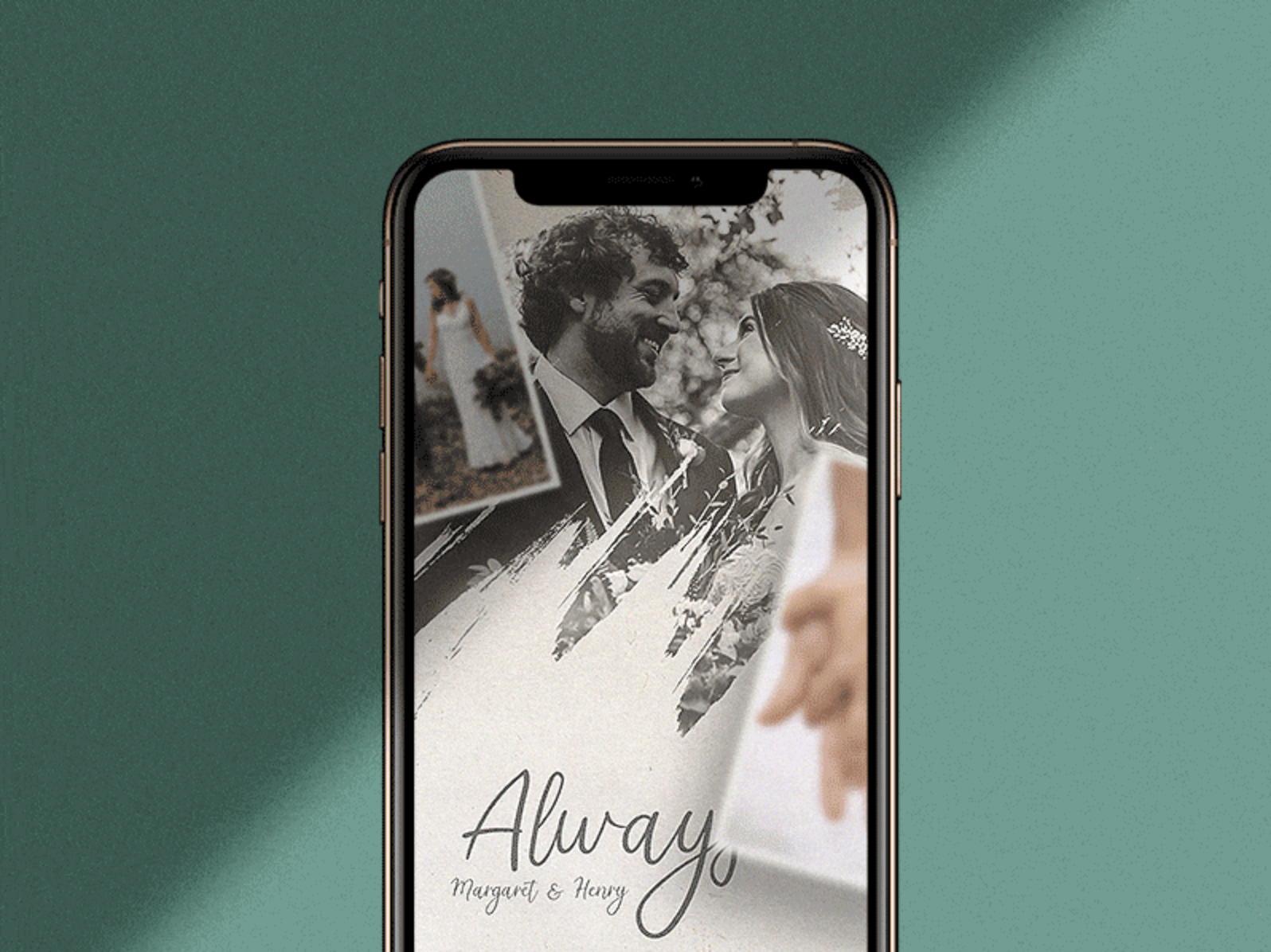 This download is not just one animated Instagram mockup, but thirteen in total. Content like this is a complete steal, which is why you will want to download it immediately.
You can bring any Instagram story to life using these unique templates.
The animated Instagram post template choices Seven Box Studio provides are both easy to use and professional looking.
Their animated Instagram story templates are some of the most high-quality on our list, although do share a lot of similarities with each other. They are guaranteed to make your story look legitimate and interesting.
If you have ever looked at someone's stories and been jealous of their perfect presentation, Seven Box Studio is here to help you get on their level.
The set itself is all of a similar theme, but each one is worth looking at.
You can see how this can automatically step up any Instagram photoset. It is guaranteed to make people rewatch your story.
To use it, you just have to apply your photos and then get posting. This easy-to-use free animated mockup will help you get the most out of your experience.
If you are new to professional-style Instagram, these can be a perfect gateway to get you started with animated Instagram posts. You can sample them by seeing what they can bring to your traditional stories.
Simply download your favorite Instagram mockup template and load it up on Photoshop or equivalent.
You can also use them to highlight an important moment like a party or a wedding.
This will bring a professional look to your profile in no time!
So, why not get started with animated Instagram templates with some of the best free choices out there?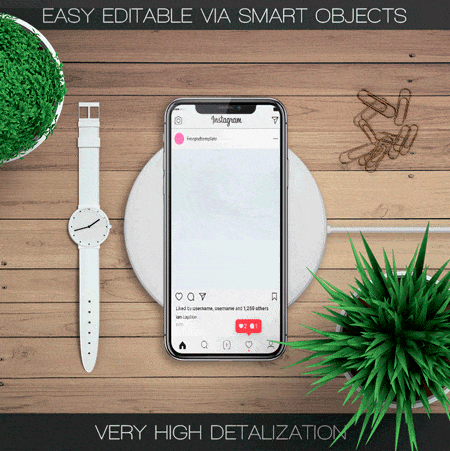 For the Instagram fan that is looking for a little more fun, this is the download for you. They offer free animated Instagram posts with a lot of character.
You can enjoy all kinds of fun and quirky animations to bring your photos to life.
This collection is made with the average user in mind.
Fortunately for you, you won't have to worry about a significant brand change because these templates are perfect for just about anyone. Even if they're the only ones you ever use, you will not regret giving them a try.
Starting with a free animated mockup from Modern Instagram Stories is one of the easiest ways to go.
These modern templates are made with your exciting life in mind.
You can enjoy five free templates that are certain to make your life look that much better. These animations are great for looking cool or having fun.
Whatever message you are trying to send, you can find it in these animated Instagram mockups.
If you want, you can even use these for businesses.
While you might not see major brands using it, these are perfect for an online influencer.
Getting the most out of your Instagram is important if you want to accurately portray yourself or your business. With animated Instagram story templates like these, you can easily upgrade your status.
You are only a few good stories away from being the next big thing. If nothing else, these templates are totally fun to play with. Give them a try.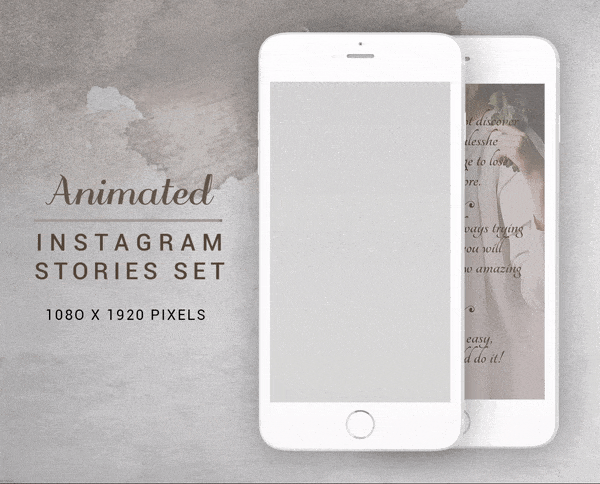 This collection is an Instagram animation download of stunning animated templates that offer you plenty of great content for your Instagram page.
They can be used to get the most out of your Instagram and are likely to gain you some new followers.
They offer a larger selection of animated Instagram post template choices than many others and have a wide selection of customization options.
These eye-catching visuals are not only stunning to look at. They also provide a beautiful backdrop for you to tell your stories through.
These items can be altered in multiple ways to custom fit your profile.
The collection itself offers ten free and beautiful story templates that can be used to help out your Instagram.
If you are looking to try templates as a test before you begin buying them, this is a great offer.
Many animated Instagram posts on offer out in the wild can get expensive, so it's often good to try before you buy or stick to free Instagram templates. It provides you with high-quality content that can be fitted to match your image.
You will be amazed by how professional these templates can make your page look.
All you have to do is alter them to match your design, and you are good to go!
As far as visuals go, these animations are a cut above the rest. They make it easy for you to bring your Instagram to the next level by providing professional content.
All this from a set of free Instagram animated stories!
This is an excellent way to slowly start raising your Instagram level.
It can also help you to decide what kind of animations are right for you. If you are looking to make your own, this might be a great inspiration.
If you are looking for something cute and creative, look no further.
The animated templates in this download are made for you.
Creative Stash provides tons of free animated Instagram posts for you to peruse.
These awesome designs are perfect for the average person looking to gain a little more credibility on their Instagram. If you're trying to take Instagram more seriously, these are an excellent place to start.
The pack includes two animated downloads, and both are adorable.
The download itself says they are ideal for beauty and lifestyle bloggers.
However, we think that these can bring a little life to just about anyone. You can use an Instagram animation template for almost any photo to spice them up, giving them the flare of some movement, on-screen text, or countless other variations.
This makes them ideal for highlighting a special moment or just doing something special with your BFF.
No matter how you use them, they will make your story look great.
You will not regret trying them out.
As far as free animated Instagram templates go, these are perfect for experimenting. If you are looking to try out a professional layout on your page, they will get you there.
All you have to do is add in your photos, and then sit back and stare.
These fun and easy templates are guaranteed to wow just about any audience, your mom included.
For learning or inspiration, these mockups are great for getting you started.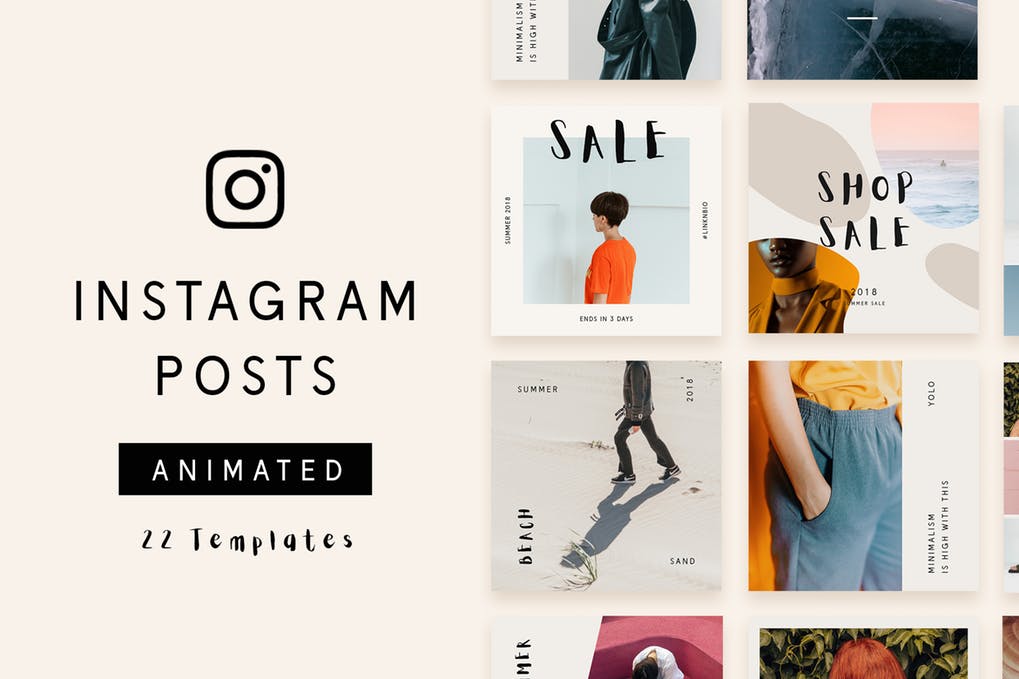 If you are more of a low-key person, you might be looking for something less flashy.
These easy-to-use Instagram mockups are made with people like you in mind. This set is designed to be stunningly minimalistic in design.
If you are looking for some free Instagram animated stories, Minimalist Photoset is a solid choice without going over the top.
You won't be showing the world that your life is a party.
Instead, you will likely succeed in teaching them that your life is a series of moments. This tranquil pack can help you perfect an image.
This set comes complete with 22 animations, making it an amazing deal considering it is free.
You can enjoy plugging your best photos into these sets for maximum results.
The Instagram animation template choices they provide are very simple to just plug in and use.
This series will allow you to create fun and memorable stories for your followers. It is best paired with shots of scenery or standalone portraits for the best results.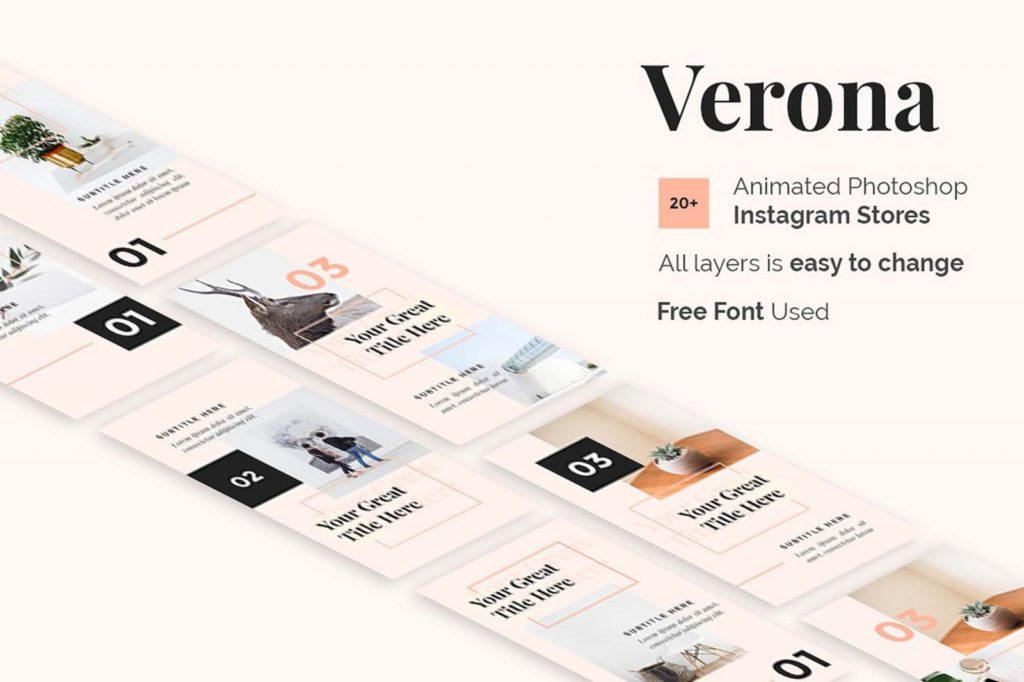 This brilliant pack of animated Instagram mockups is sure to make you want to take more pictures. These simplistic designs will make your life look neat and orderly in no time.
Free animated Instagram stories aren't too rare, but great ones can be hard to come by.
The Verona Template offers free animated Instagram story templates you can enjoy the beautiful color schemes and lovely design that will accommodate your best shots.
This is an excellent way to show your followers that you live a neat and exciting life at the same time.
The pack itself offers over 20 templates for you to use. All you have to do is make any desired edits, plug in your photos, and get posting.
As a free Instagram animation service, these are a wonderful addition to almost anyone's portfolio.
These templates will accommodate anything from sales to announcements.
More importantly, they are a great and fun way to talk about your day with a beautiful design finish. It is easy to see why these will help take your Instagram page to the next level.
You simply can't overstate a good Instagram mockup template.
The fact that these are free is something to marvel at.
These awesome picture frames will bring life to your story.
They will take your photography and return it to its roots.
The basis for these templates is focused on photography and film as a concept. These are some of the most easy-to-use frames, free animated Instagram story templates.
This makes it possible for you to dress your photos up in these amazing setups.
These Instagram mockups can make your basic photos look incredibly fancy.
With these templates, your followers will respect your craft.
This setup offers one template for free, but ten for the full version if you are willing to pay. When you look at these dazzling templates, it will be hard not to want to get the rest.
Animated Film Frames does an especially great job with their Instagram stories mockup visuals, allowing you to see your photos transform.
They are not only visually thrilling but provide a level of depth to most any picture.
Whether you're relaying an event or just making your daily photos pop, this is an awesome fit for just about anyone. Instagram animation doesn't have to be difficult!
Take a look at their free Instagram templates, pick the one you like, and simply add your photo to it, then select your customization options.
It's that easy.
For the Instagram artist, this pack is perfect.
With these breathtaking visuals, you can easily elevate your Instagram page to one of perfection.
These artsy mockups make it quick and easy for you to dress your photos up in no time. An Instagram post animation template from Ripped Papers is easy to do with their fast mockup system.
These products make it possible for you to finally hit that dream Instagram aesthetic.
Everything about them will make you look pensive and interesting.
This collection offers eight mockups in total. They are particularly effective for scenery shots and portraits.
With the ripped paper aesthetic, you can add your quotes to bring your story to life.
For a free Instagram animation, these provide exactly what you need.
This is a great way to share a new photo collection. It can also be perfect for telling the story of your day when traveling.
Something about this mockup just adds a certain artistic flair to any picture.
Doing animation on Instagram doesn't have to be difficult or expensive.
When it comes to creating a true aesthetic, this artsy photo Instagram mockup set is perfect for trying a new look. If you are hoping to take your Instagram to the next level, these Instagram mockups can help you step into the light.
They are easy to edit, easy to use, and fun to post!
If you're a blogger, social media agency, or influencer then creating an engaging Instagram account is a must, and getting some animated Instagram stories template for free is a great decision you can do for your business.
Animated Instagram templates don't require too much work on your part, and Videohive makes it even easier to browse through their selection and make it work for you.
These free animated Instagram mockups are designed for optimized resolutions, bringing your messages to life with a modern design, you can easily add your media, change text, and includes a pdf and tutorial to ensure these free animated Instagram stories are ready to use!
This collection comes with:
4 Animated Stories
Optimized 1080px by 1920px Full HD resolution
Fully Editable
Works with After Effects CS 5.5
Their Instagram mockups are a bit more complicated than some of the others on the list but well worth it for the level of customization and professionalism.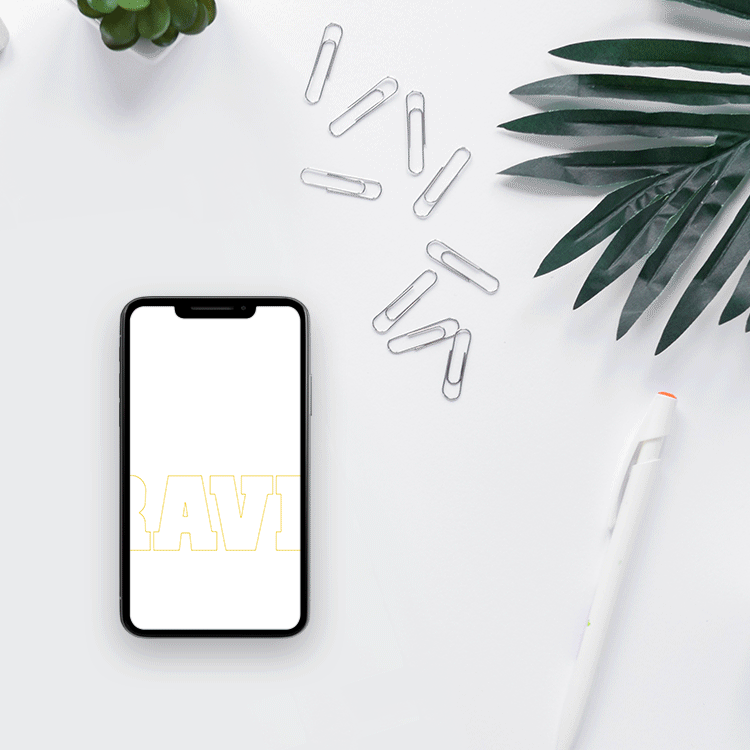 These animated Instagram mockups are perfect for a travel blogger, travel agency, or anybody who wants to share their travels in an engaging way.
Simply take their Instagram post animation template and insert your travel Instagram posts.
It'll then show you what it can do. Instagram animation doesn't have to be a challenge.
These are easily customizable and something you can use to share your message or promote your travel offer with ease!
These travel animated Instagram stories come with:
2 Animated Stories
High Resolution 1080px by 1920px
Easy to Customize
Works with Photoshop
Canva offers a large selection of free animated mockup templates for Instagram. You can browse the huge range offered by different users, although the quality will differ greatly between them.
Sporting a massive array of styles for animated Instagram posts, you can find just about anything you're looking for, from sweet and simple, to dynamic and professional.
Their Instagram stories mockup options are easy to browse through, showing samples of each of their free Instagram templates on offer.
So, why not try one of their animated mockup options for yourself and see if it's to your liking?
Using an Instagram mockup doesn't have to be a chore. It only takes a little time to get used to it.
Conclusion
Though you can spend a ton of money dressing up your Instagram, free is always better.
If you are looking to branch out on your Instagram page, trying these sets is a great way to start.
This can help familiarize you with the process. It can also assist in inspiring you if you decide to make your own.
There is no lack of material available when it comes to making your Instagram story shine.
For the typical user who is looking to branch out, there is something worth trying in all of these.
In a world where being an Instagram influencer is a very real option, these free animated Instagram mockups are a great first step.
Using these free animated Instagram templates, you can try your hand at making exciting and engaging content. Even if you only impress your friends, your photos will still look amazing.
There is no way that you can afford to miss out on these awesome freebies.
Do you use Instagram templates?
Instagram Template FAQ
What is an Instagram template?
It's a premade design, which you can easily swap out the design elements in the template for your own content.
How do you post an animation on Instagram?
Your animation needs to be saved as an animated GIF or video. From there you can post your animated GIF as a normal photo and post the video as you would any video on Instagram.
How do you make an Instagram template?
You will need to use a design software like Photoshop or Canva. Then create a new document that is an Instagram Story size or size in the correct aspect ratio for a post on the feed. From there it's about using your design skills to make something appealing.
Can you post animated pictures on Instagram?
Yes, you will need to save your animation as an animated GIF.