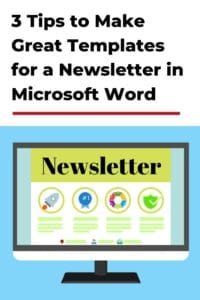 A good newsletter can help you to share relevant information with a dedicated audience. To make a newsletter, you have to have a few things that can be counted on. First, you will need great content to fill your newsletter.
Second, you'll need an appealing design that can be used to present your newsletter. In order to provide a good newsletter, you need a design that you can count on. This is what makes using templates for a newsletter such an effective approach to getting your message out there.
Using a template for newsletters can help you to enjoy a more simplified experience. The true value of your piece will come from the content that you provide within it. Since this is the case, you want to simplify the design as much as possible.
Using templates for a newsletter can help you keep your focus where it needs to be. A consistently formatted newsletter is not only easier for you, but better for your audience.
Give them a structure that they can count on, and they'll be much happier to continue on as readers. We have brought together a few easy tips for you to make a better newsletter.
If you're interested in other content on how to make templates, check out this related content:
Think About Your Organization
Now, you might be assuming that we mean your business, and that's important too. However, when it comes to templates for a newsletter, we are more concerned about literal organization. The way that you organize the features on your newsletter are crucial for a variety of reasons.
Since this is the case, you will want to work hard to get your organization right above all else. This can impact how well your newsletter does and how easy it is to read.
Organizing your templates for a newsletter is imperative for its readability. You can expect that the way your newsletter is organized will play a huge role regarding if people stick with it. You want to make sure that you organize your newsletter following a few key rules.
By adhering to simple standards of information sharing, you will produce a quality newsletter. Microsoft Word makes it easy to organize content with lists, tables, boxes, and more. You can experiment with different borders, fonts, and spacing to create stunning organizational effects.

First Thing You Should Do To Make a Great Template in Word
The first thing to consider is the flow of information. You can safely assume that the top of the template will hold some sort of title and possibly a subtitle. This is necessary for letting people know that they are reading your newsletter. Depending on what kind of newsletter you are making, you'll want to consider what goes where.
The information that you are sharing should have a pattern. This pattern should stay consistent for the duration of this template's use. By moving the information sections around, you can come off as messy or unorganized.
When you're considering how to let your information flow, there are a few standards to follow. If you're presenting updates, these are generally at the beginning of the end. Choose the area that best suits your needs and stick it there for the long run.
Most newsletters include updates, a core information section, and a couple of other sections for different items. You'll want to spread out the relevant information so people don't just read one section and bail.

Other Things You Want to Consider
In addition to the flow of information, you'll want to think about how much space you want to dedicate. Dedicating space is a great way to keep your focus where it should be. Consider what items should not take as much space and which ones deserve it.
This will help you to focus on the right topics instead of rambling about something irrelevant. Organize your spaces to support the right amount of information.
When making templates for a newsletter, you also want to consider readability. You don't want to make too many sections in your template, or it will be confusing to read. Your organization should be simple and dedicated to what matters.
By limiting the number of sections, you can force yourself to focus on what is relevant. This is a great way to keep readers engaged and make your newsletter easy to digest.
As a final consideration, organization matters for the sake of design aesthetic. When you are building out the areas in Word, consider focusing on what looks nice. From a passing glance, you want your newsletter to be appealing.
This means having straight lines and consistent design. It also means not lumping information together in an oversized block of text. Take the time to make it look appealing with the content to make people want to read it more.

Consider Using Modern Design Techniques
When making your dream template for newsletters, it can be helpful to use popular design techniques. The modern world is built around design, and there is plenty of inspiration for you to draw on. This can be worked out in a few ways, but the primary focus is education.
In order to utilize modern design techniques, you need to understand them. It means that you will need to take the time to learn about what they are and how you can use them.
A great way to practice with modern design techniques is to explore existing options. The templates for newsletters that Microsoft word offers on their website are a great place to start. This can help you get an idea regarding how they will flow and what sections are common.
These templates are a great source of inspiration and can be easily modified. If you're not looking to build a whole template from scratch, this is a great place to start.
A Place Most People Don't Know to Search for Modern Design Options
The world is full of great inspiration for modern design options. You can look on font websites to find the most relevant modern fonts. This might be a great place to start for outlining the content sections of your newsletters.
Exciting modern fonts can be eye-catching and work wonders for titles and headers. You might decide that you want a more basic font and that is fine too. Don't be afraid to mix and match.
Another great way to chase down inspiration is the use of modern design technique breakdowns. These articles can be found everywhere online and are a great way to get inspired. You can learn about popular color techniques like employing a gradient to your background.
You can also learn how different design techniques can be used like how to highlight important information with contrast. There are plenty of exciting designs tips and tricks to be found online. You don't need newsletter design specifically, just inspiration for your aesthetic.
A Key Tip to Modern Design
A big push in modern design is a focus on simplicity. Though we are at a point in time where everyone has a loud opinion, we all like a smooth design. As you design, consider areas that might be too much.
This might mean a bad clash of too many colors. It could mean a crowded area that has too much going on at one point. Anything that feels cluttered or out of place must go. Simple design focuses on consistency in color, pattern, and structure.
Design is a tricky subject for many people, but it can absolutely be learned. The best way to learn is to research and explore key techniques. This can help you not only gain inspiration, but also learn how to best present your newsletter. Don't hesitate to draw inspiration from others wherever you can find it.
Newsletter design does not only mean looking at newsletters. If you want something more concrete, look at branding as a whole. This will help you to create a more simplistic image of what to do.

Keep Your Focus On Your Brand When Making Templates for a Newsletter
When in doubt, there is no better way to focus your design than to consider your brand. The last thing that you want is to send a newsletter and have it be off-brand. This might make people assume that it is spam or force them to close it out.
If they don't easily recognize that the newsletter is from you, you are doing something wrong. As you build out your newsletter in Word, focus on keeping it in line with your brand at every turn.
Your brand has certain attributes that it should be recognized for. In the event you're building a newsletter, we feel it's safe to assume you have some form of audience. These audience members know you by a specific look, so carry this over into your design. An excellent way to do this is to use your logo.
Adding your logo to a template can help people immediately identify that the newsletter is coming from you. This brand recognition is exactly what you want.
Beyond using your logo, you'll want to choose design elements that match your brand. You will want to consider using the same font from your website and things of that nature. Carrying over these recognizable elements can help people to know that the newsletter is yours.
This can help them recognize that it is worth checking out and not passing over. This also works with design elements that are more native to your website including icons. If your newsletter looks on-brand with your website, the consistency will resonate with an audience.

Don't Overlook This in Your Design
As a final design touch, you'll want to carry over your brand colors. Consistent coloring is necessary for your brand to be organized and look put together. Microsoft word allows you to custom add in the red, blue, and green attributes for your coloring.
You can also use your hue, saturation, and light numbers to import colors as needed. The system can easily recognize any color that you might be using for your brand as long as you have this information. Adding your colors is easy and then you can begin tweaking your design elements.
Word allows you to color any and all elements as you build. As you layout your boxes and spaces or fonts, you can easily color code them. This makes it simple for you to experiment with variations in design.
You'll want to follow similar balances as provided by your branding. Consider the proportions of design elements that you are using and go from there. Don't be afraid to experiment with colors as you design because you can always change them later.
Microsoft Word allows you to easily import elements for use in your materials. If you have icons or fonts that need to be imported, you can do this quickly. Microsoft Word is designed to work well with branding kits, so if you have one, bring it on it.
This will allow you to easily draw on the colors, icons, and fonts that you use for your brand. There may be some things that have to be manually added and accessed like images, but this is manageable. Word is great for helping you to keep your brand consistent.
Conclusion
Designing the perfect template for newsletters takes time, but that is okay. You can easily make various versions of your newsletter until you find one that is right for you. As soon as you find that lucky balance of elements and design flair, convert the item to a template and you're all set.
Don't be afraid to experiment and risk making something ugly. You won't build the perfect newsletter on your first try, so explore the medium to get comfortable. Microsoft Word offers a variety of helpful tools that can be used for great overall effects.
Are you writing newsletters for your business?