There are a wide variety of watercolor brushes for Photoshop that can help you take any art and bring it to the next level. You can easily modify your pictures or make completely custom art.
As far as Photoshop goes, brushes are fun tools that allow you to bring something special to your work. We have provided a full list of brushes to help you make your work shine!
If you're looking for other painting-related content, check these out: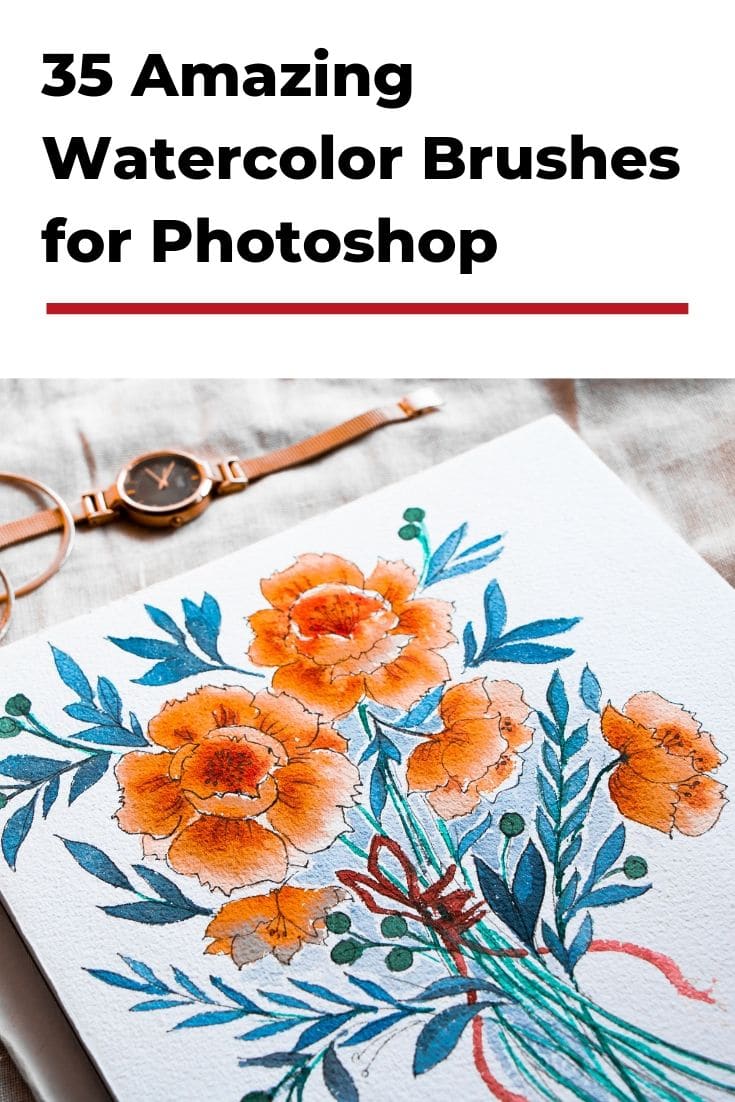 — For an artist who is looking to make waves with their work, there is no better place to start. You can enjoy the ease of use with these amazing watercolor brushes that are perfect for your photoshop efforts. They come with plenty of different options so that you can have fun experimenting!
— This is an amazing set for people who are new to trying out watercolor brushes. You can enjoy using them on all kinds of projects, or even just spend time with them alone. These simple brushes are great for making beautiful things and learning about Photoshop at the same time. You can make a variety of simplistic graphic designs with them.
— If you are looking for a completely unique look, look no further than these. This wet ink look is a completely unique style that can bring your design game to the next level. These wet ink brush strokes make it easy to make compelling works of art in no time. They are one of the more unique kinds of brushes available. However, they are still easy to use on everyday projects.
— These amazing splatter brushes are a ton of fun. You can easily add a splash of color to any image using them. Their unique designs make them ideal for playing with on a variety of projects.
They bring a special sort of lighthearted fun that so few brushes are known for. In some areas, they look more traditional. However, other areas get splatter attributes to make it that much more fun.
— For some people, there is nothing better than a great Photoshop brush set. This is a collection of classic and unique tools that has plenty to offer. You can enjoy working on these to get the most out of your project. They are perfect and just simple enough to not overwhelm anything that you're working on.
— These brushes are a perfect set if you're looking to make something cool. Rather than being completely consistent like some brushes, these have more of a pattern. The real power is the areas where the brush doesn't paint. It's ideal for making contemporary art pieces in photoshop. If you use it over a picture, you can end up with truly stunning effects.
— These brushes are a little sturdier than most. While some brushes rely on light and open patterns, they are solid. The effect of them is amazing if you're looking for a complete paint process. In fact, you can make stunning backgrounds using these brushes. It makes it easy to frame photos or build a backdrop for custom art options.
— Sometimes you need a brush that brings a little something extra to the table. This set of brushes is unique because of their textured look. While all watercolor brushes have some texture, these bring a little something more.
They're available in a collection of distinctive patterns that are great for any projects. You can create a wide variety of looks using these. They are fun for adding flair to a background or framing.
— Some Photoshop brushes are more perfect for specific types of art. These brushes are ideal for true painting. While other brushes might be geared more towards design, these are valuable tools.
You can easily use these to create beautiful paintings within the system in no time. They are defined enough to work effortlessly. This makes it easy for you to make all kinds of art!
— If you're looking for something more original, these are perfect. It is easy for you to have fun making exciting works of art with them. Every single brush is a unique design with fun shapes. You can have fun adding a little flair to images or making fun borders.
Since the actual print of them is true shapes, it's easy to see why people love using these. A brush set like this is perfect for making exciting pictures for Instagram stories or things like that. You can add a fun twist to an already amazing photo!
— When it comes down to it, sometimes you need something a little more focused. These exciting ink brushes take watercolor to a whole other level. It makes it fun for you to make concise and exciting art. For these brushes, watercolor is the style.
However, you get the control of more specific brush types as an added bonus. This is a great hybrid kind of brush for you to make great things with!
— Sometimes, it can pay to have some pretty good options. This combination kit means that you can have access to a wide variety of tools. This makes it easy for you to make different products with ease. Whether you're looking for splatter or watercolor, you can find it here.
For an extra fun project, you can even mix brushes for exciting new effects. This kit has all of your needs covered, so it is a great place to start.
— When you want to add some grunge to any design, these amazing brushes are here for you. These complex splatter patterns are great for dressing up certain images.
They also make an excellent background for just about any project that you want to work on. Whether you're editing photos or making custom art, these are here to suit your needs. As an added bonus, they are really fun to use!
— There are times when you need something a little sharper, and these brushes are here to help you out. Sometimes you work with images or projects that require a sharper finish.
These brushes make it easy to add artistic flair without compromising the status of your work. You can add these HD brush textures quickly and easily to take a project to the next level. You won't regret using them.
— If you're looking for more traditional brushes, you can start here. These give you easy access to both basic and watercolor brushes for Photoshop. This set is ideal for someone who is experimenting with new types of artistic touches. Sometimes it can be beneficial to have a balance, so this complete set has your back when it comes to getting things done.
— This set is perfect for the up and coming social media influencer. The entire kit is designed to make beautiful contemporary images. You can enjoy making a variety of products with this kit.
Every single brush is set to help you make stunning art. The modern style of them is very common in current trends. It means you have access to popular looks that are sure to make your social media page shine!
— When it comes to finding a good brush kit, it pays to get a large one. This kit is filled with a total of fifty brushes that will suit your every single need. There are tools in this kit that can help you with a variety of products. You might be surprised by how versatile it is.
If you think it sounds like too much, once you start, you'll be happy that you did. There are plenty of exciting things that you can use these brushes for. In this kit, there is one brush for every kind of project.
— When it comes to finding a good collection of watercolor brushes for Photoshop, this set has you covered. You can get straight to practicing with watercolors in no time. It makes it easy for you to make digital watercolor masterpieces. You can find a variety of brush options to get straight to work with this kit.
— This is a compelling set for beginners and experts alike. It comes with a variety of different brushes in different formats. This makes it easy for you to practice your craft without getting bored.
Using a wide variety of brushes is a great way to get used to the system. It's an excellent way to learn how to get used to all the different approaches and angles that you can take. It's great for experimenting or doing work!
— This amazing kit of seventeen brushes is perfect for getting started with Photoshop. This wide variety of brushes is helpful for getting you accustomed to using brushes. They come in a variety of shapes and patterns to help you start practicing.
This set is perfect for everything from editing photos to creating art. You will find a brush for every purpose in this set so you can get started in no time at all.
— For a classic set of watercolor brushes for Photoshop, start here. You can spend time making all kinds of watercolor art using them. They are a healthy balance of shape and textures.
It's easy to get started with this and make classic watercolor art. With this product, you can jump straight into making a wide variety of watercolor art in every single color. This makes it easy to make exciting modern art!
— If you're looking for a complete set, this one has you covered. This product offers an amazing ninety-three brushes that you can use for a variety of purposes. You'll enjoy looking through these to suit your every need.
With this many brushes, you are guaranteed to find exactly what you're looking for. The fact that there are so many allows you to make versatile creations. To get started, it can be fun to experiment with every single one!
— When it comes to Photoshop, sometimes you need realism. It might sound silly to use realism when you're editing, but there are benefits. This brush set lets you make work that looks completely authentic.
People won't believe that you didn't actually paint these designs. The creators did an amazing job or making sure that you would get exactly what you might expect when actually painting.
— This top-quality set of brushes is suit to fit your modern watercolor needs. In order to get the most out of your process, you'll want a set like this. These brushes are incredible quality. As an added bonus, they even work well together.
You can use any and all of these brushes to make stunning art in no time. These are great for webcomics or more making modern designs. It makes them helpful for making social media stories and other fun projects.
— Sometimes your art needs a little bit of grunge. When it comes down to it, you can add a ton of character trying out these brushes. With these watercolor brushes for Photoshop, you can make a picture a little more exciting or make custom art.
These versatile tools can give your art something special. It's fun to focus on adding a little bit of flair to your next project. You can use them a lot for exciting effects or subtly sprinkle them in on your next big project!
Conclusion
When you first look at watercolor brushes for Photoshop, you might be overwhelmed by the selection. There are a lot of different ones for different needs. Finding a good set of brushes can help you start practicing.
You'll be amazed by how much fun you can have working with these. Feel free to experiment with different brushes to warm up or for inspiration when working!
What are some things you like to paint in watercolor?
Watercolor Brushes FAQ
What are the best brushes for watercolor painting?
High-Resolution Watercolor Brush, Grunge Brushes, and Realistic Watercolor Brushes are some of the best. You can get them for free in this article, as well as other amazing brushes.
Can you use Photoshop brushes in Procreate?
With Procreate version 5, you can use Photoshop brushes in Procreate.
How do I add brushes to Photoshop?
Copy the Photoshop .abr file into the brushes folder within the presets folder within the Adobe Photoshop folder.