When it comes to finding the most beautiful resume templates for designers, there are plenty of options. That isn't to say that every option is great, but there are plenty of good ones.
A proper resume template can help you to stand out among the competition. Finding one that is right for you does not have to be a difficult process. We brought together a nice list to help you get started!
If you're looking for other resources to help you in your design career, check out these: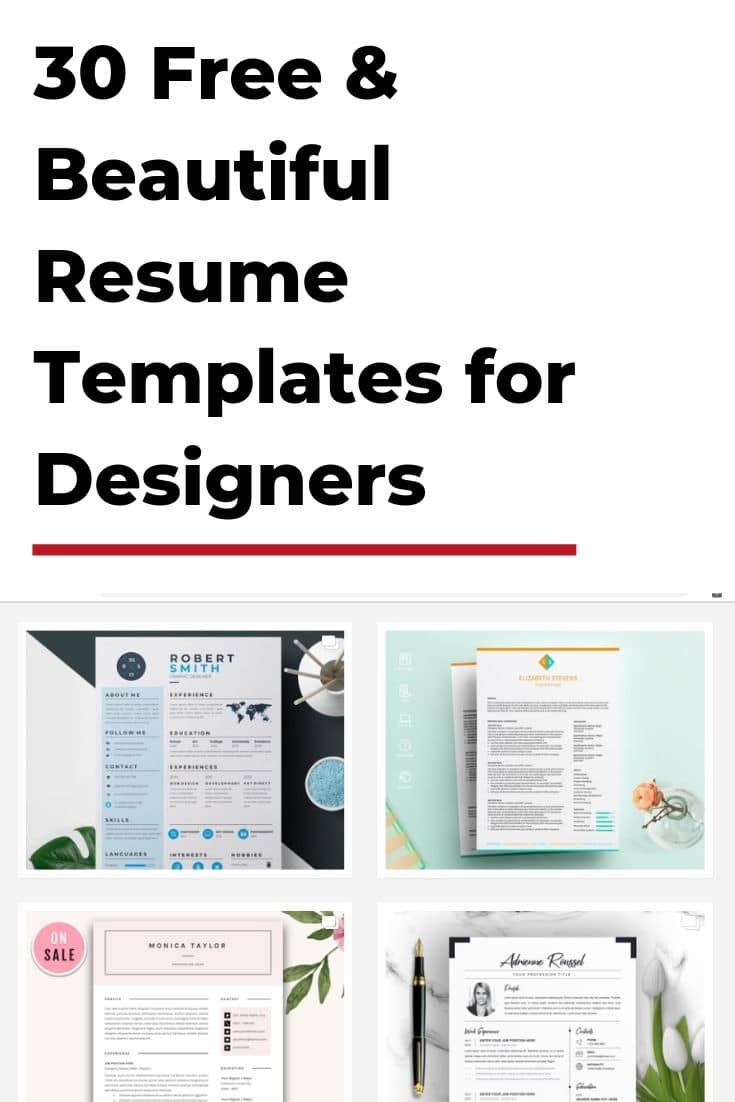 — Enjoy this exciting modern resume with its bold design and vibrant color. You can enjoy an eye-catching resume template that is easy for you to add your content to in no time. This one will surely stand out in a pile, and looks equally great in grayscale if the potential employer decides to print it.
— For the designer who is looking to stand out, look no further than this fun and trendy resume template that will surely catch your employer's eye. In addition to looking like a fun design with fun icons, the color scheme on this one is something to be marveled at. It employs pops of color without overdoing it.
— Sometimes you can tell by an employer that they want to see something a little more simple for the sake of keeping things professional. This resume provides you with a perfect resume template that has just enough design elements to be appealing and well organized, but still maintains simplicity.
— This amazing template finds a delicate balance between design and simplicity. You can enjoy a unique layout without it being too in the face of the individual reviewing it. The fact that you can easily add a picture or logo to the resume makes it that much more interesting.

— For the individual who wants to stand out a little more, this playful design does a great job of immediately separating you from the rest of the applicants. It's got a bolder look that is sure to be immediately noticed and has a well-designed organization to it that makes it easy to fill with all of your best information.
— As far as resume templates for designers go, this one is a great way to establish yourself with a statement. Its sharp edges and bold color scheme are more than enough to show that you are serious about clean design and ready to get to work. It is a great balance between design and business.
— When it comes to finding resume templates for designers, sometimes the results can be overwhelming. This template does an amazing job of striking a good balance between design and professionalism. Its sleek accents make it something to be desired without overplaying it.
— This resume is exactly what people think when they consider resume templates for designers. It has a collection of beautiful design elements that are certain to catch the attention of any potential employer. You can show off all of your hard work and proven statistics here.
— While you might not expect it, there is a good chance that you will be applying to tech companies with your design skills. This tech-ready infographic resume will not only stand out, but has all of the attributes that you would ever need to show the company that you are the real deal and ready to go.

— This is a slightly more simplified version of an infographic resume that makes it easy for you to add your information and show the company that you mean business. It does a good job of balancing great design with quality content sections.
— For those of you who have been in the business for a while, you might want to show off your resume in a way that speaks to your years of experience. This timeline resume is perfect for helping an employer understand your professional journey while still blowing their mind with amazing design.
— When it comes to award-winning design, we feel like this resume template sums it all up. This bold and exciting look is an excellent way to not only show a potential employer what your work history is, but also to show them the kind of energy that you bring to a team. A resume like this will always grab the right kind of attention.
— Sometimes you just need a resume that has a gentler feel to it without compromising on great design elements. This resume is an effective way to find a way to demonstrate your personality and showcase your talents at the same time. It's simplistic but still modern design is something that employers will love looking at.
— As far as resume templates for designers go, this one is not for the faint of heart. Something about this design is incredibly well done, but it is certainly a bold look that might not suit the average applicant. If you want to truly stand out, a resume like this will do it, though it might not be appreciated by every employer.

— It's easy to see why people love this resume template. It balances a subtle modern design with the ability to add your logo or image for added personalization. The colors are fun without being overwhelming, and it has a neat finish that is surely something to be desired. Use this one to land your dream job!
— In the world of resume templates for designers, this one reigns supreme. This amazing template balances an amazing color scheme with a bold design that is somehow still not too much. It is attention-grabbing without being too ridiculous, and the neat finishes make it look professional even though it is relatively designed heavy.
— Sometimes you need a modern resume to take on the modern world, and this resume does a great job of that. It has enough design elements to give it a bit of flair with a pop of color that is sure to stand out on a screen. Still, the design itself is not necessarily over the top, and it is easy to dress up or down with content choices.
— This resume template does an amazing job of combining high-quality design with a brilliant finish. Everything about this resume balances professionalism with a beautiful design to bring together an exciting product that is sure to look great on anyone's desk. The design of this one is simply something to marvel at. It's just one of the most beautiful resumes.
— There are times when you need to shine and then times when you just need to prove that you're competent. This modern resume design is great for taking things seriously without having to strip out everything fun. It brings a simple and attractive design without forcing you to feel like you're turning in a boring old word document.

— In the land of boring resumes, it is natural to want to stand out. This resume will stand out among the rest in the pile with its bold design and exciting photo option that allows you to customize it that much further. Sometimes a modern world requires a modern resume, and this one is it.
— Sometimes you want a really good design that does not necessarily overwhelm the content. This template is perfect for giving you a balance of amazing design with supreme organization so that your content can shine. While it is design-heavy, it is also simplistic and organized enough to not look too overdone. This is a great choice for bringing something extra to the table without being too extra.
— In the resume world, there is a good way to enjoy quality design without losing content. This open and well-designed resume template is perfect for showing the world just how capable you are. It's unique enough to stand out, but doesn't overwhelm the content, which makes it very well balanced and appealing for most people.
— For those who are new to the world of design, this student resume can be a great way to show an employer exactly how eager you are to get to work. It brings a fun and modern design while still leaving room for the important highlights. This makes it so that you can show the company what a team player you are.
— This resume template brings a simple design that is just enough to get you noticed, but doesn't look like you're trying too hard. It has beautifully distinguished sections that make for a nice and organized finish, and even adds some subtle colors to make it stand out that much more. You really can't go wrong with this one.

— This is another resume with a beautiful downplayed design. It combines pops of color and fun design elements without overthrowing the resume with it. The design itself is very open and attractive to look at, and there is plenty of room for you to include all of your amazing content. For a subtle balance between design and professionalism, look no further.
— You can enjoy the beautiful simplicity of this design without feeling like it is too basic. It is great for helping to focus on content while still maintaining a neat look. It's easy to see why this would be an obvious choice for companies that demand professionalism. While it might not be the most fun resume around, it's still attractive and effective.
— We believe that there is no such thing as a resume for a specific job. However, this sales manager resume seems like a resume that would get you a sales manager job. We don't believe that its capabilities end there. This neat and appealing design is perfect for any job that you might be looking for. Don't hesitate to try out this simple look for maximum benefits.
— The design for this resume makes it easy to add your information with confidence. It has a subtly colored look that is great for being attention-grabbing without going too far. The overall design itself is great for helping you to show that you're a cut above the rest. It announces your presence without screaming it.

— Sometimes you need to show the world exactly how fancy you are. With this resume template, it has never been easier. This template offers a smooth design that is attractive and professional. It is just fancy enough to show off how cool you are without being too ridiculous. The even look makes it perfect for showcasing all of your talents.
— The right accent can easily dress up any drab document. This resume template effortlessly employs that principle. The overall design itself is relatively simple, but the art on the side adds character. It shows that you can be both business-minded and an individual at the same time. This crisp and vibrant color is sure to catch the eye of anyone who looks!
Conclusion
When it comes to finding the right template, it is all about understanding your message. Your resume will show potential employers who you are, so find one that fits.
A good template can go a long way when it comes to helping you land the job of your dreams. Take your time, find one that works, and be confident when you send it out. Your work talents deserve the perfect display, so feel free to experiment!
Did you ever think about using a resume template to improve your chances of getting hired?