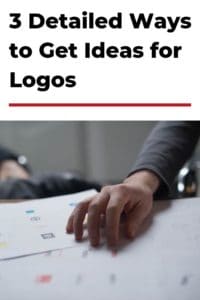 When you're first starting up a new company or venture, it is easy to find yourself in need of a logo. A logo will help you to catch the attention of anyone who looks in your direction.
Since this is the case, finding the right logo can be a crucial part of your branding journey. As you begin to explore what the next face of your company will be, it is likely that you will consider many options.
Finding the right ideas for logos can be the difference between complete success and utter failure. Choosing a good logo is about more than just finding a fun image. Your logo should be a perfect representation of your brand if you want to be able to resonate with an audience.
This is important for impacting how people will remember you and to what degree. A good logo can help you to gain business and increase your credibility as a company. As you begin the design process, knowing where to start is crucial. That is why we have compiled effective ways to get ideas for logos.
If you're interested in other branding related articles, check out my related content:
Find Your Dream Logo By Looking At Your Brand
An excellent way to get ideas for logos for your company is to consider your brand. Your logo must fit perfectly within your brand. In fact, in most cases, the logo is your brand's centerpiece. It is likely that your logo will be the first thing that people see when they view your company. For this reason, choosing one that works with your brand is an absolute necessity. If you are looking for idea inspiration, it is time to look within your company.
Focus On This When Looking for Ideas for Logos
When it comes to looking for ideas for logos, you should focus on your overall brand identity. This will help you to consider what is and is not appropriate from a design perspective. Using this approach is actually a good thing to do for branding in general.
Understanding what you want people to take away from your brand will help you to make all of your branding decisions. If you have this question answered, you're that much closer to inspiration.
The First Step
First, you want to consider how you want to be interpreted. Your overall tone for your branding can help guide you towards a good logo. If your brand is serious, you won't want a comical turtle wearing shades for your logo. If your brand is fun, you won't want a sharply designed logo either.
Think about what your brand is saying and begin brainstorming logos that match. You can do this by drawing your own logos or beginning to look online. Finding a good example of the tone you hope to set might just help you get that million-dollar idea.
In addition to the tone of your brand, you will want to consider your overall color scheme. The branding colors that you choose can generally impact your logo design. If you're keeping it simple and professional, you might prefer black and white.
This will help tailor your logo decisions in that direction by limiting what design approaches you can take. Once again, don't be afraid to look up black and white logos to see how they work. This is a great source of inspiration regarding what can be done with this style.
What to Do if You Want a Color Logo
If you do go the route of using colors, begin looking into colorized logos. This can show you what the possibilities are with this route. Many companies use color in their logos as an added design effect. You might just find in looking at these logos with bursts of color that it could work for you. Understanding stylistically what appeals to you is a good way to generate your own ideas.
As a final note with branding, you will want to consider what your overall image is going to be. This will mean considering your company name and style. Some companies can get away with having logos that include icons or images. Others are more limited to keeping it focused on their name or slogan. Understanding what will look right with your brand can help get you inspired in the right direction. This is a great way to generate ideas that work.
Find Your Logo By Looking For Themes Amongst Your Inspirations
In the event that you haven't begun branding or aren't finding inspiration there, there is another route. An effective way to find ideas for logos is to consider what inspires you. Knowing what works for you is imperative when it comes to good design decisions.
If you notice that you're struggling to find a logo idea that fits, you might just be trying too hard. Looking at your sources of inspiration to begin with can help you generate ideas. A common pitfall is to focus on finding the right logo instead of one you're excited about.
Chasing inspiration is much easier if you don't focus on what you should be doing. It's easy to think that logo design has to go a specific way. For some people, that works. For others, finding the right logo option is a matter of being inspired.
In order to effectively find the right logo, many people have to search to find what works for them. This can be more difficult with highly professional businesses because there are more standards, but it isn't impossible. For companies that are more of a reflection of you, you can get away with running wild here.
Where You Can Find Inspiration
Inspiration is everywhere when you are looking for a good logo. You can consider logos as you run errands for the day. You can find logos as search the internet for anything. Everywhere you look, there are logos. This is a great way to begin chasing your inspiration. Start looking for companies who have branding that you like. You won't want to mimic them, but they can help you to start focusing in the right direction. This is a great place to start.
As you begin to notice more logos that you like, consider the similarities. If you find yourself continuously liking logos with a similar style or color, make a note. There are certain logo styles that are popular at any given time.
You can use these as a basis for your own logo content. Think about what you like in other companies and consider how that can be adapted to suit your needs. You just might find your dream design that inspires you to make a great logo.
Use This Powerful Method to Find Ideas for Logos
In addition to looking for branding materials that you like, consider other brainstorming options. Sites like Pinterest are a great source of inspiration. If you haven't broken down your branding yet, this is a great place to start.
These sites allow you to collect items for a mood board that can set the tone for your brand. This is a powerful way to find ideas for logos while also solidifying what you want for your company's appearance.
Another benefit of using mood boards for inspiration is finding the right vein for your logo. You might find yourself inspired by a specific animal, design, or vibe. You can even do a complete logo inspiration board to help you get started.
This can be an effective way to collect different logo aesthetics that can help you decide on a design. These are also particularly effective if you are paying someone to custom design your logo. The person who is making your logo options can understand more effectively where you are coming from.
Chasing inspiration to find ideas for logos is a great way to bring your process together. You can effectively use this method to drive all branding decisions. More importantly, it will get your mind running as you brainstorm. Getting yourself thinking about what kind of logo you want and how it might look is key.
This process can help you to effectively start brainstorming. Filling your mind with good ideas and identifying patterns can help to inspire you in no time.
Find Your Logo By Considering Current Industry Trends
If your inspiration well has run dry, you can always default to a more business focused approach. In most industries, there are standards when it comes to branding. These standards are generally unrecognized by the public until you line them up side by side, but they are there.
Using these branding consistencies to help drive your logo design is a great way to get a professional logo. You might not be in a good line of business for creative logo design. Don't worry, you can still find great ideas for logos by turning to the professionals.
In order to carry out this method, you will need to do some research. You will begin by looking at popular companies in your industry. Take a minute to look around their websites and understand their branding patterns.
Take note of the way that their logo matches the rest of their aesthetic. If you find something that you like, make a note of it. The important part is that you will focus on looking at all of these different companies in your industry.
Use This Method to Create a Good Design
As you start to look at all of these different businesses, make a note of their design choices. If you notice a consistency in all of their logos, right that down. That means that you can use that approach effectively and match the industry. This puts you one step closer to making a good design that will help your company to fit in.
Recognizing the way that other companies do this is a great inspirational source for many. When you begin to see the patterns, it is easier to see where your stuff might fit.
For some people, realizing how consistent major brands remain can be helpful. As a consumer, we are all prone to seeing brands individually. However, when you line them up, you'll notice that they draw on each other a lot.
This is true for branding, functions, and products as a whole. Every industry has certain patterns that are native to it. If you can find those, drafting your own version isn't as hard.
You don't have to worry about knocking off someone else's design. Unless you plan on completely lifting it, you'll notice most companies are very similar. You might be changing their name for yours and their icon for your icon. That's completely fine.
Certain design choices are actually graphic design standards that are used literally everywhere. By focusing in on where these companies all fall, you can find a simpler way to get great ideas for logos. You don't have to reinvent the wheel to stand out, so take a breath and start small.
Conclusion
Many companies fret about their logo because a bad logo can be a death sentence for a company. Nobody wants to buy products from a place that can't handle getting a good logo. That is a lot of pressure to place on business owners.
However, finding ideas for logos doesn't have to be a painful process. It can be fun, or it can be work. In some cases, it can even be both. At the end of the day, the process is what you make of it. When you begin looking for ideas, focus on what makes your company special. You'll use this for inspiration, and then you can adapt it to the proper format.
Your logo doesn't have to be groundbreaking right now. In reality, you'll probably end up rebranding as you grow anyway like small companies do. What matters is finding a good logo that you are happy with and represents your company well. Keep it on brand and keep it professional, and you'll be fine.
If you were to use one of these logo tips, which one would it be?
Logo FAQ
How do I get an idea for my logo?
You're in luck! This article covers 3 detailed ways to get ideas for your logos.
What are the best logos?
The best logos are simple and easy to remember like Nike and Apple. Also, some of the best logos that people don't really think about are sports team logos. Sports logos are amazing at simplifying a concept and making it easy to identify.
What makes a strong brand logo?
A strong brand logo should have these 3 attributes: Appropriate, Distinctive, and Simple. By appropriate it should be appropriate in the feeling. By distinctive the overall shape should be easily rememorable and recognizable.