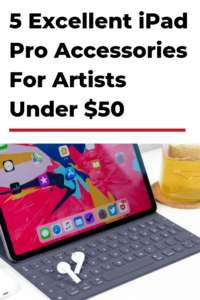 The transition from everyday pencil and paper art to digital art is making waves within the community. Though some might find the change from paper to a tablet to be awkward, but it's not all that bad, especially with many iPad Pro accessories available.
The future includes a fully lit display, and it is beautiful. With the introduction of Apple's iPad Pro line, more artists are moving their office into the digital realm.
There is plenty to be said about the iPad Pro, the functionality of the newly upgraded Apple Pencil and other iPad Pro accessories. However, the market for iPad Pro accessories is vast.
It is with all kinds of iPad artist accessories that are perfect for helping any artist take their next big step. This is why we have compiled a list of the five best iPad Pro accessories for artists!
In addition to these accessories, go to my Recommendations page to see exclusive tools that will help you create art no matter where you are and/or services that will help you grow your art business.
If you're interested in gear for your art, check out our other gadget-related content:
DISCLOSURE: This post contains affiliate links, meaning I get a commission if you decide to make a purchase through my links, at no cost to you. I only recommend products that I've used or really like. Please read my disclosure for more info.
Quick Price Comparison Table
Apple Pencil Tips
Brush Stylus & Fiber Tip
Adonit Jot Pro 4
PaperLike Screen Protector
DokiWear Art Glove
1. Apple Pencil Tips
The Apple Pencil itself is one of the top-rated best iPad Pro accessories for artists. This is true for its original versions for the iPad Pro 12.9 and iPad Pro 10.5 inch models.
The true magic of this device is built upon its ability to mirror an actual writing utensil. The trick to making this possible is dependent largely upon the tip of the Apple Pencil itself.
The tip of the Apple Pencil is designed to take all of the pressure that you load into it as a writing device. It then relays that information to the Apple Pencil technology. This is, in turn, passed onto the Apple device.
If it sounds like a lot for a single item to be done almost instantaneously, it's because it is. The pencil is a force to be reckoned with.
For an everyday artist constantly on their iPad, the tip of your Apple Pencil is going to wear down. The tips of the Apple Pencil are regarded as being particularly durable, but not immortal.
How long to Apple Pencil tips last?
Apple Pencil tips can last for more than a year if you use it a lot. I use mine several days within a week, and I've had mine for a few years now.
If you don't know when you need to replace your Apple Pencil tips, all you have to do is feel the tip. If it feels really rough, like sandpaper, then it's time to replace it. You'll also know to replace your tip if it's not working correctly. Feeling the tip and noticing if the pencil still works are two of the main ways to determine if you need to replace your tips.
After prolonged use or if you accidentally drop the pencil, having additional tips on hand is incredibly important. This will help you be prepared.
Fortunately, getting additional tips is a simple $19 purchase (on Amazon) for a pack of four. This can keep you making those trendy comics for Instagram for years to come. These tips will work for either Apple Pencil generation 1 or 2.
You might notice that the tip of your Apple Pencil is getting dull, rough, or just isn't responsive enough. It might be time to head over to the store for a pack of these to keep you drawing!
2. Digital Artist Brush Stylus and TruGlide Pro Fiber Tip Artist Bundle
There will likely never be a time that you want to take your actual paintbrush to your iPad screen. However, there are other painting options. A painter can enjoy the wonder that is digital art created with the best iPad Pro accessories for artists. With the right stylus and painting techinques, you can even improve your digital painting ability.
This brand set out to bring painters into the digital realm by providing them with a new kind of stylus. It is also a magical digital paintbrush.
This stylus has a completely authentic paintbrush tip. It is responsive enough to paint using digital painting tools in your favorite app.
In addition to giving you the ability to paint with this creative tool, it also is a traditional stylus. This can also be used for all of your needs that don't include splashing digital paint across your canvas.
You might have been watching your friends who favor drawing or calligraphy run about with their iPad Pro tablets. It is finally possible for painters to enjoy a complete experience for the price of $24.99 on Amazon.
It might be difficult to take your favorite painting supplies with you on a trip. Using this accessory alongside your iPad Pro lets you enjoy your painting experience without having to pack your smock.
This handy device is quite a bit less in price than the traditional Apple Pencil. You might very well find that you are the envy of the town. Paint in the real world is expensive, so it's great for experimenting.
With the simple purchase of this brush, you can paint all day and never run out of supplies! It might not be quite the same, but it's still pretty awesome.
3. Adonit Jot Pro 4
The iPad Pro itself can range from hundreds to thousands of dollars depending on the configurations. It makes sense why you might not want the accessories for your iPad Pro 12.9 inch to cost more. Fortunately, Adonit is known for its efforts to make sleek and precise styluses.
They are not only reasonably priced, but will get the job done. More importantly, they will do it in the same way that their more expensive counterparts will.
Adonit has created the Jot Pro for all of your digital writing and drawing needs. This unique and one of the best iPad accessories for artists is perfect to write, draw, or work on calligraphy designs.
With over 2,048 levels of pressure sensitivity, you'll gain so much control when creating various lines and brush strokes.
Better, you won't have to pay both an arm and a leg for a good digital drawing experience. Coming in at a mere $29.99 on Amazon, you can get an amazing iPad artist accessory for a reasonable price.
The feature that makes this iPad Pro accessory perfect for artists is that it isn't done until you are. This device does not have a battery and does not rely on Bluetooth. Before you panic, it still works. The device itself is equipped with a unique circular disk.
This tip gives you a clear view of your drawing, and interacts with your touchscreen with startling accuracy. Since you are not limited by battery, you can draw for as long as you want.
It also comes as an added perk that this great stylus is available in colors for you to enjoy. It makes the entire experience feel very custom.
In addition to being a great tool with excellent reviews, it also comes with protection. This device includes a clip that allows you to store it easily on a case or bag. The stylus also includes a nifty little magnetic cap.
It will keep the tip of your stylus safe so that you can draw for years to come. It even works with any kind of touchscreen device. If you are a digital artist, this digital pen might just be what you have been waiting for.
How to Charge Adonit Jot Pro?
Plugin your USB charger into a power source.
Place charging base of your stylus into the USB charger.
Wait about 90 minutes for a full charge.
4. PaperLike iPad Screen Protectors
This is one of the best iPad accessories for artists that you never knew that you needed. Now, you will never be able to unsee it because it is so uniquely genius. Artists love paper. This means there is a good chance that you have an almost disturbingly sentimental attachment to paper.
For many artists, the hardest part about transitioning from paper to a tablet is that it doesn't feel right. Your iPad Pro 10.5 inch tablet has a glassy, glossy screen. That is not at all what a traditional drawing experience calls for. PaperLike can help with that!
That issue is what makes the PaperLike iPad screen protectors such a brilliant accessory. For anyone struggling to write or draw on an iPad Pro because of its slick surface, they are great.
These screen protectors are custom designed to deliver the same feeling of friction as paper. They were created with a stylus in mind. It perfectly recreates the sensation of paper for you so you can feel a little more at home.
You might be an artist on the fence about whether or not digital artistry could be right for you. This amazing iPad Pro accessory would be perfect to help you make the big leap.
PaperLike loves all iPad Pro models equally, so you can get it for all of your iPad Pro models. This gives you the ability to enjoy a paper experience on your digital platform.
This protector even protects your screen from scratches, dust, and fingerprints. Any digital artist knows the horror of turning off your iPad screen and realizing that it's all smudges.
The added fingerprint protection will defend your honor and handwashing habits for some time. This product comes in packs of two for around $36 (on Amazon). It gives you the chance to enjoy the experience and replace it with a backup if you need to. If you are a complete disaster at applying screen protectors, you will have a second chance.
5. DokiWear Mazo V2 Series CG Art Glove
For plenty of artists, wearing a glove while working on art can be unbelievably beneficial. There is no ink or lead to stain the side of your hand when you draw on a tablet.
However, this does not mean that you cannot enjoy the beneficial experience of using a glove while you draw. For digital artists, an accessory like the DokiWear Mazo V2 Series CG Art Glove is an invaluable tool.
This glove helps with keeping the drawing process completely smooth. Using a glove while you draw on a tablet is an excellent way to dodge any palm rejection issues.
It can allow you to let your hand glide across the surface while you draw your next masterpiece. This iPad Pro accessory is a must-have for any career digital artists who regularly spend hours drawing in their favorite drawing app.
There is nothing more troublesome than how filthy your screen can get while you drag your hand across it. DokiWear got ahead of this issue with their glove. Part of the glove has been fitted with a microfiber cloth. This allows your hand to glide across the screen easily and cleans the screen at the same time.
The result is that the more you draw, the cleaner your screen will get. This can help with any buildup that you might deal with while drawing on your iPad Pro. This means that your screen can stay clean while you work. Even better, you can always use the glove to wipe it up as needed.
In addition to cleaning up your act, this glove offers compression technology. It is designed to help your hand to continue working for hours on end.
Drawing is one of your primary forms of athletics. It makes sense why you should benefit from athletic grade technology to get the most out of your body. For an easy $16, not buying this product seems like a waste, if anything.
Conclusion
Getting the most out of your brand new artist studio courtesy of the iPad Pro is crucial. Having the right accessories can make or break your experience when you make the shift. With these kinds of useful tools created with artists in mind, your transition will be easy.
The best ipad accessories for artists will help you be ready to pursue your dream of digital artistry in absolute comfort. The jump from paper to digital can be a bit intimidating. However, with the right tools, you might just be surprised to see how comfortable you are with switching platforms.
Also, if you want exclusive tools that will help you create art no matter where you are and/or services that will help you grow your art business, go to my Recommendations page.
Is there an iPad accessory that you like and not on this list?
iPad Artist Accessories FAQ
What accessories do I need for iPad pro?
There are only two-must have accessories you need. A stylus (if you're an artist) and a charger for your stylus and your iPad. After that, you should get a iPad case that functions as a stand, a cloth to clean your screen, a keyboard to hookup to your iPad, and screen protector.
What keyboard is best for iPad pro?
Logitech's Slim Combo is the best. It's a keyboard and case combo, and when you attach the keyboard to the iPad, you get a longer battery life on your iPad.
What are iPad accessories?
iPad accessories include chargers, styluses, cases, keyboards, gloves, nibs for a stylus, cables, or any other device that makes your iPad perform better in some way.
What does iPad Pro come with?
It comes with an USB-C Charge Cable and 18W USB-C Power Adapter.