There is a distinctly growing interest in digital art as a medium of creation. It comes as no surprise that forms of digital drawing are becoming incredibly popular with the rise in popularity. It's no wonder why more and more people are looking for the cheapest iPad for drawing.
It can be a challenge to find the best cheap drawing tablet with a screen. You might be watching your favorite online artists strutting around with their brand new iPad Pro.
That does not mean that you need to spend over $1500 just to enjoy a good digital drawing experience. Many other cheap drawing tablets with screens exist beyond the use of high powered tablets like the iPad Pro or Studio Pro.
A large majority of digital artists are known for using other tablets. They come at a much cheaper price tag and offer much of the same functionality. While not all of these do everything that an iPad does, they are an affordable drawing tablet with a screen and are a great alternative to the iPad for drawing.
A standard tablet for drawing is a cheaper alternative to some of the more aggressive product lines being promoted. The cheapest screen tablet will still give you all of the joy of a digital drawing experience at a much cheaper price.
These devices are reliable, affordable, and are some of the best and cheap drawing tablets with screens for digital artists. In fact, it's easy to get an affordable drawing tablet with a screen under 200.
DISCLOSURE: This post contains affiliate links, meaning I get a commission if you decide to make a purchase through my links, at no cost to you. I only recommend products that I've used or really like. Please read my disclosure for more info.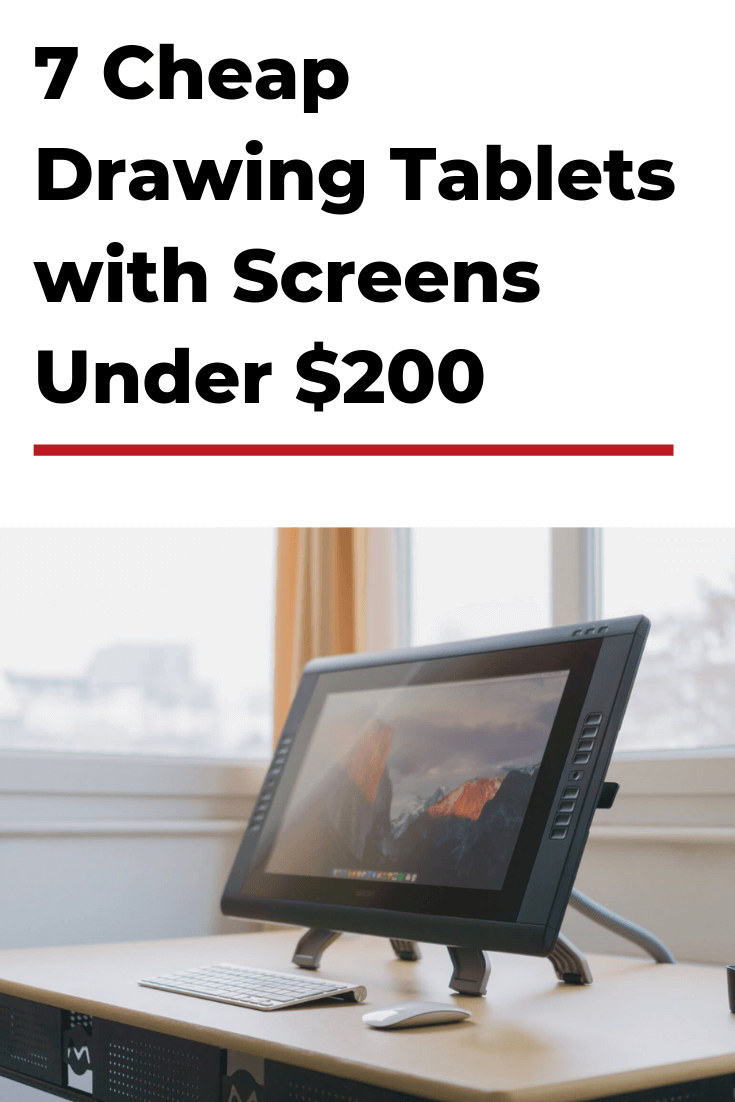 Cheap Drawing Tablet with Screen Comparison Table
XP-Pen Artist 12
Parblo 10.1" Coast10 Tablet
Lenovo Yoga Tab 3
LG G Pad F2
The iPad
LFire HD 10 Tablet
Lenovo Tab 4
1. XP-Pen Artist 12
If you are looking for a great drawing tablet for artists, the Artist 12 is an amazing offer. Other drawing tablets with screens of its kind tend to be well over $500. This perfect device made by one of the more reliable drawing tablet companies comes in at a cheap $199.99 on Amazon.
This drawing tablet is ideal for an artist who wants a tablet that is intended to be an art tool. It rivals the functionality of some of the best on the market.
How to Connect XP-Pen Artist 12
This drawing tablet is used in the same way that its more expensive counterparts are. You connect it to your computer via USB. You can then begin drawing to your heart's content using USB connectivity. It offers an 11.6-inch tablet screen, making it an amazing tool at the perfect size for most artists.
The pencil that comes with it battery free. This allows you to draw as long as you can without ever having to worry about charging it. The pressure sensitivity in the tip of the pen understands your every angle, tilt, and amount of pressure. This results in a responsive and desirable drawing experience.
It also provides you with six shortcut keys that can be fully customized to manage your studio experience. This means you can always have your favorite options readily available.
It is compatible with all major software. This makes it an ideal choice for an artist looking to draw, trying to paint, edit photos, or work on animation projects. For the functionality and its cheap price, it is an amazingly affordable drawing tablet with screen that cannot be beat.
This tablet is such a great tool for digital artists that it is on my Recommendations page, which features exclusive tools to help you create art and services to help grow your art business. It is one of the best budget drawing tablets with a screen.
2. Parblo 10.1" Coast10 Graphics Drawing Tablet
If you are looking for an affordable drawing tablet with a screen that is only meant for art creation, try this. If you also want a snazzy wool bag to keep your tablet looking sharp for travel, definitely try this.
The Coast10 might just be the drawing tablet of your dreams. This tablet comes in a bundle full of goodies. It is complete with a tablet, pen, wool bag, and a fancy drawing glove.
There is something special about everything coming together in one place. The Coast10 is without question an ideal drawing experience. It comes the comfort of having all of your accessories in one place all for the price of $199. The screen provides a vivid drawing experience that anyone will love, and it's a bargain as one of the cheapest screen tablets.
This cheap drawing tablet is perfect for non-traditional artists. If you would rather sit with your drawing tablet in your lap than at a desk, it's perfect. The Coast10 prides itself on its ergonomic design that makes it comfortable to use in any position. It also has plenty of other great traits that make it a worthy investment for the daily artist.
The battery free pen that comes with this tablet has a complex pressure sensitivity system. It allows for the perfect capture of your every hand movement. It is designed like a real pen so it always feels comfortable when you draw.
This tablet also offers multiple viewing angles. The Coast10 is even compatible with all of the major graphics applications. It is truly the perfect companion tool for any digital artist in the modern age.
How to Use Parblo Coast10 on Windows
How to Use Parblo Coast10 on Mac
3. Lenovo Yoga Tab 3
Sure, drawing tablets are fun, but they aren't your only option. The great thing about tablets is that pretty much any tablet can be the best drawing tablet. For an artist, a tablet can be anything with the right apps and tools. A full tablet experience that can support artistic dreams is what makes the Yoga Tab 3 the best budget drawing tablet with a screen for many.
This is an awesome device that brings the comfort of a tablet to your hands but doesn't stop there. With the ability to support all kinds of useful features, this item goes above and beyond.
The Yoga Tab 3 lets you download any of the amazing drawing apps available for Android. You can pair it with a stylus to create your perfect drawing experience. Since it is a standalone tablet, you won't even need to worry about connecting it to your computer.
This makes it a completely mobile studio that lets you work anywhere for only $169! It's an excellent option if you want an affordable drawing tablet with a screen under 200.
Despite being one of the cheapest screen tablets, it packs all the functionality of a great Android tablet and more. Aside from bringing a beautiful 8" screen, this tablet is touted for its comprehensive multimedia experience.
When you draw on this tablet, you can count on vivid colors that are sure to stand out. To really complete your drawing experience, this device is fixed with a complete audio system that includes JBL speakers.
It also has a projector that can be angled to play your screen on any wall. This device hosts an impressive eighteen-hour battery life and a multi-mode positioning system. This is the ideal tool for you to stay working with comfort and ease no matter where you are! This is a great choice if you want a budget android tablet for drawing.
4. LG G Pad F2
You might be looking for a tablet experience that will never ask you to compromise on connectivity. The LG G Pad F2 is a great product for this need.
It combines a complete Android tablet experience with data so that you never have to worry about being offline. This means no more depending on WiFi to upload your next brilliant comic onto Instagram.
You do need to go through a wireless provider for this product. However, you really can't beat this cutting edge tablet for a simple $150. LG has been a trusted creator in the technology space for some time, particularly in mobile devices. It shows in the product reviews time and time again.
This full-service tablet comes with an 8" display that is perfect for drawing, reading, and watching movies. It has a sharp screen that is perfect for getting the most out of your drawing experience.
It allows you to see your work in perfect detail every time. The full Android interface makes it able to hold a myriad of great apps.
This device even offers customizable button functionality. It enables you to jump straight to your favorite app without getting caught up in your Twitter notifications. If you end drawing on paper instead, this tablet has a camera to capture your drawing for you.
As a bonus, it can double as a charger or port for supporting a variety of USB items. It even allows for additional storage to be added as needed!
5. Cheapest iPad for Drawing
You probably would never think of Apple products when it comes to cheap drawing tablets with screens. It is actually more than possible to get an iPad for less than $200. It is the cheapest iPad for drawing. Though you won't find that price on the new proline, older models of the iPad are surprisingly cheap.
They can offer a traditional drawing tablet experiences for artists and provide all of the wonderful functionality of iOS. Online retailers are known to sell these devices for a fraction of their original cost. One example is the iPad Mini which can be purchased on Wal-Mart's website for a shockingly cheap $85.
The iPad has more than earned its name in the digital art space. Some of the bigger digital artists that you know might be using top of the line iPad Pro models. The reality is a few years ago, they were using the models that we now consider to be old. If it was good enough for them then, it's good enough for you now.
Though you might not be able to use the Apple Pencil, there are plenty of great stylus alternatives. They can provide you with an awesome drawing experience on an older iPad model. These devices range in size and storage, but there are models that can be found for less than $200. This is true because Apple makes something bigger and better every single year.
6. Fire HD 10 Tablet
Fire tablets are an amazing product line that was certainly groundbreaking with the dawning of tablet technology. For a digital artist, you might be inclined to believe that these tablets are meant for reading, not drawing.
That is simply not the case. Though Amazon did start into the tablet business with its Kindle line, the Fire tablet is its own beast. It is one of the best cheap drawing tablets with screens out there.
Now a full tablet complete with Android apps that comes with plenty of functionality, these are a great find. This device is able to operate like any other Android tablet, making it ideal for drawing and photo editing.
Its medium size allows for a great drawing space that will pair well with your favorite stylus! For an artist on the go, this is an awesome choice.
For a mere $150, you can enjoy a 10.1" HD display that is ideal for all of your needs. This tablet is the perfect size for travel, but also gives you an excellent platform for your drawing. It has a full collection of Android apps and great WiFi connectivity.
The Fire is perfect for drawing and uploading on the same mobile device. You can even watch a little Netflix between drawings! As a bonus, this product comes with Alexa to help you get the most out of your experience! The Fire HD 10 proves to be a great and affordable drawing tablet with a screen!
7. Lenovo Tab 4
Lenovo is known for making products that keep their customers in mind. This is why if you are looking for cheap drawing tablets with screens, they are a safe bet. For a digital artist looking for a great UI and drawing tool, the Tab 4 is a great choice.
It offers all of the functionality associated with top tablets at a much cheaper price of $160. Unlike the Tab 3, this tablet is perfect for artists who want a more simple tablet experience.
The tab 4 has a brilliant processor that contributes to an immediate relay effect. This is what you want when you draw on a tablet. It also includes a full Android operating system, meaning you have access to all of your favorite drawing apps.
This tablet even provides 20 hours of battery life, making it perfect for all of your art needs when you are traveling. This reliable tablet is perfect for artists, especially if you're looking for the best budget drawing tablet with a screen.
Conclusion
Digital art is a trend that does not seem to be going away any time soon. This is why you want to make sure that you have the right tools. You can be a seasoned digital artist or completely new to the process.
The market is available and ready to help you with any drawing, editing, or animating needs. It is easy to find the cheapest drawing tablet with a screen. Whether you want the cheapest iPad to draw on or a budget android tablet for drawing, the tablets mentioned above are a fantastic choice.
Take the time to consider what you require to suit your needs as an artist and your budget. Make a choice that works for you, not anyone else.
Our personal favorite is the XP-Pen Artist 12. If you agree, you can use my link to purchase the XP-Pen Artist 12 from Amazon.
What is your favorite drawing tablet?
General FAQ
How much is the cheapest drawing tablet with screen?
The most affordable drawing tablet with screen you can get is an Apple iPad Mini at $70.
Can you use a drawing tablet without a computer?
Yes. Many drawing tablets with screens can be used without the need for additional equipment or a computer.
What is the best drawing tablet with a screen?
For years Wacom has been the standard for drawing tablets; however, I have personally stopped using Wacom tablets in favor of the iPad Pro. They are equally as good and having drawing apps like Procreate or a select amount from these free drawing apps, you will be able to create anything anywhere.
What is the best budget Android tablet for drawing?
The Lenovo Yoga Tab and the LG G Pad F2 mentioned in this article are the best and cheapest android tablets for drawing.