Selecting the perfect printer for starting an online sticker business can be daunting. You must balance the quality, speed, and cost, and consider ink efficiency. But it doesn't have to be too hard.
We've created our list of some of the best printers for stickers of different kinds – whether you're looking for the highest resolution, the best value, or the fastest printing!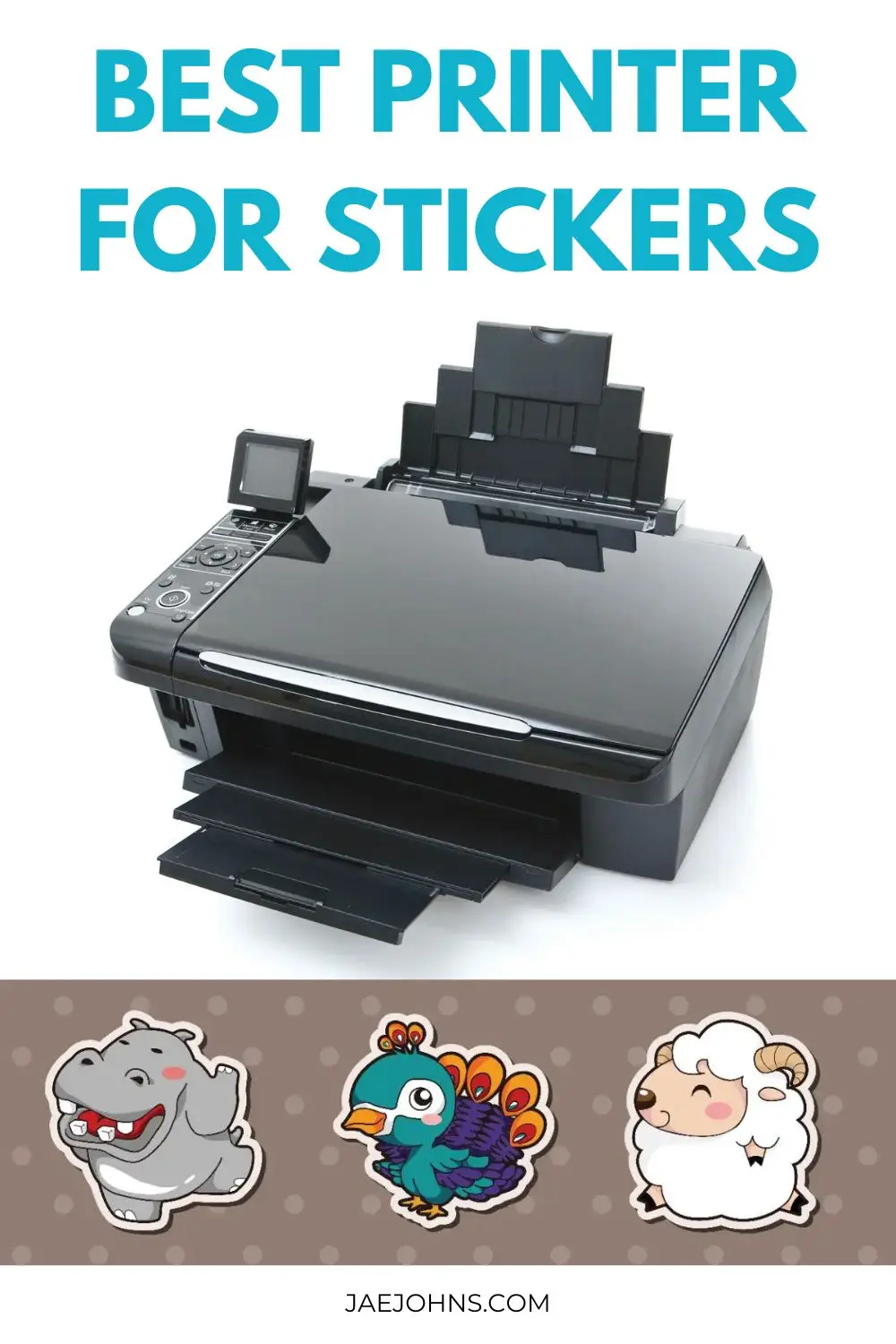 Please read: We can only do this with support from our readers. When you purchase an item through the links on this site, we may earn a commission at no additional cost to you. Thank you! Read our disclosure for more information.
Best printer for Cricut stickers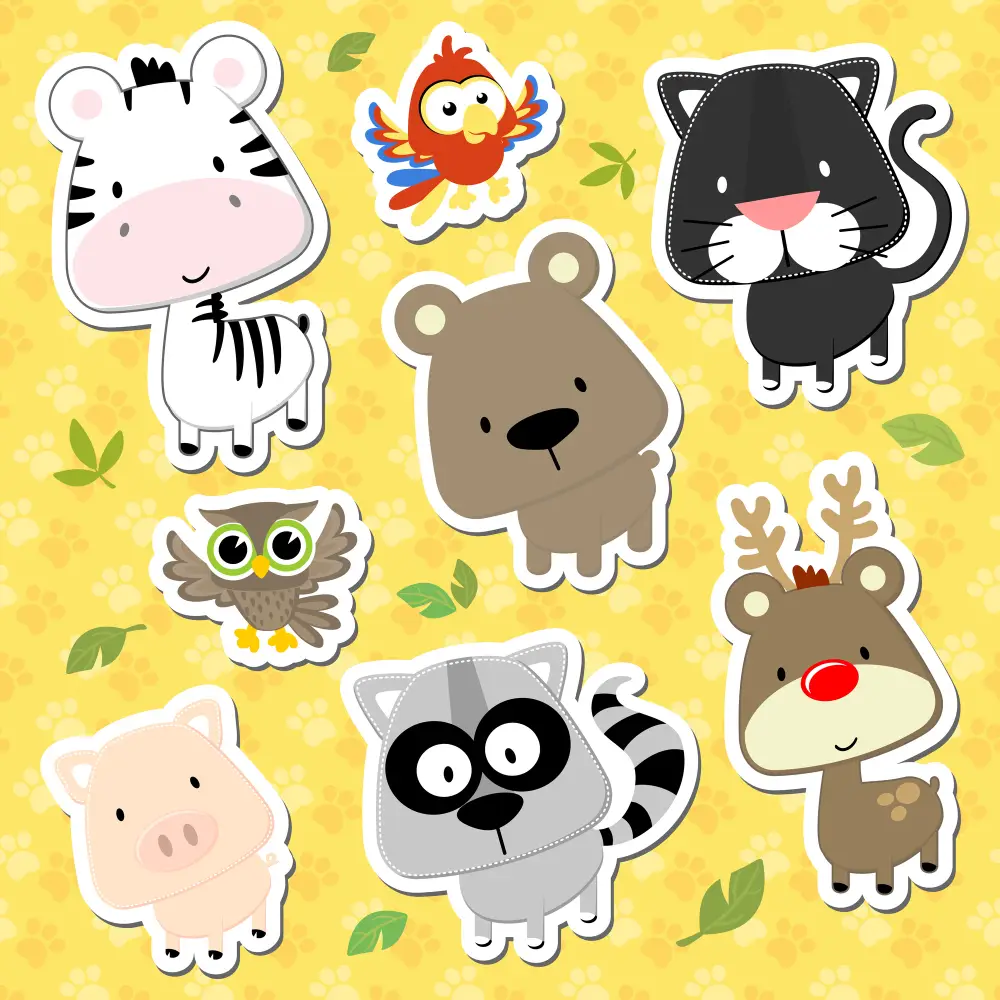 Canon Pixma IP8720 13″ Inkjet Color Printer
For Cricut stickers, you want high-quality images and borderless prints with many size options. The Canon Pixma IP8720, with its 9600 x 2400 dpi resolution, is perfect for the task.
Now, it's not the least expensive printer on our list. In fact, it's more expensive than even some of the best printers on here.
However, what you're getting for that cost is an incredible level of detail and color accuracy. This is a sticker printer for the professional crafter.
Well-designed with almost every connectivity option available, this includes WiFi, USB, and also AirPrint. It's genuinely got every option you need for all your Cricut needs. It can hit up to 13 x 19" for sizes, meaning you can use almost any normal size.
With a complete 6-color dye-based ink system, the IP8720 brings the ultimate in quality, versatility, and creativity.
It's no small feat that it's also super easy to use based on how much it can do.
The one issue for some people is the initial setup, which can take some time to figure out.
You're good to go if you can get past this technical issue, but be sure to ask if you need some help!
Best printer for stickers and art prints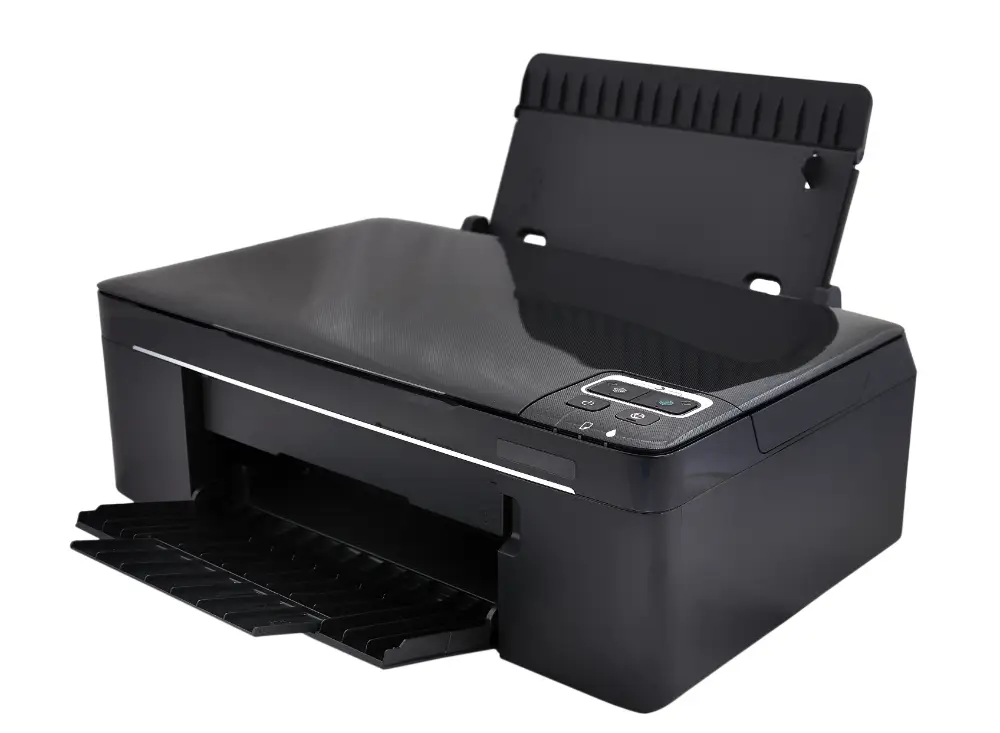 Epson Expression Premium XP-6000
For a great printer that can do both high-resolution artwork and stickers, the Epson Expression Premium XP-6000 can do it all. It's compact, user-friendly, and just well-designed overall.
It prints quickly, hitting about 15 sheets per minute at its peak – which is pretty good for a home printer! Most importantly, the stickers always come out to look amazing.
You can't go wrong when the print resolution is 5760 x 1440 dpi for vibrant, well-defined, and sharp stickers.
In addition, the printer is chock full of features, including borderless, wireless, and duplex printing. If you love using your gadgets, you can even sync the printer with Alexa for voice printing.
Plus, the printer comes with a 2.4-inch color LCD to make it as straightforward as possible to navigate all the different features.
You can see nice, bold, full-color previews on the machine to check that everything is going right.
So, if you're looking for the right combination of versatile yet affordable printing, this machine has got you covered. Although the initial cost is high, the ink costs will save you in the long run.
If you're looking for printers that print art prints well, then here's a list of the best printers for art prints.
Best printer for vinyl stickers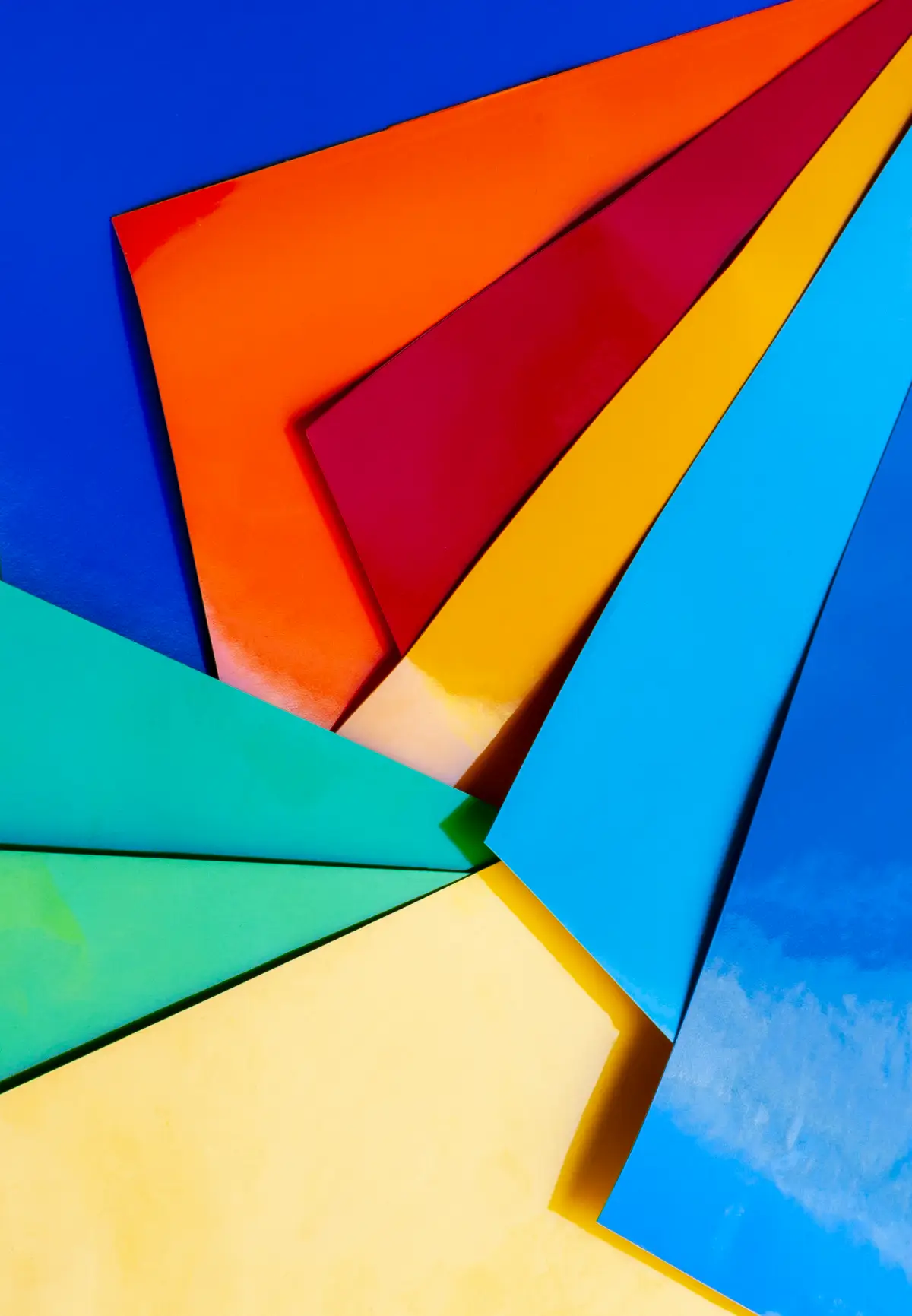 HP ENVY Wireless All-in-One Photo Printer
The HP Envy 5055 is an excellent inkjet printer for vinyl stickers.
It's a budget model, so it lacks some of the features that other models on the list have. However, it's fantastic for an entry-level printer.
Of course, as an all-in-one printer, It's multi-functional, letting you print, copy, and scan.
But it's also wireless, allowing you to connect to it easily using WiFi.
It can handle a wide variety of paper sizes and runs at decent print speeds. You can't expect super speeds, but it's still ok at 7 pages per minute.
A sleek model, it's only 12 pounds in total. For its interface, you've got a nice big 2.2-inch screen, but it's monochrome, which is less exciting than the full-color displays of other models.
For stickers, a full-color display is more helpful in the preview.
Plus, it has an instant ink delivery system, which means you get your ink delivered straight to your door when you're out. This can save you time and money over time.
When it comes to the actual color depth and vividness, it's solid for printing stickers on a budget model.
Best printer for stickers and crafts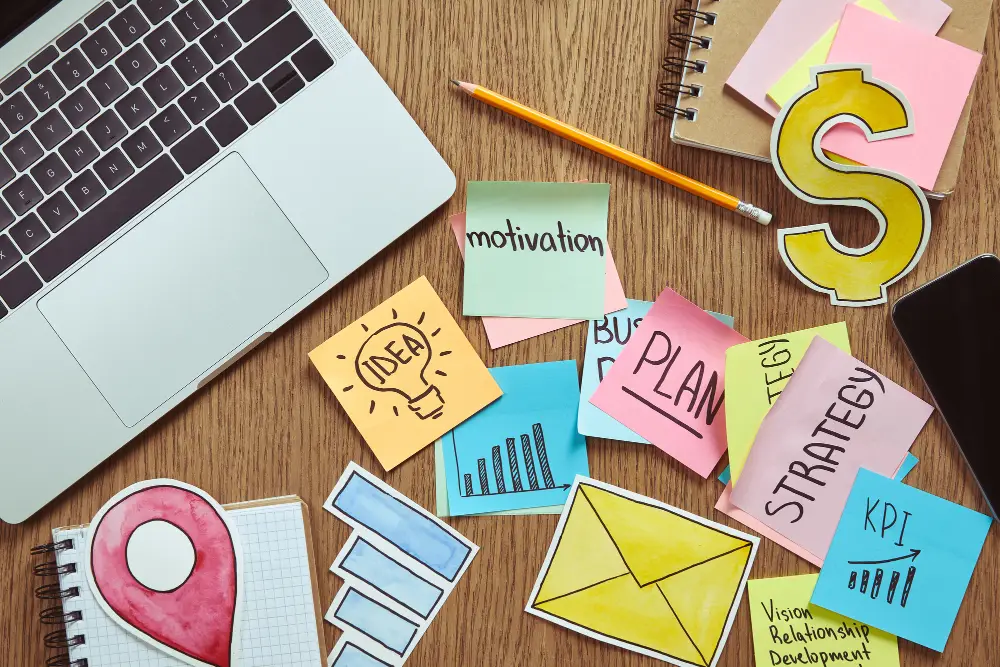 Epson SureColor P600
The Epson SureColor P600 is a well-balanced and versatile pick. It prints at a stunning resolution with its 9-color pigments, the level used by many professionals.
The high-end machine can produce pictures of sizes up to 13 by 129" for beautiful panoramic photography!
However, this is not a 'do everything' printer – it's focused entirely on printing out the best color-quality photos.
For that reason, it doesn't have a scan or copy function. If those features are important to you, many other printers are on the list with all-in-one capacity.
Set up is easy, especially for a rich feature device, and the printer is compatible with WiFi, Wireless, and Google Cloud Print.
For paper sizes, it's truly one of the best, as it can handle everything up to A3+ and even beyond, like the panoramic pictures mentioned above, using rolled-up sheets.
In addition, the tremendous amount of customization available for the SureColor P600 is perfect for sticker printing.
You can choose between various sizes, color settings, quality, and many more options. It also allows for duplex printing for dual-sided images and is fast and reliable.
One of the main reasons to pay for this one is that it can withstand heavy office usage.
But the thing is enormous, so it's not a great choice for home usage if you lack space.
Best printer for stickers and cardstock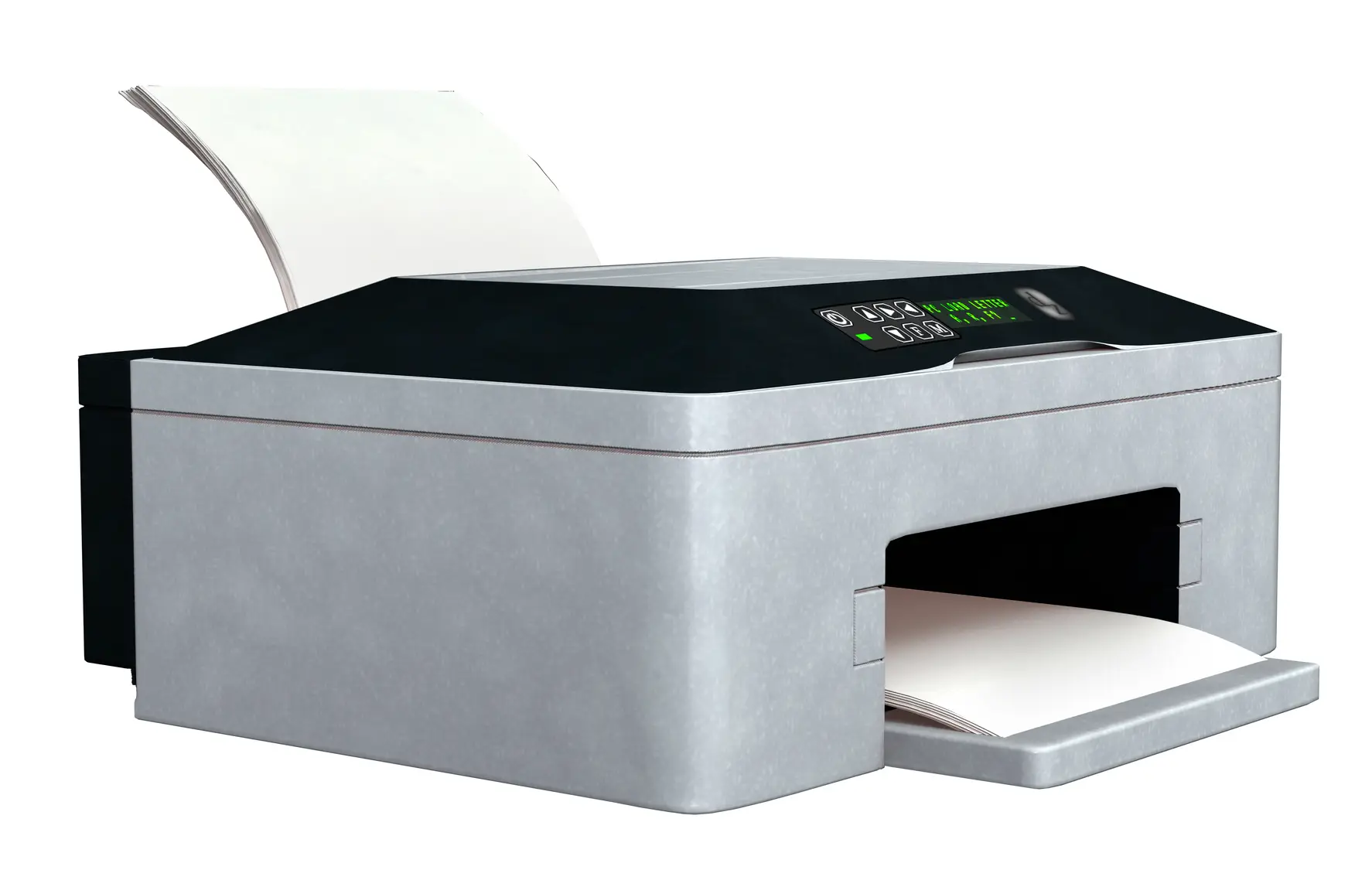 HP OfficeJet 3830
HP hit the nail on the head with the OfficeJet 3830, a perfect all-in-one inkjet printer for everything sticker and cardstock related.
If you want something exclusively for cardstock paper, then you can check out these best printers for cardstock.
This one is meant more for large-scale office work and less for perfect color accuracy.
It's a budget, compact printer with fantastic build quality, good quality premium plastic, and a flatbed scanner for copy/scanning.
In addition, it's got a 2.2" touchscreen display for navigation through all its features and options.
Setup and connectivity for the OfficeJet 3830 is easy. You'll find a USB connection, WiFi, and different cloud services.
Now for the bad news: there's no duplex printing or flash memory.
Another drawback to note is that the print costs are high per page. And yet, between the low cost and the easy-to-use HP Instant Ink program, a lot is going for it.
But finally, we need to talk about the most important thing, the print quality.
It's solid for a budget printer, coming in with a decent speed of 8.5 pages per minute.
Compared to the 5 and 6-ink photo printers from Canon and Epson, it's not quite as good, but it's surprisingly solid for the range expected here.
Best printer for stickers and sublimation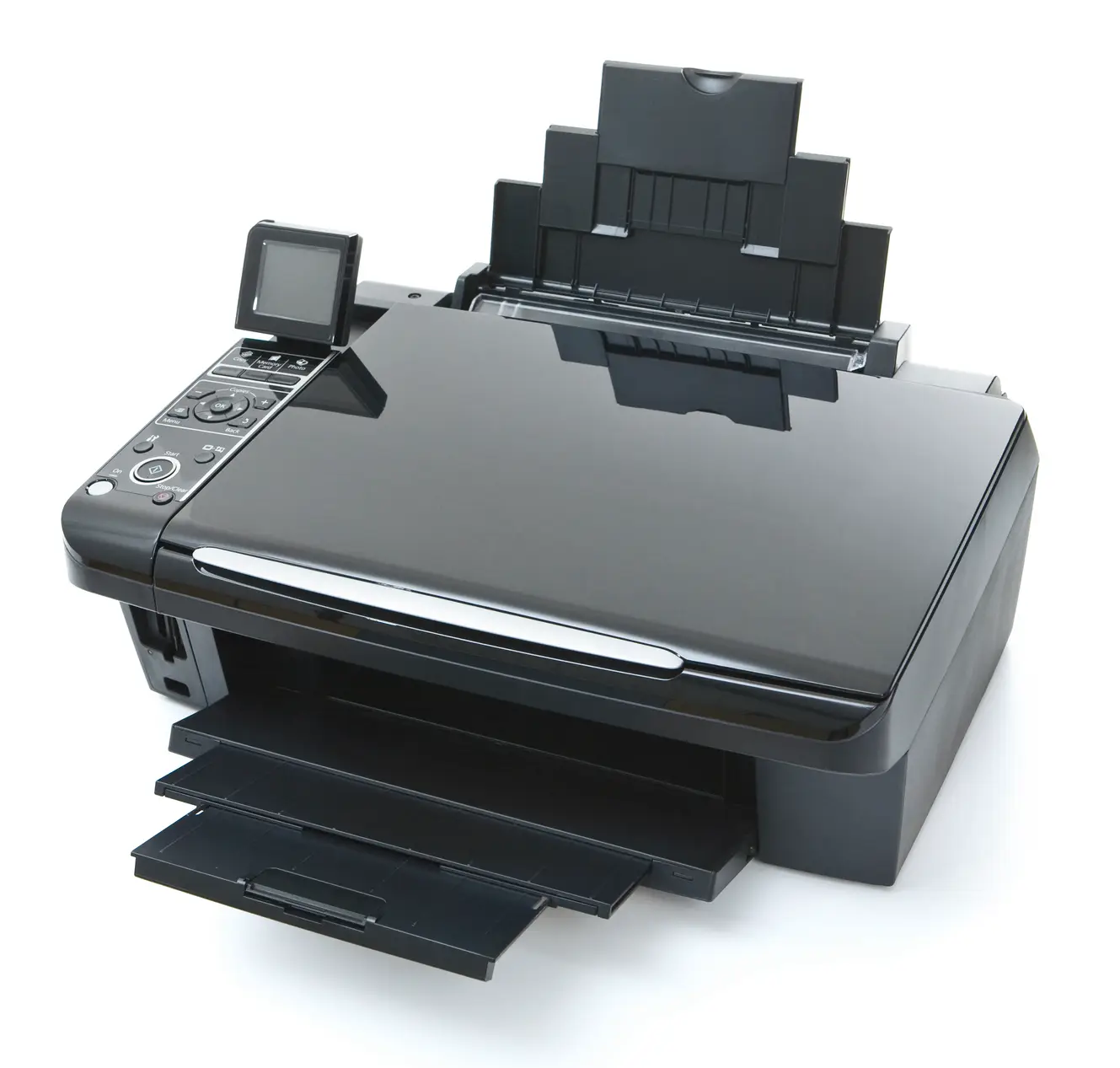 Brother VC-500W
Sometimes, you just want a printer dedicated to stickers, labels, and photos alone.
While the Brother VC-500W can only do ribbon, it can provide vivid full-color images for stickers.
Easily design and print your labels, photos, and images using the compact printer with 17 inches possible without the need to replace the ink, ribbon, or toner.
Its special ZINK Zero Ink® technology doesn't even use ink to print. The vibrant colors are from the adhesive-backed ZINK paper itself.
This style of ink and paper is also water, tear, and smudge-resistant.
You can connect to the Brother printer through WiFi, including a mobile connection. You get a free label editor app with the device that makes it easy to sort things through with the least amount of hassle.
However, two drawbacks do stand out. It's expensive for just being a label maker, and it requires special paper to work.
You are getting quite a different product here than the other inkjet and laser printers on our list, so make sure you're aware of that before you purchase.
Best inkjet printer for stickers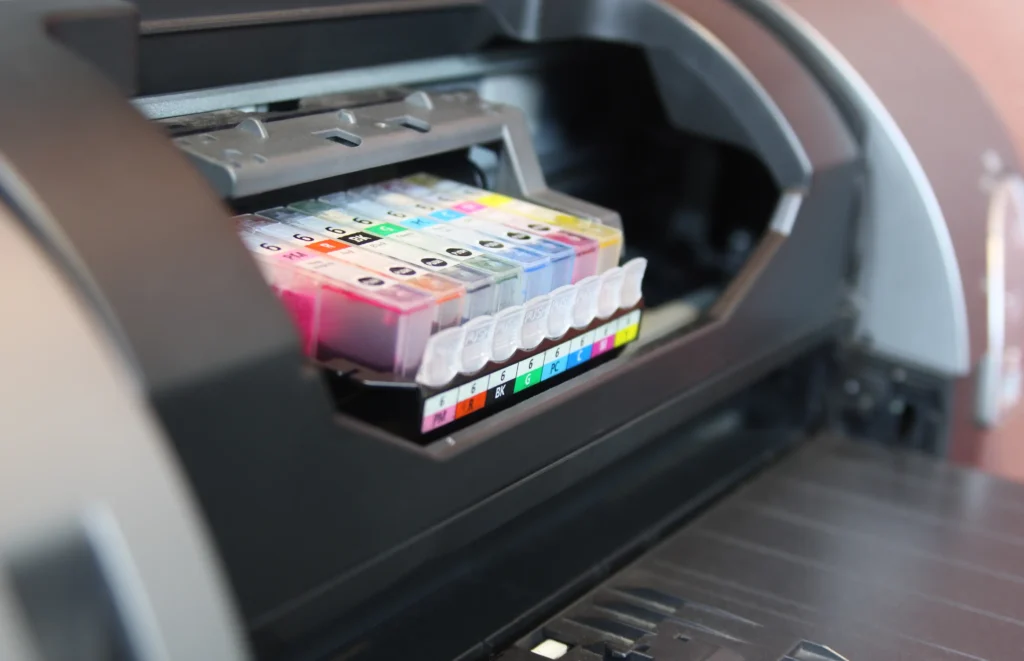 Brother MFC-J497DW Inkjet Multifunction Printer
One of the best budget printers on our list.
The Brother MFC-J497DW Inkjet Multifunction Printer has got it all.
It's a solid inkjet printer for stickers.
For compactness, it doesn't get much smaller than this. The device can fit in almost any space at 6.8 by 15.7 by 13.4 inches and only 18.1 pounds.
It can do high-resolution images with five different inks for vibrant and stunning stickers.
Granted, there are many better photo printers out there, but not too many at this price point. It's perfect for student and family use.
Of course, it can also handle all your scanning and copying needs as an all-in-one.
However, it does not only that, but it also has an auto document feeder, and duplex printing, which is more than many printers at this price point can say.
The easy-to-use LCD is a little small at 1.8", but it's not the size that matters, but the functionality. The downside is that it's a reasonably slow printer, at six color pages a minute.
Depending on the volume of your print runs, this may be too slow for your needs.
Finally, it's easy to set up and has solid connectivity options through USB or wireless. You don't have to worry too much about the setup, and the customization options are intuitive.
Best laser printer for stickers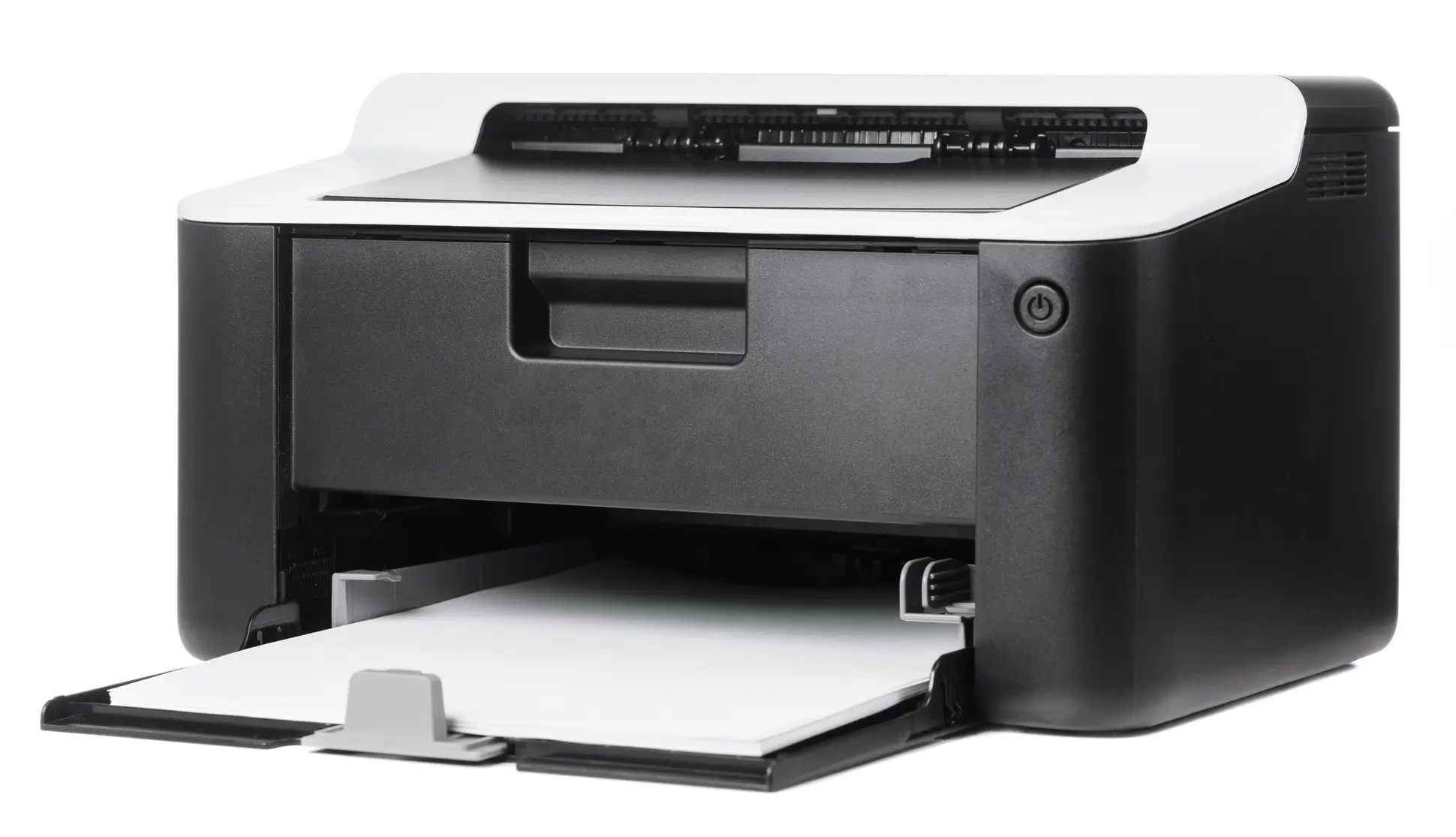 HP Color LaserJet Pro M255dw
The HP LaserJet Pro M255dw is just an all-around fantastic laser printer for stickers.
It stands out for its easy-to-use touch interface connecting mobile and PC apps and for its speed and accuracy.
As a laser printer, it prints lightning-fast at 17 pages per minute. Without burning the paper, it can print on most media without issues, including labels, cardstock, and stickers.
The color accuracy results of using the LaserJet Pro are also great.
It produces crisp, vibrant colors given its limited 600 x 600 dpi resolution, which is about average for laser printers.
So while it's not the best printer for full-color photos, it should handle most sticker needs well.
Regarding compatibility, it uses cloud-based and WiFi wireless printing, or you can print directly from USB. Overall, the setup is relatively simple and easy to do with nothing much to worry about.
The one problem to note is that it is locked out of non-HP toner, so you have to use their cartridges for your ink, which can be pricey.
That being said, laser printers tend to have a much better value per page than their inkjet counterparts, and that's the case here.
Best Canon printer for stickers
Canon PIXMA PRO-100
The Canon PIXMA PRO-100 is a professional-level printer, and easily one of the best sticker printers available today.
It has a resolution of 4800 x 2400, can handle print sizes of up to 12 x 19", and is almost as good as its more expensive siblings, the PRO-200, 300, and 1000.
The one feature you may miss is the onboard display, which can help you choose the exact print job. Just because the PIXMA PRO-100 doesn't have one though, isn't a big deal.
It just shows that it's entirely focused on its printing capacity.
Turning things around a bit, its connectivity options are great, including WiFi, USB 2.0, and many cloud services.
Once you recognize what the PRO-100 is built for, you notice how seamlessly it accomplishes its mission.
In terms of build quality, you're looking at a simple design that works fantastically. It sports two paper trays and a manual slot for printing on DVDs and similar special media like vinyl.
That means it runs without issues most of the time.
Performance-wise, it goes at a solid speed for a high-resolution photo printer.
The color accuracy is vivid and beautiful. It can capture light and dark details and works perfectly even with large format prints (13 x 19").
Best thermal printer for stickers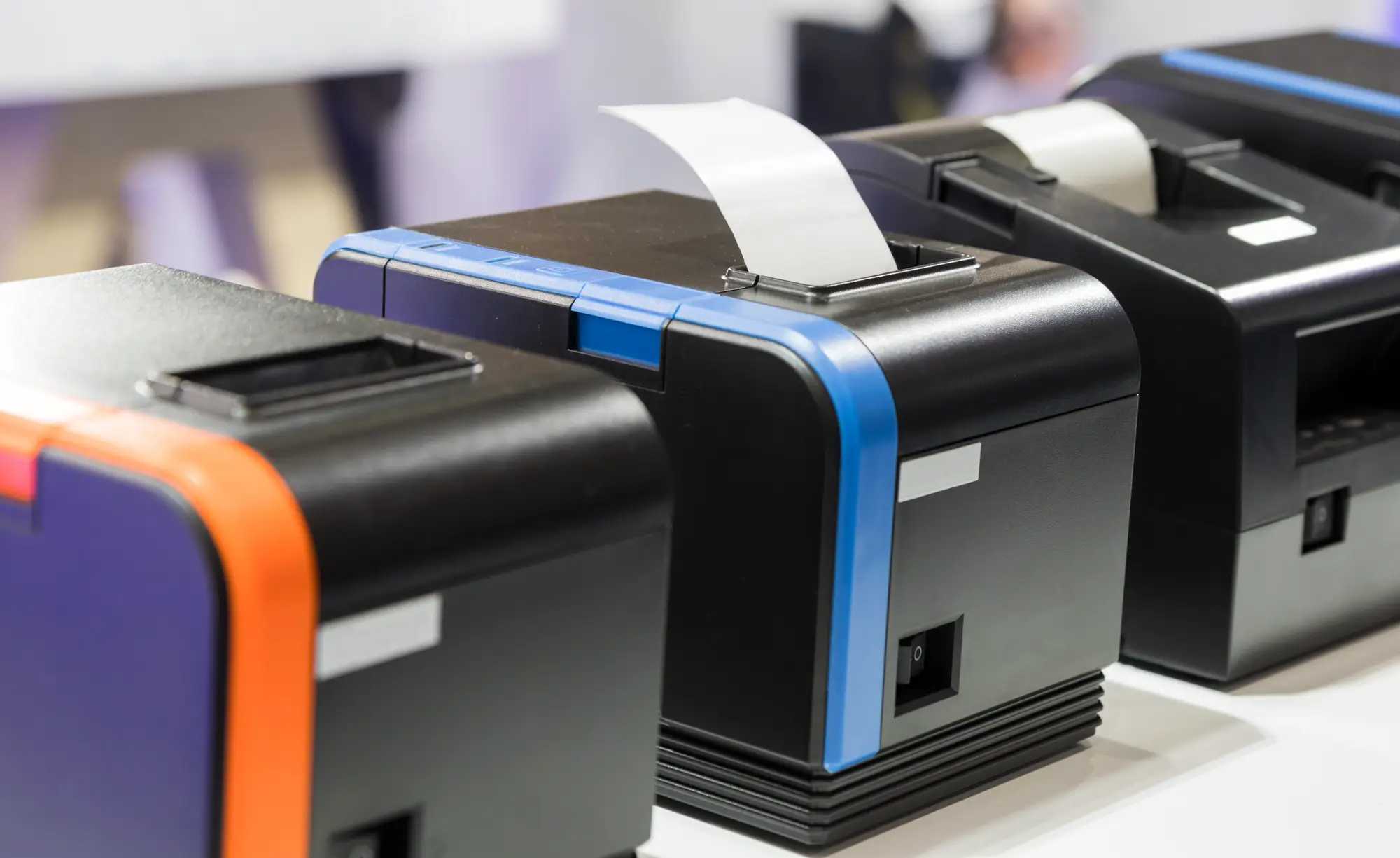 Epson CW-C4000
The Epson CW-C4000 is a brand-new thermal printer that checks all the boxes you need for a great thermal printer for stickers.
It offers crisp, clear images for the stickers in full color.
Using Epson Microplezo Inkjet technology, it prints high-quality labels at speeds of up to 4 inches per second. With the highest printing resolution on the market at 1200 x 1200, there's almost nothing you can't do with it.
This is completely different in style than the other printers on our list.
There's WiFi and a wide range of other options for connectivity options that work seamlessly with any workflow. This is a machine truly made for large-scale office work, so it's prepared and durable enough to take a large amount of work.
Of course, all this results in a high cost.
Color thermal printers are a different kind of printer than inkjet and laser, focused on very high speeds.
For this reason, one's like this are made for business purposes and have a cost to match. Compared with other color thermal printers that can reach this quality, you're getting tremendous value with the CW-4000.
Best Epson printer for stickers
Epson Expression ET-2750 Wireless Sticker Printer
For a fantastic economical choice, the Epson Expression ET-2750 is a sticker printer for those looking to print many stickers over time.
It has everything you usually get with an inkjet printer, but it also has long-lasting ink cartridges that save you a lot of money in the long run.
What's nice about Expression's SuperTank ink system is that it both lasts a while and is easy to replace. While the upfront cost of the printer is high, over time, it will balance itself out with the savings you get from the ink system.
When it comes to the design, it's relatively standard, with a 1.5" display screen and a standard-sized flatbed scanner for scanning and copying.
For usability, it uses a simple interface that's easy to operate.
It can take a bit to get the WiFi setup going, but it's easy to sort through all the options once connected.
Connectivity works through USB or WiFi.
Now, onto the most important feature, the print quality. The color and resolution on this printer is phenomenal at 5760 x 1440 dpi.
So you get a fantastic depth of color, even if the printing speed is slower than average at only five pages per minute. Compared to most on our list, this one is high-end and is worth the upfront cost.
Best HP printer for stickers
HP OfficeJet Pro 8210 Wireless Color Printer
If you are looking for the very best of the HP line for stickers, the OfficeJet Pro 8210 has got you covered.
Great for both home and office use, the printer is affordable yet loaded with features, perfect for those who have many different projects on the go.
Some of these features include duplex printing, wireless connectivity using the HP Smart app, and more. It's made for heavy use, so you can expect to print in bulk and not have too many issues.
The OfficeJet is fantastic for huge print runs as it can handle thousands of pages a month, easily covering a small business's needs.
But, of course, it can also scan and copy with no problems as an all-in-one.
Now, the resolution isn't as high as other printers on our list at 2400 x 1200 dpi if you are looking for the absolute best in color prints. Your stickers will still come out looking great, but they may not be as sharp as other printers can offer.
Therefore, the main value of the OfficeJet is its durability and cost efficiency per page, which are better than many other options on our list.
For this reason and more, the OfficeJet Pro is best as a budget printer from HP for all your sticker and label-making needs.
Between its speed and reliability, you've got a great choice of printer. Its print speed is actually super high, at 18 pages per minute.
Best Ecotank printer for stickers
Epson EcoTank ET-8550 13″ Inkjet Color Printer
For those of you looking for a more environmentally conscious printer, the Epson EcoTank ET-8550 is a solid choice.
Covering anything from home to small business use, it's expensive but provides uncompromising quality and lots of functionality.
Primarily, its best feature is that it will save you money in ink costs over time with its EcoTank. The EcoTank ink system is a refillable set of ink tanks that cuts down on running costs and allows the printer to run for a long time without needing an ink replacement.
In addition, the ET-8550 is an all-in-one like most printers on our list, allowing you to print, copy, and scan easily.
Meant for long-term use, it can withstand quite a large amount of frequent use for reliable service in the home or office.
However, most of all, the ET-8550 is focused on amazing print quality at a high resolution. Thanks to its exceptional print heads, it clocks in at 5760 x 1440 dpi. It uses a 6-color hybrid dye-based ink system that truly brings out vivid colors.
You can use it for vinyl, stickers, and Cricut without going overboard on ink costs.
For sizes, it can go borderless up to 13 x 19" prints, which is about the maximum most printers on our list go.
Connectivity is available through USB, wireless, and AirPrint.
Best printer for glossy stickers
Brother Inkjet Printer MFC-J985DW
For glossy stickers, you can go with the Brother MFC-J985DW, which is one of the stronger printers performance-wise on our list.
It is expensive upfront, but it is worth the long-term investment as it has low ink costs. This makes it one of the more cost-effective sticker printers available.
It's durable and can handle large volumes of jobs, which is perfect for the home office or a small business.
With a 100-sheet paper tray, it has scan and copy features and duplex printing.
You've got a 2.7" touchscreen LCD for its interface, allowing you to navigate all its printing options easily. For connectivity, you've got a mobile connection for printing on the go, WiFi, and USB connections.
Finally, for speed, it's relatively average at ten color pages per minute.
For a fairly good inkjet printer, but for some businesses, you may want it even faster.
So, if you want to print many stickers and save money in the long run, the Brother MFC-J985DW is a solid choice. It's easy to use, does the job well, and can take a lot of different paper sizes.
Best laser printer for stickers and labels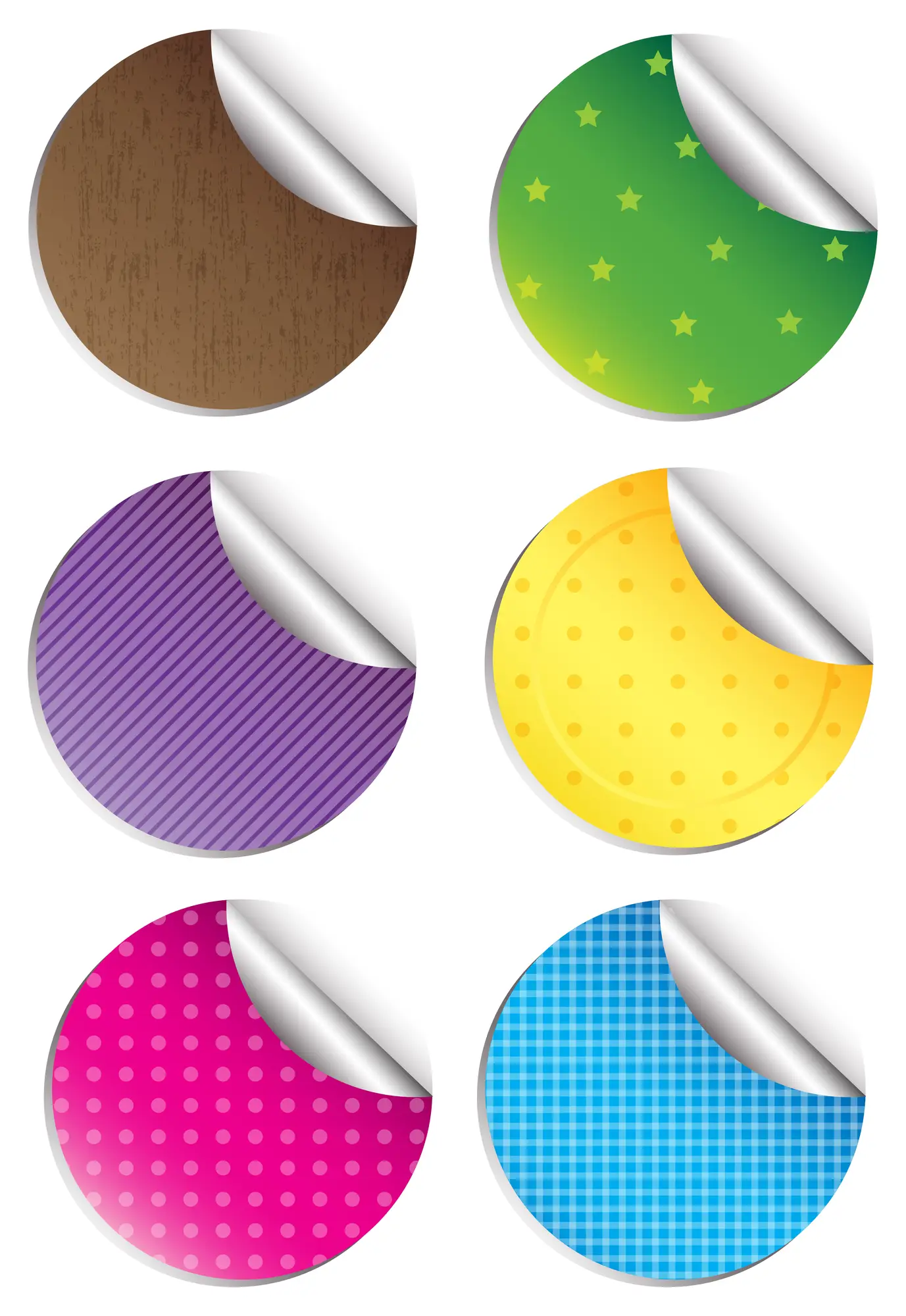 HP Neverstop Laser MFP 1202w
Laser printers aren't as good with color as inkjet printers, but they are great for printing large volumes, fast.
And that's what the HP Neverstop Laser MFP 1202w specializes in.
Since it's an all-in-one device, meaning a printer, scanner, and copier, it's a nice deal for small offices. It's got a 150-sheet paper tray and provides 5000 pages of toner, which is incredible for most small printers, allowing you to send out huge orders without stopping.
A warning, however, is that this is meant only for monochrome printing.
This makes it quite different than many of the other printers on our list.
It's also user-friendly, with built-in wireless capacity and connection through WiFi. However, perhaps its best feature is its affordability, as it uses innovative technology to keep running costs low.
Rather than having to swap out big, ugly cartridges every time it runs out of toner, you just fill the bin inside the machine with a replacement kit.
Now, the bad news is that as a laser printer, the image quality isn't the highest.
Its resolution is actually only 600 x 600 dpi. It can print fairly large sizes and at high speeds, but you will be sacrificing a bit on the overall quality.
Best printer for bumper stickers
Canon TS9120 Wireless Printer
You can go with the Canon TS9120 Wireless Printer for great, photo-quality bumper stickers.
Although it's slow for bulk printing, it's a great option if you are looking for a few of the best, high-quality pieces.
First, the print quality is relatively high, with high resolution that gives vivid color depth. With Canon, their focus is almost always on photo quality results, but that can come at a cost in terms of performance and ink cost.
For speed, it's about four pages per minute for full color, so you're not looking at the fastest printer of the bunch.
However, the results look excellent.
The color accuracy is on point, and the printing has minimal issues.
And yet, it's fantastic for vinyl sticker printing. Canon is known for its accurate photo printing, and this device delivers when placing that onto vinyl.
Of course, the printer is also an all-in-one, with scanner and copying capabilities.
In addition, it's compatible with USB and wireless connectivity for easy printing and has a 100-sheet carrying tray capacity.
Best printer for making clear stickers
Epson SureColor P700 13″ Inkjet Color Printer
For making clear stickers and Cricuts, the Epson SureColor P700 13″ Inkjet Color Printer is a fantastic choice. It's expensive, but for good reason.
You get a 10-color pigment-based ink system that can produce 5760 x 1440 dpi high-resolution and vividly colored images. It can do borderless prints up to 13 x 19" (A3 format) which is enough for most Cricuts. It can also work with many different thicker materials, including clear stickers.
This is for true, high-quality stickers that want the UItraChrome pigment and professional-quality print heads.
The saturation, sharpness, and depth are unmatched.
This is certainly a contender if you are looking for just the highest-quality colors available on our list.
Luckily, although its color grading is intense, the SureColor P700 is relatively easy to use and set up. Finally, it includes many connectivity options, including wireless and AirPrint.
Are inkjet or laser printers better for printing stickers?
Generally speaking, inkjet printers are better.
When printing sticks, you want high-resolution images and strong, vivid colors. Inkjets are slower, but they can provide that level of detail much better than most laser printers.
However, laser printing is better suited for large batches of stickers that need to be printed fast.
This is because it can handle speed and volume much better than inkjet printers can.
So, the easiest way to choose is by the batch size, but always check for how good you want the quality to be. Don't choose a resolution you won't be happy with in the end.
Can a regular printer print stickers?
Yes, both regular inkjet and laser printers can print stickers. You just need special paper for it.
There's nothing extraordinary about the printers one uses for stickers, although there are printers that are better and worse at printing them.
You probably want at least 1200 dpi resolution, and a four-color cartridge will suffice.
After that, you'll want to look through the different features the introduction and conclusion discuss. This means the color quality, speed, and of course, the cost.
A superb sticker printer can work both as your everyday printer at home or the office and as a small business machine.
What do you need to make professional stickers?
You'll need a few things beyond the printer to make professional stickers. This can make the initial investment seem daunting, but it doesn't have to be.
The first and most important material is proper sticker paper.
We've chosen some waterproof matte vinyl sticker paper that works with inkjet printers, but you can find the right paper that works for you.
Second is the laminate paper with helps to seal and protect your stickers once they're printed. We've chosen a finish over-laminate sheet for this above, but again, you can look through different options for what suits you best.
Finally, you may want to look into some baggies for making sticker packs to sell. We've selected one to give you an idea of how they work, but you can find many varieties online.
Conclusion
Picking the perfect printer for stickers requires a careful balancing act between versatile features, cost, and, most importantly, resolution.
First, you want to consider whether you are looking for more of an at-home, budget printer that also serves as a copier and scanner, or are you looking to print high-quality stickers professionally?
A high-resolution printer will print gorgeous, vivid stickers but will cost a lot and not even have some of these office features.
If you're looking to create stickers professionally, you'll also have to consider speed as a big factor, increasing costs even more.
Speaking of costs, you want to check not only the initial cost of the printer itself but the cost per page of ink as well. In the long run, ink costs, not the printer cost, will cost you the most, so don't neglect it.
Thus, consider what you really need as you look through your options and good luck with your sticker printing!