Cardstock printing uses the thicker kind of paper found in invitations, birthdays, and business cards to create all sorts of crafts and projects. However, you want a printer that can handle thicker paper with vivid color to get the best results.
It can be hard to strike the right balance of cost and performance with the versatility to hit all the different sizes and weights of cardstock available. Here are the best printers for cardstock.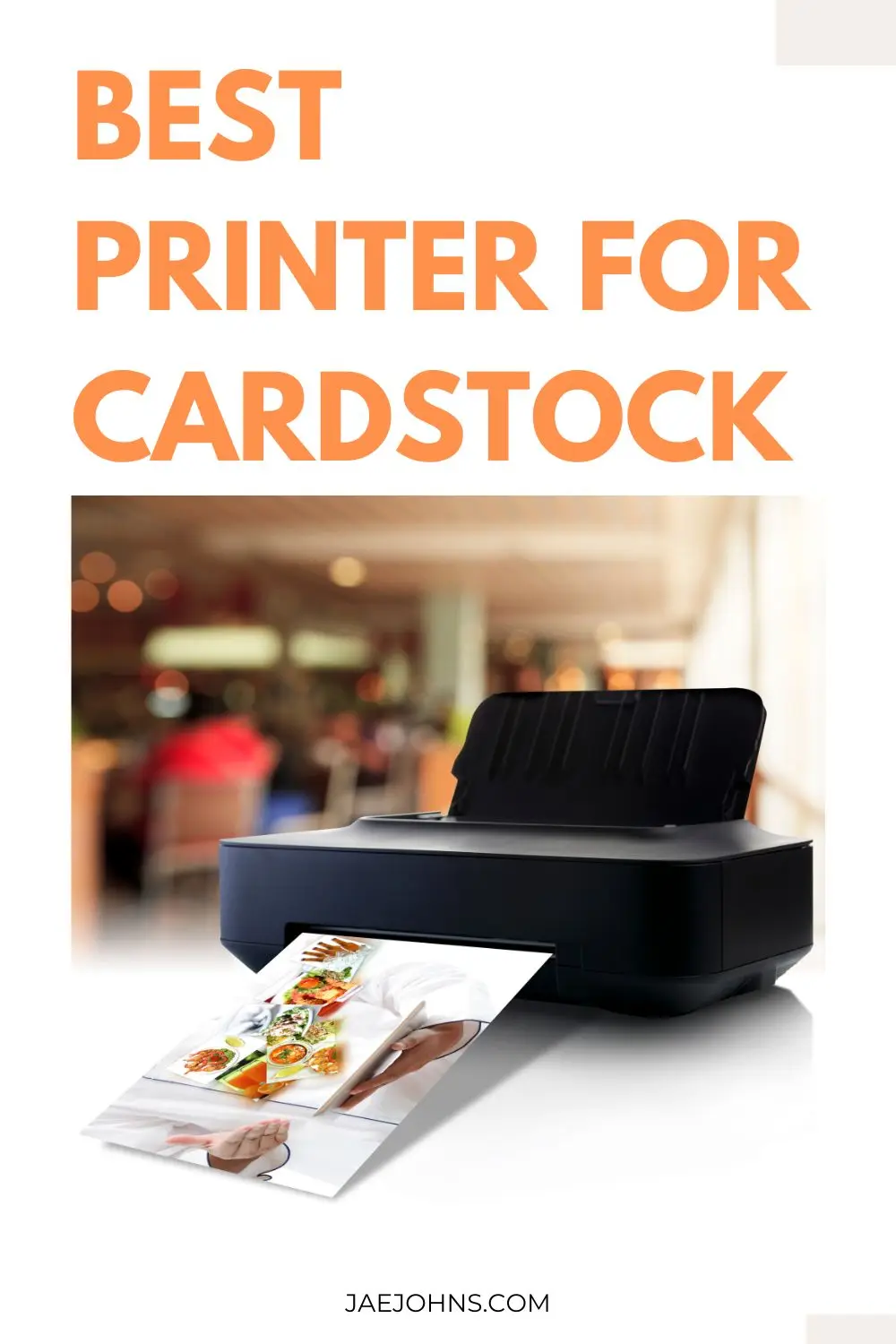 Please read: We can only do this with support from our readers. When you purchase an item through the links on this site, we may earn a commission at no additional cost to you. Thank you! Read our disclosure for more information.
Best printer for cardstock invitations
HP OfficeJet 3830 Printer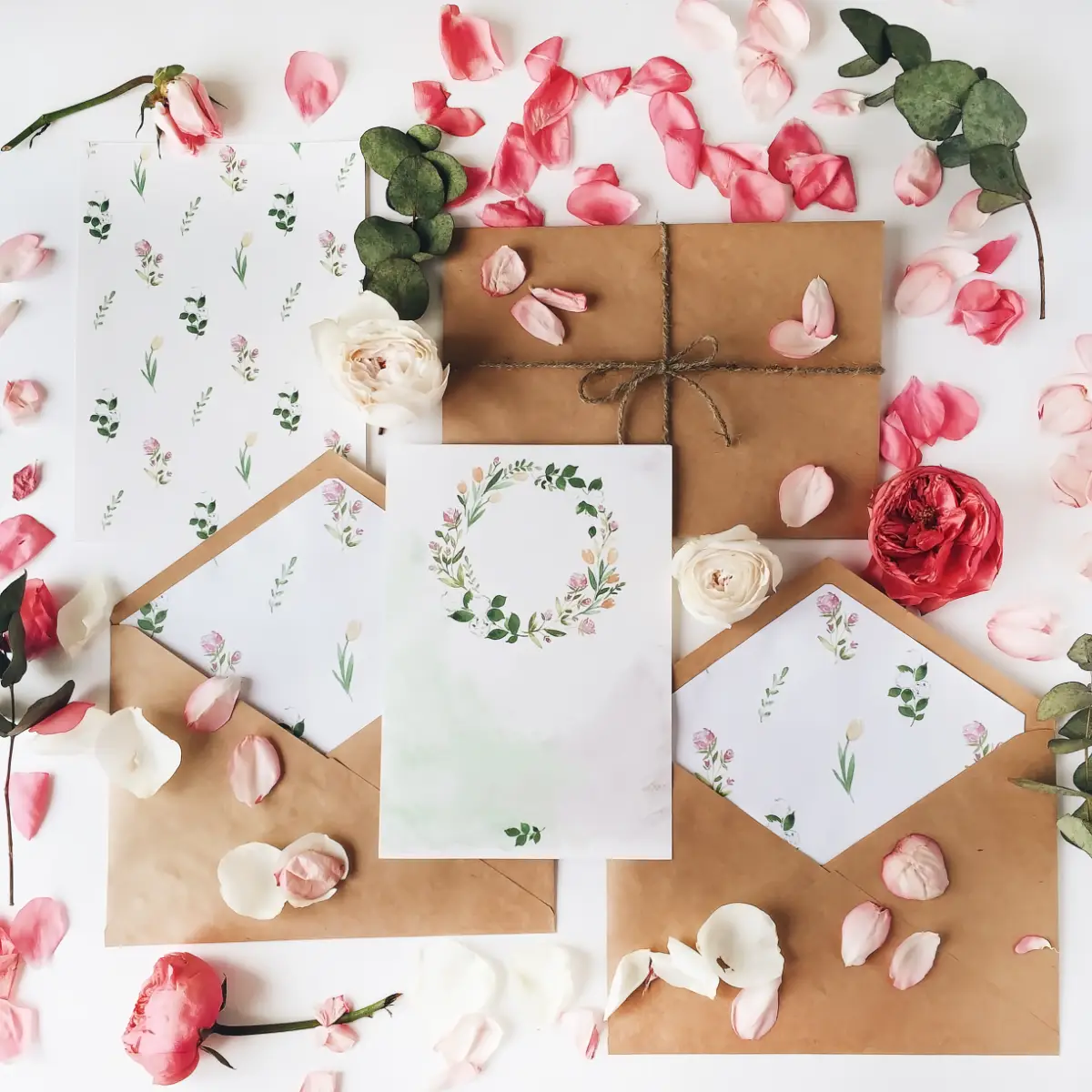 For one of the best balances between value and versatility, the HP OfficeJet is just an excellent all-arounder.
It's perfect for basic cardstock uses, like invitations, business cards, and similar projects, without doing anything too fancy or costing too much.
Its compact footprint can fit into just about any home office. The design is nice and sleek, with a simple black look that doesn't get in the way.
The printer can hold up to 110 pounds of index weight and 145 pounds of photo paper, printing at 4800 x 1200 optimized dpi color resolution.
The only major problem you'll find is its relatively slow print speed. However, if that's not a big concern for you, everything else about this printer is solid.
The ink absorption is good, working well even on glossy photo paper if you were to use it.
The printer's best use is probably for thick photo paper and light cardstock, perfect for all kinds of invitations, postcards, and greeting cards.
In addition, it has all the typical features you expect in a printer, including copying, scanning, wireless printing, and, if needed, even faxing. For a machine that can handle cardstock, this is an excellent deal.
Also, we should mention that students will love this printer for these reasons, so it would make a solid gift for the student who does a bit more creative work.
Best printer for cardstock and vinyl
HP Smart-Tank Plus 551 Wireless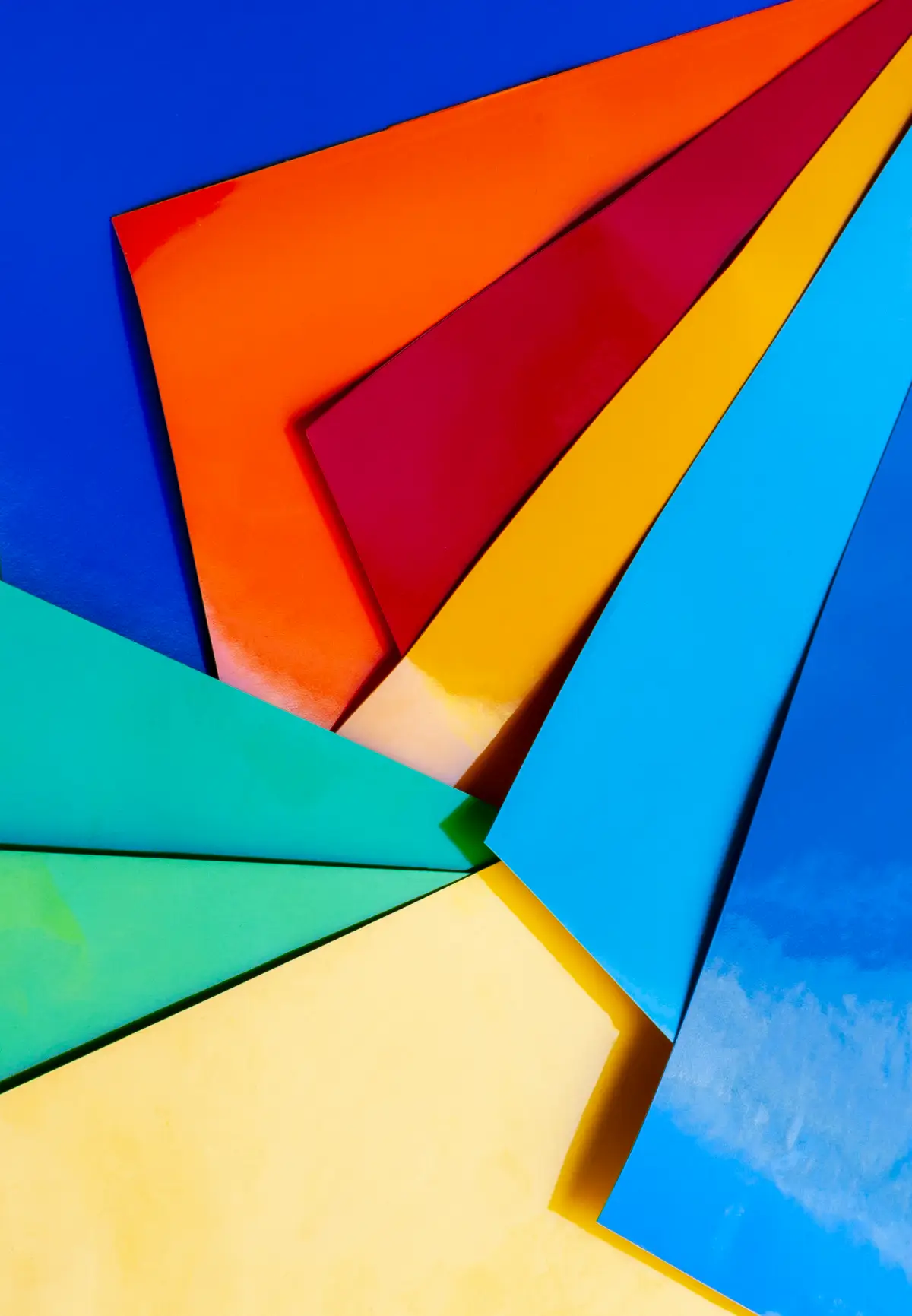 Not only is the HP Smart-Tank Plus one of the best printers for vinyl stickers, but it's also one of the fastest on our entire list!
At 11 pages per minute, the machine is a beast, and it's effortless to use. You can use it for printing everything from invitations to stickers to photos, and more.
One of the best things for ease of use is that refilling the ink is easy, making it great for people not used to printers.
Best of all, it comes with two years of ink, so you don't even need to worry about it at the start.
Add to this the clean design and straightforward user interface, and you've got a great printer for almost anyone. But, it should be noted that it can't do two-sided printing.
For vinyl sticker printing, you can't get a more user-friendly machine.
You potentially won't even need any tutorials for it. It delivers fast, vivid colors onto the sheets, almost a perfect match between the digital file and the print paper.
It's a wireless printer, meaning the setup is easy.
Also convenient is that the printer is Amazon Echo compatible, meaning you can give it Alexa commands to get it to print.
Best printer for cardstock printing
HP OfficeJet Pro 9015 Printer for Cardstock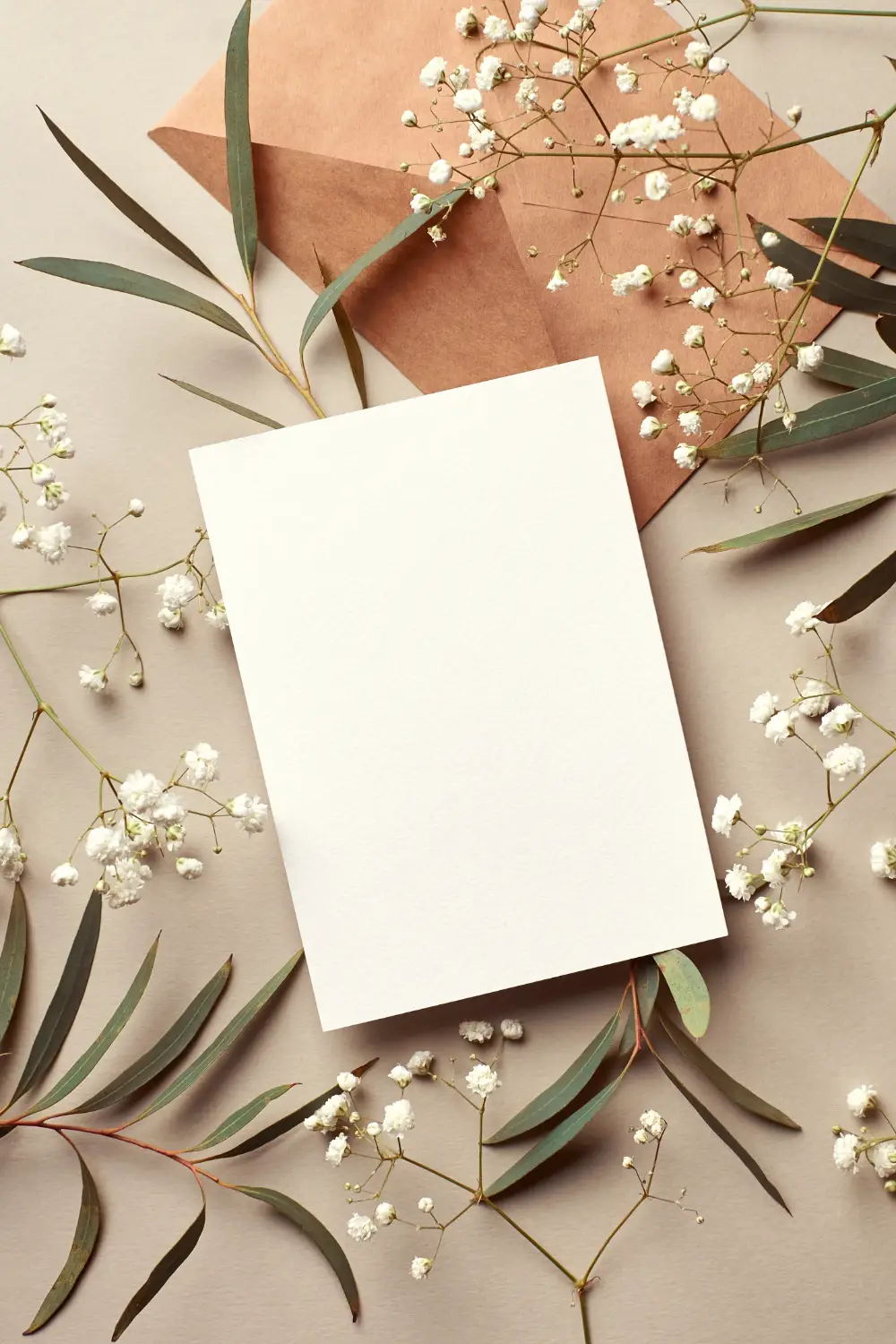 For an upgrade on the more budget-friendly HP OfficeJet 3830, you can go for the 9015.
You get the same fantastic versatility but more outstanding features.
Some of the most significant upgrades are the automatic dual-sided paper feed and its greater ink absorption ability for all sorts of finishes. Also important are the intuitive smart controls, which make it easier to customize any cardstock printing.
The Pro 9015 takes all-in-one very seriously, with 110-pound cardstock printing, the highest paper weight available for almost all consumer all-in-one printers.
In addition, it has four ink cartridges with 4800 x 1200 optimized dpi color resolution, coupled with outstanding ink absorption.
This means the printer is perfect for cards, invitations, and brochures: anything you can think of! What's nice is the two-sided printing that helps to give it something above and beyond budget cardstock printers.
Furthermore, the efficient smart system is excellent for its ease of use.
You can easily access cloud storage such as Google Drive and Dropbox and print directly from these sources.
The large capacity of the printer also makes it easy to print a lot at once, with 250 paper sheet capacity.
Best printer for a Cricut print on cardstock
Epson SureColor P700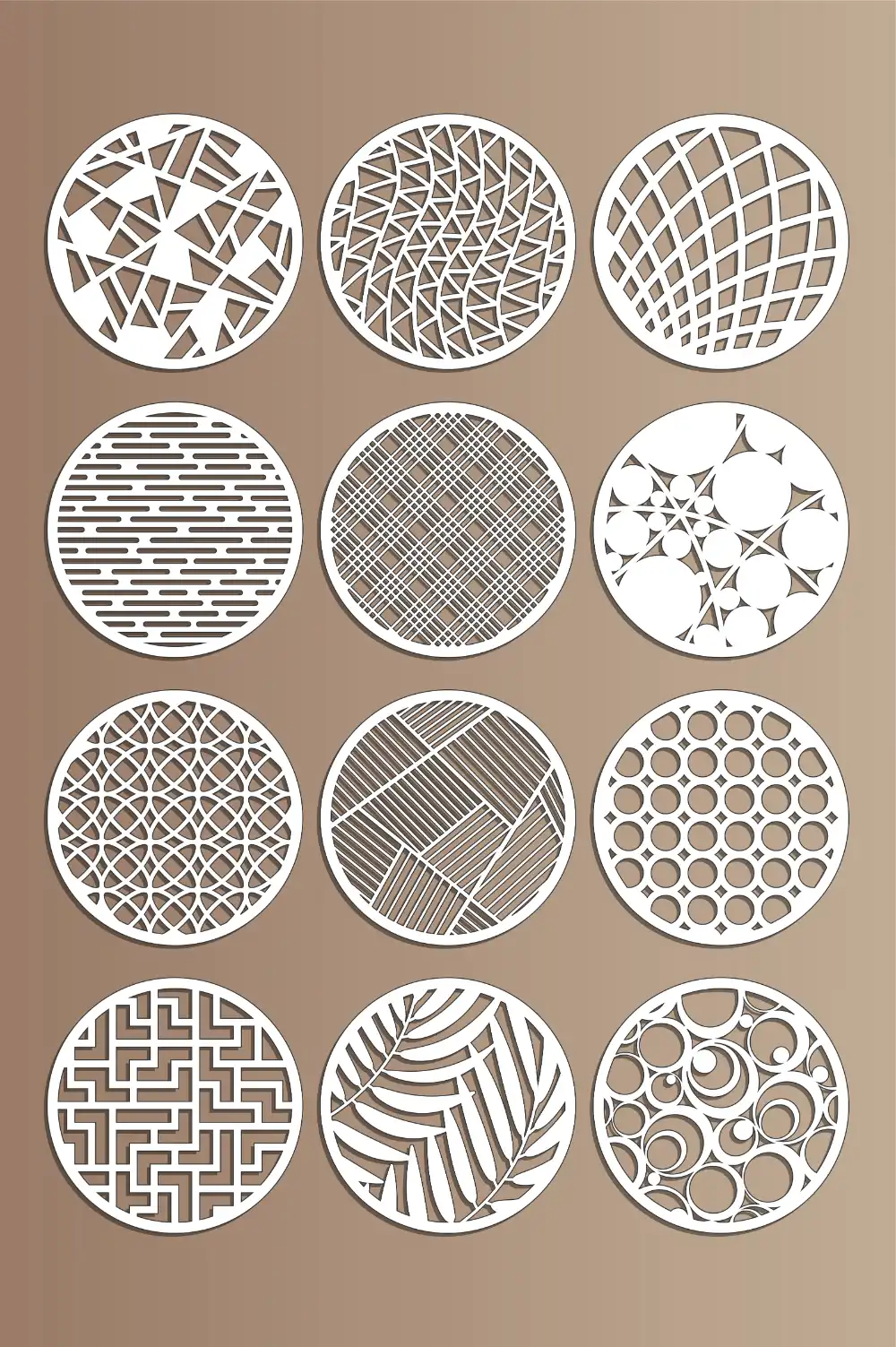 The inkjet Epson SureColor P700 is fantastic for Cricut print and works great on fabric. It includes wireless connectivity and can work on lots of different media.
The SureColor's quality, durability, and capacity make it the best for Cricut.
It does have a mid to high price point, but that's to be excepted when engaged in this type of printing.
With its diversity of materials, it is one of the best value printers you can get. The largest size you can print is 8.5 x 14-inches, but it can also handle thick cardstock and many other materials, including high gloss.
The resolution is one of the best places the SureColor shines, as it hits a whopping 5760 x 1440 dpi.
This isn't a beginner's printer – you can do some serious work with this one.
In addition, it's got great ease of setup and use, with a touch screen for lots of easy-to-access options.
Best printer for heavy cardstock
Canon Pixma Pro 100
The incredible power and performance of the Pixma Pro 100 almost can't be matched, making it perfect for those seriously heavyweight cardstock projects.
With a rear tray capable of carrying up to 200-pound cardstock and a specially designed manual feed system for cardstock up to 236 pounds, it is truly the heavyweight champion of our list.
It can handle large media, up to 13 x 19", and has a powerful eight-ink cartridge system. However, it does lack an LCD screen, so you'll have to look at its stats on your computer.
You can connect to the device through wireless WiFi or a USB connection.
Of course, all this comes at a cost, making the Pixma Pro one of the more expensive printers on our list.
However, for all that it can do, this shouldn't come as too much of a surprise.
Best cheap printer for cardstock
HP Envy 6055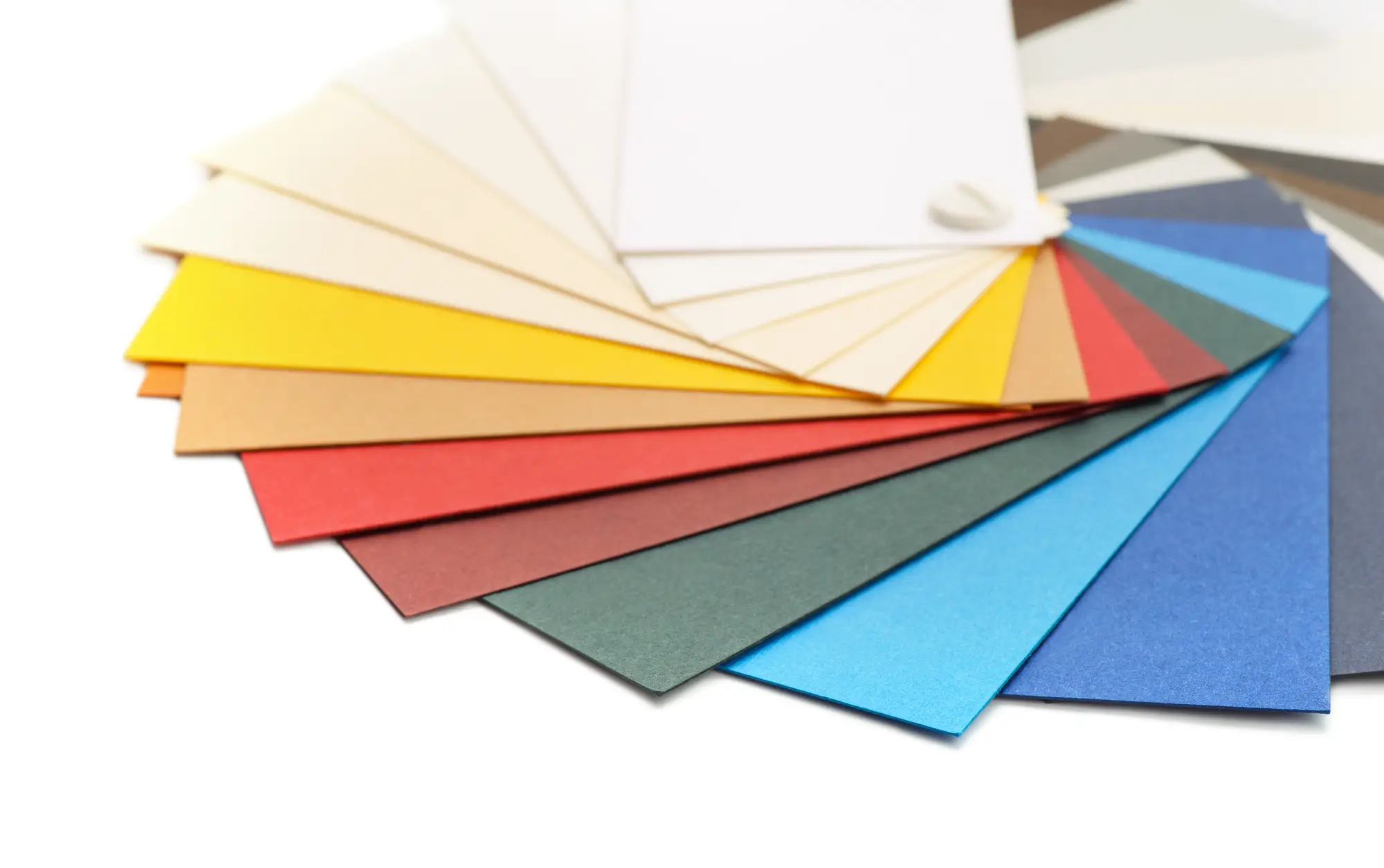 The HP Envy 6055 is the best budget printer on our list that can handle cardstock.
It doesn't have as many bells and whistles as other printers on our list, but it can handle borderless prints and has a built-in scanner.
If you are looking for something that can handle relatively simple card stock prints for things like invitations, you've come to the right place.
The one concern is the ink cartridge, which can only handle about 65 prints before needing replacement. What's nice, though, is that you can sign up for HP instant ink, which provides you with enough ink for 50 sheets every month.
Of course, you'll still need to provide the paper, but it's a good deal, automatically ordering ink through the WiFi for you whenever it's running low.
In addition, the color accuracy on the Envy is fantastic, and the device itself sits compactly on your desk.
Finally, you've got a solid budget machine with a DPI of 4800 x 1200 and a decent paper weight of 70 pounds of cardstock.
Best printer for cardstock and envelopes
HP DeskJet Plus 4155 All-in-One Printer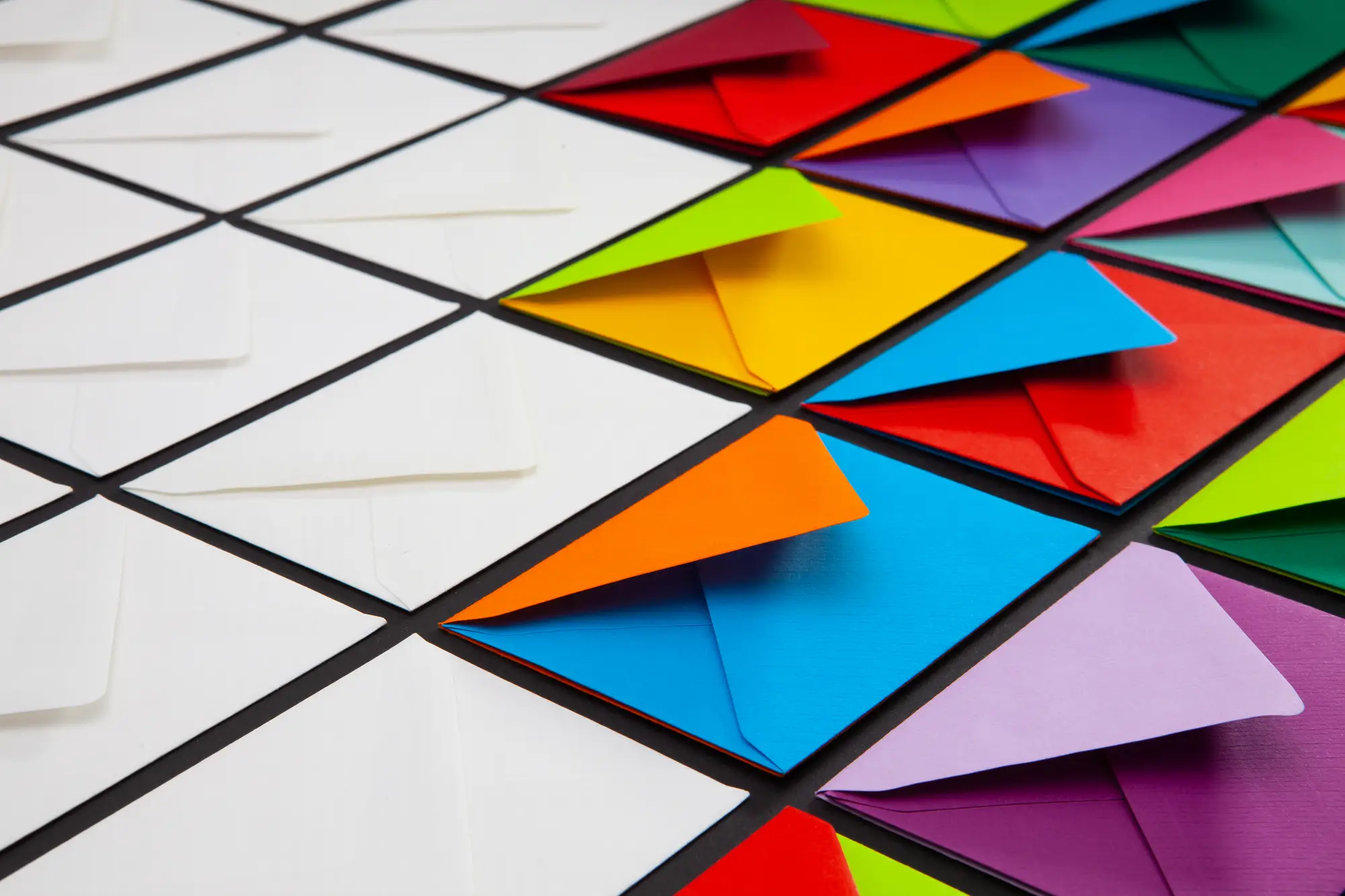 You'll see a lot of old Hewlett-Packard on our list, as they dominate the domestic market for great printers. The DeskJet Plus 4155 is another great all-in-one printer from the brand that hits everything you want for printing on cardstock.
It works great on a budget and does everything you need for cardstock, envelopes, invitations, and card paper in general.
It is comparable to the OfficeJet with its printing, copying, and scanning capacities, but it comes at a lower cost.
This means that it has fewer features than the OfficeJet, but it still ticks most of the same boxes overall. Just be sure to look into the differences if you use odd weights and sizes.
Set up is easy through the HP Smart mobile app, or you can just do it the usual way. Either way, you'll get wireless printing fast and simple.
A nice feature of this printer for cardstock is the automatic document feeder, although it holds less volume and weight than other models on our list. Another downside of this model is that there is no dual-side printing.
This is an excellent model for a beginner whose primary concern is budget yet needs a good array of features.
Best printer for cardstock and stickers
Brother Wireless All-in-One Inkjet Printer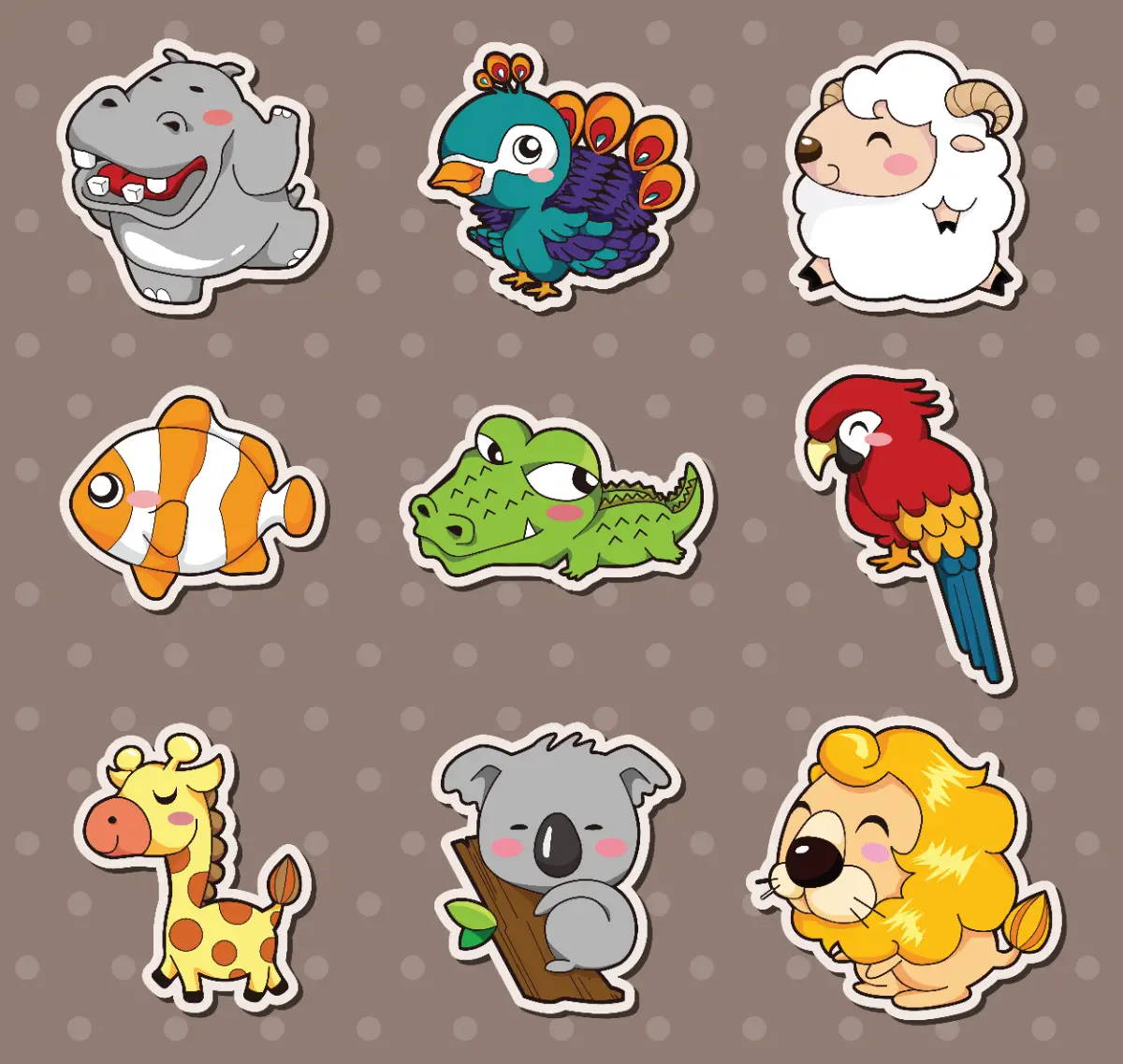 The Brother Inkjet Wireless All-in-One Printer is a beautiful, sleek machine ideal for printing on the glossy paper needed for stickers. It's compact, fits into most aesthetics, and prints smoothly.
In addition, it has a lot of great advanced printing options, including dual-sided printing. Best of all, among all-in-one printers, it's pretty affordable!

But the most crucial thing for sticker printing is high resolution, vivid color images, and the Brother Printer is fantastic at it.
Every detail appears crystal clear, so you don't have to worry about lousy print jobs.
It's also easy to set up. You can connect to any device wirelessly and send documents using WiFi or USB cable, whatever suits your need.
As an extra feature, it also supports cloud connectivity for grabbing documents and images directly from your Google Drive or Dropbox.
However, the one concern with this excellent device is the speed.
As an inkjet printer, it takes a while to print these crisp images, so keep that in mind if you need lightning-fast production.
If you're looking to print more stickers, then check out this list of the best printers for stickers.
Best printer for cardstock and photos
Canon Pixma Pro-100 Printer for Cardstock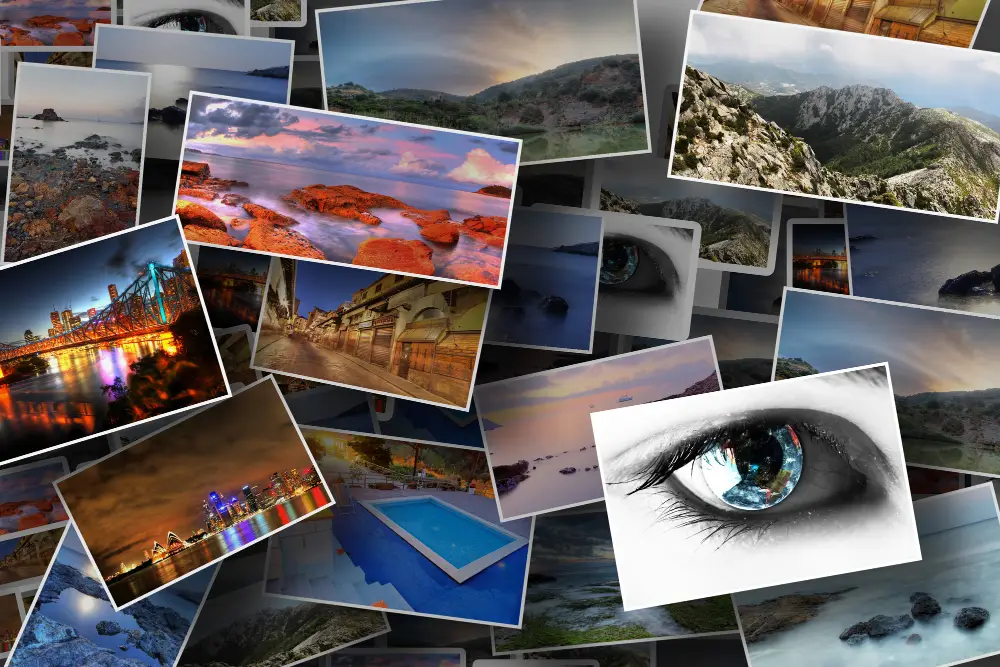 In terms of pure color quality, range, and vividness of color, you can't do better than the Canon Pixma Pro-100.
Furthermore, its 8-cartridge ink system is the best for perfect, high-resolution photography on cardstock.
The printer comes with a dedicated manual feed for heavy media paper, allowing you to choose any weight of stock paper to print your gorgeous photos onto. With high resolution 4800 x 2400 dpi color, the level of depth you can expect will blow your expectations out of the water.
The device can handle extremely detailed pictures on cardstock up to 13 x 19" in size. Its paper feed is made to be able to handle most things you can throw at it, including wide paper and unique textures.
Finally, the machine uses an Optimum Image Generating System for its printhead technology which applies the ideal ink mixture for perfect colors.
Speaking of which, it also has an Ink Save Mode for saving ink and automatic dual-sided printing as a bonus feature.
If you're looking for more printers that print art prints well, then check out this list of the best printers for art prints.
Best laser printer for cardstock
HP Color LaserJet Pro M454dw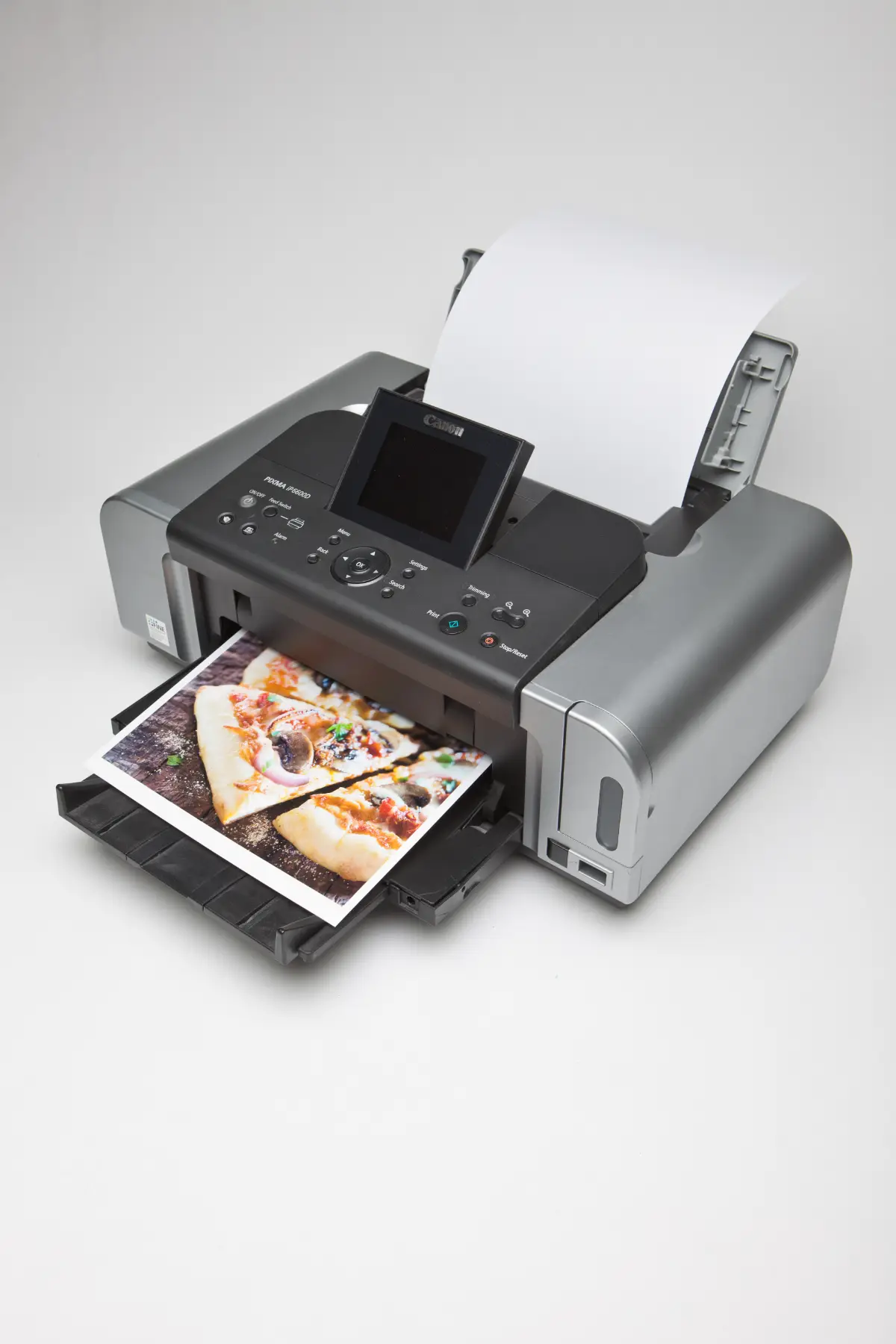 If we're talking laser printers, you can't go wrong with the HP Color LaserJet Pro.
It's made for cardstock, and although laser printers often have worse image quality than inkjet printers, the LaserJet attempts to bridge the gap.
The main advantage of a laser printer is the speed, which is lightning fast with the M454dw. You'll be able to easily print out tons of greeting cards, invitations, or similar cards in rapid succession, perfect for the office or small business.
You'll have to look at the highest-end ones for similar performance with an inkjet printer.
What's also helpful is the low cost per page of laser printing.
Although the initial cost of the ink is expensive, it prints over a thousand pages before needing a replacement. So you'll save money on ink for every page you print with a laser printer compared with most inkjet printers.
Now, another limitation to be aware of with the LaserJet is that it can't hold cardstock heavier than 65 pounds.
This is good enough for most postcards and similar greeting cards, but may not be enough for all your desired projects.
Finally, you're getting automatic double-sided printing, an intuitive 2.7" touchscreen control panel, and a printer that can handle high-volume jobs quickly.
The printer connects using WiFi or USB.
Best HP printer for cardstock
HP LaserJet Pro M29w Monochrome Cardstock Printer
A trendy printer from HP for its price and ease of use, the M29w is the world's smallest laser printer.
It weighs under 10 pounds and provides lots of nice functionality, including color scanning, Alexa connectivity, and one-click copying.
As a laser printer, it goes fast, hitting speeds of up to 19 pages a minute. This is great for a small business or home office.
The quality of the prints is solid for a laser printer, but it only prints in monochrome.
So it's a big reason to pause on purchasing it if you need color printing for your cardstock.
Of course, as a compact printer, it also has limited weight capacity, so be sure to review its specs.
You can easily print with WiFi or even the mobile app. However, you can't use a USB, and there is no dual-sided printing.
These aren't deal breakers, but you must compare what you're getting with what you need from a printer.
Best inkjet printer for cardstock
Epson Artisan 1430 Printer for Cardstock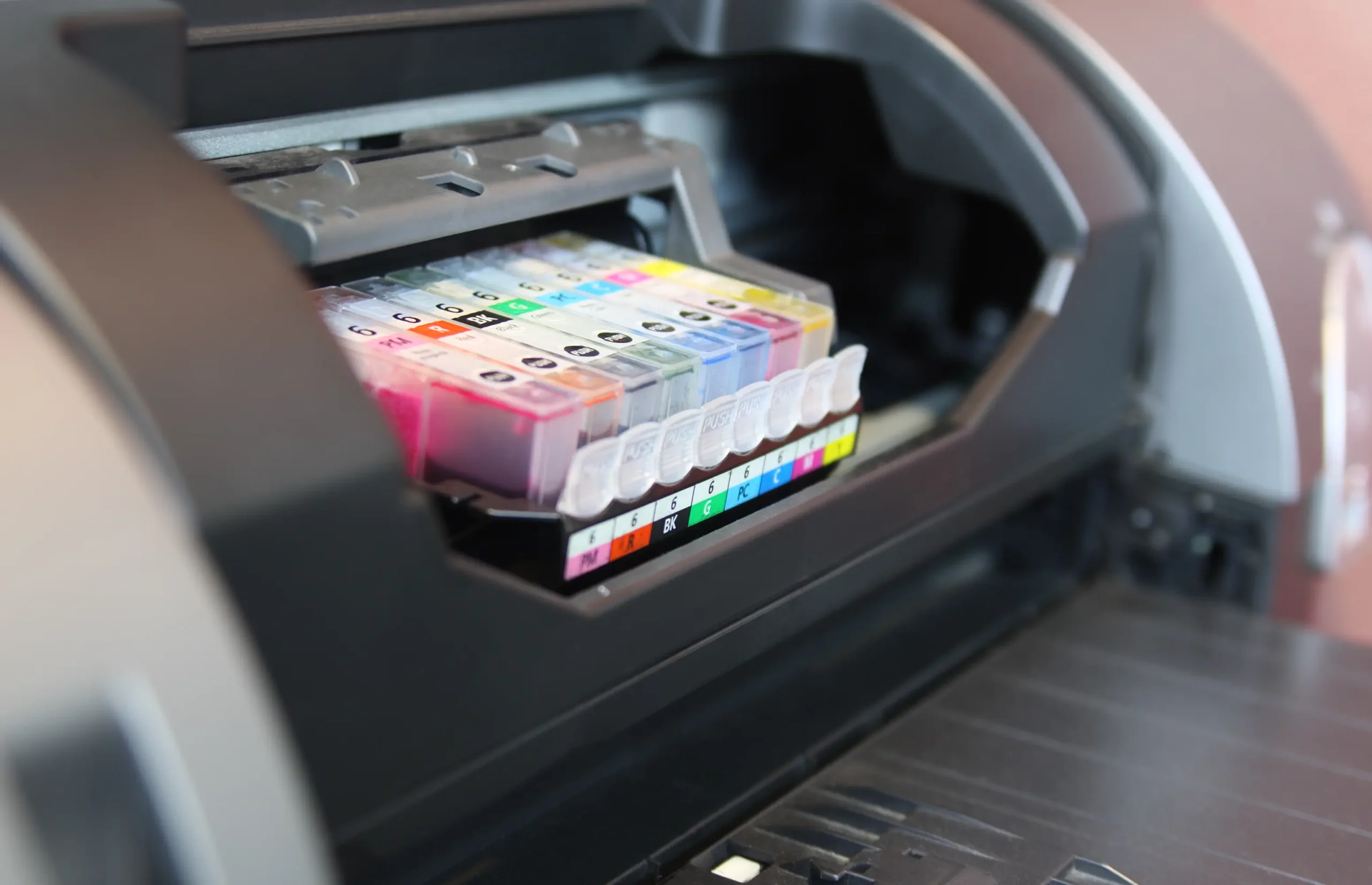 The Epson Artisan is perfect for hyper-detailed, HD prints for creative professionals.
It uses an advanced 6-color ink cartridge system to produce 5760 x 1440 dpi resolution work with a unique rear feed tray for specialty media.
You can use it for borderless, wide-format printing and for many different dimensions, textures, and media weights. In addition, it easily handles cardstock and can handle DVDs and over 60 other types of media.
With an easy setup, relatively compact design, and stunning versatility, there's much to love with the Artisan.
The inkjet on this printer is fantastically vivid, with smooth gradients and sharp lines. This is thanks to the Epson Claria ink system, which provides excellent absorption on many media.
Best craft printer for cardstock
Epson Expression Photo HD XP-15000
For a reasonable price, the Epson Expression Photo printer is perfect for various crafting projects.
The photo quality and color accuracy are top-of-the-line, only being beaten by professional-level printers.
We are talking about a DPI of 5760 x 1440, which is spectacular.
One of its best uses of it is for professional prints at home, providing true-to-life color using two input trays and a relatively small footprint on the desk. Its maximum print size is surprisingly large for its compact design at 13," and its maximum paper weight is 150 pounds.
The ink itself uses Epson's 6-ink system called Claria photo HD.
It prints beautifully on heavy cardstock or canvas, making it very useful for detailing crafting projects.
Now, one unfortunate aspect of Epson printers is their rigorous firmware to prevent the use of generic inks. You'll have to use their brand of ink for the XP-15000, which is about $100 for a complete set.
These provide gorgeous colors but don't last too long.
For that reason, although it's a budget printer, the ink expense is something to watch out for.
Finally, it uses wireless printing and can do dual-sided for any surface type. The printer can also hand A3 wide format printing if that's a concern.
Best Canon printer for cardstock
Canon imagePROGRAF PRO-300
The Canon Pro-300 is the perfect halfway point between a professional printer and one great for home use.
Lying between the Pro-200 and the Pro-1000, it has the color accuracy of the 1000 but on a more budget scale for features and capacities.
What's also nice in comparison to the more expensive Pro-1000 is the lower official ink cost, adding to its overall value.
On the desk, it matches the Pro-200 in size, which is perfect for home office use. Except in a photo lab, you are not getting better-quality images than this.
With a fantastic 4800 x 2400 dpi and a weight capacity of 150 pounds, the Pro-300 can easily handle all your cardstock projects.
The one drawback may be that it's meant for more intermittent work and is not good for printing a ton of jobs all at once. In addition, it's fairly slow, and each individual print is expensive, even if it comes cheaper than the most professional versions.
Best A3 printer for cardstock
Canon TS9521C All-In-One Wireless Crafting Photo Printer
Made for crafters, the Canon TS9521C is perfect for printing on cardstock projects, envelopes, DVDs, and many other forms of media.
In addition, it efficiently works with A3 paper, making it an excellent choice for crafts that require it.
For sizing, the Canon printer can handle up to 12 x 12", which makes it quite versatile between different sizes. You can also connect to the printer easily through WiFi, USB, or Bluetooth.
The print speed is solid, at 15 papers per minute, and the machine takes five different ink cartridges. Inkjet printing does a great job with high-resolution works; the ink absorbs fast and fades slowly on many kinds of media.
Finally, the one concern with it is how much it costs for what you're getting.
If you don't need all the features and can do with slightly less color resolution, you can find other options at a better value.
Best Epson Ecotank printer for cardstock
Epson EcoTank ET-4760
The Epson ET-4760 is an alternative, EcoTank style printer which saves you a lot of ink in the long run.
In addition, they come with pre-installed ink systems with their own ink refill system.
Not only does this mean some excellent cost-effectiveness, but it holds a ton of ink at a time, making it very efficient for refill timing. In terms of specs, it can handle paper sizes up to 11.7 x 14", has a resolution of 4800 x 1200 dpi, and prints up to 15 papers per minute.
Overall, not bad stats. For the overall cost, it's a pretty good deal.
Moreover, it works with both cardstock and wide-format paper, making it versatile for crafting and other projects.
Your one concern may be the higher initial cost of the printer and ink, but for many, it will be worth it in the long run.
Best all-in-one printer for cardstock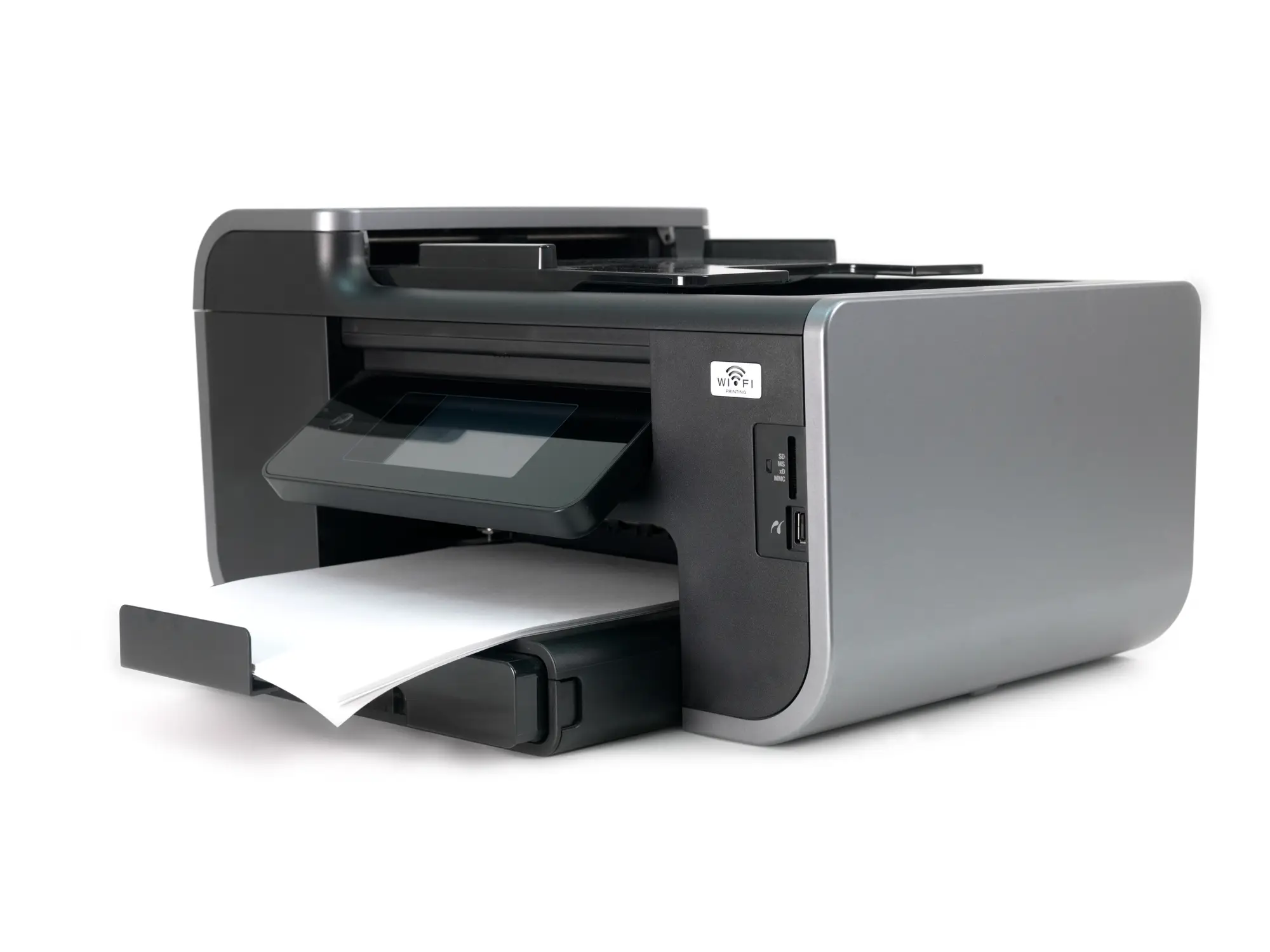 Epson WorkForce WF-7720 Inkjet Printer
If you are just looking for something reliable and able to perform as a great all-in-one printer, the Epson WorkForce is perfect.
It's on the expensive side, but it makes up for it in the definitive work it can do for anything you could need from a printer. It is meant to handle large weights and sizes of paper, including cardstock, and can perform at breakneck speeds, especially for an inkjet.
The print quality is fantastic.
With its automatic feeder and special feeder for cardstock, it has no issue doing dual-sided and borderless printing as well.
In addition, the 500-page capacity is vast and can scan, copy, and fax easily.
With wireless connectivity and support for all kinds of integrated systems, you can choose how you'd like to use it. What's also useful is the power saving model, which saves on electricity.
This machine is great for doing some serious cardstock printing and is perhaps the best wide-format dual-sided cardstock printer on the market today.
Best overall printer for cardstock
Canon Pixma iX6820 Printer For Cardstock
For all-around considerations of price, performance, and ability to work with cardstock, the best printer overall is the Canon Pixma.
The resolution of the Pixma is top-notch at 9600 x 2400 dpi. It produces some of the best prints imaginable, and you can use it borderless, which is great for greeting cards, marriage invites, and more. In addition, the machine can take in cardstocks of sizes up to 13" x 19".
With high-speed printing, beautiful colors, and the capacity to handle heavier cardstocks, this printer truly delivers everything you want from a cardstock printer.
In addition, the long-lasting ink system is a lifesaver, making it reasonably cost-effective. With all the usual suspects of good wireless controls, an relatively easy install, and even some integrated creative software, it's hard to go wrong with the Pixma.
Can regular printers print on cardstock?
Some regular printers can print on cardstock, especially the lighter varieties. However, not all printers can handle all cardstock weights.
Therefore, you should always double-check your printer's stats before using any heavier cardstock.
If you use a weight grade your printer can't handle, it may jam or, even worse, damage the internals of your printer.
You can check with one sheet of heavy media paper to test your printer if you're unsure.
What can I make with cardstock?
The most common use of cardstock is for making papercraft and cards.
These include invitations, postcards, greeting cards, holiday cards, business cards, playing cards, and more.
For more unique projects, you can create origami, gift tags, paper embellishments, travel folios, scrapbooks, and so much more.
If you want to, you can even use cardstock to make weighty documents for a more official feel, like resumes, mailers, important documents, certificates, and more.
What is the difference between printer paper and cardstock?
Card stock, or cardstock, is a thicker and stronger paper than traditional printer paper.
Different weights are available, but you can imagine the feeling of business cards or birthday cards to get an idea of what cardstock is.
Its balance between flexibility and durability makes it perfect for a wide range of crafting projects.
Card stock is typically made from a blend of hardwood and softwood pulp, balancing form and strength. Regular printer paper, or copy paper, is much thinner and is made to be used for documents and similar regular paper projects simply.
Conclusion
If you're into paper crafts or looking to make greeting cards, invitations, or any of the other things listed in the article, then I hope this list of the best printers for cardstock helps you.
If you need something to print on heavy cardstock, invitations, or whatever your cardstock printing needs may be, this list has it all.