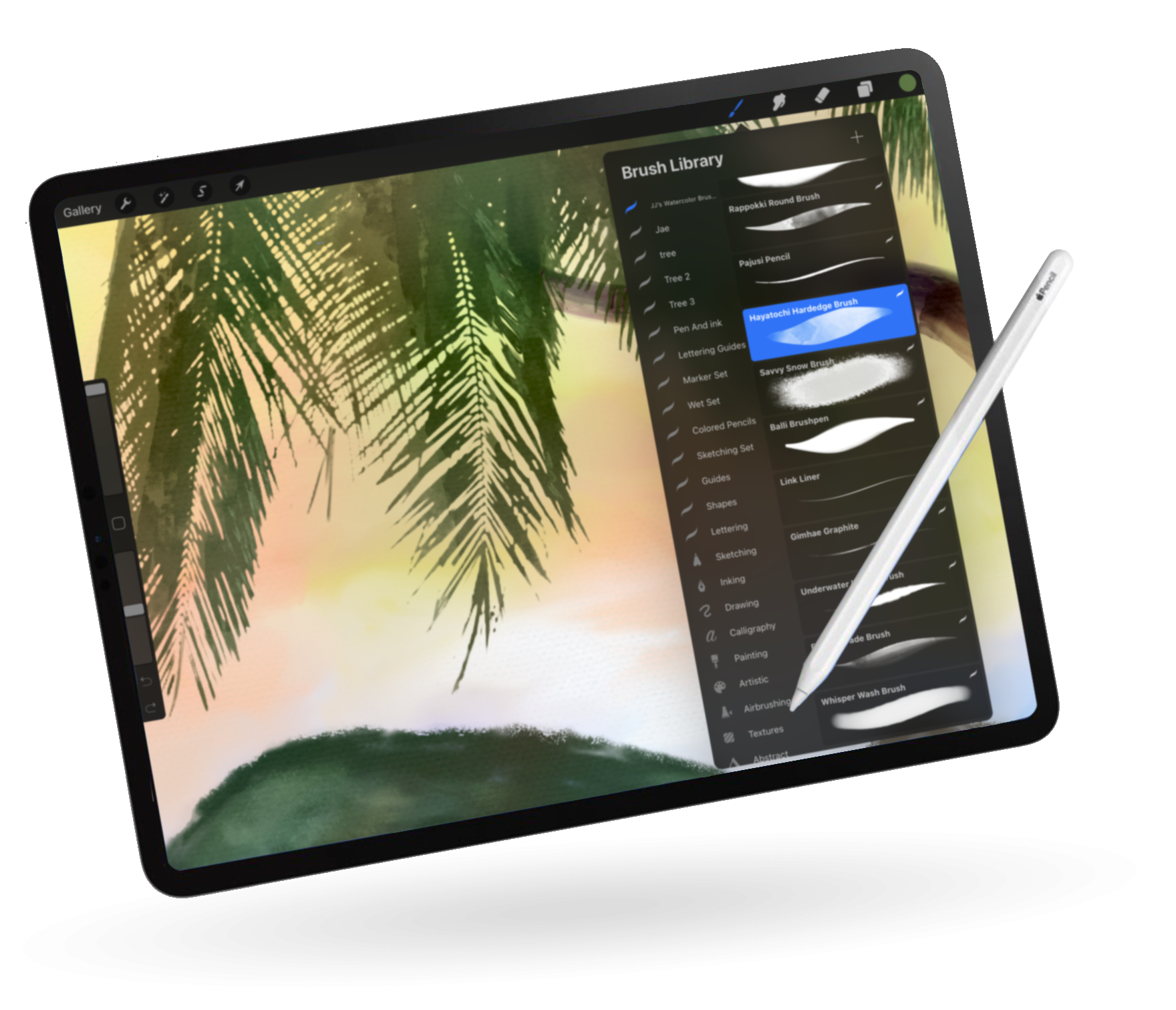 Price: $11
Buy Now
14 Easy-to-Use Realistic Watercolor Brushes
5 Watercolor Paper Textures
Template to Help Create Realistic Watercolors
3 Video Tutorials
9 Premade Color Palettes
Guide on Best Way to Use Each Brush
About the Product
What makes this kit special? This watercolor set comes with extensive video tutorials, professional templates, real waterpaper textures scanned optimized for digital use, and unique smooth blender that creates an ombre-style blending.
Portrait painting video: https://www.instagram.com/p/CE-ebHYHdDR/?igshid=mflqllu23mj6
Watercolor for Procreate is a brush set and template system that produces watercolors to look like realistic watercolors. The only thing you need is Procreate 5, an iPad, and an Apple Pencil.
35 brushes? Confusing processes to follow? No way! Procreate Watercolor Kit doesn't have to fake it. 14 easy-to-use brushes, 5 watercolor paper textures, and a template file optimized to make watercolors look real are all you need to paint anything you can think of. I spent weeks crafting each brush, so you can get amazing results.
---
Blending: This kit comes with a special blender that blends colors using a specially-crafted pattern to simulate real blended watercolors.
Texture: A pack of cold-pressed watercolor paper textures is included in the file. This comes with a video to help you get started the right way.
Brushes: You'll enjoy these brushes and have fun with them! You'll see your watercolor painting upgrade to a whole new level when you use the paper textures. After using them, you'll sure to have a favorite and fall in love with using it the most.
---
Procreate Compatibility: Please be sure to use the latest version of Procreate. To get the latest version of Procreate, head over to the app store and download the app.
iPad Compatibility: All iPad models can use the Procreate app.
If you have any trouble, just send me an email. I'd love to help. You can contact me using the contact page in the main menu navigation.
---
Product Specs
Created: Aug 25, 2020
Compatible with: Procreate
File Type: .BRUSHSET, .SWATCHES, PDF, .PROCREATE, .TXT
File Size: 221.3 MB
Files Preview
JaeJohns_Watercolor_Brushes.brushset
Premade Color Palettes

Earth_Vibes.swatches
Feisty_Passion.swatches
Fiery_Nature.swatches
Great_Outdoors.swatches
Pastel_Warmth.swatches
Radiant_Morning.swatches
Soft_Midnight.swatches
Under_The_Sea.swatches

Watercolor Brush Video Tutorials.txt
Watercolor_Template.procreate
Reviews
Renata Pasik
I've just tried the brush set and really enjoyed it. My favorite brush is the Gimhae Graphite, really easy to work it!
Asiya Hasham
Wow, the brushes were amazing and really helpful! I have been looking for procreate watercolor brushes for a while and finally, I got some thanks to Jae Johns. The brushes were very well made and the template was very helpful. I would love to know how Jae Johns made the template!
Veronica Richmond
This pack has been incredible! I just got Procreate a few months ago, and have struggled to find realistic watercolor brushes for my work. Even with just a few brushes, I can tell that Jae puts a lot of effort into the settings and shapes of these brushes to help mimic actual painting. 6 out of 5 stars! Thank you so much!!
Pedro Santibanez
Hello Jae, Thank you so much for the watercolor set. I've been enjoying them and seeing their differences on the texture background, the tutorial really helped out! My favorite brush in the pack has been the rappoki round brush. I'm using it with the blender brush currently to get soft edges. The texture background is making art looking really cool and I'm going to print an artwork to see how it looks.