The world of websites is growing by the day, and with it has come an entire market for people who make them. You might be asking yourself: what is web design? Web design is a process that focuses on the various aspects of building quality websites.
Designers are capable people who manage various factors about the actual layout and physical function of a website. Now that websites are becoming so incredibly popular, people are beginning to question what makes a good website.
There are various factors involved depending on what you want to make. A well-designed website can be beneficial for any business. You want websites to be something that users enjoy interacting with and derive benefits from.
When a company has a questionable website, people are prone to thinking less of them. Now, in the modern age, we have a pretty good idea about what good web design is.
For people who are looking to make a website, it is something that can be learned with a little time and effort. If you want to build your own or start a career, understanding the scope of this process is crucial.
Other Web Related Content: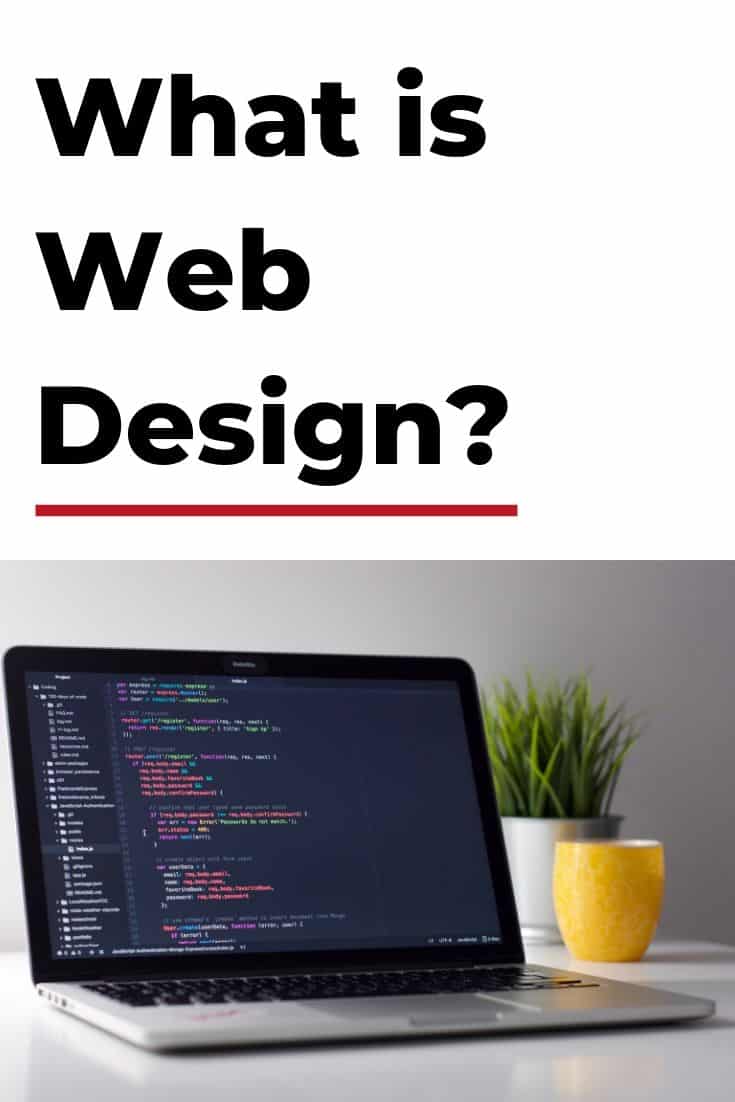 What Is Web Design?
The process of web design has a couple of different versions depending on who you ask. In some cases, by definition, a web designer designs websites. However, in other instances, web design is considered a hybrid between design and development.
These processes involve different steps depending on the role. In many cases, if you are looking for work, you'll want to see what the requirements are. This is also the case when considering web design programs. Some will teach you how to make a website aesthetically and some will teach you actual coding.
The design aspect of web design is built around aesthetics and functionality. It is the process of making layouts for a web page and showing how they will work. The aesthetic side is important because it focuses on making it look nice. An appealing web page is good for business.
The functionality is important for crafting a solid user experience. This is crucial for ensuring that people enjoy interacting with your website. It can be the difference between users enjoying your site and hating it.
Development, which is only paired with web design in some cases involves true coding. This process is the act of actually creating the website itself. In some cases, if the designer is the developer as well, they can jump straight to coding. If the same person is doing both roles, there's less of a need for complex design drafts.
The individual can generally focus on using their notes and a few sketches. This is not to say that a web designer also needs to know how to code, though it can be a benefit.
What Is Web Design For?
For most people, web design is a process that is used to bring in more business. In many cases, people will use a web designer to custom build them a website. In some instances, these designs might be premade. However, people generally hire designers for custom work. It is a matter of bringing their vision to life on a web page. Web designers are crucial when it comes to helping a company get the website of their dreams.
There are plenty of different reasons why a person might need a website. For example, a blogger might want a custom website to increase their fanbase. A nice-looking website is a great way to increase overall credibility. A local restaurant might need a custom website to allow people to order online or see the menu.
These are all things that a web designer can take and use to create an amazing website. Businesses rely on websites for various reasons. A good website can educate, provide a service, or increase interactions between a business and customer.
Web design is used for people who want a website that is specific to them. While there are plenty of website builders that the average person can use, web design goes beyond that. Rather than relying on templates or elements to rearrange, they can fully customize.
This means that they can easily draft out functionality these builders might not have. Being able to do this is probably one of their biggest selling points. They can easily give you the website of your dreams to serve just about any purpose.
What is Web Design Like?
The process involved in web design depends on what kind of environment the individual is working in. In some instances, web designers might be designing internal or external websites. It is also possible for a person to be designing for a business or a collection of them.
This can be the difference between working for multiple people or working for one. Some businesses hire web designers full time. Other web designers take a more open freelance approach instead. It is a matter of determining what is right for you.
A web designer that works for one company will likely handle websites or web-based application design. These can differ greatly in requirements and complexity. In some cases, it might also involve consideration of cybersecurity elements as well. An internal web page might be designed to house information or allow document sharing.
These websites tend to be completely custom or incredibly simple depending on the needs of the company. Websites like this can be used to suit a variety of company needs.
What is Web Design Like for a Company?
An external website for a company is generally more complex. These will be built around meeting the needs of a customer for the business. An example of this might be an online banking website or the site you use to make purchases on. A web designer will focus on getting the best possible information to an audience. This means making sure that everything is organized and presented well. It also means focusing on the needs of the audience.
Freelance web design is a growing career option. In a similar vein, branding companies are hiring web designers to work in a similar capacity. These web designers will generally focus on an individual meeting with a client. They will then use their knowledge to design a perfect custom website that can be used to benefit the company.
A web designer will tailor the very build of their website to the business's needs. In many cases, these websites can range in complexity. However, they are all unique to the company that they are designed for. Many companies find this appealing.
What Is Web Design As A Process?
Web design involves a variety of steps to create a successful website. The approach to create a website differs from company to company. A freelance web designer is more likely to be the one engaging a client. In a corporate setting, web designers can sometimes share duties with business or system analysts. This makes for minor shifts in the information gathering process.
Sometimes web designers will be responsible for gathering the information. Other times they may be given the information and asked to design from it.
Web Design Process Step by Step
The first step to web design is always going to be requirements gathering. To design a website, designers must have a full understanding of the website's needs. This makes it possible for them to begin designing something that will cover those needs.
This involves a few different steps. The first is to understand the needs of the website functionally. It begins by mapping necessary pages, links, and widgets. Using this knowledge, web designers can create something that matches the business.
After the functional needs have been covered, it is important to talk branding. Web design does not only include the physical build of the site. It involves the actual aesthetic of the website itself. This means that the web designer will need to understand what the site should look like physically. Creating a good layout is a matter of fashion and function.
They must understand what needs to be grouped together, then how to make it look.
Branding needs are very important for a business. A website should always match the brand identity of the business it represents.
After the web designer has gathered the requirements, they can begin mocking up the website. This involves using specific tools to craft a sort of demo version of the site. There are plenty of ways to mock up a site. If the designer is also developing the website, they might do a more simplified mockup. Other instances include an almost fully functional mockup. There are web design tools available to make this possible without coding experience.
Mapping the Web Design Process
Mockups can come in different stages or might just include one stage depending on the process. The point of a mockup is to show the website to the person who requested it. Though it will not be a completed website, it should cover the key elements. A proper mockup will address layout, content structure, and sometimes functionality.
This is a way for the web designer to show off what will be built in development. At this stage, the person can either approve the design or request changes. Once a mockup has been approved, development can begin.
What Are Web Design Tools?
There are plenty of tools that can be used to practice web designs depending on the practice. Some tools are more graphic design focused to represent a layout. Other tools can be used to make a functional mock version of the website that will be built.
These can include a variety of attributes including the ability to click through a mocked site. Depending on what practices are in place, different tools will be used for different means.
For companies that do less complex mockups, tools like Adobe Spark can be used to make a physical layout. Graphic design software is common for this process. It allows the web designer to physically show the customer what their site will look like.
While this can be less intense than some of the more complex mockup software, it is a great tool. This can be used to make a physical representation and ensure that branding is for the design. It's a great way for companies to decide if the design is going in the right direction.
A popular web design and mockup tool is Adobe XD. This system is used for wireframing, which is the mockup process of web design. Adobe XD holds the ability to make a completely live and useful mock version of the website. While you might not be able to build complex widgets into it, you can build page navigation.
This is great for helping people to see what their website will look like in action. Using a tool like this allows web designers to show almost exactly what the client will be receiving.
Conclusion
Web design is a field that is growing in popularity over time. Most people to some extent have picked up web design skills whether they know it or not. Proper web design principles are available all over online. Many people even experiment with web builders to gain some understanding of the process.
There are plenty of ways to learn web design. You can go to a school or attend an online class if you're interested. There are a lot of resources available for you to start learning today. It is without question a beneficial skill in the modern world, so don't hesitate to try.
What is a concern you have with web design?
Web Design FAQ
What is meant by Web design?
It refers to a job where a person or company design and create websites for individuals or businesses.
What is the use of Web design?
It is to provide a person or company with a website, which is meant to be the "digital home" of the person or company. The website can then be used to sell products, provide information, and/or any other needs you may need.
Is Web Design a good career?
It's an excellent career. I've done it for more than 15 years, and although I don't directly use my web design skills for clientside work anymore, my web design skills are still an asset to me everyday. If you're looking for a web design job, just remeber that EVERY company needs a presence online in today's economy. It's an invaluble skill to have.