When it comes to web design, the way that you present content is everything. If you want your website to stand out among the competition, it takes more than just colors and text.
You will need to make sure that you have the kind of eye-catching site that makes people curious to keep reading. A great way to make your site more interactive is through the use of animations. Text animations in CSS are an effective way to bring your website into the future.
If you are looking to add some animation to your website, we want to congratulate you. You are going above and beyond to make sure that your site is engaging. Animated visuals can make a website breathe in a way that nothing else will.
This is why we set out to look for some stunning animated text effects that you can easily use for your site. These text animations in css are certain to take you one step ahead of the competition!
Other Web Related Content: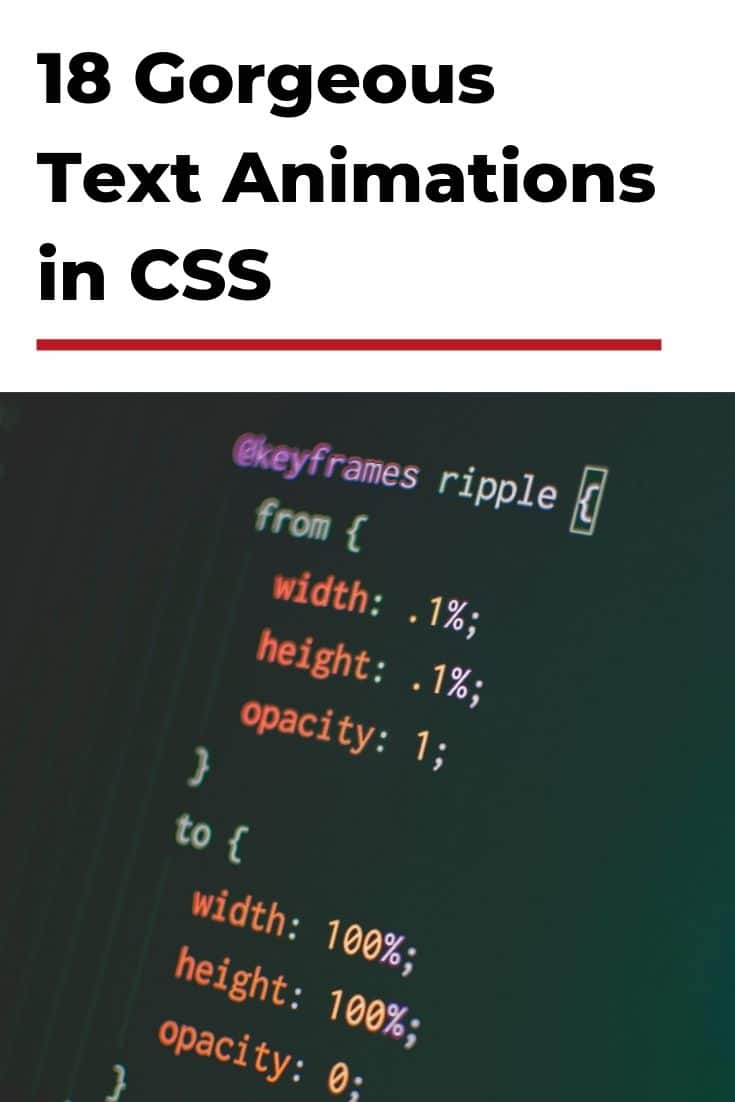 —This beautiful text effect will bring a stunning and sleek look to any web page. This is an incredibly modern design that will pair well with a full professional website. If you have a web page that is built around looking to the future, this will be a nice addition.
It's fluid and enticing design is sure to bring a little something extra to your web page. Though it might not look right on a more playful web page, it is without question ideal for the modern business page.
—This surprisingly text animation is easily one of our favorites. It adds an automatic degree of character to any page, making it ideal for groundbreaking projects. As far as animations in CSS goes, this one is memorable. You can enjoy the shock and intensity of this text animation.
Try adding it to a section that you want to draw attention to. Since this animation offers such a complicated animation, it is undoubtedly meant for headers. While you can certainly use it on other sections, the power of this animation might just overshadow anything you put it next to.
—If you are looking for more bold and futuristic text animation, this is a great way to do just that. You can enjoy the wonder of this text animation and all of its dramatic flair. This is a loud animation that is ideal for large font and can be applied successfully as a header on any page.
Choosing this animation is a great way to add a certain degree of bold and professional intensity to your web page in no time. You can use it across large text or on individual letters to create an even more dramatic effect.
—The SVG/CSS text animation is ready to bring your website into the future. This incredibly bold and modern design will make your header look absolutely perfect on any page. You can rely on this to provide you with a dangerous and bold look.
It would be best suited on the reference page of a career spy or something equally intense. When this animation goes off on your page, you won't be able to look away for a single minute. It will tell the world that you absolutely mean business.
—In the event that you are looking for a more traditional but engaging animation, try this one. It is a basic and professional animation that will help bring your business into the future. This simple and modern design is enough to elevate your page without going over the top.
A design like this is ideal for various kinds of businesses. It is friendly and approachable, but still relatively professional to enhance your site. It will show that you put a little something extra without going over the top.
—If you want a bit more fun on your site, this rotation animation is a great place to start. It can be used to draw attention to specific text in a fun and jubilant way. While it might not be ideal for a law firm, a smaller business can certainly have fun with this one.
You will notice that it does a quick flip before landing upright. This makes it eye-catching and certain to get your audience's attention in no time.
—This animation style is very cool in a modern and trendy way. Named after the much beloved Tumblr.com, this style is perfect for a little bit of fun. It has a dramatic modern edge that would suit just about any mood focused site. You might see an animation like this on a magazine website or on a blog.
This effect will not only draw attention but make a statement. Something about it just screams: look at me so I can ignore you. If you are looking for animations in CSS, this is a fun one. It's ideal for the dramatic and edgy at heart.
—For a traditional animation style, this text animation makes for a great look. It simply pops up your header one letter at a time to make a statement as it enters. The smooth and easy way that the letters pop up on the screen help to make this animation harmless.
It is perfect for business headers as long as your brand is playful. This animation is engaging in a unaggressive way. If you are looking for something that is minimalistic, you will find a good product with this animation.
—Though this animation might make you wonder if you have been drinking for a second, it certainly draws attention. When looking for text animations in CSS, you might just find that this is the bold entrance you need. This animation is quick to announce itself, drawing the gaze of anyone.
It might not be completely ideal for highly professional sites. However, for a business looking to add a little pop to its site, it is fun. You don't have to love it, but you must admit that it is prominent.
—This ghostly text animation is a great option if you want to make a word disappear. Though it can't be used for headers, it can certainly be used elsewhere. As long as you want to see your text fade, this animation does an amazing job.
You can make any text disappear, and it looks really cool. An animation like this is perfect for making text statements across the screen. Making them disappear over time will add a cool effect to the importance of their message.
—If you're a classic bounce kind of person, you will absolutely adore this animation. It will allow you to get a prime bounce effect with ease. This is perfect for introducing a word or header on certain websites.
The design itself is a little more fun than you might want for some sites, but on others, it is perfect. As far as text animations in CSS go, this is an absolute classic. When you think about basic animations, chances are this is one that you would list off.
—Something about this animation just screams modern. It gives you the option to change words in a sentence to match a list. This is a very popular design in modern advertising. Now, you can enjoy the simplistic beauty of this animation on your website.
It is not only funny and hip, it adds a seriously cool look to any website. If you want people to understand everything that you have to offer, this animation rocks. You won't be sad that you chose this modern bit of flair.
—This exciting animation might require a little more tweaking to customize, but we believe in you. It applies a seriously cool animation effect beneath a logo. This makes it great for modern websites.
You will need to incorporate your own logo, but the lettering is easy to customize. A design like this is not made every minute, so take advantage of this truly unique look. This sort of animation is perfect for modern companies looking to stand out.
—As far as text animations in CSS go, this look is guaranteed to bring you into the future. It has a modern and minimalistic look that makes it something to behold. It isn't often that you see popular animations with shapes like this, making it unique.
You can add this to a clean and beautiful website for a little something extra. The animation itself is a loop, so you might want to change that depending on use. This could make users motion sick on the wrong kind of website.
—In the event that you are the dramatic hacker type, this animation might be right for you. It is incredibly bold and unquestionably modern, so it isn't for everyone. Even if you don't want to use this on your site, you have to admit that it is cool.
This stunning font animation is both eye-catching and attention seeking. You will without question make people keep looking on your site. It's just edgy enough to make any visitor curious.
—If you are looking for a ton of fun, look no further than this animation. With its rainbow colors and animated mayhem, it's impossible not to love. This animation will absolutely not fit on a highly professional site, but for others, it is perfect.
You can enjoy the fun and festive nature of this animation in multiple capacities. It is perfect for a header or a word in text that you need to stand out.
—This animation absolutely epitomizes fun and friendly. It is well in line with modern design, and for some reason makes us want to buy a subscription. Animations like this are not so much a statement as a greeting.
It welcomes you to a page and asks you if you would like to know more. In a strange way, it seems to tell the audience that it is worthy of being trusted. This is ideal for product pages and villains looking to throw someone off of their trail.
—For a simple greeting, look no further than this animation. It steps out immediately to offer a quick hello and introduces a subtitle. If you need multiple layers for your header, this might be a good fit. The design is fluid and visually pleasing, making its popularity understandable.
Conclusion
When you begin your search for text animations for CSS, you are guaranteed to find a few things. There are some questionable animations and some breathtaking ones. The real fun is exploring available options and letting them serve as inspiration.
You might just find as you traverse these animations that you want to make your very own. Don't worry, there are plenty of resources available online. If that isn't your thing, feel free to plug in one of these and see your site shine!
What are some animations you've created using CSS?
CSS FAQ
How do you animate text?
One way you can animate text is by using CSS keyframes. Another way is by using these free CSS text animations listed in this article.
What are keyframes in CSS?
Keyframes are CSS values that you initialize with the @keyframes rule. From there you can give an html element the power to transform a certain css property value from 'X' to 'Y.'
How do I make an image move in HTML?
You can target that image using the @keyframes value, and then animate any css property that moves an image element like translate, margin, position, etc.