If watercolors are something you are interested in and use regularly, then you might have come across chalky and milky watercolor paints.
If you are just using them to practice painting, then it really doesn't matter. But if you are working on artwork for a client, then a chalky watercolor is not something to go ahead with.
Why does your watercolor look chalky, and how you can fix it? Should you throw it away and get a new watercolor bottle instead? Or is there something wrong with your technique?
I answer all of these queries in the blog below.
Other Related Topics to Help You With Watercolor Painting: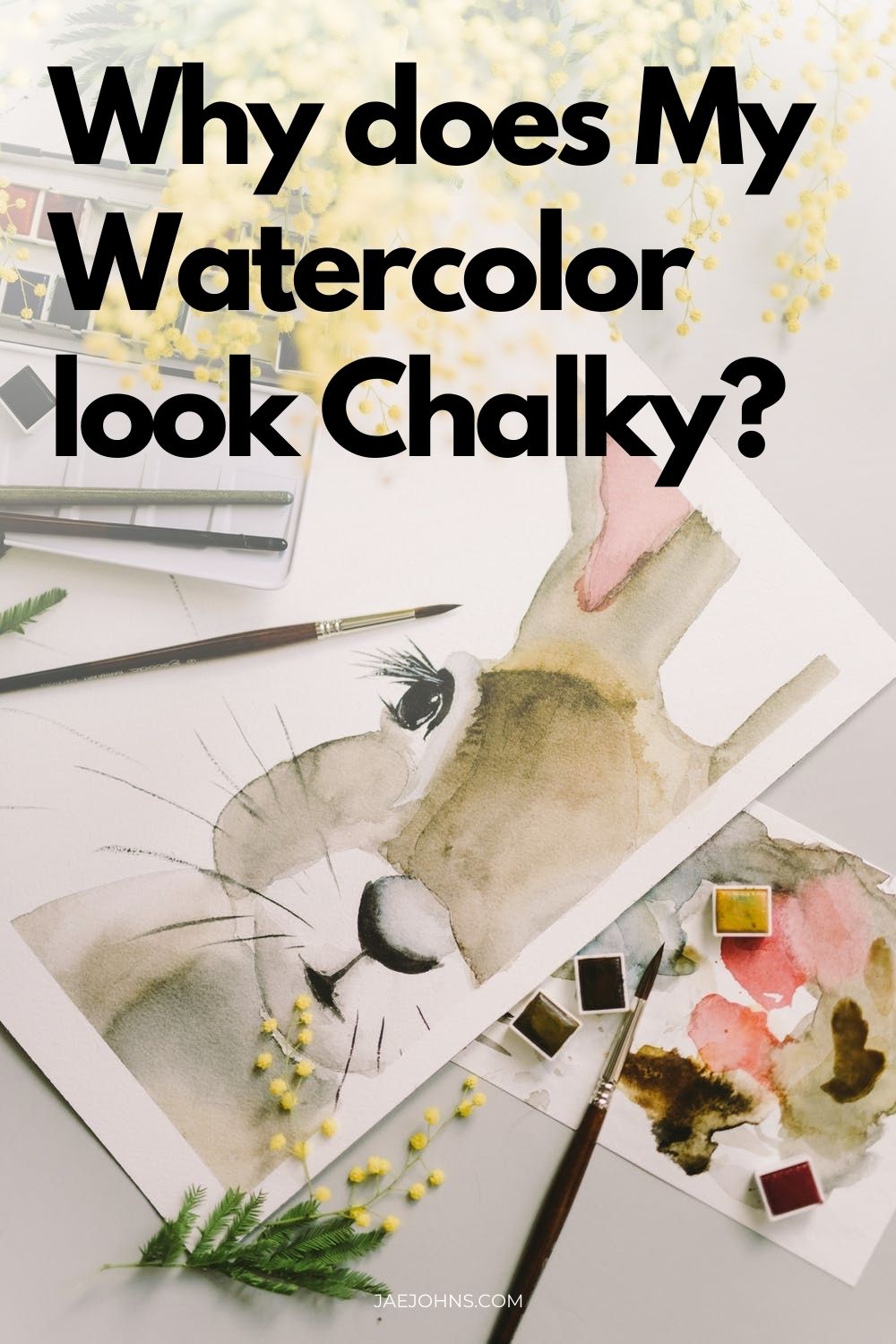 What does chalky watercolor mean?
Watercolor paints can be pure, soft, watery, and even chalky.
Each brand of watercolors is different, and therefore, they produce different results.
For instance, some watercolors consist of granulating pigments, which leave a very grainy texture on the paper when it interacts with water.
Some paints consist of non-granulating pigments that react evenly with water and cover the page with little or no variation in the texture.
Then, there are paints with staining pigments that sink very easily in the paper fibers and are thus, difficult to remove or lift.
In this way, the paper is stained with the applied color.
An opposite to staining pigments are the non-staining pigments that sit on the top of the surface, and they can be removed very easily if the paper is re-wetted or scrubbed.
Although all the watercolors are transparent if they are used with enough water, some appear more opaque naturally.
A transparent color allows the whites of the paper to be shown through. But if the pigments are denser, then everything under the surface is covered more efficiently.
Much low quality and cheap watercolors are mixed with less pigment but more binder. In this way, they look more chalky and opaque. One way to identify opaque colors is through vibrancy.
These colors often look less vibrant, and if they are overused, they can affect the artwork.
How to tell your watercolors are chalky?
To avoid chalky watercolors, you should avoid opaque watercolors.
To do so, you can check the manufacturer code on the water bottle or tube to see if it is opaque or semi-opaque.
But there is also a simple test you can perform to check the texture of the watercolors.
All you have to do is create a straight line through the watercolor paper using a black sharpie marker with a broad tip. Then, use a paint mixture and paint a stripe on the top of the line.
Make sure that the paint mixture is not very watery.
When the paint dries, you might see different results.
If there is a residue of paint still remaining on the line, then the paint is opaque and hence, chalky.
If it is transparent paint, then the paint will disappear.
Of course, if you add more water to the mixture, then your paint will be more transparent.
So make sure that your paint mixture is not too watery.
Accordingly, you will have to test different products and see which one works best for you.
It also comes down to the paper, brushes, and other supplies you are using.
You can also take recommendations from other artists and see which products produce the best results.
Why is my watercolor chalky?
A major reason why watercolor is chalky or muddy is temperature.
A chalky color can be described as a color that is too warm or cool when compared to the surrounding colors.
There can be other reasons for the watercolor to be chalky as well.
For instance, if your shadows in the painting appear too chalky, then you might have a lot of white in the mixture.
How to fix chalky watercolor?
Luckily, there are different ways to fix a chalky watercolor.
For instance, it is recommended to use student grade color directly from the tube.
Avoid squeezing the color from the tube onto the palette where it might dry out.
Instead, using from the tube make it possible to get the vibrant results you want without mixing water over and over again in your pigmented paints.
At the same time, when the watercolor dries out on the palette, it cracks and falls out. In this way, you tend to lose your precious watercolor.
You should also avoid overmixing the paints.
Many artists make the mistake of not viewing the pigments.
Many colors are already mixed, and therefore, they create mud when you try mixing them.
Therefore, avoid mixing such colors to avoid a muddy or chalky look.
You might have to use more colors accordingly, but at least you will be able to produce a professional painting.
Similarly, try mixing the colors on the paper instead of the palette itself.
This will prevent you from over mixing the paints that can easily produce a muddy or chalky outlook.
Another way to avoid a chalky painting overall is to use the right kind of paper.
An artist-grade paper is much better and durable than cheap paper.
A cheap paper is usually made up of wood pulp, and therefore, it does not have enough capability to prevent the paint from feathering.
If you are creating a background wash on cellulose paper, try to wet one section at a time and then add your colors to mix them on the paper.
In this way, you can prevent drying the parts of your paper as you do the wash, and your painting won't become muddy.
Conclusion
Finally, if you are not getting the glow you want, then you can add more details and shading by using oil-based or wax-based colored pencils.
This will allow you to have a more luminous and bright painting that might be difficult to attain with student-grade supplies.