Want to know what are the different kinds of watercolor papers? Are you a professional artist on the lookout for the best quality of watercolor texture paper? Want to know the advantages and disadvantages of types of paper? Saying yes? Do not worry! Just read this guide till the end as this guide may answer all your questions!
Watercolor Paper!
It is one of the important components of watercolor paintings. It is a type of paper on which an artist can apply watercolor paints. As it is specifically manufactured for the use with watercolors, such paper allows the water to penetrate, leaving the pigments of the paints on the surface. In watercolor, PAPER is important! So, whatever you are painting with watercolors, the watercolor paper you choose has a great impact on the quality of your artwork.
What Artists May Overlook When Picking Watercolor Paper
Most artists look at the watercolor papers and are unable to tell the difference between the different textures found in different types of paper. The watercolor texture paper can be cold or hard-pressed paper, rough or smooth paper, etc. As each paper has a different quality, so you must understand it if you want to transform your vision into reality.
Instead of just looking at different papers, you need to know what exactly they are so you can get a good watercolor paper for your artwork. In other words, if you want to enhance the appearance of your watercolor paintings, you must select a good-quality watercolor paper that is strong as well as versatile.
There are a variety of watercolor texture papers in the market available for watercolorists. Each paper has a specific description written on the packaging. In spite of product descriptions, at times, it becomes difficult to know which watercolor paper is right for you.
To assist you to decide the best watercolor texture paper, I am here with a guide that may show you what the most popular watercolor texture papers are and what their pros and cons are. So, without waiting anymore, go through the list so you can feel confident about your paper options, compare each type, and can get the best paper for your artwork.
Are you ready? Let's dive into this guide!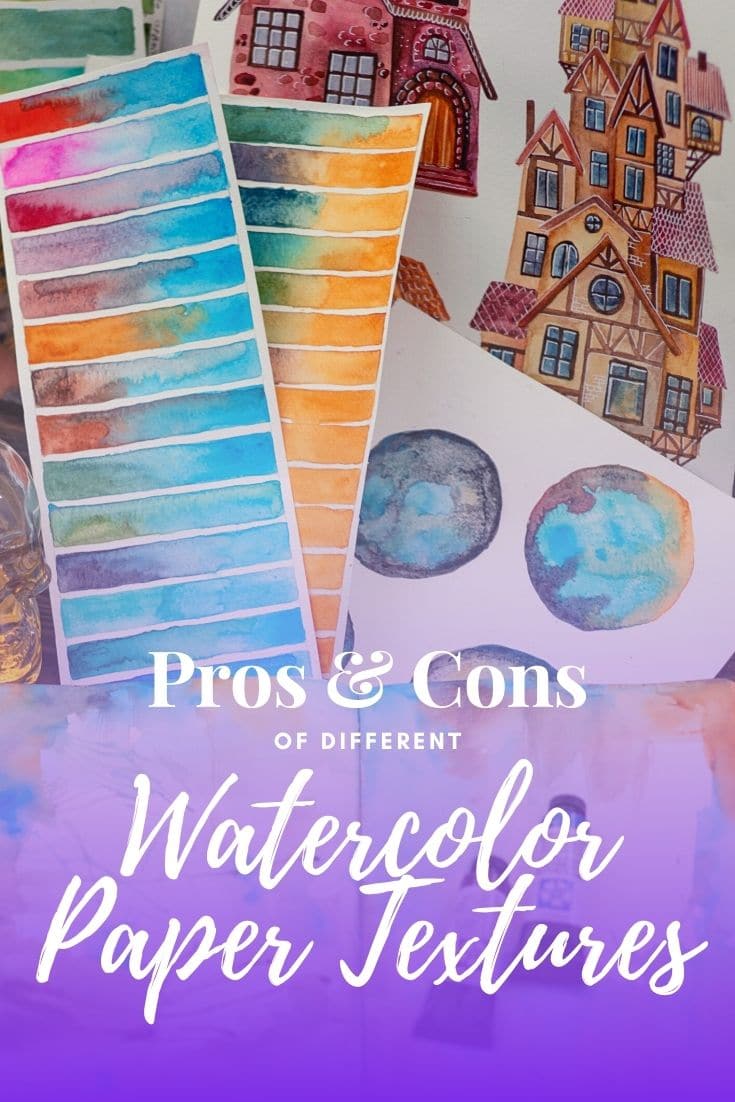 Know the Amount of Pressure on the Watercolor Paper
The different types of watercolor papers depend on the amount of pressure made on the surface. As an artist, it is crucial to know about the pressure of watercolor paper because it is the factor that may make the paper behave differently. Now you must be thinking how a watercolor paper's behavior may depend on the compression process. Let me tell you that the amount of pressure determines whether the paper is hot-pressed, cold-pressed, or rough paper. In other words, it may tell how smooth the surface of the paper is.
In short, knowing about the watercolor pressure may help you decide the best paper for you.
Comparing Different Types of Watercolor Paper Texture
Remember, each type of watercolor paper has its pros and cons for different styles of art. That is why it is important to know the basics of watercolor texture paper. There are mainly three types of watercolor texture paper. Whatever the type of paper is, it is all about the TOOTH of the paper. In simple words, I am talking about the TEXTURE of the watercolor paper!
Hot Pressed Watercolor Paper
The first type of watercolor paper is a hot pressed paper that is known for its smooth and hard finish. In other words, this watercolor paper has almost no tooth, resulting in a fine-grained surface. Once the paper is made, two hot metal rollers are used to press it to flatten the paper and make it smooth, hence known as "hot-pressed".
So, the method of fabrication used for this type of paper makes it hot pressed. It is best suited for paintings that require a high level of accuracy, such as portrait painting.
In short, it has the smoothest surface if compared with cold-pressed and rough papers.
The Good and Bad | Hot Pressed Watercolor Paper
Pros of using hot-pressed watercolor paper:
The surface finish of hot press watercolor paper is so smooth that artists prefer to use it when they want to work on paintings with a high level of brush detail. In this way, it becomes the best choice for illustration as well as graphic design work.
The hot press paper is also suitable for styles in which pen and ink are combined with watercolor.
Another plus point is that the pigment colors are more clear and visible on a hot-pressed paper, ultimately producing bright colors.
Another positive for hot-pressed paper is that it is more absorbent of your paint.
Cons of using hot-pressed watercolor paper:
The hot pressed watercolor paper is not used for regular watercolor paintings. As there is a very little amount of texture, dry brush techniques that require texture to draw patterns on the canvas do not work for hot-pressed watercolor paper.
One thing that should be kept in mind is that if you want to try out some basic watercolor techniques that use the paper's texture to draw patterns, you cannot do it with a hot-pressed watercolor paper.
Moreover, according to some artists, this paper is too slippery which makes it difficult to control the paint. Also, it is difficult in lifting off paint.
Is Hot Pressed Watercolor Paper Best to Use?
This type of paper is perfect for the artists who want to paint with watercolors on a smooth surface.
Cold Pressed Watercolor Paper
The watercolor paper that has a slight tooth to it is known as the cold-pressed watercolor paper. The cold-pressed watercolor paper is also referred to as "Not Paper" which means that it is not hot pressed. It is named "cold press" because of the process that is used to manufacture it.
Unlike hot-pressed paper, the cold-pressed paper is made when the metal rollers are used for pressing and to flatten out some rough areas at cold temperatures. It can be considered as the standard for watercolor painting as it has a medium amount of texture with a slightly bumpy surface. As this type of paper has a slight tooth, some pigments of paint may penetrate deeper into the fibers.
The Good and Bad | Cold Pressed Watercolor Paper
Pros of using cold-pressed watercolor paper:
The cold-pressed watercolor paper is said to be the most popular paper as it provides the easiest surface to work on.
Most watercolor painting artists prefer to use the cold-pressed watercolor texture paper because this type of paper may allow for only a little amount of texture in artwork, ultimately giving a nice velvety look.
The cold press absorbs the water quickly. This is the reason that the drying process is a bit slow, hence allowing the artists to have more time for adding effects.
It is suitable for all the standard techniques that are used for watercolor painting, hence its popularity! Most artists use this paper for landscape painting as the scraping drawing as well as the dry brush technique works quite well on cold-pressed paper.
Another positive for the cold press is that its semi-rough surface is ideal for smooth washes. In fact, its texture contributes to the aesthetic appeal of the final painting. So, you can say that the texture of such paper serves as a happy medium for painting.
Plus, if you are a beginner and want to take some watercolor paper for your introductory class, you can take the cold press paper.
Cons of using cold-pressed watercolor paper:
On the downside, the cold-pressed watercolor paper is not suitable for glazing. The reason is when you apply a new layer of paint, the first layer may get disturbed.
On a cold-pressed paper, usually, the colors appear dull or less rich and vibrant. It is because of the light that reflects off the paper. As the paper has a little texture or slightly rough surface, the reflected light is scattered, hence producing less rich colors.
Is Cold Press Watercolor Paper Best to Use?
You will find almost 90 percent of all watercolor papers as the cold-pressed papers. It is the most popular and versatile paper – highly recommended for beginners and expert artists due to its texture.
Finally, we have the third type of watercolor paper and that is the Rough Surface Watercolor Paper. It is the roughest watercolor texture paper in which the paint pigments penetrate deeper into the fibers. This is because it has a lot of tooth or texture in it. In other words, I can say that this type of paper is completely the opposite of hot-pressed paper.
Moreover, this type of paper is a bit darker than the smooth papers because the surface has a lot of texture due to which shadows are created. It is the most absorbent watercolor paper, so you cannot have much time to play with the paints.
The texture of the rough surface paper makes the color application effects even more enhanced. It works well for a dry brush technique. So, if you want to add visual interest to your paintings, rough watercolor paper is a perfect choice!
Pros of using rough surface watercolor paper:
Most artists prefer it to be used in such artworks that involve the use of more expressive as well as bold painting techniques.
This type of paper is suitable for glazing as its rough texture can grip the first layer of paint very well.
Cons of using rough surface watercolor paper:
This type of paper is not suitable for paintings with a high level of detail. Because its texture makes detail and line work extremely hard.
Another negative point is that the rough surface watercolor paper is not ideal to be used for landscape paintings where the scraping technique is used.
If you are a beginner watercolor artist, it is not for you. This type of paper is not very easy to find. Moreover, it is difficult to do pencil sketching on a rough surface watercolor paper.
Is Rough Surface Watercolor Paper Best to Use?
The rough surface watercolor paper is best suited for dry brush techniques and bold painting techniques. It is suitable for artists who have a loose watercolor painting style.
A List of the Best Watercolor Texture Papers
Let's have a look at some of the best watercolor texture papers that you can use for your watercolor paintings.
The first watercolor paper on my list is Arches watercolor paper. Arches papers always supreme over other watercolor papers. If I talk about the Arches 9" x 12" paper, it is a professional-grade cold-pressed watercolor paper that is made with natural cotton fibers.
Available in white color, this type of paper is 100 percent cotton paper and is free from acid as well, suitable not only for watercolor techniques but for airbrushing techniques as well. Sized with gelatin, the texture of this paper is just amazing. Moreover, it can handle multiple washes of colors.
The Arches watercolor block contains 20 white paper sheets each in 9" x 12" size and 140 lb. (300 grams), suitable for watercolor blending as well as wet techniques. No matter if you are a beginner or an expert in watercolor painting, you can use this paper as it is ideal for painting projects.
When it comes to the best watercolor papers, I cannot ignore the Canson XL series watercolor pad. Canson has been in the business for several years. Since the 16th century, it has been providing high-quality and professional-grade watercolor papers. This watercolor pad is no different at all.
It consists of 30 excellent-quality watercolor paper sheets each measured as 9" x 12". Each paper in this pad has a cold press durable surface that is ideal to be used with watercolors, pen or ink, pastel colors, colored pencils, acrylic paints, and much more.
Although it is written that the papers are cold-pressed, you will notice that its papers are a bit smooth that we usually see cold pressed papers. The smooth surface of this watercolor texture paper may allow you to paint and draw fine lines at the same time. With a natural white color and texture, these sheets can bear repeated washes. As the watercolor papers are acid-free, so the Canson watercolor pad can hold your artwork for several years.
Another watercolor texture paper best-suited for artists of all levels is the Strathmore watercolor pad 400 series. This pad consists of cold-pressed watercolor sheets with natural white color. Each sheet can handle wet applications as well as dry brush techniques. As it is non-acidic, you will love its longevity.
In short, if you are a beginner and want to master your watercolor techniques, it is the best time to use the Strathmore watercolor pad.
Conclusion
To get the best results in your watercolor paintings, you do not only need to get the best paints but the best watercolor texture paper as well. So, these are some of the popular types of watercolor texture papers along with their advantages and disadvantages. Each type of watercolor paper may come in rolls, sheets, blocks, or pads.
While selecting the paper, never go for low-quality paper as watercolor pigments do not work well on such papers. Although you may save money by using a cheap paper, most techniques of watercolors may become difficult to apply on low-quality papers. I hope that this guide may act as a minefield of information for the people who are just starting with the watercolors papers.
Besides selecting the type of watercolor papers, you need to determine the paper's size, weight, or surface to keep your creative juices flowing. Yes, it is important because if the surface of the paper is acid-free or made up of real cotton, it means it is the professional and good-quality watercolor paper. Because the white surface of such types of paper does not turn yellow even after years.
What do you think which watercolor texture paper is the best for the artwork that you are going to create? Does this guide help you select the paper that is best for you?
Other Featured Topics to Help You with Watercolors: