Knowing how to sell on Etsy is something that anyone can learn. The online world has made it easy for all of us to go into business as we see fit.
A popular location for artists to end up is on Etsy, which offers a variety of creative products. This platform is perfect for starting your very own creative business in no time at all.
With a little concentrated effort, you can make a page that draws in traffic and easily boosts your art sales. If you want to learn how to dominate sales on Etsy, so we've compiled some tips to help.
Here are some other articles to help in selling your art: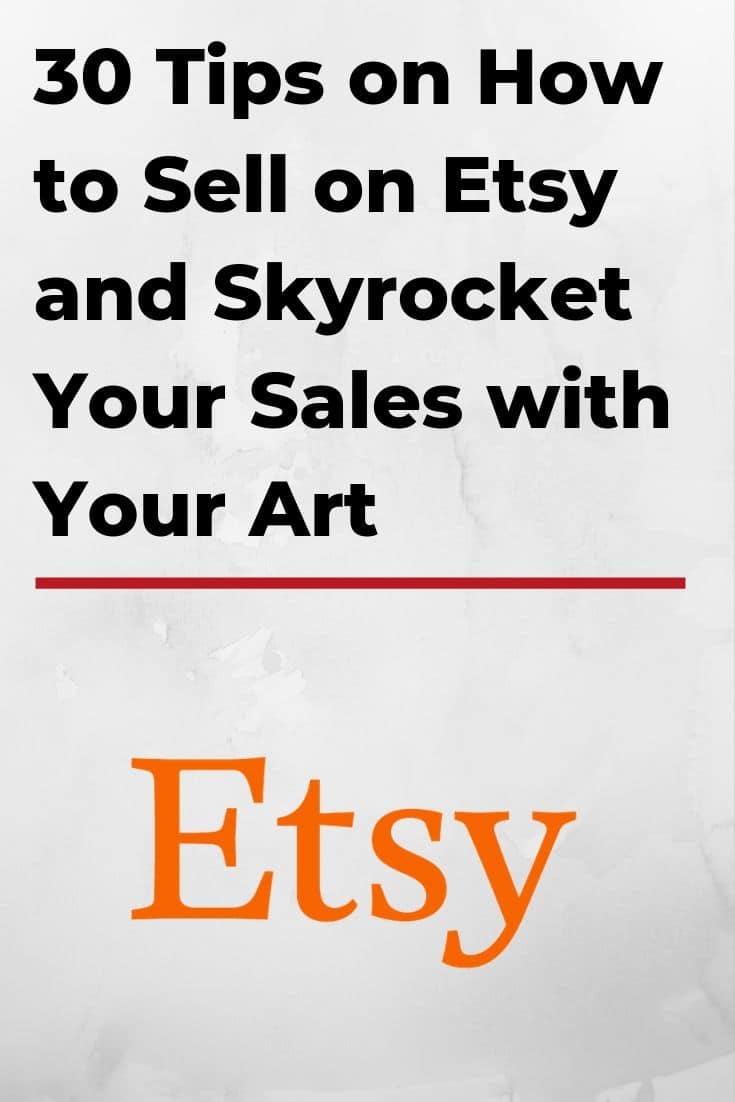 1. Make Your Page Shine
— When it comes to improving sales, you must have a good page. Having a well-designed Etsy page is an easy way to show people you have a credible business. This will make them interested in what you have to offer.
2. Take Good Pictures
— If you want people to appreciate your work, it needs to be clear. Using high-quality photos is crucial when showing off your work. By choosing the right images, you can show people that you are a professional.

3. Use The Right Tags
— To run anything successful online, you have to use tags. Etsy uses tags to help sort and categorize products. Choosing the correct tags can make it so customers can find you. This can drastically improve how much business you get.

4. Have A Good Store Name
— Choosing the right name for your shop can drastically improve business. Make sure that your store name represents your work accurately. If it's too complicated or too strange, people might not like it. These tiny factors play a big role when people are shopping, which is why it is crucial for learning how to sell on Etsy.
5. Use A Quality Store Logo
— If there is one thing that will make people skip your shop, it's a bad logo. By choosing to provide a quality logo, you automatically improve your brand. Make sure that it is a high definition and well-designed image.

6. Provide Detailed Product Information
— A great way to help catch the interest of audience members is to talk about your products. A good product description helps people to feel confident in their purchase. It can help them to understand why you are the best choice for the job.
7. Tell People About Yourself
— Helping people to understand you can improve your sales. The charm of Etsy is that it is stores run by actual people. Show the world who you are and why your work is your passion.
8. Tell People About Your Business
— Also time your own story, tell them about your business. Tell them why you are doing what you are doing. Help them to learn about your business so they know why you're worth the investment.
9. Respond To Inquiries Quickly
— An excellent way to get sales is to engage your customers. If you receive a message from a potential customer, respond as quickly as possible. You want to answer their questions before they choose to go with someone else.
10. Ask People To Review
— Asking people to leave a review is a great way to strum up business. People trust stores with more good reviews. Don't worry, even a bad review is fine. People just need to hear that you provided someone else with what they wanted.
11. Provide Helpful FAQs
— A great way to help your business is to provide FAQs. As a start, you can choose general FAQs you think someone might ask. As people ask more questions, you can add them to the list. This helps customers know you're considering their needs. Having good FAQs are crucial when it comes to selling on Etsy.
12. Provide Plenty of Product Options
— Everyone has different needs. If you are looking to attract a wide audience, you need different products. Providing different product options increases your likelihood of making a sale.

13. Use Multiple Product Photos
— Product photos are great, but you can't have just one. To show you aren't a one-hit-wonder, consider showing more. The more examples that you have of the product, the more likely your customer is to trust it.
14. Have A Solid Store Brand
— Good branding is a great way to boost sales. It shows that you have put thought and care into your business. It's also a good way to establish yourself as a professional. You can show people that your company is worth it. Good branding has always been an excellent trick to boost sales. It's never too late to rebrand!
15. Use Quality Materials
— A great way to boost sales is to sell a quality product. Your customers deserve the very best, so use high-quality materials for any product. You want to make sure that your products match industry standards and are made to last. Make sure that your customer can easily tell that you provide high-quality products with good materials.
16. Offer Add-Ons
— Another great way to bring in sales is to offer add-one or customizations. This helps each customer to find a product that is right for them. You can impress people with your versatility using this technique. It's also excellent for helping people to get exactly what they want. Your customers will appreciate you going the extra mile.

17. Provide Quick Shipping
— When people shop, they want things quickly. In the days of Amazon Two-Day Shipping, people want products fast. Offering good turnaround times and shipping is a great business practice. This helps you to compete with other stores and stay busy. The more quickly you work, the more orders you can take.
18. Offer Rare Items
— A fun feature that Etsy has is telling people when you offer a rare product. Selling one of a kind products is a great way to get people making purchases. They won't want to miss out on the special product that you're offering. This is a fun way to keep people checking back at your store too!
19. Offer Products With Your Art Prints
— Instead of only selling drawings or paintings, sell other products too. A great way to boost your art is to print it on items. This provides people with a cool product and your art design. It's an excellent way to get your brand out in the world for people to discuss. This is a fun way to further capitalize on your best works of art!
20. Run Social Media Accounts
— Every good digital store needs online accounts. Social media accounts are a great way to connect with customers. It can even increase the amount of customers that you have by drawing in more traffic. It's easy to use social media as a free advertising platform. Don't miss out on your chance to grow and interact with your fan base.
21. Always Focus On Quality
— Providing quality products is the best way to find success. If you provide quality products, people will recommend them. Reviews go a long way for shoppers, so if your quality is lacking, everyone will know. Make sure that you only offer products that you can do well within the offered time. It's necessary for your business growth.
22. Be Approachable When Customers Have Concerns
— Having good customer service is crucial for boosting sales. People talk about customer service. If you provide excellent service, they will note it. If you provide bad service, they will share that. Make sure that you're always polite and ready to help problem solve. This should remain true even if a customer has an issue with your product. Always work towards constructive solutions.
23. Write About Your Process
— People love that Etsy products are homemade. A great way to learn how to sell on Etsy is to see how other people detail their process. Part of this charm is knowing that an individual made each product. A great way to engage customers is to discuss your process. You can do this on your page or product descriptions. It brings more like to your Etsy page and helps people invest more. This is a great way to help customers learn about your work.

24. Be Positive
— A huge part of opening a business is remaining positive. Learning how to sell on Etsy can take some patience. No one has a business that truly explodes overnight on day one. Be patient with your sales and learn what you can. Over time, your sales will grow, and you'll be prepared to manage it. Keep your head up long enough to start making progress.
25. Tell People What Makes Your Product Special
— A huge part of growing your business is standing out. You want people to be interested in buying from you. The best way to do this is to tell them why they should. Showing people what makes your products special can interest them quickly. Tell them what makes your version better than your competitor's.
26. Check Out The Competition
— If you want to be the best, you have to size up your competition. You should focus on your business, but those of your competition too. You want to know what other people doing. This is how you can remain competitive. It pays to know your opponent so you can rise to the occasion, which is crucial when learning how to sell on Etsy.
27. Be Clear About What You Are Selling
— Using concise language is crucial for selling. Make sure that you take the time to explain exactly what you offer. When a client reads your description or sees your title, it should be clear. The information you provide should tell them exactly what they need to know. This is how you can avoid people needing to ask questions before buying. Don't give them a reason to question if they should buy from you or not.

28. Use The Right Keywords
— The internet is run on algorithms. If you want to succeed with any business, you need to understand keywords. Do your research and find the right ones for your products. This can help customers find your products. The easier it is for people to find your products, the more likely they are to buy. A little research goes a long way here.
29. Accept Custom Requests
— A great way to get more business is to offer custom requests. This is something that you can easily offer on your page. A simple message saying to contact you with requests can go a long way. It's great for catching the interest of people who like your style but want something different. This is an effective way to get more offers.
30. Offer A Reasonable Price
— A huge part of growing your business is fair pricing. This can be tricky when you first start. Look at other people selling your kind of product and find something that feels appropriate. Make sure that you don't overcharge or sell yourself short. You're not giving your work away, but you're not bankrupting anyone either. It's all about finding the right balance. Don't be worried if you change pricing a lot as you learn. It's all a part of the process.
Conclusion
When you first start, learning how to sell on Etsy can feel like a big step. Don't worry, it's something that just takes a little time and energy. As you begin to sell your products, constantly look for ways to improve your process. Take as many steps as you can to make your store match the needs of your consumer. There are plenty of good ways to improve your overall business strategy!
Are you dominating sales on Etsy?