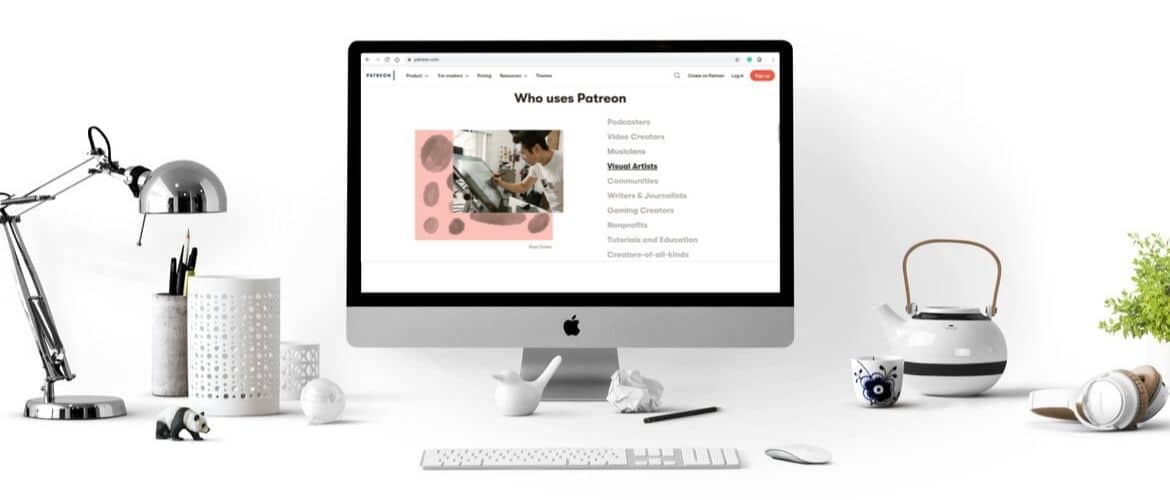 For those who have a creative spirit, the desire to live as a creative is a tempting notion. Most people have a passion that they consider more of a hobby than anything, but times are changing.
In the modern world, you can make your art and money too. Every day more people are leaving behind their current jobs and chasing down their passions.
With the arrival of the gig economy, it has never been easier to do what you love for a living. If you want to pursue art as a career, there is no better way to do it than to sell art online.
Selling art online allows creators to reach a much wider audience. While traditionally artists had to rely on networking and working with companies, those days are behind us. Now, no matter what it is that you want to do creatively, you can do it by yourself.
You can write, draw, paint, and more for money by finding the right platform online. It can take a little bit of time to get used to, but there has never been a better time to be a professional creative. With the right approach, you can turn your hobby into a career, and people are doing it every day.
If you're interested in selling art online, check out these additional resources:
What You Need To Sell Art Online
If you're going to sell art online, there are a few things that you need to know. To successfully run your own art business, you need to make sure that the necessities are covered.
This can help you to find success with your craft. More importantly, going in prepared gives you a much higher chance of success. As long as you cover all of your bases, you can ease into your new creative career.
Selling art means that you will need to have the essentials for consistently producing content. This will change depending on your artistic pursuit of choice. If you're going to work as a writer, you probably want to have access to a good computer and the internet.
Notebooks and pens can also be important depending on your personal preferences. If you're going to draw, you'll need to decide if you're doing it by hand or digitally, or both. For this approach, you might need nice paper or pencils. You might need a drawing tablet or iPad. Find the right tools and make sure that they work for you.
What You Need to Do Before You Consider Selling Your Art Online
After you have found the right tools, you'll need to find your marketplace. To sell art online, you need a way to engage potential customers. There are plenty of websites that provide a platform for this or you can find or create your own.
Finding a good way to engage customers is crucial. This makes it easy for them to contact you and purchase your services or products. Many people even utilize multiple platforms to manage their different art sales. You can experiment with these resources and find a method that works for you.
You'll also need to consider legal stipulations. Chances are if you want to sell art in any capacity, you need to get proper licensing. This doesn't mean that you need to go to a class that declares you an artist. It means that you might need business documentation to make this possible.
Certain licenses vary depending on your state and country. Do the work now so you don't get hit with fines later. As you might expect, it will probably be a while before you are fine with losing money. To avoid this, do your research and fill out the necessary paperwork.
Working for yourself can take a lot of time management and tracking. The best way to go about this is to have the right tools in place to ease the transition. Many people working in this capacity use time trackers to manage their time. It allows you to effectively learn how long certain projects take.
This helps you become more exact in your deadlines. It is also important to have tools to manage your clients. Products like Airtable can help you to custom manage clients and the work you do for them. This is great for helping you to get a quick snapshot of a customer's needs and existing requests.
A Key Ingredient to Boosting Your Sales
A final consideration when deciding to sell art online involves social media. Social media is an excellent way to help boost your business and meet new customers. It gives you an approachable online presence that you can use to market your skills.
Not every person who sells art online runs a business social media account, but many link their accounts. It's just a way to show the world that you are not just another shady face on the internet. This is an excellent way to establish trust and gain more customers.
Places To Sell Art Online
When it comes to selling art online, you need to have a place to do it. It would be nice to just send off a quick Tweet and get started, but that isn't realistic. In reality, you'll need a platform to engage customers on.
There are a few different ways to go about this depending on what you want to do for art. You'll need to learn about how people do what you want to do and start there. This path looks different for different people and mediums. It is a matter of finding what you are comfortable with.
A great way to begin selling art online is to do so as a freelancer. Websites like Fiverr provide an open platform that lets you tell people what you can do and go from there. There is a variety of ways that you can use the system. You begin by creating a "gig" that shows people what you can offer.
They can then choose to buy from the gig or contact you directly with questions. In addition to letting people come to you, people openly post requests. An excellent way to get started is to respond to these requests and make your bid.
Using a website like this is convenient because it makes it easy for you to contact your clients. It makes it possible for you to find people who are actively looking for what you sell. As a bonus, Fiverr also offers you protection with your orders. Everyone has heard about the freelancer who never got paid.
Sites like this stop that from being a possibility because people are forced to pay in advance. This means that they have to pay you for the work that you do. It also offers a review system to help you avoid coming into contact with shady clients. However, do be aware that Fiverr takes 20% of an income that you make on the platform.
Upwork is another popular freelancing platform that allows you to reach the client. This one works in a different capacity by allowing you to place bids on available projects.
You use currency that you pay for to make bids and go from there. The cost is fairly low, but they also take 20% of your income. However, they do stop taking the percentage after you reach a threshold with a specific client. Since Upwork costs money to work with, it tends to draw in more serious clients than some of the others.
For many artists, Instagram is proving to be an amazing platform for engaging clients. It provides artists with a space to share their work and engage their community. This can be an excellent way to get new clients and focus on leading them to your store.
Many popular Instagram artists take commissions and provide prints of their existing designs. This can be a great way to boost your sales by increasing your followers online. With this platform, you can easily link to your digital store or site and get to work.
This is a great way to make your very own digital store. You can easily create a stunning website and store in one. Using this approach, you can completely own your platform.
Squarespace makes it easy to provide customers with a beautiful interface that makes buying from you easy. You'll still need a way to meet and engage customers, but you'll love leading them back to your website.
Etsy is the perfect platform for creatives to sell their products. It makes it easy for you to set up shop and get to work in no time at all. You can sell a variety of products on this website.
It also helps that Etsy is known for its artistic niche, which means people are looking for what you have to offer. There can be a bit of a learning curve with tags and building a story, but you can handle it. It's an easy and effective way to sell art online.
Lovers of fandom know that Redbubble is the place to go. However, Redbubble is an amazing platform for artists too. You can easily create a Redbubble account and start selling your art in no time. They make it simple for you to print your art on a wide range of exciting products.
More importantly, Redbubble handles all of the printing and shipping. This means that your only job is to determine your pricing and get your art uploaded to begin. It is truly that simple.
Selling Art Online As A Freelancer
Freelancing is becoming a popular approach for people who want to own their schedules. Working in a freelance capacity means that you engage clients directly and work to meet their needs.
Instead of working for a specific company, you can easily work for yourself. This gives you control over scheduling, what kind of work you do, and what you will charge for it. For many people, this life sounds appealing, and it is as long as you're ready to put in the work.
While we all live the dream of making what we want and selling it, reality is a little more complicated. Generally, the need for the kind of thing that you want to make is probably pretty small. However, that doesn't mean that you can't do it.
Sometimes it just means that you'll need to do some other stuff too. Many artists would love to create what they want to create and let that be enough, but sometimes you have to pay the bills. Freelancers find the sweet spot between creating art and making money.
Commission requests are an excellent way to sell art online. The general idea is that someone has something that they want, and your job is to make it real. This might mean someone asking for a portrait for a birthday present. It might mean someone asking for a custom story to engage their kid who just won't get into reading.
Plenty of people want custom art, and as an artist, you can provide it. Freelancing allows you to create art that will immediately serve a purpose, which is very exciting. Even better, making money on these art projects means you have more time to work on your own.
Conclusion
You don't have to be the most talented person in the room to sell art online. Artists tend to be critical about the worth of their projects. In reality, you might be able to offer exactly what someone else is looking for. Don't hesitate to put yourself out there and see what you can do.
You can always try a few projects before you do anything drastic like quit your job. Starting to sell art online can be the next step towards your dream career, so don't talk yourself out of it. It is simply a series of steps that allows you to pursue your dreams.
What are your concerns with making money online?