As the advancement in technology continues to impact the world's marketplace, almost every industry has been affected.
Two decades ago, no one could have imagined that a conservative industry such as fine art would have a strong online presence as we have it today.
Notwithstanding the great buzz witnessed in online marketing within the last twenty years, the creative art industry has had a slower push.
But over the last five years, the process of selling artworks has gone through a significant transformation.
Each year has seen more and more artworks being digitally traded which is a sharp contrast to what used to be the case in the past. The standard setting of having to sell paintings and sculptures at the art galleries or art fairs is revolving.
So far, knowing how to sell art online is not limited to simple art prints, rather more sophisticated high priced artworks that are transacted via the internet.
Almost every work of art can be placed for sale online and the trend is getting stronger by the day.
Notably, many art creators are bypassing the standard galleries and are selling directly to collectors online.
By doing so, they skip the middlemen which translate to more money in the pockets of the artists and more savings for the buyers.
Modern galleries have witnessed more sales online than on-site and the numbers have continued to surge.
For this and more reasons, we are looking at the different ways you can sell your art online.
Whether you are an artist that creates your artworks or you intend to make money selling art online, simply follow through on this article. There's a lot you will learn.
First, let's look at some of the benefits of selling creative works online.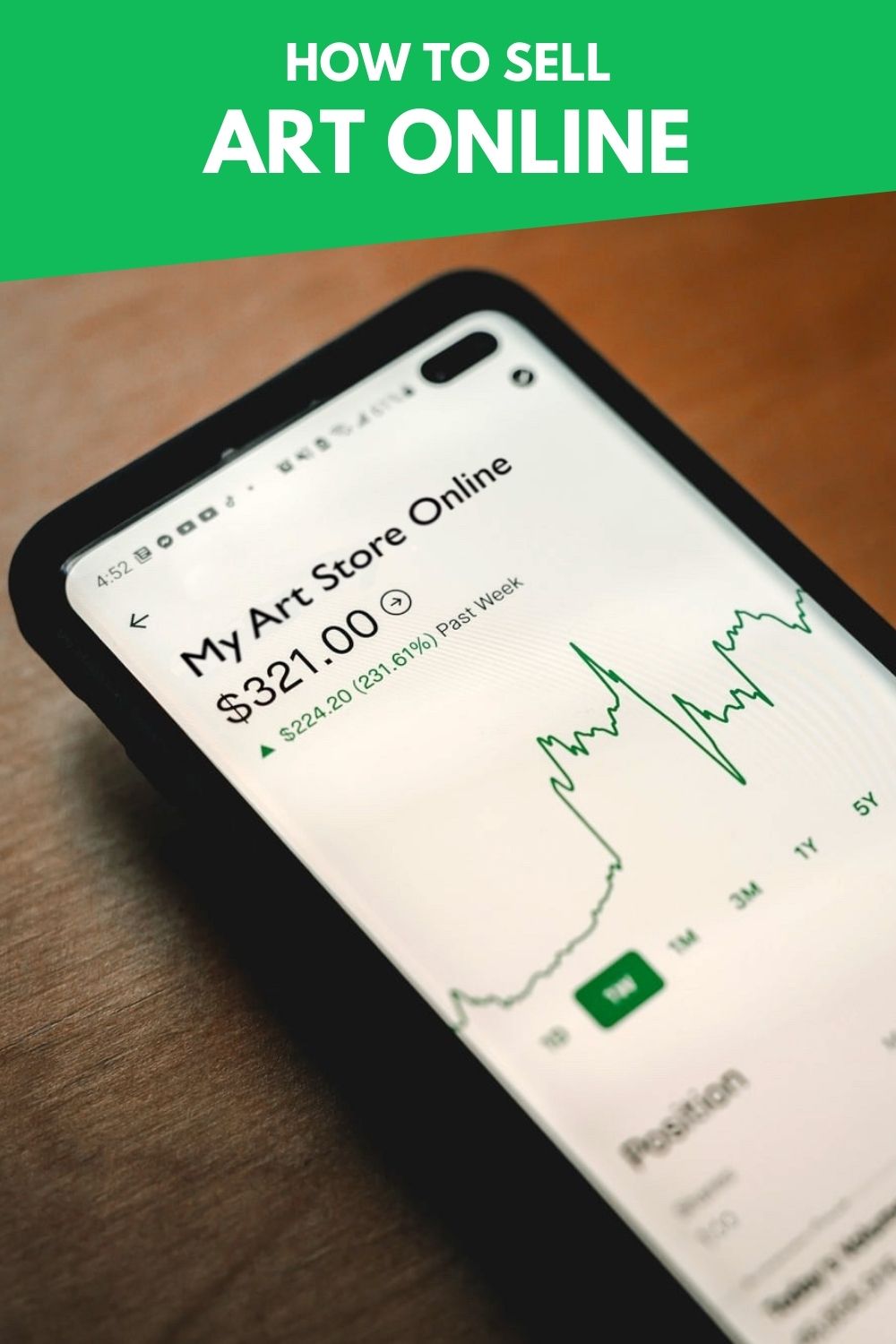 Benefits of selling art online
Low entry level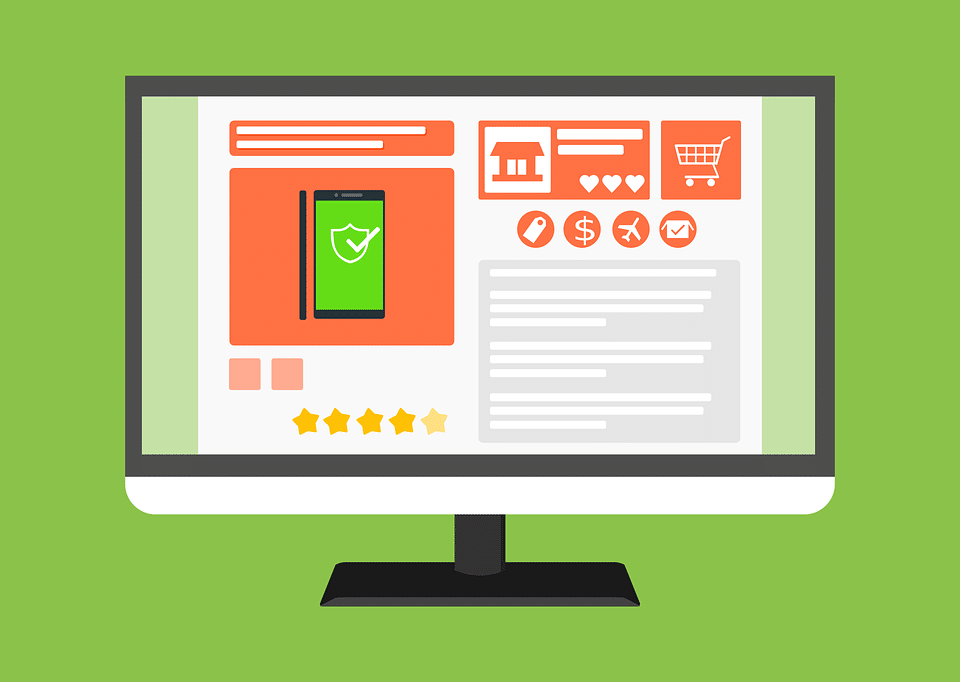 Before the opportunities of selling art online emerged, marketing artworks never came easy.
You needed to own a brick-and-mortar shop to be able to put your drawing, painting, or sculpture on display.
You had about three major options to sell art including the gallery, agents, and art fairs.
To own an art shop could cost you as much as $50 to $100 per month on average.
But, to own your website, you will have to pay yearly for hosting and domain and the fees are relatively low.
Most hosting services cost less than $5 per month. You can also sell your art online for free as we shall see in more detail later in this article.
Higher profit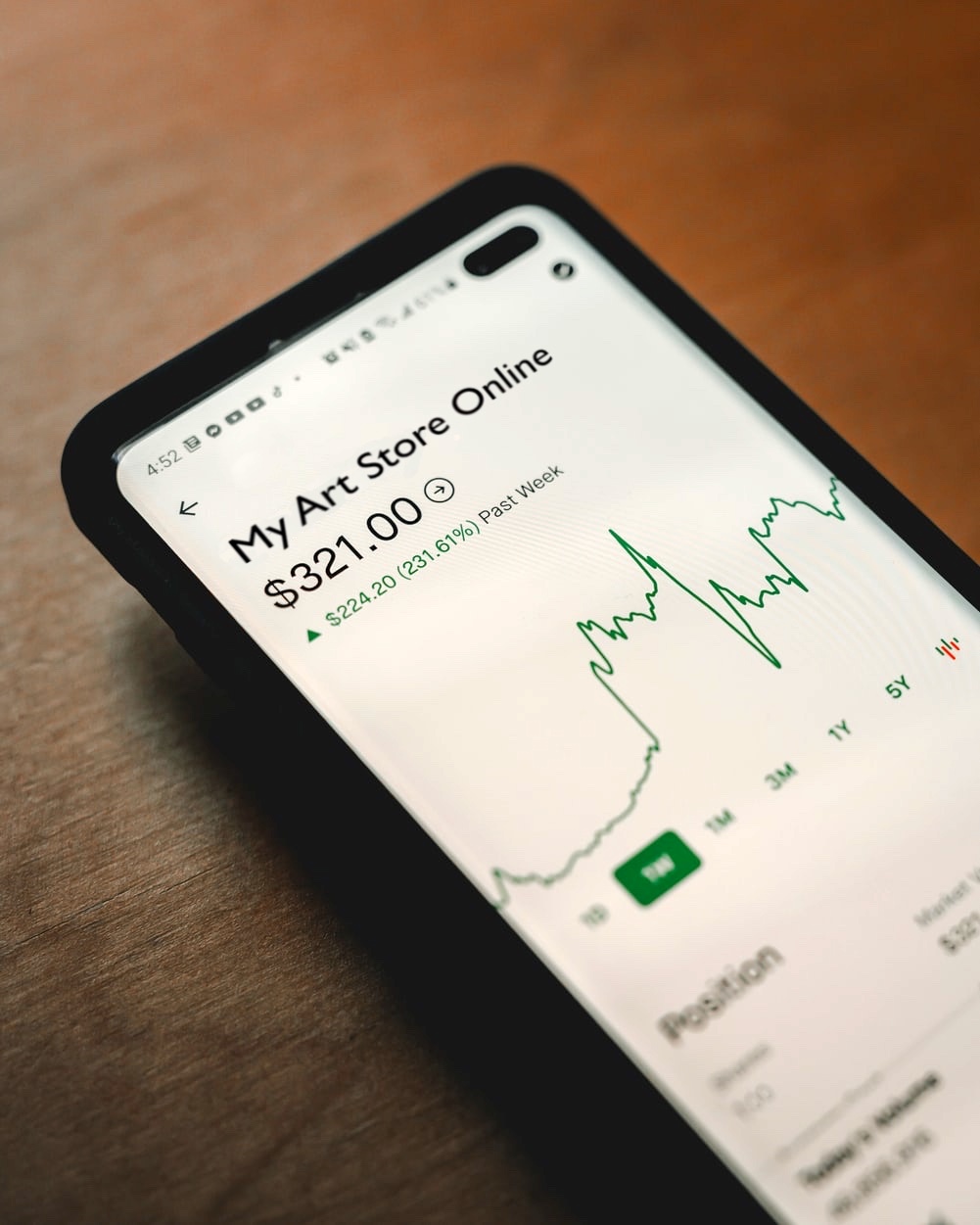 Selling art online helps you to make a higher overall profit.
This is because you will be able to cut off several avenues that would have drained your earnings.
First, you can put your artwork on display from the comfort of your home.
You do not have to pay for office space, shop, showroom, staff, or other logistics.
Secondly, you will bypass the local gallery and the agents, so you don't have to pay huge fees or commissions.
All of these would amount to higher overall earnings for you.
Wider market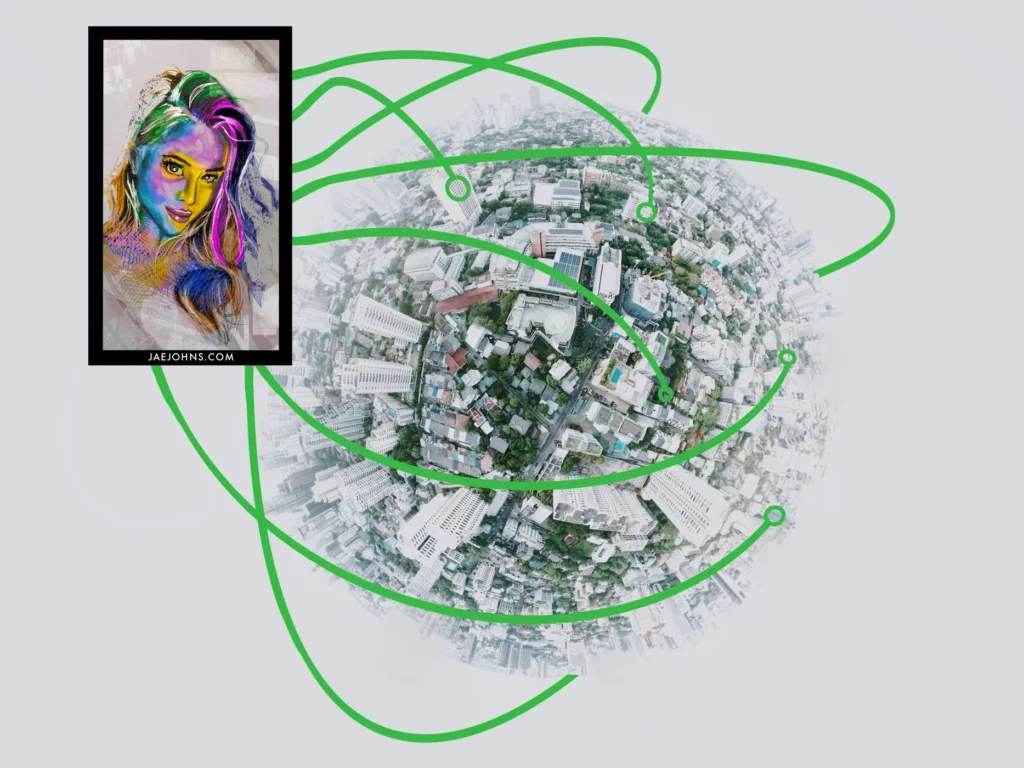 Selling fine art online gives you a wider reach and a wider audience.
People do not have to physically come to your display shop to make purchases.
They can buy your products just with a click on their laptop, mobile phone, or pad.
Also, you will not be limited by location or time restrictions.
That means, beyond serving collectors within your locality, you can make sales to individuals from other climes round the clock.
The more people you can reach the more sales you will make.
And the more sales you make, the more money in your pocket.
Professionalism
To sell art online allows you to have a personal touch on every sales process involving your original artwork or digital art creation.
You can tell the story behind every creation on display.
The buyers can relate to the story better. You can also get direct feedback from your collectors.
Your response to their inquiries could add more professionalism to your trade.
To sell artworks through a third party cuts short this personalized effect.
Most agents and staff at the galleries will not be able to convey your message as clearly as you would personally do.
Different Ways to Sell Artwork
Before getting into the business of selling art online, you need to evaluate your skills and capabilities.
You also need to know what you want to make out of the creative art industry.
These findings will help you to identify which aspect of the trade you would like to feature in and build a career.
There are three ways you can get involved with the business of selling arts.
Creating artwork
Selling your own artwork
Selling art created by other artists
Now let's look at the three options in more detail.
Creating artwork
As an artist, you may have had professional training in the field of fine arts.
Or, you are immensely talented and possess great painting or drawing skills.
You can create amazing art designs that people will love to buy, but you do not like selling.
You simply hate talking to people to buy stuff.
In this case, because of your love for art, all you want is to invest all your energy and time into creating works that people would love.
Here, you need to involve other people that could help you put up your productions for sale.
You can achieve this in two ways.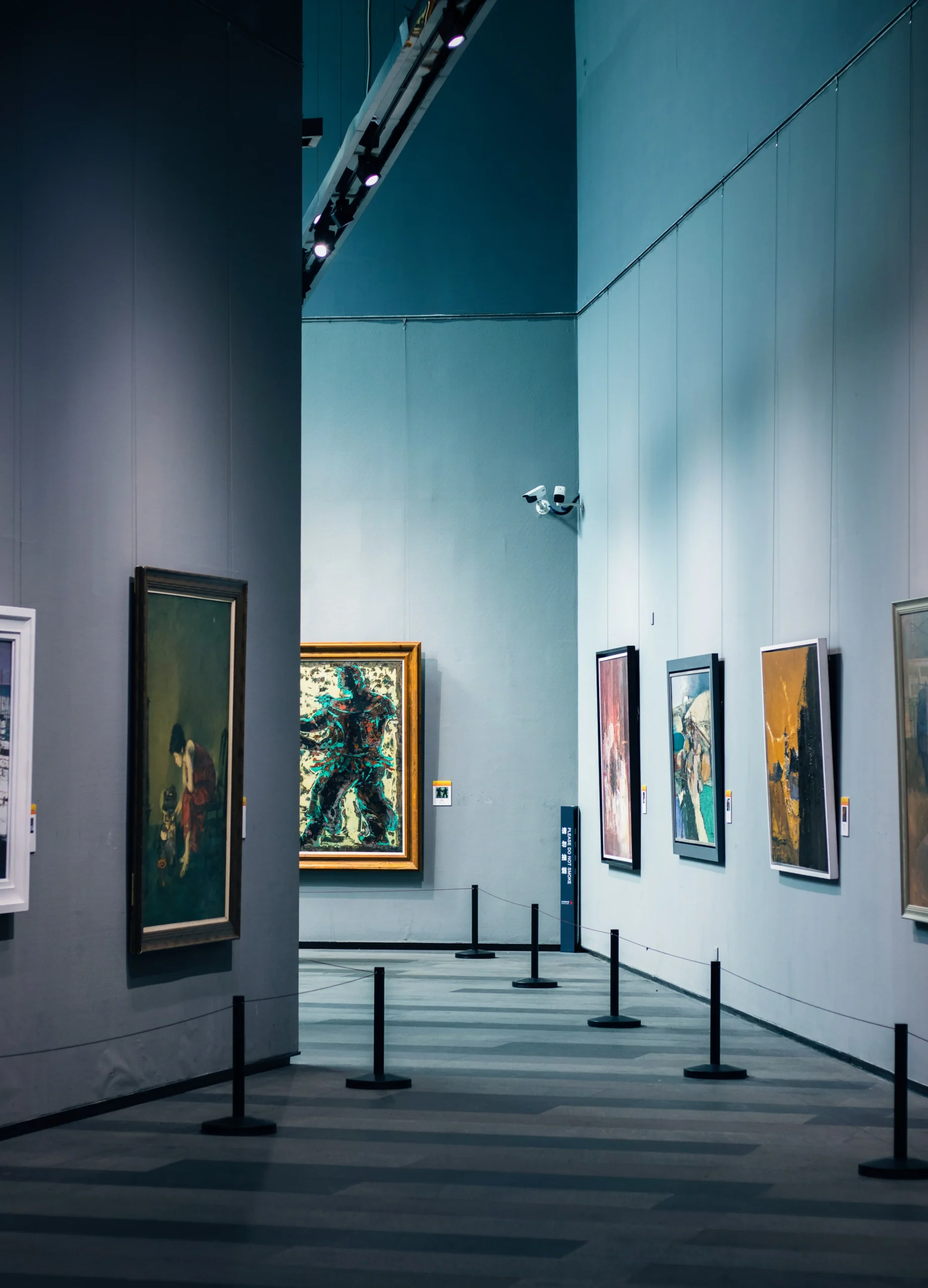 1. Involve a gallery – Galleries can expose your work to the right audiences. Also, they could have access to the materials and experts that would help promote, handle, and transport your artwork.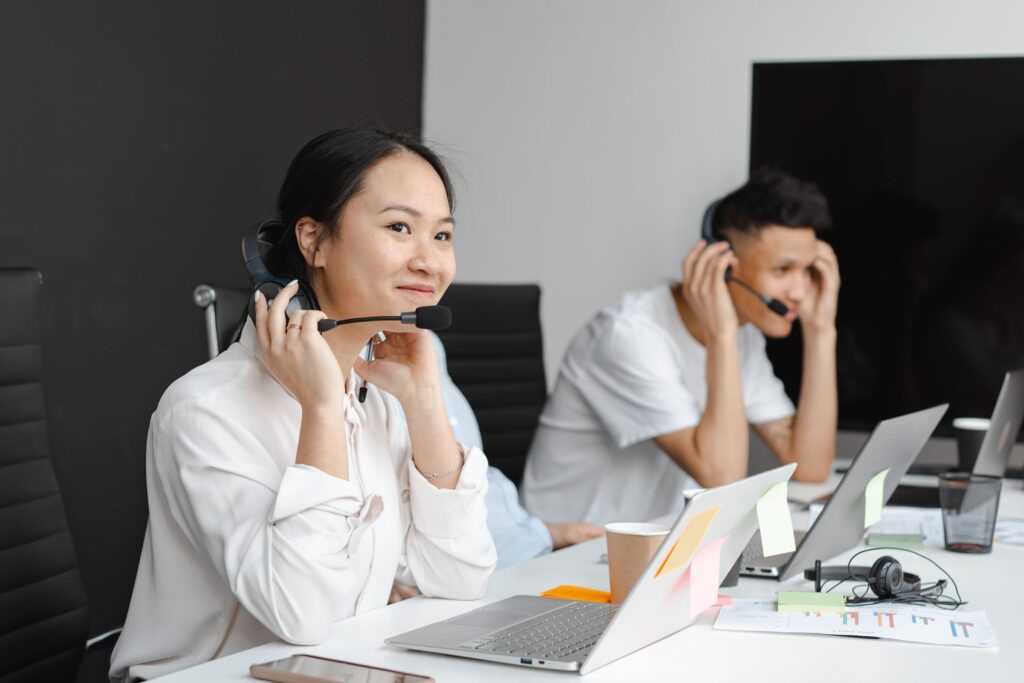 2. Involve an agent – Agents basically don't create their own artwork. They are in the business of taking artwork created by others to search for buyers. Agents do this by partnering with galleries or organizing art exhibitions. They earn commission from every sale made.
Selling your own artwork
This is a great way to launch into the creative art trade.
It means that you already have the creative skills and the capacity to produce original artwork.
What you need is to identify ways you can release your works into the market to reach the right audience.
If you are in this category, you can sell your art in the following ways.
Sell directly to your customers – Own your own art shop, showroom, website, or art exhibition center. You can also take your works to art fairs or street sales to find buyers for your production.
Sale through a gallery – You can also partner with a local gallery. This time it is more like you are your own agent.
Sale through retail partners – You can also sell your artwork through retail partners. These days there are several online retail partners as we shall see more elaborately later in this article.
Selling art created by other artists
You may not personally be an artist but you have a great passion for the world of arts.
Now, you want to make money from your passion even though you are not trained, talented or skilled in the art.
As we have seen in the first category, some skillful artists are not interested in selling their original artwork by themselves.
This set of artists relies on galleries and agents to get their products into the market.
They love working behind the scenes and don't like to be seen or heard.
Here is where you come in as a curator. You will have to identify this set of professional artists and partner with them.
You will need to be good in the art of selling for you to thrive as a curator.
When you make sales for any of the works by the artists, you will earn a commission.
Some artists function in both the 2nd and the 3rd categories.
These are artists who sell their own products but also source for works from other artists to sell.
It means they have so mastered the art of selling that they cannot create enough productions that could fill the demand.
So they leverage the efforts of other creators to maximize their earnings.
Sometimes, artists in this category end up selling more of other people's art than they do their own.
That is to say, if they find that they have a large audience of buyers and they are making more sales than creating their own art.
They tend to involve themselves more with the business of selling artworks than producing art.
What to sell
You may be wondering about the type of art productions you should sell.
You want to know whether you should sell original works or reproductions.
Artwork comes in various forms and shapes.
The type of audience you choose to reach and how you choose to sell your art will determine the kind of production you should sell.
You can sell original artwork or you may choose to focus on selling art prints online.
If the type of audience you deal with offers you the opportunity to sell both, please do.
Artists that sell original work mostly do so through traditional means other than digital channels.
Most times, selling original works such as high-profile drawing, painting, or sculpture would require having access and presentation to a physical audience.
Most times, artists that create high-rated original works want to carve a niche for themselves.
They want their name and personality to be identified with each work.
Also, they want to make a huge profit from single sales.
Original drawings or paintings can be sold at a high price at a gallery.
Or the artist could organize an exhibition to showcase and sell his works.
But digital artworks can be reproduced into multiple copies.
Different forms you can sell digital arts
Original art – Original art and the reproduced art prints can be sold. For instance, solo 2D productions when reproduced can generate multiple sales via multiple options.
Merchandise productions – these are artworks printed on greeting cards, hats, stationery, mugs, t-shirts, and more.
Made-to-order custom art – should be sold once and the same design must not be reproduced. It is illegal to reproduce such a project after being commissioned for the job by an individual or an institution.
Open-edition prints or limited productions – can be prints on canvas, framed, or unframed works of art.
Digital downloads – can be in the form of print-at-home art, templates, desktop wallpaper, and more.
Brand Collaborations – limited production will be distributed through the partner brand's outfit.
Repeat prints – which could be on wrapping paper, fabric, or wallpaper.
Licensed work to other publications or brands – Professional photographers and illustrators can thrive on this.
Read Also: Do You Need A Business License To Sell Your Art?
Places to Sell Your Artwork Online (side by side multi photo of sites)
You may be wondering right now: Where can I sell my painting? How can I do it? When should I sell my art?
Until recent years, artists could only sell their works in many limited ways.
It was either they sold their artworks directly to customers, or they made sales through the gallery, agents, and the fairs.
However, the internet revolution has changed everything.
There are multiple options as to where, when, and how to sell your art online either for free or on a subscription basis.
There has never been a better time than this to get into the business of selling fine art.
Now, let's look at some of the best places to sell art online.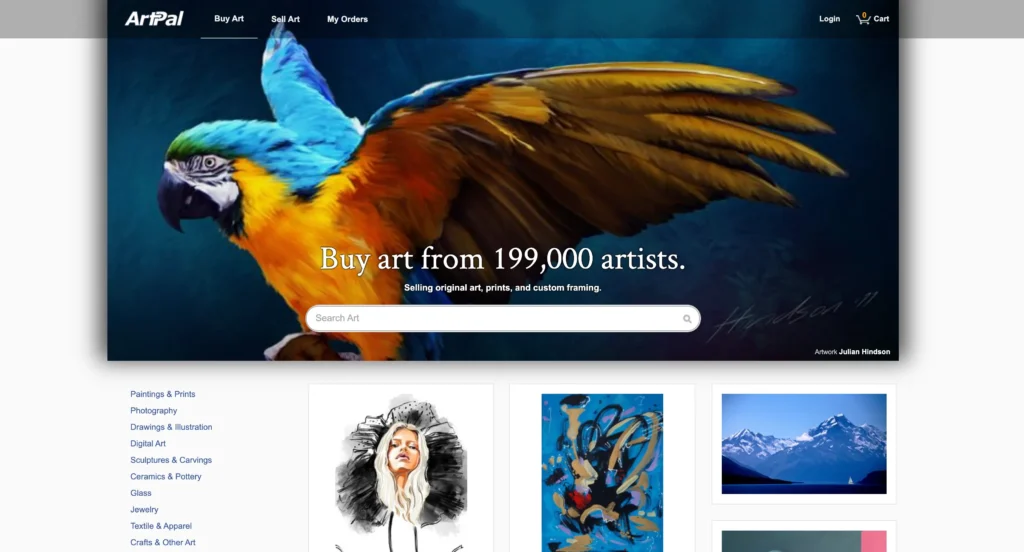 Artpal is an amazing online platform for selling art. It is free and offers valuable features that could help you attain your online goals with ease.
Artpal offers the flexibility of selling either your own production or using their print-on-demand features.
Here, you have unlimited space to sell original artwork and art prints simultaneously.
The resources on Artpal could help you market your products.
They could also help you set up the right prices for your work and also set your goals in the right direction.
This innovative program makes the business of selling art easy for anyone who intends to build a career out of it.
It represents more than 170,000 artists that pay neither commission nor subscription fees.
How to sell art on Artpal
Register on the platform.
It is easy to set up an online gallery on this platform. Simply follow the prompts.
It is 100% free.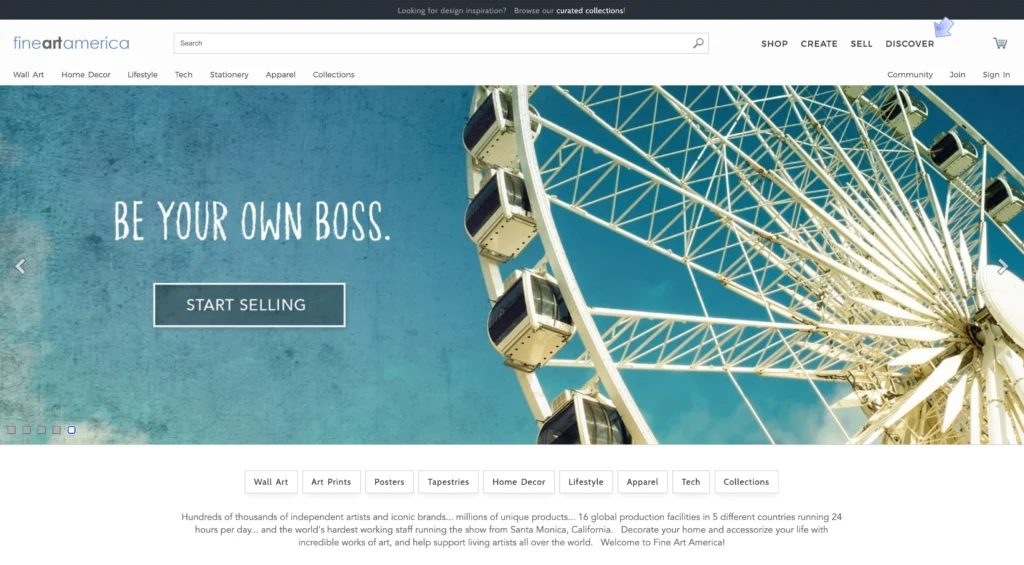 Fine art America is one of the world's largest online marketplaces for selling art.
It offers versatility in that it provides regular gallery features and advanced print-on-demand technology.
With these two-way offerings, you can sell your original artwork and you can also have your products purchased and be used for branding, packaging, or gift items.
Since 2006, Fine art America has been supporting graphic designers, fine artists, illustrators, image-makers, and several brands globally.
This platform offers sales and marketing tools that can enhance the careers of creative individuals.
The easy-to-use tools on this program help artists set up personalized marketing structures such as e-newsletters, web stores, and more.
Each product found on Fine art America is produced at one of the company's several production units around the world.
They are delivered ready to use and come with a 30-day money-back guarantee.
How to sell art on Fine Art America
With a few clicks on your device, you can take some easy steps to set your account and start making money on this platform.
Create an account on FineArtAmerica.com
Upload images of your artwork
Select the products you want to feature
Set up your prices for each product
There are hundreds of different print-on-demand products
You are set to sell to a global audience
Fine Art America processes every order on behalf of the artist
Read Also: Can you Make Money on Fine Art America?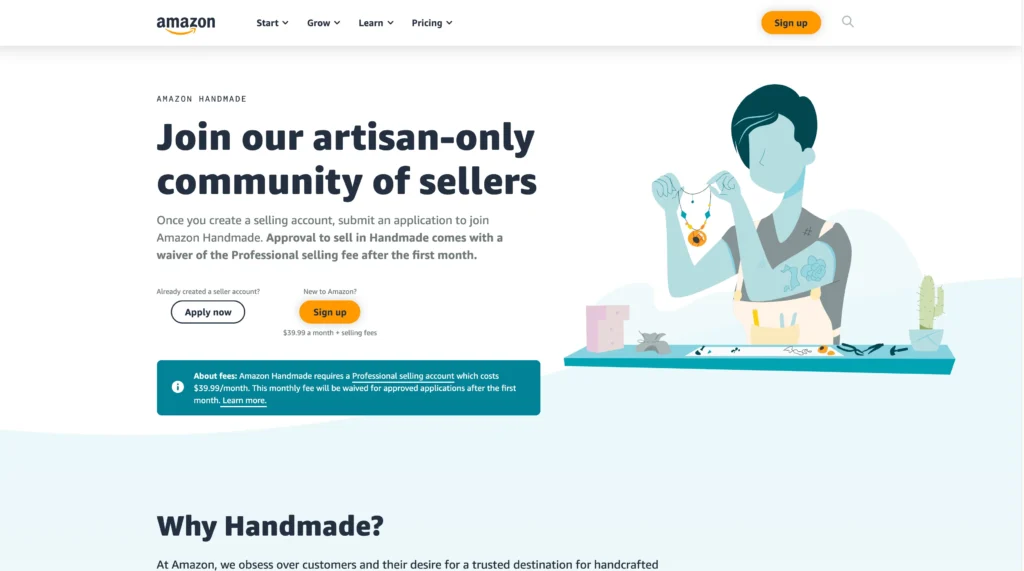 Amazon offers a variety of platforms for selling commodities on the internet.
Different sections are dedicated to all types of product sales opportunities.
In 2013, the world's largest online retailer launched an entire section on their website called Amazon Art.
Amazon Art offers the opportunity for selling drawings online, as well as exclusive paintings, photographs, and more that are produced by artists.
Also, a selection of Guest Curators helps to provide a gallery type of service on the platform.
The Amazon art platform is not open to all kinds of artworks.
There is a pre-approval process that an artwork undergoes to ascertain its eligibility.
Art creations such as drawings, original paintings, art prints, 2-D media, and watercolors are permitted. 3-D art is not allowed to be traded on this platform.
If you intend to sell handmade products or other creative items, you will have to sign up on Amazon Handmade and become a seller.
Amazon Handmade supports independent creators. This unit offers professional selling plans to users and it is a free service.
How to sell art on Amazon
Amazon offers different fee plans for those who want to use the platform to sell their products.
Where and how you want to sell your products plays a significant role in determining how you will be charged.
The two platforms you can use to sell your creative productions on Amazon come with different conditions.
Amazon Art requires you to go through approval processes on Amazon first before you are found eligible to sell.
Upon approval, you will be charged $0.99 per unit sale. The referral fee is set between 5 and 20% of the total cost. A detailed breakdown of fees can be found on Amazon's seller pricing page.
Selling art on Amazon Handmade involves referral fees of 15% per sale. Note that the listing of your art is free.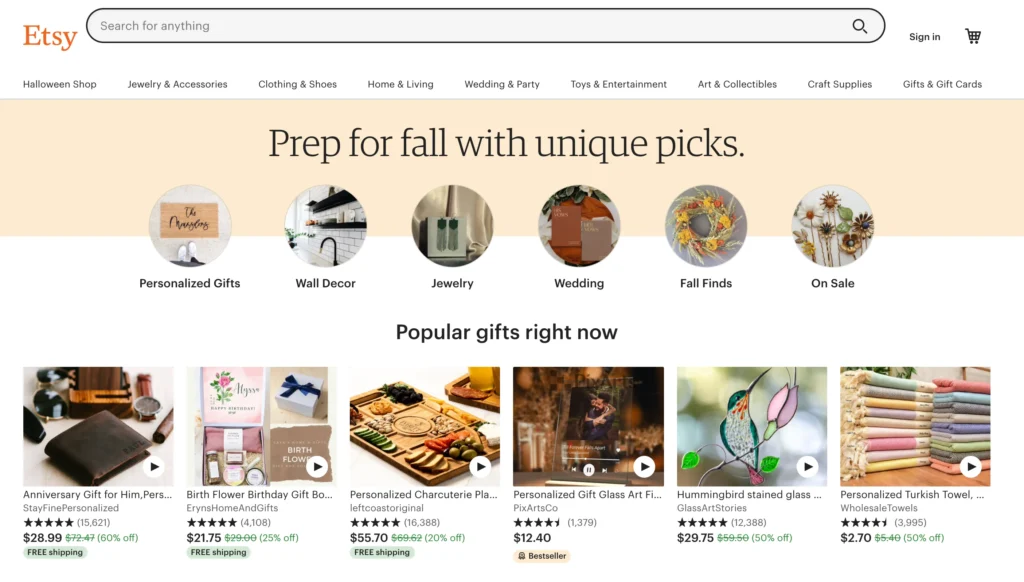 Etsy has a motto: Shop for anything from creative people anywhere.
Their motto must have been the guiding compass of this online marketplace since its inception in 2005.
This platform has been a reliable companion of handcrafted product producers, designers, painters, and artists.
All kinds of artisans are comfortable showcasing their works on Etsy.
This website gives creators exposure and connection with potential customers around the world.
Here, uncommon handcrafted items and vintage products can be easily put up for sale.
Etsy is an ideal place for upcoming fine artists and creative designers to showcase their products and make money from the sales.
It offers you an opportunity to own your own shop with minimal listing and transaction fees.
This website provides features and resources that could help artists hone their marketing skills as well as build up their careers.
Over 1 million active sellers are provided with information and marketing materials for personal and business advancement.
Although Etsy provides the opportunity to reach the largest audience of art and craft lovers globally, it also has a little downside.
With numerous artists hustling for recognition on the platform, it could be a little difficult to have your product get the frontline attention.
However, with dedication and consistency, you can make progress.
Over time, your art will start getting the attention of the right customers.
No doubt, this is one of the best websites to sell art.
How to sell art on Etsy
First, go to the website and create an Etsy shop.
Next, include high-quality images and list your products.
Begin to market your products and start making sales.
Several tools on this platform could help you drive your art to the frontlines.
With some effort and consistency, you would start getting the right audience.
Etsy charges listing fees but this is nominal.
With every sale on your artwork, the platform charges a 5% transaction fee and a 3% + $0.25 payment processing fee.
If you want to promote your art on Etsy, whether on the platform or off-site, additional advertising fees will be charged.
Read Also: 30 Tips On How To Sell on Etsy and Skyrocket Your Artwork Sales
eBay has been at the forefront of online marketing for over 2 decades now.
The e-commerce website offers great opportunities for people all over the world to buy and sell amazing products in diverse categories including antiques.
With no restrictions, the art category on eBay showcases the rich availability of artworks and opportunities to trade.
Many artists have made career advancements by simply making use of the support tools on the platform.
With these offerings, they make tons of sales.
The step-by-step how-to-sell guides provided by the website have groomed many creators.
Armed with good knowledge and the best skills in selling digital art, many artists have mastered the best ways to display their works.
How to sell art on eBay
Simply register on the website
Upload photos of your artworks in the art category
Study the guides and start making sales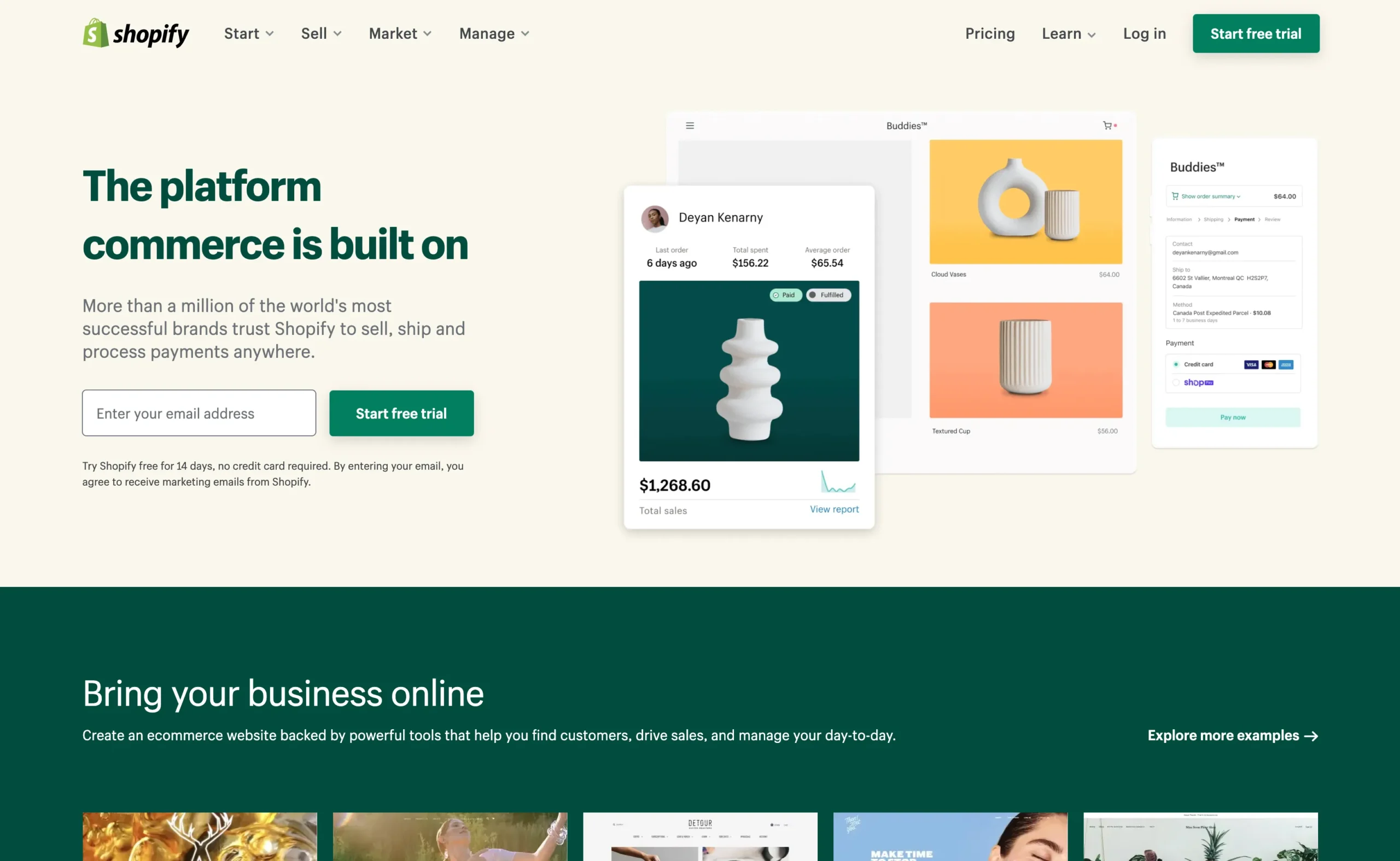 Shopify offers you an opportunity to take charge of your productions and your productivity.
With Shopify, you are in charge.
With Shopify, you can sell your artwork by yourself by creating your own online store.
This platform provides you that much convenience.
As an e-commerce website, Shopify provides artists with enough tools and features that make selling art online an easy venture.
With a host of templates and marketing tools, you can get your shop running.
Once your art gains exposure to the right audience, you will start making sales.
How to sell art on Shopify
Once subscribed, you can build your art shop on the e-commerce website. A monthly subscription fee that ranges from $29 (for the basic plan) to $299 (for a more advanced set-up) is required.
Set up payment gateways to receive payments from potential customers. You can opt for Shopify Payments or you can use an external payment platform such as PayPal. With Shopify Payment, you will be charged no additional fees when sales are made. However, external payment gateways attract fees that range from 0.5 to 2% on every sale.
Shopify offers a free 90-day trial that could enable you to build an e-commerce website. You could try the free trial version if you have limited resources and do not want to risk your money at the start. The free trial offers you a risk-free opportunity to try out your capabilities before committing for the long term.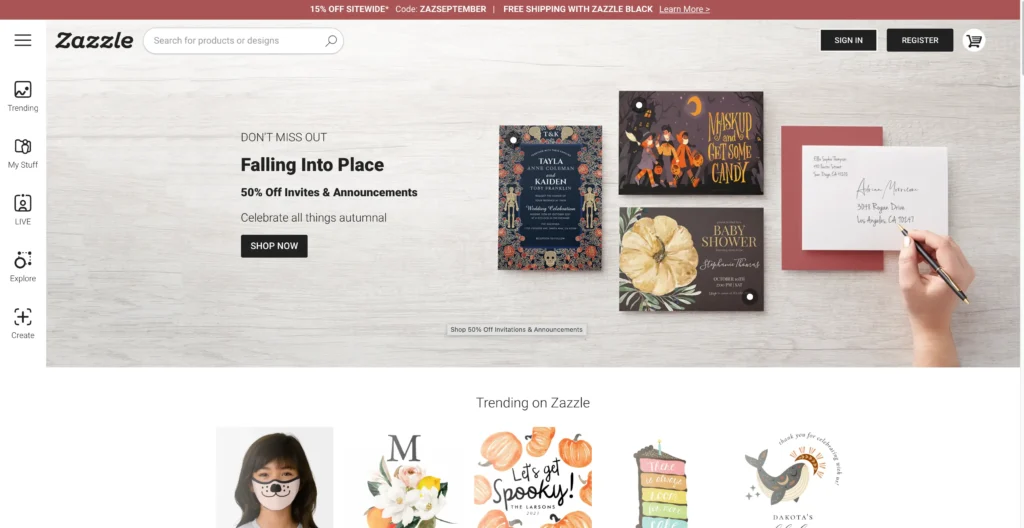 Zazzle is another great platform for selling digital art.
This website offers you the best opportunities with two options.
You have the opportunity to choose either to sell products by becoming a creator or to sell art by becoming a designer.
Zazzle offers a great number of products that would enable you to put your art on display.
If you are an artist, a photographer, or a graphic designer, you can upload your work in Zazzle.
Make it a piece of wall art or any other art creation that is available to print on demand.
All you need is to set up a shop on the platform and then set up your royalty rate.
Setting up your royalty rate could help you with more earnings while the platform handles the rest.
This process is entirely free.
How to sell art on Zazzle
The process of becoming a creator or designer on Zazzle will take a few easy steps.
Upload your art and select your products.
Put your selections up for sale on the platform.
Zazzle handles the printing, shipping, and customer service processes.
Zazzle permits you to determine your own royalty rates. You are allowed to set your rate from 5 to 99%. After you have done so, Zazzle will adjust the price of the artwork accordingly.
Setting your commission rate by yourself could allow you to earn more, but it might backfire if you set it too high.
If other artists offer a similar product at a lower rate, it will be difficult to drive sales. So, moderation is the best way out.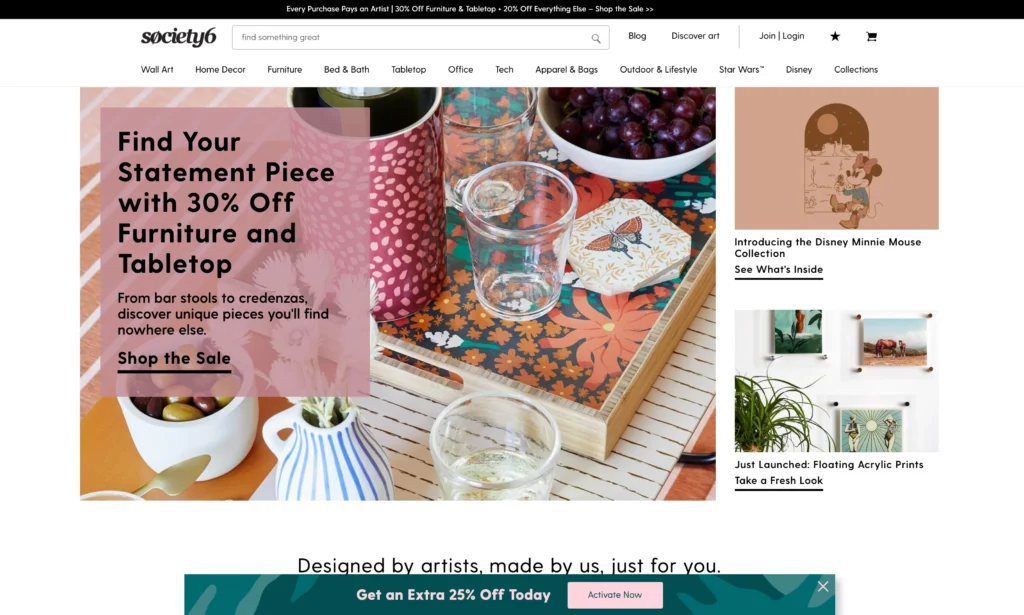 Society6 is a print-on-demand digital art platform that can make your single art to be used on a vast number of products.
This program allows buyers to engage your artworks through multiple product categories.
With Society6, you can upload an art creation or photography and have them reproduced in multiple forms.
Society6 enables a given art to be explored as wall art, home decor, furniture, apparel, or iPhone cases.
The best part is that you will retain all rights to your creativity.
Society6 handles all order processes so you don't have to be bothered over the packaging or shipping demands.
If you would like to see your artwork plastered on multiple categories of products, then, this is the best place to be.
How to sell art on Society6
Create an account and upload your art to your artist's shop.
Choose the categories you want your art to feature in.
A single design of your art can look good on clothing, furniture, wall art, and more. Another could be best for iPhone cases or a gift item.
Artists make 10% of every sale but you can engage in the affiliate program to drive more revenue to yourself.
Society6 is one of the best places to sell art online.
Final Thoughts on How to Sell Art Online
The world has moved from the traditional processes of selling artwork at galleries, art fairs, or through agents.
Technology has made way for groundbreaking innovations that have made the business of selling art an easy task.
Finding the right audience for artworks used to be an uphill task.
Most people considered fine arts a boring industry. But today, all of that has changed.
There is no better time to get involved with the business of selling drawings online than this.
Today, several platforms have made it possible for a huge number of artists to build their careers through online sales.
There have been some overnight success stories in this regard.
Digital galleries have provided abundant opportunities for new creators to start making money from their products in no time.
Several options have become available for every aspect of art to be traded online.
This development has also become overwhelming to most artists.
It could be tricky to choose the right platform to market your creative works and build a career.
But with the information you received from this treatise on how to sell art online, you know what choices could be the best for you.