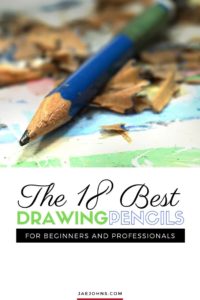 When it comes to making great art, beyond talent and skill, you will need the right tools. For an artist, there are few things more important than the right set of drawing pencils. Drawing pencils are tools that are designed to help you enjoy a quality drawing experience.
They can vary in many ways and every artist has their preferences. While many artists share techniques, each one has their personal preference regarding what they might need from a drawing experience.
When you are first starting, you might want to experiment more with different pencils to find what works for you. However, this is a beneficial thing to do, even for experienced artists. Since we all change and since new products are frequently introduced, you don't want to miss out.
There are many different features that drawing pencils have that are ideal for different circumstances. You might find that you end up with different kinds of drawing pencils for different kinds of projects. This is completely normal since some pencils are known to suit certain styles of drawing better. If you are looking for a pencil for a project, you might want softer or harder tips depending on the needs that you have.
Some people prefer different hardness types of pencils within the same project depending on whether they are outlining or shading. This is why we have brought together this list of amazing drawing pencils that are perfect for artists of all levels.

—For those looking to get started or who need a variety pack, you simply can't go wrong with these drawing pencils. They are an economical option, offering you twelve pencils of varying graphite grades. This makes it perfect for working across varying projects. For beginners, it is an effective way to try different grades of pencils to determine personal preference.
For seasoned artists, these drawing pencils are great because of their variety. You will ultimately find that there is something to serve every need with this set. At a mere $30, you get twelve high-quality pencils that will have you drawing in no time.
—This is one economic option that is perfect for artists who need something that they don't necessarily want to be married to. Not every project needs the perfect pencil set to work with, but these offer a cheap chance at greatness. You might not want to use your expensive pencils for every project, but that doesn't mean you can lose quality.
This set of eleven pencils makes it easy for you to enjoy a quality drawing experience at a completely affordable price. As far as drawing pencils go, these are a perfect example of the kind you will want for sketching or practice.
—Sometimes you need a cheap set of pencils that doesn't lack in quality so that you can experiment. This is a complete pencil set that has all of the popular graphite grades available. It is an excellent way to determine which drawing pencils you like for different kinds of projects.
If you are looking for a good way to pass the time and explore your options, playing with this set is great. It is perfect for new artists who want to try different kinds and increase their understanding of these tools. Professional artists will find the benefit in a set of tools that don't cost much but still provide quality products.
—Not all art is done in black and white. Though many artists do draw with graphite pencils, no rule says that is the only way. Plenty of artists at all levels love to draw using colored pencils. This is one amazing set that comes at an unbelievable price. It is perfect for helping you to establish your understanding of colors and how it can impact your drawings. This vibrant set allows you to make compelling pieces of art with absolute ease.
—Not all colored pencils are created equally, and this set is a step above the rest. For your colored pencil needs, different textures can be helpful. This set is focused on soft colored pencil options that are perfect for a variety of drawing needs.
You can enjoy using these to draw or color depending on your preference. Since they are softer in texture, they are also great options when it comes to blending. Many people find that pencils like this work will in conjunction with other tools.
—Prismacolor has made quite a name for themselves over the years for making amazing products. If you are looking for a reliable set of high-quality colored pencils, look no further. Though they might be slightly more expensive than some, you won't believe just how amazing these pencils are when you use them.
The way that they glide across a page will have you dreaming about them. It makes it easy for you to draw or color to your heart's content.
—When it comes to sketching, you need the right kind of pencils to do it correctly. Sketching is a process that generally splits people when it comes to tools. Some people like harder or softer pencils. Others like different sizes or shapes.
This professional pencil set is perfect for giving you twelve amazing pencils in different sizes so that you can get started. There are plenty of reasons why you will love these pencils, but the price is definitely on the list. Enjoy getting to work with these pencils in no time!
—Many people find that there are never enough pencils around when it comes to drawing. This amazing 40-piece drawing set brings you a large collection of drawing pencils. It also offers a variety of other completely amazing tools to suit all of your artistic needs.
You can enjoy getting quality products with this set, which makes it easy for you to focus on creating. This set has a little bit of everything, so you will be happy to see just how effective it is at getting you started. It is a great gift for artists of all levels.
—This is another amazing product set from Prismacolor that artists of all levels will love. You can enjoy this 18-piece set that is designed to help you with all of your drawing needs. It comes complete with a collection of high-quality drawing pencils, erasers, and sharpeners to cover all of your needs.
This amazing set of tools is great for getting you started anytime. It is an excellent set for beginners and professionals alike. You can always count on the quality of Prismacolor. They are trusted brand name within the artist community, and have been for years.
Read Also:
—Most sets of sketching pencils are limited to twelve, but this set offers you a collection of twenty pencils in total. You can enjoy a collection of pencils across a wide range of grades to help you fully understand the power of a high-quality sketch set.
It is one great way to test your talents, and is perfect for traveling. You can easily transport this set on the go to help you get what you need out of your artistic endeavors. It is another great product for an unbelievable price.
—Prismacolor is out to win the drawing pencils game with yet another amazing product. This delightful set of twelve pencils is perfect for making drawing that truly stand out. For this product, they have replaced traditional graphite drawing pencils with ebony graphite drawing pencils.
The primary difference is that these pencils deliver a much richer and darker color than traditional graphite. It makes it easy for you to make stark and compelling works of art that will resonate with anyone who looks at your work. You can enjoy creating beautiful works of art in no time at all.
—Though plenty of artists love graphite pencils, they aren't the only products available. Many people find comfort in the use of graphite pencils, but there are other options on the table. Some artists, particularly those open to experimenting, are partial to charcoal pencils.
These individuals understand that charcoal is an interesting tool that can help you make some truly amazing things. It makes it easy for you to focus on getting a completely new experience in no time at all. These charcoal pencils are perfect for helping you to get started.
—If you are looking for a charcoal drawing pencil experience but want a little something extra, this set is for you. It offers twelve total charcoal drawing pencils to help you get started on your next big project. You can enjoy getting to work with these amazing pencils that come at a wonderful cost.
It makes it easy for you to get the most out of your drawing experience. For those who want to experiment with charcoal or know they love it, this is a great option.
—Though plenty of drawing pencil sets offer a collection of great colors, sometimes you want something different. Prismacolor offers a variety of themed sets that make it possible for you to enjoy a quality experience with some added fun. This under the sea set is perfect for any kind of water-themed drawings that you plan on pursuing. Independently of this use, these drawing pencils are simply great for getting some truly beautiful colored pencils.
—Sometimes you want a graphite pencil option that is a cut above the rest. This amazing product is good for bringing a high-quality experience to your drawing process. The pencils in this set are of remarkable quality, which is why they cost the same as a set that usually offers twice as many pencils. However, the convenience of having a protective tin for your pencils simply cannot be beaten. These are a great set of drawing pencils.
—This is a product set that offers ten stunning pencils. You will love the way that these high-quality pencils glide across the page. It makes it easy for you to enjoy a valuable drawing experience with ten pencils in total. They are easy to pack up and take on the go.
—If you are a fan of unique pencils, look no further. These pencils are great for sketching and drawing, and are made from a unique cedarwood. You will love using these pencils almost as much as you love smelling them. They offer a pleasant drawing experience.
—When you want a durable pencil set, look no further. These pencils don't only offer a quality drawing experience. They are also broken resistant and marketed specifically for their clean drawing lines. You will love seeing how they can aid in your drawing process.
Conclusion
Making amazing drawings is a combination of dedication and the right tools. Though you can certainly draw with just about any tool, some offer you more control as a whole. If you are looking for quality products to suit your needs without breaking the bank, you came to the right place. Don't forget to experiment with different kinds to see what works for you.
What is your favorite drawing pencil to use?