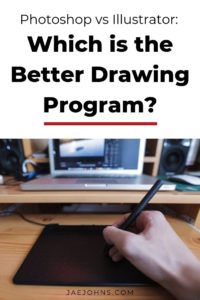 When it comes to finding a good drawing program, you might be wondering what works best. Many artists are known to use Photoshop or Illustrator, and you might be unsure about which one is right for you.
These are two incredibly powerful systems. Both offer a variety of amazing functions, but they do have differences. Photoshop might be right for some while Illustrator might be right for others. It is a matter of understanding your personal preference.
Everyone has their own needs when it comes to getting the most out of a system. Some artists love what Photoshop can bring while others find Illustrator to be more versatile.
In the Photoshop vs. Illustrator debate, there are no wrong answers. You can enjoy a variety of different tools and traits.
At the end of the day, it depends on your needs and what you would like to see from the system. Either way, these are two amazing drawing programs that you will be happy to work with.
What Is Photoshop?
Photoshop is a complex photo editing system with a wide variety of tools. This incredibly versatile tool is perfect for a collection of different projects.
In many cases, you might find that this perfectly suits your needs. Photoshop is perfect for editing photos, making graphic designs, and for drawing as well. There is always something more than you can learn about this drawing program.
A primary point of focus when it comes to Photoshop is the learning curve. Photoshop has a lot of tools. This can be great for managing your more intense projects, but it also means that you might need a little help.
Fortunately, there are a wide collection of Photoshop tutorials online. It seems that there is always something new and amazing that you can do with this tool. It is favorable for working on projects that focus on different kinds of media.
In addition to providing a complete photo editing experience, Photoshop is a great drawing program for improving drawings. Many digital artists use this system to make beautiful images.
They also use it to advance on other drawn images in many cases. Some artists will work on a drawing pad and then switch to Photoshop to edit the drawing. Photoshop is great for adding lighting and coloring to existing drawings.
What Is Illustrator?
While Photoshop relies on more traditional images, is a vector-based program. This means that when you work in Illustrator, you are actually creating vectors.
Though Photoshop will let you draw with ease, Illustrator makes it possible for you to create lasting images that can be altered. Since Illustrator relies on vectors, it is simple for you to adjust any color or size changes without a second thought. This makes Illustrator the perfect drawing program for making things like logos.
Illustrator is decidedly more focused on drawing than Photoshop is. While you can draw in Photoshop and it has tools to do so, Illustrator was made for it.
When you work in this system, it is easy to see that drawing is the primary focus. This system is built around drawing tools and brushes that are perfect for making completely custom creations. It is adept at helping you to make completely original projects in no time.
Illustrator is also great because it comes in a couple of platforms. While there are Photoshop systems on mobile, the biggest one hasn't been released.
Currently, the existing ones are not ideal for drawing. However, Illustrator is great for drawing on mobile. Illustrator has a complete app available on iOS. This pairs beautifully with the Apple Pencil and can be used to make truly amazing designs.
Drawing In Photoshop
Photoshop is absolutely a good drawing program. While its primary function is built around photo editing, it has the tools you need to draw.
This system is great for creating custom creations that look amazing. It offers a wide collection of pens and brushes that will help you to get creating in no time at all. You'll love the amazing things that you can make using this system. It is easy to see why some people prefer this system.
The biggest selling point in Photoshop is without question its brushes. These tools make it easy for you to make just about anything. They provide you with plenty of ways to create amazing things.
Every brush is different and there are plenty of them that are available for you to use. Sometimes you might just find that the thing you want to draw exists in a brush. You can use these to easily make fun projects.
Photoshop is great because of its versatility. The best drawing function of Photoshop is truly how well it works with existing photos. You can use all kinds of tools to adjust photos and draw on top of them with amazing results.
It is easy to see why artists favor this system when making adjustments. There are plenty of ways to add beautifully drawn elements to existing images. This makes it the ideal drawing program for graphic design.
Drawing In Illustrator
Illustrator is unique specifically because it was designed for drawing. It offers a collection of tools catered towards artists. You'll love the way that you can easily create masterpieces using this system.
It makes it easy for you to get right to work when you begin drawing. No matter what kind of art you want to make, Illustrator has you covered. Its versatility allows you to truly explore your work.
Just like its name, Illustrator is ideal for illustrating. You can enjoy using the collection of tools that it offers with stunning results. For many artists, this is a one-stop-shop for creating art.
You can easily adjust your art style with the brushes and available shapes. This makes it easy for you to explore and work on creating amazing drawings in no time at all. The fact that you can easily embrace it on mobile is perfect for digital artists on the move.
The fact that Illustrator is vector-based and offers tools to accommodate that is great. It makes it perfect for doing things like logo design and other exciting alternatives.
Sometimes we all need to work on something for fun. Illustrator is versatile enough to accommodate you whether you are drawing for work or play. You can easily make comics or high-quality graphics depending on your preference.
The Power of Brushes
The biggest selling point in these drawing programs is the use of brushes. Both Photoshop and Illustrator offer an endless collection of brushes.
No matter what you are looking for, you can safely assume that there is a brush for it. Brushes range from basic textures to actual objects. This means that there is always something available to suit your needs.
When it comes to brushes, the two systems are pretty equal in the Photoshop vs. Illustrator debate. Each system has its own collection of brushes. More importantly, you can easily download more brushes online.
There are plenty of brushes, both free and paid. This makes it easy to build your library so that you can make completely custom works of art. There is truly a brush for every single need.
Brushes are amazing for adding something extra to a drawing. You can use them to add complete shapes or even just effects. There are so many different brushes that you can find one for every kind of project.
It makes it easy for you to cater to your preferences and tastes. Whether you want to add a set of bicycles or you want a water texture to bring something extra to your work, these have you covered.
What Makes Vectors So Powerful?
The real win in the Photoshop vs. Illustrator debate is Illustrator because it uses vectors. While Photoshop has some amazing functionality that can be great, it doesn't have vectors.
Vectors are what makes Illustrator images perfect for getting the most out of a drawing. Vectors are a standard for graphic design for many reasons.
The biggest benefit to vectors is their scalability. This type of image allows you to make it bigger or smaller as needed. In addition to being able to easily change the shape, you can do so without compromising the image.
Vectors are made to be adjusted with ease without ever running low on quality. Vectors will hold their clarity regardless of how big or small you make the image.
In the graphic design world, vectors are crucial for design. Being able to easily manipulate and adjust these images is necessary for marketing materials.
You'll love making logos and banners using this system. No matter how many times you need to adjust the image, you can do it with absolute ease. This is perfect for carrying similar content across different platforms.
The Mobile Experience
The biggest question for the mobile age is how these platforms work on a mobile system. Adobe has recently joined with Apple due to the launch of the iPad Pro.
Now that Apple has released a fully functional tablet, Adobe is working to bring all of their systems to mobile. While some might find this troublesome, the results are pretty amazing.
Currently, you can get Adobe Illustrator on mobile. While the system is slightly less complex than the desktop version, it is still amazing. This tool is perfect for making amazing creations using a stylus of your choice.
You can enjoy the versatility with this amazing tool that allows you to draw with ease. It also works perfectly with the Apple Pencil with stunning results.
Photoshop has a complicated history with the mobile experience. While you can enjoy Photoshop photo editing on mobile, the complete suite isn't there yet. However, Adobe has promised to bring a complete Photoshop experience in time. For now, we are all waiting to see what that will look like. We're hoping that the results will be truly amazing.
Use Cases And Strengths
At the end of the day, both of these systems can be used for drawing. You'll love the functionality of both systems. They make it easy for you to make exciting art projects in no time at all.
These systems both bring a variety of tools. More importantly, they allow you to make custom art that is sure to thrill.
The biggest strength of Illustrator is that it allows you to focus purely on drawing. This system is a complete drawing program and that is its focus. If you want to make complex and detailed drawings that are perfect for prints, you'll love to use this system.
On the other hand, Photoshop is more all-encompassing. You can enjoy using this for a variety of different reasons. Photoshop is amazing for editing photos and enhancing images. While it might have slightly less from a drawing perspective than Illustrator, it is a perfect tool for most.
Conclusion
When you are looking for a good drawing program, Adobe has you covered. Their creative suite is designed for helping you to make the most out of your drawing experience.
It is easy to see why people love these tools with all of their functionality. Depending on your needs, you can choose the right one for you. Each program is ready to help you make some truly amazing art.
As you learn about these systems and what they can do, you'll be amazed by how complex they can be. There is always something more to learn with Adobe products.
Which program do you like more, Photoshop or Illustrator?