The best gouache paints are often used to create bold, illustrative paintings to a great effect.
Gouache (pronounced "gwash") is a water-activated paint made primarily out of pigments, water, and gum arabic.
Originally inspired by the Italian "guazzo" technique, it is a painting style with a velvety matte finish.
Today, gouache has been making a strong comeback. Many professional artists enjoy the precise and solid coverage of gouache.
Depending on what you're looking for, Miya Himi and Arteza are both the best gouache paints brands for beginners.
In addition, many other professional-grade art suppliers such as Winsor & Newton, Caran d'Ache, and Holbein make quality gouache that is worth checking out.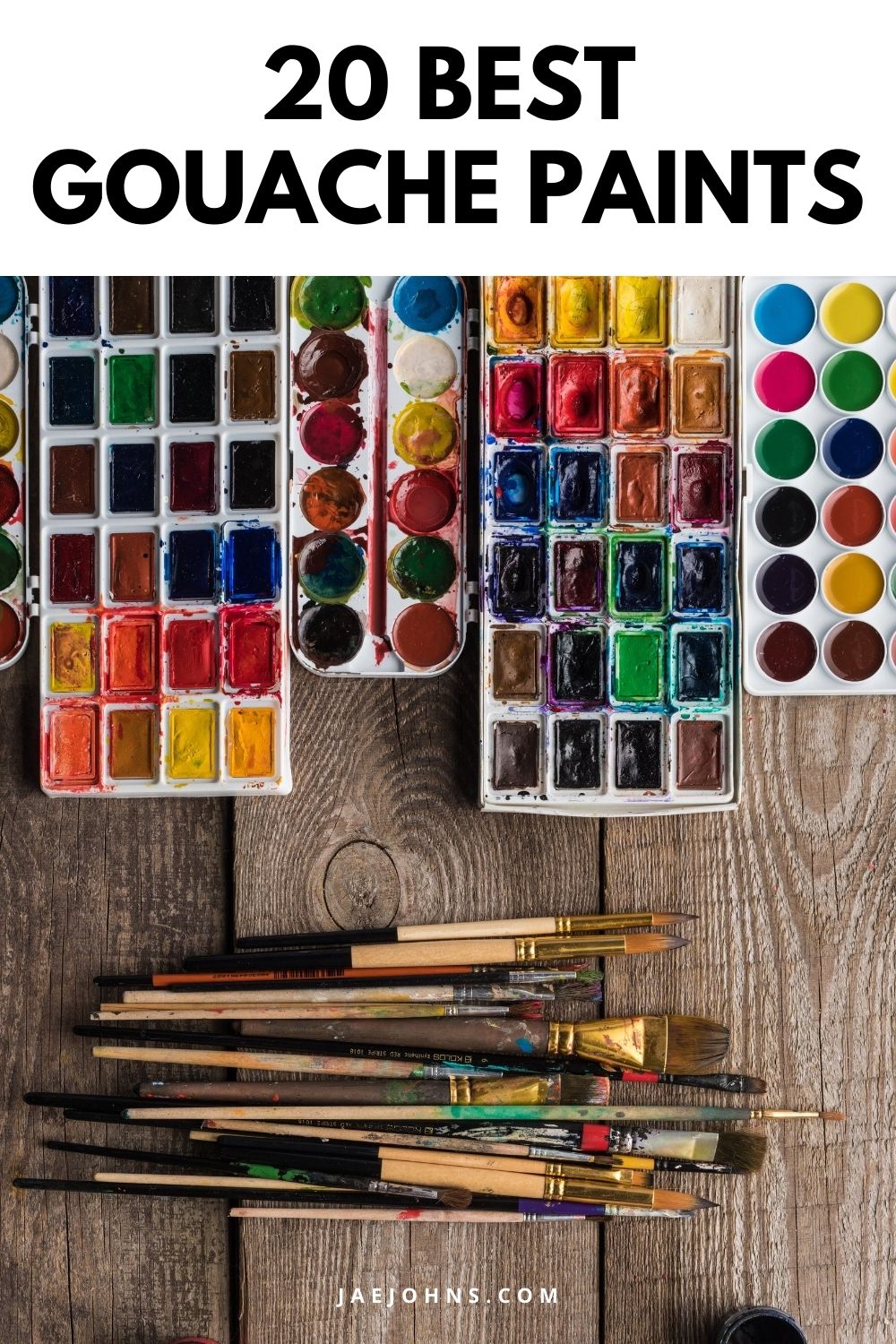 Are the Best Gouache Paints Good for Beginners?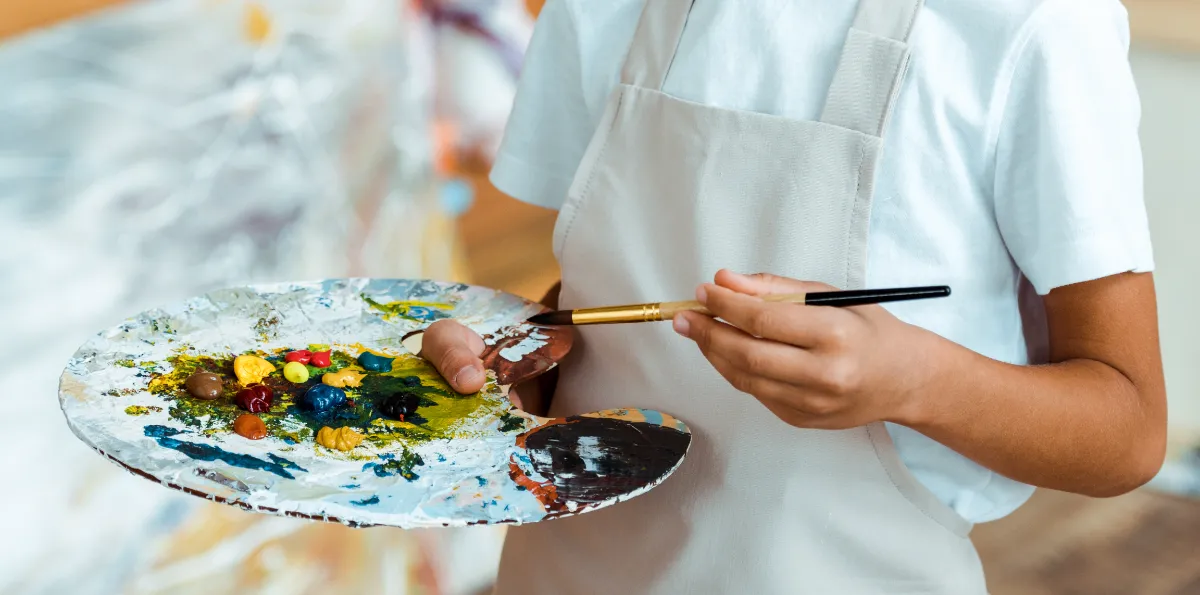 The best gouache paints can work well for beginners, but poor-quality gouache can actually be pretty tricky to work with.
This is because you need high-quality pigments to get gouache looking its best, which is the most expensive component.
A misconception that sometimes goes around is that gouache is one of the easiest painting mediums to learn.
This might be because it has the same base as watercolor and is relatively inexpensive.
Unfortunately, many find it is more challenging to use well than expected.
Unfortunately, this puts beginners in a bit of a dilemma: either go for a more expensive gouache right off the bat or take a gamble with inexpensive gouache.
Good gouache can go a long way to helping you really understand the medium.
That's why we recommend splurging a little even at the beginning to make sure you have some decent quality paint.
Are Gouache Paints Easier than Watercolor?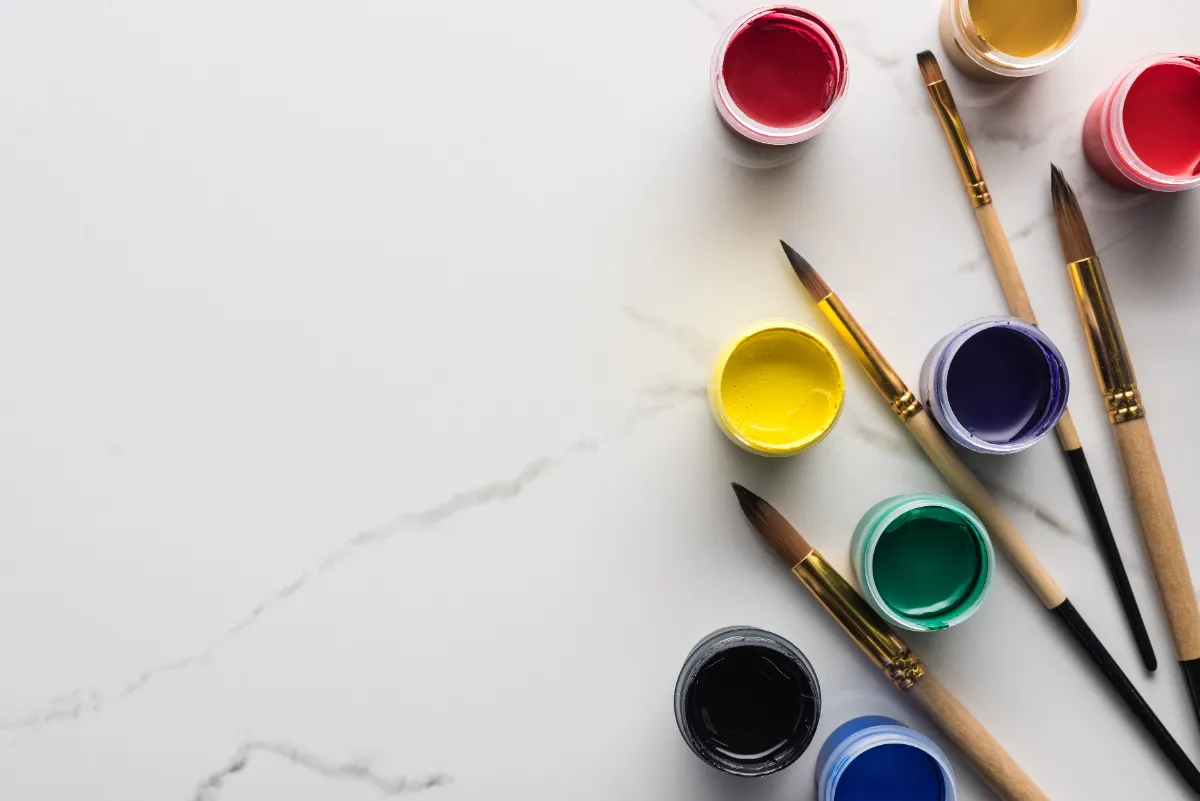 Gouache and watercolor are similar to use because they are made of the same base material.
Gouache's higher ratio of pigment and signature opaque look is its main difference from watercolor.
You can think of gouache as an opaque watercolor.
You can see this difference when you place watercolors over one another.
They create darker colors.
The physical reason for the difference between these two types of paint comes from the particle size of their different pigments.
Watercolor paint uses smaller particles of pigment, leading to a thinner spread of the color, whereas gouache has larger particles and a thicker spread.
What Makes a Gouache the Best Gouache Paint?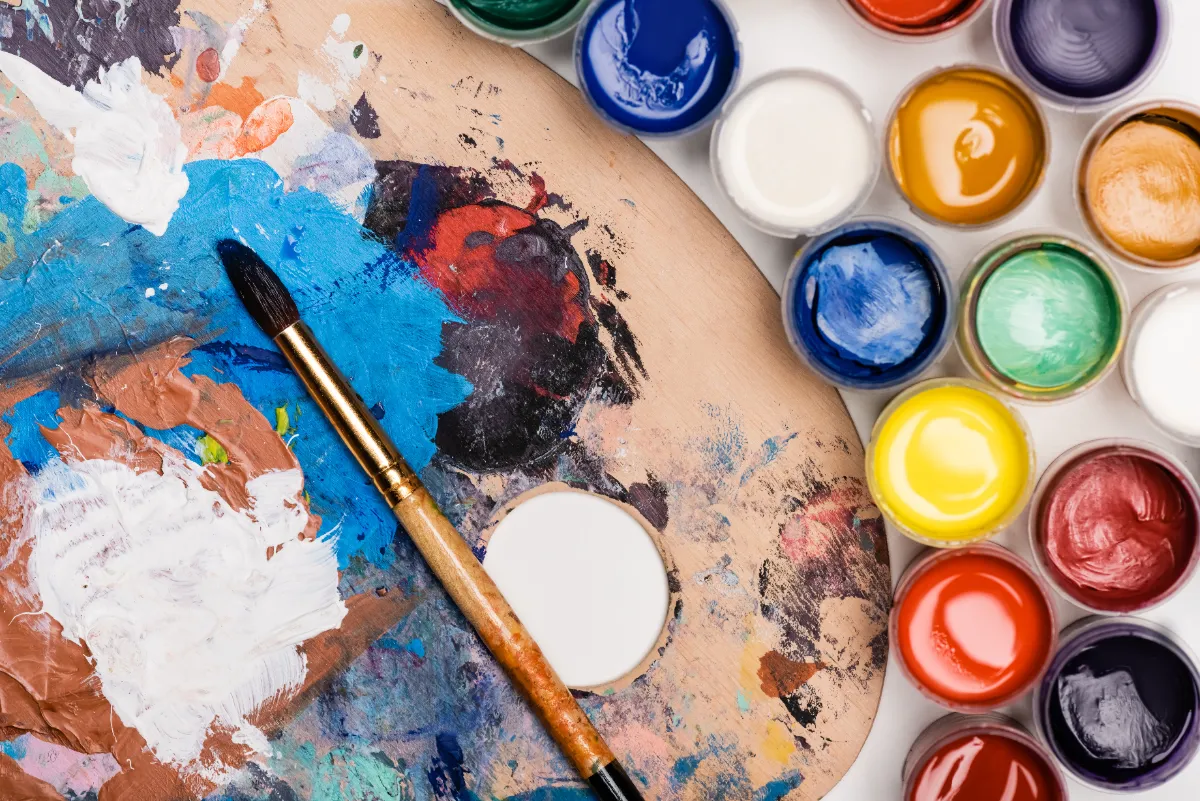 The best gouache paint has a high pigment load and brushes on consistently.
The paint should go on smoothly with a certain ease of use when applied to the page.
Great gouache goes on the page completely opaque.
It should be a solid color when it hits the page with no transparency.
It should also be reactivable with a small amount of water.
Simply dip your brush in water and bring it back to the recently painted gouache to reactivate it.
What's also nice from a cleaning standpoint is that good gouache paint also can be washed off a wet brush quite easily.
Again, this is because it is water-based, making it much easier to work with from a set-up and clean-up point of view.
Finally, high-quality gouache uses more of each specific color of dry pigment than white pigment, lending itself to more color vibrance.
Do Professional Artists Use Gouache?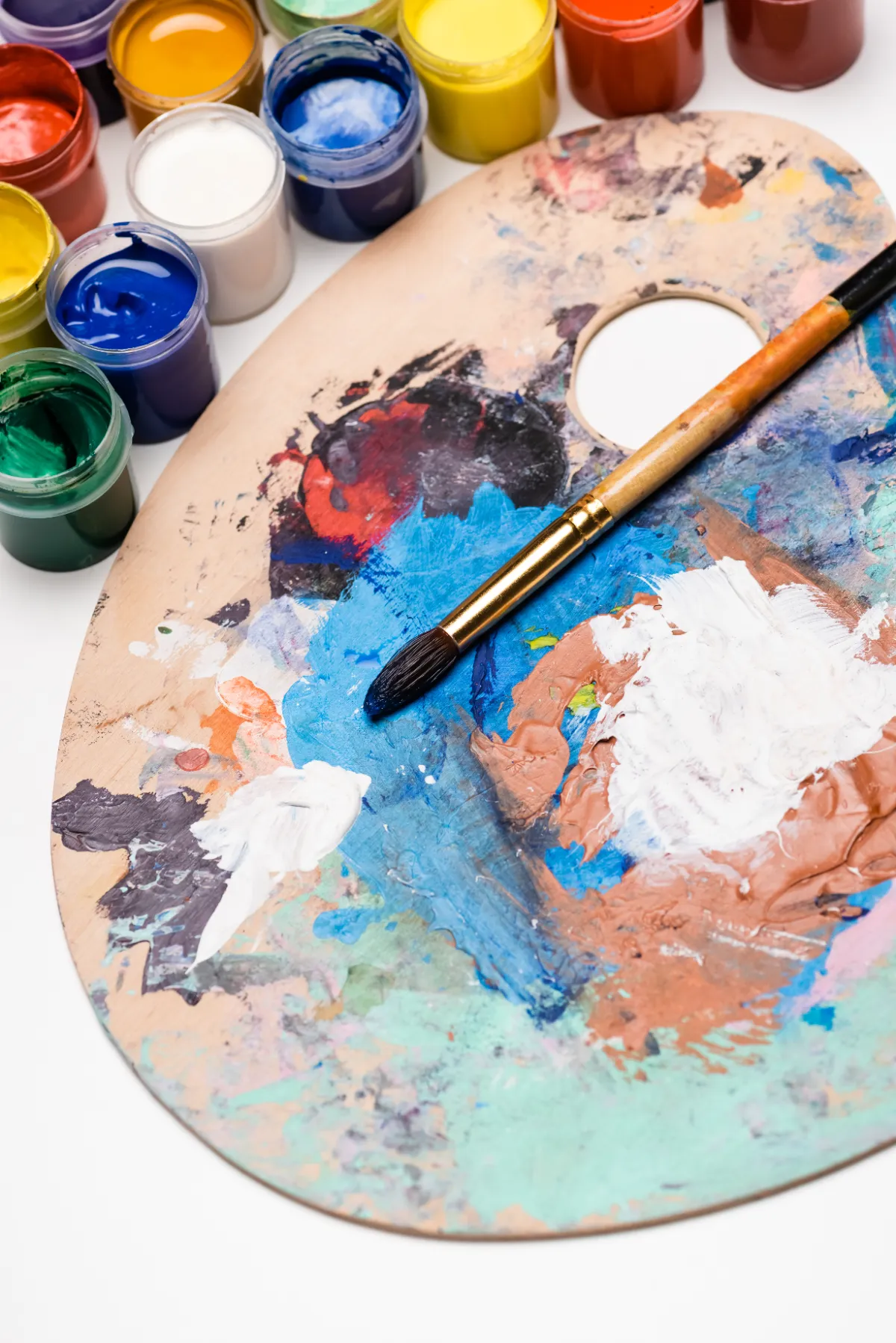 Many professional artists, including Edgar Degas, Salvador Dali, and Pablo Picasso, have used gouache paint.
Perhaps most notably, Matisse used gouache to its full potential in many of his most famous works, including his "Blue Nudes."
Beyond professional art of this type, gouache is also considered an excellent choice in illustration for its use of bold colors and solid coverage of the page.
Gouache's colors are far denser than those of even the best watercolor paints, giving it a unique style.
In the early 20th century, many animators and posters used the bright, opaque pigments of gouache to make their works pop.
Beyond these specific uses, gouache gets a lot of credit for its variety of uses as a versatile paint.
It can replicate the look of everything from transparent watercolor to acrylic paint.
Also, like oil paints, it is highly forgiving of mistakes, allowing for multiple corrections.
Unfortunately, there is a prevailing view that gouache is childish due to its popularity in children's illustrations, but that view has changed in recent years.
Not only has it historically been used to significant effect by many well-respected artists, but in today's contemporary art scene, many artists have been further exploring its uses.
Best Gouache Paint Brands
The best gouache paints are made by brands that have been making gouache paint for a long time and new brands that are relatively new.
Some familiar brands like Miya Himi, Royal & Langnickel, and Winsor & Newton make gouache paints that are professional-grade and paint for those on a tight budget.
Miya Himi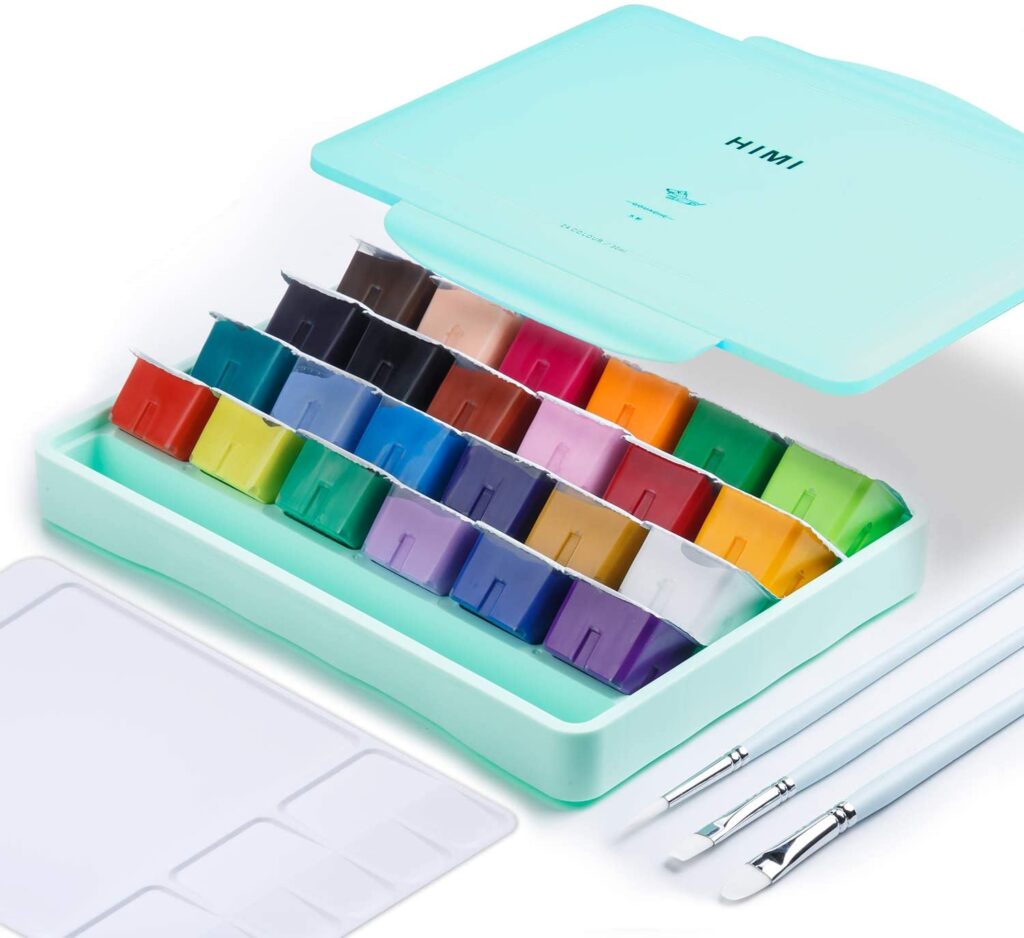 The Miya Himi gouache set has taken over the internet in the last couple of years.
It's a newer company, founded in 2011, but has already gained a devoted following.
It's aesthetically pleasing to look at and easy to work with, but does it live up to the hype?
The set of jelly gouaches comes in a case filled with 24 individual cubes of 30ml gouache.
With this much paint, it's actually pretty heavy and a little challenging to carry around.
In addition, the unique jelly cup design comes sealed.
Although the case itself comes with a lid, its seal isn't as tight as the one on the cups themselves.
As a result, over time, the cute jelly-like consistency of the cups does recede.
You can store each cup in a resealable bag, but you can still use the cups like regular gouache, even as they dry down.
All in all, this is a solid beginner set.
However, be warned the case has to be held flat when carrying it around as the paints can spill out when carried sideways.
Arteza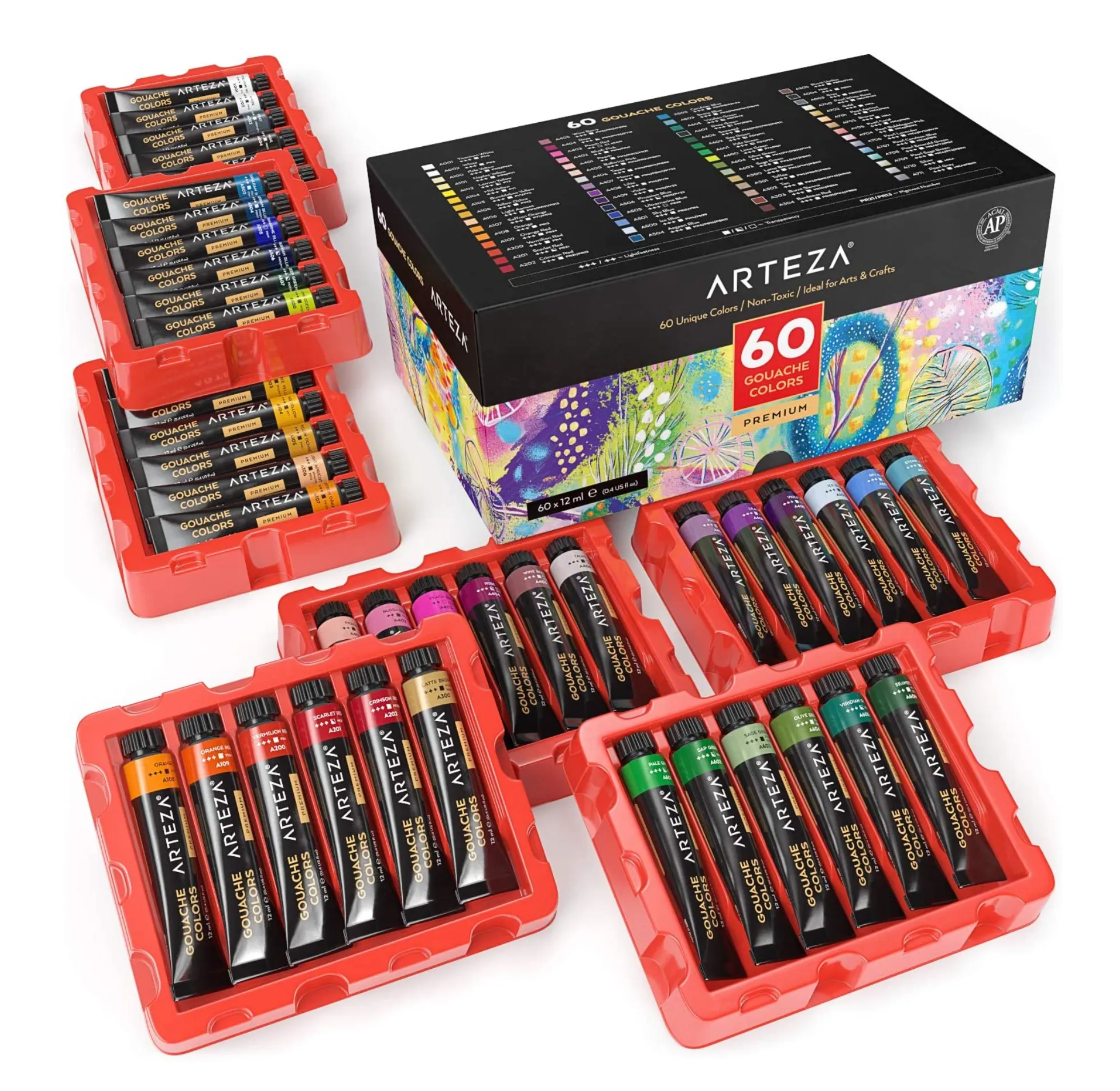 Arteza sells the largest beginner-friendly set on our list.
Its Arteza Gouache Paint Set comes with 60 paints of professional-grade quality that come in resealable tubes.
Because it comes with so much variety, you won't have to work nearly as hard on the color mixing, with many different colors that work right out of the box.
Of course, you are committing to quite a lot of paint, but the price per milliliter is quite good for the quality of gouache you are getting.
As you probably know, we tend to have our favorite colors and will always use up some faster than others, which can be a problem with this large set.
Everything else about this set makes it a solid choice for beginners. It balances price and quality quite well.
Winsor & Newton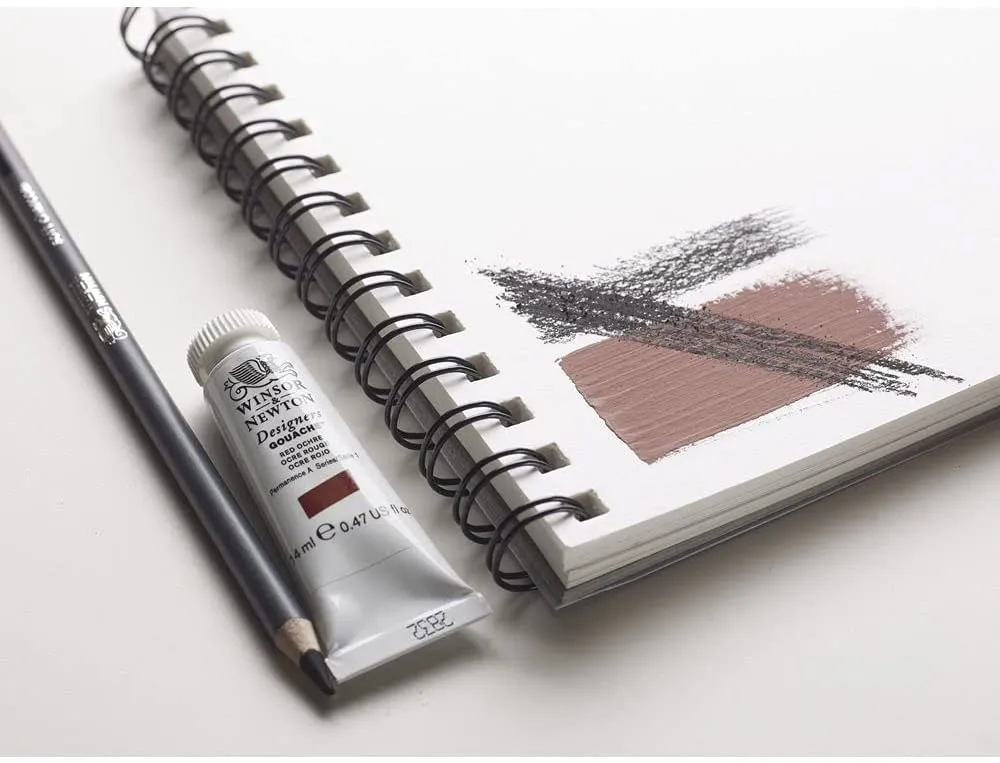 The Winsor & Newton Designers Gouache Set is not as beginner-friendly as others on this list but is a true industry professional standard.
If you want to dive into professional artist-level gouache head first, they do sell a small set of 10 colors for a good starting point.
It is some of the highest pigmented, most consistent gouache available.
For some, it is the best gouache paint set on the market.
As one of the highest quality gouache paints available, if it isn't doing it for you, it's unlikely any will.
Caran d'Ache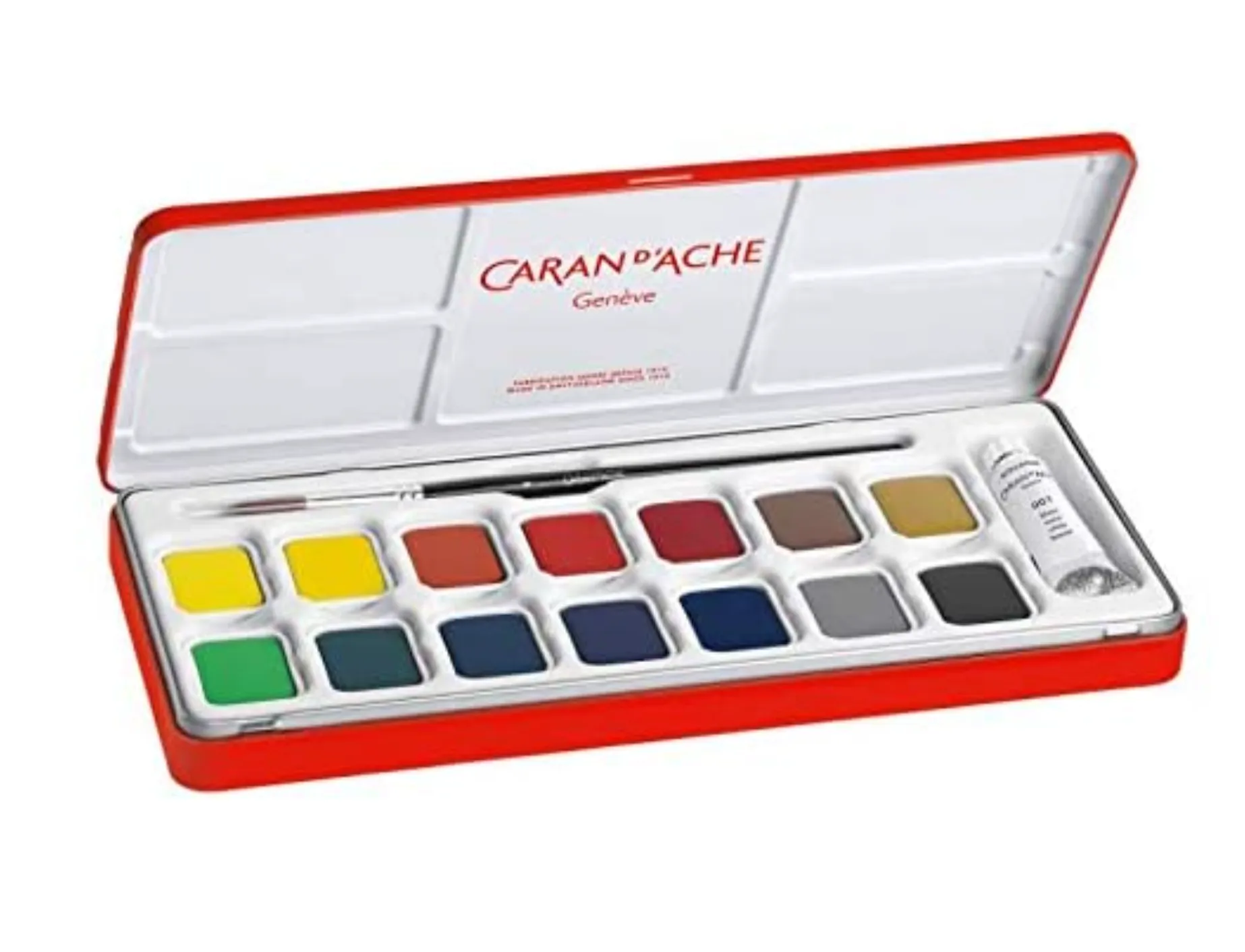 Caran d'Ache is a fine Swiss art supplier and one of the finest brands of professional-grade gouache.
The Caran d'Ache Gouache Studio Metal tin is quite convenient for travel, making it a unique option on our list.
As a high-quality supplier, you can expect each color to be highly saturated and lay on the page with a thick opacity.
Their gouache is also an excellent choice for both reactivation and layering.
With just a little water, you can reactivate it easily. It also dries on smoothly, with a high amount of consistency, allowing for fully corrective and precise layering over top of one another.
The travel tin is excellent for painting en plein air and moving about with your art supplies.
However, it does come with two downsides.
The first is that there is less paint than usual for each color compared with other sets.
The second is that you can't replace individual colors, meaning that if you use one or two colors much more often, you'll have to replace the whole tin when those colors run out.
Overall, this is an excellent choice for beginners due to its variety and quality.
Holbein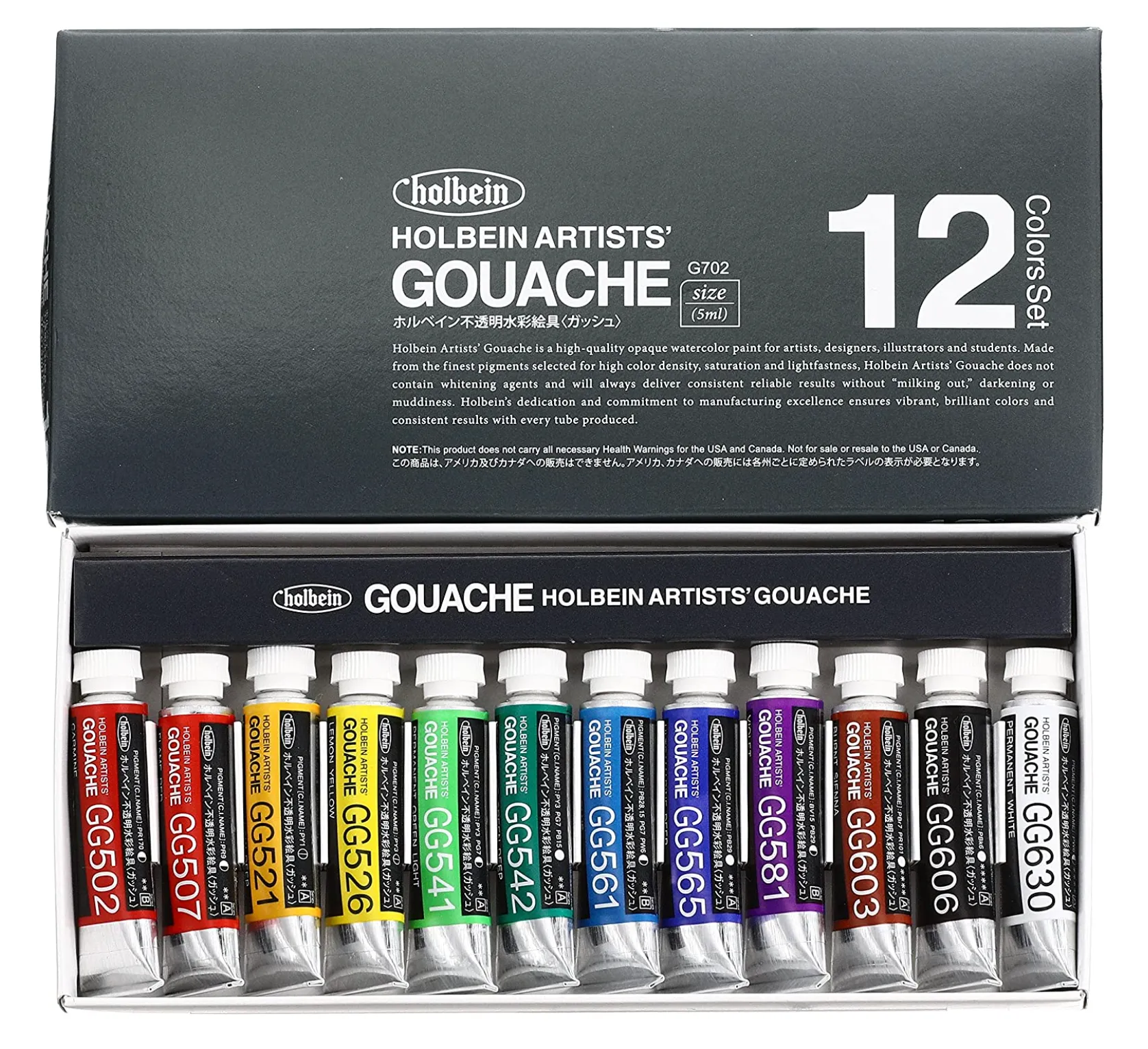 Holbein is a Japanese art supplier, founded in 1900 in Osaka.
It is one of the most respected gouache suppliers globally, making professional-grade gouache in individual tubes for fine artists everywhere.
The Holbein Artists Gouache Set is probably the least beginner-friendly set on the list in terms of cost, but the quality makes up the difference.
The quality of pigmentation in their paints is second-to-none.
So only go for this one if you are looking to dive straight into the deep end of high-quality gouache paints.
However, this extremely high pigmentation does change the kind of qualities it has in a significant way.
In addition, it is so highly pigmented that it lacks transparency even when watered down.
For some people, this may even change the way they use their gouache for some people.
M. Graham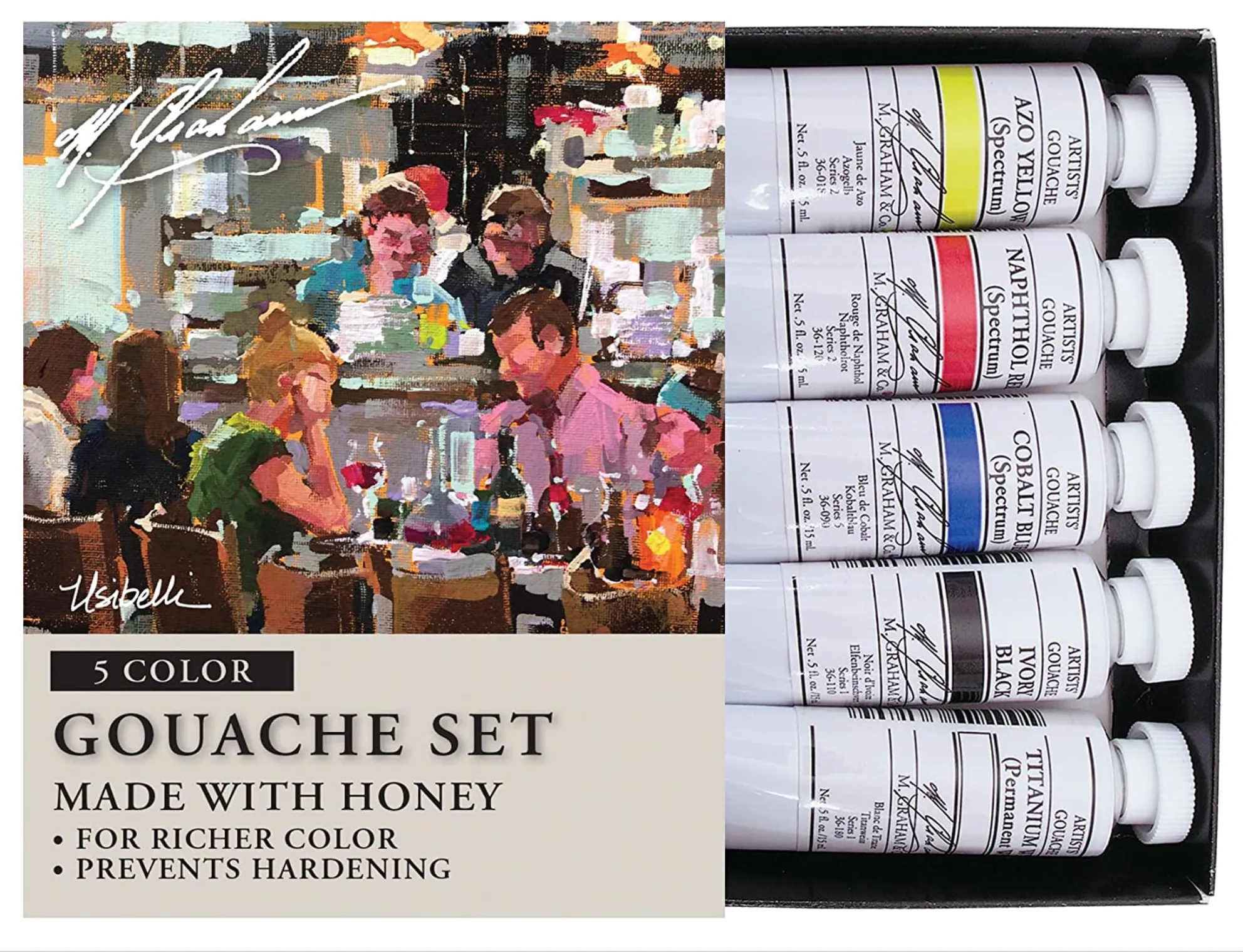 The M Graham Gouache Paint Primary Set provides an excellent middle ground for buyers.
They provide a decent amount of quality while still being highly pigmented. In addition, this high-quality gouache comes in a beginner-friendly package of 5 primary colors, including black and white.
One surprise is that it has a honey binding agent, which gives it a runnier consistency than gum arabic.
The set is small but is a quality starting pack that can be mixed into secondary and tertiary colors.
Although the tubes themselves are small as well, you can dilute them, and they will last quite a while. There's no streakiness with these and low loss of opacity with dilution.
The only drawback may be that you're likely to need to buy a few more individual tubes to expand your color range.
Royal Talens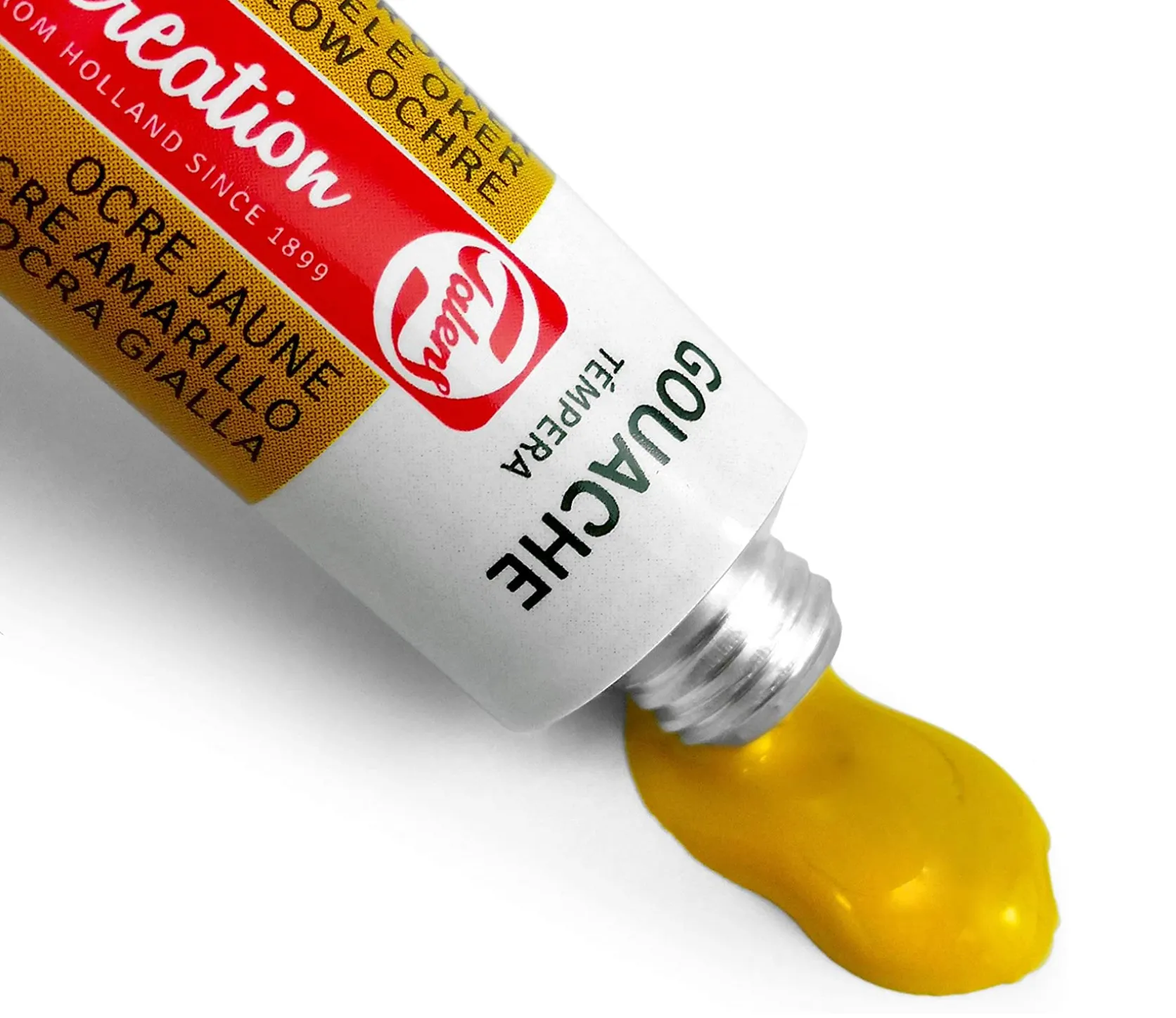 An excellent gouache set for beginners, the Royal Talens Art Creation Gouache contains 24 individual paints in a highly affordable set.
However, this is a student quality range, which means there are some issues with runniness and opacity compared with premium gouache.
Otherwise, you get a large selection of colors for a reasonable price with this set.
The pigment quality is decent, and the consistency is good.
Royal Talens has a solid reputation as an entry point into gouache, with decent opacity for solid layering.
Other Featured Topics to Help You with Painting
Daler-Rowney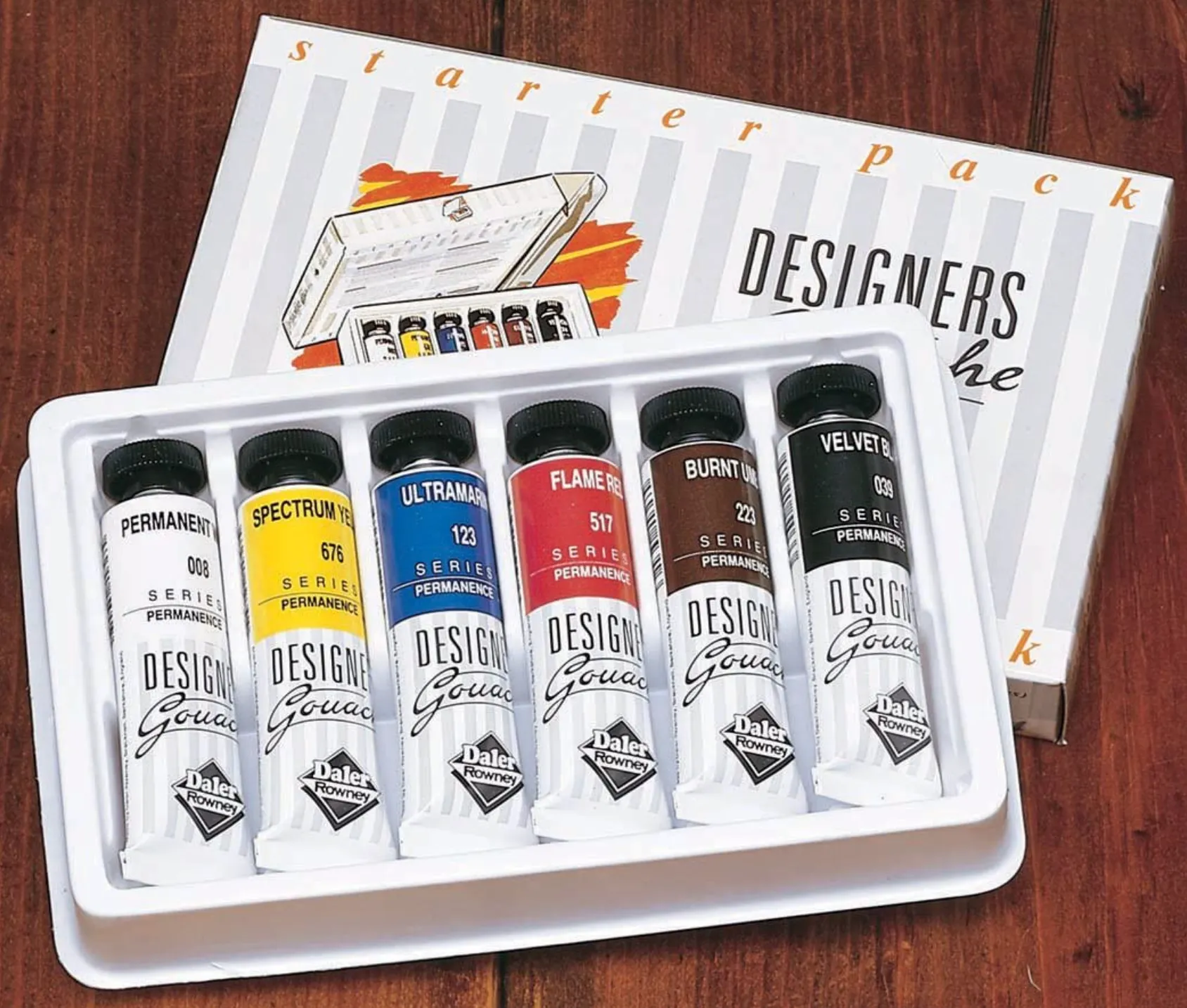 Daler-Rowney Designers' Gouache set is a solid starter kit with more than two centuries of experience backing the producers.
Their pigments work best with professional illustrators and graphic designers, as they add reflective calcium carbonate to the mix for stronger illumination on the page.
This particular pack of six paints can get you started with their high-quality line.
This is a no-nonsense, highly qualified, and experienced art supplier with an excellent product.
Their consistency, pigmentation, and ease of use are all at the highest level.
The main issue is just the price.
Schmincke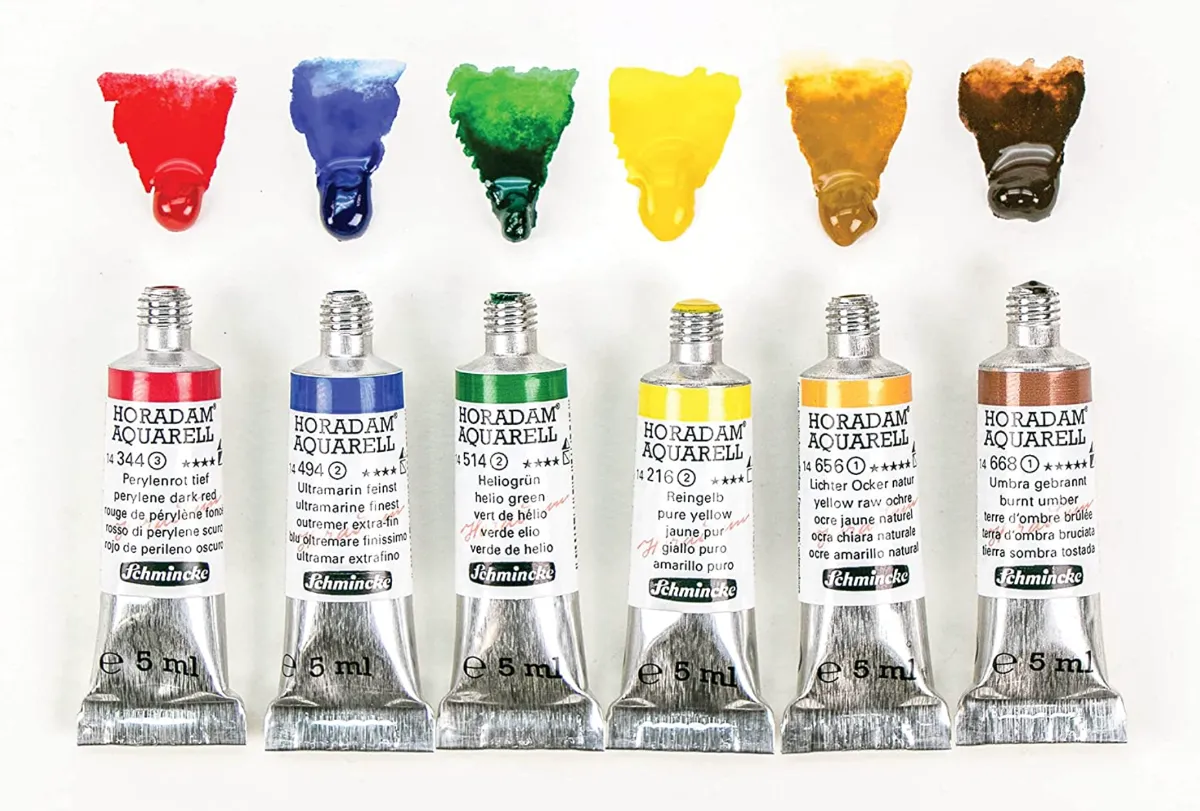 Schmincke has 125 years of artistic excellence under their belts, creating their Schmincke Horadam professional-quality Aquarell paint using that history.
They don't use as wide a color range as some other art suppliers, but the colors they do provide are high-quality reliable pigments.
Compared with others, their water-based paint has a bit of a thicker consistency, with eye-catching color vibrancy.
Like all good water-based paint, it reactivates well with just a little water.
Also to note is that their style of paint is not strictly a gouache but more closely resembles watercolor in its granulation than other brands.
If you are looking for paints somewhere between a watercolor and a gouache, they could be a good choice.
ShinHan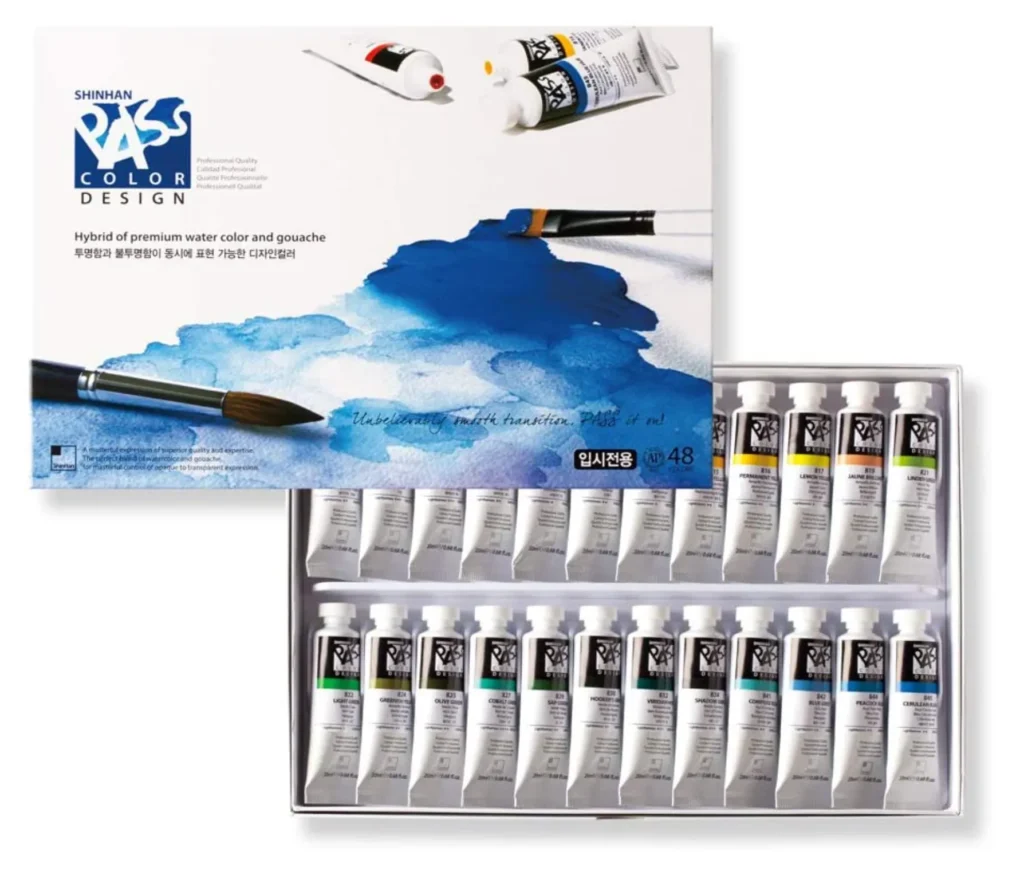 ShinHan Pass High-Quality Hybrid Colors is a newer set on the market.
It isn't as well known as other art suppliers on the list, but their reviews have been solid out the gate.
Many professionals use their paints for their high quality and texture that is closer to a hybrid between gouache and watercolor.
This exceptional quality has made it a fascinating rarity in the market.
Perhaps the most striking thing about ShinHan's set is the range of opacity possible with different amounts of water used.
Normally, diluting gouache doesn't change the opacity easily, but this hybrid paint easily moves between watercolor-like transparency and an opaque gouache.
SUI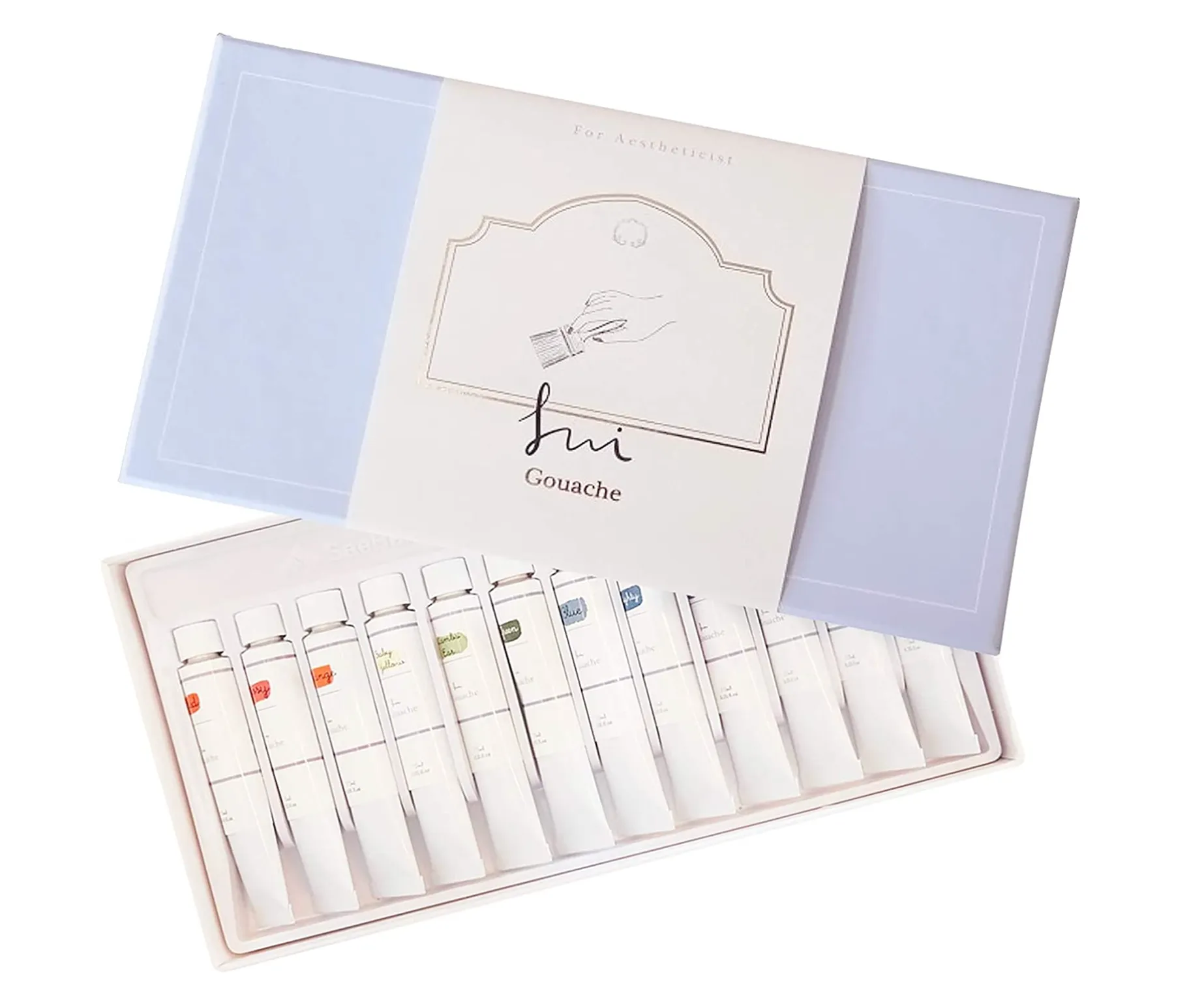 Varying things up a bit on the list, the SUI Gouache Paint Sets uses a unique selection of colors – what they call Fairytale Mood!
It consists of many pastel tones and a dreamier sense of color.
But the change of color isn't the only thing interesting about this set.
It's also quite an excellent quality set, with great consistency and opacity.
Some of these foreign brands are catching up to the traditional powerhouses.
It can be hard to know which are the best in advance, but SUI is another contender with premium quality.
However, the big hurdle is going to the price.
It's expensive for the small tubes you get, and this isn't as proven as a brand.
So, for that reason, there is still some hesitation.
Turner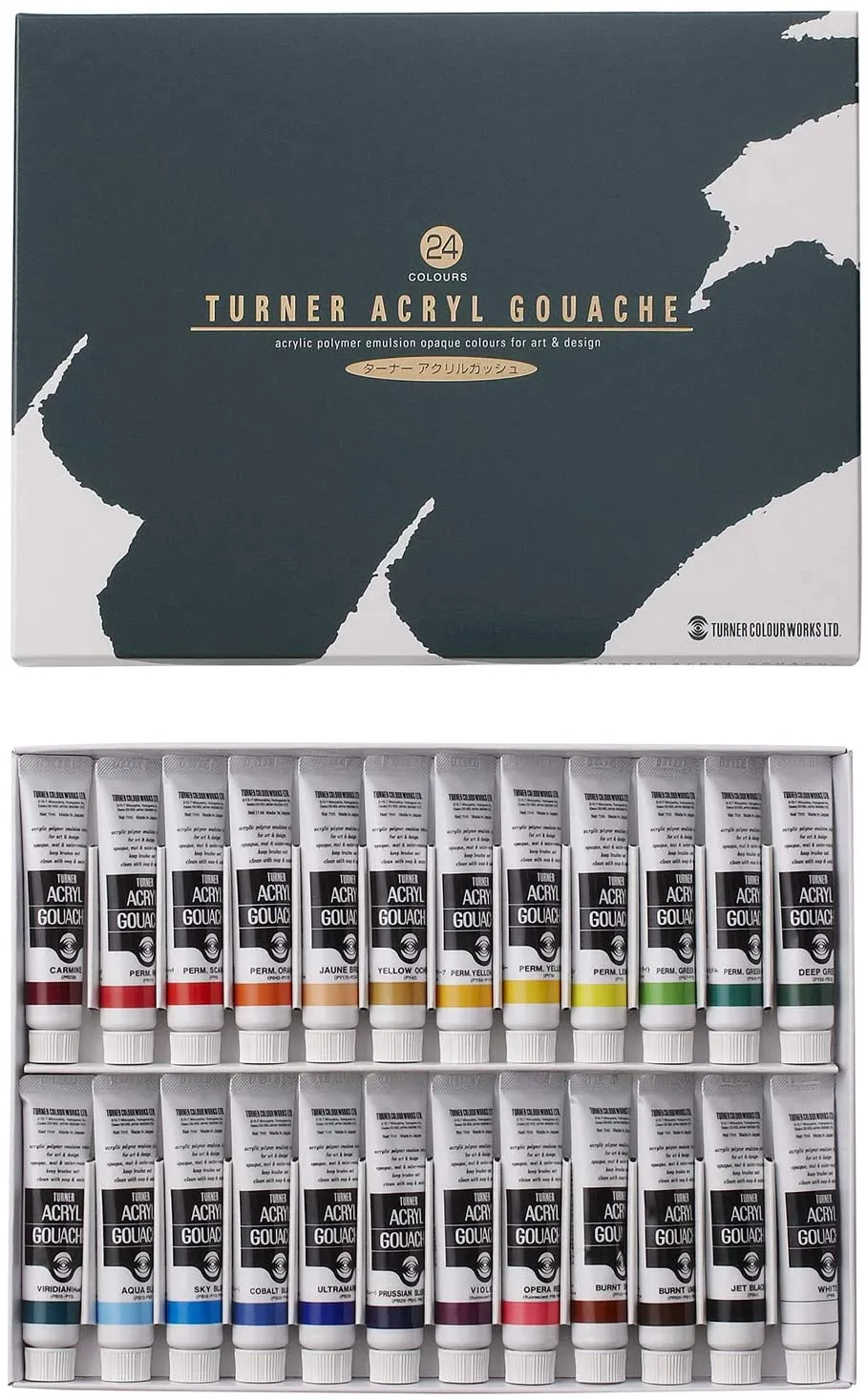 The Turner Acrylic Gouache Paint Set comes with 24 individual tubes of high-quality paints.
One of the best praises for Turner's set is the high pigment concentration in each color.
They are very vibrant and fast drying.
For some artists, fast-drying can be a problem if they are looking to rewet and correct their paint.
Unfortunately, there are some reports of inconsistency in the batches.
Some tubes come out with runny paint that goes on paper streaky.
Therefore, others on the list likely will do better for you, although these aren't bad for the price.
Reeves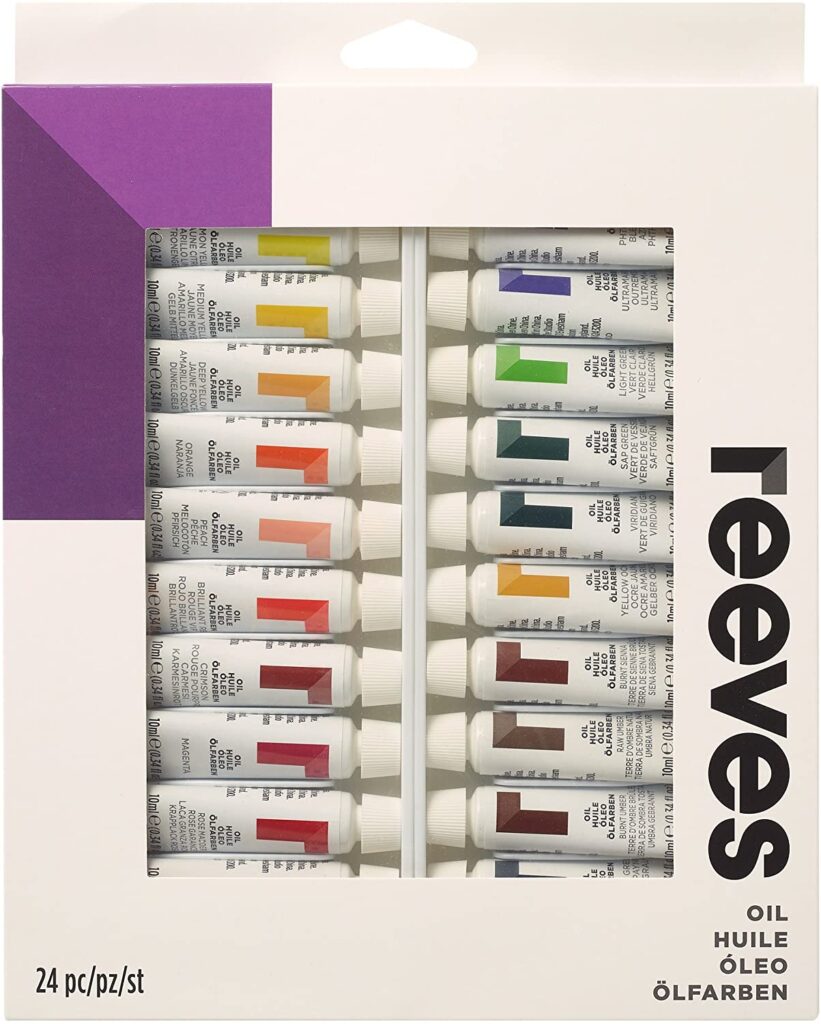 The Reeves Gouache 12 pack is a good-sized variety pack of gauche on this list for a decent price.
The tubes may seem a bit small, but they are a great size to get a wide assortment of colors on a budget without compromising too much on quality.
The pigmentation is decently high with this set, although there is a bit of a chemical scent.
Also, it can dry up and crack in the pan when left out for a while. Still, it's a good deal for what you get.
Royal & Langnickel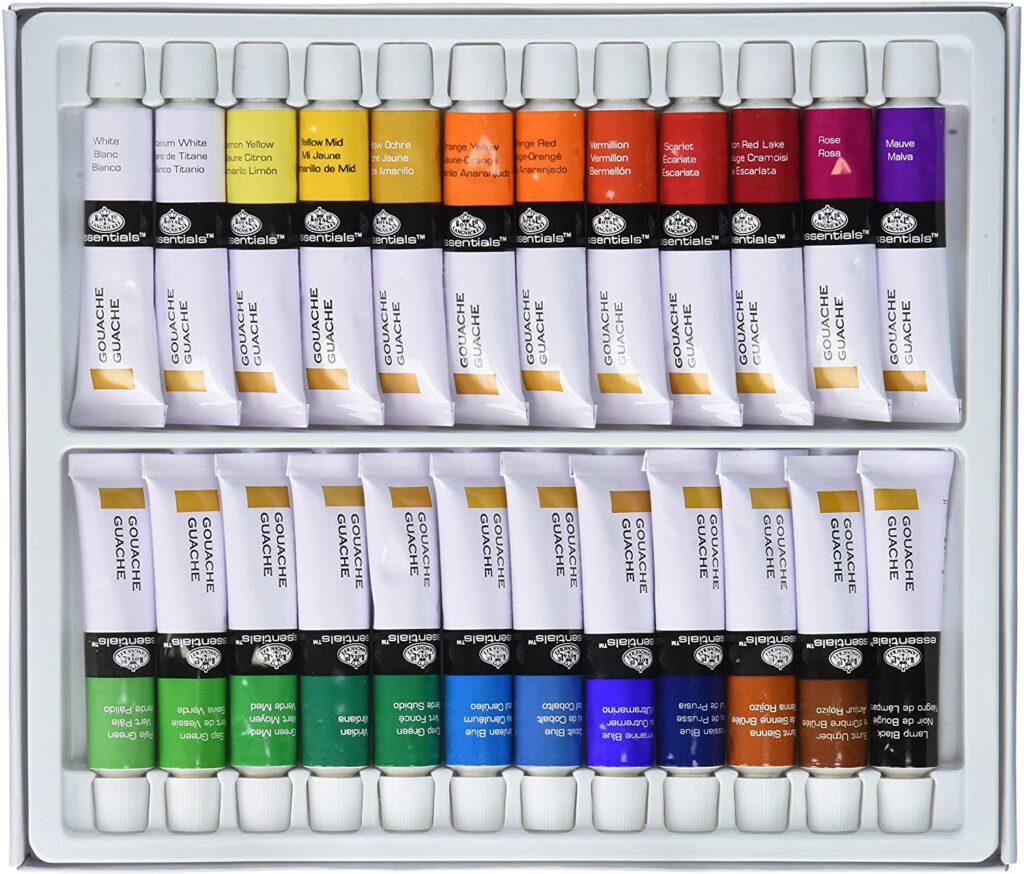 Another 24 pack, the Royal and Langnickel pack is best for those on a stringent budget.
It's less than half the price of the already well-priced Reeves set.
This is student-grade paint.
These are harder to work with and less vibrant than premium paints.
However, it will get the job done.
For some beginners, this may be the low-stakes starting point they're looking for.
The set responds well to rewetting and has a lovely vibrancy of color for a student set.
Its central lack is the level of opacity, veering more towards a watercolor translucency.
Mont Marte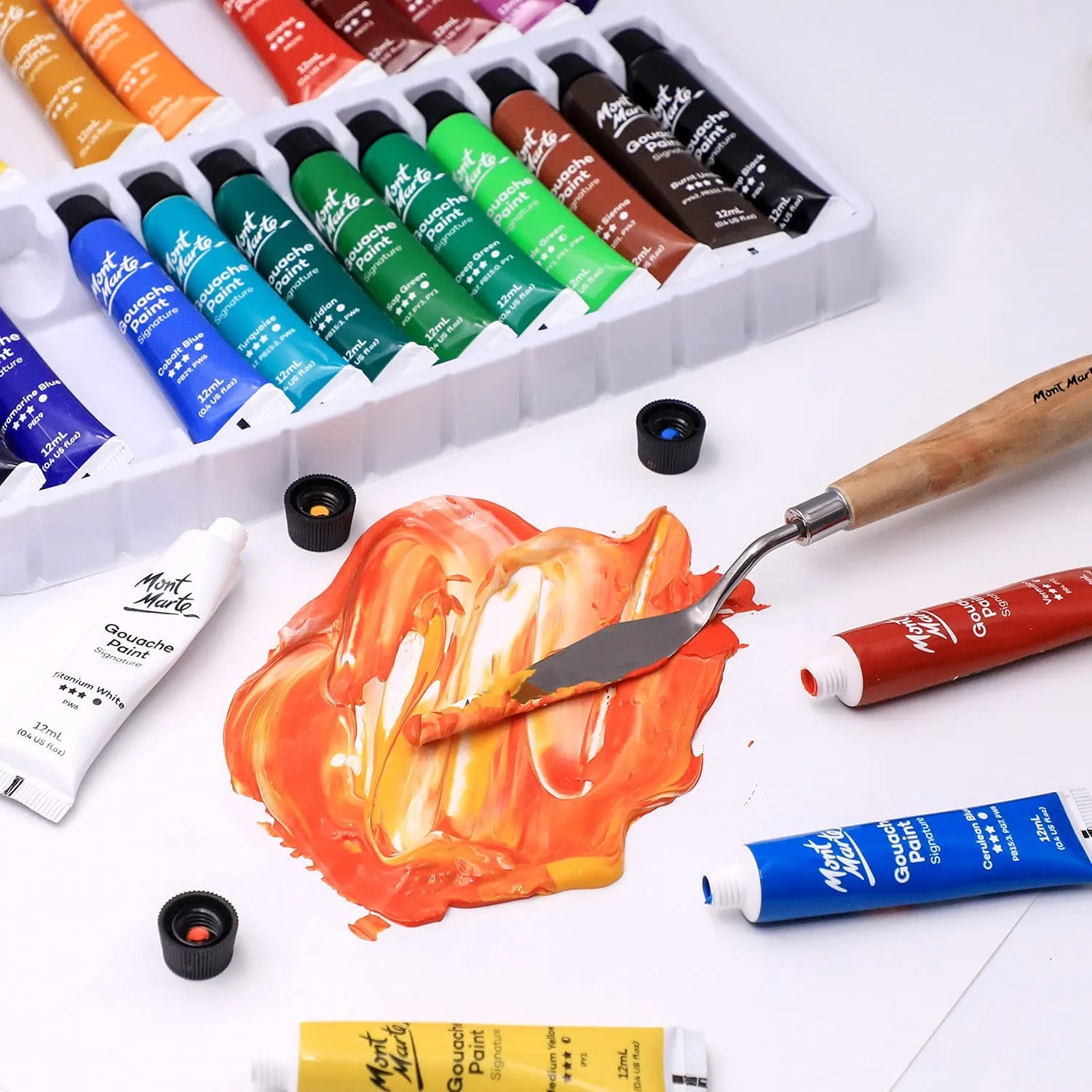 Mont Marte Signature Gouache Paint is another student set best for beginners on a budget.
You get 24 vibrant colors for an excellent price with a decent amount of consistency to them.
The thing to get used to with this set is how fast they dry – they are not as easily reworked as other gouache paints on this list.
Mont Marte's gouache goes on a bit chalky, and some colors are less pigmented than others.
That being said, it is quite a solid starting point for a student set.
Zenacolor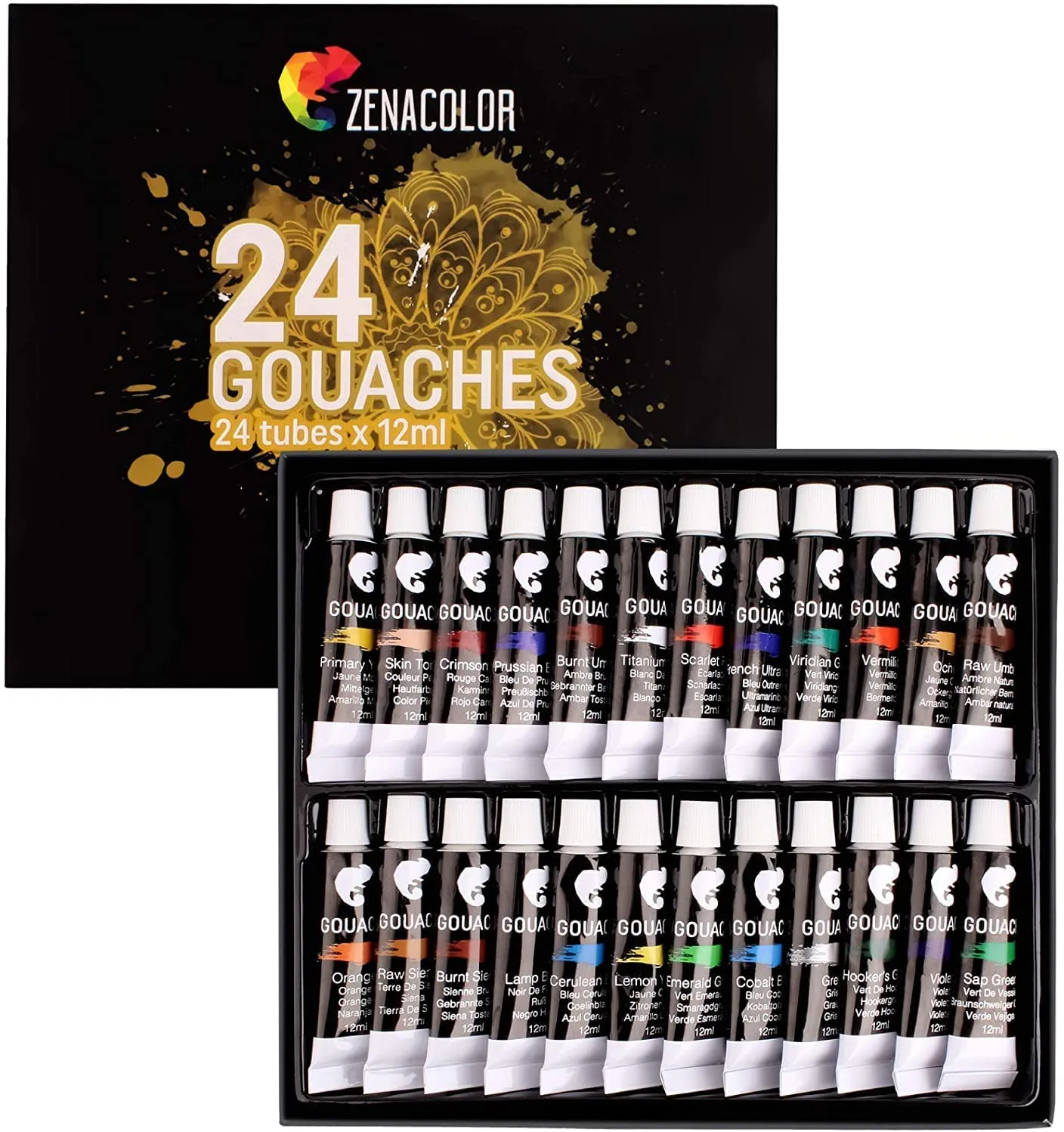 The Zenacolor – 24 Gouache Paint Tubes set is another good budget pick for students and beginners.
These have more watery consistency than others on the list and lean more towards watercolor.
However, even with only a bit of water, they lack the opacity of true gouache.
So, if you are ok with a bit more transparency, this is a decent enough set.
The variety of colors is pretty vibrant aside from their lack of opaqueness, and they come at an excellent price.
Arrtx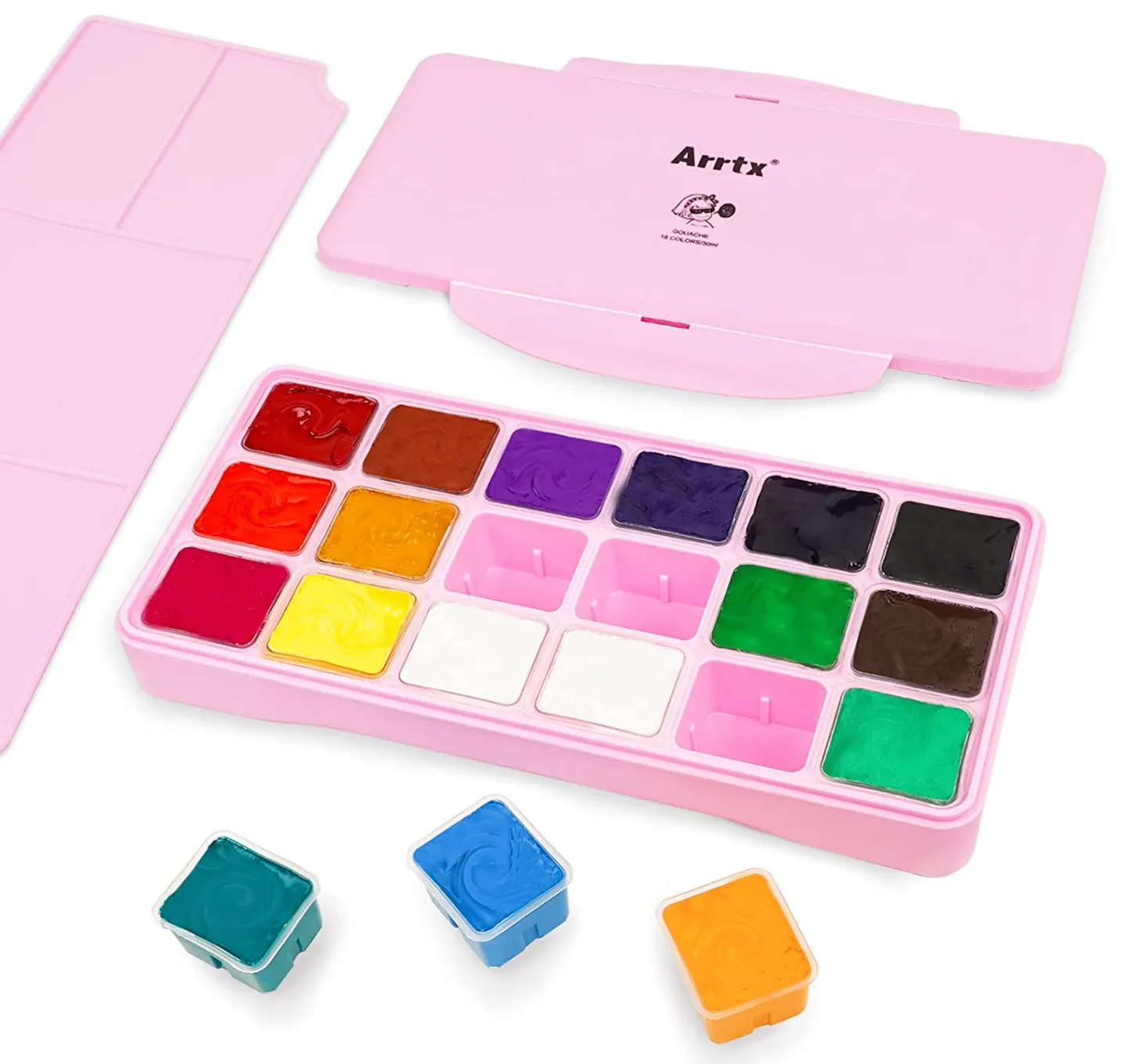 Arrtx Gouache Paint is an excellent alternative to Himi Miya's jelly gouache if you were looking for one. It's a bit less expensive for a bit fewer jelly cups but quite similar in quality and consistency.
Unfortunately, both Arrtx and Himi Miya don't quite make it to a true premium quality due to a bit of a streaky texture left behind.
However, they are good enough for your average student, and the aesthetic is pretty nice to boot.
So, if you're looking for a good jelly alternative because you look the look or feel, this is one to watch out for.
Magicfly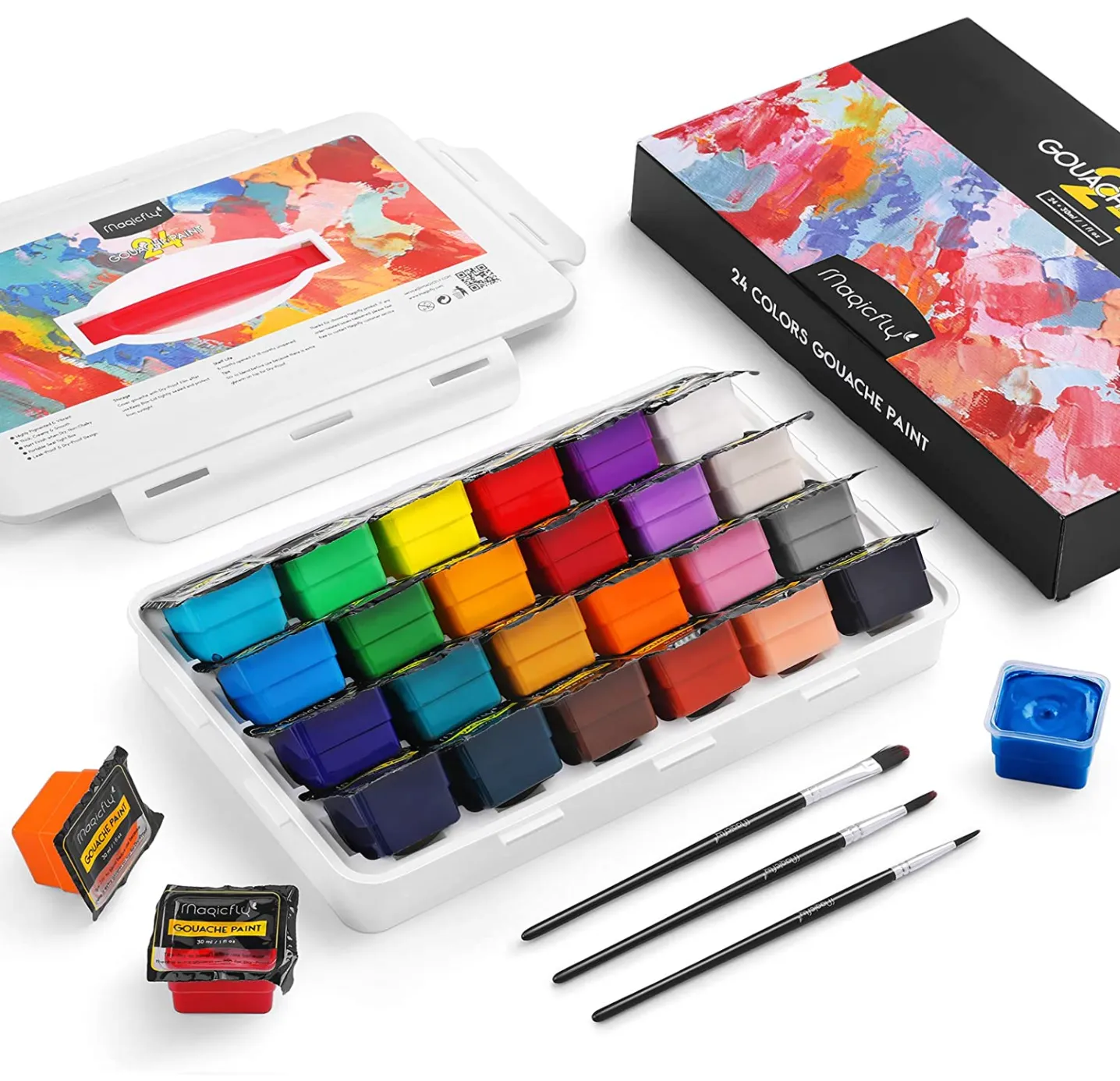 Magicfly has also made a jelly gouache, the Magicfly Gouache Paint Set, another solid alternative to Himi Miya.
For the price, you are getting a full 24 pack of bright, pigmented colors at a great deal.
Surprisingly, these are highly opaque, work well with rewetting, and are decently consistent.
However, as with other jelly gouaches, it gets a little chalky and inconsistent and doesn't reach the professional level.
U.S. Art Supply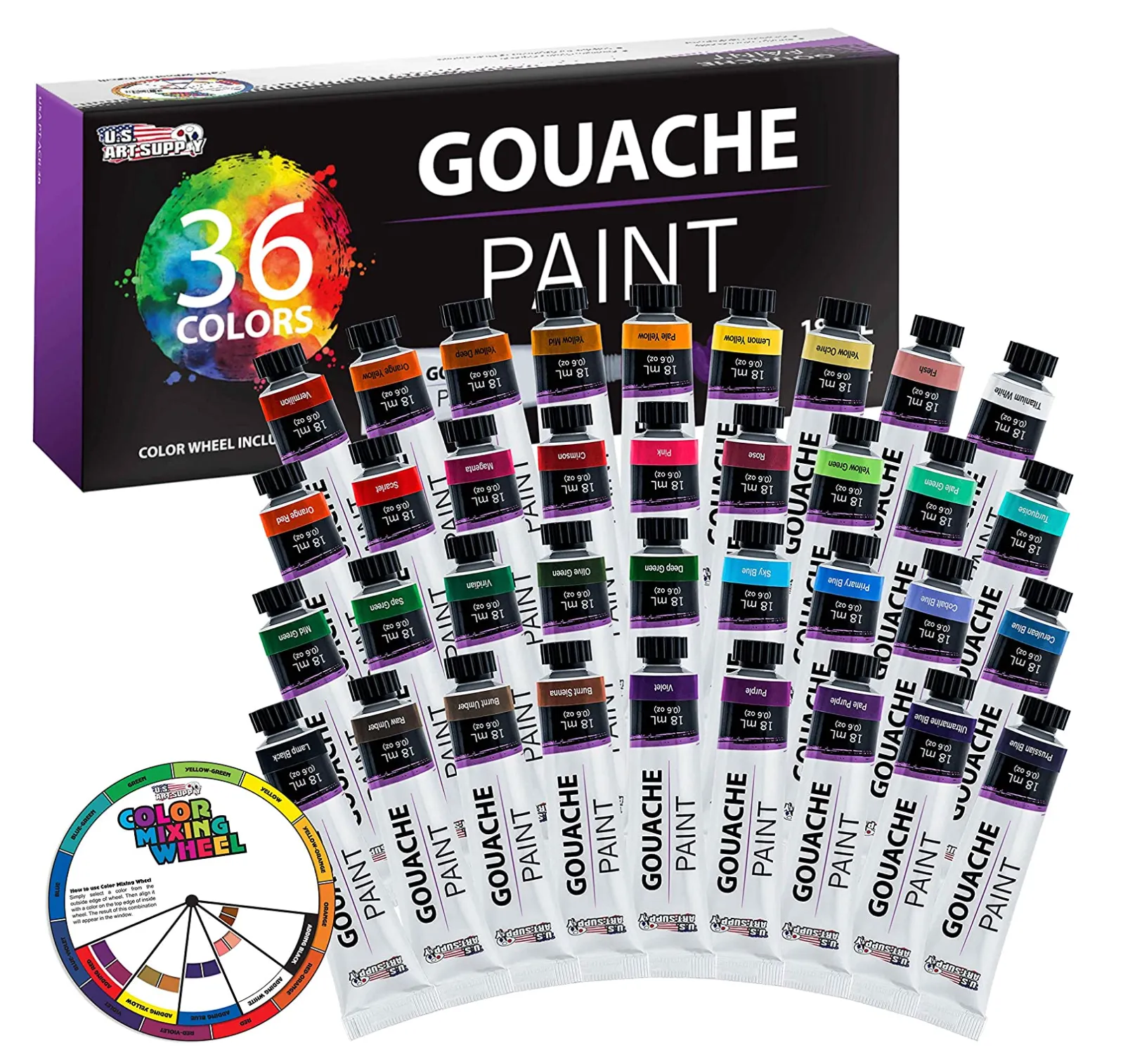 A straightforward supplier, the U.S. Art Supply Professional 36 Color Set of Gouache Paint is a large amount of paint for an affordable price.
It's got an OK consistency, but the opacity is where it lacks a little.
For the amount you're getting, it shouldn't be too surprising, but these aren't as opaque as a premium gouache should be.
Otherwise, this is a fine set for beginners looking to test out a broad set of colors quickly.
Marie's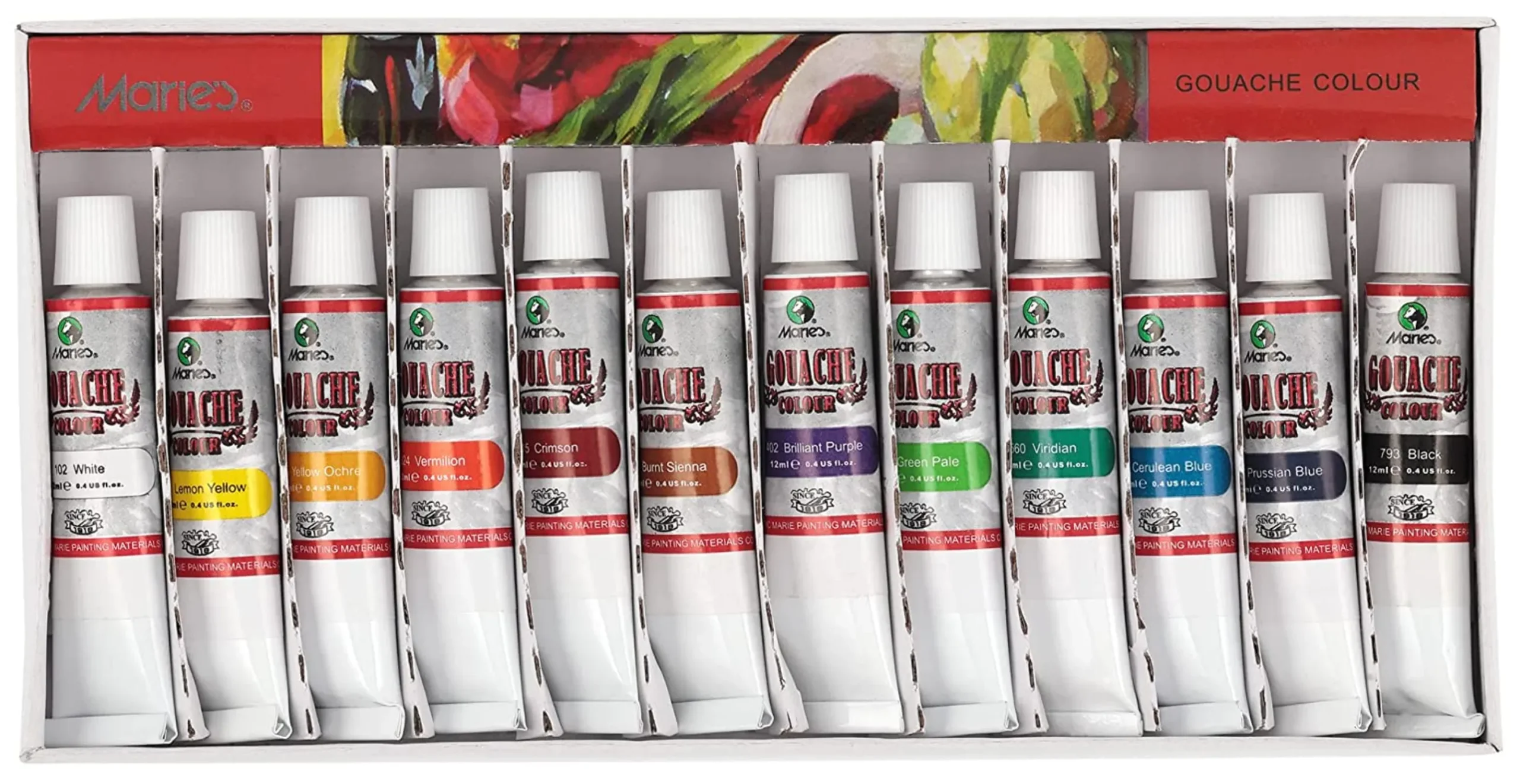 Finally, we round off our list with the fairly simple Marie's Artist Gouache Paint Set of 12.
These go on the page with a decent smoothness and opacity for a casual buyer.
However, they are missing consistency in their quality.
Some of the colors aren't as opaque as others, and some go on chalkier.
Overall, this makes them more challenging to work with than others on the list.
For the price, you're getting a decent set, but you could probably try for another one on the list for better overall quality.
What Brushes are Best for Gouache?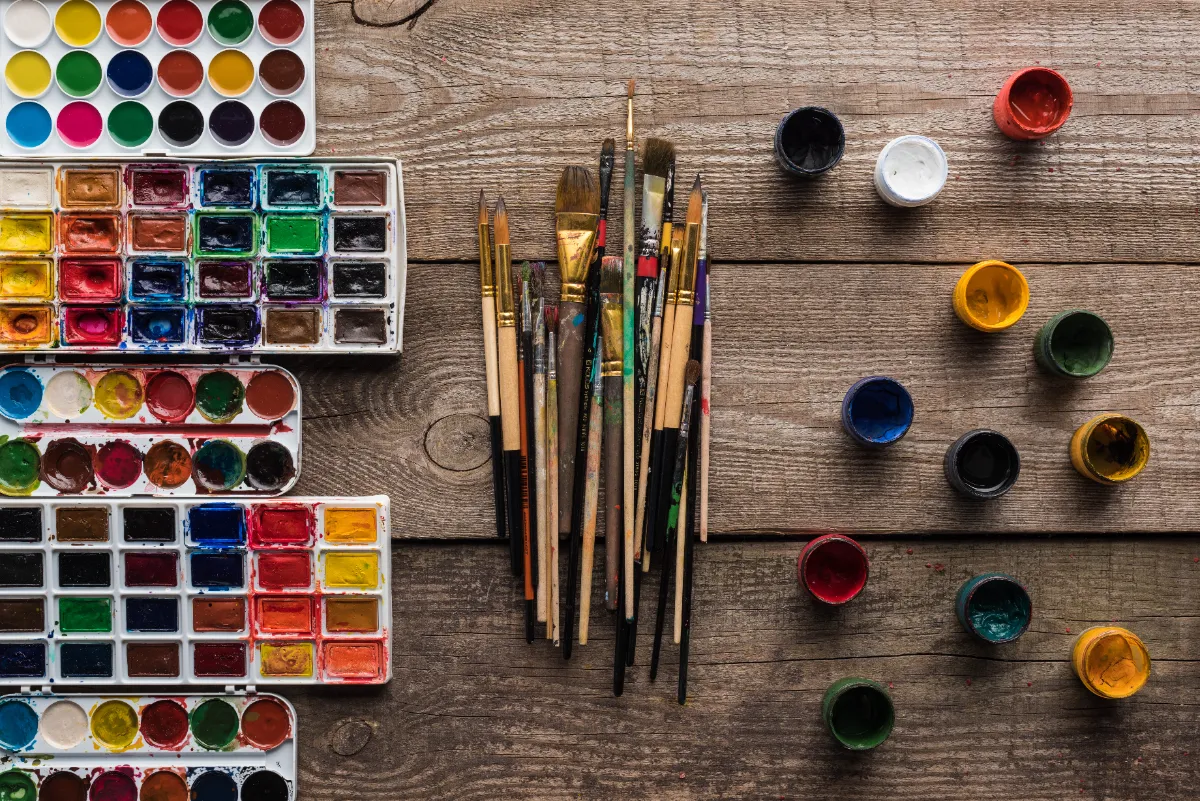 Synthetic brushes provide the best results for gouache in general.
Because synthetic brushes are soft and smooth, they work well with the opaque coverage of gouache.
Paintbrushes labeled for 'watercolor' are often a great option for this purpose.
Even if it is labeled for multiple uses, including watercolor, that works too.
Rarely are brushes labeled specifically for gouache, but presumably, those would also work.
First, for bristle quality, eliminate anything with a lot of stray or fanned-out bristles.
If you can test the brush, run your fingers over it and see if any bristles fall out.
If they do, this is another sign to steer clear.
Simply Simmons is a good budget brand for getting a solid starter brush set.
However, you can use Princeton Lauren if you are willing to go into a bit more expensive price range.
There are a lot of different brands that are fine to use as long as they fulfill the above requirements.
For the size and selection of brushes, a good starting point is one small round tip brush, one large round tip brush, and a broad brush for large areas.
This is just about the minimum you can get away with in gouache painting.
What paper is best for gouache paint?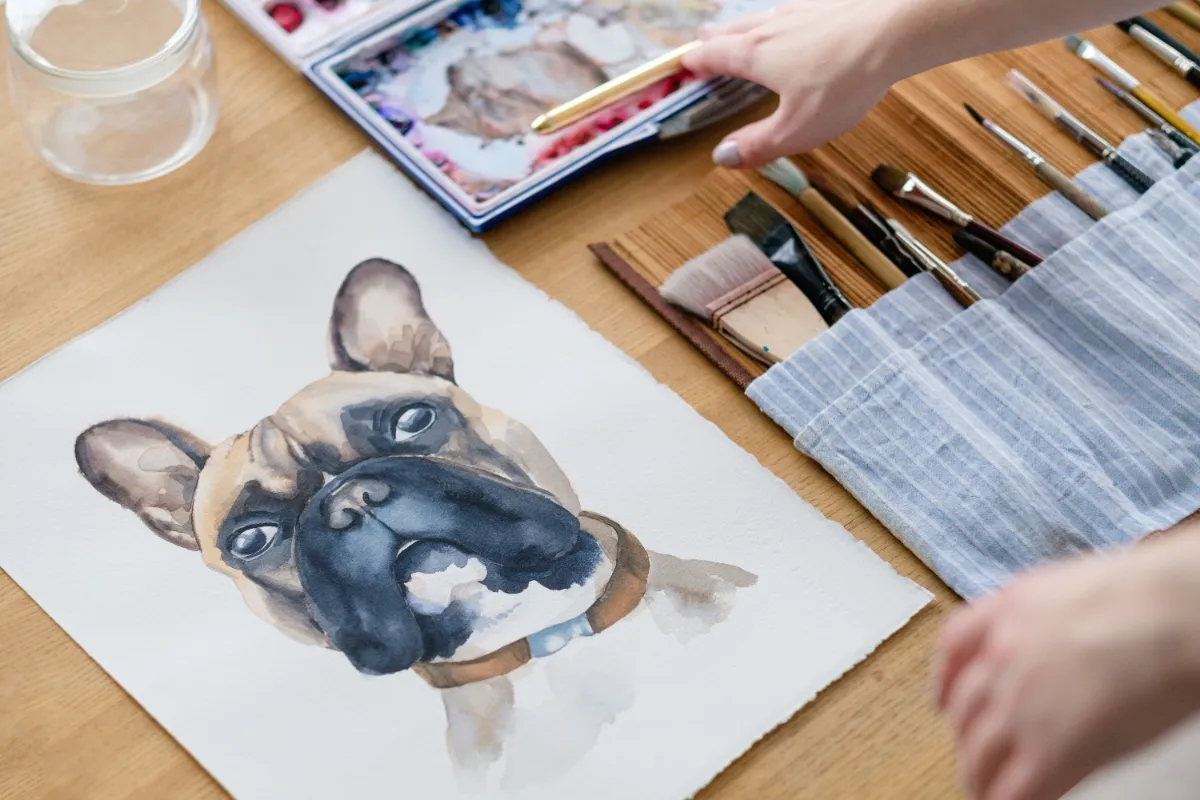 Gouache paint actually works on a wide variety of surfaces.
Most common are watercolor paper, illustration board, and thick drawing paper, but it's not well suited for canvas.
In order for the paint to be absorbed and the paper not to fall apart, you need a weight of at least 200 grams per square meter.
This is the standard for watercolor paper.
Canson or Arteza watercolor pads are excellent choices at 300 grams per square meter each.
In addition, the paper should be fine grain and smooth enough to hold the paint.
Satin finish papers are ideal for detailed works, whereas coarse paper is best for rougher effects.
There's no particular size that's perfect for gouache.
An 11" x 14" sketch pad is a good start, but there's no harm in going larger or smaller as your heart desires. If you plan on traveling with your gouache, smaller sizes tend to be easier to carry around.
Any paper you use should be of professional quality to ensure the paint will stick.
Conclusion
After reading this article, I hope you have a better idea of what the best gouache paints you can use.
The only tip is to have fun and show yourself while you are creating your new paintings and creations.