Getting the best gouache paint helps you design and create arts through their opacity and a higher level of picture quality. While watercolors have been dominating the market for some time now, gouache paints are taking them over. They offer vibrant colors, and the matte touch, in the end, is unmatched.
Choosing the right paints for your paintings can be a hard job, whether you are a beginner or an expert. You will often find yourself wondering whether this is the best gouache paint for me. We have done some research to save you time and your energy that can be best spent on creating the arts instead of looking up the supplies.
This post may contain affiliate links. I may receive a small commission when you purchase through my links at no cost to you. I only recommend products I use or really like.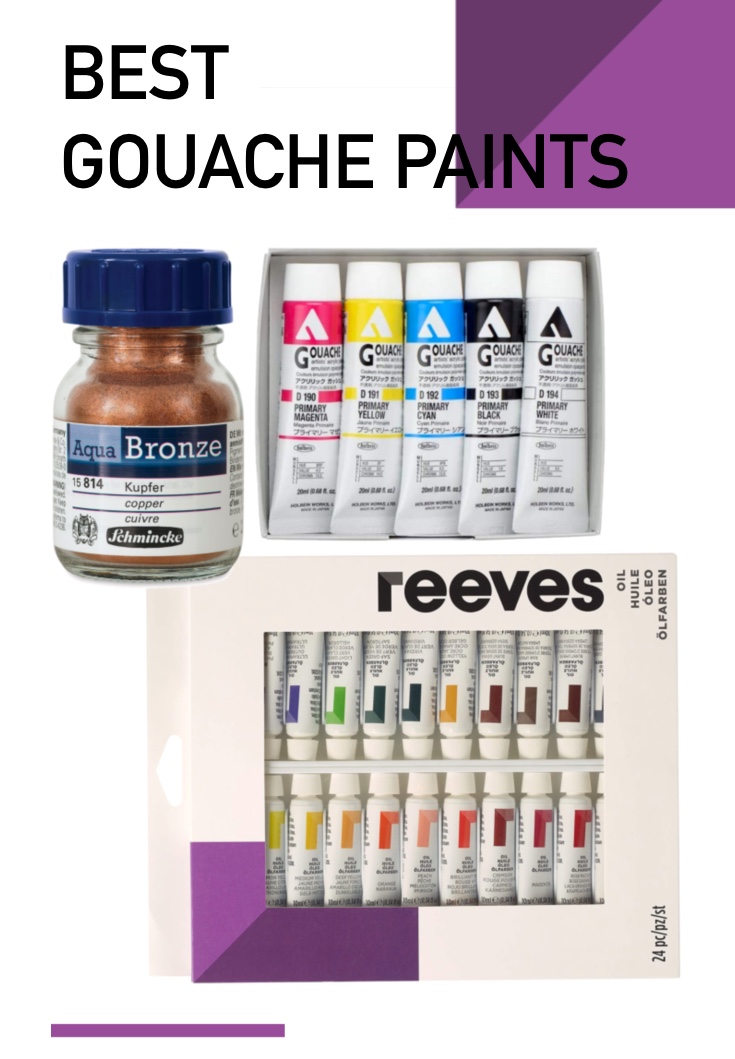 Before we get started with the list, here is what you need to understand about the gouache paints first:
Difference between acrylic and gouache paints:
Acrylic paints are more plastic-based, while gouache paints are used with water. Gouache paints are guaranteed to leave behind a matte look, while acrylic paints can give off a shinier or glossier look. There are also paints in the market called gouache acrylic paints. It allows the paint to be water-soluble but still be water-resistant once the paint has dried out. They also dry out more slowly as compared to the normal gouache paint.
Watercolors and gouache paints:
A lot of people confuse their watercolors and gouache paints as they are both water-soluble. The main difference is the opacity of gouache paints being dominant than of the watercolors. A lot of artists also use white gouache paints to cover up their mistakes in the watercolor paintings. They can just cover up the whole thing, and due to the high opacity, it will hide the mistake entirely.
Product Information of Different Gouache Paints
| | | |
| --- | --- | --- |
| Gouache Paint | Product Dimension | Product Weight |
| Reeves Gouache Color Tube Set (18-Pack) | 0.87″ x 7.37″ x 8″ | 2.24 oz. |
| M. Graham 1/2-Ounce Tube 5 Color Gouache Paint Primary Set | 3.12″ x 0.75″ x 4.12″ | 2.4 oz. |
| Royal Talens Gouache | 7.24″ x 4.24″ x 0.99″ | 12.2 oz. |
| Holbein Acryla Gouache Mixing Set of 5 | 3.91″ x 4.69″ x 0.91″ | 6.4 oz. |
| MIYA Gouache Paint Set | 12.4″ x 9.96″ x 2.99″ | 2.72 lbs. |
| Caran d'Ache Gouache Studio 15 Assorted Colors Set | 5″ x 1″ x 1″ | 1.03 lbs. |
| Schmincke Aqua Bronze Powder | 1.42″ x 1.42″ x 2.36″ | 2.88 oz. |
Best Gouache paints for experts:
The following list of the paints is the best for the experts who are already creating masterpieces. You can be switching to the gouache style painting or just trying something new. Whatever it is, these paints can help you out.
If you have been in the arts for a fair amount of time, you know the size of the tubes matter a lot once you start painting. It is important to have enough color in the tubes, but it is also important to have the tubes that will fit in your hands. Getting tubes too big can make it hard for you to handle the paint, and using it directly on the paper or canvas can start giving you pain in your arms and hands.
It is best for all the experts as they can easily access it at a low price and helps them easily mix colors and create their colors. With the cheap prices in the market, you won't have to pay a lot and can purchase multiple tubes and get creative.
Every expert artist knows it is important to get creative with the colors. Sticking with the same colors never turns out good, and the more the colors in a painting, the better chances at it turning out good. With the 18 different colors in this pack, you can easily start making your own.
The tubes in this set are small, but they last long as the paint is concentrated. Along with that, the packaging has been made specifically to prevent any kind of leakage or to prevent wastage. You can paint a whole canvas with just one pack of these colors, and there might still be some paint left.
Easy to use and no extra spill makes them even more special.
This set contains only 5 colors and leaves the rest of the colors up to your imagination and creativity. The versatility of these colors is great, and it is hand down the best color for all the beginners and the experts.
It is more suited for the experts as they know the color they are trying to achieve and can create exactly that. It is preferred that all beginners get the colors that are already made up, and they don't have to get very creative with them.
This paint set dries up with a lot more opacity, vibrance, and uniformity. When you are painting, there are times you cannot control your brushes and start spilling a little more color at places. The paint dries up perfectly to cover up such small flaws and lets your painting look flawless.
The best feature of this paint is the better moist surface and non-cracking surface. One of the main problems with the gouache paints is that it starts cracking up once it has been sitting out for long. It starts reacting with the air, and the end product is a cracking surface.
If you are tired of looking at your masterpieces and wishing the paint had dried up better and a little smoother, then these are the paints for you. You don't have to worry about the surface getting completely moist and shiny as it will still give out a matte look.
The added honey makes it moister and prevents it from drying up completely in the tubes. A must-have for all the professionals who want to continue their career with gouache paints.
Best brands of gouache paint
I have discussed two of the best gouache paints for experts. Let us now look at the best brands that produce gouache paints. These brands are especially known for their gouache products in the market.
While some artists start making big bucks from their art career, there are still many artists hustling. While they are trying to create masterpieces and improve their careers, they shouldn't have to pay a lot of money to just create the pieces. It is not just unfair but unreasonable.
If they are not compromising on the prices of the products, they are forced to compromise on the products' quality. Every artist puts sweat and tears into every piece that they create, and after all the hard work, they deserve an outcome from the art they originally wanted.
Bad quality paints being sold at cheap rates can ruin the quality of the art and can ruin even a masterpiece. In a box of 20 colors, if just one of them was of bad quality and you used it on your painting, it would ruin the whole painting.
This is why Royal Talens Gouache makes sure that you don't have to pay a lot of money for just the gouache paints, and neither do you ever have to compromise on the quality of the product. To avoid the cracking look at the end of the painting, many companies use gum Arabic which makes their products pricy.
In Royal Talens Gouache, the paints are made using dextrin to reduce the costs and still maintain the quality. This is the best product for all the people who want to make money without spending much. These paints can be purchased individually so you can replace any or in a set of 8 so you have the whole pack.
When it comes to purchasing paints, you want something that is used and appreciated by all the other artists as well. If you are open to spending some money on pricey paint to achieve the goal and would like to follow professionals' footsteps, this is the brand for you then.
Holbein is best known for its best gouache paints, and gouache paints are best known by Holbein. The company produces high-quality paints that are ideal for work by professionals. It is the masters' choice, and if you wish to follow them completely, you can grab them now.
Best gouache paint for beginners:
Best gouache paints for beginners are different than the ones for professionals. While the professionals are using them for career purposes, the beginners are just getting the hang of the products.
This does not mean that they should completely neglect the quality of the product. A lot of students make this mistake of neglecting the quality of products when they are students. It makes a great change in their painting style once they start working with high-quality paintings, and they have to go through a student phase all over again.
Here are some of the paints fit for all the students:
This is the paint kit that you are looking for if you want to learn in style. While the paints are not as good as the expert level, but they are still better than the average paints that are imposed on all the students. This paint kit will help you understand the colors better, and you will be able to work on them better than ever.
The paints are stored in different cups, which are then stored in a large box. The packaging has been designed to make the paints last a long time without drying up, spilling, or leaking in any way. The cups give you the reassurance that your paint won't dry up, and the box helps you move them easily without thinking about spilling them.
A student painter does not need to use the paints every day, and there might be a difference of days from when they last touched the paints. It is thus critical to store the paints in a manner to preserve them to last a long time.
This box is exactly what every beginner wants.
Carand'Ache Gouache Set:
This set has been designed for all beginners trying out new things on their palettes every time they get creative. With five different mixing areas in the set, you can easily mix up the colors and keep reusing them instead of having to wash up over and over.
The paint is creamier compared to other paints and lasts longer on the palette, and can be reactivated easily using a little amount of water. For all the students who are still getting the hang of using such paints, this is the ideal so they can focus on being creative instead of just making the paints usable again and again.
Best gouache paint for canvas:
Gouache paints work on the canvas in a similar way to the normal watercolors, but they are heavier and more opaque. Here are some of the best gouache paint for canvas:
While most of the gouache paints are focused on just making your painting look more matte, this gouache paint makes it look glossier. Compared to all the other metallic based gouache paints, this one is better as it is brilliant according to the colors, and you can define the gloss you want in this by adding the amount of water you want in it.
These paints are the best for the surfaces which do not soak up water from the paints like canvas. It has been made from bronze and aluminum pigments, making it shiny and worth your canvas.
Whether a professional or a beginner, if you are an artist, then you need these best gouache paints to bring life to your paintings. It helps you create art and bring it to life, and it comes in a range of different colors. You can reuse it when it dries up before you could use it on the canvas, and it is opaque enough to hide anything behind. This is the main reason why they work so well on the canvas and give out the perfect output.
Conclusion
After reading this article, you are well aware of what you want when you buy the gouache paints and have examples of what you should be looking for. The only tip is to have fun and show yourself while you are creating your new paintings and creations.
Other Featured Topics to Help You with Painting