Are you tired of scrolling through job postings, hoping to find something that aligns with your creativity and passions?
If so, then it's time to consider opening an Etsy shop—turning your hobbies into a profitable business.
Etsy, the online marketplace for handmade, vintage, and unique goods, has been a thriving platform for artists, crafters, and collectors for over a decade.
In this post, we'll explore the best items to sell on Etsy and provide tips to help you get started on your entrepreneurial journey.
Handmade Items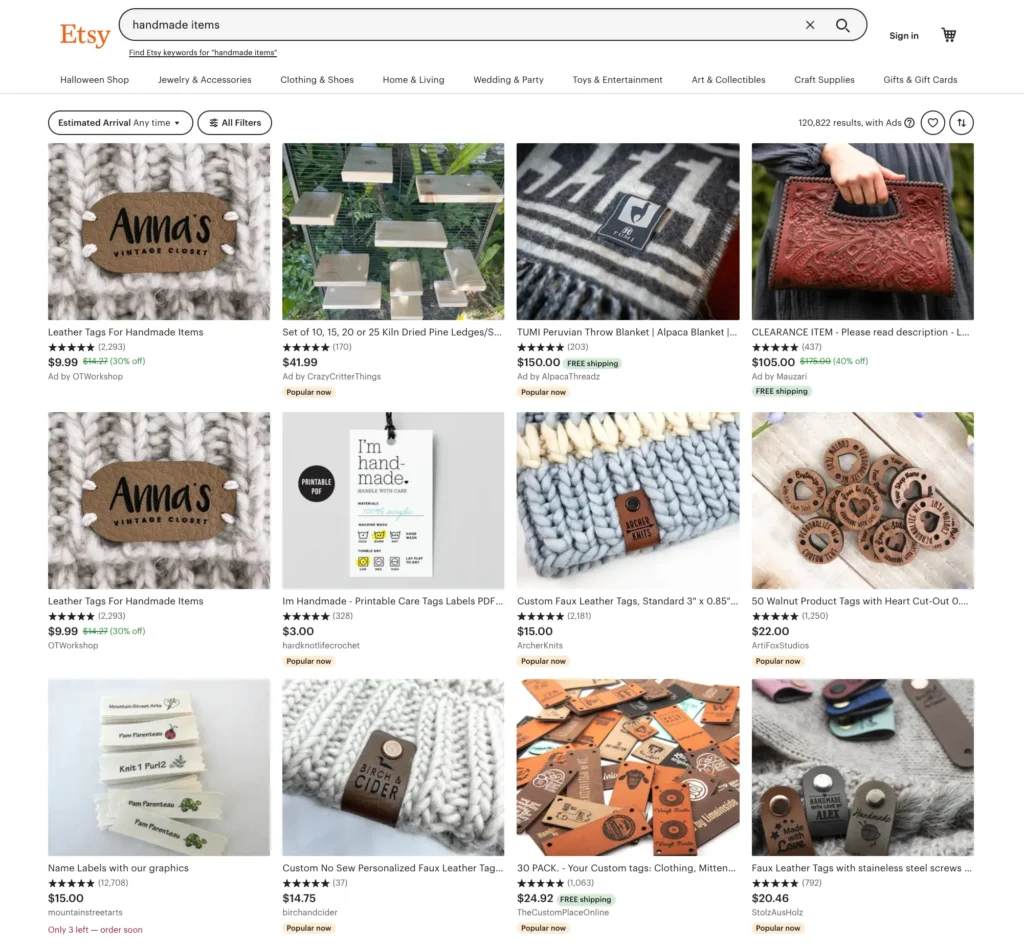 Let's start with the cornerstone of Etsy: handmade goods. From jewelry to home decor, the demand for unique, handcrafted items is always high. Here are a few popular handmade categories to consider:
Jewelry: From dainty earrings to statement necklaces, jewelry is a staple on Etsy. You can craft pieces with your favorite materials (beads, wire, and leather) and offer custom designs to make your shop stand out.
Home Decor: Whether it's a macrame wall hanging or a hand-painted vase, home decor items always sell well on Etsy. Get creative with your designs and materials, and don't be afraid to experiment with new trends and styles.
Clothing and Accessories: From cozy scarves to trendy tote bags, clothing and accessories are another hot category on Etsy. You can make use of upcycled fabrics or create custom pieces using your favorite prints and patterns.
Art and Printables: Art lovers rejoice! Etsy is the perfect platform for selling your digital or physical artwork. You can offer original paintings, digital prints, or even printable art that customers can print at home.
Vintage Items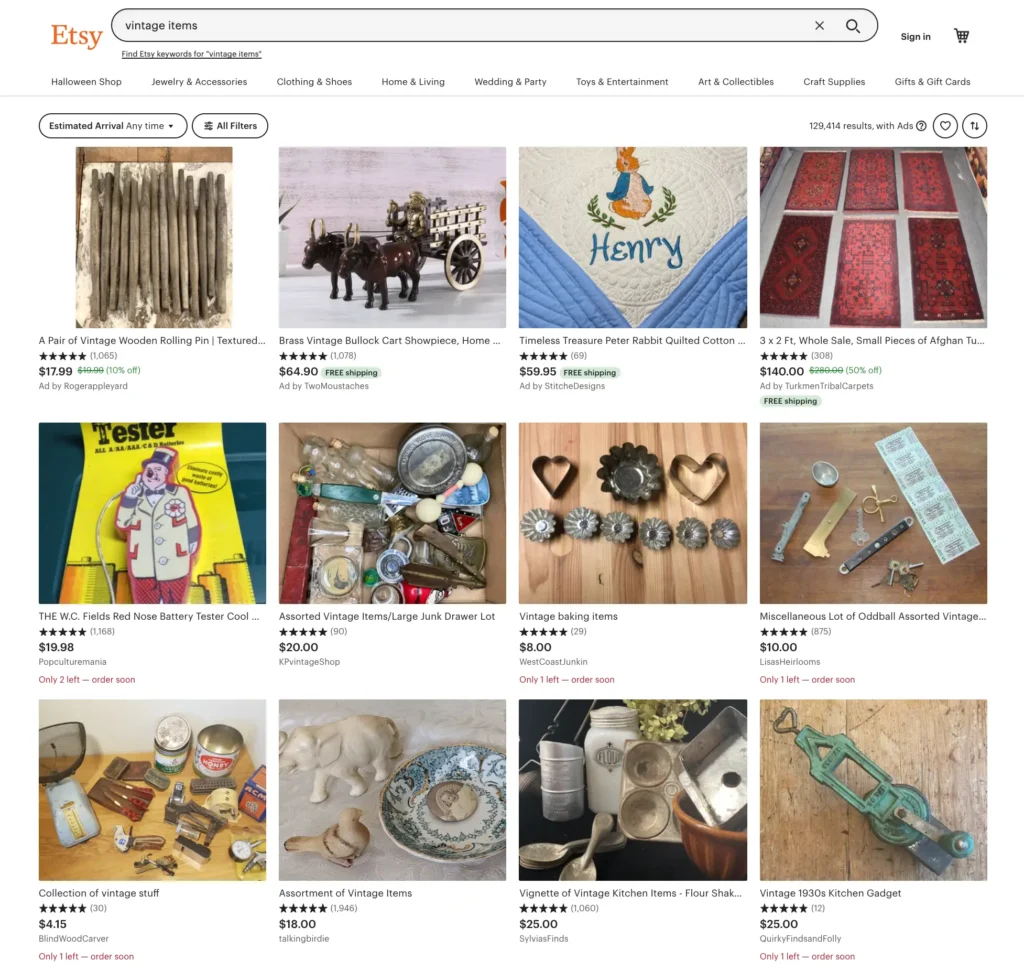 If you have a keen eye for vintage finds, then you'll love the vintage category on Etsy. From clothing to furniture—vintage items are always in demand. Here are a few popular vintage categories to consider:
Clothing: From mid-century dresses to 80s band t-shirts, vintage clothing is a huge seller on Etsy. Keep an eye out for unique and hard-to-find pieces that can set your shop apart.
Furniture: Vintage furniture, such as mid-century modern chairs and 1920s side tables, is a popular choice on Etsy. You can source pieces from thrift stores, garage sales, or estate sales and give them a fresh new look with a coat of paint.
Collectibles: From vintage toys to antique postcards, collectibles are a hit on Etsy. You can specialize in a particular type of collectible, such as vintage cookie cutters or antique glassware, to make your shop stand out.
Kitchenware: From vintage Pyrex bowls to retro toasters, kitchenware is a popular category on Etsy. You can find unique pieces at thrift stores and flea markets, or source vintage-inspired pieces from wholesalers.
Craft Supplies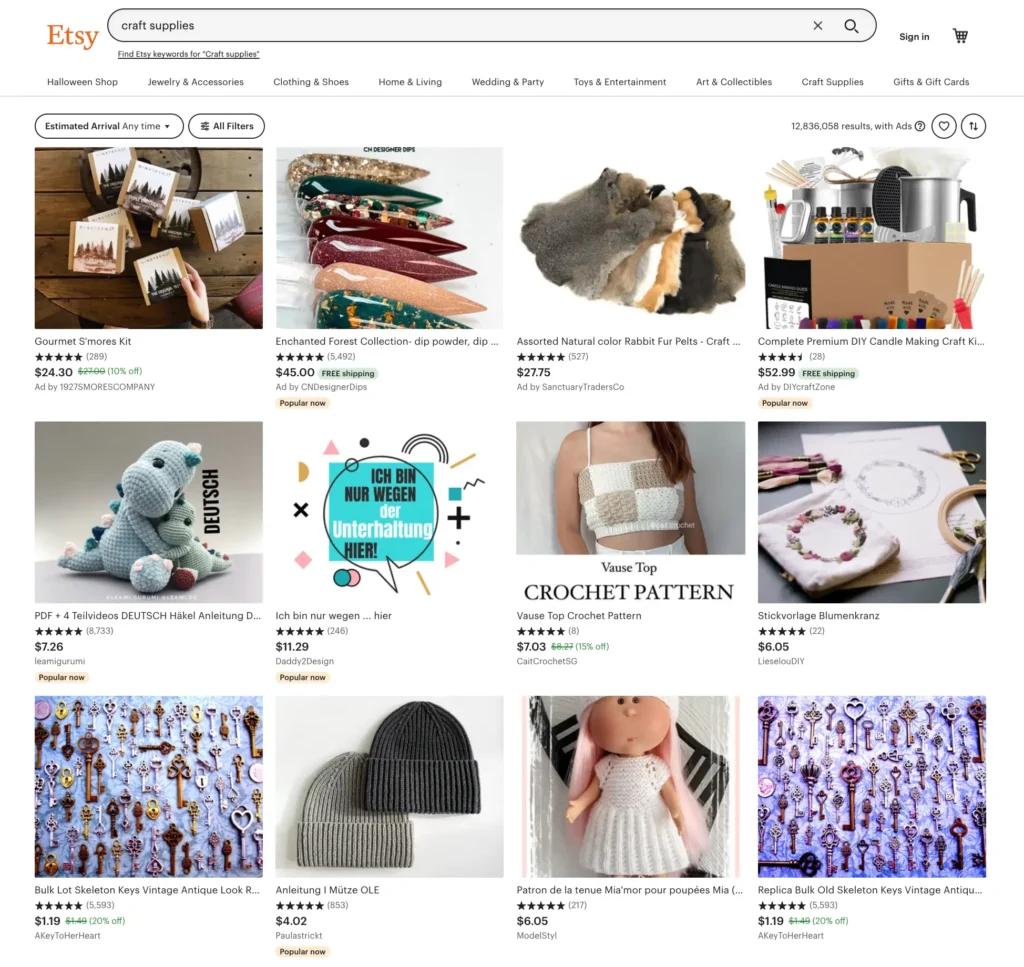 If you're a crafter at heart, then you'll love selling craft supplies on Etsy. From yarn to fabric, there's always a demand for high-quality materials to help creatives bring their projects to life.
Here are a few popular craft supply categories to consider:
Yarn: From chunky wool to delicate lace, yarn is a staple on Etsy. You can offer a range of colors, fibers, and textures to suit a variety of projects.
Fabric: From quilting cotton to faux fur, fabric is a popular choice on Etsy. You can offer pre-cut pieces or yardage, or even make your own unique designs using print-on-demand services.
Beads: From glass to wood, beads are a must-have for jewelry makers. You can offer a range of sizes, shapes, and colors—even create your own unique blends to offer to your customers.
Stamps and Ink: For scrapbookers, card makers, and other paper crafters, stamps and ink are essential tools. You can offer a variety of stamps in different sizes and themes, as well as a range of inks in different colors and formulas.
Custom Products
When it comes to Etsy, custom products are all the rage. People just can't resist adding that personal touch to their purchases, whether it's for their big day as newlyweds or for a special someone. So, if you're ready to tap into this market—here are some of the hottest custom product categories to consider:
Wedding Decor: From custom wedding favors to hand-painted signs (wedding decor is a big seller on Etsy). You can offer custom designs to match the couple's style and color scheme.
Personalized Gifts: From monogrammed mugs to custom family trees—personalized gifts are always in demand on Etsy. You can offer a range of items that can be customized with names, dates, or special messages.
Monogrammed Items: From monogrammed totes to monogrammed phone cases, monogrammed items are always popular on Etsy. You can offer a range of items in different sizes and materials, and even offer custom fonts and thread colors.
Custom Clothing and Accessories: From custom-fit jeans to personalized hats, custom clothing and accessories are another hit on Etsy. You can offer a range of items in different sizes and materials—even offer made-to-measure services to ensure a perfect fit.
Tips for Selling on Etsy
Now that you have an idea of what items to sell on Etsy—here are a few tips to help you get started:
Pricing: It's important to price your items competitively, but also to make sure you're making a profit. Research similar items in your shop and make sure you're pricing your items appropriately.
Shop Visibility: Make sure your shop is easy to find by using keywords in your shop title and tags, and by creating attractive and informative listings.
Product Photography: Your product photos are what will entice customers to click on your listing and make a purchase, so make sure they're high-quality and showcase your items in the best light.
Customer Service and Communication: Providing excellent customer service and communication is key to building a successful Etsy shop. Respond to customer questions and concerns promptly, and follow up with customers after their purchase to ensure their satisfaction.
For more tips, here are 30 Tips On How To Sell on Etsy and Skyrocket Your Artwork Sales
Conclusion
Etsy is the perfect platform to turn your passions into a profitable business, and the possibilities are endless.
From handcrafted delights, vintage finds, and custom creations—there's something for everyone on this amazing platform.
Just remember, pricing your items fairly, making your shop easy to find, showcasing your products with eye-catching photography, and providing top-notch customer service will go a long way in building a successful Etsy shop.
So, what are you waiting for?
Get those creative juices flowing, start your shop today, and show the world what you've got! With hard work and determination, your Etsy shop will be the talk of the town in no time!
Best Items to Sell on Etsy FAQ
What are some unique items that are selling well on Etsy?
On Etsy, you'll find that many shoppers are on the hunt for one-of-a-kind finds, so items that are unique and not widely available elsewhere tend to do well.
So, think about what you can offer that's special, quirky, or handcrafted.
How can I make my items stand out and be more attractive to buyers on Etsy?
To make your items stand out on Etsy, you want to show them off in the best possible light.
Consider using high-quality photos and taking the time to write detailed and catchy product descriptions.
Additionally, you may also want to consider offering sales, promotions, and discounts—these will entice shoppers to buy.
What are some common mistakes to avoid when selling items on Etsy?
One common mistake when selling items on Etsy is having poor product photos. Make sure your photos are high-quality (well-lit) and show your items from different angles.
Another mistake is not having a clear and concise product description. Be sure to include all relevant information, such as materials used and item dimensions.
Lastly, don't overlook the importance of customer service! Respond promptly to questions and concerns, and ship items in a timely manner to keep your customers happy.