Are you curious to know what you should sell on Etsy? You've come to the right spot.
I'm going to share with you the best items to sell on Etsy right now.
In this post you'll learn:
Easy ideas you can use for your shop
Best items to sell as of now
Best sellers on Etsy
What's trending on Etsy
How to have a successful Etsy store today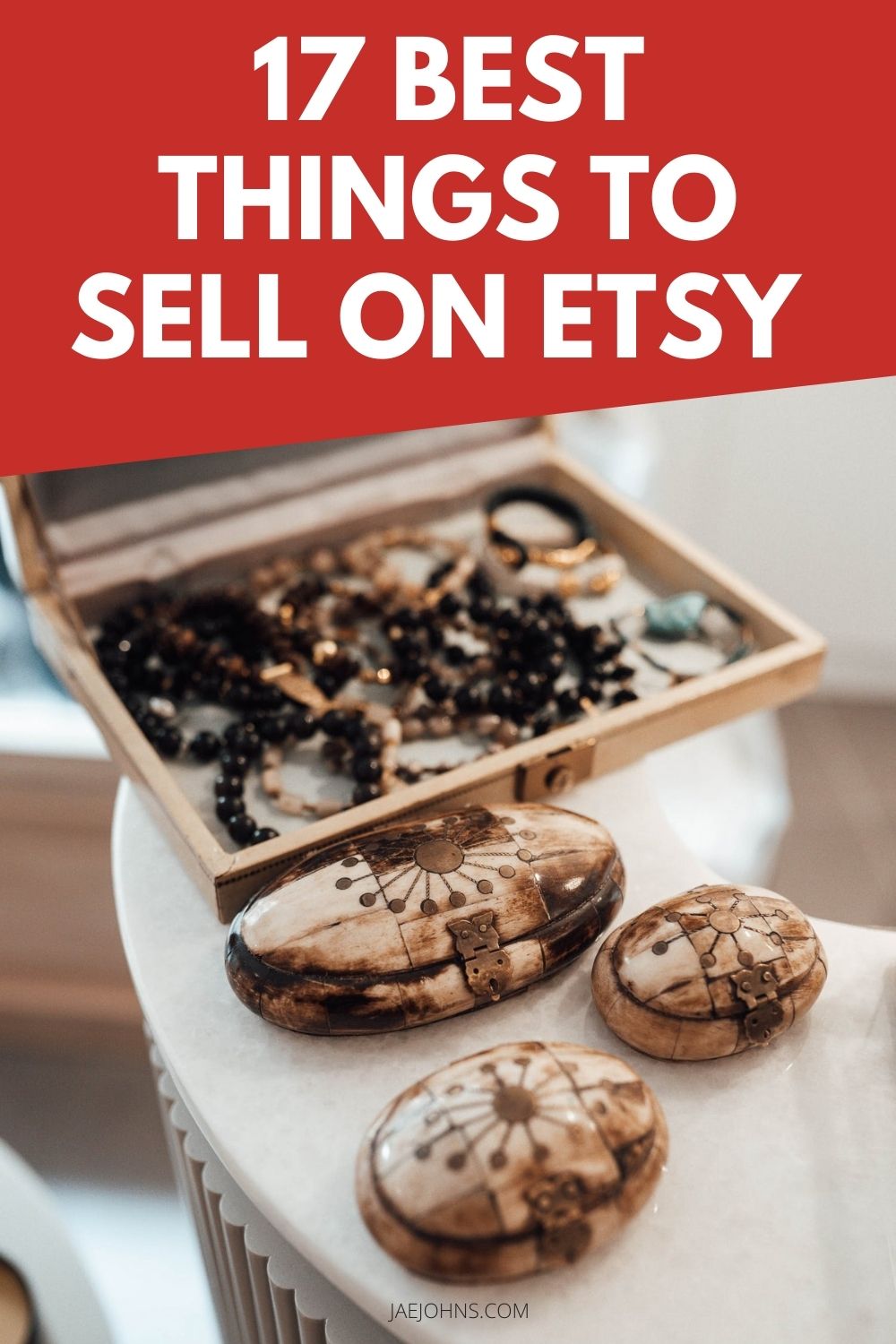 Easy Etsy Shop Ideas
You may be thinking of what you can sell on Etsy to make some money as quickly as possible.
If that's what is going on in your mind at this moment, then you are on the right track.
The online platform is one of the easiest ways for talented people to make money with their creativity very fast.
There are several amazing items you can sell on Etsy and make cool cash.
For easy Etsy shop ideas, you may consider selling items like T-shirts, jewelry, bags, pet supplies, crafted works, and home decor.
Now, let's move on to look at some of the best items that you can sell on Etsy to make money in 2021 in a much broader sense.
Best Items to Sell on Etsy
Printables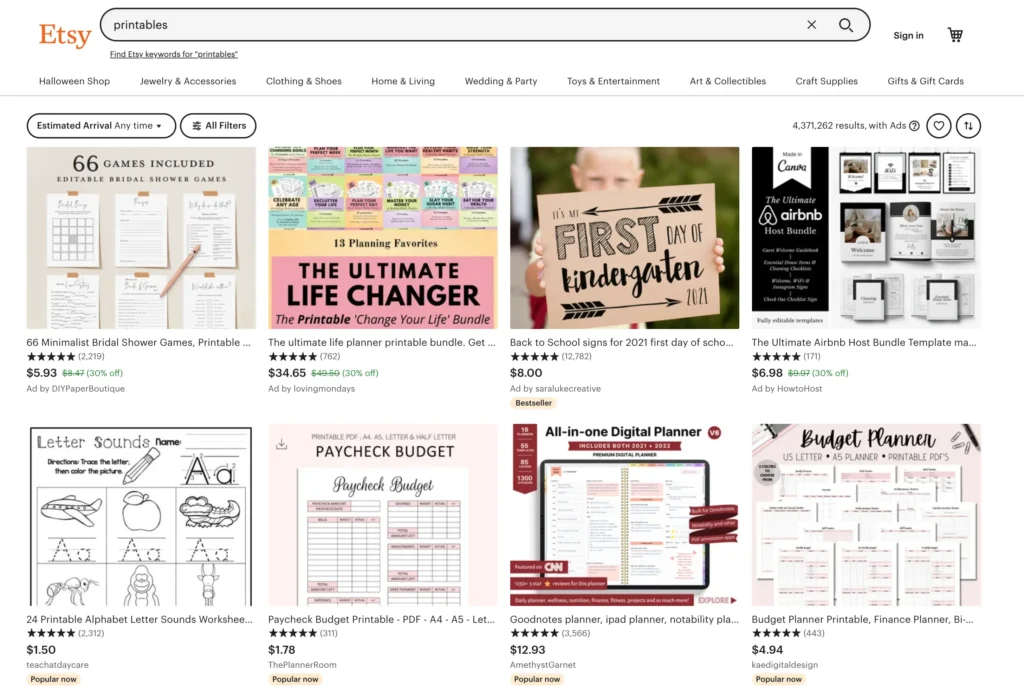 Printables are among the products you can easily create and sell on Etsy.
These are downloadable digital products that help people to solve some of their day-to-day problems.
Buyers can easily pay for them, download them, print them out, and use them for whatever intended purpose.
One of the most challenging factors that online sellers face is going through the trouble of shipping purchased items to customers after payment.
But, with printables, you don't have to worry about shipping.
Printables also offer you an exceptional opportunity to earn a residual income.
All you need is to create the product once, upload it, sit back, relax, and watch as you earn forever from this single effort.
To many Etsy shop owners, printables are among their favorite Etsy items.
Ideally, this product category is among the best things to sell in an online business to make money easily.
The products that you can create in this category include:
Budgeting templates which individuals or families can use to plan their budgets
Fitness goal trackers that can help gym enthusiasts or individuals trying to lose weight
Meal planners that customers can stick on their fridge
Cooking templates
Social media content planners
Planners are among the hottest selling digital products right now.
If you already have the skills, then dive in and start creating amazing printable items.
If you think you lack the skills, you can do a little research and find out how you can acquire some skills required to create these products.
Go online and learn how to create these items on design platforms such as Canva.
Most people are willing to spend their money on things that help them keep their business, work, events, and time organized.
Read Also
T-Shirts and Other Clothing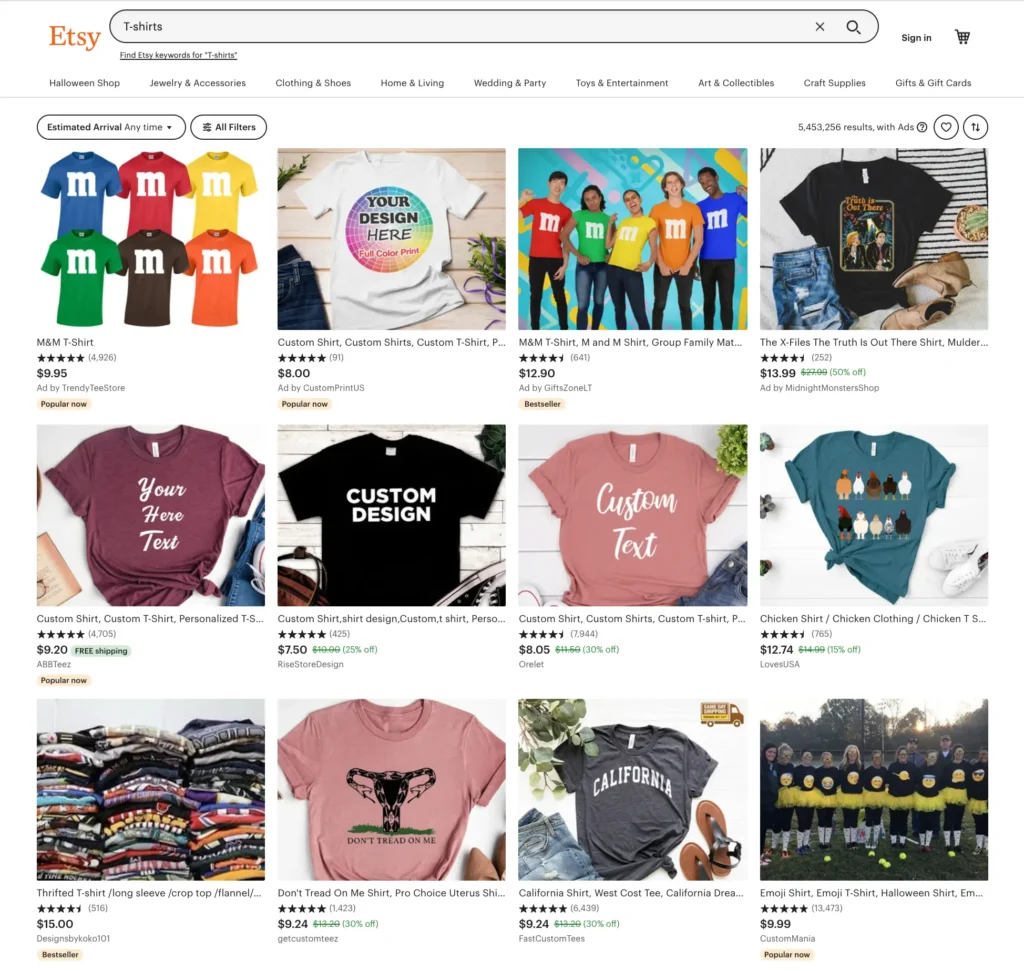 T-Shirts and other clothing items provide new sellers great opportunities on Etsy.
It is easy to get started in this category.
You can begin by connecting with a dropshipping company such as Printify.
Ally with them to make t-shirts and other clothing items.
Then, you can sell directly to customers using the Etsy marketplace.
Customized t-shirts and articles of clothing printed with designs are among the best-selling items on Etsy.
You can start by logging into the Etsy platform to do a little research.
You will get some ideas you can use to sell personalized clothing.
Customized shirts for newborn babies, personalized clothing for engagement photo shoots, parties, or family holiday outings are among the products you can put up for sale.
Simply click on the t-shirt section or whatever section you like and browse through to find out what's trending on Etsy.
That way, you'd get some ideas with which you can discuss with the dropshipping company you intend to ally with.
Also, you can take a step further within the clothing category.
Handmade clothes are among the most wanted handmade goods selling on this e-commerce platform.
You do not have to be an expert designer to achieve good results with this. All you need is some form of creativity and great effort. Etsy offers a booming market for handmade clothes as well.
Personalized Cards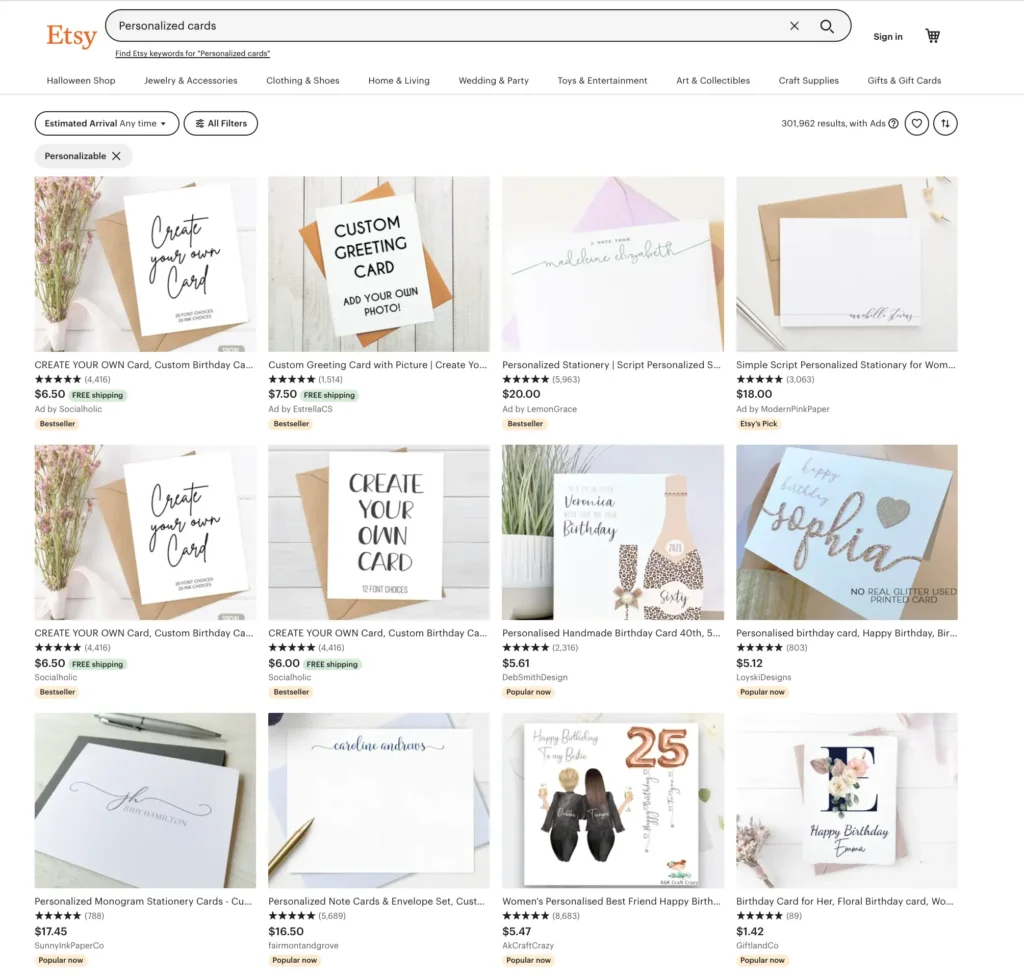 It can be a tough task standing in a corner store looking through the shelves just to get the ideal card for someone you care about or for that special occasion.
Yes, if you search for a long time, you may come up with an item that is good but you will never get something great.
That's because cards sold at the stores are not personalized.
Rather, they contain vague messages.
With Etsy, customers can have their personalized cards created.
A potential customer can go on the platform and take out a design.
All they need is to enter the necessary personal information on the card.
When it is all done, they will receive this item as a digital download.
The ease and convenience of these processes make personalized cards to be in high demand. This is one of the best sellers on Etsy.
Greeting cards that can be customized in this form include birthday cards, announcement cards, holiday cards, and a lot more.
Stickers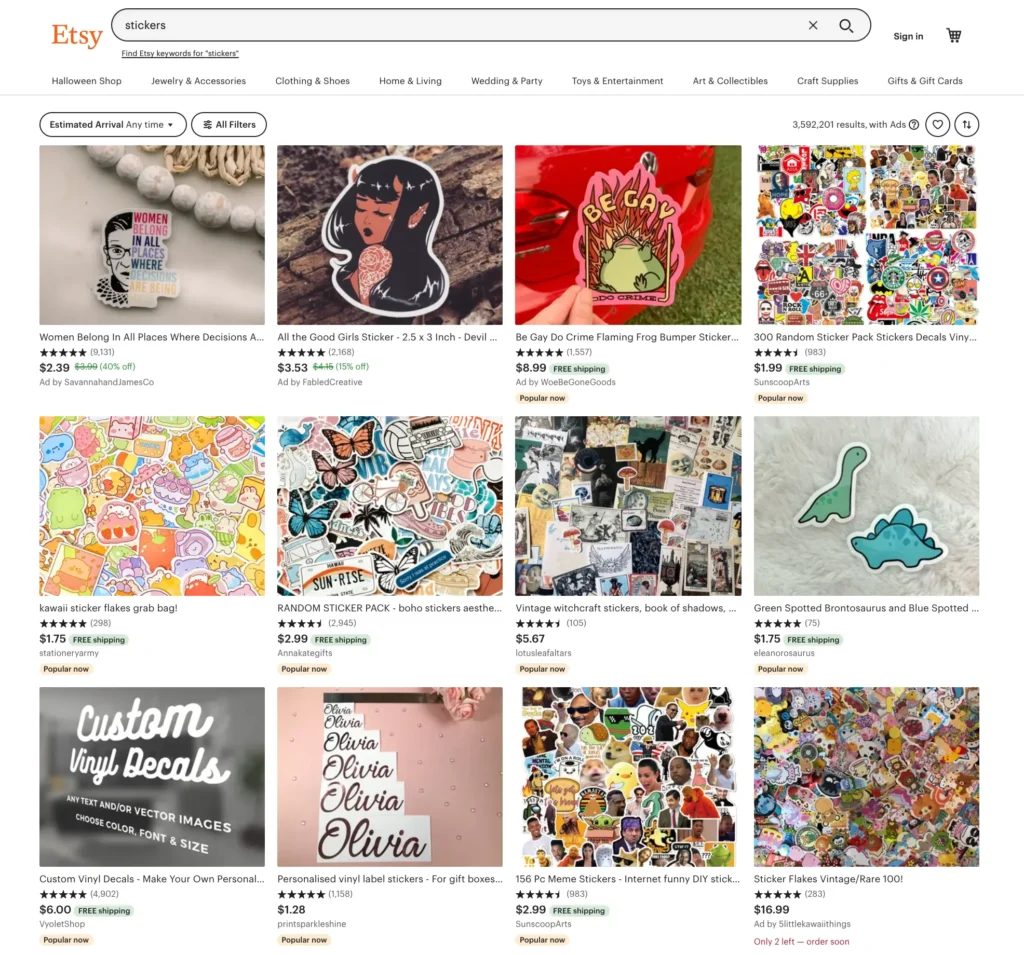 Stickers are not just among the best items that you can sell, they are among the hottest selling items on Etsy.
Beyond the attention this product pulls from customs, it brings creativity to display.
So, if you are looking to sell something creative online, you might as well consider this option.
Stickers are not too expensive to create. Also, shipping is not a problem.
This is an ideal kind of starter pack for new sellers. All you need to do is to create the design, and then contact a print-on-demand company to partner with them.
The print-on-demand company will do both the printing and the shipping.
You will be left with little or no hassles to worry about.
The best part is that you get to create the design once and these products can be sold in large quantities.
These days, most people love creating a personal identity around them.
This is expressed in the items they use.
Stickers provide buyers the opportunity to customize their life in so many ways.
So, the customer can order stickers in the form of a phone case or for the bumper.
Craft supplies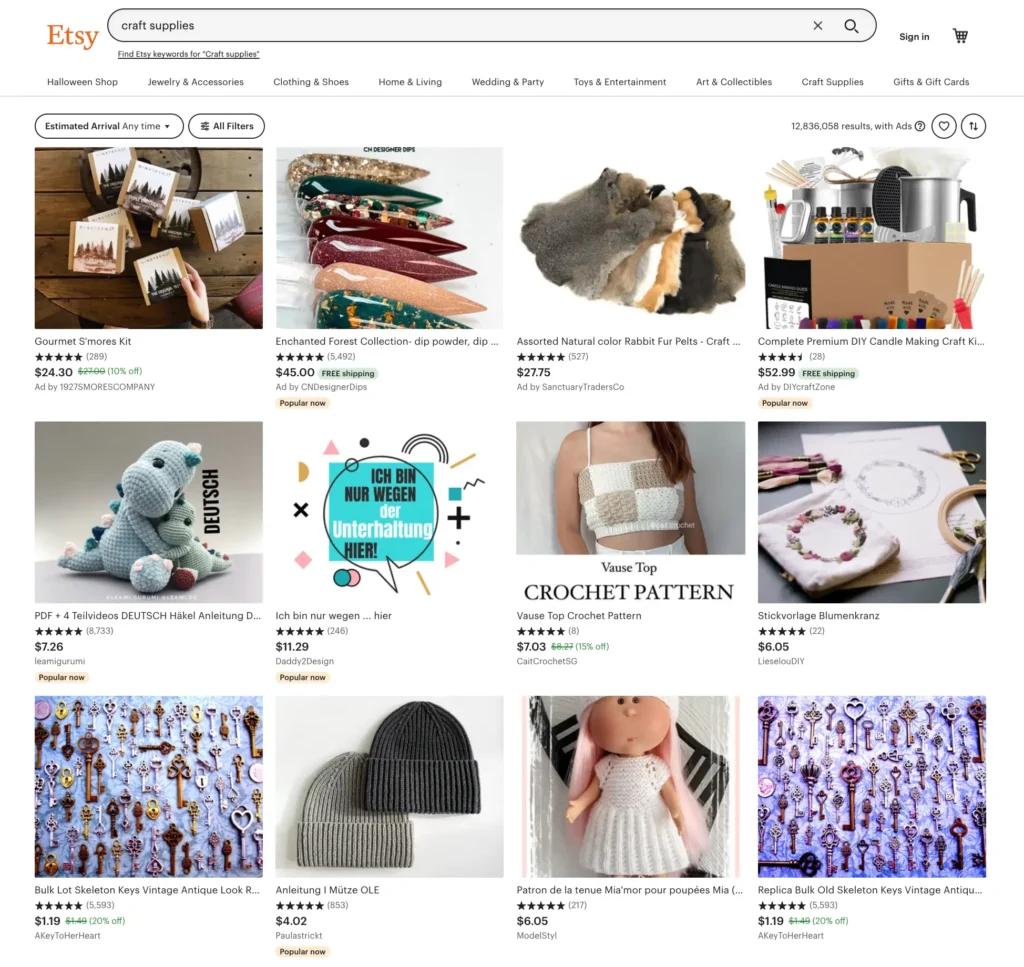 At the moment, so many people are involved with creating and selling handmade products on Etsy as well as other online marketplaces.
The market for crafts such as jewelry is also huge on the internet.
What it means is that the demand for the tools with which these crafts are made is also high.
You may look into creating and selling items such as knitting patterns, cotton, beads, ribbons, yarn, stones, miniatures, crochet, gems, and charms to put on bags.
If you can create these supplies and the tools needed for the craft, then go ahead and set up your shop on Etsy.
You could start making money as quickly as possible.
Craft and jewelry supplies are among the hottest selling categories on the Etsy marketplace.
Ideally, DIY craft kits are among the most popular items that sell on this e-commerce site.
Digital artwork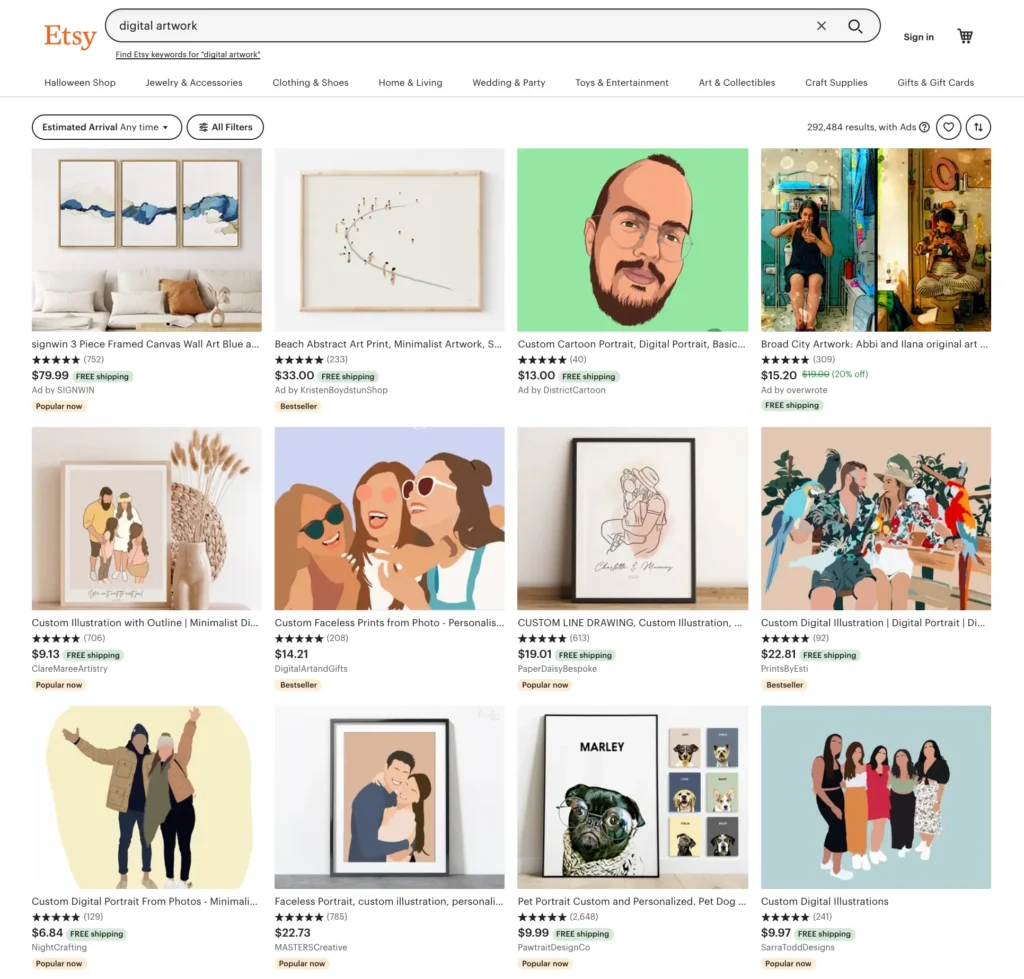 Many people love to have framed artworks placed on the shelves or left hanging on the walls.
For this reason, many artists are involved in creating and selling printable artworks online.
Digital artwork can be made in the form of customized home decor, graphics, banners, funny quotes, inspirational quotes, and much more.
These are high-in-demand items and they are not stressful to create.
Digital artworks are more like printables which we have discussed earlier.
When you sell digital arts on Etsy, you do not have to worry about the shipping.
With a few simple clicks, the customer can have access to their order.
Jewelry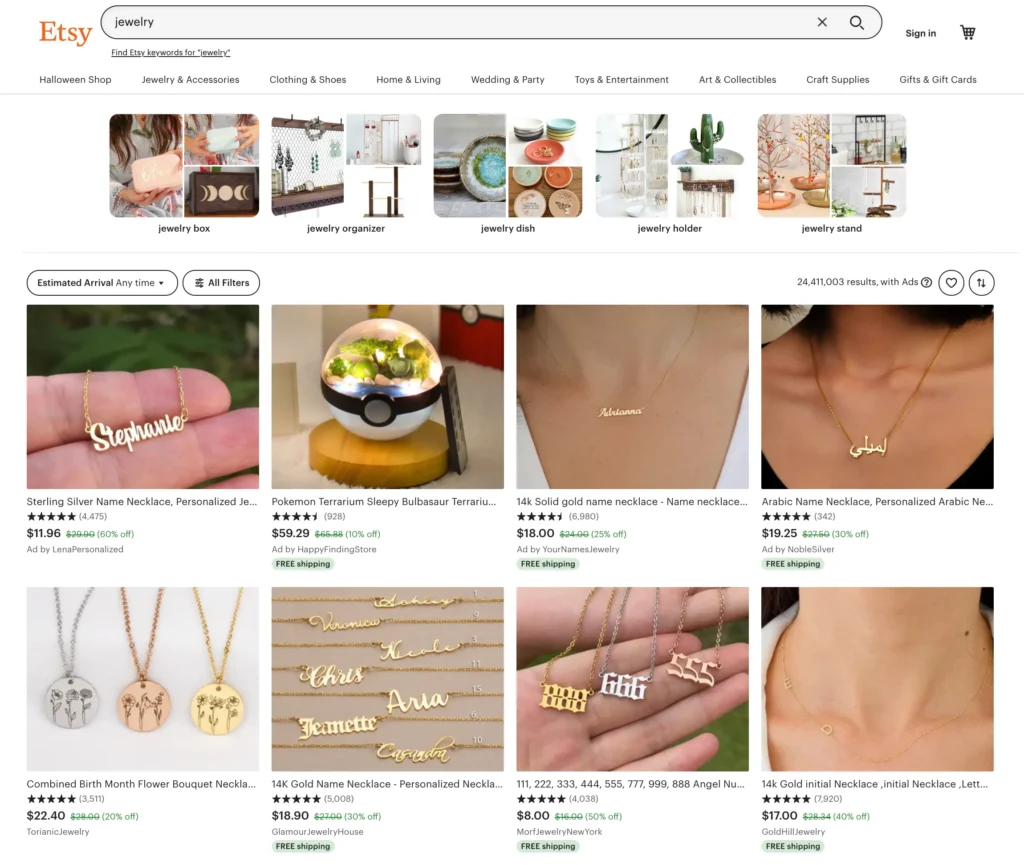 Jewelry such as adjustable rings, bracelets, crystal, silver, and gold pendants sell like crazy on Etsy.
This makes it one of the best things to sell on this online marketplace.
There are many different kinds of jewelry products that can be sold on the Etsy platform.
If you want to make even more sales in this category, you can take a step further by creating customized offerings for your potential customers.
If you are just starting and you want to hit the ground running, then you may target peak times such as Thanksgiving and Christmas times.
Many people love to send and receive jewelry as gifts at such times.
This Etsy category has a huge customer base which allows you several niche options to trade your merchandise.
Wedding Products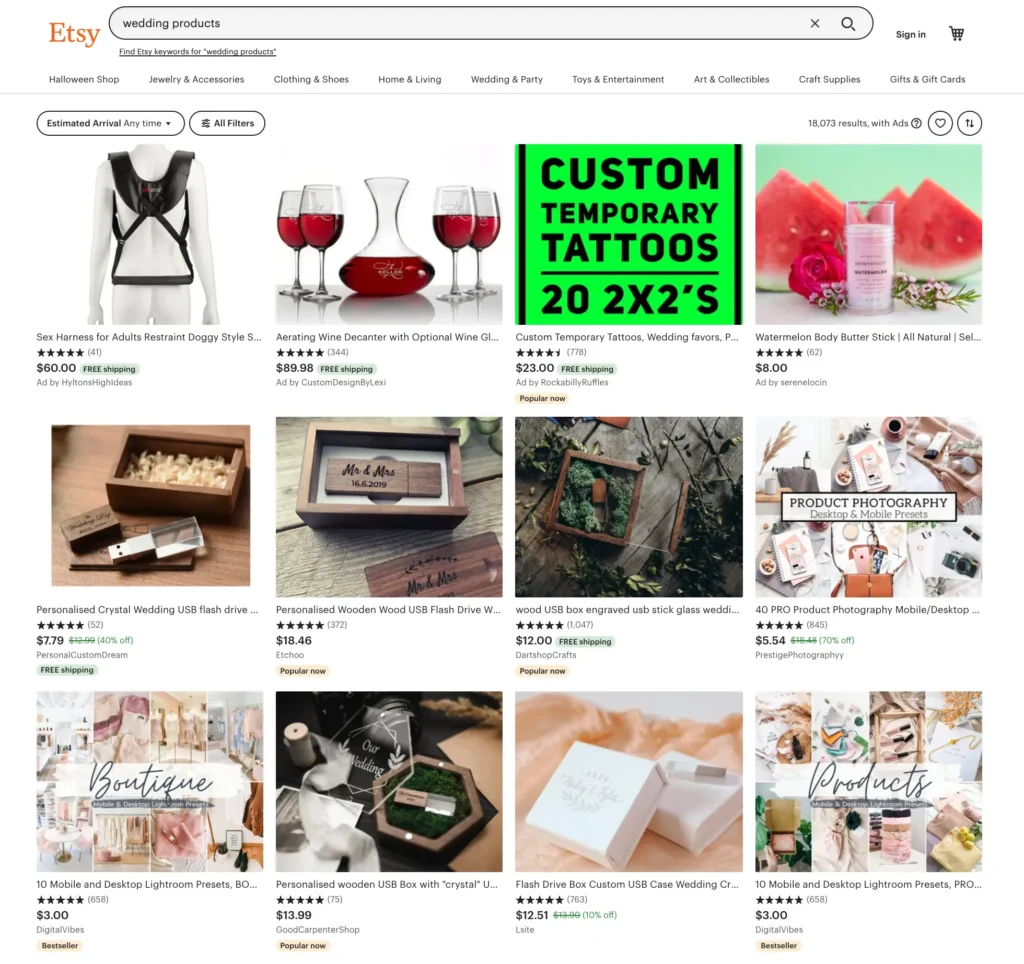 Just like birthdays and other regular events, weddings happen all through the year.
It is also one of the events that attract much spending not just from the celebrants but also from friends and relatives.
Wedding products are among the best items to sell on Etsy to make money in 2021.
One of the reasons is that wedding decorations and related items never run out of season.
You can sell items such as wedding signs, cake toppers, and much more all year round.
Most of the time, celebrants want to have something unique on their special day.
Etsy is one of the best places that customers flock to buy wedding items because the platform offers personalized products.
Wedding products such as decorations, corsages, handmade invitations, rings, bouquets, etc. sell very well on this e-commerce platform.
The more personalized products you can sell in this category, the more money you can make.
Remember that Wedding events usually start with pre-wedding activities such as the bachelorette and the bachelor parties.
Couples spend a huge chunk of their savings on these events that bring family and loved ones together.
Additionally, a lot of gift exchange happens between the celebrants and well-wishers.
So, remember to include Bachelorette/Bachelor Party Favors and Wedding Gifts to the list of items you can sell on Etsy.
Baby Items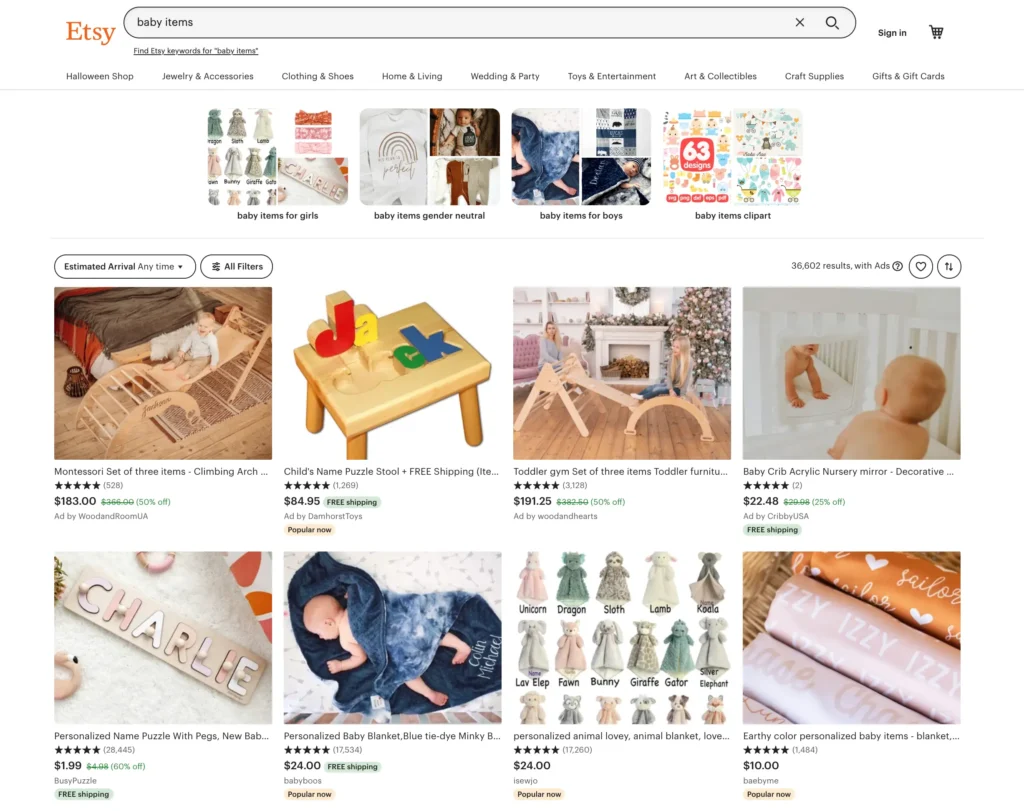 If you are seeking some of the best crafts to sell on Etsy, you may look in the direction of baby items.
Baby items belong to the best sellers on Etsy and the product options cover a whole lot.
Many parents spend long hours on this platform looking through amazing baby stuff for their kids.
Parents love to seek out items that will provide their little one's protection and entertainment around the house.
They love it even more if they can get some of these items personalized to their children's delight.
Baby items are in high demand and you can make some cool cash when you sell them. Some of the baby accessories you can sell on Etsy include:
"Coming home outfits" for newborns
Baby teething rings
Baby headbands
Birthday clay decorations
Personalized Toys
Baby clothing
Milestone Mats
Matching outfits for siblings
Adjustable Baby Furniture
With that being said, there is a lot more you can do if you want your baby products to sell even more. You should emulate the top sellers in this Etsy category.
Find out what the top sellers do that brings them so much traction.
For a deeper highlight, I'd like you to know this.
Packaging is one of the things that make top baby product merchants stand out from the rest of the pack.
You might as well consider using captivating bright color packaging for a perfect finishing.
Pet Supplies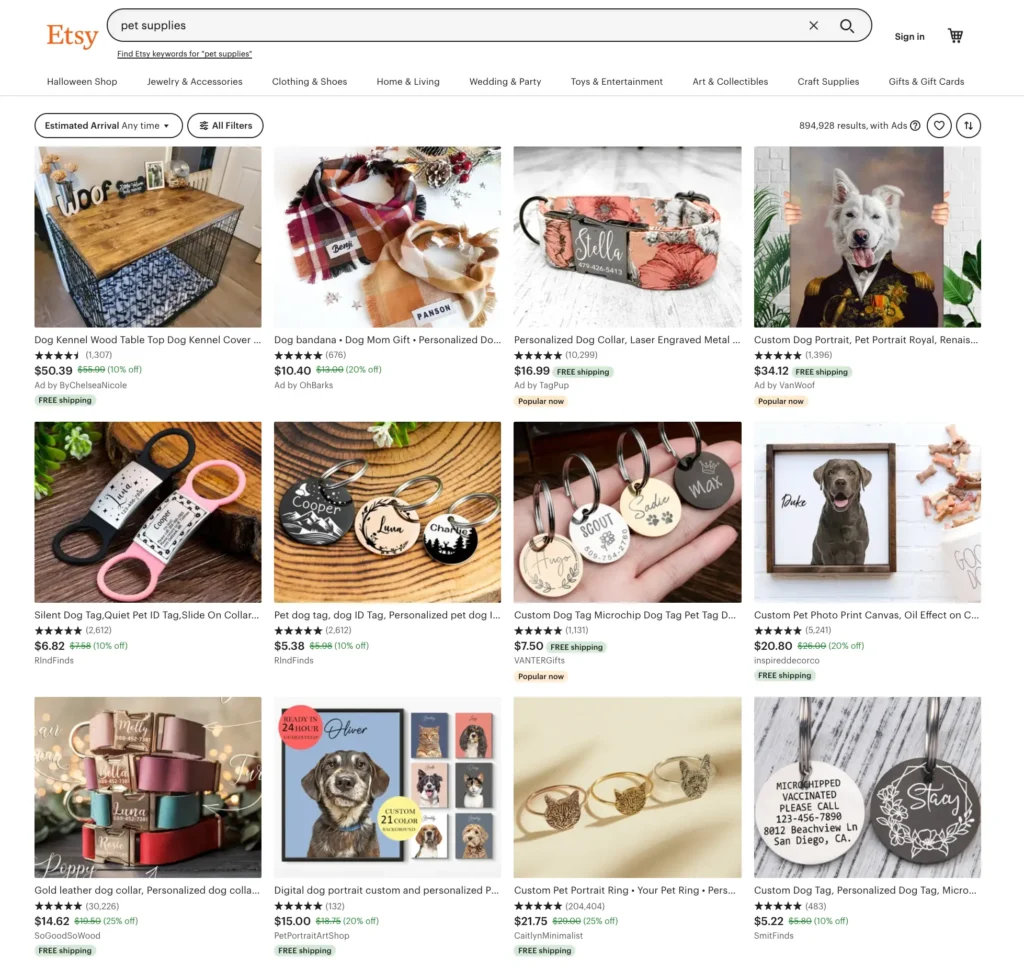 Most people care about their pets as much as they would care for any human person in their life; sometimes even more.
If you own a pet you would be aware that so many interesting items are bought for these cute animals.
They deserve it because they help to keep the home front lively.
When I first saw a website that sold goggles for dogs some years back, I was amazed.
Upon a little research, I found that the company grew to become a multi-million dollar company in a few short years.
They were making a lot of money selling just one niche of pet items!
As a child, I and my two siblings owned 3 cute little dogs – one for each person.
My mom used to buy our pets some bright tiny outfits that fitted perfectly on them.
Pet outfits such as the ones we had for our puppies and much more are being sold on Etsy. The sellers are cashing out.
Some of the pet products you can find on Etsy today include pet tags, food dishes, dog houses, paw and nose balms, dog beds, personalized blankets, etc.
Some pet products such as stocking fillers alongside other customizable items for pets can be used for hampers and gifts during festive periods.
Hundreds of millions of pets live among humans in our homes and pet owners are spending huge sums on the items they get for them.
This reality alongside other habitable advantages of keeping pets has made this niche a huge market.
So, if you are looking for the Best Items to Sell on Etsy to Make Money in 2021, you may need to look in this direction.
Vintage Items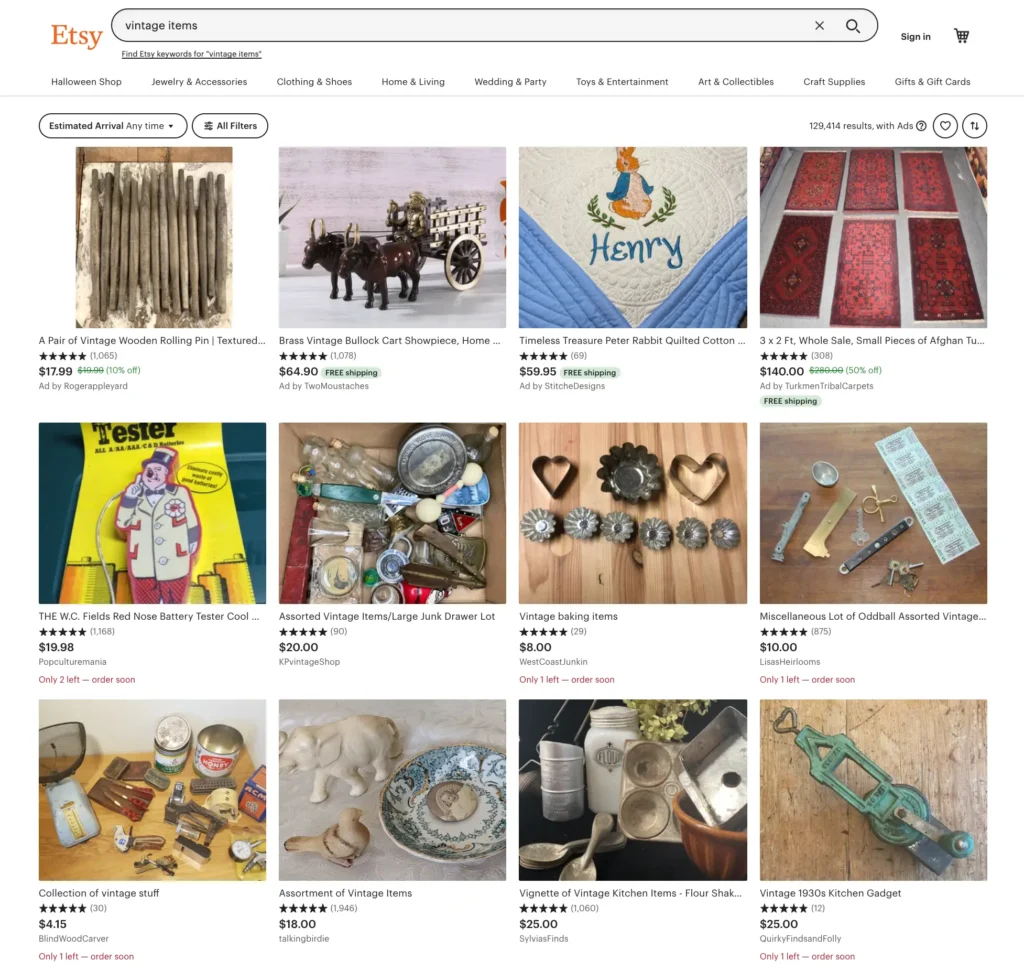 Vintage products are among the hot-selling items on Etsy.
Maybe this could be linked to the effect of the economic law of scarcity.
The value of unique items from the past tends to be very high because they are rare. Only a few of such items can be found in people's possession.
Believe it or not, many individuals are interested in buying vintage 19th-century dresses or mid-20th chairs.
The number of people interested in these kinds of items would leave you astonished if you found out.
The customers for this niche are passionate about it.
Most of the time, real vintage items are sold at very high prices on Etsy.
This is because; people that have been looking for these products are ready to part with huge amounts of money when they find one.
As you have seen earlier, scarcity tends to increase the value of items.
The scarcer a vintage item, the higher the price it could be sold.
On the other hand, some smart creators make a killing on Etsy selling vintage-styled items.
The reason is that some people want to own a few pieces of antique items but they can't afford the high price tag that comes with the genuine ones.
So, they settle for the next best thing which is the fabricated ones.
If you want to make some cool cash-selling items in this Etsy category, you may think of creating vintage-style products.
But, if I must progress with this, the price tag has to align with the selling price of modern products.
Here are some examples of vintage items that you can sell – either the genuine version or fabricated ones:
Antique Clock
Art Deco Jewelry
Antique Furniture
Antique Charms
Vintage 'style' posters
Party Decorations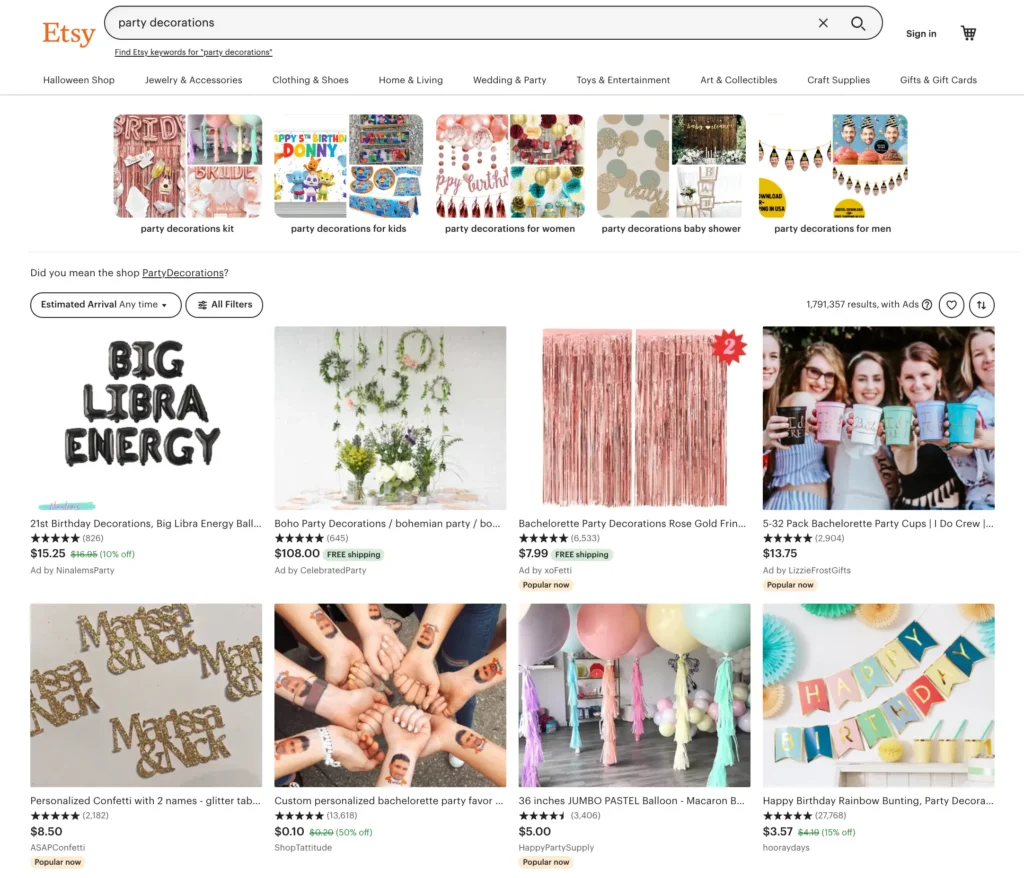 Party decorations are one of the easy things to sell on Etsy.
The reason is that party decoration is a niche that performs much like wedding decoration. It does not run out of season.
People will always have something to celebrate – birthdays, a promotion at work, a child's first birthday, survival party, engagement party, baby shower… you name it.
The list of party events that constantly bring friends and family together is endless.
So if you are looking for things to sell on Etsy for profit in 2021, you might as well look in this direction.
You can come up with the idea of creating party products such as editable Party Invitations or personalized cards, Party Gifts for all occasions, and Party Decorations.
Decoration products that do very well on Etsy include balloons, unique table covers, curtain lights, wall curtains, and table garlands.
It is important to note that the products that do very well in this Etsy category do not come with regular designs and feel.
If an item can easily be found in a corner shop or a high street store it may not get much attention on Etsy.
For instance, if you are thinking of creating party gifts, think of one-of-a-kind products such as funny mugs, multi-color banners, and unique signs that offer personalization.
Novel products that are visually stunning and specially created for the market audience do very well on Etsy.
Be careful not to sell products that are heavily trademarked and with copyright ownership. Avoid them like a plague so as not to fall into copyright controversies.
A copyright claim can result in the termination of your shop by Etsy.
Of course, there could be warning sessions that will come with strikes. But once you get up to 3 strikes, it is game-over for you.
Zero-Waste Products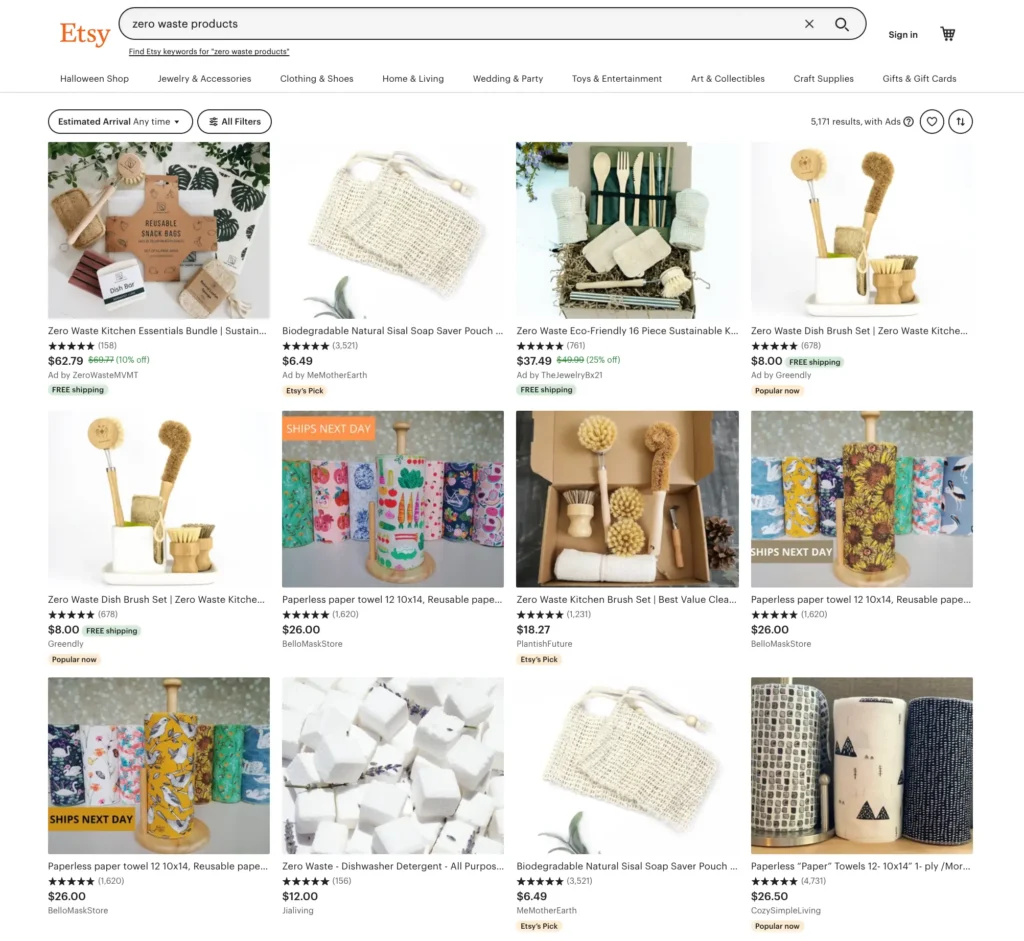 This is an era of increasing social responsibility and environmental awareness.
Many consumers are willing to pay high prices for products that align with the sustainability journey.
Zero-waste products aim at sending nothing to the landfill. Smart Etsy sellers are making great sales dealing on stuff like this.
Zero-waste reusable and refillable items in the form of face rounds, toothpaste, deodorant, shampoos, and dish soaps are among the best things to make and sell on Etsy.
Home Decor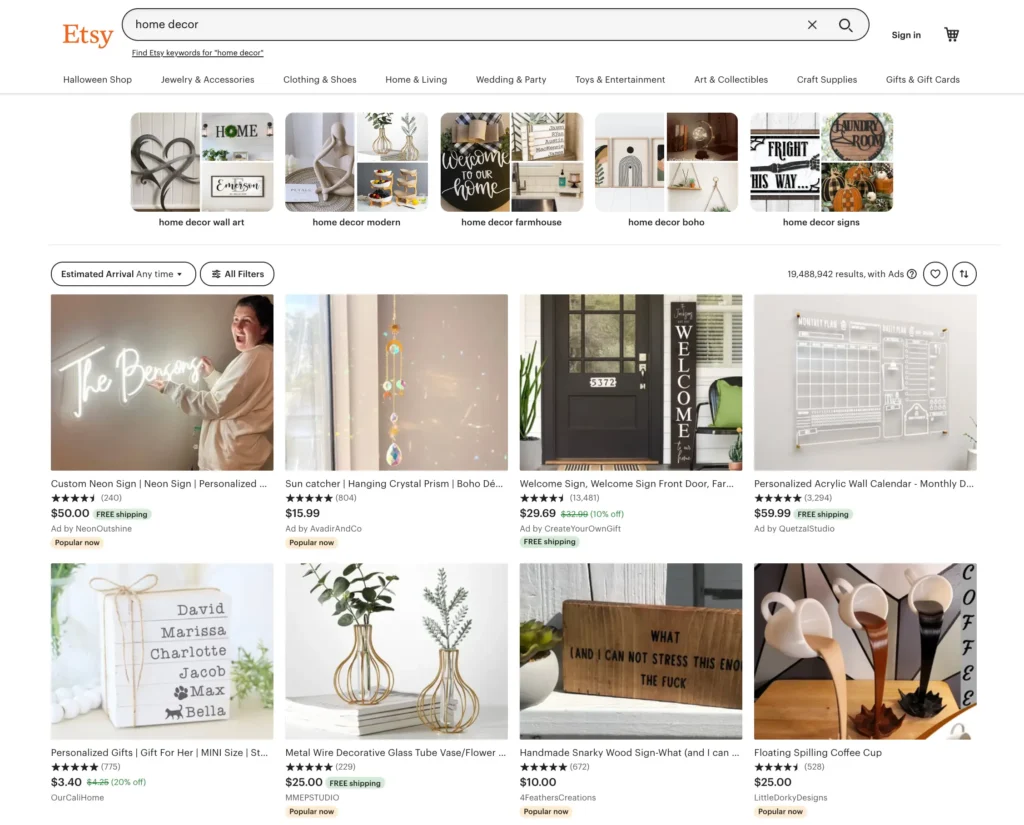 Many people want to retouch their homes, but for economic reasons they may not be able to go for a total refurbishing.
So, they look for alternative ways to at least make drab walls look neat and beautiful. With items like wall decals and vinyl stickers, they can achieve their goals.
Wall decals and vinyl stickers have been popular in recent years because they are budget-savvy and can restore beauty in people's homes.
In the interior design space right now, these are among the top trending items on Etsy.
Other products for home decorations that have been doing great and selling hot on Etsy include vases, wall art, frames, and more.
Customers are happy and always willing to buy these products because they are budget-friendly and are easier to fix than a complete renovation or repainting.
Handmade Items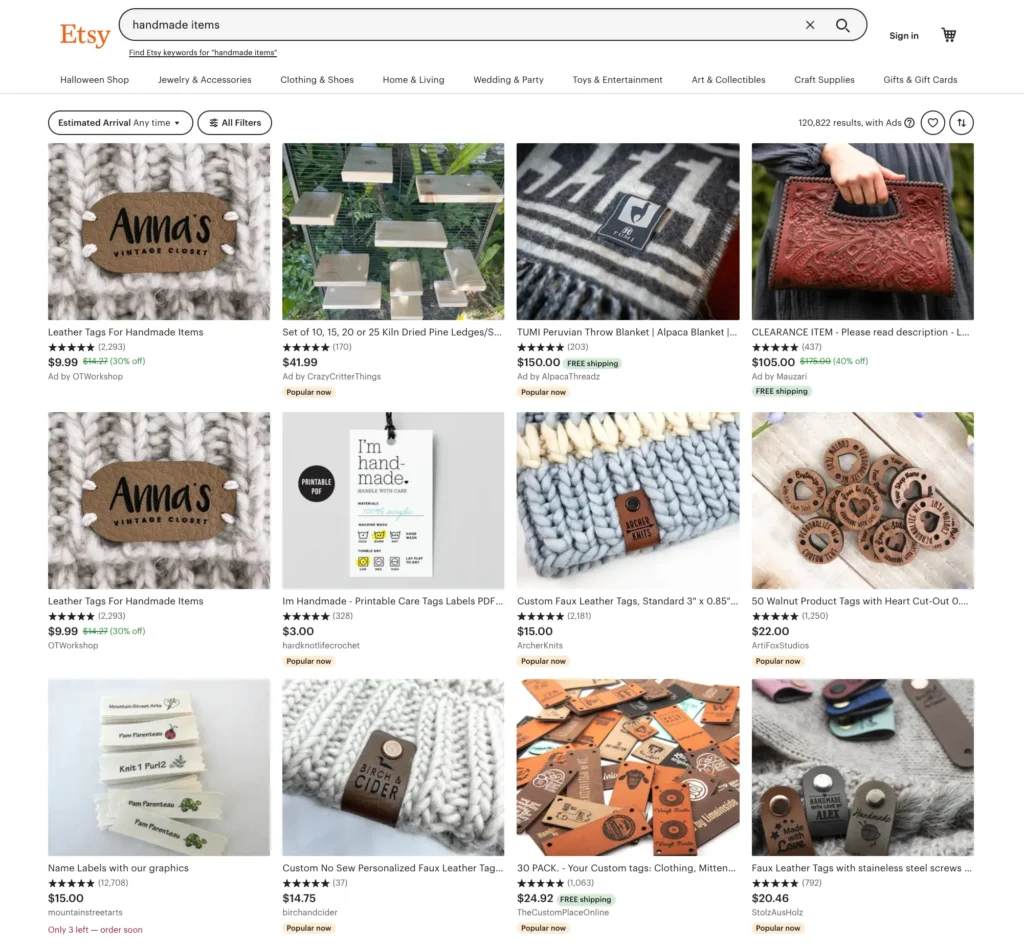 There is a growing interest in customized items.
It seems that most consumers want to feel emotionally connected to the products they use on a daily basis. In this regard, custom-made and hand-made items have been selling well on Etsy.
Hand-made jewelry is one of the most popular items selling on Etsy.
The astonishing customer base can have them just as they want.
A huge number of potential customers visit this e-commerce platform specifically looking for rings, necklaces, and other pieces of jewelry that are uniquely crafted.
The Etsy logo that comes with handmade items adds a special sense of importance to the buyers when they put these items on display.
Top hand-crafted products that are selling like crazy on Etsy include paper designs, metal jewelry, handmade stickers, and pendants.
Since this Etsy category commands a huge customer base, new sellers can always carve a niche for themselves.
There is always something for everyone which makes handmade items to be among the best-selling items on Etsy.
T-Shirt Mock-up Templates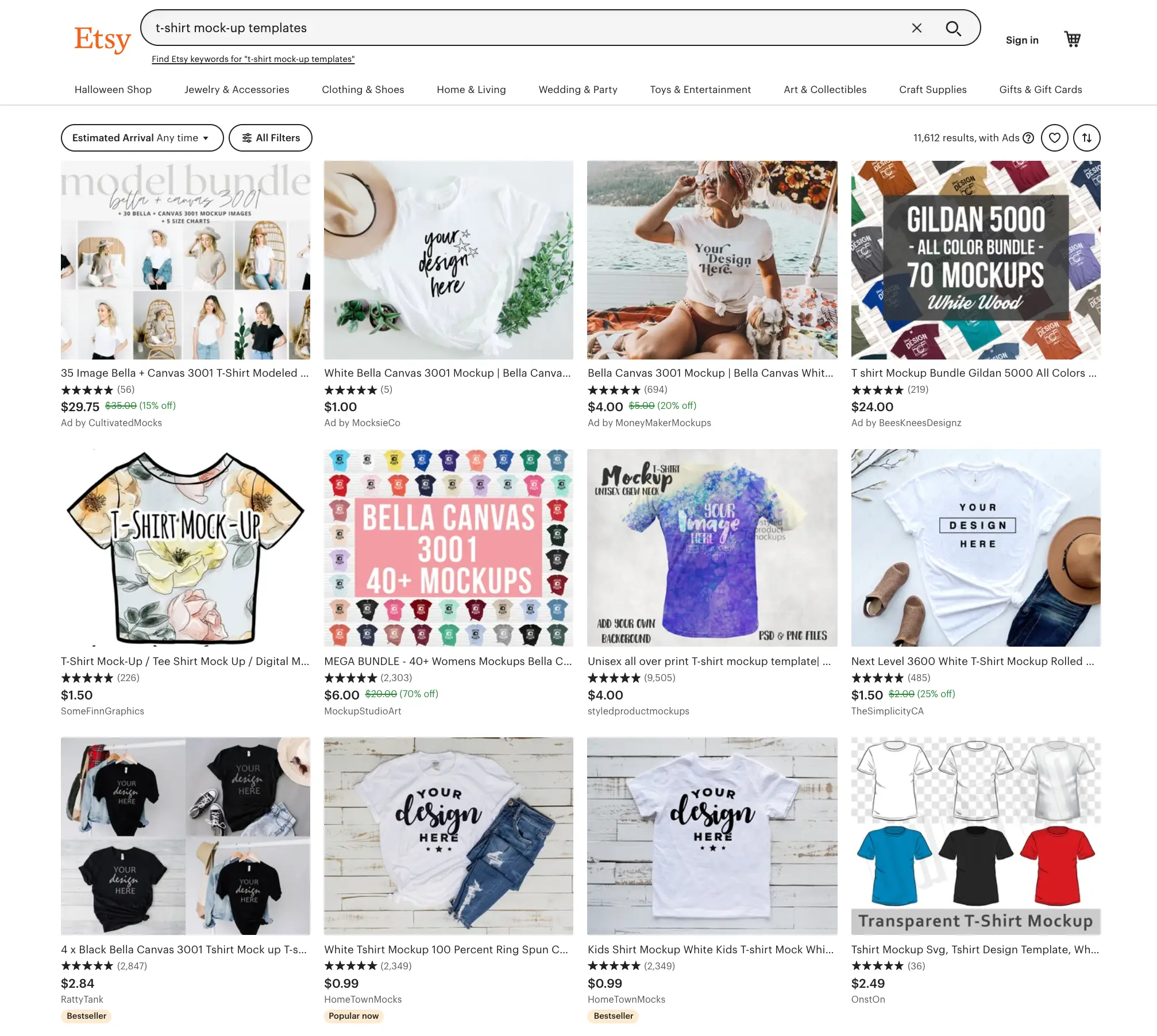 T-shirt mock-ups usually come in two colors namely black and white. Designers use t-shirt mock-ups to promote and sell their products.
They can feature a model wearing the article of clothing to give customers a preview of what the product will look like in real-time.
Online sellers come to the Etsy marketplace to buy mockups that can help them in their online marketing exploits.
This is because not many people can create mockups by themselves.
It's only those with some knowledge of apparel design and image editing applications that create for personal use.
But anyone can buy and download the mockup templates online.
If you have a background in photography, this will be a great avenue for you to make money on Etsy.
If you can create T-shirt mock-up templates, there's a huge market for you on this online marketing platform.
Mugs
Mugs are among the best-selling items on Etsy.
If you'd look into this niche, you may have an opportunity to make some money from the Etsy e-commerce platform.
Most people like to use personalized mugs because it is one of the few items that are used quite regularly in our homes.
Customers want to look at this item and be reminded of something very dear to them.
Mugs that come with a hobby or interest-based designs are found to be among the top-selling products on Etsy.
You can customize the mugs or cups to bear inspirational quotes, funny inscriptions, love symbols, or a cause that people love to champion.
If you can do this, then you are in for a scoop on the Etsy e-commerce site.
Now that you have seen some of the best-selling items on Etsy, let's quickly look at some tips on how you can have a successful shop on this online marketplace.
Best sellers on Etsy / Top 20 Etsy Sellers
I always like to know who is successful on the platform I choose to sell on. Here's a list of the top twenty sellers on Etsy.
Most of the sellers are based in the United States.
Do you notice that 50% of the top sellers are in the craft niche?
If you're trying to sell items on Etsy, then I would use this information as market research to benefit you.
| | | | |
| --- | --- | --- | --- |
| Store Name | Category | Location | 30 Day Sales |
| Beadboat1 | Craft Supplies & Tools | United States | 38,316 |
| CaitlynMinimalist | Jewelry | United States | 36,043 |
| HeatherRobertsArt | Craft Supplies & Tools | United States | 31,597 |
| ModParty | Weddings | United States | 23,978 |
| ilovelotus | Home & Living | United States | 22,197 |
| KJewelryMetal | Craft Supplies & Tools | Turkey | 19,614 |
| Worldincensestore | Home & Living | United States | 18,735 |
| SartorMasks | Bath & Beauty | United States | 17,385 |
| Spoonflower | Craft Supplies & Tools | United States | 16,511 |
| HappyKawaiiSupplies | Craft Supplies & Tools | United States | 15,485 |
| CandieCooper | Craft Supplies & Tools | United States | 14,746 |
| DigitalCurio | Craft Supplies & Tools | United States | 14,671 |
| SilverRainSilver | Jewelry | United Kingdom | 14,483 |
| NewMoonBeginnings | Home & Living | United States | 14,453 |
| DesignMyPartyStudio | Paper & Party Supplies | The Netherlands | 14,322 |
| DOMEDBAZAAR Craft | Supplies & Tools | China | 13,781 |
| stonesdirect | Craft Supplies & Tools | United States | 13,657 |
| LilMeStore | Clothing | United States | 13,502 |
| SheShedCraftStore | Craft Supplies & Tools | United States | 13,010 |
| MyPorchPrints | Craft Supplies & Tools | United States | 12,885 |
What's trending on Etsy
Here is a top ten chart of the trending items sold on Etsy. If you look at the chart, you'll notice that 50% of the items are in the digital art category.
If you're a digital artist, then selling on Etsy is a great option.
How to have a successful Etsy shop
Know the right product to sell
If you want to attract Etsy shoppers, the first thing you need to do is to understand what you can and can't sell.
Etsy is an eccommerce platform designed for the sale of products that are hand-crafted, vintage, or craft supplies.
Make sure you follow Etsy's guidelines in setting up your shop and also while choosing the kind of products you'd sell.
If you are not sure of what is right or not, you can go through Etsy's regulations.
Handmade items are items that you created.
You must sell only the products created by you and if you have any production partners, you must mention them.
You are not to resale products made by someone else unless they are included as your partners.
Vintage products are products that are 20 years old and above.
Items fabricated with vintage designs do not count as vintage products.
Craft supplies are tools and materials that have been made to be primarily used to create new items.
A clear understanding of these things will help you to avoid running into copyright infringement or related issues that could result in getting strikes from Etsy.
Use images to project your shop
It is extremely important to use the right images in your Etsy shop.
The right photos could make your shop whereas the wrong photos could mar it.
Remember that images are the only point of assessment that your potential customer has.
They cannot physically view, feel, or touch whatever object that you put on display.
You do not have to be a professional photographer to achieve great results.
All you need to do is to ensure that the products are placed in an environment with bright lights and that the images are well captured.
On Etsy, you are allowed up to 10 photos per product.
So, take time to style your products properly and endeavor to take high-quality shots.
Photo quality goes a long way to influence the buyer's decision.
Create an organized product line
Make sure that you create a product line that is organized.
You don't have to cluster your shop with all kinds of mismatched products.
Make sure that the items you put on display share similar themes, designs, and visual appeal.
Your Etsy customer is your best friend
If you want to make progress on Etsy, you have to treat each customer like your best friend and not just someone you want to get money from.
Building a relationship with them is critical to your success and sustainability on the e-commerce platform.
Pay attention to what they say in the form of suggestions, fresh requests, or complaints.
The ideas you get from them can help you to expand your product line.
Promptly respond to messages and engage in social media conversations.
That way, you will not only keep tabs with your existing customers, you will also attract potential customers to your shop.
Take advantage of seasonal sales
Lastly, there are some holidays that happen each year.
Thanksgiving and Christmas seasons are good times to add seasonal twists that could make your shop more appealing and attract more sales.
Follow the yearly calendar and get creative with things that reflect the spirit of each season.
You can achieve sensational seasonal twists by changing your store banner, offering discounts, changing your cover photo, or sending message broadcasts.
Conclusion
I hope this guide will give you a better understanding of what you should sell on Etsy.
Artists can make a living by selling items on Etsy.
When you know the best items that sell, you can increase your chances of having successful Etsy shops.
Also, I've included data charts of what's trending on Etsy and the best sellers.
These can really inspire you to know what items sell well.