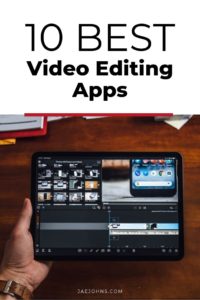 With the best video editing app, a good edit can help you to gain followers and show people how unique your vision is. Social media has made it so we create small-scale masterpieces we can share with our friends.
It's the age of posting photos and videos in which the right one can get the most likes and go viral in no time. In the modern age, videos are incredibly popular. This is why we have compiled a list of the best video editing apps around.
Editing videos is a process that can be as hard or as easy as you make it. Video editing is a process that requires an understanding of timing and quality. With the right edits, a simple piece of footage can suddenly become an experience.
Since this is the case, it makes sense that people would want to know more about it. Fortunately, there are plenty of amazing video editing apps around to help you spruce up your social media. You will love how great these apps can make your life look.
—For fans of Apple, iMovie can be a free and exciting treasure. This Apple system is designed to help you edit and create thrilling videos. The real selling point is that this application lets you experiment regardless of skill level.
If you're looking for a quick video edit, there are simple features. If you're looking for something more complex, the system can easily accommodate that. It adapts itself to suit your needs, and you can make some seriously cool things.
Finding the right application can do wonders in moving your process. iMovie is built to allow for a lot of different types of edits. Even better, the version provided for the iPad and iPhone works smoother than the desktop version.
You can easily edit compelling videos on the go in no time at all. iMovie lets you export to a variety of formats. This is just one reason that it is the best video editing app.
—This is one video editing app that gets a lot of recondition. Splice is designed to help you to create compelling videos from the comfort of your cell phone. You will be amazed at just how modern this system is. It is not only easy to use, but fun to work with.
You can enjoy a wide variety of exciting features. This application is so confident it even markets itself as the best video editing app. Finding what works for you in this app is easy. It is a completely user-friendly experience with all kinds of fun features.
The power of this app is honestly just unreal. You can easily see how to do just about anything whether you want something simple or complex. You can distort time, find the best parts of your footage, and more.
The application lets you easily add background music and splice together videos for added effect. Everything about this application is designed to help you create great content. Don't miss out on your chance to see what it can do for your videos.
—Sometimes you want something that is a little more pro-level and this application has you covered. You can make a variety of exciting edits using this system. It has a beautiful interface that is easy to use and exciting to play with.
You'll love experimenting with it almost as much as you like making great content. Whether you want to make something silly or serious, this application has you covered. It just offers so much in one app that you won't be able to resist having fun.
Filmmaker Pro is amazing for making social media videos and trailers. It allows you to apply fun and exciting text with effects on just about anything. It even provides you with thrilling custom animations that make it so fun to play with.
You can create exciting videos to share with your friends for a laugh in a mere matter of minutes. This system is perfect for those who want to edit videos but don't want anything too complex.
—When you think of the best video editing app, you might be thinking about your adventures. InShot is an app that was designed with vlogging in mind. While you might be compelled to think that it is limited, it is not.
You can use this tool for a variety of use cases. However, this app is truly perfect for capturing your life in high definition. Knowing how to edit videos is hardly an issue with an application this powerful.
This video editing app offers all kinds of exciting skills and uses. You can easily make thrilling videos from your vacation to show your followers or string together some of your favorite memories.
The fact is that this application is perfect for helping you to get the most out of your process. You can easily arrange all of the action from your life in fun ways. Using frames, text, and more, you can make your life into a complete experience for all to see.
—When you think of creative software, Adobe probably comes to mind. This is one company that prides itself on making useful digital tools for creative. Premiere Rush for Video is an amazing app that is perfect for your needs.
It can help you make a wide range of videos, regardless of complexity. In many ways, this app is perfect for people who want to seriously edit videos. However, it is also appropriate for casual editing as well.
The power of Adobe shines through in this app. It makes it easy for you to cover your video process from start to finish. You can shoot footage within the app and use that as a driving force to improve your process. Many people find that this is a beneficial way to manage their videos from start to finish.
You can edit your videos with a variety of helpful tools. As a bonus, you can easily share your videos directly to social media. This is the best video editing app for those who want a one-stop-shop for their process.
—Sometimes you just want a video editor that can do all of the things that you want it to do. When you consider what the best video editing app looks like, Videoshop probably covers it.
It provides a simple user experience with a variety of compelling tools. You can enjoy looking through the tools to decide how to best manage any project. This app is great for helping you to get the most out of a video editing process.
One exciting bit of functionality that VideoShop brings is the ability to add music and background noises. You can use the tools in the system to add music to an exciting video of you doing great. You can use it to add narrations for a video diary or something to share with friends.
It offers functionality that can make editing fun like slow motion or speed boosts. It even offers filters if you are looking to adjust the coloring of your footage. Pair this together with easy sharing and you are completely covered.
—In the social media age, we all want to attract more followers. Filto is one app that does an amazing job of helping you to do that. Everything about this app is focused around a modern social media experience.
You can easily adjust your videos to get them more than Instagram ready. It lets you have fun with your footage, so you always get the right number of likes and shares.
The social media focus of this system is what makes some think it is the best video editing app. It does a great job of bringing a modern look to any footage.
You can easily apply filters and other design elements to make your videos stand out from the rest. The physical looks of the videos you can make here are enough to make anyone share instantly. Everything you create will look exciting and modern in a fun way.
—This comprehensive video editing app is amazing for people who are looking to create something great. It's easy to use mobile interface provides a surprising amount of functionality. You'll find that this app can pace a lot of full desktop systems.
The power of this application makes it easy for you to make exciting videos. In many cases, this can be a great tool for making movies or trailers on the go. It is easy to use and simple in design, making it a pleasant working experience.
The editing features in this app are extensive. You can crop footage, adjust the brightness, and more. It makes it easy for you to make your footage look perfect every single time. You can easily add background music to any video provided by an extensive library.
When you pair this with thrilling effects and speed control, you can end up with some truly amazing final products. This system will rise to the occasion every single time.
—Believe it or not, your favorite social media has a built-in video editor. This app gives you control over your work in an engaging way. If you plan on posting directly to Instagram anyway, this can help you to save time.
While it might not be the most powerful video editor on the market, the fact of the matter is that you can still have enjoy it. You'll love the ease of use with this system as you adjust your videos for perfection.
Instagram lets you do with videos what it lets you do with pictures. You can apply filters, crop videos, and add a variety of fun effects. There are a series of motion filters that can make it even more fun to play with.
As a bonus, you can even add fun design elements like stickers or GIFs. This can be a great way to make your posts a little more compelling without too much effort.
LumaFusion is one top of the line app that will cover all of your needs. It has an interface that speaks to just how much power it has. Regardless of how stunning the interface is, it is still completely user-friendly.
You'll enjoy effortlessly editing videos wherever you are using this great system. If you're looking for complete creative control, this app is perfect. It has all of the essentials covered and more.
This app makes it easy for you to manage all of your video projects on the fly. It effortlessly allows for multiple projects and makes managing each one simple. You can quickly add a great soundtrack to your video or just manage the style of your video.
It offers different film modes that make it easy for you to customize for your final presentation. You can easily manage multiple sounds and videos in one easy to use interface. This is perfect for creating high-quality final products.
Conclusion
Finding the best video editing app is a matter of personal preference. Everyone has different needs for their video editing. You might want one app for editing movie footage and another for your social media posts.
You can use any of these apps or a combination to give you a complete video editing experience. It has never been easier to work on the go than it is today. Enjoy the power of these exciting and easy to use apps.
What app do you use to edit your videos?