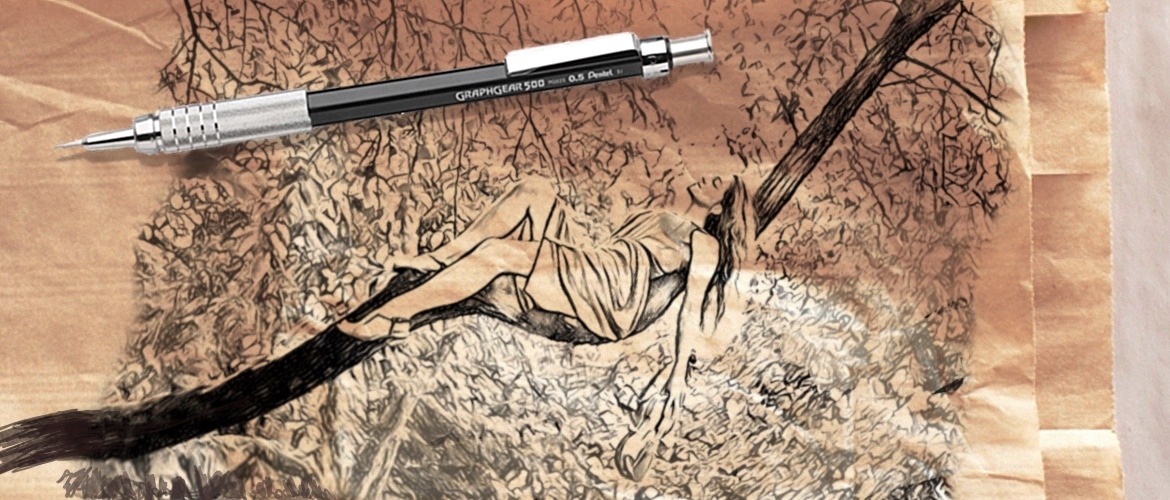 So, you are exhausted with every drawing option and want to enhance your drawing skills. You want to draw something new and better but got sick of drawing your favorite object again and again. Well, have no fear. All you need is drawing inspiration!
Yes, you read it right. You need to learn the basics of drawing and repeat them over and over again. This is the only way to improve and perfect your drawing skills.
Drawing ideas are usually difficult to come by. It is usually hard and challenging to figure out what to sketch. Therefore, for producing a masterpiece, it is always recommended to spare some time to draw something.
This process may slow you down. Because it is not like that you have captured something on the paper and move on to the next image. It is much more than that. You have to look at something bigger. You need to analyze the form, shape, and proportion of the object and then reproduce it on paper. But the question that arises here is what to draw.
It could be anything guys! Maybe you cannot create good artwork every day but dedicating your time in drawing something will surely give you the inspiration to draw something unique and creative in one day and you will see incredible progress in your drawing skills.
Do you want to draw better? Saying yes? Here, is the drawing guide for you!
To help you avoid wasting your time in thinking about what to draw, we have created a list of 8 ways that will make drawing easy. These ideas range from simple everyday objects to unusual and beautiful landscapes.
These are the simple drawing ideas that will surely sparkle your drawing inspiration. Besides these ideas, you need to have the best type of paper, drawing pencils and colored pencils. So, have a glance over the list and let your mind be awe-struck with imagination!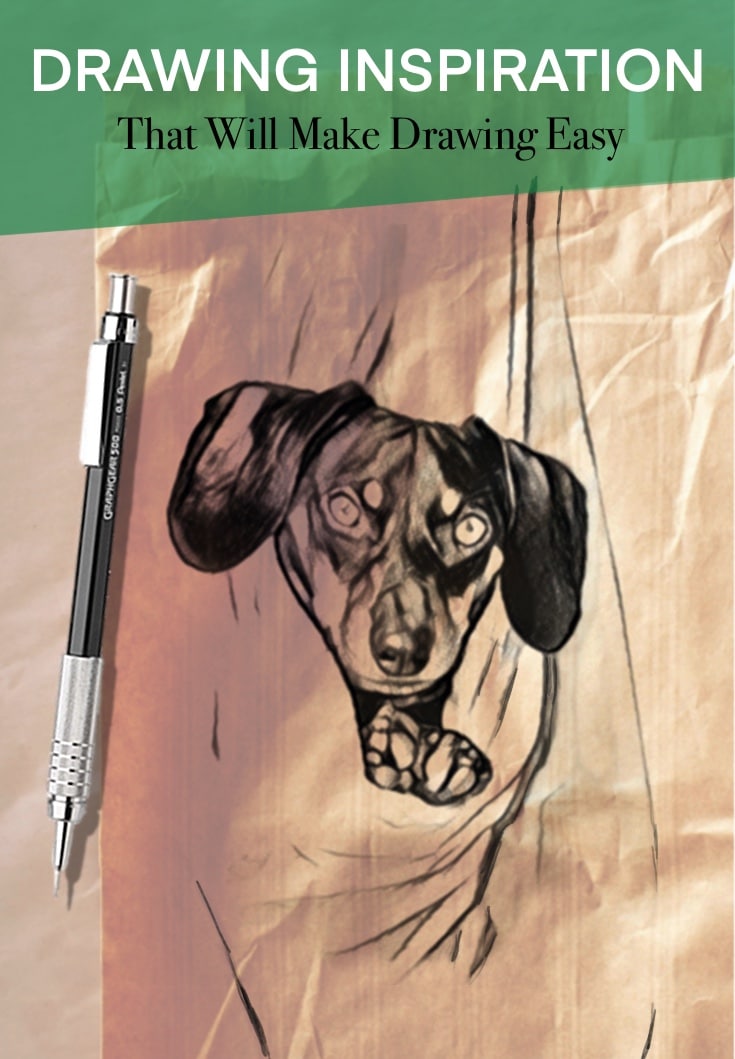 Things to Do to Find Drawing Inspiration
If you feel like you have no more new and creative ideas, it is the time to refill your mind with the art that not only makes you feel good but also inspires you to draw magically. And you can do so in a variety of ways.
For example, you can check out the art in popular art books or you can browse through social media sites to check what type of art other artists are creating.
Going to a museum and checking out what old artists used to draw and sketch will surely give you inspiration for sketching and drawing. It will help you to see things from a different perspective and observe through different lenses.
All these methods are, in fact, the seeds of your imagination.
Drawing Ideas Inspired by the Imagination that Anyone Can Try!
What can I draw to improve my skills? This is the most common question artists usually ask. To add spice to your artwork, you need to try out some new skills and continue practicing them to reach the level of refinement. Let's discover some drawing ideas that you can try.
The easiest but unique drawing idea that you can try is to create a realistic drawing of crumpled paper bags using a pencil. It is, in fact, a great method if you want to learn about tone and contrasts. Why? Because by sketching crumpled paper bags, you can draw dark and light patterns.
To draw creased or crunched paper bags, you can use a brown or a mid-tone grey-colored paper to draw on it with charcoal. Twist the paper bags in different ways and add contrast in them by representing hard and soft edges. Draw lines of contour and build texture in the object.
Believe me, this will be a great drawing idea that will show modeling of the paper in such a way that it could be touched!
02. Life Drawing
Another easy and cool drawing idea is life drawing or figure drawing by which you can draw people from real-life models. It is an act of drawing a living person not from photographs or memory.
It involves capturing the life of the models, resulting in fantastic artwork. You can create amazing sketches by using lines. Although lines form the basis of all drawings, this will be a really good skill to practice gestures.
To draw people from real-life models, take a pencil and paper and start drawing without making the pencil to leave the sheet of paper. This will result in an amazing life drawing that will also be a real example of line drawing as the end result will be formed using one line.
You can create dynamic and visually interesting drawings by controlling the darkness of your lines. It can be tricky in the beginning but using varied lines will help you to create marks that work together to create a cohesive drawing.
There are various classes of life drawing available online and offline that you can take to get the experience of life drawing. You can also draw from drawings. You can learn a lot by copying sketches of popular artists.
03. Try a New Style and Learn to Draw a Rose
Getting outside your comfort zone and trying a completely new style can be a lot of fun. This way of drawing will surely give you drawing inspiration. You can draw cartoon characters or abstract art or you can play around drawing a rose.
We have often seen writers speaking of the beauty of the roses. It is time for you to add more to its beauty by drawing its delicate petals.
It is really challenging to draw flowers, especially a rose. There are so many varieties of flowers that sometimes it becomes impossible to draw each flower.
As an artist you have to show the inner beauty of the petals through his artwork, so you must have a basic understanding of the structure of flowers so you can be able to sketch any flower you want.
In addition, if you want to try out a new style, you can draw dots, zigzags, stripes, swirls, or anything fun and unique.
Another amazing drawing activity that gives you inspiration is to sketch Styrofoam cups. It is a great way to get an idea of ovals and ellipses.
The hollow cones, the representation of circles to be viewed from a certain angle as well as a curving negative space, all can be achieved by sketching the Styrofoam cups.
This is a form of observational drawing that is not only visually interesting but provides a wide range of different surfaces, reflections, textures, shadows, and forms.
Whatever you draw, if you want to improve at it, you need to make a commitment to yourself and decide to do it. Make a habit of drawing and try to set schedules for it.
05. Get Some Drawing Inspiration by Using a Different Medium
Another great way to get some drawing inspiration is by using a different medium. It means if you are using a medium and you feel that your skills are stagnant when you use it, try out a new medium. At times, a new medium is what can ignite your drawing inspiration.
For example, if you like to draw digitally (using graphic designing software), you can try out a new medium. Take a paper and a pencil and start sketching. If you do not like to draw with pencils, try acrylic paints or watercolors.
Use a variety of brushes and create art through brush strokes. Mix colors and shades, create blending effects, and try to expand your palette as well. Mixing a variety of colors on a completely new medium will help you to get beautiful final results.
When you are in the kitchen, get some cooking utensils and some fruits and vegetables. Put them on a table and start drawing. This technique will definitely remind you of your favorite medium and you can return to it with new hope and vision.
Doodling is a great technique that not only enhances creative thought but with the help of it, you can draw something wonderful and unique in its style. It shows how the artist sees himself or other people. By doodling, you can create simple drawings but they will have concrete representational meanings.
You can draw with doodles using simple and clear lines, resulting in new and creative ideas. You can doodle a variety of things depending on your mood.
For example, you can doodle flowers, people, arrows, houses, animals, and a lot of shapes including circles, squares, or triangles, all you need is a pen and paper. You can doodle faces in which attractive and beautiful faces may reflect a positive outlook whereas ugly faces may show negativity. Similarly, you can doodle a lot more things and bring your creativity on paper.
To try out doodles, you need to play with the shapes and shadows and then transform them into a magical piece of art!
07. Pack Your Art Details with Architectural Drawing
Create stunning artwork and pack your art details with architectural designs. Architectural drawing is another incredible way to find inspiration that will make drawing easy.
It is, in fact, a great way to let your subconscious mind flow. It starts with creativity in which you have to combine the ingredients to get the desired outcome.
You can create your own piece of an architectural drawing or you can create a replica of a historic building. Whatever comes to your mind, you can create an architectural drawing on it.
You can draw a building with a large lake in it and surrounded by classical buildings and greenery all over. Plus, you can create many successful designs and then repeat them with a few changes. You can create your ideas using 3D models, sculptures, paintings, and much more.
To find inspiration for architectural designs, you need to have a black piece of paper with a pencil.
The last method in our list that can give you drawing inspiration is fashion illustration. Fashion illustration conveys the essence of the garments.
In this type of drawing, you can draw long figures trying to mimic the height of the models. It is not necessary to draw faces or to focus on facial features as the focus is on clothes more.
So, if you want to draw something that not only keeps you up-to-date with the trends but gives a fresh look as well, you must go for fashion illustration.
Conclusion
So, you want to hone your drawing skills. You take your drawing book and pencil every day to draw something but at times, you get frozen with the decision of what to draw. At this time, these simple tips and techniques will not only give you drawing inspiration but will surely make your drawing easy.
These drawing ideas may range from some simple objects in your living room or your coffee table to drawing your own pattern and combining two objects that do not go together into one scene.
You can go for doodling and fashion illustration or you can try out some new ideas related to life drawing or sketching paper bags.
Always keep in mind that the drawing styles are innumerable. Most ideas require the artists to be free with the strokes while some of them require a lot of patience as they are detailed.
We recommend you to try every drawing idea from the list that we have created especially for you so you can flex your drawing muscles. By trying these amazing drawing ideas, you will come to know that the opportunities for self-expression are endless.
So, what are you waiting for now? This is the time to hone your drawing skills. Let this list be your guide and choose an idea which your mind finds interesting. Happy Drawing!
Question of the Day: What do you think is the most frequently asked question among artists?