Many graphic designers are starting their journey into this profession or are striving to improve their skills.
That's why I wanted to share some graphic design tips with you all.
Although I've had my fair share of working in graphic design, I wanted to collaborate with other graphic designers and share their number 1 graphic design tip with you all.
Before I dive into these tips all these amazing graphic designers share, I want to say that all these artists have put in the hours and dedication to get to where they are.
After speaking with all of them, each one of them certainly continues to learn things along the way.
You will not be an amazing graphic designer overnight.
Like these artists featured here, it takes dedication.
Other Topics Related to Graphic Design: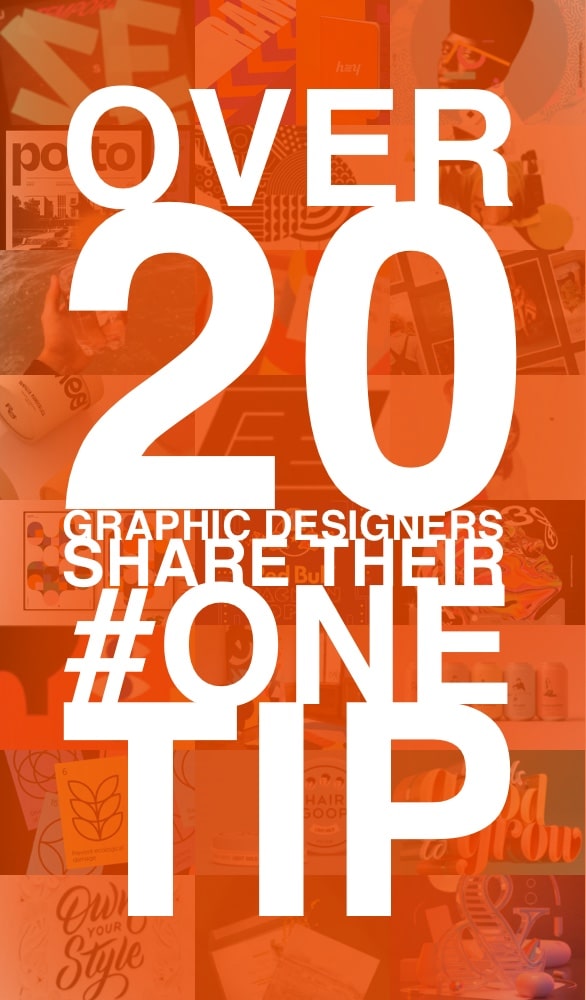 I've noticed similarities in these graphic design tips.
Each tip is grouped in the below categories. You can click on a category to quickly go to that section.
Learn
One of the most common themes with these graphic design tips is around "learning".
These tips will share with you the importance of continued learning in your journey to becoming better.
My answer would be, always be open to exploring new areas of graphic design, don't feel confined to a certain style, even if you don't stick with it you learn new skills and new approaches you can carry with you anywhere!
Also, always invoice.
I would say never stop learning! Even when you're on the top of your game.
And give back to the community. That is also important.
Design: Find your unique style, stick to it, develop it, evolve it.
Great execution is only one aspect of design that all designers should master but it's original thinking and style that differentiates you from the pack.
It's easier said than done and can take years to develop.
It definitely took me years of learning the fundamentals before I really felt comfortable applying them to my own design language.
But maybe that's just me!
Business: Remember that design is a business before it's a passion.
As artists, we tend to hate focusing on contracts, financials, and legal stuff. Snore!
But if I had known then what I know now, I would've saved myself a lot of time, stress, money, and trouble.
There are tons of resources out there to give you a good foundation.
The Graphic Artists Guild Handbook on Pricing & Ethical Guidelines is a good place to start.
My top graphic design tip is to stay curious and keep busy.
Always be a student.
Everything around us is evolving so quickly, that it provides so many opportunities and directions to develop our passions and styles.
I always encourage designers in my teams to have a personal project to indulge passions, develop their skills, and keep an inquisitive state of mind.
It might be as simple as trying to replicate a style they've seen, reimagining a favorite brand, or learning a new program; it's important to have fun and use that curiosity to keep growing, and to find your voice – away from the constraints of a client brief.
Keeping that learning mindset keeps you in competition with yourself to continue to push forward and challenge boundaries, the results of which will be immediately noticeable in your client work.
My top graphic design tip to help graphic designers would be to practice, practice, practice.
You'll only get better and find your style if you continuously work on improving your skills.
Once you're fairly comfortable with a certain tool on Photoshop or Illustrator, push yourself to try a new tool or technique.
Always challenge yourself to learn new things and experiment, it's important to be open-minded when designing.
I would say start a million projects but only finish the ones that excite you the most.
Go beyond your typical medium – teach yourself a new program if you have to.
Create what excites you.
Explore. Immerse yourself in unconventional channels, mediums, art forms.
Avoid falling into the same patterns and strive to push your boundaries whether that be with side projects, clients with particular needs, or daily whips to keep your mind refreshed.
Seek to be uncomfortable.
Eventually, after some thoughtful excavation, you'll find your own unique voice, style, or expression of preference.
That will not only make you distinguishable but a valuable piece in the market.
Create consistently and explore more design techniques.
You will have bad designs starting out, but it's part of the journey.
Embrace it, learn from it, and create something better.
Find the time to do the type of work you want to get paid for.
I work full time at an agency but some of my best and most fulfilling work has been self-initiated projects that I've done at home at night and on the weekends.
Since I'm my own worst critic these projects have really helped me to trust myself and establish my own creative voice and style. They've also led to freelance opportunities.
Process
This section will highlight graphic design tips that are centered around the process of graphic design.
Here we are…..
Listen to your gut.
It will be your guiding star when you're umming and aching about a decision or choice.
The more you open yourself up to listening to it, the more you'll be satisfied and do a better job with greater confidence.
Of course, you've got to put in the time and do the work, but second-guessing yourself is the enemy of creativity and that is when it all starts to fall apart.
It will not be fast. It is a slow process but the more you have your ears up and heart out, the more of a fox you'll be ready to pounce on a great idea.
Listening to your gut allows you to be yourself and by being yourself you'll always be giving yourself an advantage as no one else can be you.
This is what makes you interesting and fires up your passion.
It will make the work easier too as you'll enjoy it more and in turn, do a better job.
For context, I've done some art & design teaching in the past, and a useful tip for students to find their way.
It is something I always try and remember for myself and is partly how my artwork has evolved from design work too.
Make sure you enjoy the process. Work hard to get better.
Don't copy others.
Be yourself and unique.
Otherwise what is the point!" or is that too cliche?
I think all the above is very important, at least for me it is.
I would say consistency.
Not only on the graphic design but everything.
Be consistent and you will learn how to fail, how to win a lot of experience in a really short time.
Do something that has a reason to exist, that is either useful or beautiful.
Or even better, both. Social media has filled up our lives with empty and fast-consumed graphics without purpose.
Don't be a slave to trends and aim to do work that you would feel proud about in 5 years.
For me, the design is a problem-solving process and it took a lot of ingredients for inspiring people to take action and produce memorable work.
I believe that the most important is to be inspired by what you do.
So if I have to start with my top tip it would be: to gather inspiration everywhere.
From history, nature, books, movies, music, technologies, spectacles, artists, events, people, feelings, and personal experiences from every aspect of our daily life.
Then you can add passion, really love what you do, research and explore new techniques, and tools, constantly, to always seek to find the best solution for the project you work on.
Trust your intuition and enjoy your work.
Never be satisfied with your design. When you think your design is good, dig a little more, research more, see more references, and challenge yourself a little more.
This will make the difference between good design and incredibly good design.
This helps me to constantly evolve, it is important to raise the level, even if your work is already acceptable and your style is already defined, keep experimenting, daring, taking risks, making mistakes, correcting, and advancing.
In doing so, you will pull the ruler upwards, helping not just you, but all the designers around you.
I think you become a better designer by having a voracious visual diet.
The more you look at graphic design, typography, illustration, and the fine art of the past and present (FYI there is way more past than present), the more visually sensitive you become.
A good diet leads to you having a larger visual vocabulary to draw from in your work.
It is difficult to identify the most important advice, from my own experience, "experimentation" is what pushes forward every graphic designer.
This combines both curiosity and the desire to discover new ways of visualization, expression, and techniques that allow us to communicate an idea.
Each has its own way of creating, with its own cultural background and knowledge in the domain of graphic design, however, this must not be a limit, but only a basis for stimulating creativity.
Experimentation pushes the graphic designer to find other ways, look around and understand what can be improved, what works, and whatnot.
This aspect evolves the sensitivity towards a functional design, the most important thing for every design project.
Ideation
To create an amazing graphic design it all starts with an idea.
These graphic design tips reveal the significance of starting with a solid idea.
My top graphic design tip would be – don't look at what everyone else is doing.
Get your sketchbook out, find a quiet place, maybe music but make sure you can tap into your imagination and let the ideas flow – always approach a brief this way don't just jump straight onto the internet to see what's already been done.
Clever and considered design will last longer than a trend or simply aesthetics.
And finally … lay off the embellishments – if it doesn't serve a purpose you probably don't need them.
Every time I find myself in front of a white canvas I try to disconnect 100% from my reality, so I can come up with fresh ideas, and create my own world. I've no limits, I just have a couple of rules.
The first one, choose the main idea (it could be a song, a recipe, just a quote, it could be a color or a texture maybe).
In the second place enjoy doing and building that main idea.
This is the most important part.
Do what you want, what makes you happy.
It doesn't matter what people think, just do it.
Client Work
This section shares graphic design tips that focus on client work.
My number one top graphic design tip for graphic designers is to have a good balance between paid work for clients and personal work.
I think it's really important to not only work for someone else but also make work that is completely yours, so you can try out different things to see what you like the most and to make stuff that's 100% yours.
Working on personal projects can also influence your client work, in a good way.
EGO IS NOT YOUR FRIEND
As designers, part of our job is to know how to translate our clients' requirements to offer them solutions to their visual needs.
Many times we can get frustrated when a customer is not so open to our recommendations and on those occasions, we must put our ego aside and remind ourselves that our clients are also part of our team and we must find a way to reach a middle ground in order to finish the project in the best and most professional way.
If you're starting as a freelance designer or starting a design firm, market your strengths first!
Acquiring clients is much easier if you're focused on projects or industries you're familiar with.
As you progress, you'll have more freedom to work on ideas you're passionate about.
Miscellaneous
These graphic design tips cover other aspects that are not covered in the previous section.
When people don't support you, don't worry at all.
You're alone in this world so take advantage of it. Move on with your own decisions.
Do things without expecting something in return.
-When you do things without expecting something in return the rewards will come, even more than you would have imagined.
Changing perspective can give many other opportunities to convey a message that primarily didn't work out.
It happens to me many times so yes, change perspective and make magic happen!
Think about and find what actually really matters to you, align your goals to it, don't get distracted, and stay on track.
Conclusion
I'm always impressed by how graphic designers can take a problem and craft a visual way to solve the problem.
It takes persistence, work, and dedication to become an amazing graphic designer.
I hope these graphic design tips shared by these artists can help you get to where you want to be a bit faster.
I am thankful that each one of them took the time to graciously share their top tip with you guys.
Each artist featured on this page is linked to their Instagram account.
Each of them was extremely cool to participate and share their knowledge.
I want to encourage all of you guys to check out their Instagram accounts and engage with their work.
These are some amazing graphic designers.
With that said, I hope this collection of graphic design tips can help you on your journey to improving your graphic design skills or graphic design business!
Question of the Day: What is your favorite thing about graphic design? Comment below.