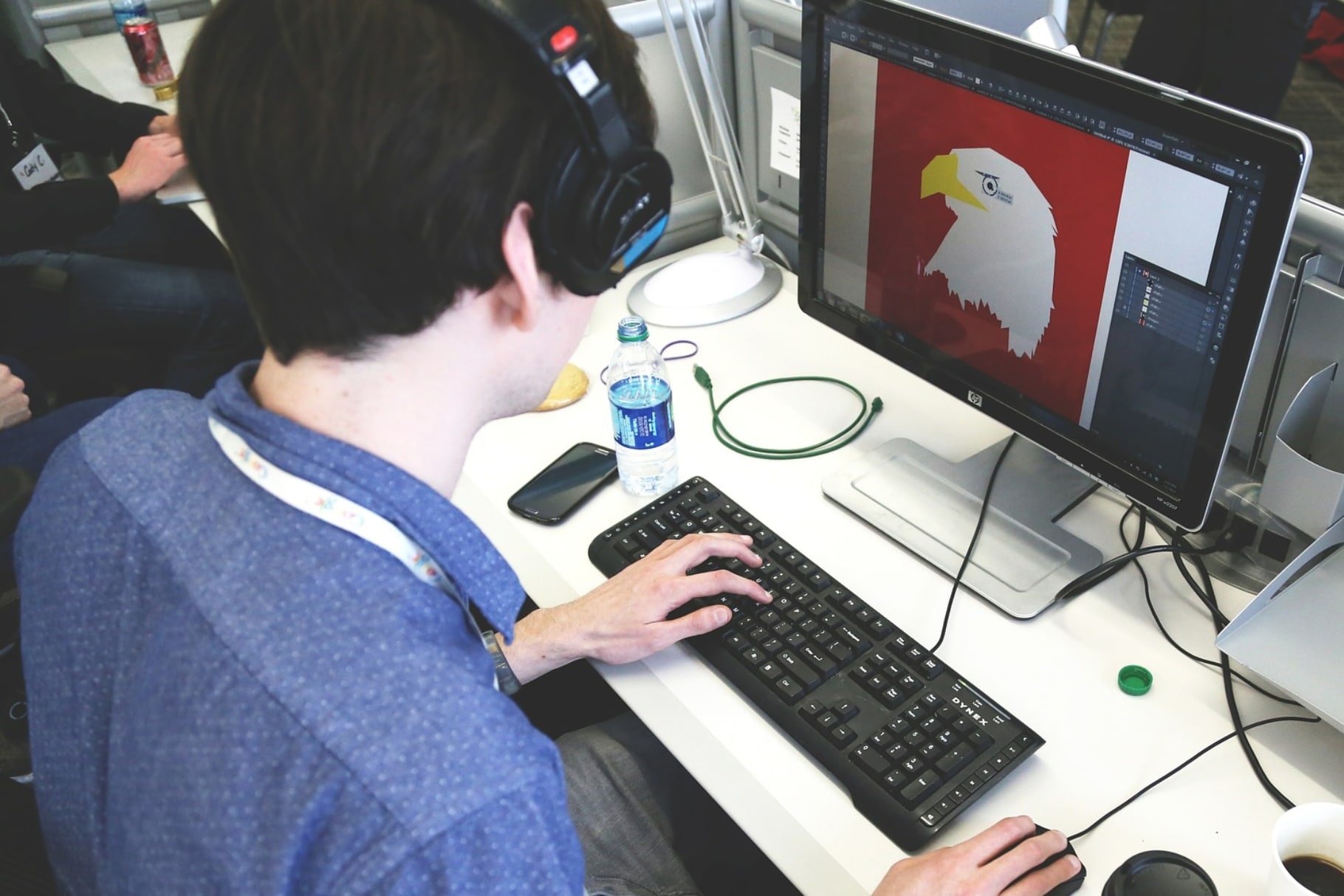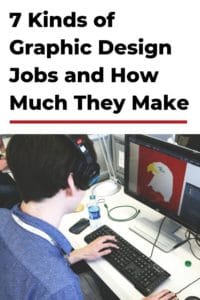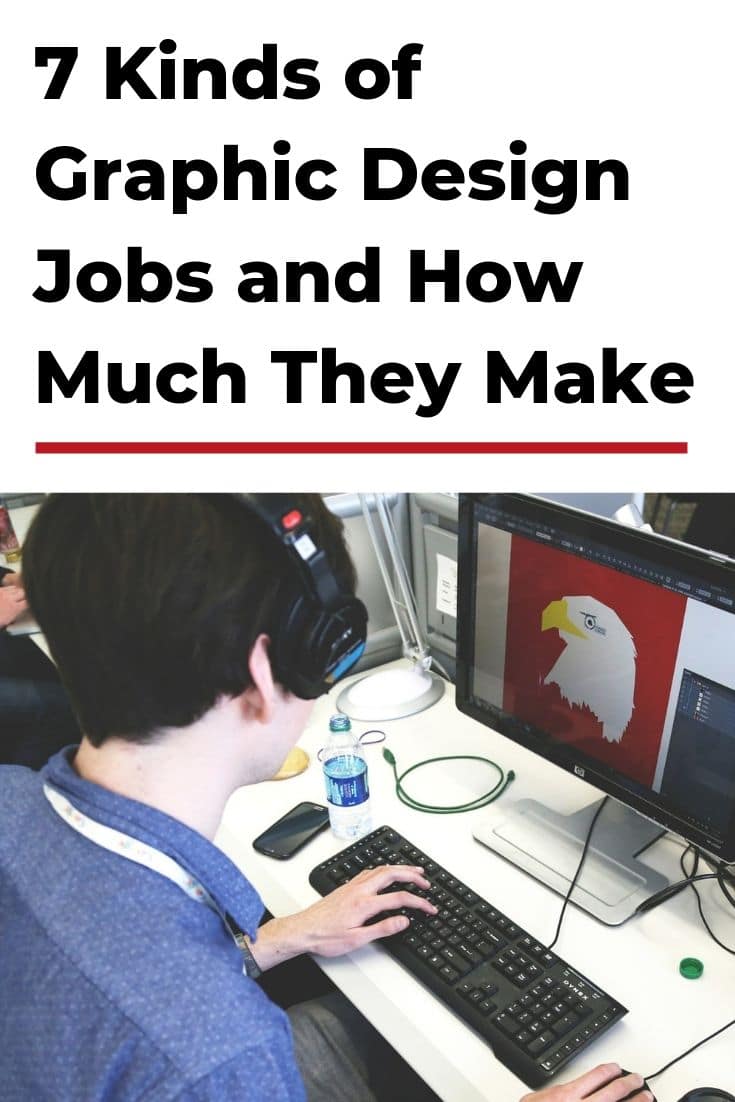 Graphic design as a field of study has been increasing in popularity over the years. You can either attend a traditional university or find courses online. Whatever approach you take, there are endless resources to help you break into this field.
In a digital world, it comes as no surprise that the list of graphic design jobs is extensive. For a person who has just honed their skills, this can be a little bit intimidating. Regardless, we think that it's kind of awesome.
You might already have your graphic design credentials or deciding if you want them. This means that you're probably curious about what you can actually do with these skills. The graphic design world is expansive, and you'll be surprised to learn just how many things you can do.
Though you might have envisioned only ever making infographics, there are plenty of careers to pursue here. After your fancy graphic design resume is completed, check out this list of career options.
Web Designer
A common career path to follow for the average graphic designer is web design. This is one of the more popular graphic design jobs. It makes sense considering your primary skills are in digital design. You might not have considered web design before, but this is one career path that continues to pay. In a mostly online world, basically, everyone needs a website for something.
In this day and age, you might end up making a custom website for someone's dog. But hey, if someone is willing to pay you for it, why not? Web design can be a ton of fun, even though it can require a little extra knowledge.
You might not have envisioned yourself as a coder, but it's all the rage these days. In fact, you might not even need to code at all. This job often relies on having you design the site, then pass it on to coders for creation.
The average web designer makes just shy of sixty thousand a year from a salary perspective. This might not be that six-figure number that you were hoping for, but it's reasonable enough. The salary can come in lower when you are first starting.
However, with a little time and practice, that number should climb. Senior web designers can expect to see that number increase by about twenty thousand dollars. This means that you have room for growth. This makes it a great option if you love what you are doing.
Photo Editor
If you are looking for something a little more artistic, a great twist on graphic design is photo editing. This job can be a lot of fun depending on where you work. The actual day-to-day for a photo editor can shift drastically across industries. As far as graphic design jobs go, this one is especially millennial-friendly.
Since everyone is so caught up in the Instagram life, chances are that you have the skills. You might even end up learning how to get Instagram famous so you don't even need to work.
Photo editing work can come in a lot of different forms. You might be editing photos for a local photographer or managing images for a major magazine. If you have an eye for good photography and how to make it better, this might be for you.
You can enjoy spending your days smoothing away blemishes or making tigers look extra fierce. The possibilities really are relatively endless with this one. If you love Photoshop, this is probably a great fit for a career.
The average salary for a photo editor comes in at an underwhelming thirty-five thousand. This is probably less than ideal for most people and may struggle to pay off your student loans. However, it should be said that various factors can impact this.
There is always room for growth and the higher end of the average range is in the fifty-thousand area. More importantly, if you can land this job at a major company, it's in the six-figure range. You might find that you end up working part time as a photo editor while you swing another gig. That is okay. It is all about learning and growing!
Multimedia Designer
This is probably more in line with what you would expect to do with a graphic design degree. This career path focuses on creating various artistic designs. It often means using multiple media formats to create a more cohesive final product.
For example, you might create infographics and frames that are then used in a video. As a multimedia designer, you job is to bring it all together to make something great. This is said to be a fun kind of work.
If you love making educational videos or tutorials, this is for you. You will rely on various media items to make helpful videos, advertisements, and things of that nature. These materials might be used internally or externally depending on the company.
Sometimes this job might be as part of a marketing team. Other times it might be included as a role in a human resources department. It wears many faces, but you can make some seriously cool things.
The average salary for a multimedia designer is fifty-three thousand. The range on this salary does increase by a little over twenty thousand, making it ideal for growth. Some companies offer a much larger salary for this kind of position depending on the demands of the job.
For someone who has just obtained their credentials, this should provide a livable salary. It probably helps that you can have such a good time doing this job!
Art Director
For the graphic designer with vision and leadership skills, this role is ideal. Art directors are in control of ensuring that art teams work together for a great final product. This might not be exactly what you expected to be doing with your graphic design background, but why not?
You can offer insight into the overall design decisions and control project direction. Working together with fellow creatives is a great way to stay happy and inspired. This can be incredibly fulfilling work.
In the art world, being an art director is a common goal. You will get to work with various people to bring together various components of a project. This is often affiliated with marketing and branding, which can make it exciting.
It is a thrill to get to work together with a team to make something that people will love. If you are business-focused and want to try your hand at getting things done, this is for you.
The average art director's salary is around seventy thousand. This is a great salary for an average, and it offers room for growth. Senior art directors can make well over six figures. The pressure with this job can be high, but it is well worth the payout. If you are the kind of person who wants to meet art and leadership at a crossroad, this is a perfect role for you.
Logo Designer
When people think of graphic design, a lot of the time they think of logos. Logo design is a very popular artistic pursuit because these days everyone is branding. People want logos for their blogs, their apps, and their companies.
There is no lack of demand for people with this skillset. If you are good at it and can build a nice portfolio, there is fun to be had here. For the visionary who is aware of branding, logo design can be incredibly fulfilling work.
Picture this: you consult companies on their needs and learn about their brand. Based on what they say, you decide what logo they need. You essentially get to capture the heart and soul of a business and make it marketable. Logo design is common for graphic design jobs because people need a first line of attack.
Your logo may very well be the first thing that new customers of a business see. This means that your work needs to be perfect. The last thing that you want is to see your logo replaced when a company takes off.
If you are looking to embrace the solo logo design business, you will likely work in a freelance capacity. This is awesome because it means that you can charge your own rates and schedule your own work. You might charge $50 for a more basic design or hundreds for a complex design.
It is all about how you build up your brand. This is what makes your portfolio so important. You will want to start small and work your way up. This makes this career path a little more intimidating, but the challenge can absolutely pay off.
Brand Designer
For a person who has a broader vision for everything that they do, brand design might be right for you. If you tend to know what goes together well and how to represent something, try this one on. A brand designer is responsible for crafting a brand identity.
This means that you will sit down with a company and find out who they are, then represent it. Unlike a logo designer, brand designers are the full package. They work tirelessly to make sure that every design element matches.
Brand designers are responsible for finding the right aesthetic for a company. This means choosing color schemes, logos, fonts, and patterns. If it has anything to do with the visual appearance or tone of a brand, it's on these people.
A brand designer must fundamentally understand a company and how to represent it. Their ability to do a job will determine how credible a company seems. This can mean a lot of research and rework. However, when the job is done well, the results are brilliant.
Since brand designers have so much responsibility, it isn't surprising that so many of them make great money. While the average salary for this role is in the sixty thousand range, it grows significantly. Top brand designers can make well in the six-figure range. This might be carried out as a full-time job or consultant. However, it is rewarding work that pays very well.
Layout Artist/Designer
For a graphic designer who is looking to embrace visual media, this is perfect. A layout artist will work to make sure that everything is visually appealing when it is laid out. This might mean arranging photos for a catalog or commenting on a website.
The main focus is to make sure that everything looks nice next to everything else. While there is certainly more that goes into it, these artists are all about capturing aesthetics and balance.
The average layout artist makes just under fifty thousand annually. This might seem low, but the range grows significantly with time. Top-performing layout artists are known to make well into six-figure salaries. This means that focusing on your portfolio is the best way to grow.
The more that you have to show potential clients or employers, the more likely they are to see your value. This is a job that you can certainly grow into. If you're also interested in other visual artist positions and wonder how much do artists make, there are plenty of other artistic careers that can appeal to your need to embrace your creativity visually.
Conclusion
Choosing the right graphic design career can feel positively daunting. However, that does not mean that you should avoid it. In fact, you should be happy to work in an industry with so many graphic design jobs.
This allows you to chase your passions and find what is right for you. There are plenty of graphic design jobs out there for you to try on. We would encourage you to explore to find your match!
What type of graphic design job are you looking for?
Graphic Design Jobs FAQ
What kind of jobs can you get with a graphic design degree?
You can get any job in the range of a Junior Designer to the Creative Director. You can become a multimedia artist, animator, product designer, video editor, or any of the other jobs listed in this article.
What does a graphic designer get paid?
It can be different depending on the actual design job you want. However, this article covers the different design jobs and how much money they make. Check it out. When you find out how much some of the jobs earn, you will be pleasantly shocked.
Can graphic designers draw?
There is a myth that all graphic designers can draw. In fact, I've worked with plenty that can't. This is a great thing because it proves you don't have to know how to draw to be a great graphic designer.