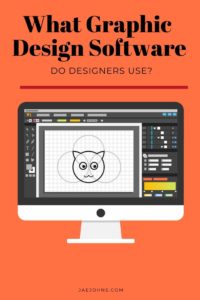 Finding the right graphic design software can drastically improve your process. If you are working on making stunning designs, the right tools can help you to make it all come together.
Finding a process that works for you is an amazing way to stay motivated and dedicated. Finding good graphic design software isn't hard. There are a variety of amazing options that you can get to work within no time at all.
These powerful tools can make it easy for you to get to work and improve your process. Every graphic designer has their preferences. Graphic design is an artistic field, and everyone goes about it a little differently. While you might like some tools, other designers might need others.
This is what makes it so great that there are so many software options. The right tools can help you to experience an easier time working and improve the quality of your products. This is why we have compiled a list of graphic design software to help you find your spirit system!
—This is one system that is perfect for people who are new to the field. Adobe Spark makes it easy for literally anyone to make stunning graphic design materials in no time at all. You can enjoy using these powerful tools to create stunning graphics with very little effort.
It comes with a variety of features that are designed to make sure that your every product is perfect. The right graphic design software can drastically improve your process and Adobe Spark was made for doing just that.
There are some systems where you feel that you might need to struggle through them. Adobe Spark is not one of those systems. It makes it simple for anyone to jump in and begin making amazing things in no time at all.
From centering design elements to providing you easy access to a collection of graphics and images, it has it all. You will find that this is one system that never lets you down. It comes with the right tools and beautiful elements.
Adobe Spark shines when it comes to creating things for social media. This software is perfect for creating graphics that are perfectly sized for any platform.
You can make beautiful visuals for your blog, pictures for Instagram, and headers for Twitter. Whatever needs you might have, Adobe Spark is ready to help you create something truly beautiful.
—For graphic designers who don't mind a bit of learning curve, Adobe Photoshop is an invaluable tool. The real power behind Photoshop is that it will let you do just about anything. You can find thousands of tutorials online that will help you to learn how to make stunning new things.
While many think that Photoshop is just for editing photos, the reality is that this powerful platform is full of endless opportunities. You can enjoy working in it for simple and complex projects alike.
Photoshop is home to an almost ridiculous number of tools. To make it even more interesting, you can download and add more tools to it as you need them, like custom brushes to create stunning watercolor effects. There are ways to make stunning visuals, manage photos, and create exciting typography.
This platform is perfect for tackling any kind of graphic design work. When it comes to graphic design software, Photoshop is one of the most powerful options on the market. It is very much a system that lets you bring anything you can think of to life.
Photoshop is an incredibly complex system, but that is part of its charm. You can use brushes and various other tools to make unique graphic design projects in exciting new ways. Masters of Photoshop are sought after at a lot of companies purely because it is a difficult system.
People who can truly master it are capable of altering reality and making amazing designs. As a bonus, there is always something else to learn.
–If there is one system that people seem to adore, it is Canva. This graphic design software is perfect for making exciting and unique designs in no time at all. You will be surprised by how simple and easy to use this platform is.
What makes it even more impressive is the quality of the product that it can produce. It is a simple system that can have some truly stunning results. This is part of what makes it so popular among graphic designers.
A big perk that Canva offers is a variety of ways that you can work with it. You can enjoy using a simple web-based platform or spend time designing an app instead. The power of this system is that it can easily be used across multiple devices.
This makes it easy for you to get to work at one location and keep working when you are on the go. If you are at the office, work on a desktop. If you are on the train, the app works amazing. You can have a completely mobile office with this powerful system.
Canva is great for teamwork as well. It allows for business logins that grant access to multiple users. This makes it easy for you to make stunning designs in the same space as your team. They can watch as you work on new projects and easily glance over your designs. This makes it effective for sharing work and eliciting feedback in no time at all.
–This is one graphic design software that is gaining traction over time. Over the years it has steadily improved itself, offering more functionality based on user feedback.
The result is an incredibly powerful system that can help you produce amazing products. If you are looking for a great bit of software to help you cover every element of graphic design, look no further than this system.
Gravit is popular because it offers a ton of different functionalities. You can enjoy a free or pro version of the system. While the free version is nice, the pro version is an absolute powerhouse that is well worth the money.
You can settle into your workday knowing that absolutely nothing can stop you from making some truly amazing designs. Their list of tools covers all sides of graphic design, making it great for teams who have different specialties.
One exciting thing about Gravit is the fact that it allows you to work in vectors. Vectors are a crucial part of the graphic design process because they can be easily manipulated. Unlike other image types, vectors can be altered in a variety of ways.
These images can be resized and changed without losing any quality at all. Gravit makes it easy for you to work with these important elements without having to pull in a different system for your other work.
–Sometimes you need powerful graphic design software without the price tag. While the majority of available systems can be costly, this is one completely free alternative. Do not be fooled by the very generous lack of price on this product.
Inkscape is a powerful and helpful system that can make truly amazing products. When you download it, you will be surprised that it is free at all. It is a truly great tool that many graphic designers lean on daily.
Inkscape is a tool that allows you to cover a lot of graphic design bases. It has options for every kind of graphic designer, making it great for team use. You can use this system to draw and create stunning projects in no time at all.
As a bonus, it comes with all of the graphic design basics you can expect from other systems. It allows you to easily manipulate text and focus on getting the most out of your design. You can work with images and vectors to compile truly amazing designs.
The really special thing about Inkscape beyond the free price tag is the fact that it is easy to user. This is one system that was without question made with users in mind.
The system has a simple set of steps despite how many amazing tools it offers. You will be able to work with this in no time. It doesn't have an excessive learning curve like some of the other products on the market.
–True tech enthusiasts tend to appreciate the power of open-source products. An open-source product is something open to a variety of users that can be easily manipulated.
It is generally much more user-focused and comes at a beautiful free price tag. GIMP is a system that plenty of graphic designers love to brag about online. It has an amazing set of functionality, and an adoring and supportive community to go with it.
GIMP is beloved by so many for a couple of key reasons. One, as far as graphic design software goes, it is incredibly easy to use. People love the simplicity of this system, particularly because it is so powerful. Another major selling point is the fact that it allows for custom art creation in the system.
You can make stunning drawings in no time at all. When you're done with that, you can lean on the image manipulation side of the system. This makes it easy for you to make exciting graphic design decisions and bring everything together for a great final product.
–We aren't going to say that Adobe owns the graphic design software market, but they kind of do. This company is great at making truly amazing art systems designed to help people create. Illustrator is a favorite in the graphic design world because of the power of vectors.
This system lets you easily create and manipulate vectors with some truly amazing results. You will love the endless opportunity that this system offers.
When it comes to creating logos or making graphics for design elements, Illustrator takes the cake. You can enjoy creating stunning graphics in no time at all. This is another system that comes with a pretty steep learning curve, but it is worth it.
You can make great graphic designs with a variety of elements using these amazing tools or even download free vector brushes or textures. It is absolutely a system that allows you to take out what you put in.
Other featured topics to help you in your graphic design career:
Conclusion
When it comes to making amazing graphic design products, you need the right tools to do it. Finding a system that accommodates your style is crucial for making the kind of designs you want to make. Every designer has their own needs and preferences, so feel free to experiment with these products.
You might just find that the one you have been using isn't your favorite. There are a variety of helpful tools available that you can use depending on skill level and personal preference. When you find a good system, you will not want to miss out on using it again.
Creating a good piece of design is about creativity and technical skill. Though some of these systems might take a while to learn, they are generally considered to be well worth the effort. These platforms offer you amazing ways to create stunning designs quickly and with ease.
You might just find that your entire process improves with the right system. Some of these systems are great for growing skills over time. Others are preferred in certain industries. Find one that works for you and start making amazing designs!
What graphic design software do you use?