When you are learning how to draw, it is a constant process to keep challenging yourself. While you might be out looking for inspiration in real life, chances are you need something different. You will need the best website for drawing.
The best websites that teach you how to draw feature incredible tutorials that make learning to draw so much more fun and easy.
A good tutorial can go a long way in helping you to refine your craft.
That is what makes it so helpful that so many drawing websites exist.
These sites come with helpful tools that will allow you to take your craft to the next level in no time.
You can enjoy fun exercises and exciting challenges.
Learning to draw is a process that takes time and practice.
Finding the right resources to challenge yourself is a great way to get better quickly.
As you delve more into your talent and what you can accomplish, you will build confidence.
Knowing good drawing websites is a great way to help you stay focused on the goal.
In no time at all, you might just find yourself ready to go pro!
Fortunately, we compiled a list of the best drawing websites, other than the site you're on right now, to help you get started.
The Best Drawing Websites for Artists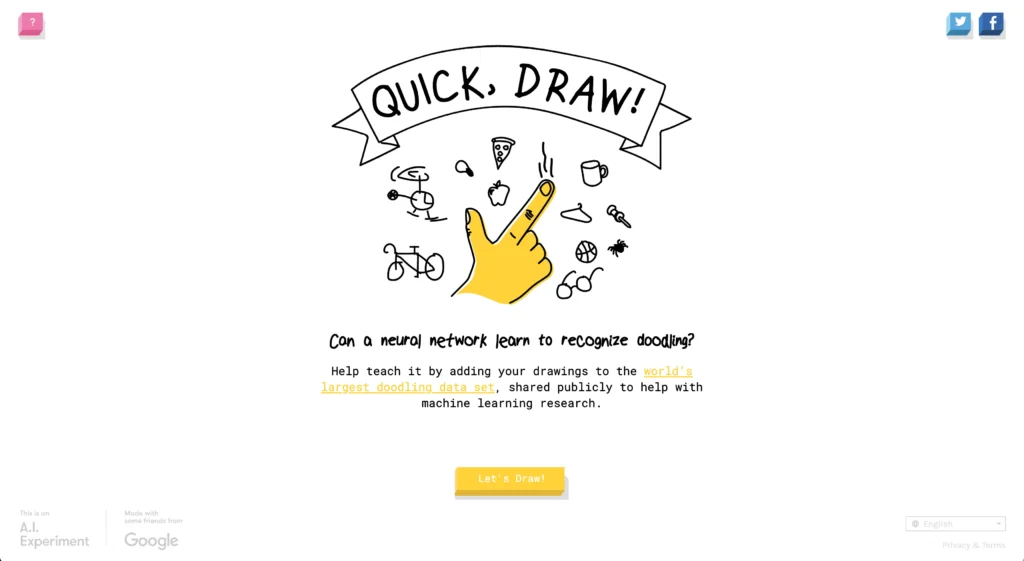 This might not seem like a traditional drawing website, but it's one of the greatest websites that teach you how to draw.
You can Doodle and see how easily Google can identify your drawing.
This is great for brainstorming and having a little fun.
Since the AI will try to determine what you draw, it can help for practice.
You can use this to gauge your improvements and make drawing a little more interactive.
As far as the best drawing websites go, this one is a ton of fun because it allows you to draw with friends.
This completely free drawing website lets you play and explore with your group.
It's great for making projects with friends in a fun and easy environment.
You'll be amazed by how many laughs can be shared on this site.
The real benefit is that it makes drawing easy, which makes practicing easy.
To build your skills, you must keep practicing.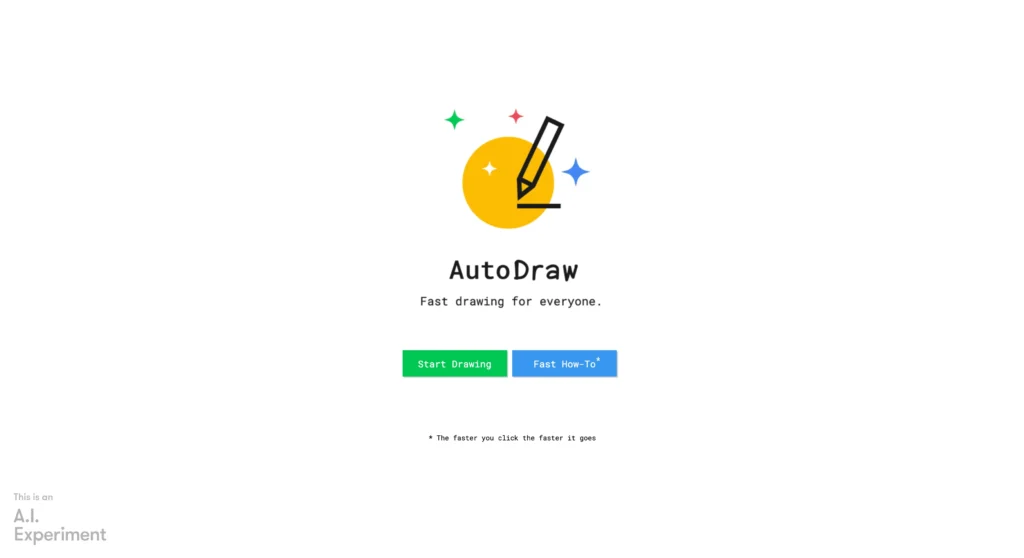 This fun website helps you to draw and practice drawing in different ways.
You can either dive right in or let the website offer you some guidance.
No matter what, you can expect to have a good time playing in this system.
Following their guides and looking into different options can help you to grow.
This is a great way to practice drawing without demanding perfection.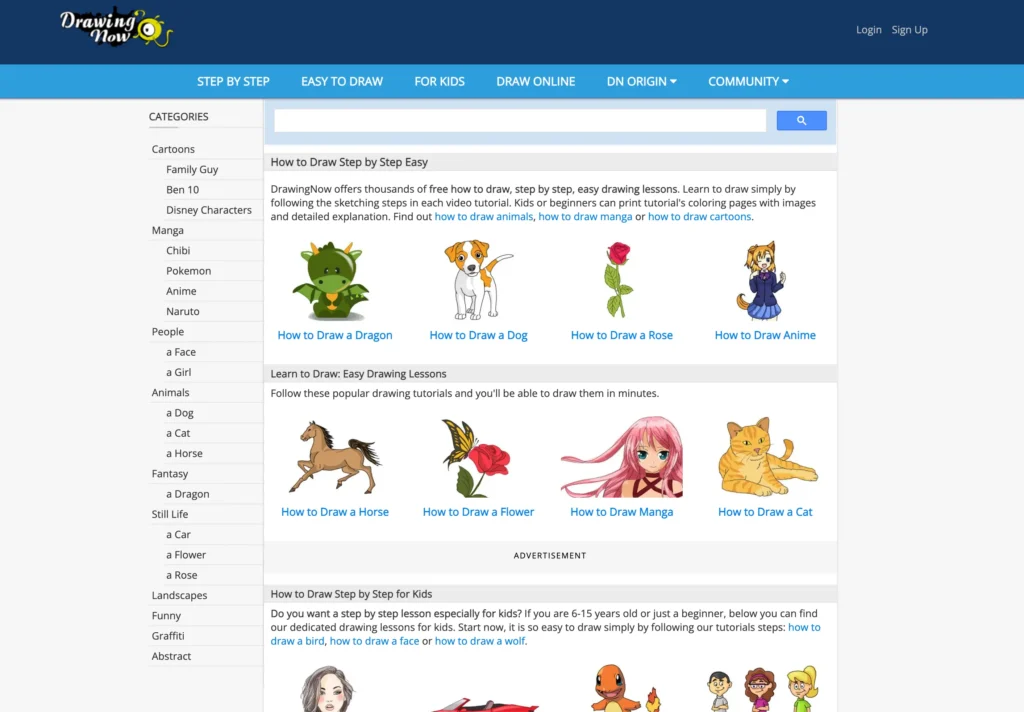 Stepping away from actually drawing website applications, drawing now is all about learning.
You can enjoy using this website to learn how to draw a variety of things.
Their tutorials are fun and easy.
It makes it easy for you to look for something a little special and silly to work on.
They offer various different tutorials ranging from fun to challenging.
You'll find a little bit of everything here.

If you're looking to start very small, you can try these tutorials.
While they are designed to help children to draw, they can be an excellent place to start.
As far as the best drawing websites for kids go, their basic and easy approach to art is great for getting you started.
This is an easy and fun way to practice your craft.
You might find that it helps you to build confidence before moving on to something else.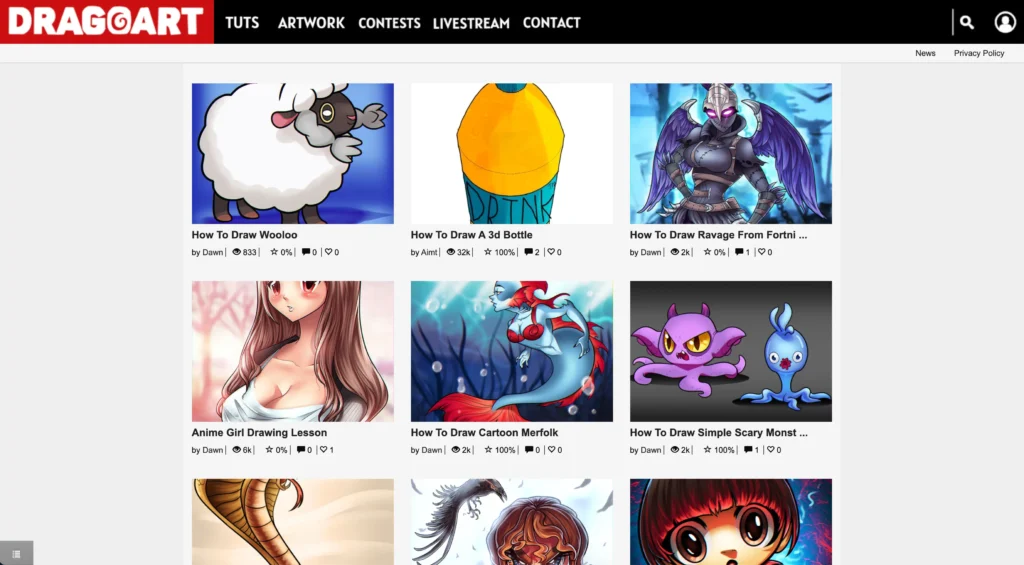 This amazing website has all of your fandom needs covered.
You can learn how to draw funny variations of all of your favorite characters.
This website is a great source of inspiration and fun, which makes its success obvious.
It's easy to enjoy yourself and learn at the same time with this site.
Taking time to draw things that you already know is a great way to get the most out of your art.
Many artists start out with this approach.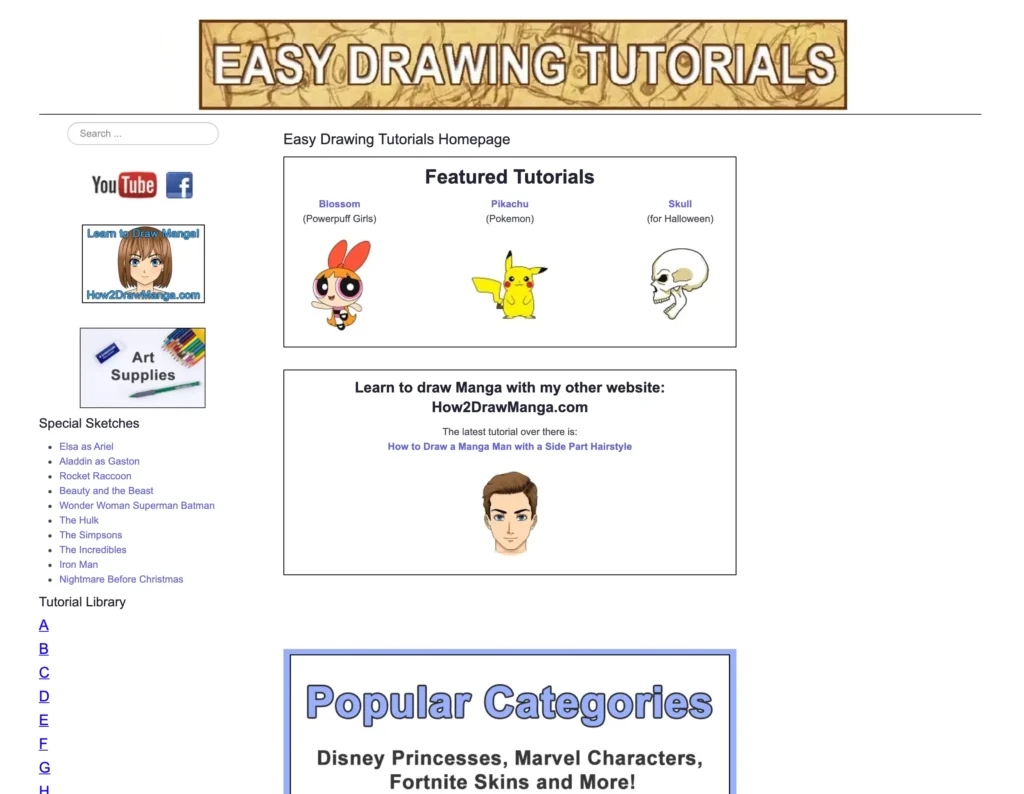 You can use this site to learn how to draw a variety of different subjects.
In the world of good drawing websites, this one comes with plenty of options for learning.
Depending on what you want to draw, you can easily search the site and find something great.
You'll be a seasoned pro before you know it. It is a great place to start or to stop by for building new skills.
There is plenty to explore here.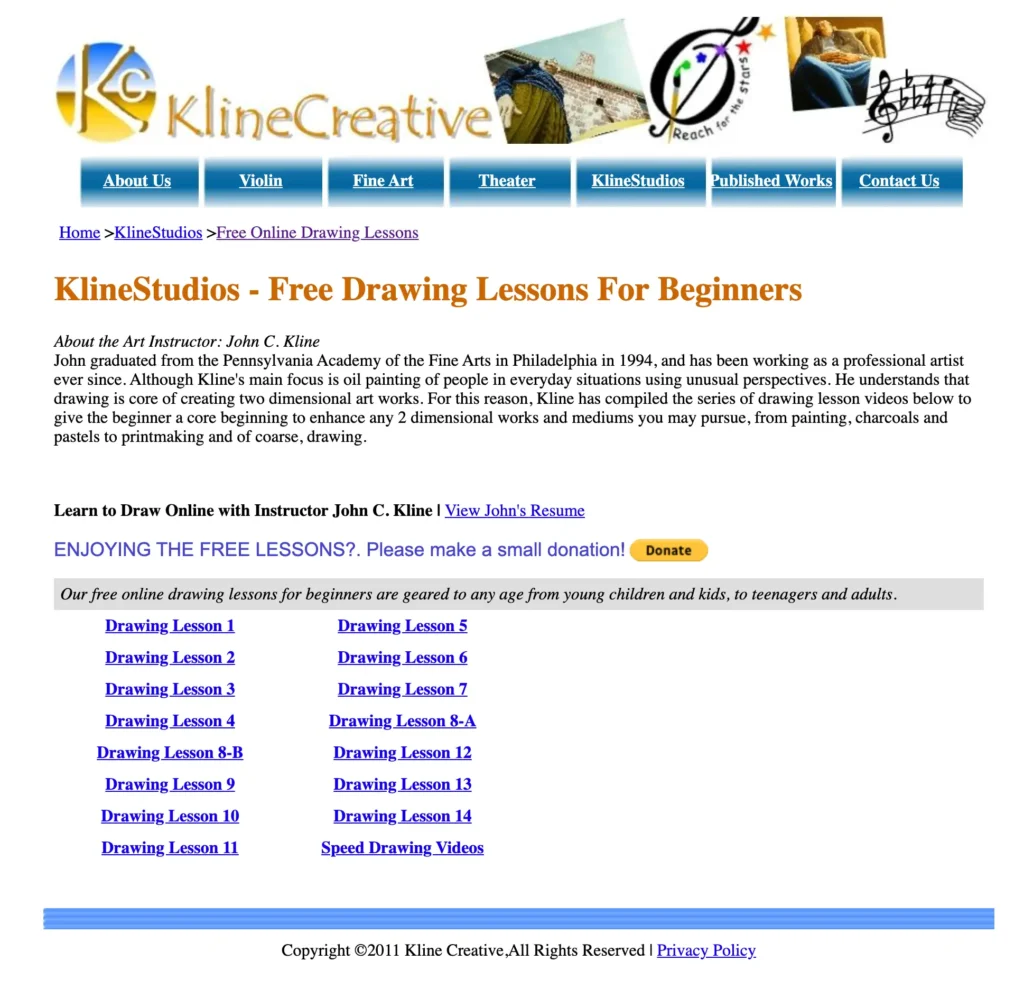 This collection of beginner's art classes makes it easy to see why you would want to start here.
You can learn a variety of skills with the help of this platform.
It provides an intensive crash course into the art of drawing.
This website makes it easy to start and refine some of the core skills you need to succeed.
As you develop your basis for success, your confidence will grow.
Over time, you will have well-developed skills that you can use for original work.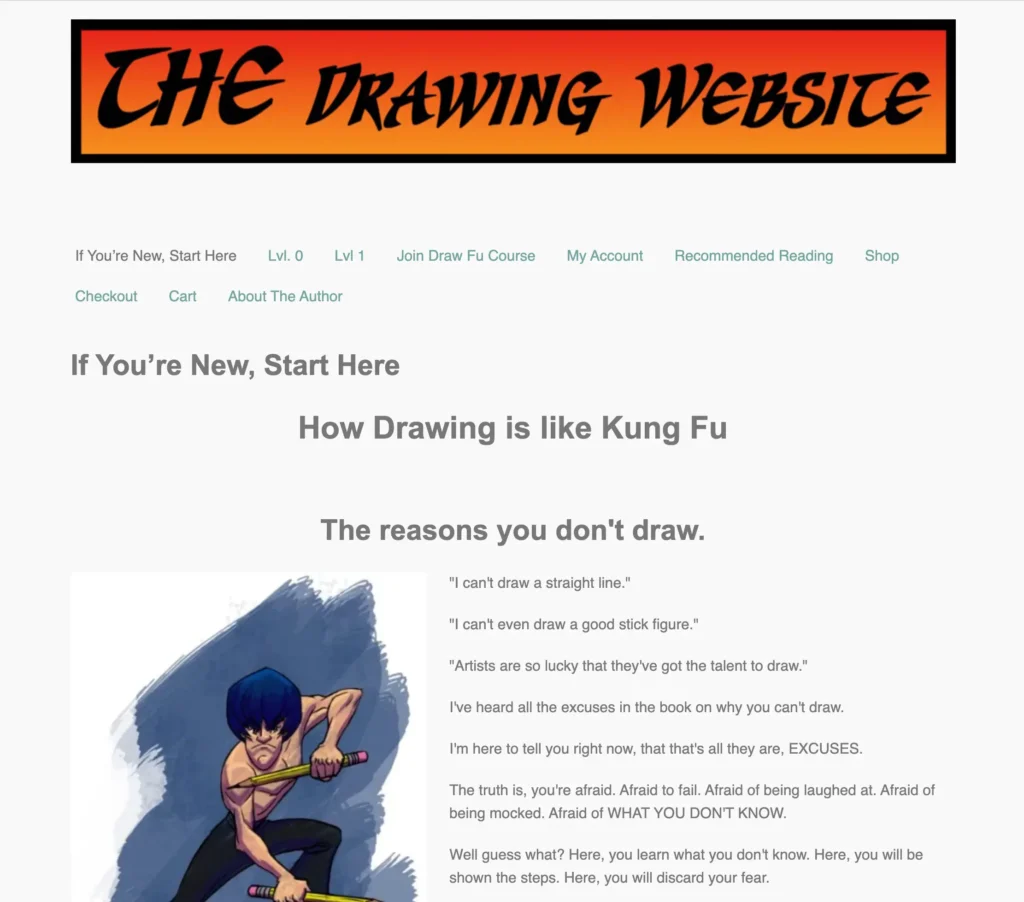 On this website, you will find a collection of helpful information for beginners.
You can enter this site with no knowledge of drawing and come out of it with some refined skills.
These guys aren't just here to teach you how to draw.
They are here to help you conquer the ego of drawing and the problems that come with it.
Instead of focusing on what you can't do, they tell you where to go.
They offer support for you and your path as an artist.

With this website, you can enjoy a collection of helpful drawing techniques.
The vast collection of tutorials make it one of the best websites for drawing.
They will help you to develop core skills and improve your approach to art.
This comprehensive breakdown of art is great for getting started or learning new skills.
It relies heavily on craft secrets that will make you a better artist.
You can tell that their guidance comes from a place of respect for the craft.
You can trust them to help you build your skills up in no time.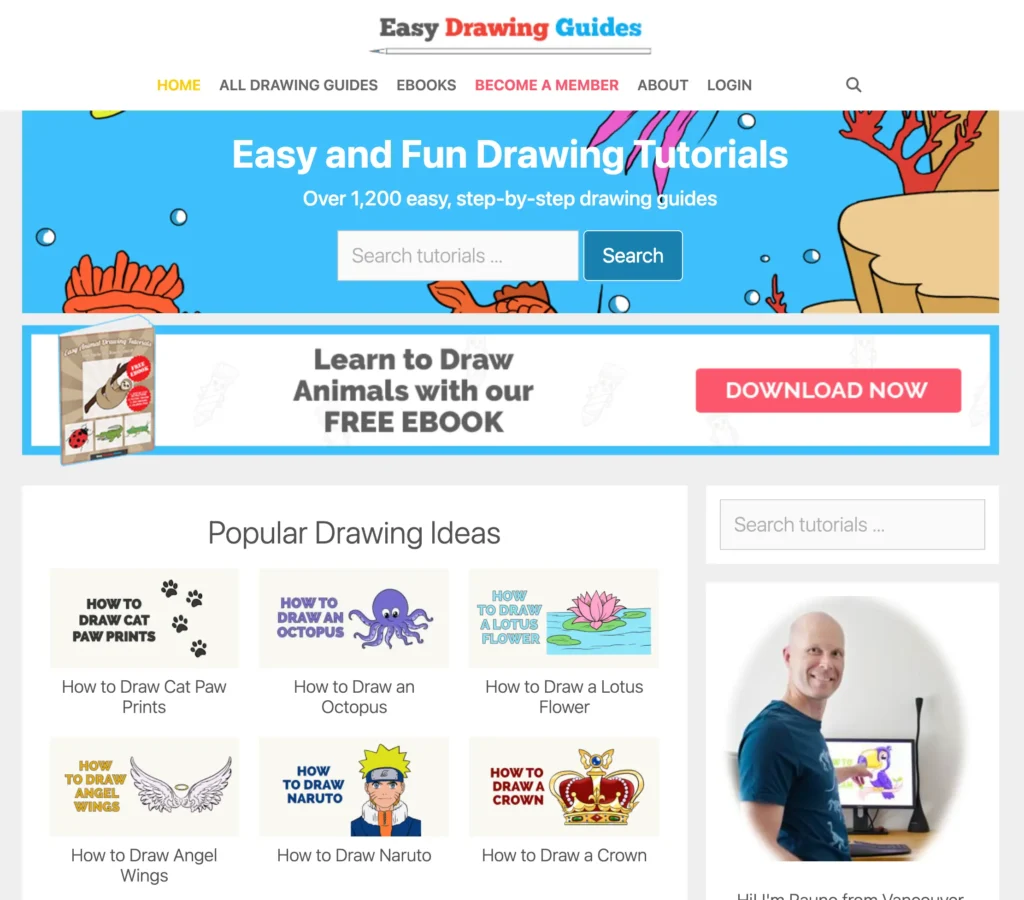 This website is less about making complex art and more about simplicity, but it's great.
You can enjoy plenty of simple and quick drawing exercises.
It can be beneficial as a warmup or for people who are completely new to drawing.
This drawing website will help you get valuable skills in a fun and interactive way.
As you progress through their tutorials, you will see your skills begin to sharpen.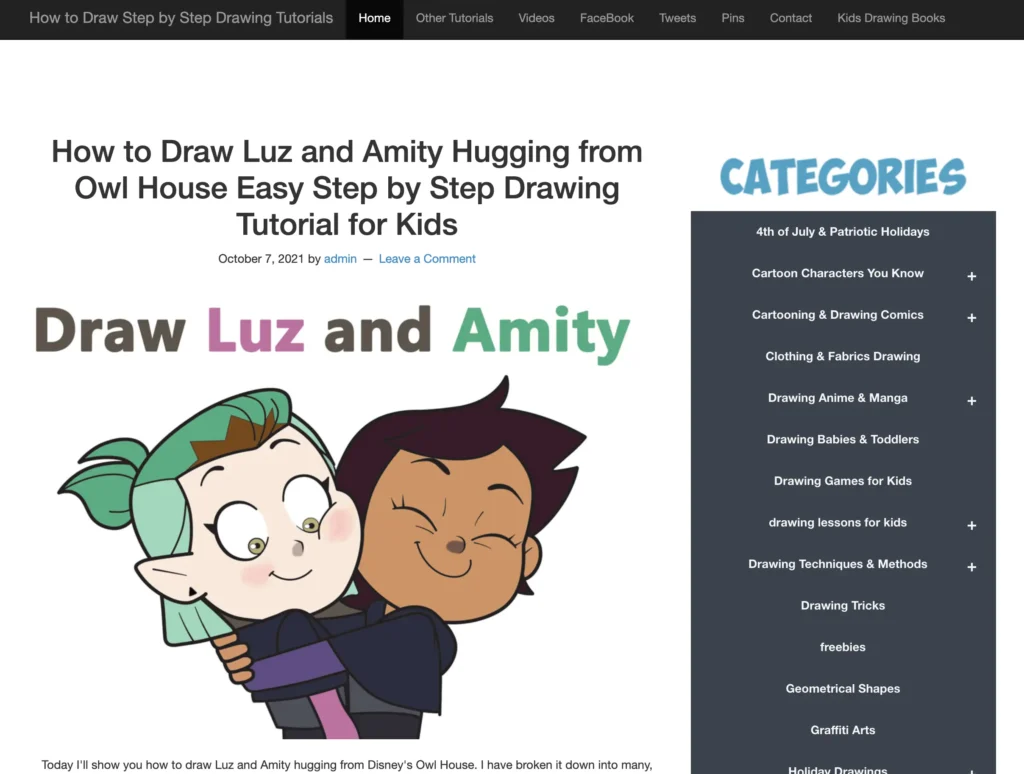 The people behind this site are masters of the general drawing craft.
You can enjoy learning how to draw a variety of random exercises.
Each one is carefully designed to help you become a better artist in no time at all.
Practice makes perfect, and this site offers plenty to practice with.
As you explore what does and does not work for you, you will learn about what makes you an artist.
We are all different and every artist has a different focus.
This is a great way to find yours.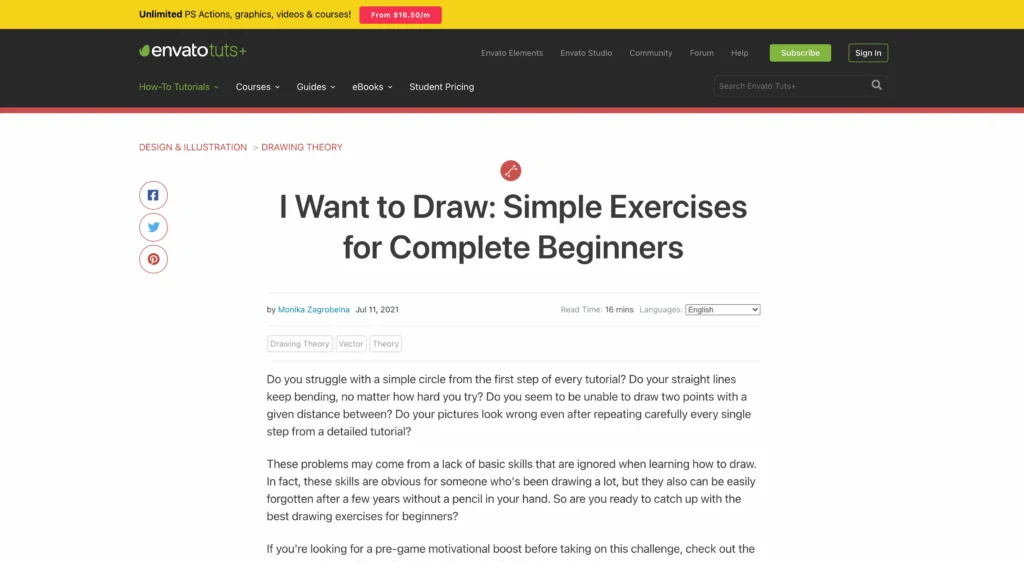 Tuts+ is known for its expansive collection of tutorials that range in the topic.
You can enjoy easily practicing with these beginner's exercises.
These were made for new artists to practice their skills in an easy and comfortable way.
This site has a reputation for providing quality education, so stop by for some great essentials.
These quick tutorials can help you figure out what you need to know to enhance your craft quickly.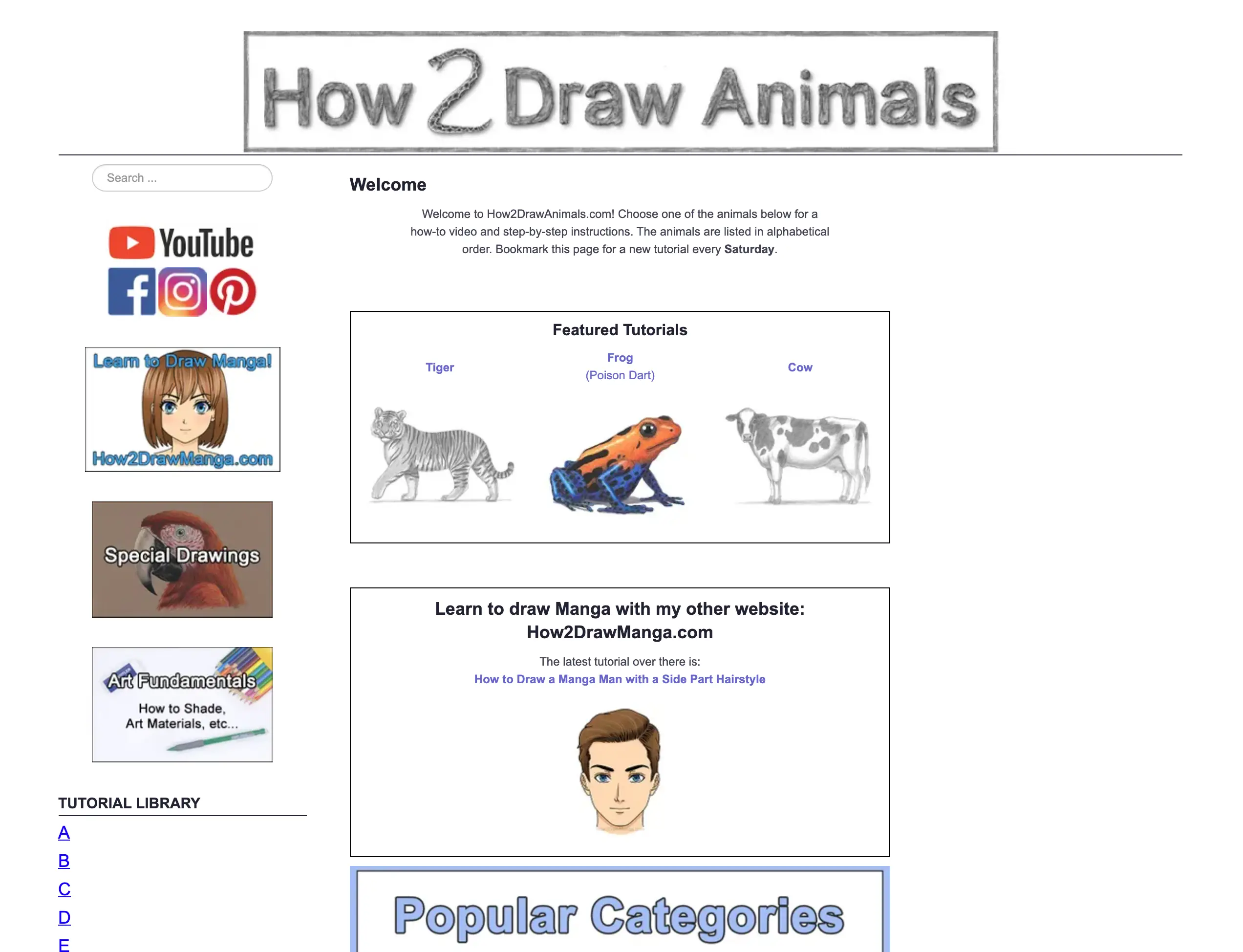 For the animal-focused artist, look no further than this site.
As far as drawing sites go, this one is incredibly focused.
You can learn to draw complex renderings of popular animals.
As an added bonus, they also offer dinosaurs.
This site is great for anyone who wants to practice drawing subjects in nature.
These detailed examples are helpful for refining your skills.
For fans of anime, this website is absolutely perfect.
It isn't often that you find such complete anime good drawing websites, but this one surely delivers.
You can learn to draw a wide variety of characters and traits with these easy-to-use tutorials.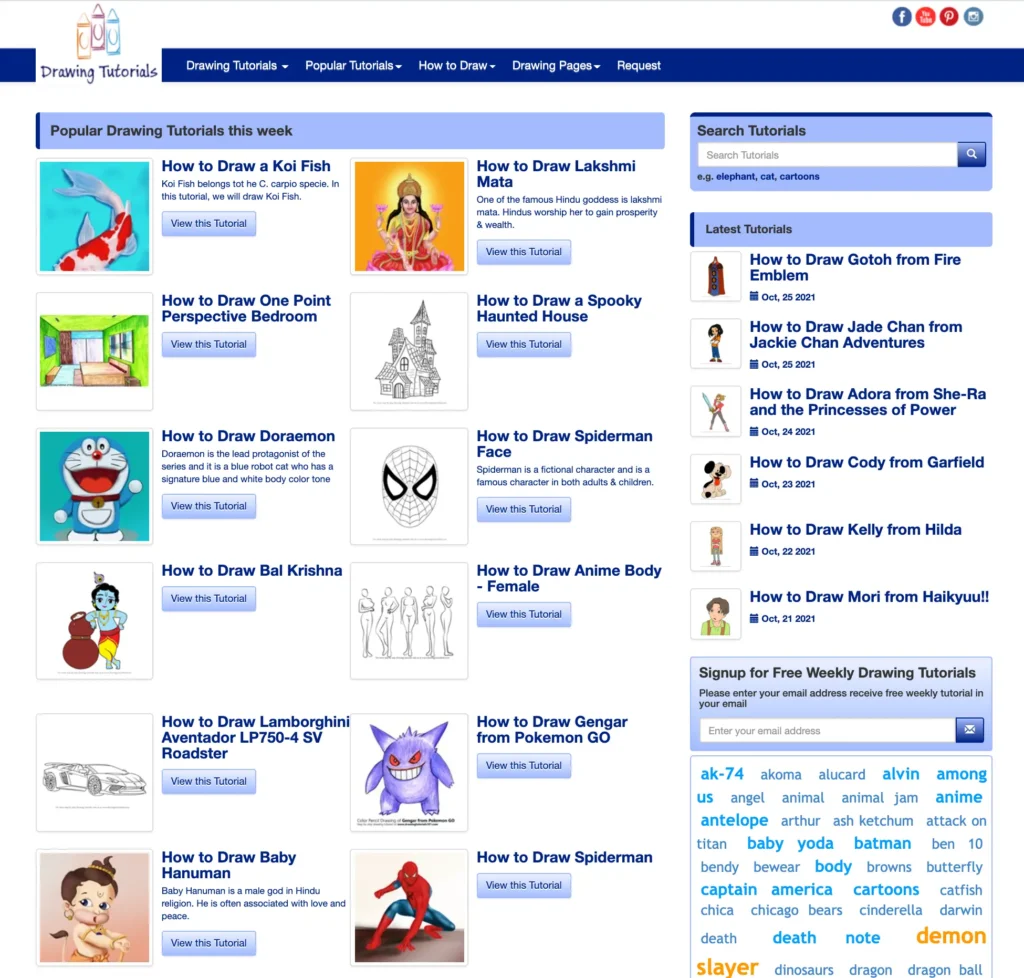 This website offers a wide collection of drawing tutorials on various subjects.
You can find different exercises ranging in skill and ability based on your interests.
These breakdowns are helpful and easy to follow.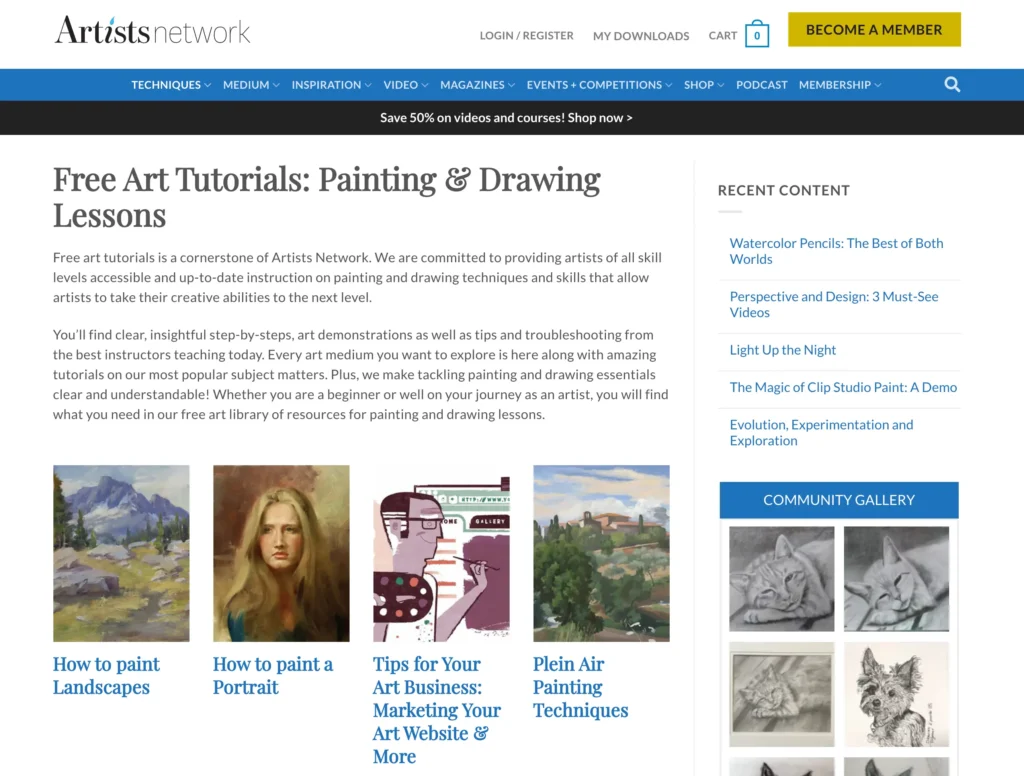 This website houses a variety of helpful tutorials in various art fields.
You can scroll through their collection to find what is right for you.
These helpful courses can help you enhance your abilities with a little practice and dedication.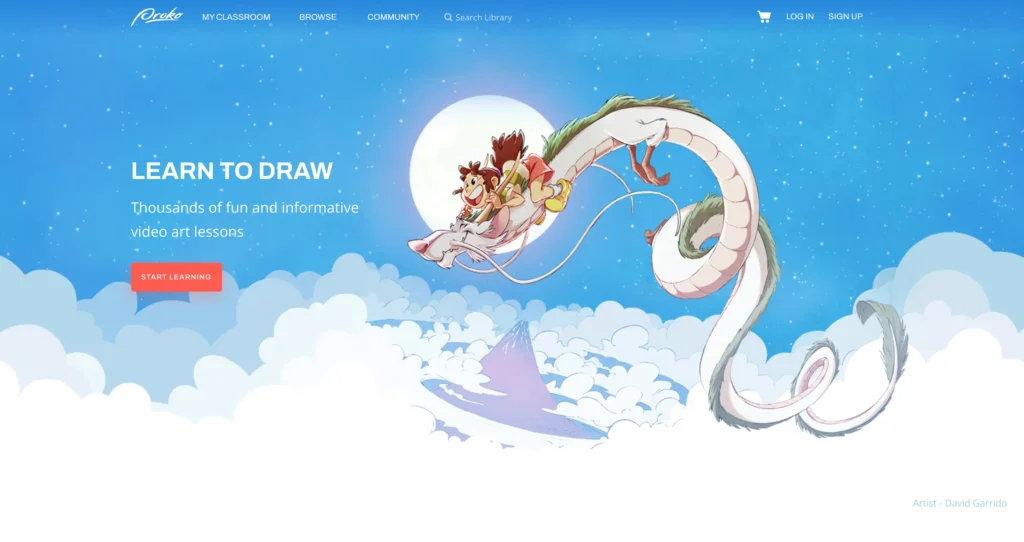 This website might be more ideal for seasoned artists, but the content is supreme.
You can pick up a large collection of helpful skills on this website.
The images that they teach you how to draw are beautiful and require dedication.
You can absolutely build up your abilities here.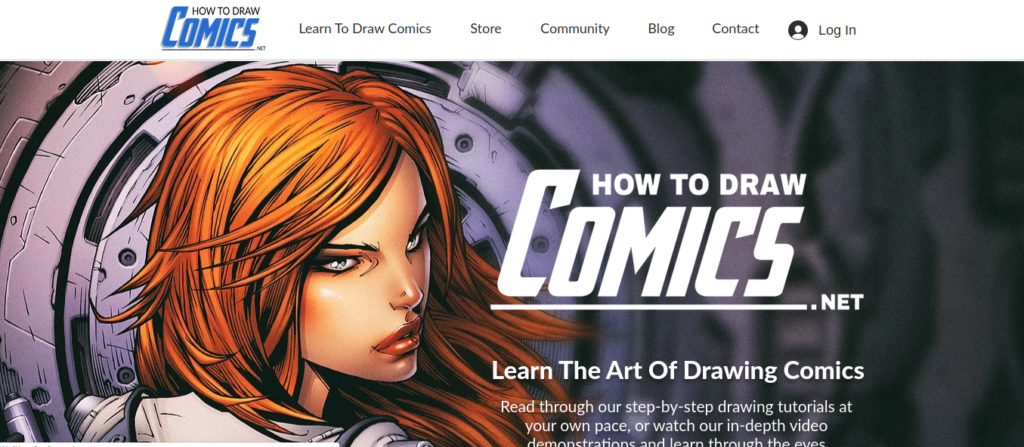 As you can assume from the title, this site specializes in comics and is a great website that teaches you how to draw.
You have the option to explore their comprehensive guides and videos.
Over time, you'll find that you can make amazing comic book characters.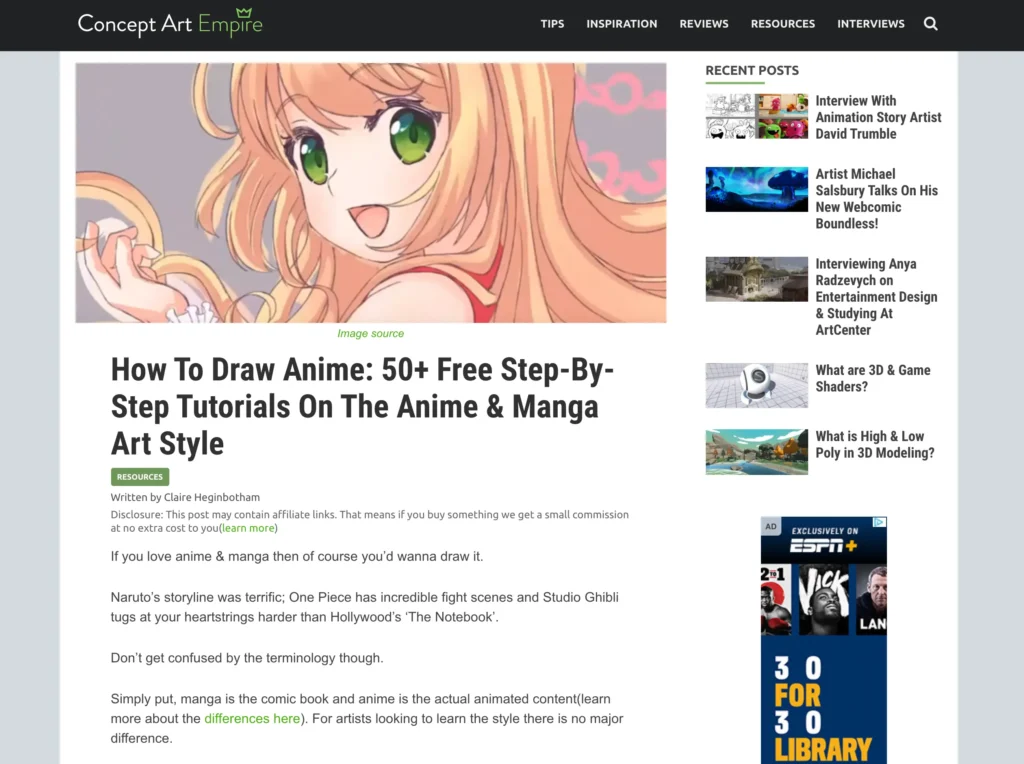 This website offers a ton of amazing anime tutorials that will help you to bring your artistic images to life.
You can enjoy over fifty options for learning how to draw cool things.
These helpful courses will make you a pro in no time.
— This helpful site and YouTube channel is perfect for learning how to draw. Drawing sites are generally pretty serious, but this site is built around having fun. You can make beautiful art and enjoy yourself at the same time.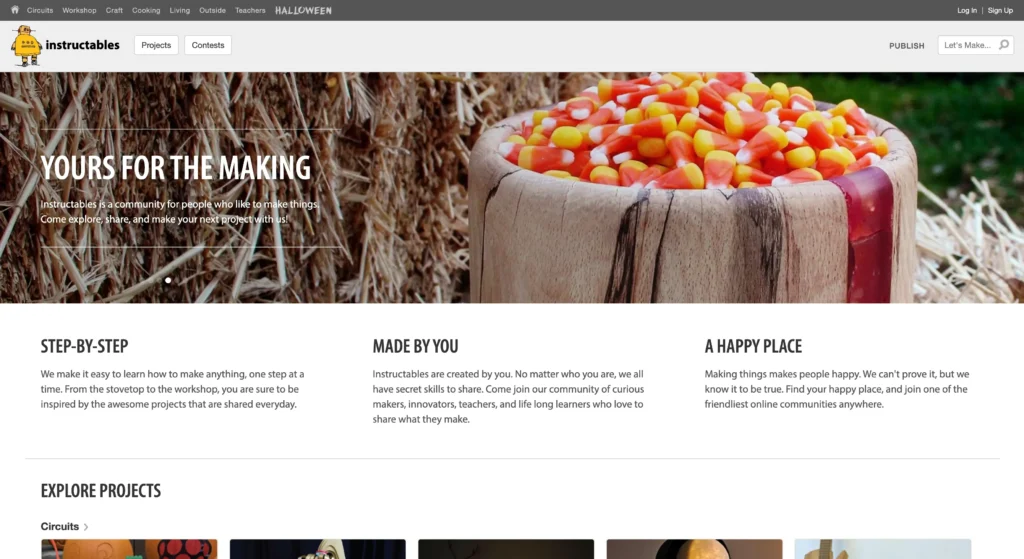 Instructables offers an easy-to-follow course on drawing cartoon characters.
This is great for future animators or people looking to practice.
Drawing cartoon characters is easy and fun with this amazingly helpful course!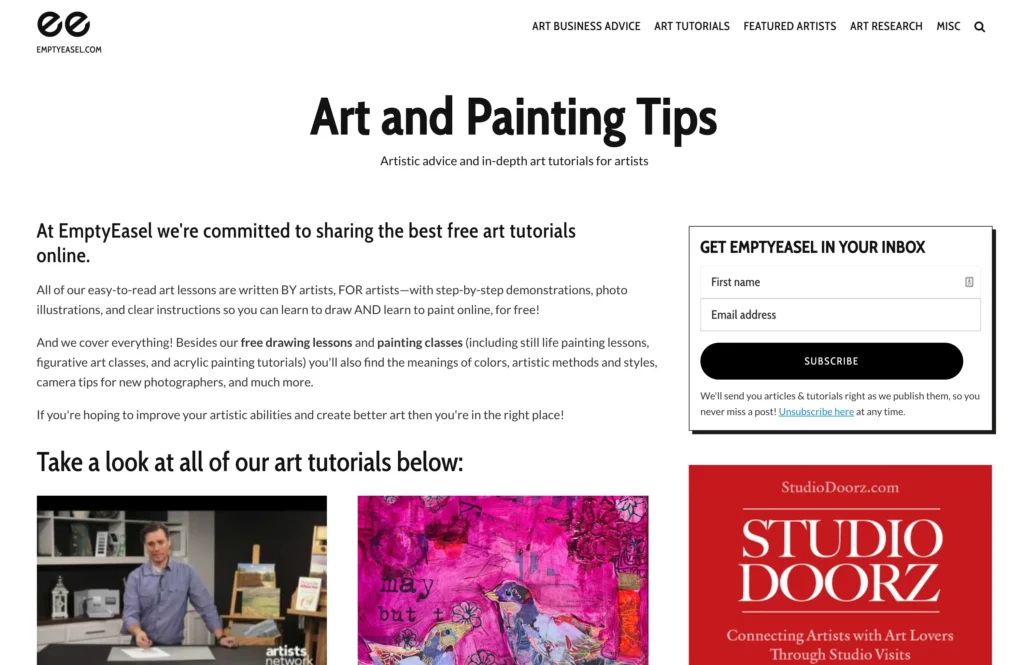 For future serious artists, Empty Easel is a great place to get to work.
They provide an array of helpful and dedicated tutorials for your convenience.
You can enjoy using this website to learn a variety of helpful artistic habits.
Their guides are not only helpful but completely original.
As an added bonus, you can even use them to learn other crafts.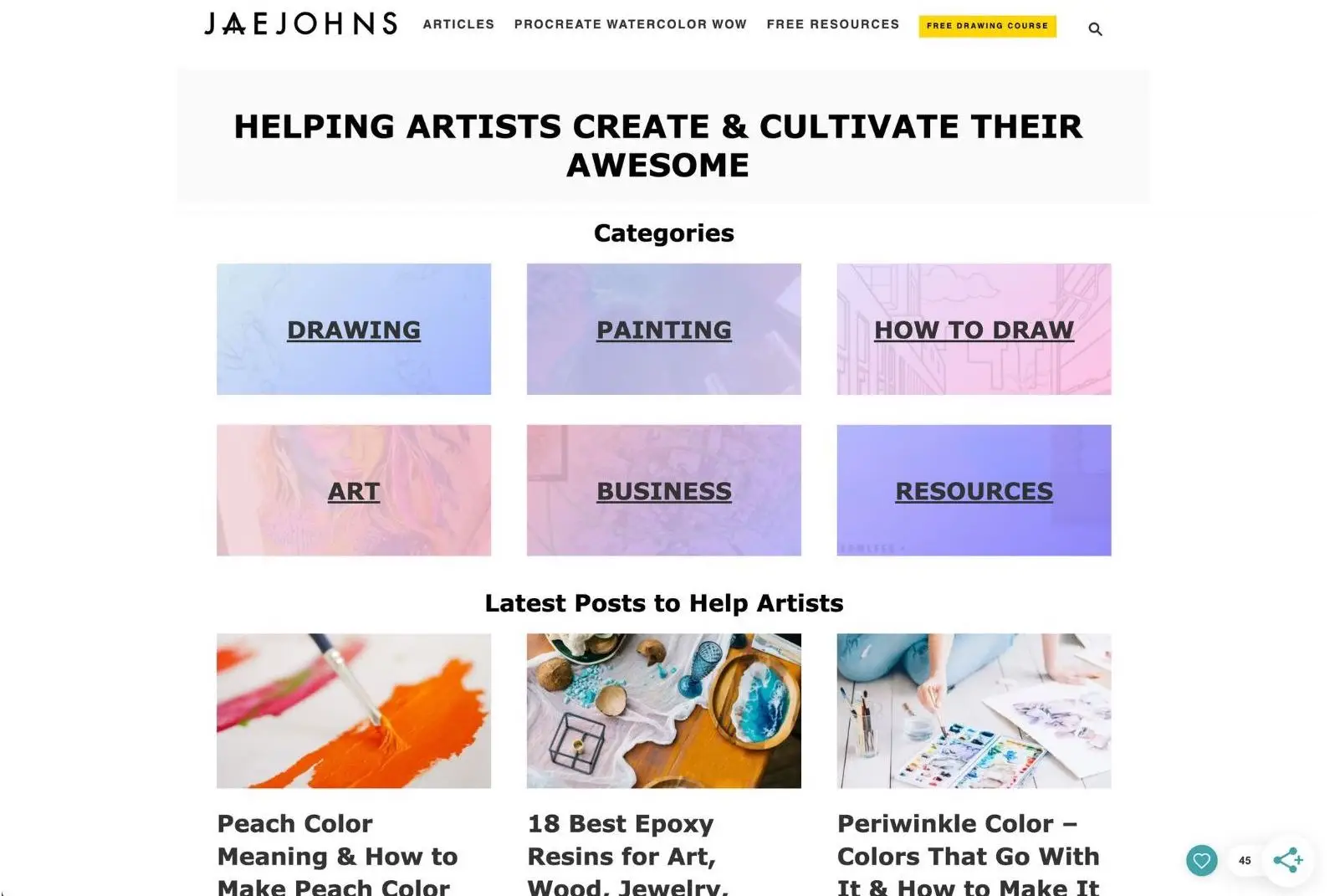 Jae Johns is a drawing website that helps people improve their drawing and/or painting skills.
The site covers over 300 topics in rich detail with lots of images to help you understand each topic easier.
The topics all fall into various categories. The categories include:
Drawing – These topics cover tips and detailed knowledge to help you improve your drawing fast.
You'll learn things like the differences between HB pencils and the pencil graphite scale, different sketchbook drawing ideas, charcoal drawing, ink drawing, the best tools for drawing, and more.
Painting – This site covers both traditional and digital painting.
You'll learn things like easy watercolor painting ideas, acrylic painting techniques, and more.
You'll also get insights on how to use and make various colors and color theories.
Art Business – Another great thing about JAE JOHNS site is that you won't only learn how to improve your art.
You'll also learn important lessons on how to make money with your art.
You'll learn topics like how to sell your art online, how to get your art noticed, how to price your art, whether you need a business license and more.
How to draw – These topics have step-by-step images and instructions that talk how various things.
You learn how to draw hands, how to draw a face, how to draw many different animals, and way more to type or count.
ART – There are also topics for artists who are into other creative fields.
For example, if you want to know how to start lettering, you want to know different and safe resin alternatives to use in your art, artistic concepts like what is negative space and how to use it, and more.
There's a search function at the top of every page.
This makes it convenient for you to look up any topic you are curious about.
You are sure to find a detailed guide on a topic of your choice because of the extensive library of information that JAE JOHNS offers.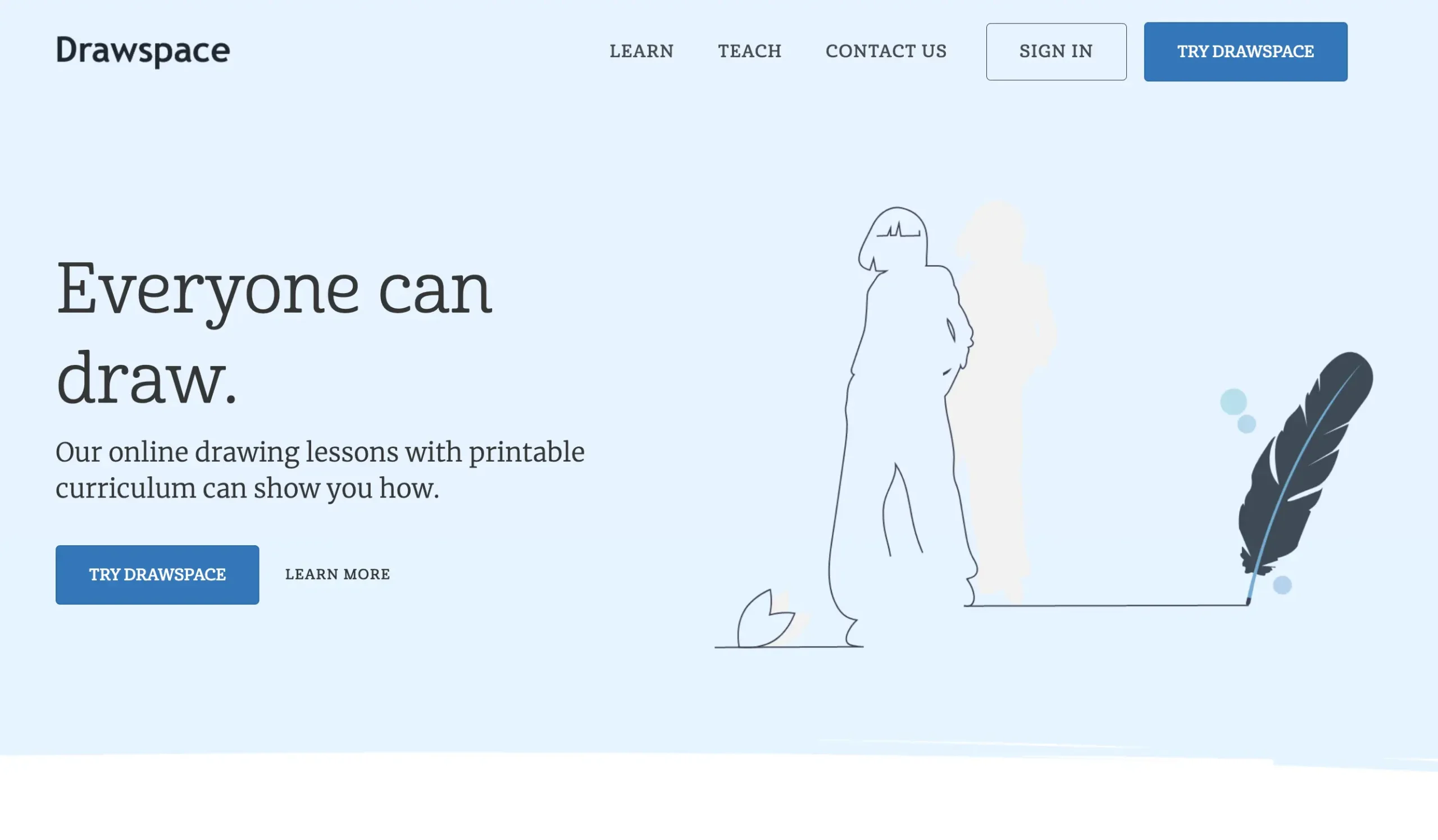 Drawspace is a large online art educator started in 2001 and grew a substantial international following.
It is very simple to use, with the straightforward goal of helping everyone to be able to draw.
On a deeper level, they are interested in creating a deeper appreciation for the arts and love to support emerging artists.
There are 50+ free lessons on the site, plus an additional five credits for premium lessons offered when you first sign up.
All the video tutorials are easy-to-follow and well-organized, with PDFs for support.
Some examples of sections include Introduction to Drawing, Shading Techniques, Composition and Perspective, and Diversity in Visual Arts.
Each of these is further broken up into individual lessons to help improve your skills.
The site continues to expand and improve its lessons constantly, providing a wealth of resources for the budding artist.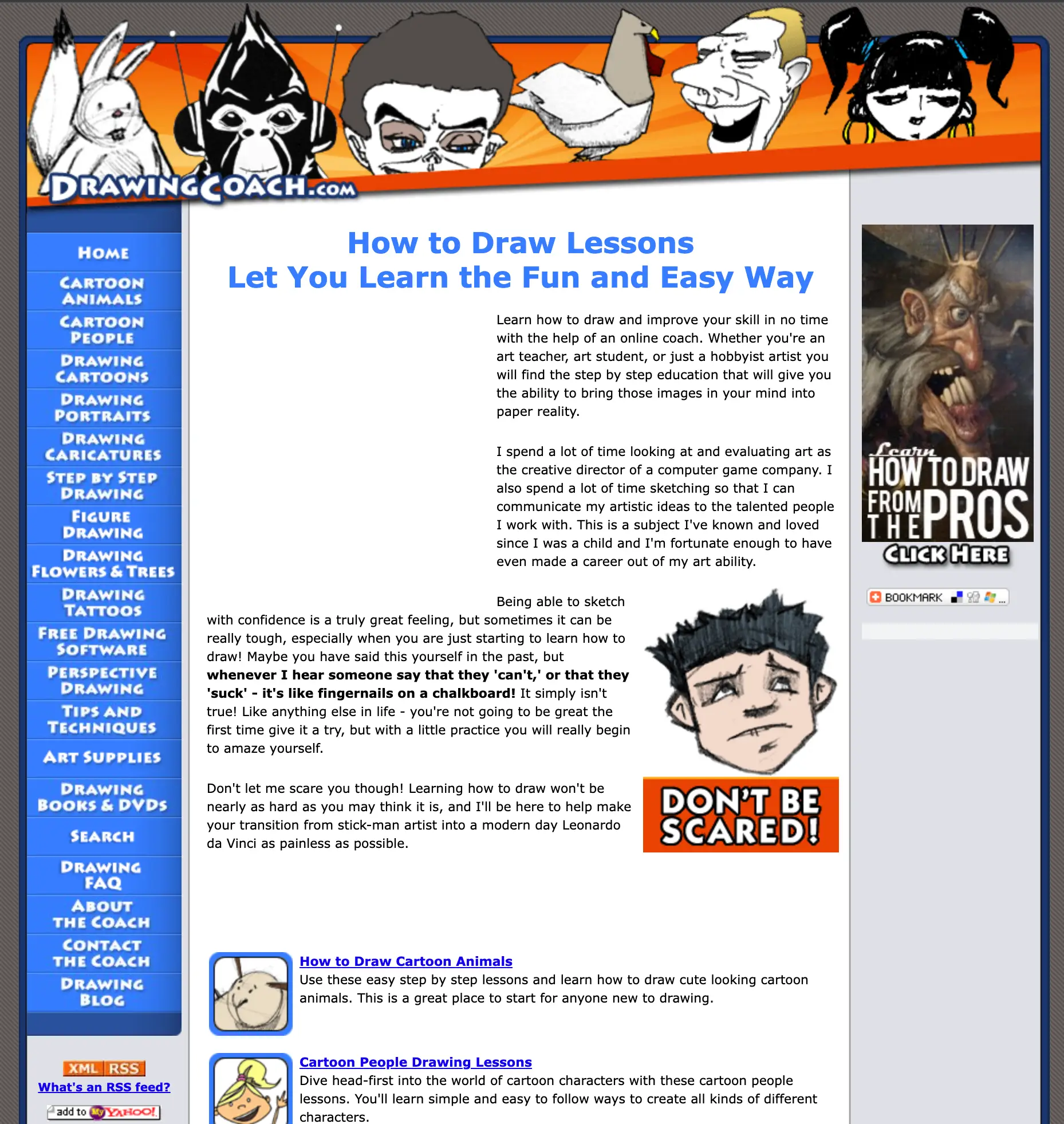 Drawing Coach helps you improve your drawing skills through a series of online lessons.
The step-by-step instructions were created by the creative director of a video game company who spent a lot of time drawing sketches for the other talented people they work with.
Gaining the confidence to become an artist can be difficult, but Drawing Coach makes it easy to get started.
With practice and following the lessons, you'll improve in no time.
The site begins with drawing simple shapes and builds into the everyday drawing.
Very beginners then start drawing basic objects that are interesting to you, not caring too much about quality but getting a sense of hand-eye coordination and starting to see things as shapes.
From there, character work with little detail is the next step, like cartoon characters.
Drawing Coach takes the approach that enjoyment is more important than technique at this stage.
After practicing at these stages, you can then learn tracing and anatomy, greatly improving one's drawing abilities from there.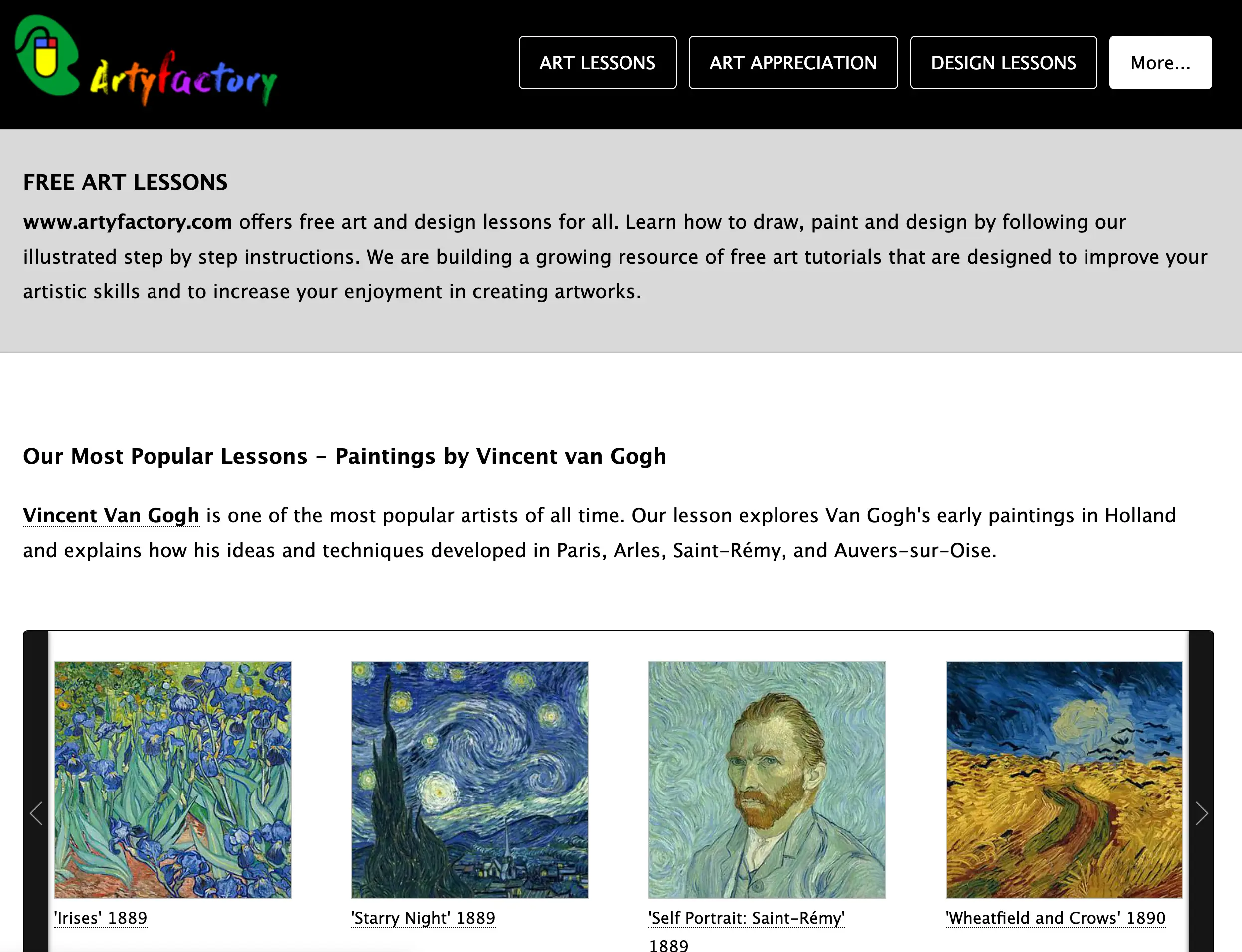 Arty Factory has powerful lessons in many different fields of art.
First, they have many in-depth lessons on portraiture using different mediums.
Second, they specialize in teaching art techniques from around the world.
And finally, they have a variety of lessons on general techniques.
Their portraiture lessons include:
Pencil Portraits – The pencil portrait lessons teach you the fundamentals of each portrait drawing stage, including detailed studies on each part of the face.
Charcoal Portraits – Teaches you similar techniques as pencil portraits, but with charcoal.
Colored Pencil Portraits – moving into the color territory, you'll learn more techniques on the use of color for portraits.
Acyclic Portraits – While not necessarily more complex, Acrylic portraits rely much more on color over a sketch than the previous styles.
In terms of world art, they have the following:
Ancient Egyptian Art – These lessons focus on Ancient Egypt's gods, crowns, and hieroglyphics.
African Mask design – Lessons articulating the methods of creating African masks.
Aboriginal Art – Lessons from the great art tradition of Australian Aboriginals, focusing on their styles, stories, and symbols.
They also have lessons for drawing animals, aerial drawing, perspective drawing, and much more.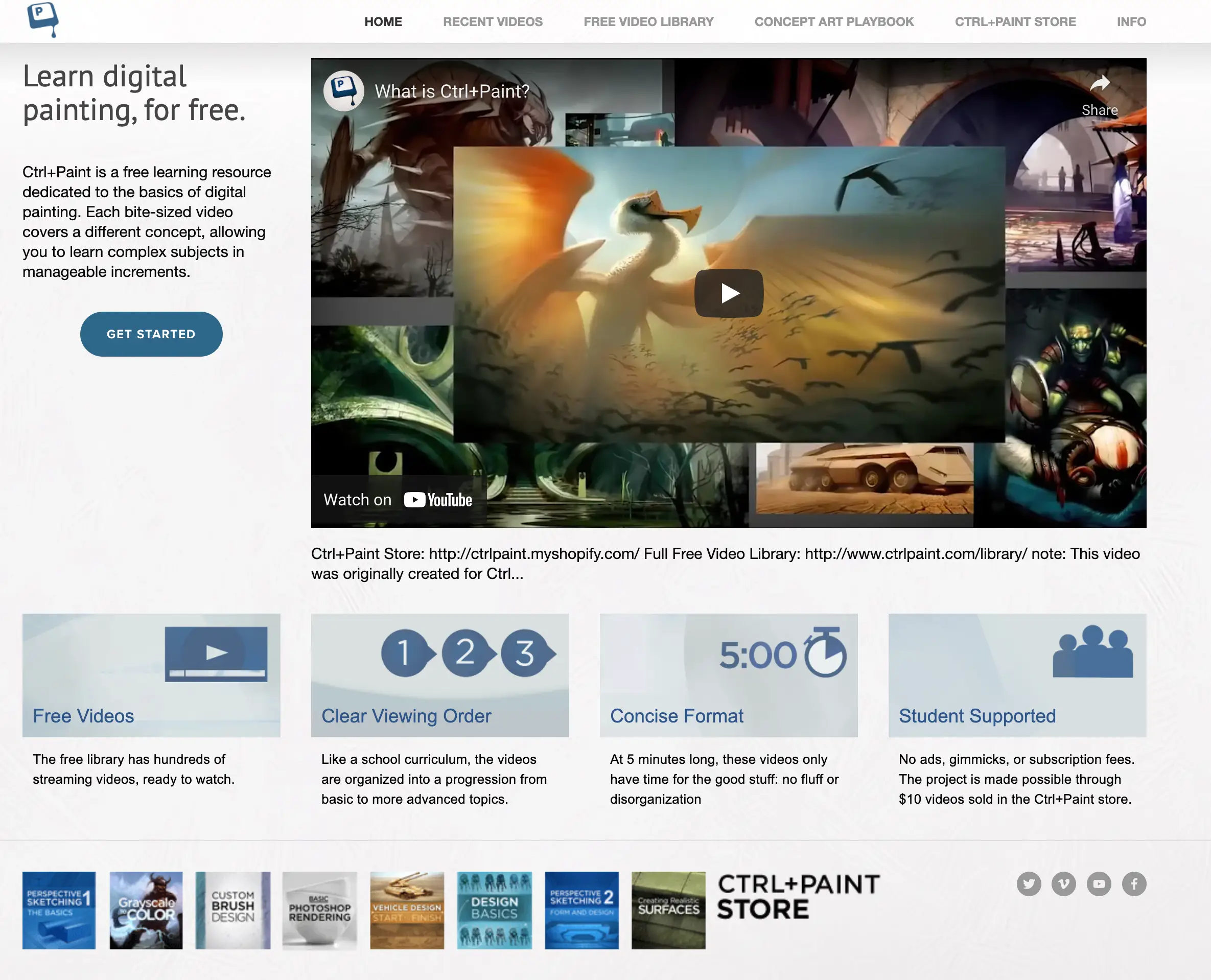 Ctrl+Paint specializes in digital painting, giving you the tools to get started.
There are actually much fewer internet options to learn digital painting than traditional, so Ctrl+Paint fills an important niche and does it well.
The creator is a pro concept artist who makes these using digital tools.
So instead of the usual hodgepodge of youtube tutorials, you can get a robust, high-quality set of lessons here.
The first few digital painting video lessons focus on getting you familiar with photoshop before diving into the technique.
After that, you'll learn critical lessons for digital painting, such as layers, brushes, color selection, and picker, plus digital blending techniques.
The site does use traditional drawing lessons for specific drawing techniques before bringing you back to digital painting with its specific process.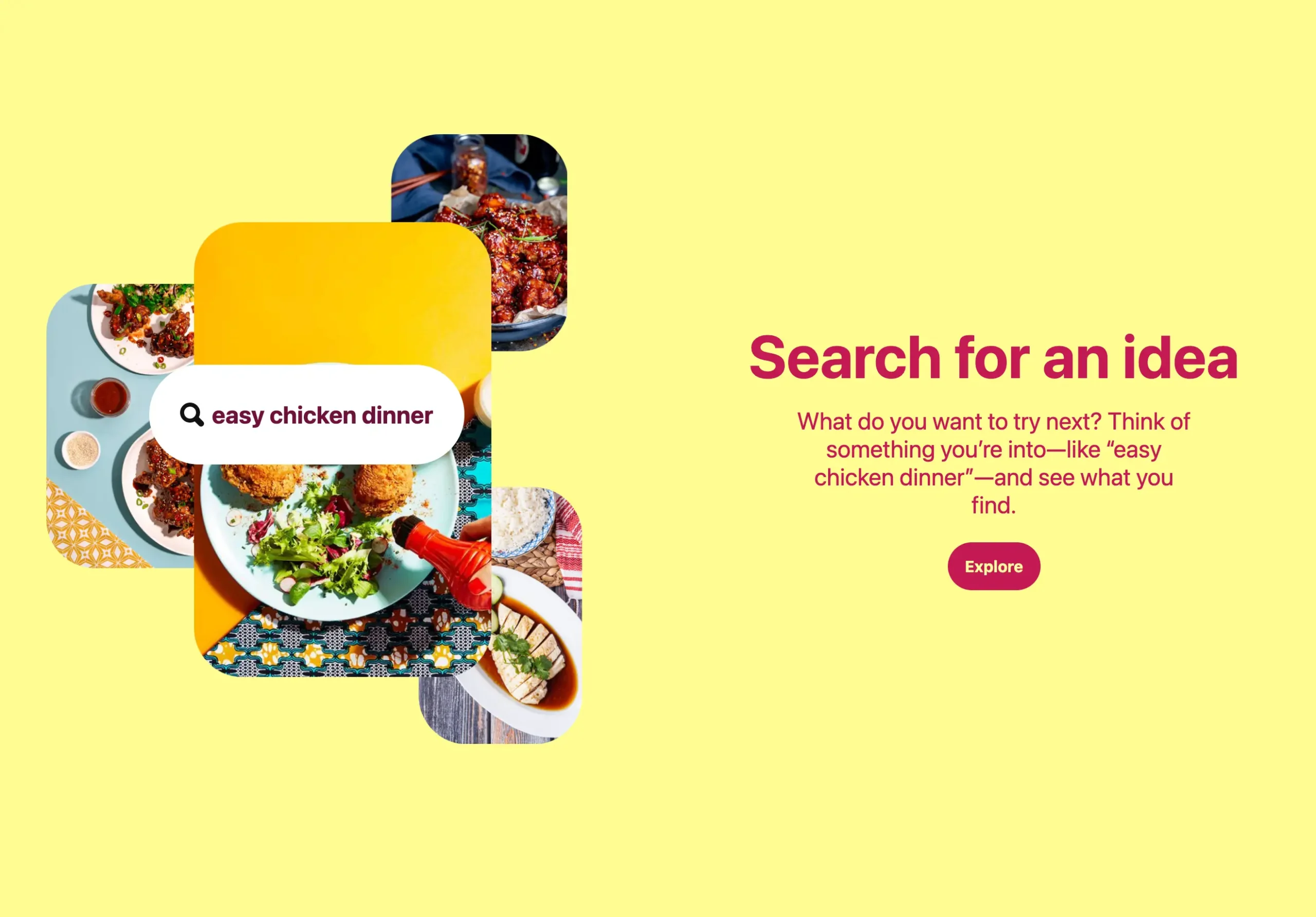 Pinterest is incredible for its huge reference libraries of art, mainly its character design references.
There are also hundreds of 'boards' on anatomy, design, and more.
Pinterest has the largest variety of reference resources available to artists.
However, it's not as organized as some of the other sites on our list.
You'll have to do a bit of your own exploring.
Another wonderful use of Pinterest is for inspiration through thousands of unique artists and their styles.
You can learn a lot by examining all the different styles evolving there.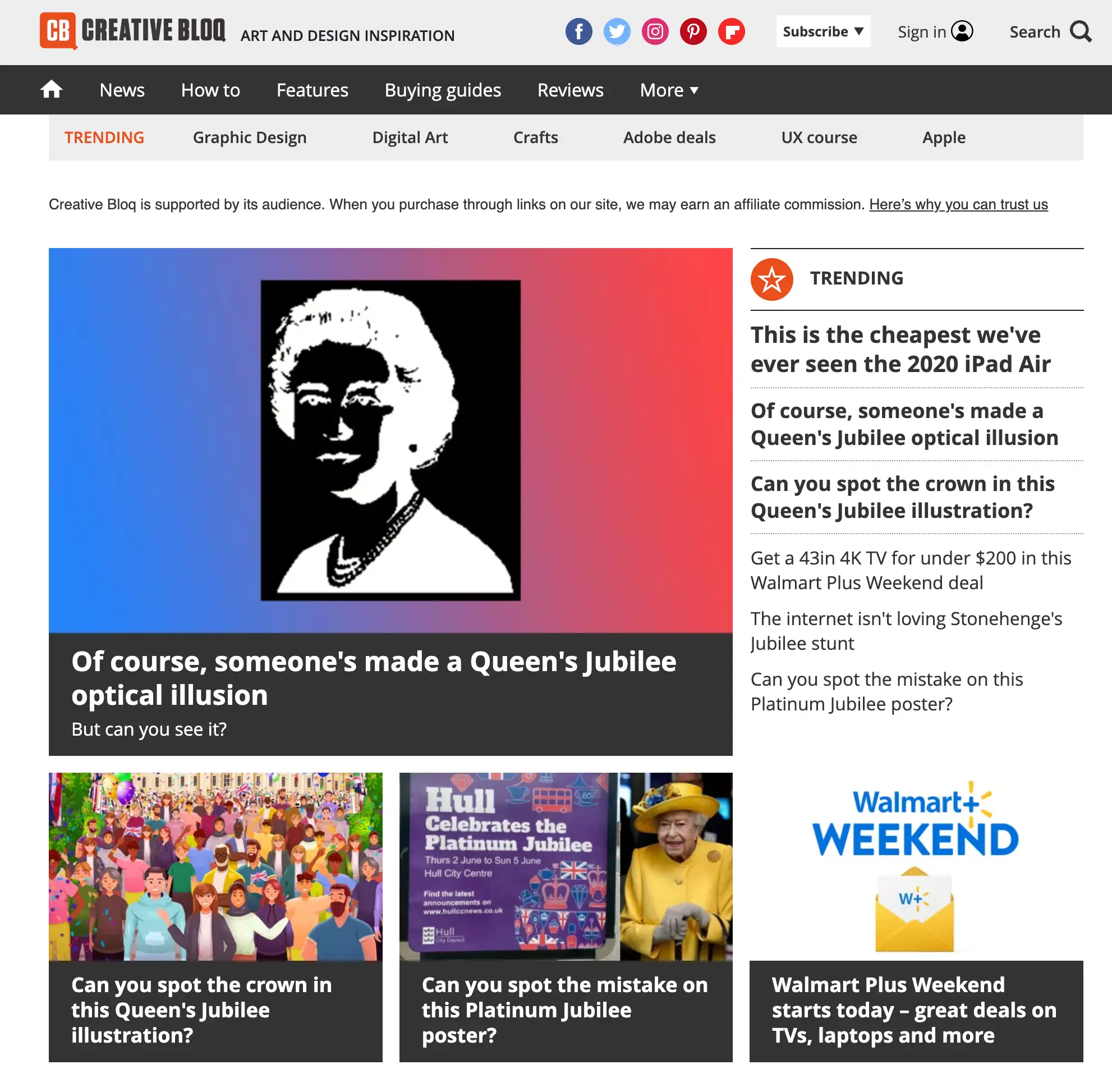 Creative Bloq is the last of the organized tutorial sites we've got, with a diverse yet curated selection of drawing lessons.
It's great for both beginners and those with a lot of experience.
They do everything from animals, flowers, and anatomy to all sorts of specific drawing skills.
The site features a mix of video guides and written content, with lessons on different drawing mediums using both traditional and modern digital tools.
They also provide recommendations on the best drawing tools to use.
In particular, Creative Bloq's lessons on different animals are unparalleled, with specific experts of many different common ones, including dogs, cats, birds, and wolves.
There are even particular lessons for drawing fur and feathers to heighten your abilities.
Their approach to human bodies is also creative, with specific lessons for different parts of the anatomy.
Read Also:
Conclusion
Finding the best website for drawing can be instrumental when it comes to your craft.
Learning how to draw better and more complex things will sculpt you as an artist.
As you continue to chase your passion for drawing, it is important to focus on the right challenges.
The biggest concern that many artists face is not spending enough time practicing.
If you are serious about building up your art skills, take this time to get better at trying new things.
Drawing websites for artists will help you learn and develop skills much faster. You might just be amazed by what you make.
When you begin to pursue drawing, remember that experimenting is okay.
You're free to explore different styles and subjects until you find one that fits.
For some people, there might be many that fit.
The more attempts that you make to refine your skill, the better that you will become.
Instead of getting hung up on what you're doing wrong, focus on practicing and improving.
Your skills will grow over time.
What drawing websites do you use to help you improve your drawing?
Here are Some of my Favorite Drawing Supplies
Thank you for reading this article. I hope you found this helpful in improving your art. Here are some tools I use as an artist, and I hope you find them helpful. These are affiliate links, so if you decide to use any of them, I may earn a commission at no additional cost to you.
Pencils – I love using Staedtler drawing pencils. I've been using them for more than 15 years. I've never had the lead break on me and they are quite sturdy. They also come in a wide range of hard to soft.
Color Pencils – I've used Derwent for a long time. The rich colors in their color pencils and the way they blend are amazing.
Markers – Copic markers are my number 1 choice. I love these markers! The way they blend and the marker texture they give when you render details is nothing short of amazing!
Drawing Websites FAQ
What are the best drawing websites?
The best drawing websites are within this article.
What is AutoDraw?
It is a website to help you draw and practice in fun ways. More information about AutoDraw is within this article.
Can I learn drawing online?
Absolutely! I believe learning to draw online is the best way to learn versus other options like colleges.