Painting miniatures is one of the most rewarding parts of the hobby, being both meditative and satisfying to show off.
I've gathered 15 of the best paints for painting miniatures I could find on the market. Between the number of paints, paint quality, and cost per oz, various factors go into picking the best kit for your miniature painting situation.
Keep in mind that some generic kits won't have the right colors for fantasy and sci-fi settings.
So it's often best to get the themed sets, especially if you don't want to buy too many paints to start.
Now, let's dive into it.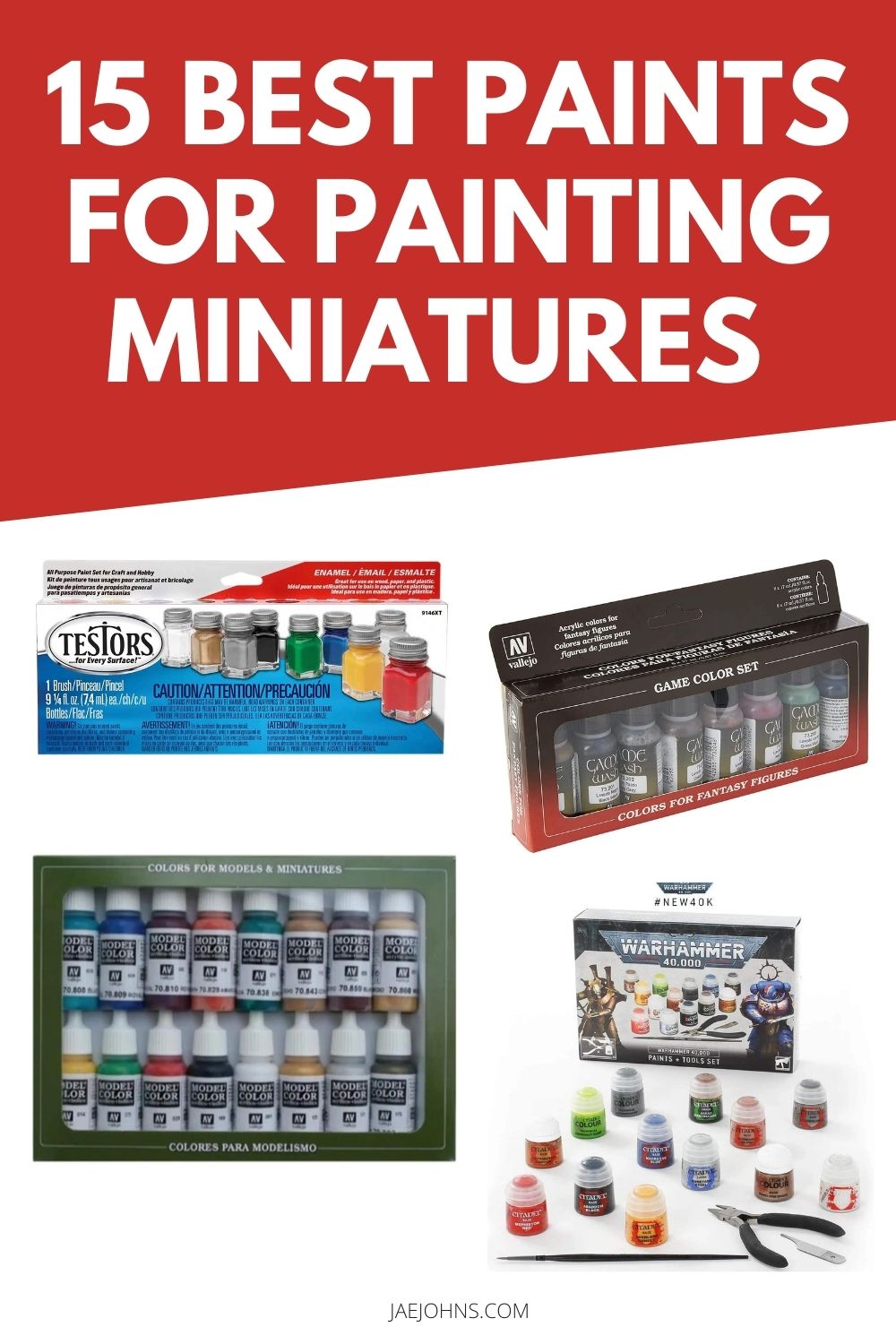 What paint to use for miniatures
Nothing is more satisfying when collecting miniatures than finally getting to paint them your way and seeing your dream come into reality.
But, unfortunately, it is also one of the most time-consuming parts of the hobby if you're interested in just gaming.
Whether you are painting your latest RPG heroes or an intricately detailed space mech, infusing your personality and creativity into your own works is one of the most gratifying experiences when it's complete.
It can also be a highly meditative and relaxing process to engage in the painting itself.
Whatever your reason, figuring out which paints to use for your miniatures is one of the first steps in the process.
Different paints and paint sets will better suit you depending on the type of figures, which colors you'll need, and the level of detail you are looking for.
Miniature Paints Buying Guide
I'm hoping this article can help you select the best paint for the job.
If you understand what the different paints do and why you might want them, you can better pick the best painting kit for your specific needs.
Finding the most high-quality paint is important.
However, so is deciding what colors you need and which are best for your specific miniatures. For example, sci-fi and fantasy settings often need different paint colors.
Likewise, metallic and plastic models can also use different treatments of paint
You'll also want to know whether you plan on using washes, metallics, and glossy paints as well.
In most cases, you'll want some metallic colors and washes, as they can provide a lot of dimension to your miniatures.
If you aren't aware of shading, washes, and highlights yet, it might be better to start with a smaller kit and work your way up from there.
You can learn more advanced painting techniques as you go along.
Primers
There's also the importance of primer, which is typically a kind of acrylic paint.
You can use spray paint for this or brush a layer of primer on and dry it.
Black primer is probably the most common and can be very helpful for just making sure all the paint will stick onto the models perfectly.
Finally, you'll want a decent understanding of different coats, layers, and techniques when it comes to painting to get an idea of which paints you'll need more or less of.
If you are unsure about these, starting out with a smaller kit and building your way up might be the best way to go about it.
Is acrylic or enamel better for models
Acrylic paint is better for models in almost all cases today.
It used to be that acrylics couldn't stick to plastic and metal well, but that is no longer the case.
Instead, they dry quickly and provide vibrant colors at a reasonable price.
We can examine each type of paint closely to see how they both work when it comes to painting models.
Acrylic paint
History of acrylic paint
Acrylic paint is the most common type of paint used for miniatures.
It is also the type of paint that will produce the best results in most cases.
Years ago, acrylic paints had much worse performance and quality when compared with enamel and oil-based paints.
Today, acrylic paints are considered the gold standard as their formulas have improved.
Acrylic paints are made by adding pigment to an acrylic polymer and then mixed with water.
They often have various fillers to help with consistency or other properties, which can affect performance.
Overall, you don't have to worry too much about the details but know that acrylic paints are water-based and don't need a special thinner.
Pros and cons of acrylic paint
The positives of acrylic paints include their fast drying times, variable flow rate, and consistent color saturation.
It is also possible to change the transparency of the paint without changing the consistency.
These are all highly desirable properties when it comes to painting miniatures.
Black primer is the most commonly used primer for getting acrylic paint to stick to any surface, but it is possible to use other colors or even go without primer.
They also have other admirable qualities, such as being easy to clean and non-toxic.
Compared to oil and enamel-based paints, this makes for a simpler overall workspace.
You can get acrylic paints for brushes or in spray cans (useful for priming).
There are also different practical finishes, such as glossy and metallic, which are great for armors.
Enamel paint
Until recently, enamel-based paints used to be the most common form of paint used for painting models.
This is because it offers excellent performance and control while blending and layering better than acrylic.
However, with all the improvements to acrylic in the last few decades, there is no longer such a compelling reason to use an enamel-based paint.
Enamel paints are also more complicated to use than acrylics.
This is because they are made by mixing a pigment with a carrier oil, typically linseed oil.
However, for miniature painting, enamel-based paints have a few drawbacks.
They take a long time to dry, making a layered approach to painting slow and painful.
Using turpentine is toxic, and the clean-up is much more difficult. Generally, they are also more expensive.
One final note, don't mix acrylic and oil-based paints.
Acrylic does not always bond well with enamel paint which can cause problems in the long run.
Best acrylic paint for miniatures
The Vallejo Basic Paint Set strikes a balanced middle ground between the true starter sets and the heavily packed complete collections.
It's a good quality set of acrylic paints with an excellent range of colors that goes beyond the basics.
You can find Vallejo at most craft stores, as they've been a staple in the industry for a long time.
One of the great features of Vallejo is its droppers and bottles, which tend not to dry out as fast as others.
Their precision droppers are great for pouring out the exact amount of paint you need, saving you money in the long run.
Vallejo paints flow out with a smooth consistency, leaving no brush strokes when painted on the model.
This provides a highly professional and desirable look to the finished product.
That being said, there are higher quality paints on this list, but Vallejo is one of the best compromises between value and quality on the market.
They've also formulated it to work specifically with both plastic and metal surfaces, so it works precisely in the way you want it to when it comes to painting miniatures.
But, of course, to be safe, you may still want to use a primer.
Between the excellent variety of colors, its decent quality, and formula tailor-made for use on plastic and metal, Vallejo has made a tremendous mid-tier acrylic paint choice for the list.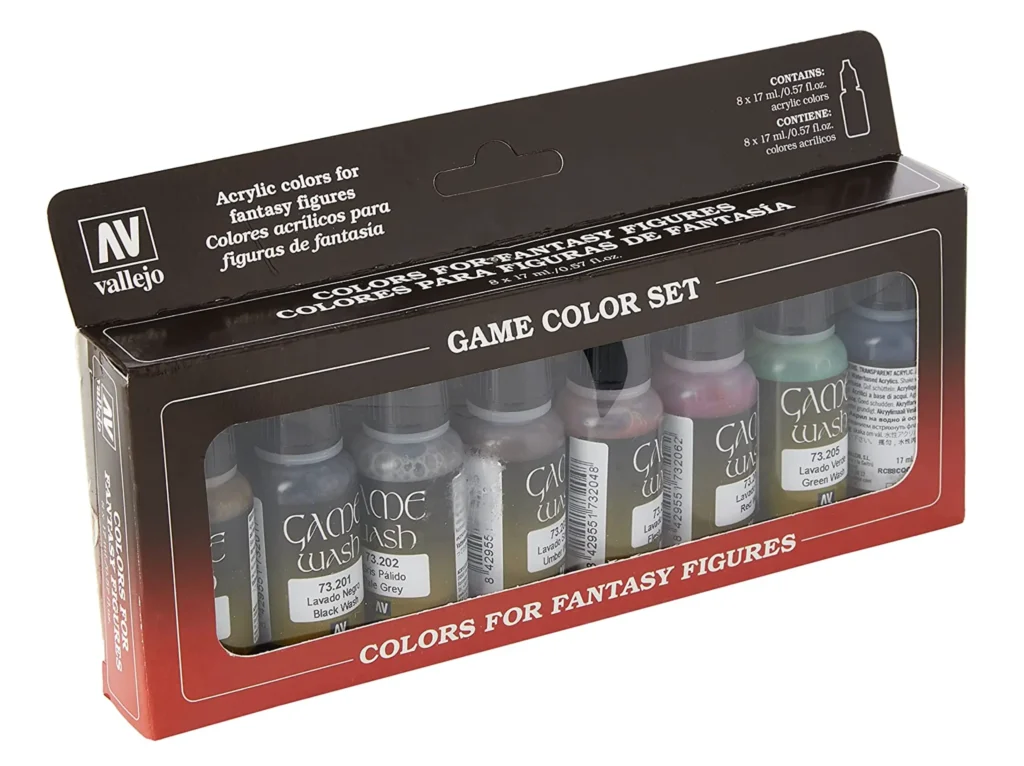 While not strictly a paint set, I would be remiss not to mention Vallejo's handy set of 8 washes, which can be paired with almost any other paint set on this list.
Washes are a great technique to add depth and shading to any miniature or figure.
This set gives you a variety of colors to apply your washes.
Read Also:
Best paint set for painting miniatures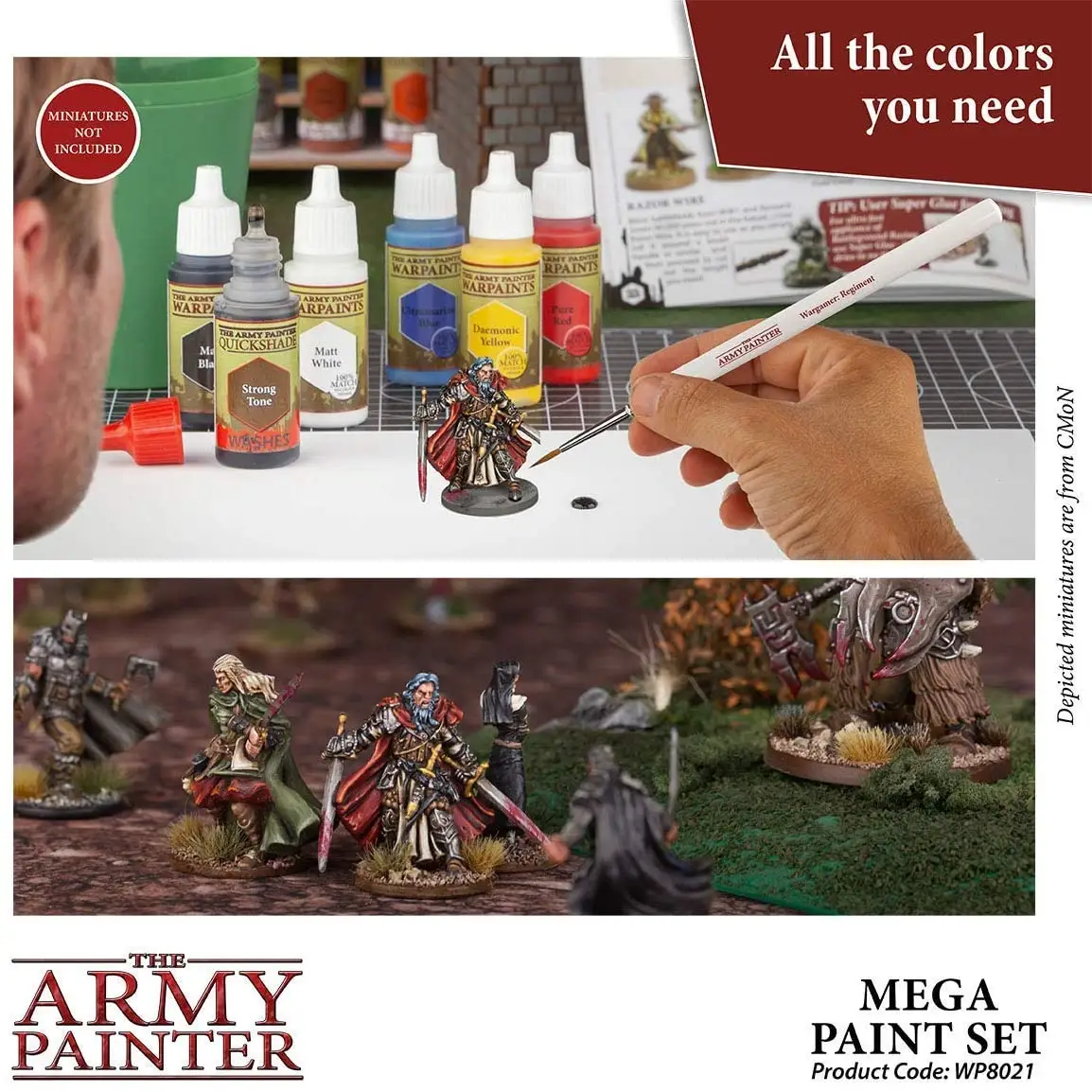 The Army Painter kit is my pick for the best overall kit. It's one of the best paints for painting miniatures.
Its colors cover everything you need no matter what type of miniatures you are painting.
Due to its many paints, it is on the expensive end, but the cost per paint pot is the best option available.
It comes with 50 Wargamer miniature paints and a paintbrush.
The breakdown of the set includes a lot of valuable staples for miniature painting:
39 regular acrylic paint colors
5 metallic paint colors
4 washes for shading
2 'special effects' paints
This is precisely the kind of breakdown you want for most miniature painting and is more helpful than most generic acrylic paint kits, as those lack the specific types of paint that are most useful for painting figures and armies.
Each bottle of paint is 0.6 oz or 18 ml.
They have excellent consistency and color for miniature painting.
You want a good flow and viscosity to your acrylic paint for miniature painting, which Army Painter has perfected over the years.
This is also a kit that can grow with you.
You don't need to use all the colors right away, but you can pick and choose what is helpful for your first few models or first army and build your expertise from there.
If you use many primary colors first, it'll be easier to replace them by simply purchasing a small kit to fill the gap.
You'll still have access to the rest of this kit for special uses and never lack options.
The droppers on these dropper bottles are also precise, which has thankfully become the standard today.
They are easy to use without causing a mess.
This is an excellent bulk set that will save you a decent amount compared with buying the individual colors.
The one frustration with this set is that you have to shake each bottle before use, although that is relatively common in high-quality paints overall.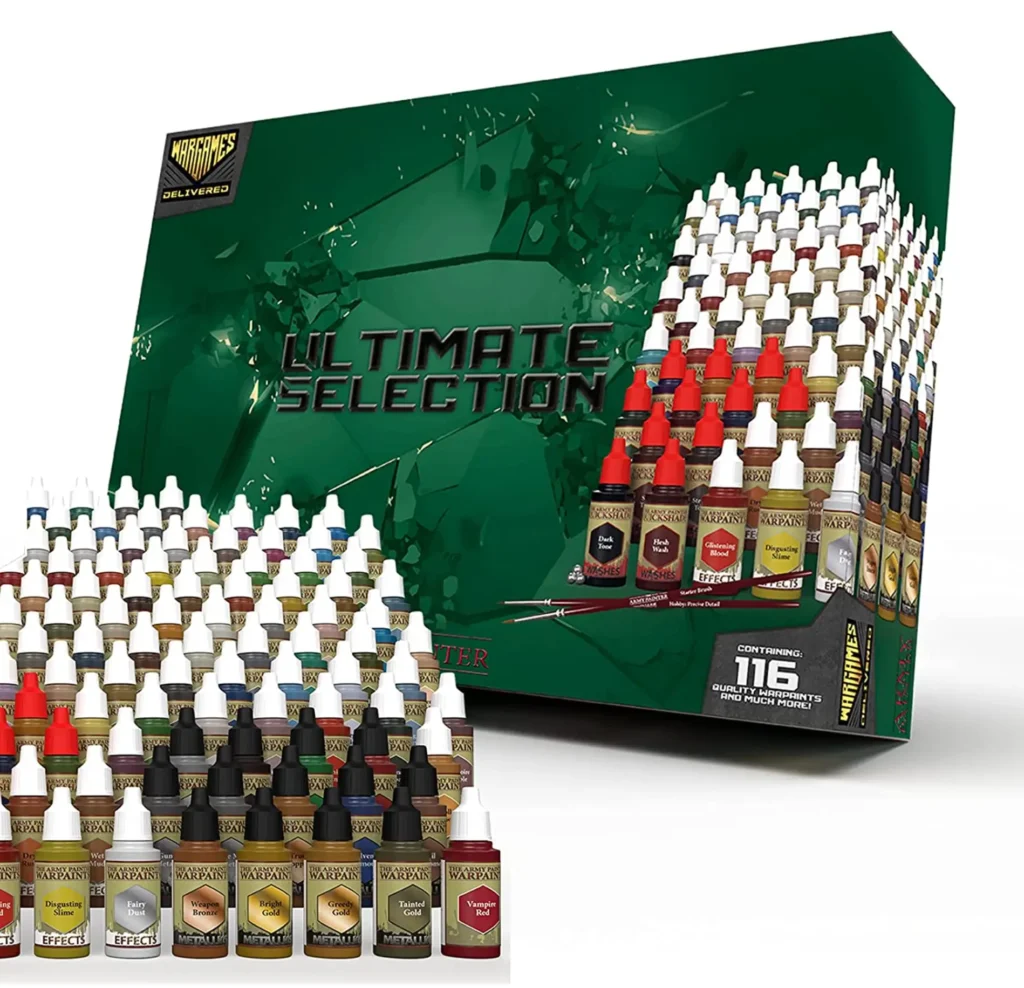 If 50 paints are still not enough for you, you can go for the grand slam with the Army Painter's Ultimate Selection. With a whopping 116 paints, there's nothing this set can't handle.
It is genuinely the be-all, end-all of paint supplies for the expert miniature painter.
In addition to the 116 paints, the set comes with 4 hobby brushes, 4 mixing bottles, and 120 mixing balls.
Mixing balls help keep the paints from drying out, and between them and the mixing bottles, there are many options for paint customization.
Best paint for plastic models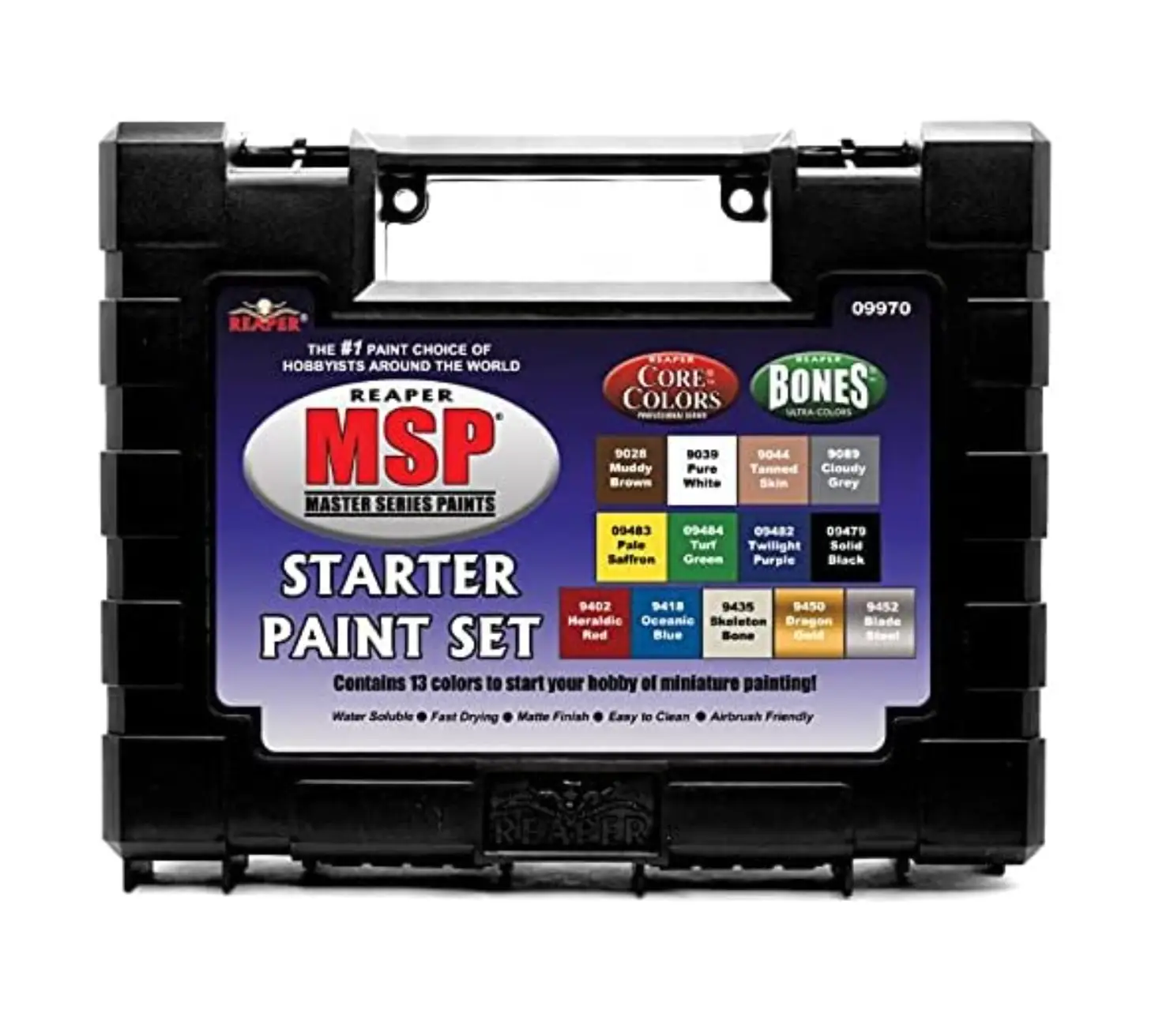 If you are just looking to get started with a solid paint set that you can easily travel with, the Reaper Miniatures
Master Series Start Set is a great starting point. It's reliable, has some metallic colors, and not too overwhelming.
I would say this is another excellent mid-tier kit.
Reaper paints are tailor-made for plastic miniatures.
Their colors are made to be vibrant and stand out on models.
Their pigments are also made to shade and highlight, which increases their usefulness for miniature painting.
The kit comes with 13 colors that are specially made for miniature painting.
This is their core color set, which provides an excellent range for fantasy and sci-fi settings.
One feature I love about the Reaper Starter Set is that it is compact and comes in a travel case.
It just feels efficient, and it lets me set up in different areas of the house or even with a friend for a dual-painting session.
The one big drawback is that it is more expensive than similar kits of its size.
Of course, you are getting high-quality, tailor-made paint, but there is a trade-off with a budget.
There's also no brush in the kit, but in all likelihood, you'll have to get your own set of brushes regardless of which kit you purchase.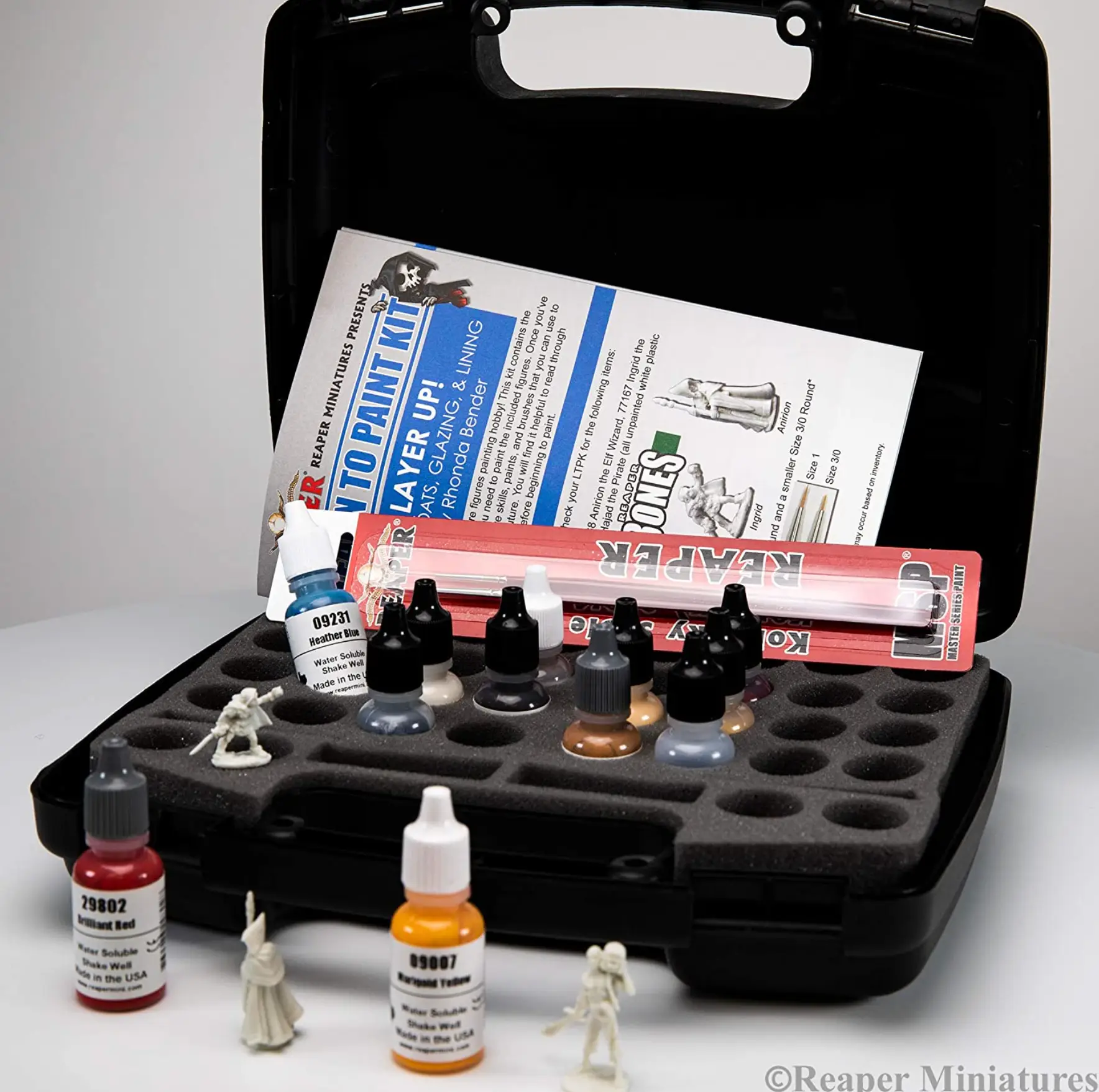 Reaper also has a useful "Learn to Paint" kit with a similar travel container.
It has 2 paintbrushes, 11 paint bottles, and 1 mixing bottle in the kit.
But the main value compared to other kits is the painting instruction guide by Professional miniature painter Rhonda Bender.
This step-by-step guide can get any beginner started on the ins and outs of miniature painting.
The kit also comes with three figures for practice.
Best paint for D&D miniatures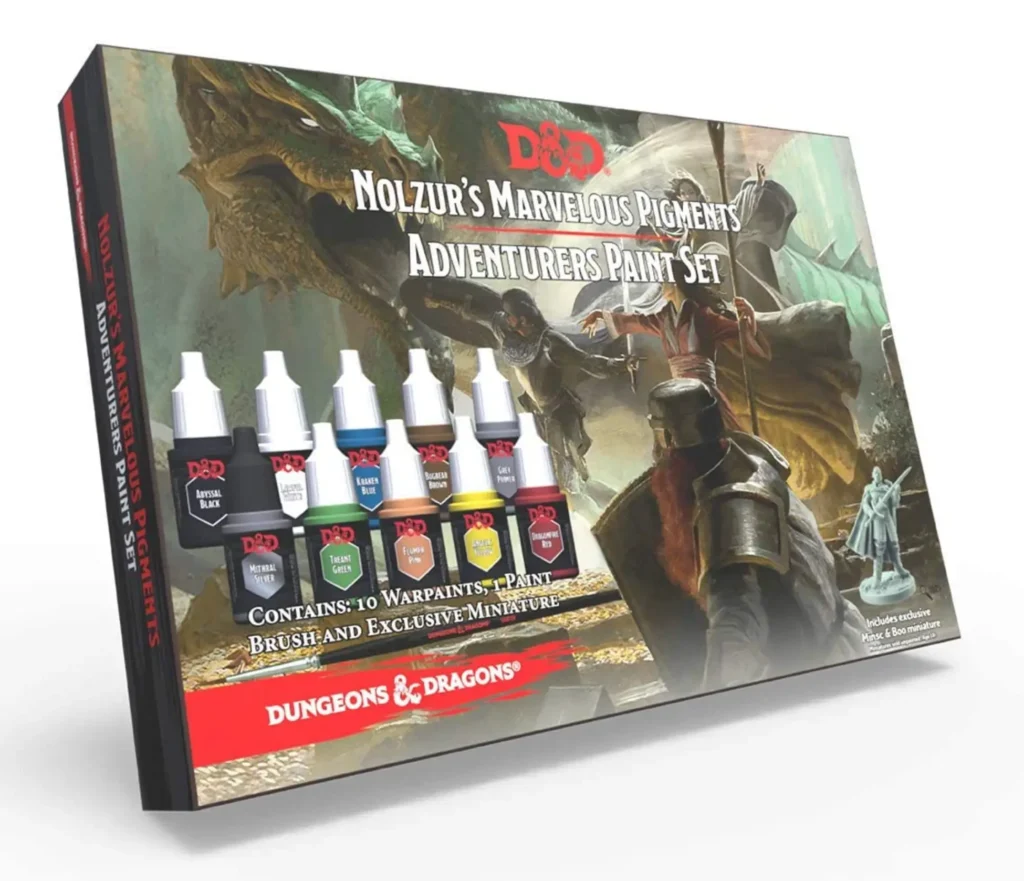 It's hard not to recommend this classic kit in this slot.
The Army Painter set for Dungeons and Dragons is, no surprise, actually quite good for painting D&D miniatures.
It's especially great for a new painter. Its curated set of colors covers all the bases, allowing beginners to get in on the action with a minimal yet functional selection.
This paint kit was made with D&D in mind. It has ten bottles in the box, 8 of which are acrylic paints, 1 primer, and 1 metallic paint.
Each paint comes with a precision dropper, and the set comes with 1 brush.
There's even a D&D mini included, which is great to get some initial practice in.
The main drawback of this set is that you'll almost certainly need more colors as you advance, meaning there will be a decent amount of doubling up if you get a second kit.
So for the best results, it might be better to look for a mid-sized kit depending on how dedicated you already are to the hobby.
Still, it's such a beginner-friendly set and perfect for your first few miniatures.
It's also great if you are only planning on painting a few figures in total for your D&D sessions so that you are not overcommitting with the amount of paint you're purchasing.
One final caveat – the paints aren't the highest quality ones on this list, so just keep that in mind.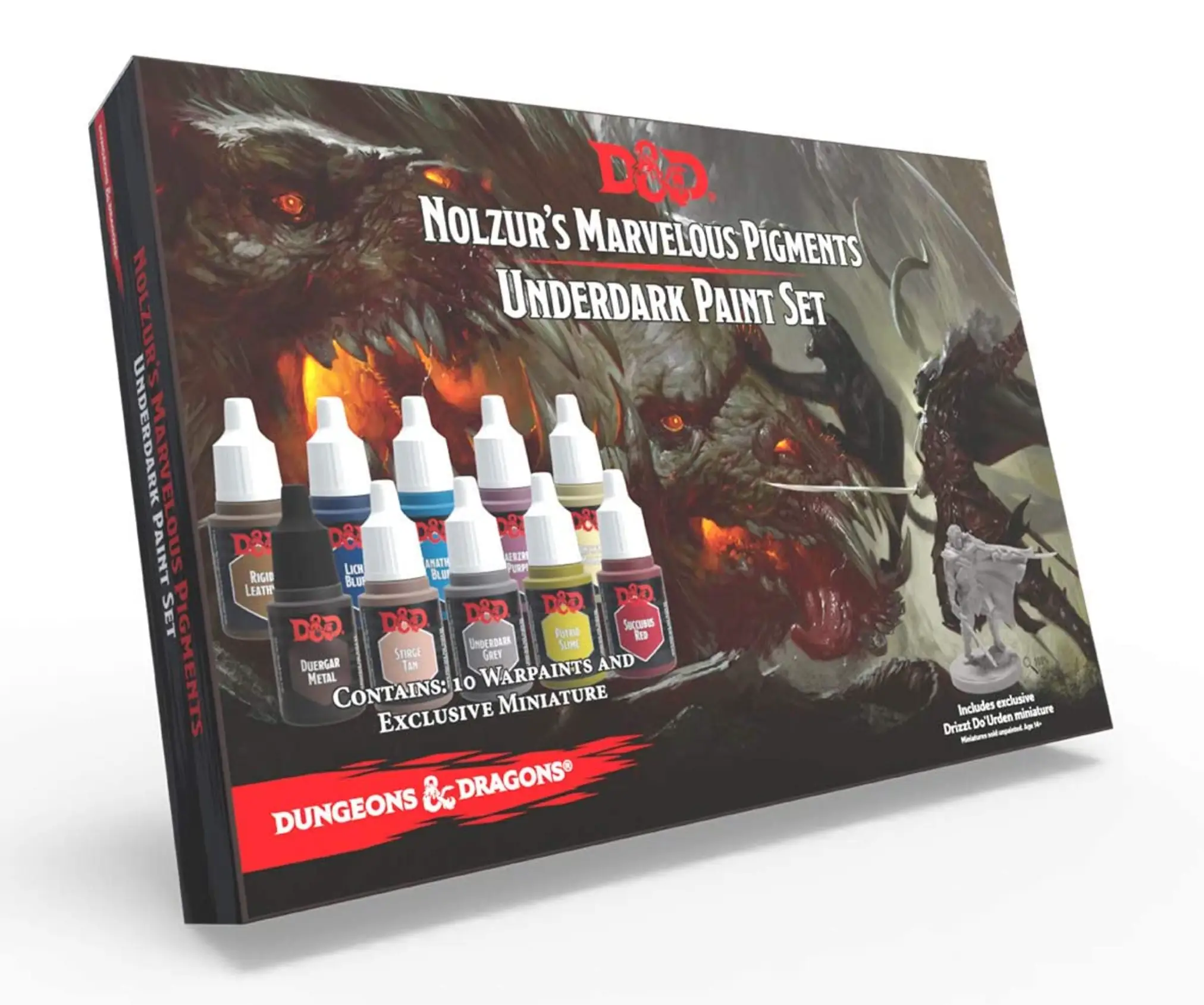 The Underdark paint set comes with a hand-picked set of 10 colors specially selected for the Underdark races with their darker skin tones.
In addition, it comes with a free Drizzit D'Urden figure for practicing your painting skills.
While it isn't the best paint set for someone just starting out, it makes for a great addition to one's paints if you've got another set of 10-15 or so paints.
It is also great if you are playing in an Underdark-themed campaign!
Best paint for resin models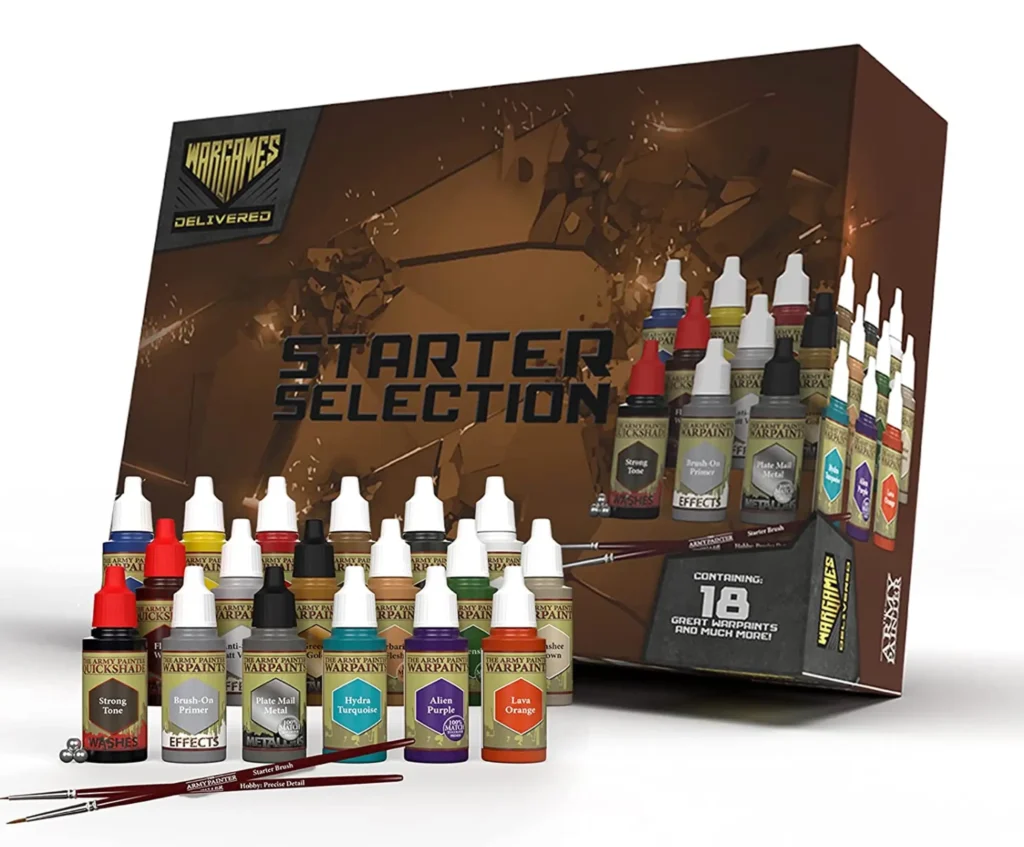 Resin models can be painted almost in the same ways as plastic models.
A layer of primer can help the paint stick as a base coat, so think about purchasing a dedicated primer if you have resin models.
Once primed, you can paint a resin model in just the same way as other miniatures.
One thing to look out for is if the model feels a bit too soft.
This could mean it was not appropriately fired and should be returned for a refund.
However, the nice thing about resin is it gives us a chance to discuss another excellent Army Painter set.
The Army Painter – Wargames Delivered Starter Selection Model and Miniature Paint Set is an excellent starter to mid-range painting kit. It features 18 paints, 2 brushes, and 2 mixing bottles.
There are 2 effects, 2 metallics, and 2 washes.
These paints don't require heavy shaking to use as they come with 20 rust-free mixing balls, which keeps the paint smooth and flowing with just a few shakes each time.
As should be the case for most acrylic miniature paints on the market these days, the precision droppers keep the paint from drying out for a long time.
It also lets you squeeze out the exact amount of paint you need every time, saving you money in the long run.
This is an excellent selection for miniatures, consisting of just enough paints for a solid collection without going overboard for a beginner.
I prefer this number of paints to a 10-12 paint collection just because it gives you enough variety to feel like you can make the models your own.
However, this range doesn't get you over-committed to paints like with a 30+ paint set.
Best paint for Warhammer 40k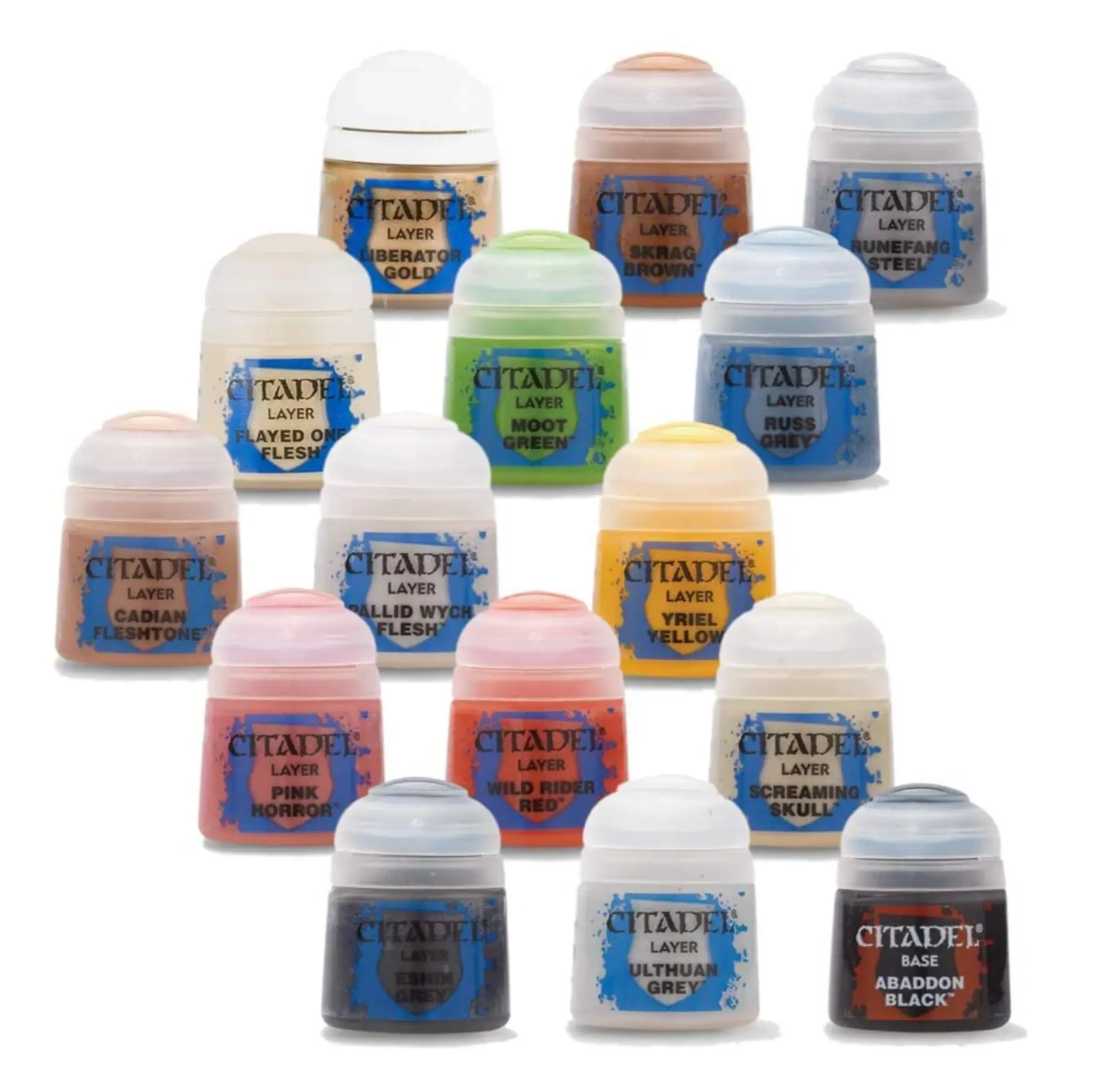 Citadel paints are the gold standard when it comes to painting Warhammer.
They are a top-end acrylic paint brand and the best formulated for painting Games Workshop miniatures.
They are owned by Games Workshop and work closely with the exact miniatures to produce the best results.
Also, the colors used in most painting guides found in Warhammer books, making it easier to follow their guides with the exact colors.
They are higher quality than the Army Painter kits but a little more expensive per pot.
It's truly a close call between the two, and honestly, you can't go wrong with either one.
These paints are sold at almost every hobby store that sells Warhammer, so it is likely you have already heard of them.
However, one of the fun things you can do with these is to buy the individual paint pots from Citadel, which make great gifts for the miniature painter in your circle.
These are considered so high quality partly because the formula is completely tailored to Warhammer miniatures.
They have also made the paints with an excellent mixture of pigments and filler ingredients that provide outstanding color and a perfect flow and viscosity.
Their naming convention is also unrivaled, evoking the best miniature painting and getting you into the mood. Screaming skull is one of my favorites.
Obviously, one of the significant drawbacks of such high-quality paints is going to be the cost. That's pretty much the only issue with these.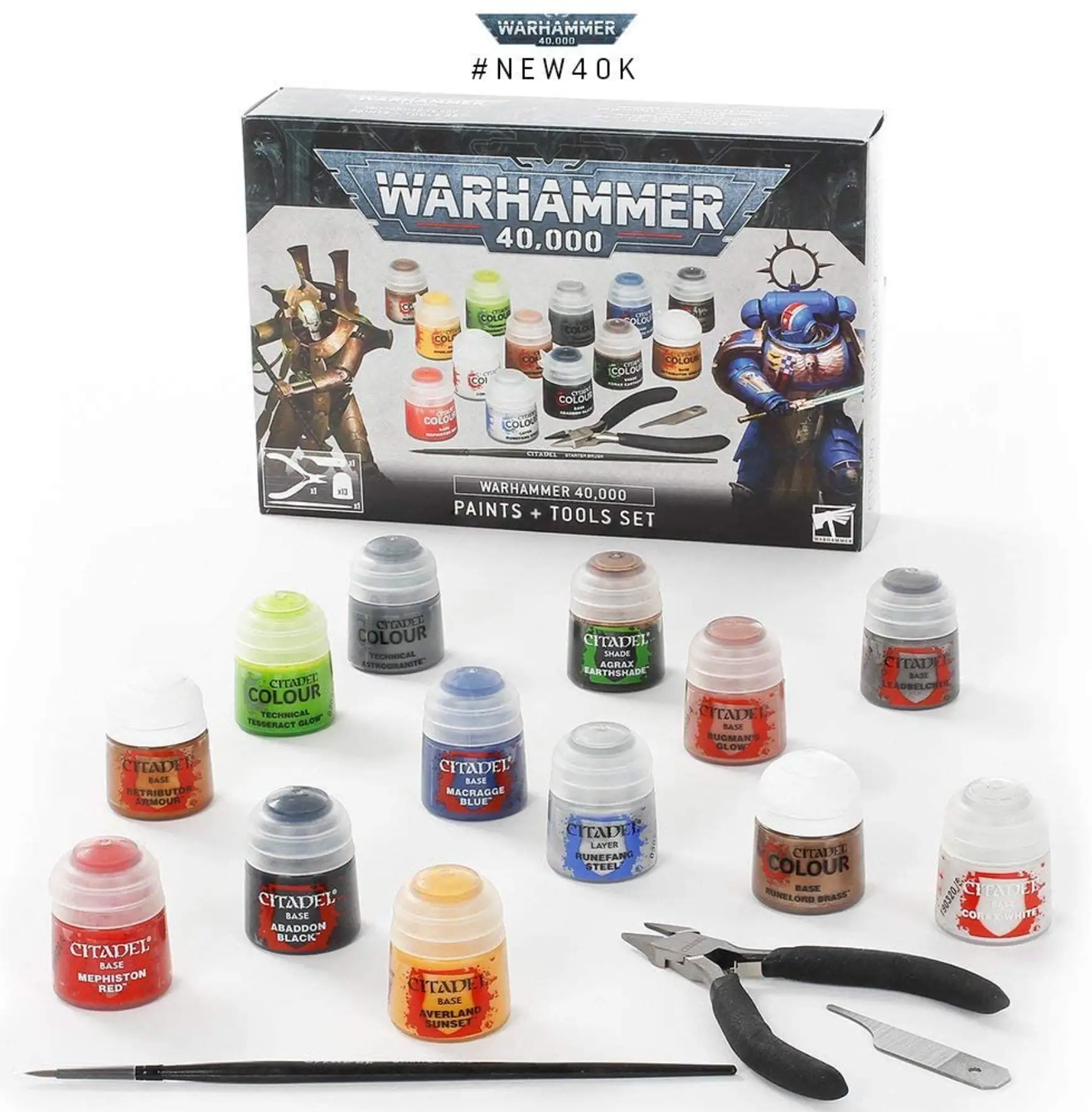 Citadel also makes a special selection of paints explicitly for a Warhammer 40K palette.
Of course, it's always nice to customize your own palette, but if you were looking to make things easier, you could go for their kit.
The set comes with 13 paint pots, 3 of which are metallics.
Especially with 40k, you are likely going to want a decent amount of metallic colors.
The set also comes with some useful tools like pliers and a file for help with assembling your 40k models.
Finally, it comes with a paintbrush.

Best paint for model kits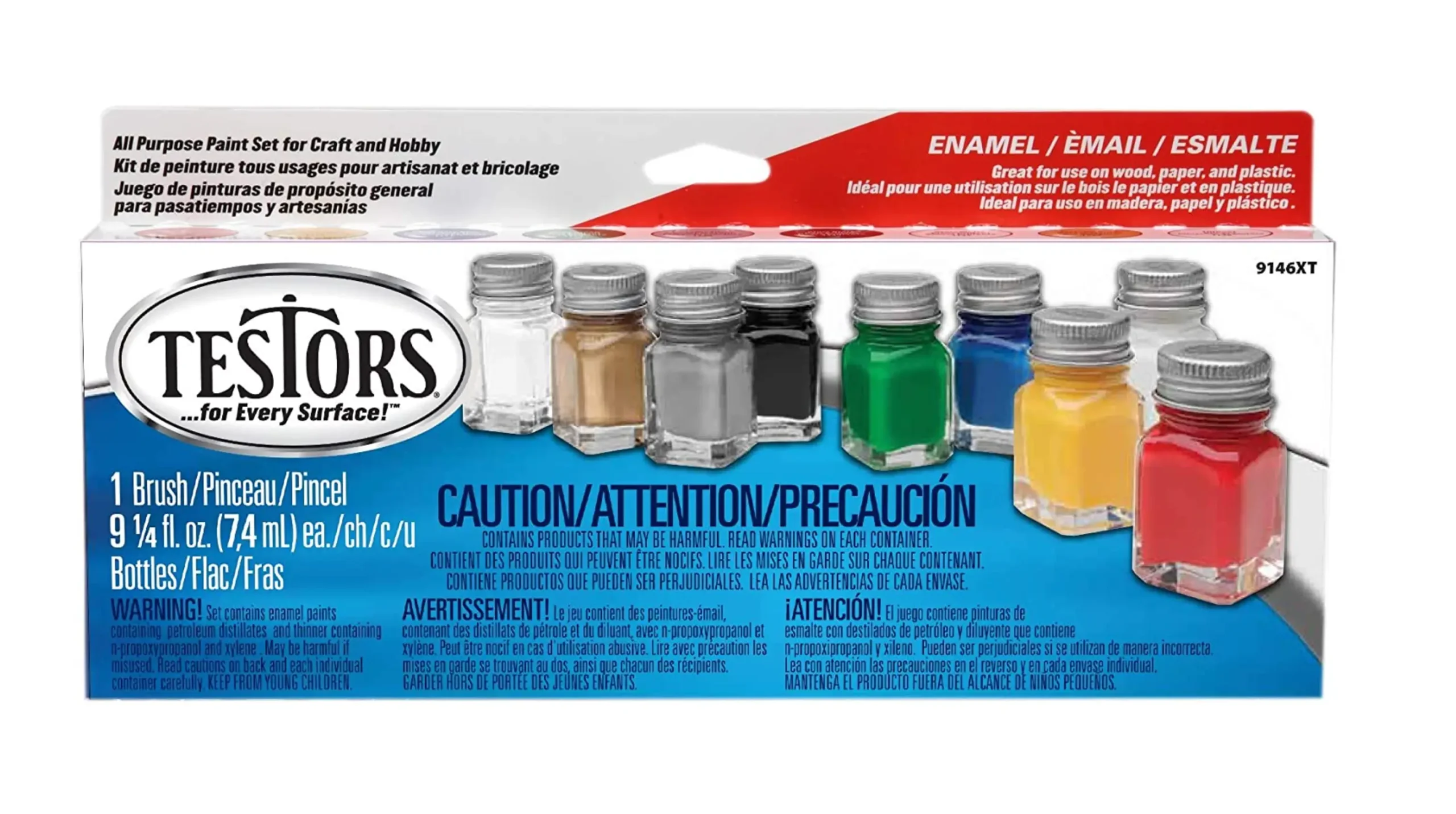 If you want to try something a bit different and classic, you can try an enamel-based paint kit like Testors.
For generations, enamel paints were a staple in painting model cars and trains until acrylics stepped up their game and became the more solid overall choice.
Enamel paints dry to a harder finish and are more blendable than acrylics, making them an interesting alternative for painting larger scale models with a lot of surface area.
If you've ever seen or played with vintage toys, you can get an idea of how enamel paints end up looking in the final result.
They tend to be glossier and harder, providing a very different look and feel than acrylic paints.
Acrylic paint tends to end up with a matte finish unless you go with an effects paint or metallic.
Testors kit is a great starting selection of 8 paints colors, one paint thinner, and a paintbrush for a reasonable price. It also comes with a tray for mixing.
I would not recommend enamel for most people just getting into painting miniatures – it's rarely used today.
However, if you are looking to mix things up or try something different, you can try a smaller kit such as this one and see how you like it.
Best paint for miniature figures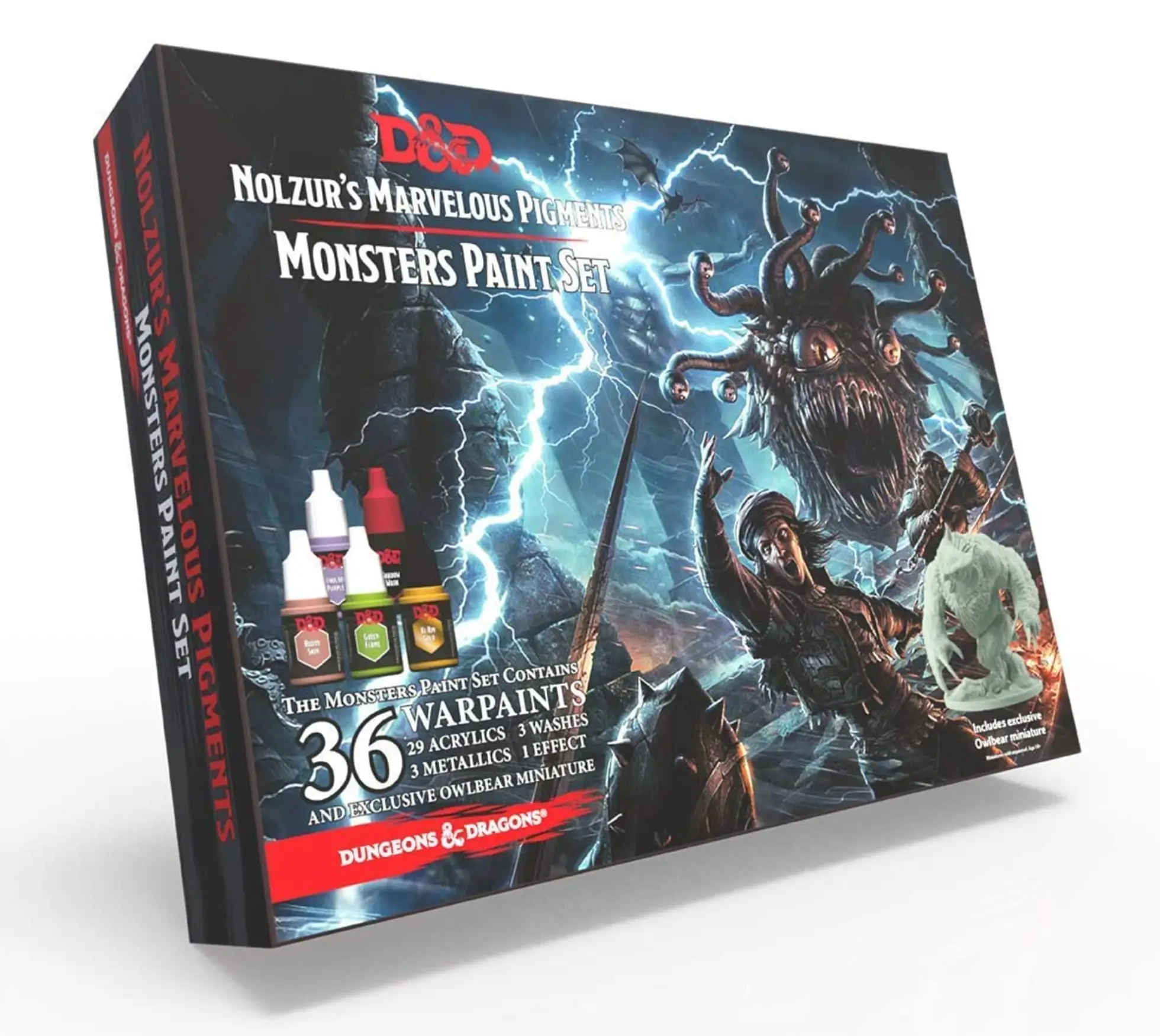 This is one of the best overall sets on the list.
You can't go wrong with this large-scale monster paint set for D&D.
It's made to paint monster figures for Dungeons and Dragons but can easily cross over into other miniatures.
As a result, it's a good option for a variety of different cases.
It is also a large enough set to cover any figure for D&D, unlike the smaller beginner set, which is more focused on base colors.
I love the range of unnatural colors the monster set provides, really allowing you to customize how all the different creatures look, from dark greens to outlandish purples.
There's also a lot of earth tones for different furs and skin tones.
The kit includes 3 metallics, 3 washes, and 1 effects paint, rounding out a very nice variety of base colors.
There's also an Owlbear figure included, which is a nice touch and will help you improve those painting skills – there are detailed instructions on how to paint it to help you get started!
Nolzur's Marvelous Pigments are not only flavorful and fun but have excellent consistency.
The pigment and viscosity are high quality, as you'd expect from any Army Painter line. They're becoming the new standard alongside Citadel.
As acrylic paints, they are non-toxic and easy to clean.
In addition, these are made to be more environmentally friendly than most with their Nordic Swan Eco-label.
The only real concern with this kit is its size, with perhaps a little more paints in it than are needed for beginners.
Because it is also themed for monsters, you might not find the same usefulness in the selection if you are playing a different game like Warhammer 40K.
Best cheap model paints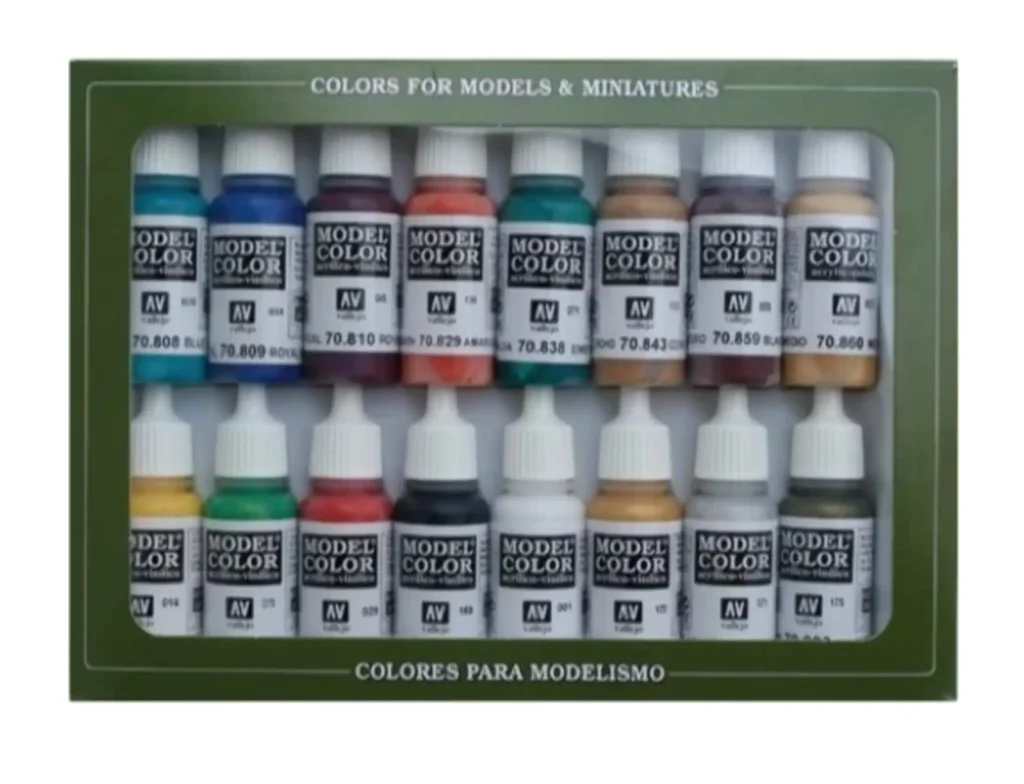 If you're looking for the best deal amongst the most respectable model paint makers, Vallejo is a great choice.
This intro set can get you started with 16 base colors that will cover most of your needs.
They have lots of other collections of varying sizes as well, so you can customize them to your own needs.
The significant advantage beyond price that Vallejo has is the way they make their droppers.
They simply don't dry out nearly as fast or as often as other brands, plus you can pour out much more precisely, which saves paint in the long run.
You can also find Vallejo at the average craft store.
They have built themselves a good reputation and are popular enough to have deals on their products fairly often, which you can watch out for.
The main disadvantage is just that it isn't as high quality as some of the other paint kits listed.
Perhaps a second, less obvious problem is that they don't specialize in miniatures, so their formula doesn't always work as well as others do.
Their kits might not have specialized colors for your needs either, meaning you may need to purchase more colors overall to cover the same bases.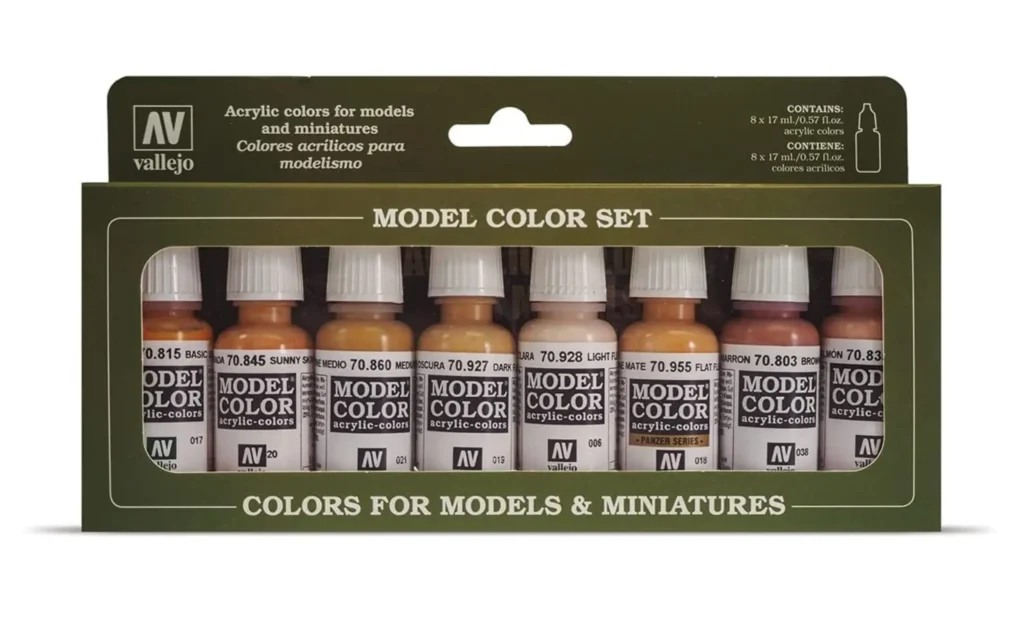 Before finishing the list, I did want to mention this last set of useful skin colors.
Beyond the basic variety of primary colors, the next most common colors you'll need a lot of when painting miniatures is skin colors.
This 8-pack gives you an excellent range of shades for precisely that purpose, which makes it a nice addition to almost any other kit on this list.
Conclusion
There are many options for miniature painting, but your main options will come down to the number of paints, cost per paint, and quality.
We've tried to provide a range across all the different configurations to find the perfect paint kit for your specific needs. All of the ones featured here are at least good quality, although some are better than others.
Lastly, with miniature painting, in particular, it's important to have some metallics and washes.
Keep that in mind, and consider using a primer and getting a decent set of paintbrushes as well. Happy painting!