Do you want to create some digital art on your phone or tablet? You're in luck! Here, I share a list of the best free and paid apps for painting!
So, you have got a new Android tablet and now you want to hold a complete painting studio in your hands.
Android phones or tablets may allow users to unlock their inner sense of creativity and jump-start their art skills.
These days, more and more artists are switching from paper to digital art.
They are converting their tablets or Android phones into a portable art studio and are really enjoying the benefits that the drawing and painting apps offer.
If I talk about drawing, it is quite an old activity that people have been doing for many years.
Now everything is changing due to technological advancements.
Not only people can use phones or tablets but they can also enjoy many painting and drawing apps by which they can level up their drawing skills.
Painting apps not only allow you to make simple images but you can also create some realistic sketches as well!
Keep This in Mind Before Using Any Apps for Painting
One thing to keep in mind is that drawing with a tablet or a phone is not like drawing with paper and pen. It is a completely different experience.
Whatever the Android phone or tablet you are using, just make sure that it has multiple touchpoints so you can use the painting applications to their full potential.
By using the painting apps, you can enjoy various benefits, for example, powerful tools for drawing and painting, special edits and effects, 3D images, raster images, and much more.
There are a lot of art applications that you may find in the Google Play Store.
This guide tends to highlight everything about the painting apps.
Below are some of the top best apps for painting, both free and paid, that may allow you to create any type of digital art on your phone or tablet.
All these apps are aimed at beginner or expert artists, so I believe that you will find the perfect app here.
I have also shared the links to each app so you can download the apps today and create your portable art studio.
So, are you ready to draw on your Android phone or tablet?
Let's check these best Android painting apps!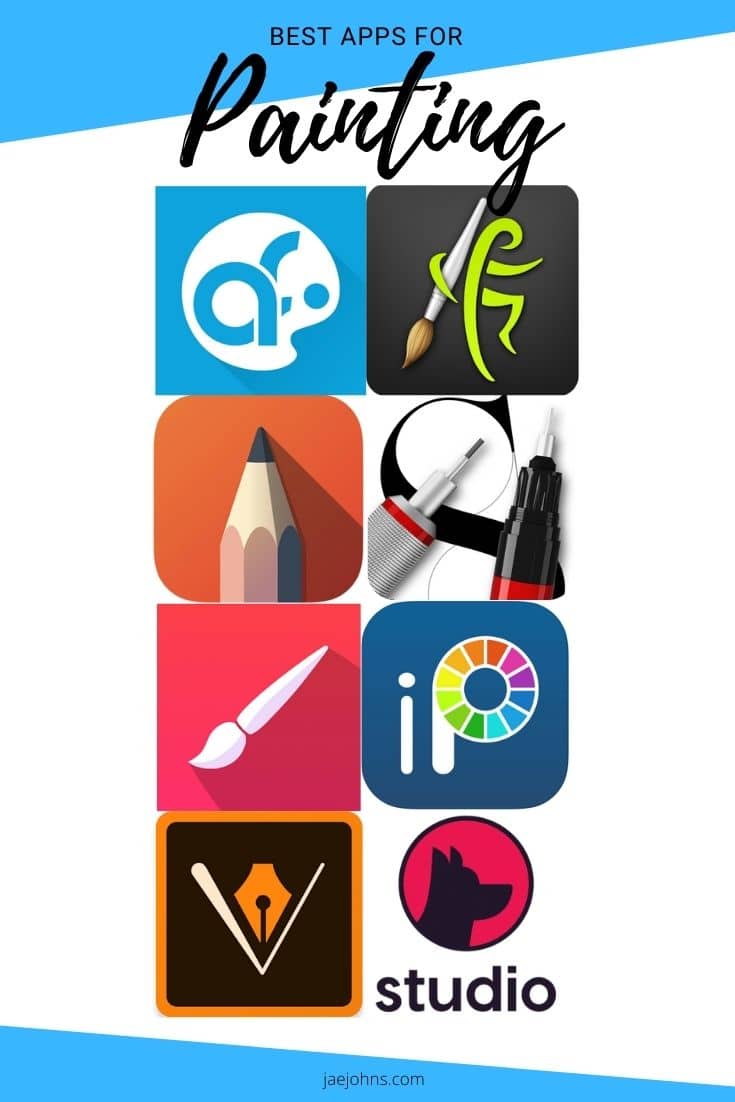 What are the Best Apps for Drawing and Painting?
Below is the list of the best apps (both free and paid versions) that you can use for drawing and painting.
By using these apps, you can express your painting ideas as digital art.
Infinite Painter is the best painting app for Android that is free to download.
It is said to be the most advanced painting solution for artists to be used on tablets or Android phones.
Loaded with various features, this art and drawing tool allows the artists to have access to more than 160 natural brush presets.
These brushes mimic the natural brushes that artists use in traditional paintings.
The artists can not only use the pre-installed brushes but can also create their new brushes and can change the brush settings as well with quite ease.
Infinite Painter is an incredible app that is gaining popularity among artists day by day.
It may allow you to create digital paintings that are much similar to the traditional paintings, giving a more realistic painting experience. It means that the brushes this app provides interact with the paper textures very realistically.
With perspective guides, color blending modes, clipping, and selection masks, you can create multiple layers and draw 3D cityscapes.
With the superior interface and advanced features, this app has become the favorite app of most artists.
Adobe Illustrator Draw is one of the best drawing and painting apps of this year that may allow you to create illustrations using vector drawing tools.
From drawing to sketching to painting, this application has it all.
Originally, it is used to create vector art on your tablet or phone.
By using this app, you can work on multiple images as well as drawing layers.
It has a simple and clean interface that is quite easy to use even for new mobile artists.
It comes with comprehensive features so that the artists can easily level up their drawing and painting skills.
The brush tool and Color History of this app is favored by most artists.
Color History can keep track of the recently used colors.
The best thing is if you want to open your editable file on desktop, you can easily transfer your drawing layers or artwork to Adobe Illustrator or Photoshop.
And guess what?
By using the Adobe Illustrator Draw, you can draw on top of a photo whether you have taken the photo on your device or you have downloaded it to your device.
In short, Adobe Illustrator Draw is an amazing app by which you can amuse your inner artistic skills!
If you want to turn your iPad into a video graphics or drawing tablet, you must use Astropad Studio.
It is one of the brilliant iOS applications that you can use for painting and drawing.
It is best suited for professional artists.
The Astropad Studio comes with a 7-day trial period but afterward, you have to pay a certain amount for a month or year subscription.
Its subscription looks a bit pricey but if you compare it with the features the app provides, you will come to know that it is well worth the price.
I believe that this app will be your new best friend which you can carry around on your iPad.
ArtRage is one of the best Android apps for painting that may allow you to create digital art that gives the impression of traditional art.
Whether you want to draw, paint, or create something new just like you create on a paper, you can definitely use the ArtRage painting application.
With digital canvas and unlimited paint options including pencil softness and paint thinners, this is the app that most artists love to use.
A few amazing tools that ArtRage provide includes:
Paint roller
Watercolor and oil brush options
Felt pen
Ink pen
Pencil
Glitter tube
Pastel colors
Palette knife and much more!
Packed with several features, the ArtRage painting app may allow the artists to create multiple layers, play with the colors, blending modes as well as opacity controls.
It gives unlimited undo and redo options.
Seems interesting?
Not only this, it comes with default presets for every tool.
Moreover, there is also an option of creating presets of your choice.
The interface of this Android app is simple, nice, minimal, and very easy to use not only for professional artists but for the beginners as well.
As the interface is minimal, so there are no unnecessary adjustment options or filters.
In this way, you can focus more on drawing and painting.
Moreover, the paintings that you create on an ArtRage app are fully compatible with the paintings of the desktop versions.
Another drawing and painting app for Android is ArtFlow.
It provides an amazing opportunity to convert your Android phone into a digital sketchbook.
The ArtFlow Android painting application rocks with multiple features that most artists love whether they are drawing, sketching, or painting.
It features:
More than 80 paintbrushes
100+ tools
Selection and clipping masks
A high-performance paint engine
Multiple filters for saturation and brightness
And much more
And one more thing: the ArtFlow Android app is free of cost.
The paid version of this app is also available that comes with more features and allows the artists to export their PSD format artworks to the desktop for editing purposes.
What most artists love about this app is its simple layout and controls.
Most drawing and painting apps are a bit complex to use for casual users but it is not the case with the ArtFlow Android application.
Due to its amazing features, ArtFlow has become the universal Android application for painting as well as sketching!
Another application that comes in the list of the best Android apps for painting is Ibis Paint X.
It rocks with some powerful painting and sketching features, for example, you can enjoy more than 300 brushes, over 25 color blending modes, and 58 filters.
Moreover, you can enjoy working with multiple layers as well.
Whether you have just started to paint digitally or you are an expert in this field, you can create artful drawings using the Ibis Paint X application for Android.
It comes with the most amazing feature and guess what?
This app may allow you to record your drawing and painting process so you can share it on YouTube or other social media platforms!
Both free and premium versions of the Ibis Paint X painting application are available.
By using its premium version, you can unlock several advanced features including colors, filters, or fonts.
So, what are you waiting for now?
If you are looking for a handy Android application for painting, Ibis Paint X is what you need!
Do you want to enjoy professional painting and drawing experience on your Android phone?
If you are saying yes, then Autodesk Sketchbook is an ideal option for you.
It is one of the powerful apps for painting that offers some amazing features for artists. These may include:
Over 140 brush presets
Color blending options
Multiple layers functionality
A magic wand
A massive color library
Gradient fill tools, etc.
Sketching is considered as the heart of the creative drawing or painting process.
This free app targets providing a better sketching experience to the artists so whatever comes to their mind they can sketch, draw, and paint easily using Autodesk Sketchbook.
The neat and simple interface of the Autodesk Sketchbook makes the whole sketching and painting experience fun and enjoyable.
Its minimal interface allows the artists to focus more on their artistic work.
This app is not only available for Android but its desktop version is also available.
Another cool yet powerful drawing and painting app is Tayasui Sketches Lite.
It is a user-friendly application that comes with a lot of amazing features and tools that may allow you to paint on digital media just like you are painting on the traditional art media.
Believe me, you will feel like you are drawing on paper!
With an elegant and minimalist design, this app can be used both on Android and iOS.
It comes with a simple interface in which you can not only have access to your previous drawings and paintings but there is also a plus sign by which you can create new drawings.
In short, if you have just entered the field of art or you want to up skill your drawing and painting, you must try this digital sketchbook.
Conclusion
So, these are the top and best apps for painting.
Various apps come in paid versions but there are free versions as well.
I have shared both types of apps, free and paid, to help you decide what is best for you.
These apps truly make a difference no matter what device you are using to create art.
Most of these apps do not need a stylus, but if you want to use these painting applications in the best possible way, I recommend you to use a stylus.
Most Android phones or tablets come with a stylus.
If you are using a tablet that does not come with a stylus, it is better to go for a stylus that is compatible with all Android tablets or phones.
If you want to create some art on the go, it is time to go for these painting apps.
So, do not wait anymore and try these apps if you want to up your art game. Happy Painting!