Do you enjoy painting miniatures?
Once you have a good and reliable compressor, you can have a jolly smooth ride with your miniature painting.
Getting the best airbrush compressors for miniature painting can be quite tricky.
There are countless numbers and various kinds of this equipment that you'd find for model making. But if you are unlucky and you get a crappy one, you may have a regrettable experience in the end.
You need a model air compressor that provides consistency and has a defined air pressure control. To get the most out of your painting, the pressure must not be too low or too high.
Higher pressure could create spider-webbing while speckling could be formed if the pressure is too low.
With that said, in this article, we shall look at some of the best airbrush compressors for miniature painting.
We shall also look at the things you should look out for when searching for equipment that fits your aims and purpose.
But first, let's look at some of the features of an air compressor that will help you make the best choice.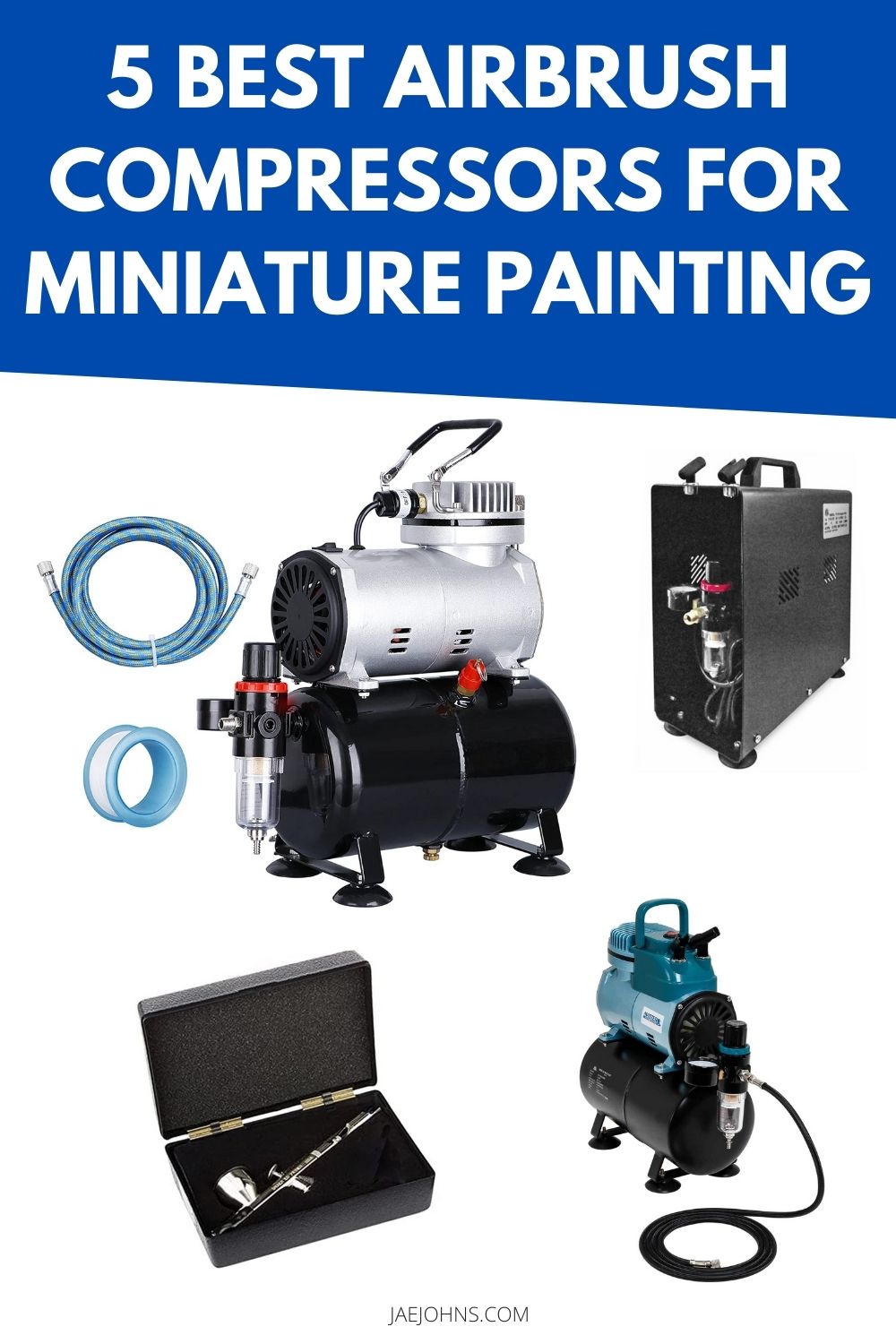 Air Compressor Features and The Things You Must Look Out For
As we have seen earlier, getting a compressor for painting miniatures and models is very important, but getting the right equipment will get you the best results.
The compressor you should go for must provide the right pressure for the particular airbrush and paint you will use for the work.
You must understand all the features related to an airbrush so you can make the right choice.
Once you equip yourself with the right information, chances of getting the best airbrush compressor that would be suitable for your work will increase.
Besides budget considerations, having an understanding of the features will help you with the knowledge of how the equipment works.
Understanding some exclusive features such as multiple pistons which aid faster compression will help you improve your skills. Your ability to use multiple airbrushes will also increase.
Now, here are some of the features and things you must look out for when searching for the best airbrush compressor
The Regulator
The regulator provides control over the level of release from the air tank.
With this feature, you can preset the equipment to your preferred output range.
A good airbrush compressor is fitted with a regulator alongside a moisture filter.
This is necessary for higher pressure when needed.
Single-Piston Compressor
The single-piston compressor is a tiny feature that performs the function of releasing low air.
This feature is required for projects that need low CFM (cubic feet per meter).
Miniature works require reduced air pressure and this feature provides it.
Dual-Piston Compressor
The dual-piston compressor helps to provide more air that is needed to propel the paint.
This offers much higher pressure than the regular offerings that provide a certain range of releases.
Moisture Filter
The moisture trap is a small plastic feature that helps in controlling moisture during spray.
When the equipment is in use after some time water builds up in the tank.
The moisture filter helps in removing the water. If the water is not removed, it will suddenly spray out of the airbrush.
Some models of air compressors come with a moisture filter to handle moisture-related issues.
During painting, high temperatures and humidity could trigger moisture-related issues.
This can happen under any circumstance. But, this feature helps to fix the problem.
So get gear with a water trap.
Adjusting the PSI
This is a great way to regulate air pressure and enough air power to airbrush miniatures.
Painting miniatures require regulating the PSI (pounds per square inch) of the compressor.
The user determines the perfect psi with an air regulator.
The air regulator has a gauge that provides a reading in psi.
You need to get an airbrush compressor that can go in the range of 10-40 PSI which is suitable for painting miniatures.
The airbrush user's choice of spraying and the mode of application can guide them in determining the PSI.
An air tank and auto on/off
A compressor requires an air intake filter.
This feature enables the equipment to store up the air in the tank at once.
This will aid in spraying in silence and avoid a noisy experience.
On the other hand, a lack of this feature prompts the device to make noise whenever you start the machine.
Apart from awful sound emissions, as the compressor sends out air on its own, the pressure will lead to slow drops which can interrupt the spray pattern.
The air intake filter can develop clogs from time to time.
When it does, it will require a prompt replacement to keep the lifespan of the compressor.
Several compressor types come with this feature. Endeavor to get a compressor with an air tank and auto-stop function.
Durability
When searching for the right airbrush compressor, you must lookout for a device that will last long.
Understand that the airbrush is of higher importance than the compressor.
If you settle for a particular compressor simply because the price is cheaper, you may end up with inferior gear.
Low-priced equipment can easily break down, turn out to be very noisy, or come with weak air pressure.
Make sure it fits
Most airbrush compressors are designed to fit the airbrushes.
But some manufacturers design their models with special insertions.
You may not be able to read this on the product page. So, make sure the compressor fits.
Now, let's look at some of the best airbrush compressors for miniatures and models
Best Airbrush Compressors for Miniature Painting
It takes some form of advanced skills to be able to airbrush your miniatures and models.
Also, individual preferences come to play in terms of choosing what works better for you.
The market is filled with several types of airbrush compressors that could be used for miniature painting.
However, apart from being an affordable price, some compressors are of higher value than others.
Let's look at some of them.
Read Also: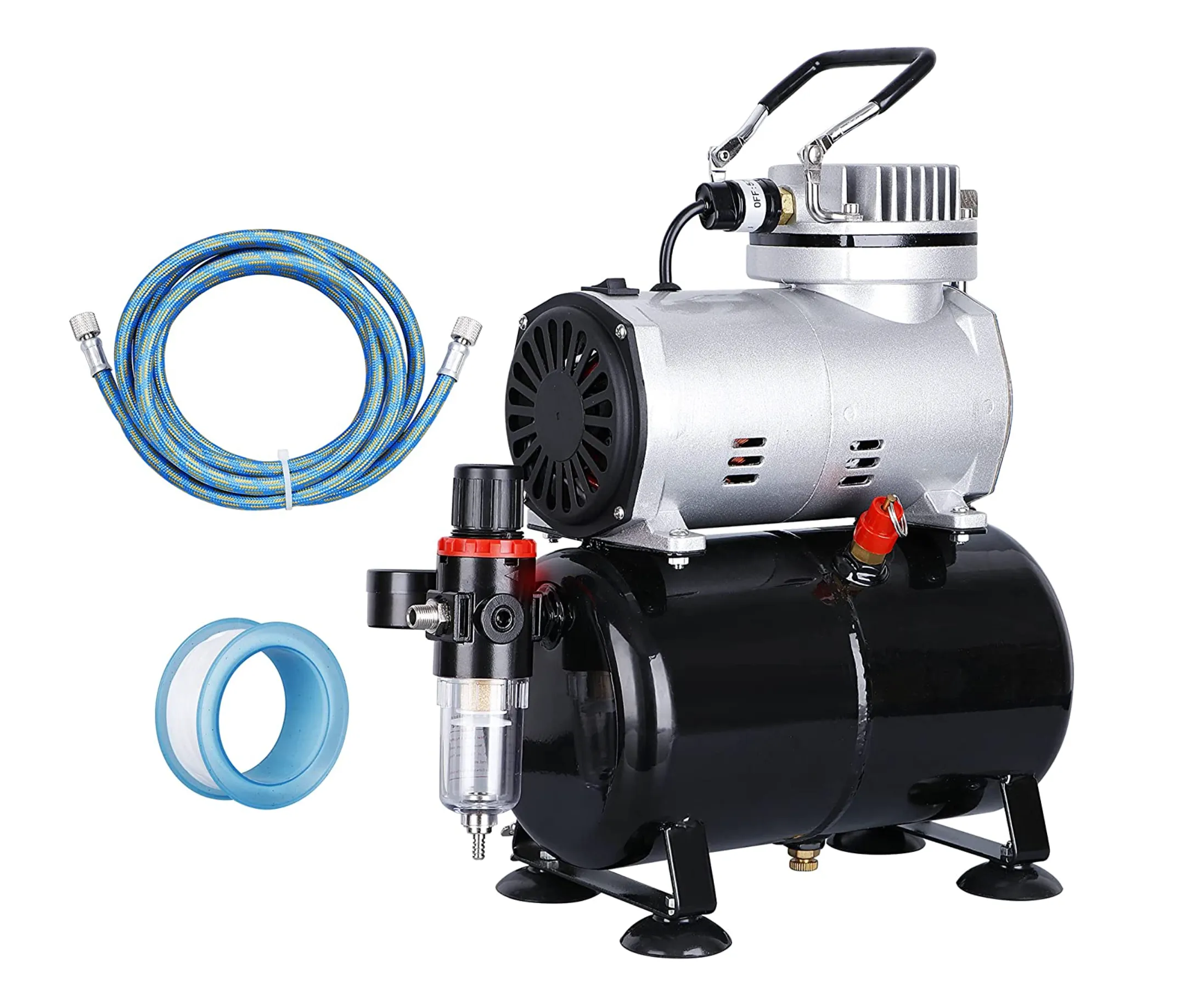 The Zeny Pro is designed with an automatic on/shut off feature.
The automatic on/shut feature enables this compressor to go on and off at intervals during spraying.
The air-on-demand feature implies that this equipment is designed to function only when you are working with it.
You can as well regulate the air pressure.
Pressure Guage
Once the pressure gauge hits 57 psi, it will automatically go off, whereas a drop in pressure to 43 psi will trigger the machine to power on.
This innovative feature helps the machine with longer compressor life. It allows less motor wear and heat-related moisture.
Compressor
This compressor also can produce 95 psi maximum air pressure with ⅕ horsepower delivery.
At 1/5 Horsepower the unit delivers more Air Volume (CFM) and Air Pressure (PSI) than any airbrush demands.
This is enough for approximately 23 liters per minute of constant airflow.
Beyond all of this, you can customize the unit to suit your preference for pressure and airflow.
The Tank
Zeny Pro also comes with a reservoir tank that offers a large capacity (3 l).
This ensures a consistent flow of compressed air and is a great thing for large areas.
This machine has the added safety feature of Thermal protection.
The Thermal protection ensures it automatically turns itself off if the unit becomes overheated.
Lightweight
The Zeny Pro is portable and compact.
The lightweight feature of this airbrush compressor along with the built-in handle makes it easy to carry.
This machine can be placed on the tabletop and can also be kept underneath the workstation.
This is a great apparatus for creating a beautiful painting, cake decoration, costume make-up, and tattoo.
Being one of the best compressors for an airbrush, Zeny Pro offers precise air adjustment.
It comes with a true diaphragm pressure regulator with gauge and water trap filter which provides actual adjustment of airflow.
This ensures clean, dry air. Fitted with an oil-less piston motor, the maintenance of this gadget is free.
Features of Zeny Pro Compressor
On/off shutoff feature
23-liters-per-minute, zero-pulsating air
Reliable air provided on demand
Lightweight in comparison to other units
Adjustable air controls
Fitted with no-maintenance, oil-free piston motor
Equipped with moisture trap filter and pressure gauge
Noise level is almost none
Comes up to high pressure reasonably fast
Offers two-year warranty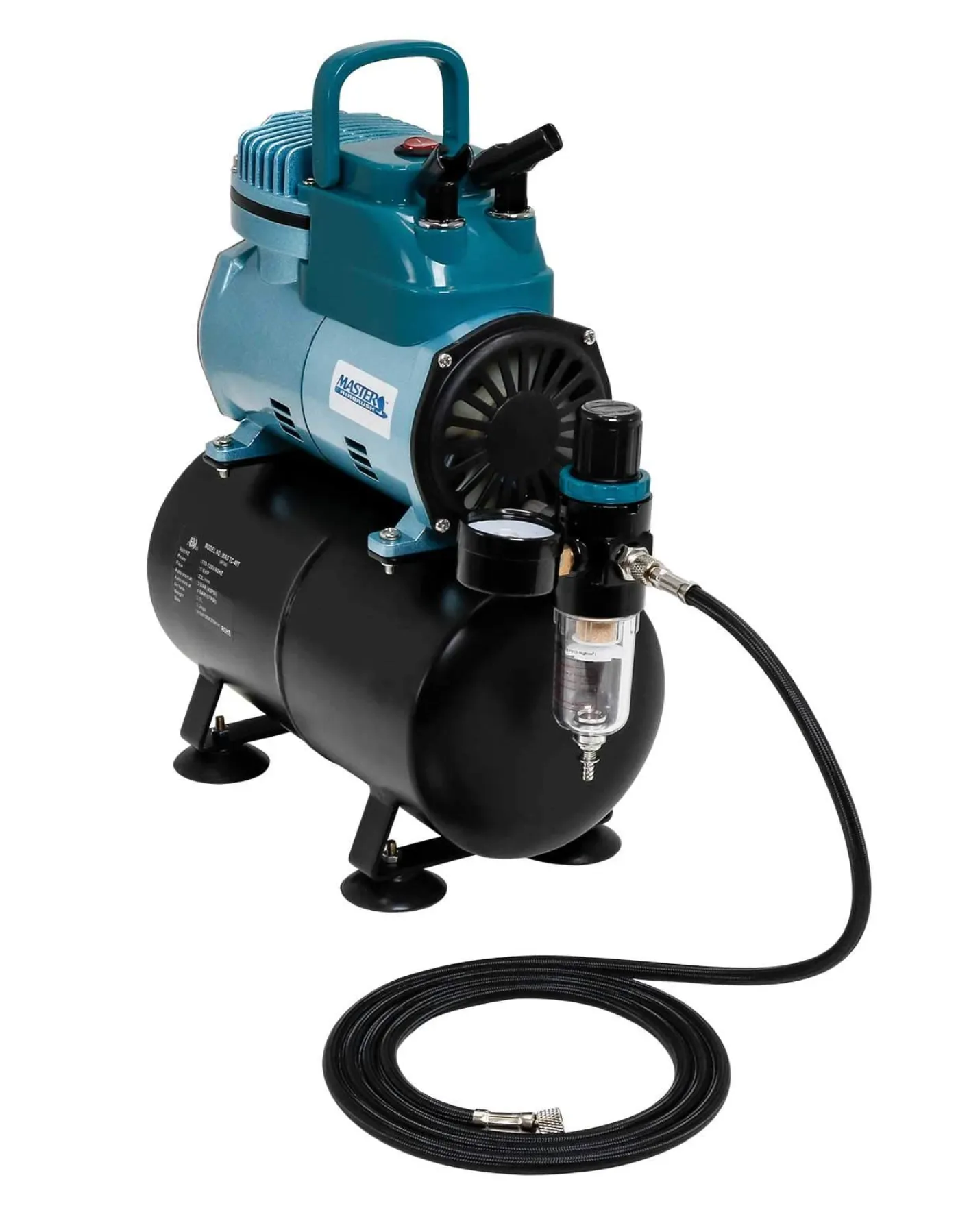 The Master Cool Runner is a single-piston airbrush compressor that can run for a longer duration.
The built-in cooling fan ensures that it functions for a long time without overheating.
The fan keeps the compressor motor cool while in use.
The Master Cool Runner is produced with Longer Duty Cycle.
It uses advanced technology that helps increase the life of the airbrush compressor.
The Tank
This device offers Constant Pressure and Zero Pulsation.
The air-on-demand feature and the 3-liter storage tank provide consistent pressure with zero pulsation.
Air is taken from the large air storage tank which provides you a constant regulated pressure.
The 23-liters-a-minute airflow, high air volume, and 1/6 horsepower offer the capacity to operate two brushes.
The Air-On-Demand feature means that this compressor is designed to work only when you do and produces full-capacity air on demand. The equipment automatically shuts off when not in use.
Diaphragm Compressor
The Precise Air Adjustment feature on this compressor is innovative.
Packed inside this innovation comes with a diaphragm pressure regulator that helps filter the airflow with precise adjustment.
The automatic On/Off feature on this compressor is exceptional.
You can preset Master Cool for automatic turn-off when air pressure reaches 57 psi.
Conversely, you can preset the machine for an automatic turn-on at 43 psi.
Pressure Guage
Master Cool Runner offers a max pressure of 86 psi, at which point the Auto Safety Release Valve will release excessive pressure.
This airbrush compressor is Thermally Protected.
For safety, it is designed to automatically turn itself off if the unit becomes overheated.
Operating at 1/6 Horsepower, this equipment is powerful. It delivers high air volume (0.8 cfm) and airflow (23 liters/min).
One of the amazing features of the Master Cool Runner is its portability.
Fitted with a built-in handle, this device has been designed as a lightweight, compact, and easy-to-carry airbrush compressor.
The Single Piston Motor offers maintenance-free, no oil, and noiseless operation.
Features of the Master Cool Runner Compressor
Advanced Cool Running High-Performance Single-Piston compressor
3-liter air storage tank
Air pressure is regulated and comes with moisture trap filter and guage
Constant pressure and no pulsation as a result from the air storage tank and air-on-demand
Braided 6-foot air hose – 2 Holders & 6ft Braided Air Hose with 1/8″ Ends
1/6 horsepower
Designed for a serious air brusher that works for longer hours – The machine runs much longer without overheating
23 liters of airflow per minute allowing for two brush operation
Built-in cooling fans and air-on-demand
Full five-year warranty – Guaranteed quality and reliability with a 5-year warranty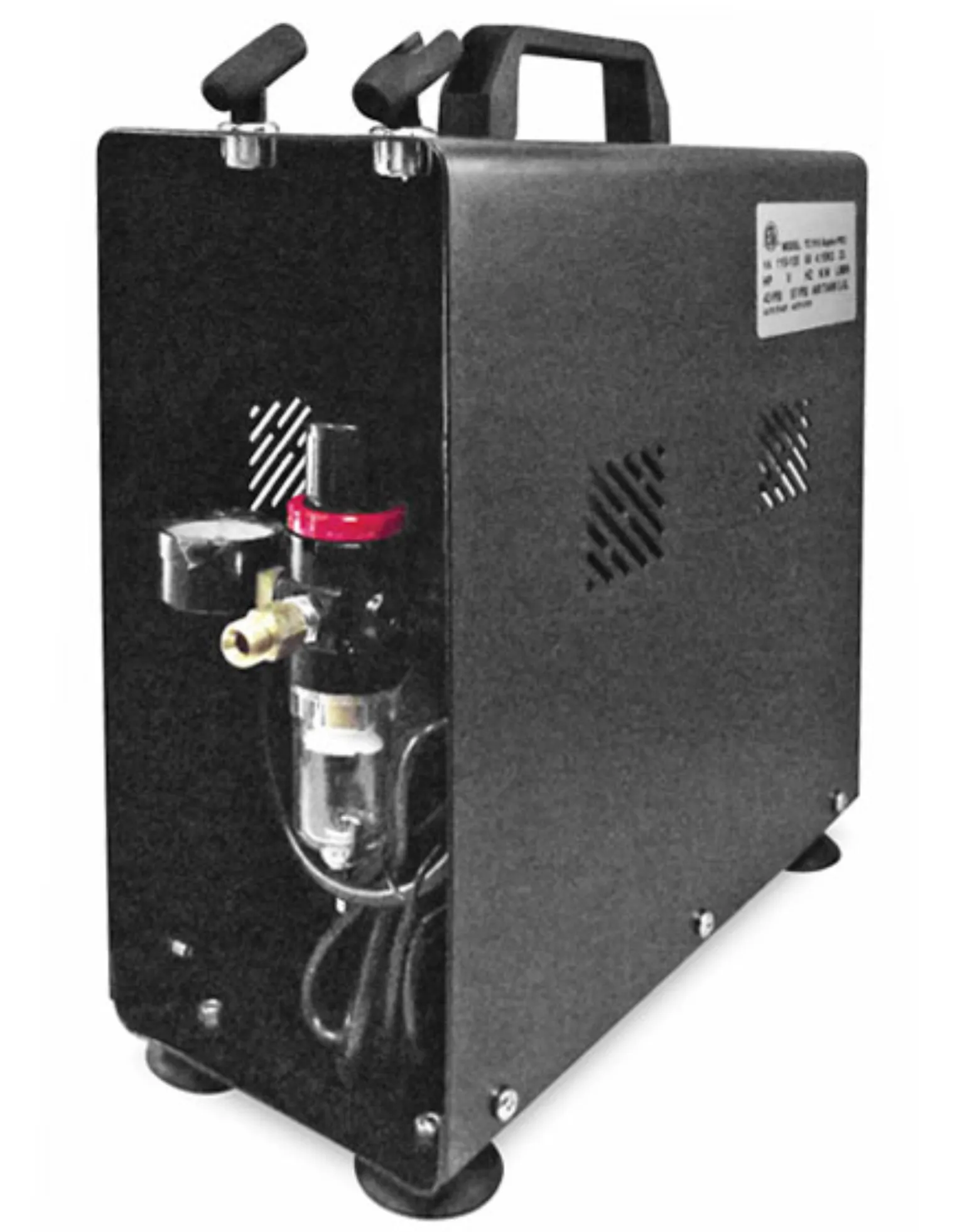 The Badger airbrush compressor prides itself on being a noiseless machine that is maintenance-free.
This portable compressor requires no lubrication and provides an automatic shut-off switch that is activated by the use of an attached airbrush.
Badger Aspire Compressor offers ⅕ horsepower with a 1-gallon air storage tank.
This compressor model comes with an adjustable air regulator which is fitted with a pressure gauge and a moisture trap filter.
Pressure Guage
The overall max pressure of this airbrush equipment comes in at 57 psi.
Additionally, the unit is lightweight and easy to handle making it one of the best airbrush compressors for model making.
This unit is designed with a sturdy metal outer case with a handle, adjustable air regulator, and pressure gauge.
Badger Aspire is fitted with a built-in moisture filter and two airbrush holders.
The Tank
Other outstanding features of this airbrush compressor include a 1-gallon (3 liters) air storage tank, 1/8th-inch hose connection, including a 1/8th to 1/4th-inch hose adaptor.
Distributed by Badger Air-Brush Co., this machine comes with a 1-year warranty from the date of purchase.
The one-year warranty is fastened on manufacturer defect – repair or replacement as the case may be.
Features of the Badger Aspire Compressor
Lightweight – weighs only 1 pounds (8.2 kgs)
Maintenance-free
Noise-free
Automatic shut off
Adjustable air regulator with pressure gauge and built-in moisture filter
Diaphragm compressor
Built-in one gallon (3 liters) tank
Airbrush holders
1/5 Horsepower 110 vac 1.0 A motor with an on-off toggle switch
Maximum pressure 57 psi (4 bar)
Thermal protection for potential overheating
Motor power: TC910 1/6 HP @ 1700 RPM
ETL certification
One-year warranty
Distributed by Badger Air-Brush Co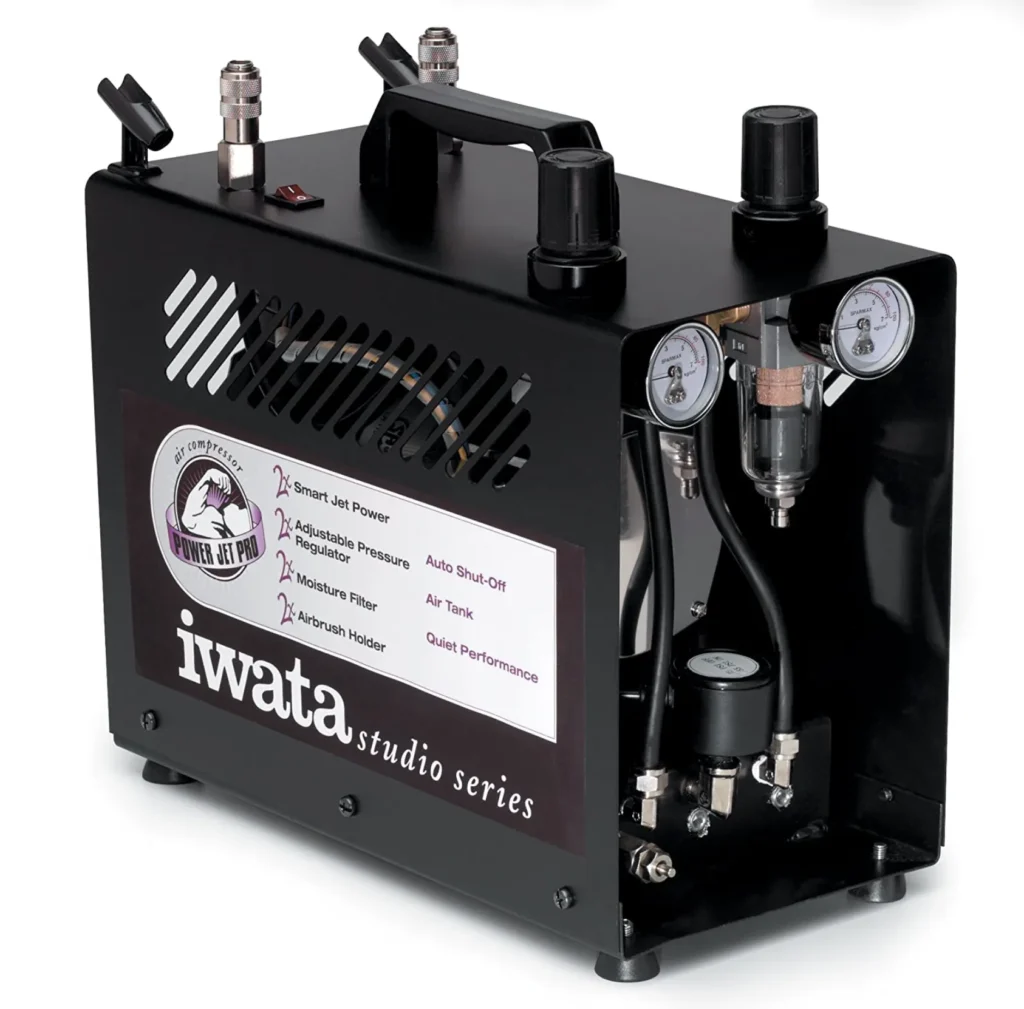 The Iwata Power Jet Pro is an excellent unit equipped with two times more features than the Power Jet Lite.
This airbrush compressor features a powerful twin pump.
Compressor
Built with Iwata's Smart Technology, the dual output units on this compressor allow you to run 2 airbrushes at the same time, each having its own pressure regulation valves.
The automatic shut-off feature ensures the machine shuts off on its own when not in use.
Affordable Price
Although it doesn't come cheap, this machine is offered at a reasonable price.
Given the innovative features and dynamic functionality, Iwata Power Jet Pro is one of the major airbrush brands.
Studios and Commission painters see this machine as their favorite compressor for airbrushing.
The manufacturer of this compressor prides itself as a precision engineering company and tends to have impressed excellent quality goals to their compressor models.
Similar to all Iwata Studio Series compressors, the Power Jet Pro is fitted with an air hose and adapters.
These features enable the device to hook up to any brand of airbrush.
Tank & Pressure Guage
The Power Jet Pro is built with a 2-liter tank reservoir.
At 1/6 hp 1-70 PSI maximum pressure, it delivers enough power necessary for use with high-paint-flow.
This is a great product for a professional artist or a heavy airbrush user.
You can have one airbrush as a workhorse for priming and base coating while another can be used for more detailed work.
Jet Pro offers you the convenience of airbrushing alongside a friend, colleague, or partner.
The two output hoses have a fast release structure.
You can effortlessly disconnect one unit while the other can keep running.
Additionally, this machine comes with 2 hoses and adaptors for all major airbrush ranges.
Features of Iwata Power Jet Pro Compressor
Percise air-pressure adjusting from twin air regulators.
1/6 hp 1-70 PSI maximum pressure
2 liter (1/2 gallon) air storage tank
Built-in airbrush holders
Multi-purpose Iwata Eclipse airbrush and the new Eclipse G6 pistol grip airbrush
Mounted twin pressure gauges with moisture filters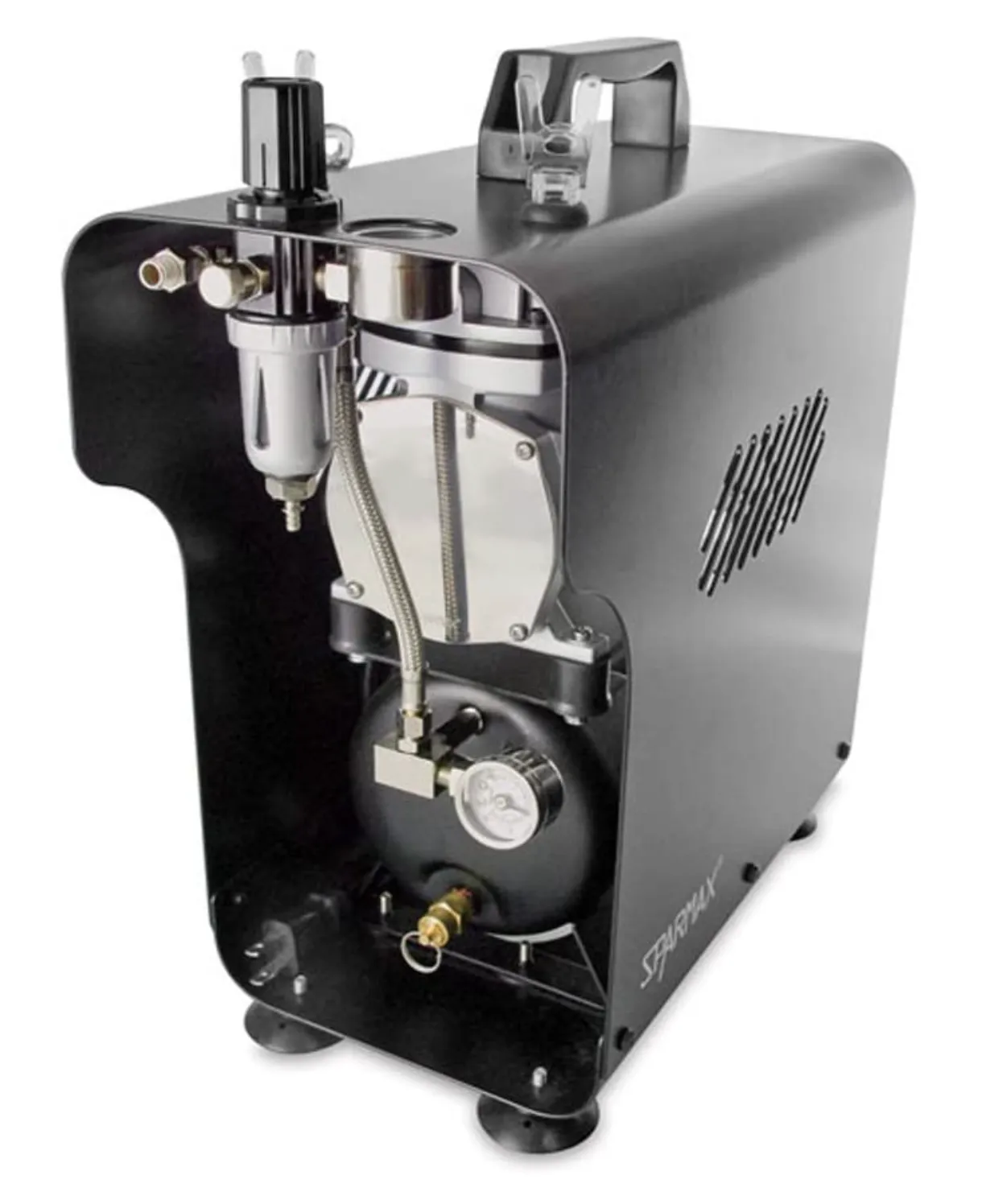 The Sparmax TC-620 Compressor is designed to provide unmatched versatility.
Built with up to 60psi operating pressure with a regulator and gauge, this airbrush compressor offers unparalleled versatility.
Lightweight
The TC-620 is compact. Designed with lightweight metal casing, this machine offers advanced portability making it easy to store or carry around.
Exuding class and functionality, the Sparmax TC-620 is fully automatic.
It only runs when the airbrush trigger is pressed which helps to greatly extend the motor life.
This machine can effortlessly blend into your work environment and still have its associated regulator, filter, and gauge accessories protected.
It comes with two air outlets and an accompanying air tank that enables creators to manage their workspace with precision and flexibility.
An extra air outlet allows you to connect airbrushes before use and also switch between uses of airbrushes.
This machine releases clean and stable air that can be controlled to fit your desired application.
The Tank
The Sparmax TC-620 is fitted with a twin-cylinder with a 3.5-liter air tank.
The equipment provides enough power that can handle several airbrushes at the same time.
It also comes with various connectors that cater to a wide variety of airbrush brands.
The two compressor piston that comes with this compressor does not release more noise than a single-piston compressor.
The case adds much stability to the compressor which overall reduces the sound created by the vibrations.
Another great feature of this compressor is that you can connect up to two airbrushes and you can also stand them on the holders.
You can set the same pressure on both brushes and at the same time set them on different psi.
This dual-action airbrush compressor allows you to perform Oil and Enamel airbrushing work side by side with acrylic paint.
You can have 2 airbrushes hooked up at the same time to interchange them with ease.
Features of Sparmax TC-620 Compressor
Ultra Silent
Fully automated
Zero- maintenance, oil-less piston air compressor
2 detachable airbrush holder
Only runs when the airbrush trigger is pressed – this hugely extends motor life
2.5-litre tank and a solid protective case
Lots of power for many airbrushes to be used together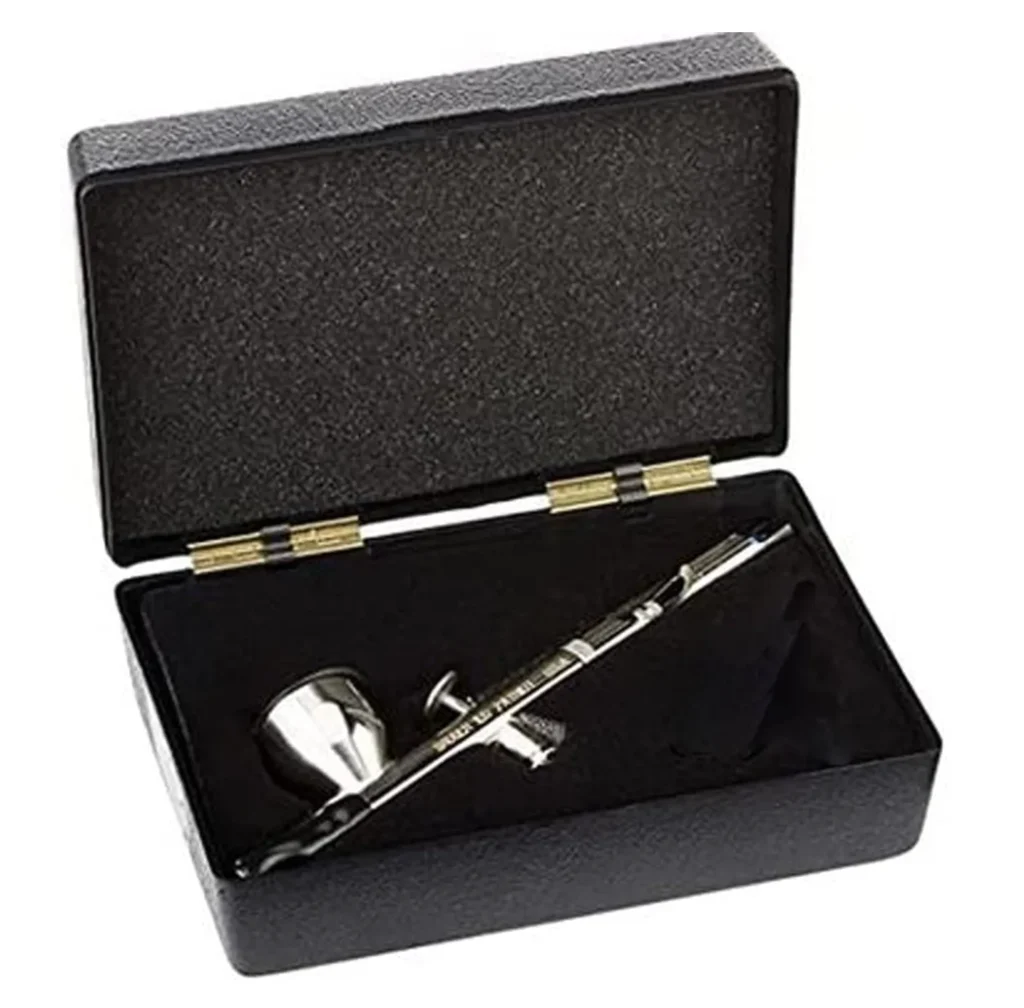 Of all the airbrush compressors presented so far, the Badger Patriot stands as the Best Beginner Airbrush for Miniature Painting.
If you are looking for the best starter airbrush, this exciting airbrush can fill in the gap.
One of the biggest issues that starters face with compressors is the cleaning part.
The Badger Patriot offers durability and ease of cleaning which leaves a beginner with a pleasant experience.
The Badger Patriot is dynamic, durable, easy to use, reliable, and above all cheap; making it an excellent choice.
This device comes with a big 0.5 nozzle. This could be a drawback because it will not give you the fine details.
But, it offers you a good place to start from.
Nonetheless, the big nozzle is great for basecoat and priming miniatures. It also helps it to last longer.
A big needle is harder to accidentally break which is good for you if you are a starter.
A professional artist can go for more advanced equipment like the ones presented earlier.
This gravity feed airbrush also comes with an instruction manual that can assist a starter in hitting the ground running.
It is innovative and can be the best ally to upcoming artists, crafters, and hobbyists.
The descriptions so far provided do not imply that the Patriot Model 105 is exclusive designed for amateurs.
This user-friendly gravity feed airbrush compressor is made to be used by both users experienced in spraying as well as beginners.
It is reliable, convenient, and budget-friendly.
Features of the Badger Patriot 105 Compressor
Single (.5) needle/nozzle for spraying all mediums – inks, dyes, watercolors, acrylics, enamels, lacquers, glazes, latex, Air-Opaque, Spectratex, MODELflex, and Stynylrez.
Self maintenance is easy to do – has a centering nozzle design, fast cleaning ability from acute tapered color, maximum angle trigger clearance, and stroke, needle removal system that is patented and easy to access
1/3 ounce color cup that is permanently mounted with a spill-proof cap
Budget-friendly
Final thoughts on the best airbrush compressor for miniature painting
To master the craft of airbrushing miniatures, you will need new tools and techniques.
Although it involves some advanced skills, beginners can make a good start by starting with less sophisticated machines.
Professional artists and anyone advanced in the craft can march their game with most of the models mentioned here.
You have been presented with some of the best airbrush compressors that could support your journey in the field of miniature painting.
You know your budget and you know your purpose. Dive in.
Take advantage of the information you now have and make the best decision that will support your craft.