Whether you're into just army-building games or board games of all kinds, you've probably been caught in the dilemma of how much time you want to commit to painting your own miniatures and models.
Painting can be an amazing and relaxing part of the hobby, but it's not for everyone.
Plus, some people are looking for models painted with much more skill than they have talent.
If you've ever wondered what options there are out there, we've got you covered.
Here are 11 of the best miniature painting services available in 2021.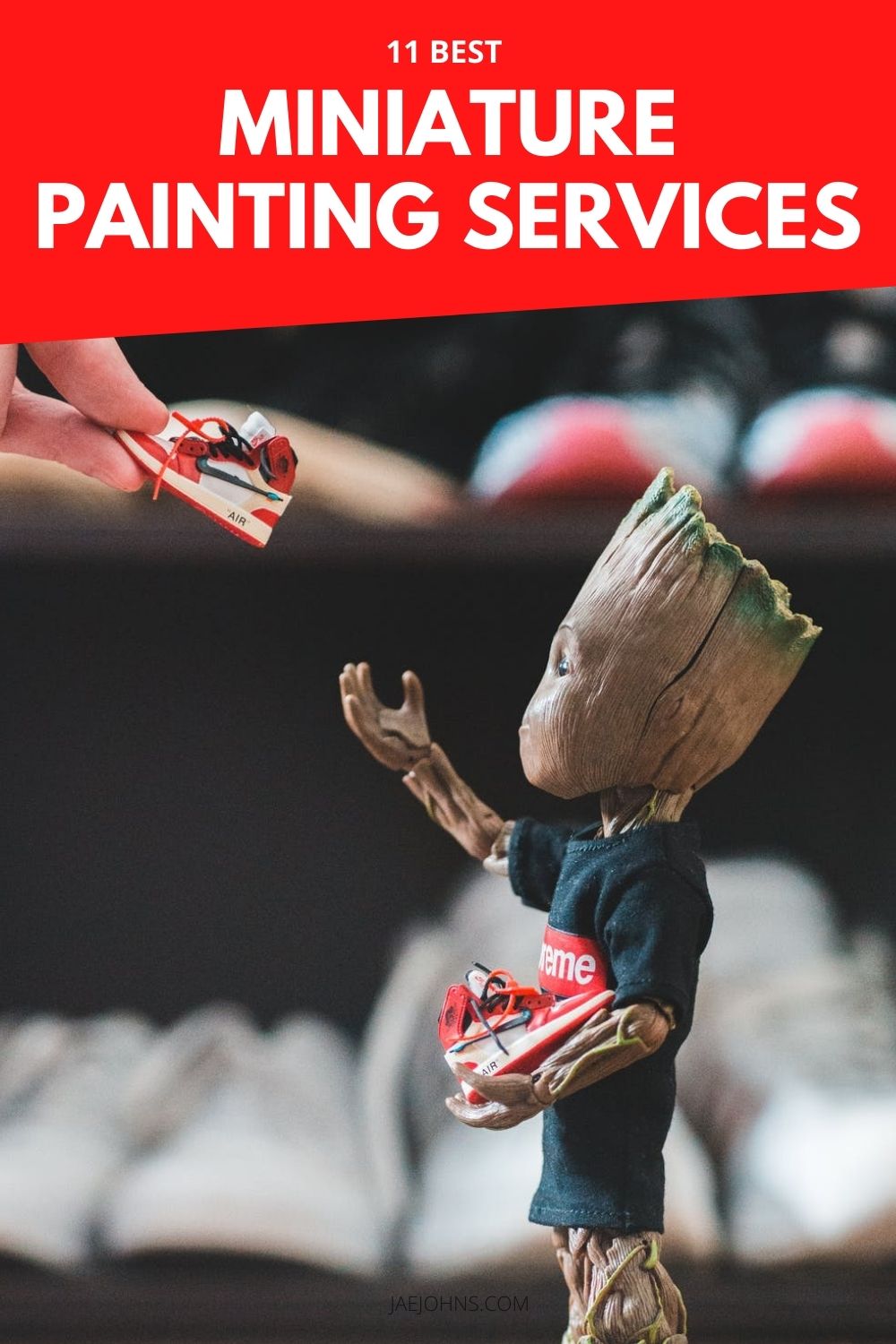 What makes a good miniature painting service?
There are a few factors we're looking for in an excellent miniature painting service.
Painting Quality. Perhaps more important than anything else, the quality of the paint is what you are hiring the service for. Make sure to look through their galleries to see if they produce the kind of work you are interested in.
Trust. They must have a reputation you can trust. Ask yourself whether it's clear that they will finish your miniature painting commission on time and ship it back with no damage or missing figures.
Value. Finally, compare how much money it is for the different services and look for the best deal. Be sure to factor in shipping costs too – sometimes it can be much more affordable to shop local.
These factors are important especially if it's the first time you're hiring a professional miniature painter.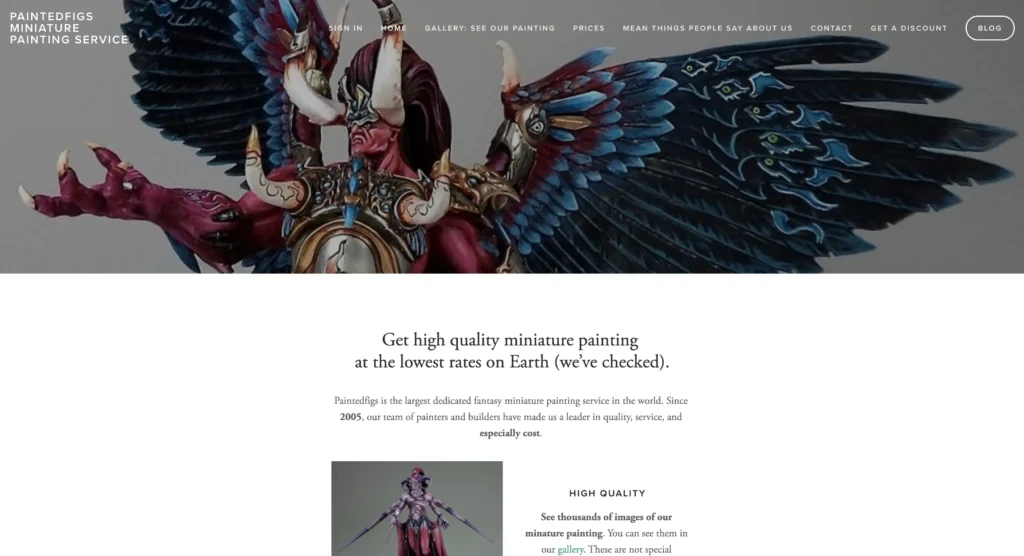 Painted figs is an excellent, high-quality miniature painting service that services the U.S. and Canada.
International shipping is possible but more expensive.
They are one of the largest miniature painting services globally and have been doing this since 2005, meaning they have many long years of experience and some of the best quality standards.
In addition, their specialization in the field has allowed them to reduce their costs to great budget levels without lowering their quality.
Their website features 1000s of photos of their completed jobs, which are generally spectacular.
I also love their pricing structure, ranging from "I'm on a budget" to "I want something awesome."
You can really find good prices with their service.
This is a business that knows its stuff and is completely dedicated to the craft.
The styles and painting credibility is top-notch, and they understand the lore of Warhammer and other miniature games such that you can get specific with what you'd like.
They are very vigilant with shipping, as attested to by the amount of safety material they put into their shipping boxes so you can sleep safely with the knowledge that they're coming back in one piece.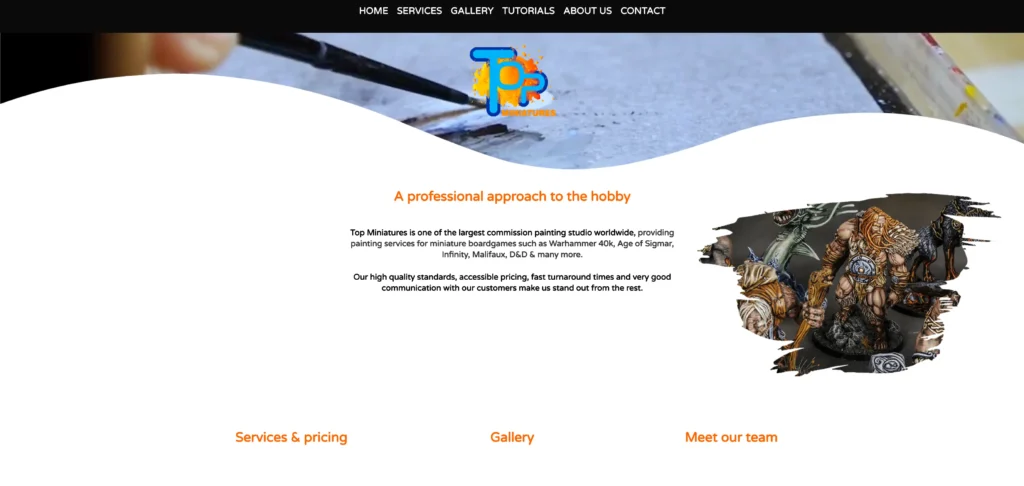 Top Miniatures is another excellent all-around painting service specializing in miniatures.
They do Warhammer 40k, Age of Sigmar, Infinity, Malifaux, D&D & many more.
They are a little newer, founded in 2015, but have already established themselves as one of the most extensive miniature painting services available.
Their experienced painters offer four quality levels of painting quality, with even level 1 being tabletop standard.
This goes all the way up to level four, which they make to look epic with custom bases and other features like free-hand work.
They provide quality service and will also do figure assembly for an additional fee.
You can go to Top Miniatures for all your miniature painting needs and they will help you from the beginning to the end of the entire process.
Top Miniatures is located in Bucharest, Romania, and ships worldwide.
They have great customer service, plus excellent packaging and safe shipping.
Read Also: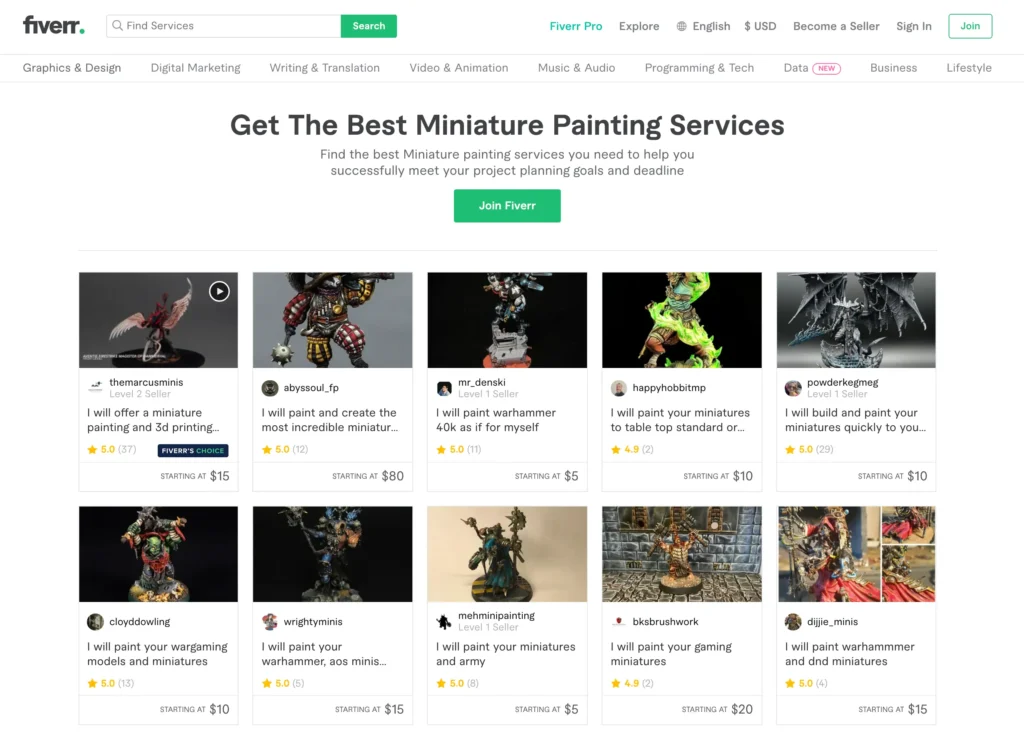 I can't attest to the individual skills of each Fiverr freelance painter, but the site is a great resource to find a specific artist you like among a great variety.
Plus, you'll be supporting an individual artist rather than a larger operation, having one-on-one interaction with them directly.
However, you run the risk of less reputable service, so do your research on individual credentials, gallery, and star rating.
If they don't have much reputation yet, but you love the look of their work, try starting a discussion with them to understand better what they can do for you.
Good communication is going to be key to making it work.
I love the idea of selecting my exact commission services with a solitary artist with no company overhead.
It's just unfortunate that some of the ones you'll meet are less reputable, so make sure to protect yourself.
Frontline Gaming is another superb all-around miniature painting service, servicing everything from model purchase and assembly to painting at different tier levels.
Their levels include tabletop standards at the lowest end, all the way to the masterclass, which is multiple days on single models done at the highest level of work by one of their best painters.
This is for true fans of tournament-level painting work.
They also offer magnetization, discount models, and other services in addition to their fantastic paint jobs.
They also do full options from a kit within the same job for an additional fee.
You'll get to contact your painter directly and work with them to make the best possible models.
All shipping is done with high-quality packaging, and the paint jobs are magnificent.
One thing to remember is that, unlike with real estate, pictures of miniatures actually tend to look worse than those figures up close.
It's very often the case that you'll get your figures shipped to you and they'll look even better than the pictures in progress!
Overall, Frontline Gaming offers an excellent service for the cost and provides lots of additional services at a reasonable price.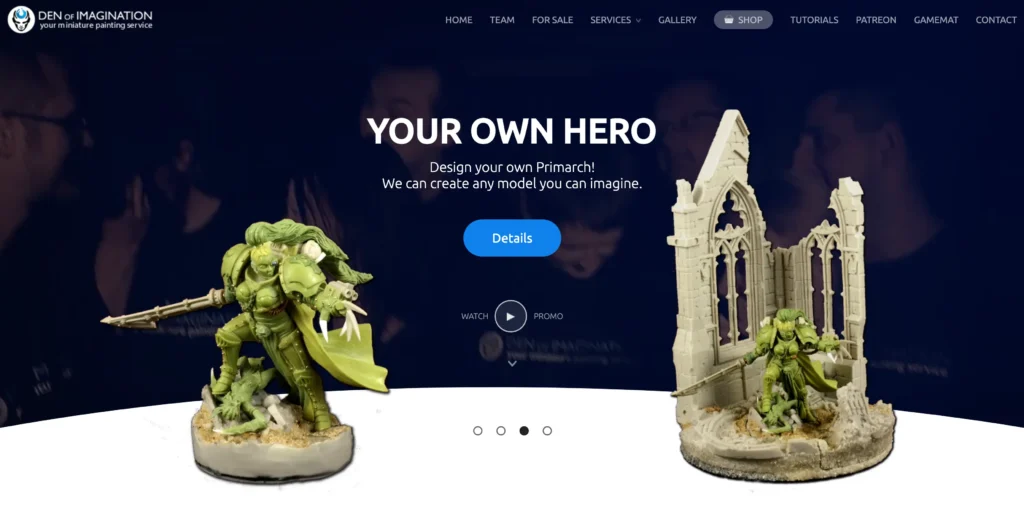 Den of Imagination has a very professional website and has been running since 2008.
They have a team of some of the best professional miniature painters around.
They have six different levels of painting detail, with most of their gallery work coming in at level four, "elite."
You can customize as much of your army as you want at different tier levels if you like.
For example, you might want your leaders or special models painted at level 5 while your regular army at only level 3.
They also offer an exceptionally detailed basing service.
If you so desire, they can make bases that are even more intricate than the actual models.
Now, they are based in Poland, which means you'll have to consider your country's shipping and customs fees compared to that.
Their minimum commission is USD 150 but can do anything from a single miniature to a whole army.
Their painting style is phenomenal, and they offer competitive pricing.
They have an amazingly detailed style for their higher tiers, but the prices do start to get a bit intense.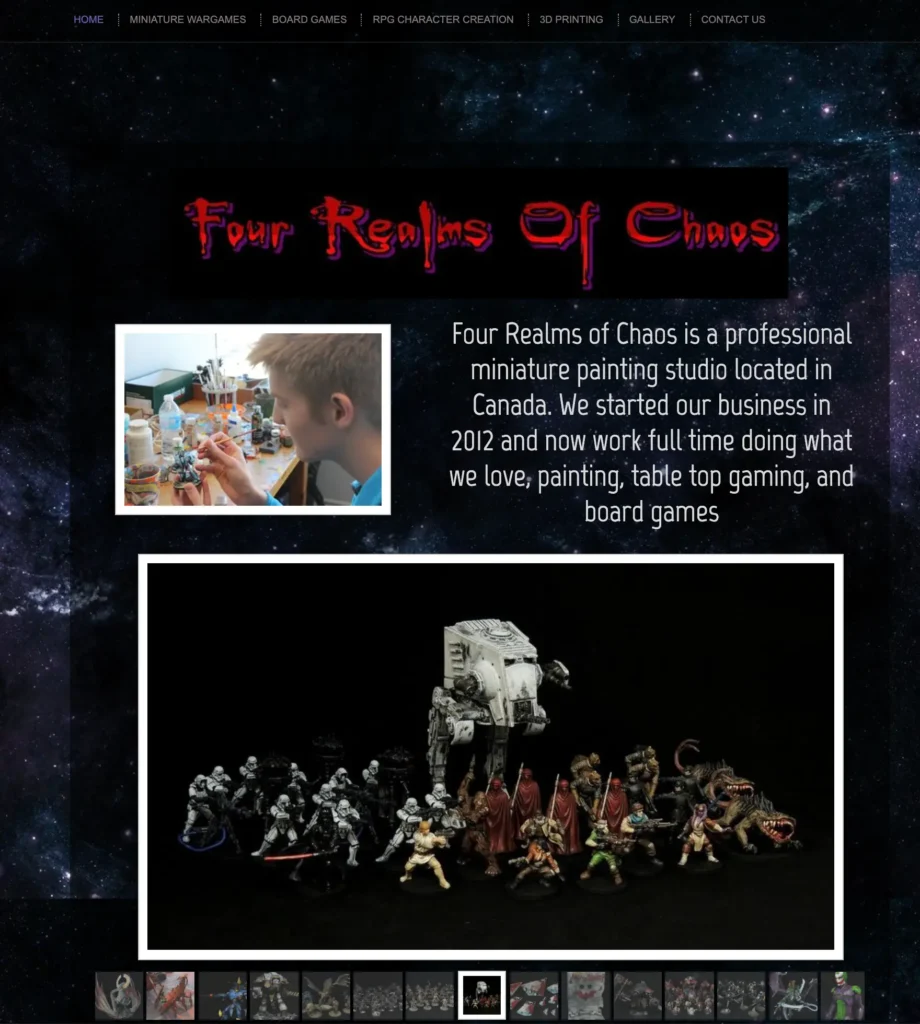 Four Realms of Chaos is an excellent choice for our Canadian readers.
They started their business in 2012 before moving into it as a full-time job recently and specialize in professional miniature painting
As a pair of reliable business partners, they do this as their full-time job and have a fast turnaround time because of it.
In addition, they've recently begun hiring more local artists to round out their team and keep queue times low.
Most of the team are dedicated Warhammer 40k players and Games Workshop fanatics, most of which have won tournaments!
When it comes to painting, they do a great job
They provide assembly and magnetization options for complete process orders.
In addition, they provide six levels when it comes to painting, from basic to centerpiece.
Bases are also available up to a centerpiece level.
These are entirely custom, creating a diorama for your favorite model with their diorama building services.
They also provide additional options such as free-hand details, gloss, and varnish.
Overall, Four Realms of Chaos is great for those North of the border looking for a great miniature painting service, you can't go wrong with Four Realms.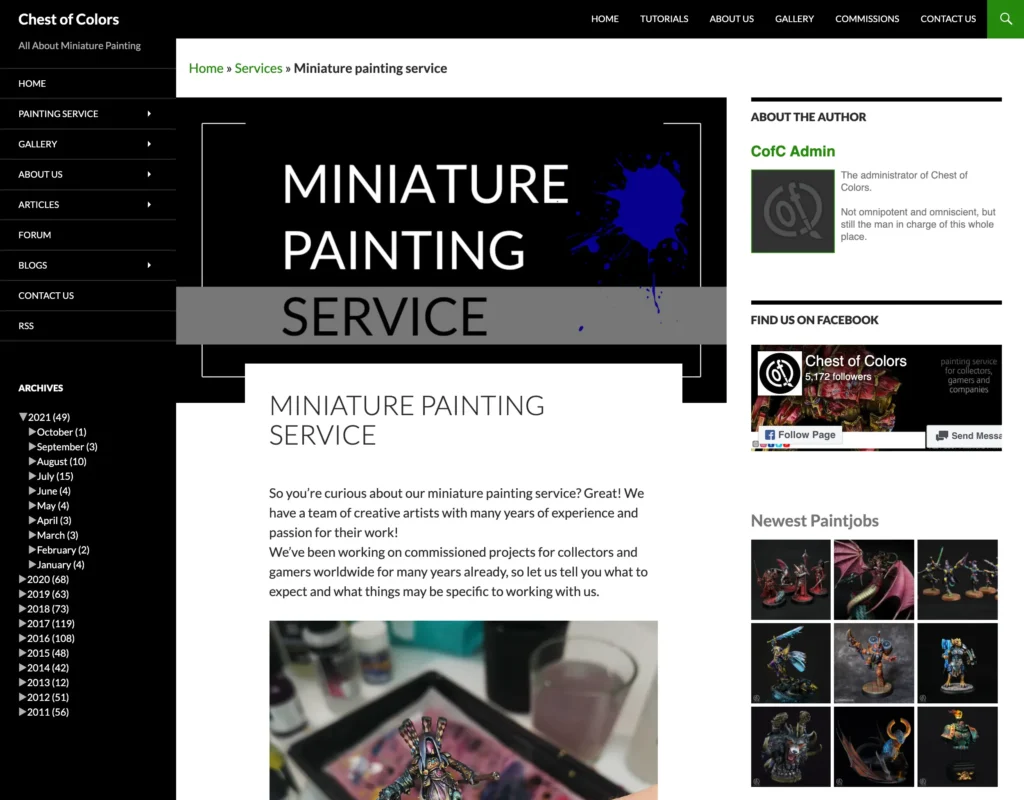 Chest of Colors is another fantastic miniature painting service.
Their painters are highly experienced and have won multiple awards.
You can check each of their different bios for their exact experience.
Chest of Colors specializes in having a unique set of artists with individual styles.
You can go with one of the individual specialties or with their overall team style.
The team style has been streamlined together for efficiency.
Depending on your budget, collectors tend to go for a distinct, individual style, whereas army gamers tend to want the efficiency of the streamlined style.
Of course, you can also negotiate for a specific paint scheme to get it to look exactly the way you'd like.
They do have a tier system, but they like to work with customers to figure out expectations for a project, which leads to great customer satisfaction.
Because they work with many individual artists with different styles, not all of them make sense with the tiers, which can be the best thought of as different amounts of time spent per model.
Currently, they offer four tiers.
Beyond this, they also provide custom bits through 3D printing, scenery building, basing dioramas, assembly, converting, and so much more.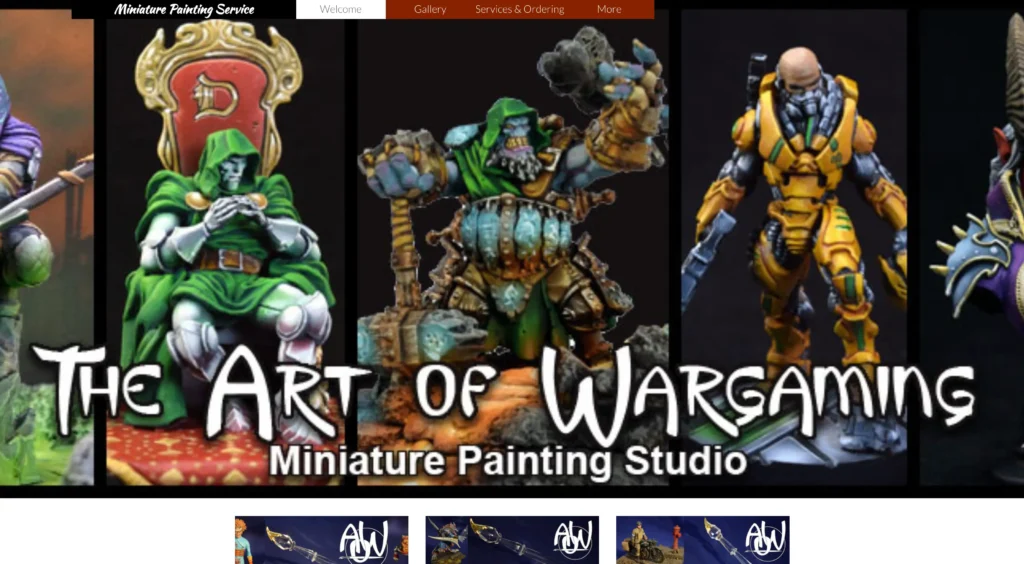 The Art of Wargaming is a miniature painting studio based in Lexington, Kentucky.
They offer both army and single miniatures service, with a display-quality option available with Crystal Brush-winning artist Frank Kahsar.
They are a professional company interesting in creating top-quality paint work for wargaming.
Normally, they offer only one painting level, a high-quality tabletop.
This level comes with two layers of highlight per base color and includes blending, weathering, and fine detail work.
For display-quality pieces, you must make a specific request.
These are made at the level of the toughest painting competitions, including custom bases.
For collectors of miniatures of the highest quality, this is a great opportunity.
You can request to paint all the additional options in a kit, such as arms and weapons that can be swapped out.
This comes at an additional cost.
They also offer both magnetization and assembly options.
Assembly can also come with custom bases.
Finally, you can order the models directly from The Art of Wargaming at a slight discount.
Overall, it's the whole package with a reputable company, so you can't go wrong.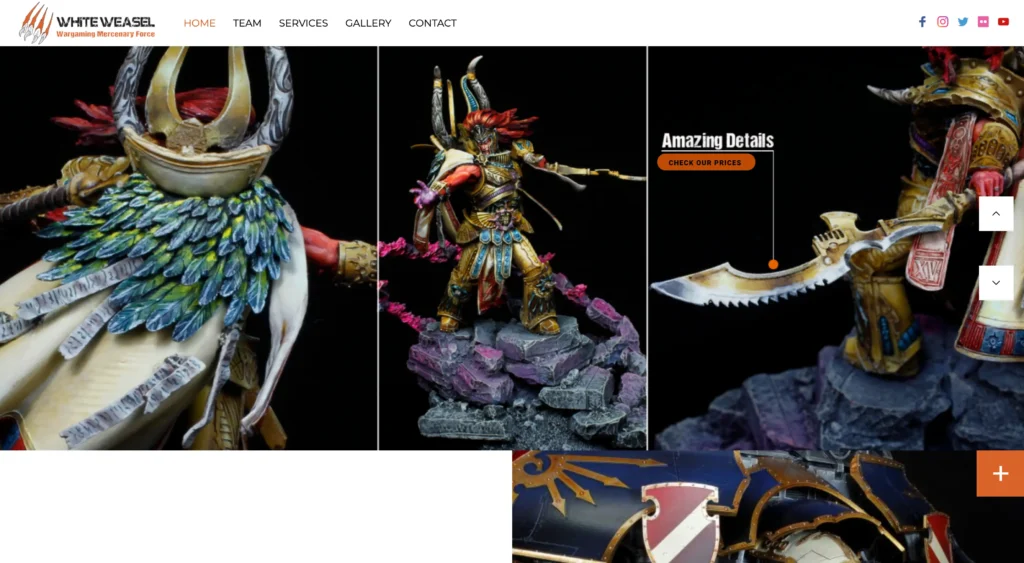 White Weasel is an all-around tabletop wargames painting service for Warhammer 40k, Age of Sigmar, and beyond.
They are one of the biggest custom painting services for miniatures in the world and do great work.
Based in Zaragoza, Spain, they have expansions across four continents and work with customers worldwide.
They do everything from single miniatures at a high level of detail to whole armies.
As a result, their miniature projects can handle a large range of requests on some of the largest scales available.
As one of the biggest studios, the White Weasel studio experience can handle truly epic projects with great pricing and high quality.
They have a painting team of over 25 people and work on everything from painting to sculpting, scenery-building, and conversion.
White Weasel only takes six commissions a year for their highest level of painting, so they clearly take pride in their work.
They are ready to handle the entire process from start to finish.
Overall, White Weasel is a great choice for those looking for large custom commissions or a company with a stellar reputation.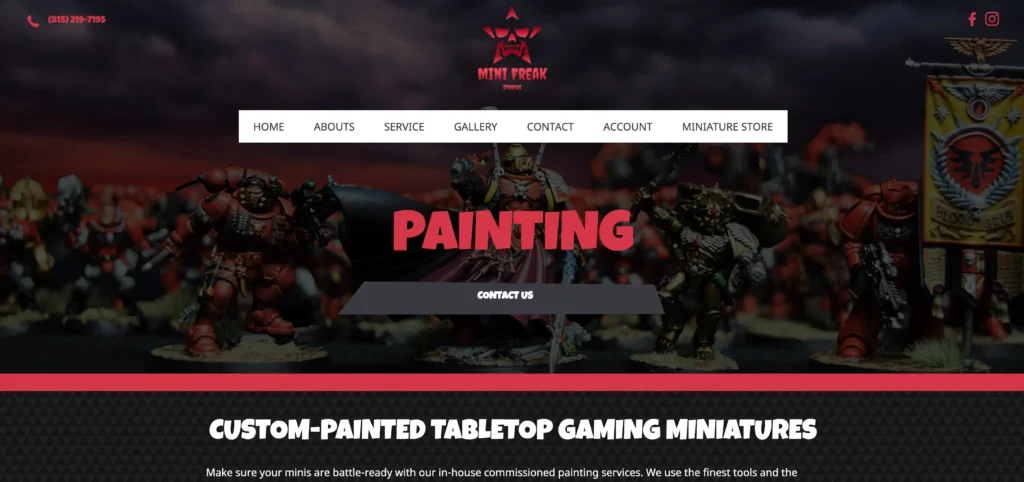 Mini Freak Studios started as a two-brother team specializing in 3D printing of minis, mini accessories, and bases.
They've since expanded into customized pieces for every aspect of miniature army games, including movement trays, scenery, and storage cases.
Mini Freak now offers 3D printing, painting, and shipping all around the world.
They even make custom tabletops and display shelves for the largest possible custom experience of your miniatures.
There are plenty of creative possibilities with Mini Freak in mind.
Although their painting service began as an addition to their 3D modeling, it has excelled in encompassing every aspect of their business, allowing them to fully customize and heighten the experience of everything they make.
There are four levels of painting services, from basic all the way to epic.
The final two levels of which are specialized for truly high-quality figures.
The final result is that you can get some of the most unique and customized pieces in the work from Mini Freak Studios at some of the highest qualities available.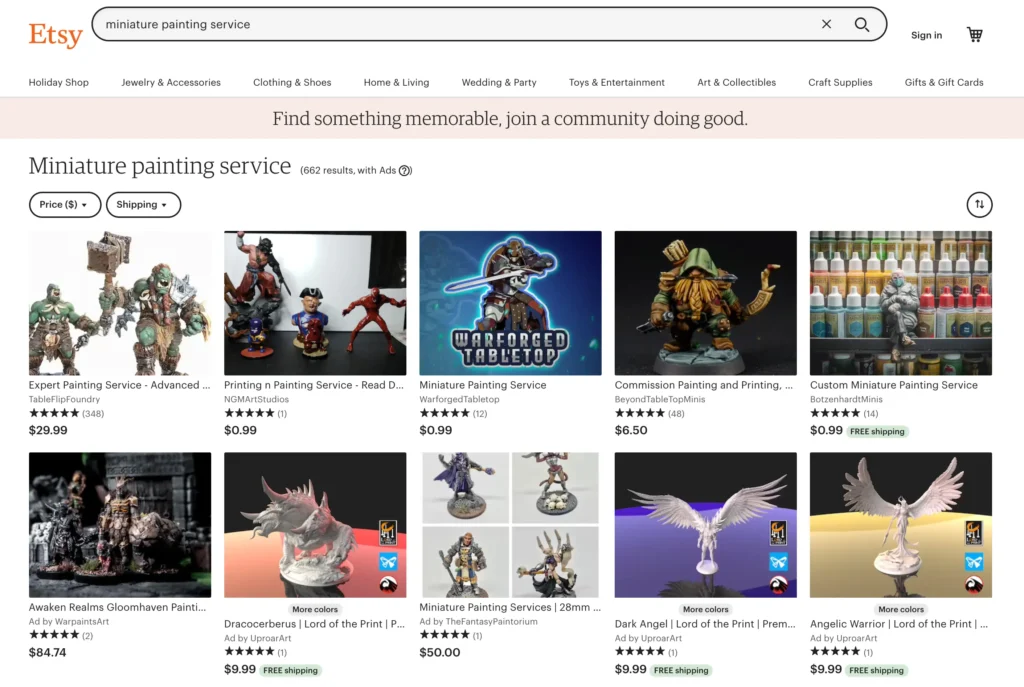 Like Fiverr, Etsy has a whole range of individual freelance artists specializing in painting miniatures.
Funnily enough, Etsy categorizes both gaming miniatures and tiny paintings in their miniature painting section, so that can be a bit awkward, but nothing to worry about if you are looking through the galleries properly.
You can find excellent artists while cutting out the middlemen with Etsy, providing the bulk of your commission price directly to the artist.
You'll also be in direct communication with the individual who will be painting your figures so that you can help request more custom orders.
Just be careful that they have a good reputation and that you can trust working with them.
Getting a fair price shouldn't be too difficult, but browsing on Etsy can be challenging to judge importance.
Conclusion
There are so many fantastic services and experienced painters available now for miniature painting you can really get lost in the bigger picture.
I would recommend searching for someone more local to cut down on shipping costs.
Also, look for a business you can build a relationship with so that you can keep sending the newest additions to your army there and know you are getting consistently good quality.
Always cross-check your budget with their tier lists as well.
Some studios have much higher or lower quality expectations at different tiers, so be sure to compare their galleries to understand what you'll be getting.