Body paint is a great way to add some character to your Halloween costume. It's also great for kid's parties, birthday parties, adding some fun with glow-in-the-dark paint, or if you're looking for the best paint for body painting to display your latest cosplay.
We've got it all covered.
We're looking at the best body paints, including face, body, kid's paints, and professional body paints.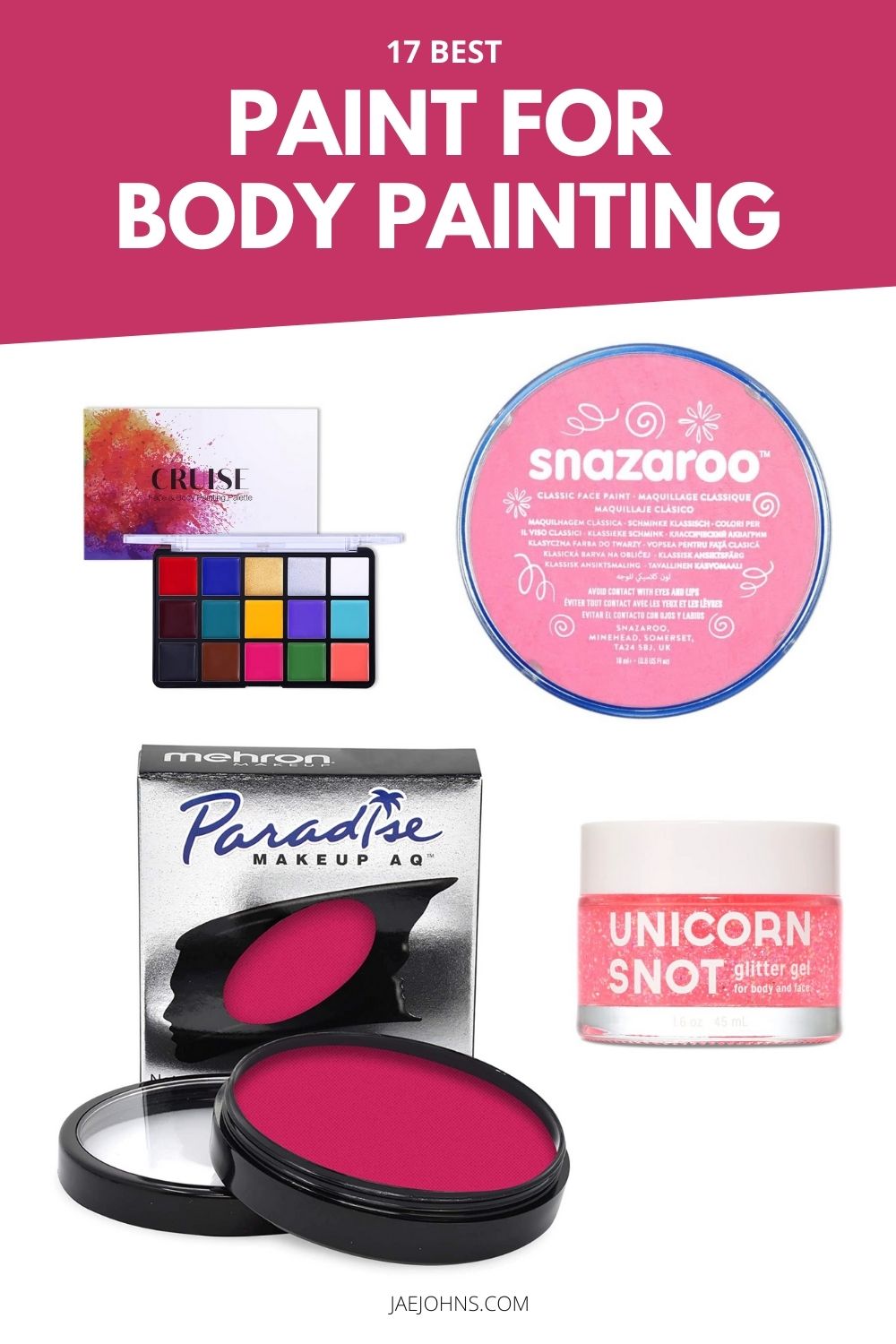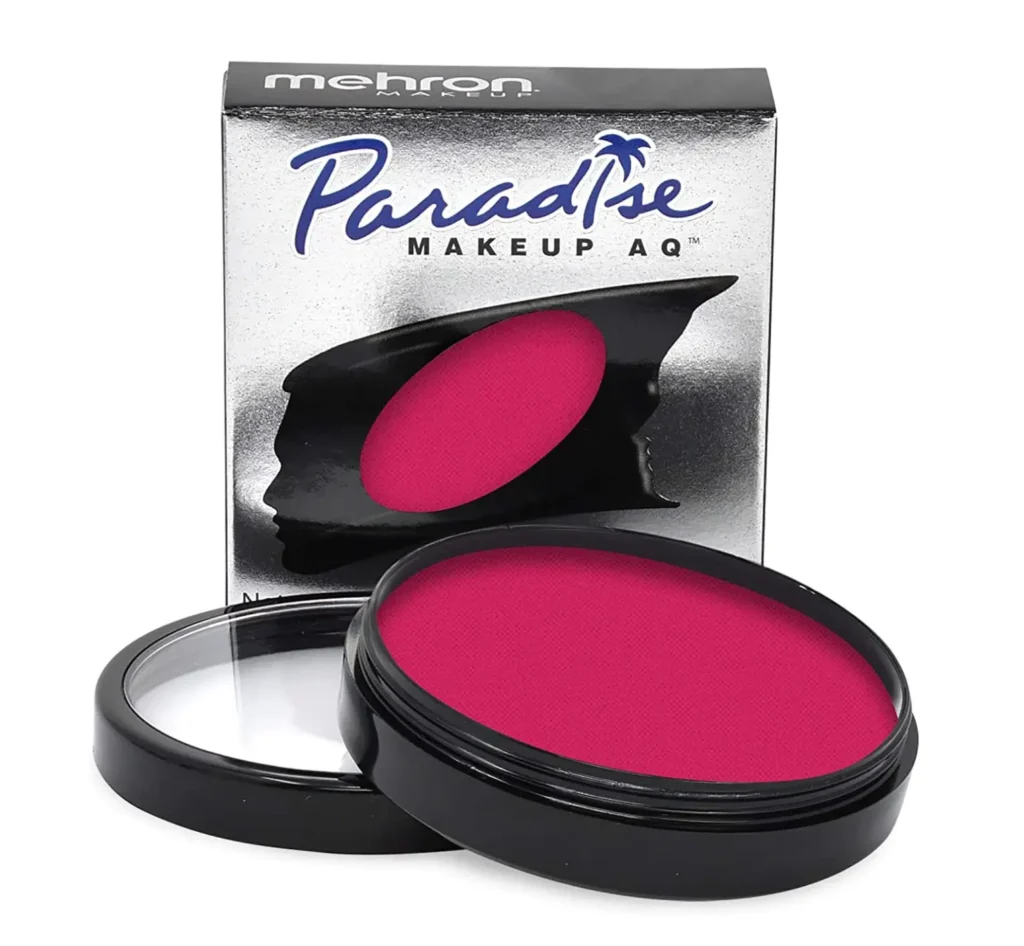 In a variety of separate 1.4oz full-color compacts, Mehron paints are excellent if you need large amounts of specific colors.
It is water-activated and loved by professionals in the body paint industry for its excellent bold and non-fading formula.
Mehron makes their make-up using cruelty-free testing methods, and the formula itself is vegan, paraben-free, and gluten-free.
This is an incredible, full-coverage body paint with high pigment concentration and vivid colors.
The paint does not crack or flake even after 1 hour of use and wears like a full-coverage foundation.
Feels great on the skin, with ingredients like cocoa butter, aloe, and avocado oil to help keep it soothing to the touch.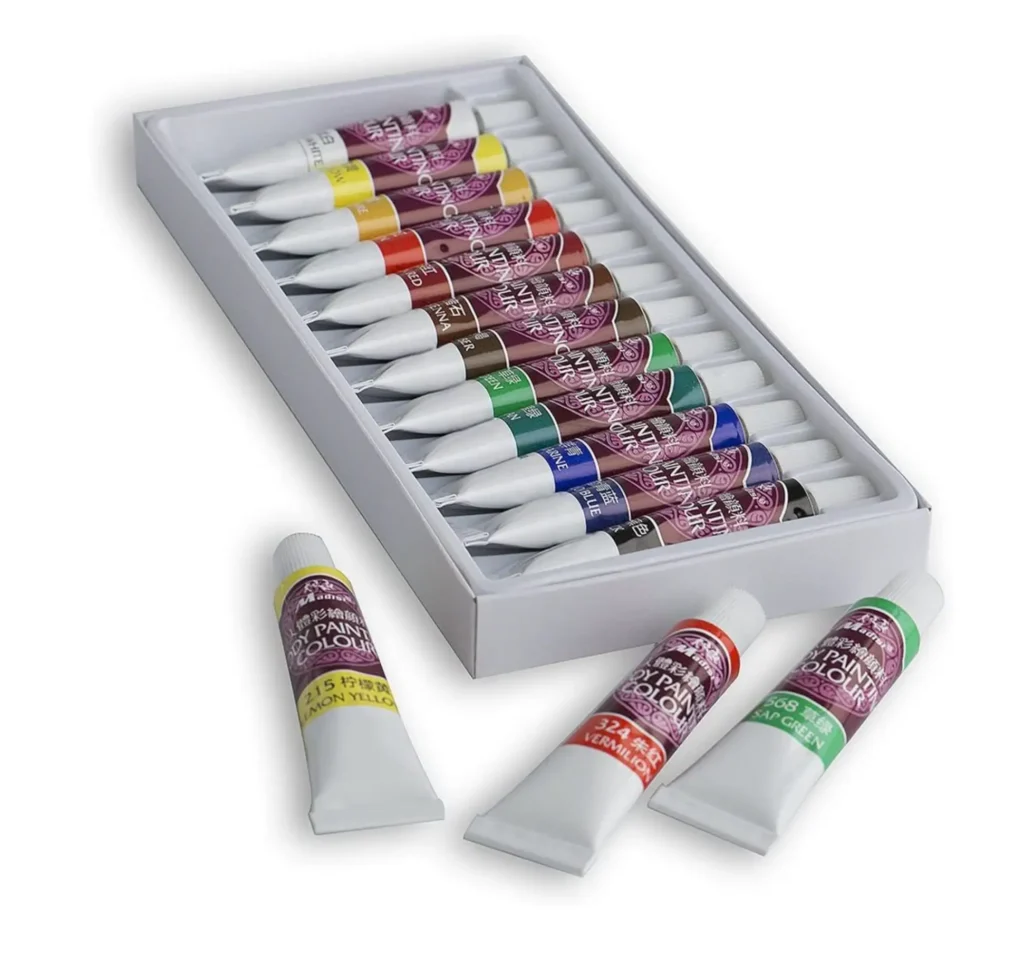 The Madisi Body Paint Set is an environmentally-friendly, professional-feeling palette.
It is a popular option that comes with 12 bold colors that can be used on the face or body.
Mix with water to paint a thin layer on the skin. Includes a great color selection that's fairly blendable.
These are very easy to use, and even easier to clean. Just a little soap and warm water will get it all off at the end of the night.
This package is excellent value for money and makes for a great beginner set of colors for general body painting – whether for Halloween, parties, or cosplay.
The pigmentation is solid with these, and you can get them for a good value.
Read Also: 27+ Amazing Female Body Painting Ideas with Pictures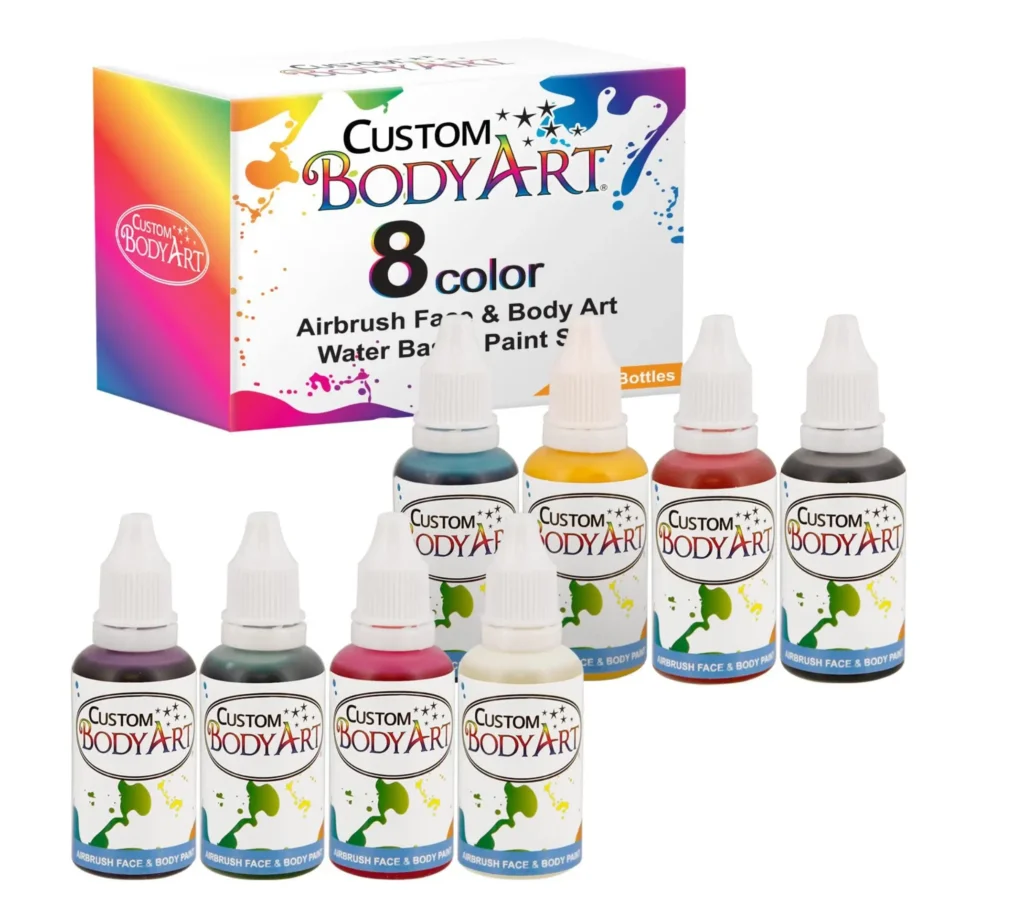 Another water-based body paint set, this one is primarily for airbrush gun use.
The main advantage of these is their great blend-ability, allowing for perfect shading and gradients between one color to the next.
This kit comes in eight colors for a solid amount of base colors that work for a beginner's set.
Unfortunately, this one smells a bit unpleasant compared to others which is unfortunate.
Like other water-based paints, it is easy to both apply and wash off.
These provide solid coverage that is lightweight and easy to wear for hours.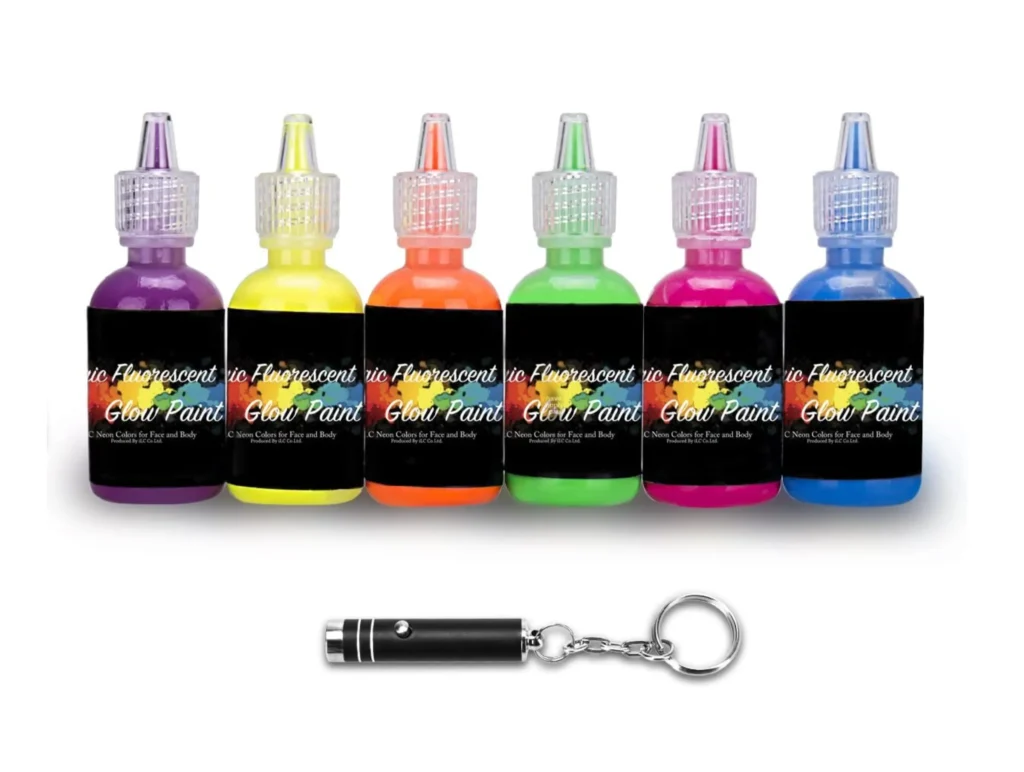 This set comes in six neon colors: pink, orange, yellow, blue, green, and purple.
The glow in the dark colors are great for raves and blacklight parties of any sort. During the day, they are bright neon colors.
Solid value with this set, and like with regular water-color paints, they are easy to wash off with water and soap.
Long-lasting and easy to wear, these colors are not meant for blending or intricate designs but are more of a body paint that's easy to throw on for parties.
Unfortunately, this type of paint can stain your clothes. With such vibrant colors, you'll want to be careful.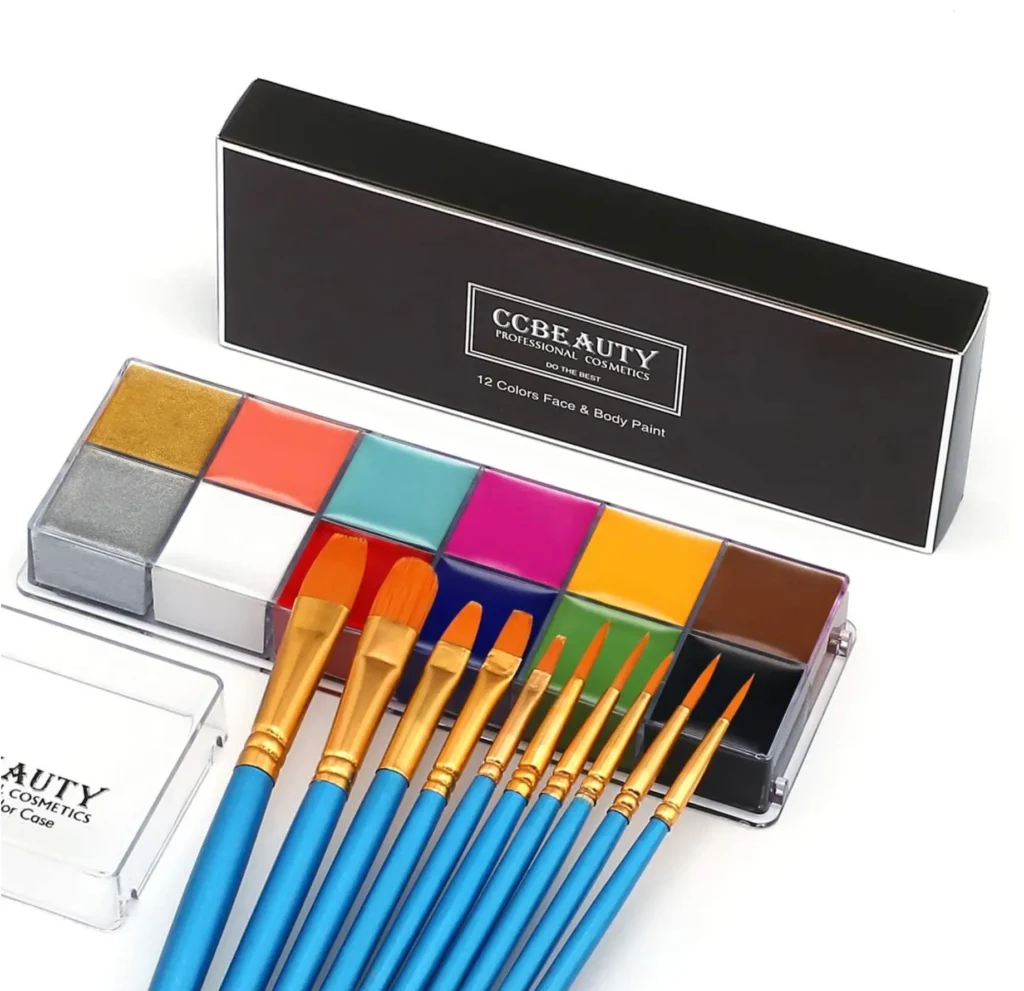 CCBeauty Professional Face Body Paint is an oil-based face and body paint, meaning it will not come off quickly with just soap and water.
Instead, you'll need make-up remover or another oil-soluble solution like baby oil.
This is for cosmetic-grade face and body paint usage.
The pigmentation on the product is strong, with bold and vibrant colors.
It includes 12 colors in the palette, along with 10 brushes for applying them.
There's no animal testing on this product.
Very easy to mix and blend the colors in this palette, which is excellent for truly detailed work.
Because they are highly pigmented, be warned that the colors can stain human skin if you leave them on too long.
The stain would only last a day at most afterward, though.
Compared to water-based paints, oil-based paints create a radiant effect on the skin.
However, these paints stain much more than water-based paints on clothes.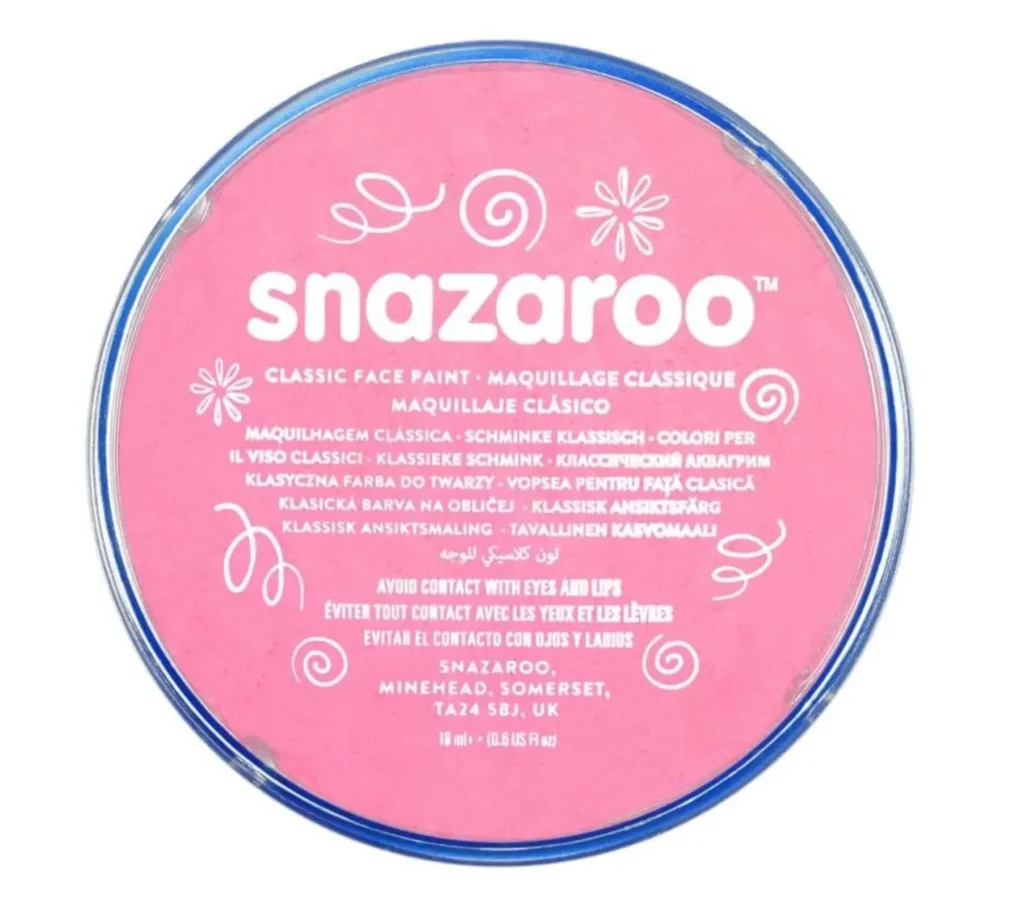 Snazaroo makes some of the highest quality, professional-grade face and body paints on the market.
They deliver strong pigmentation and complete coverage that will last all day, making them one of the best paints on this list.
There is a huge amount of paint that comes with each compact which you then mix with water.
You can buy a whole selection of different colors independently.
Somewhat long-lasting, but also easy to wash off with just water and a bit of soap.
However, they will fade off with sweat and water.
Another reason to go for Snazaroo is that it is very budget-friendly for the quality.
It works on sensitive skin and is tested for adverse reactions.
There's no fragrance in these paints and no harmful smells.
Snazaroo prides itself in making non-toxic, clean products in line with the highest standards of hygiene.
Matte, sparkle, and metallic colors are all available, with 54 different colors.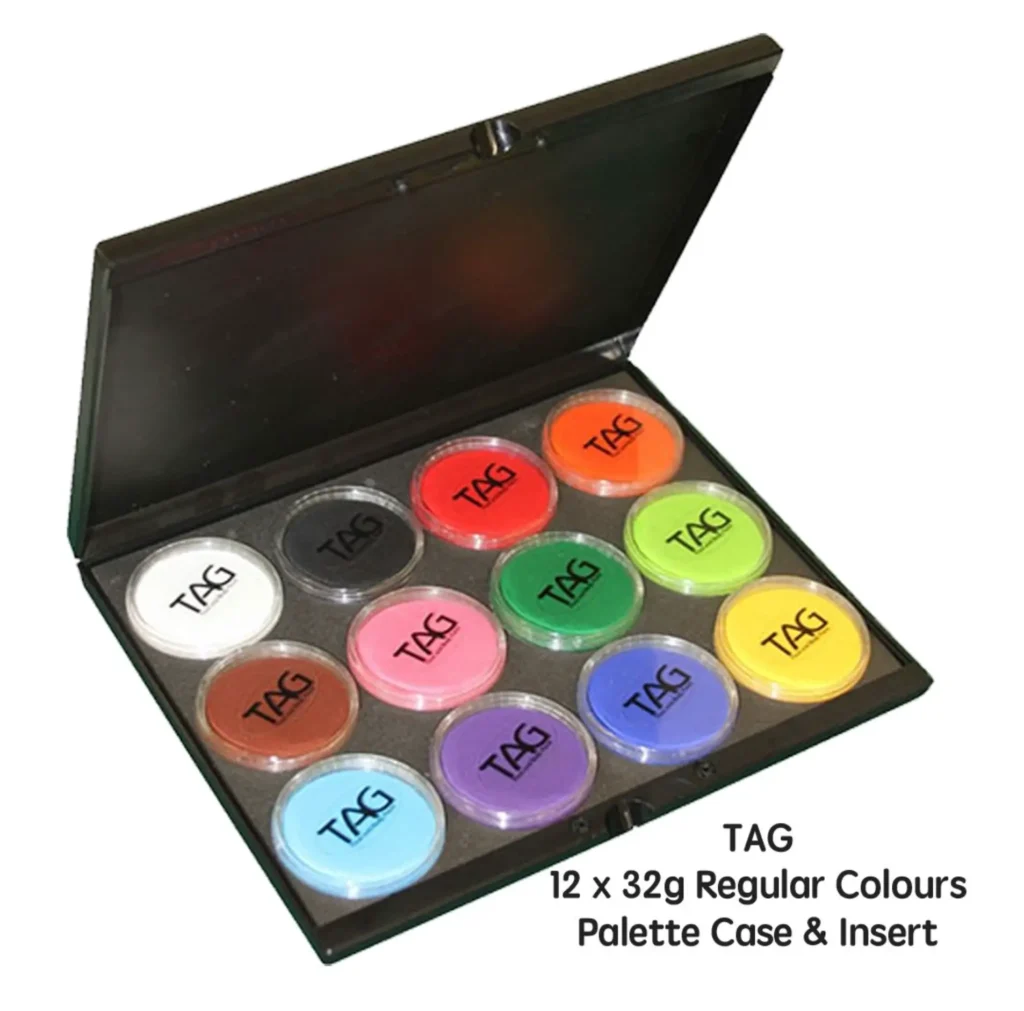 TAG Face and Body paint use a unique, water-based formula made specifically for cosplay and human body paint creations.
These paints are water and sweatproof, unlike a lot of other water-based paints on our list.
The pigmentation is very concentrated, with a wet and reflective shine.
The paint sticks to the skin like glue without rubbing off easily on other surfaces or fabrics.
Now, there isn't much color variety with TAG, but their durability and longevity are great.
It also has a somewhat unique texture, somewhat like latex body paint.
Unfortunately, this doesn't feel as great when it's time to remove it, as it is relatively sticky and hard to remove due to the waterproofing.
Overall, this paint won't crack or fade easily and feels soft on the skin.
There's also no fragrance, which is nice— it's a good choice for durability and longevity.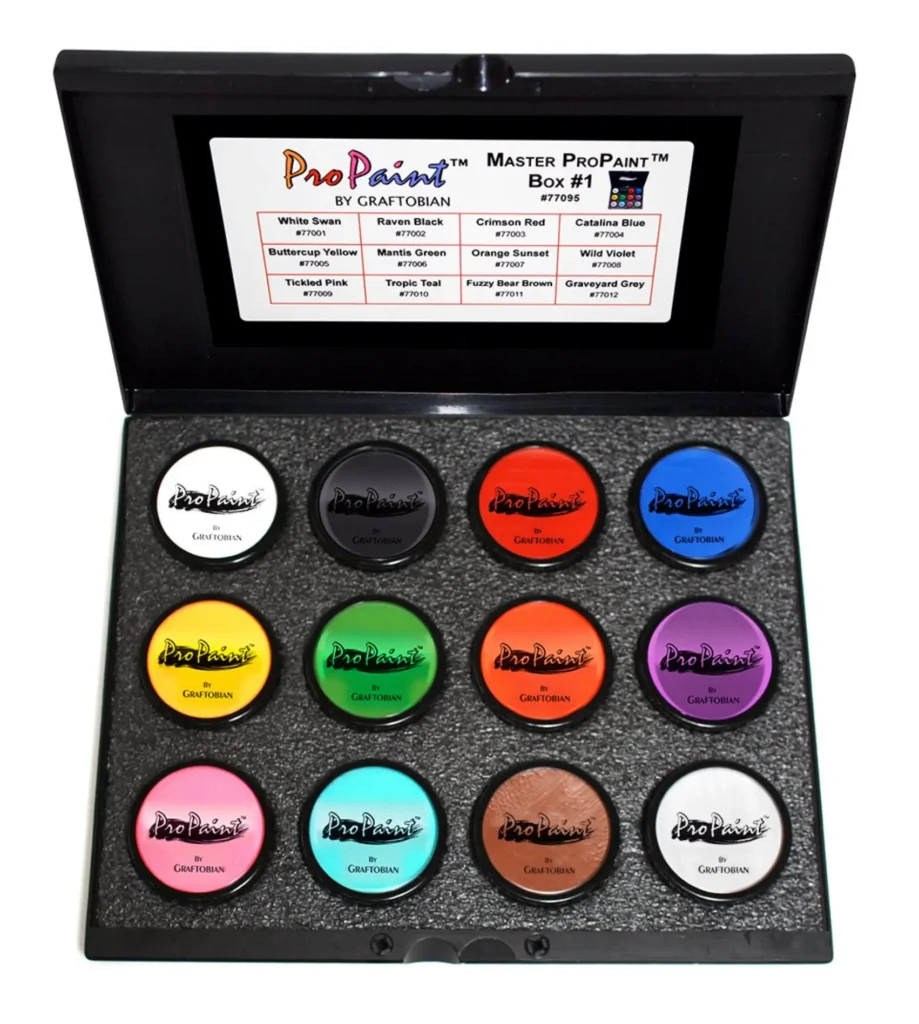 Graftobian is a great performance brand that made this 12 color master kit.
It's got lots of pigment and is a long-lasting paint. It's a top pick for professionals and a great option for those looking for a serious upgrade to their body paint game.
The big problem with Graftobian is that it is very expensive.
This is for professional body paint and cosplay, but that doesn't mean it can't be used by someone looking for a professional make-up artist look at home.
It's water-based but with a much longer-lasting and higher pigmentation than most other water-based paints.
Thankfully, it is still easy to remove afterward. It's highly blendable and works almost as well as good make-up.
Overall, this is one of the best body paints on this list, checking all the boxes.
It has an extremely smooth and consistent texture, and it goes on with just the tiniest amount of water.
The only big concern is the price.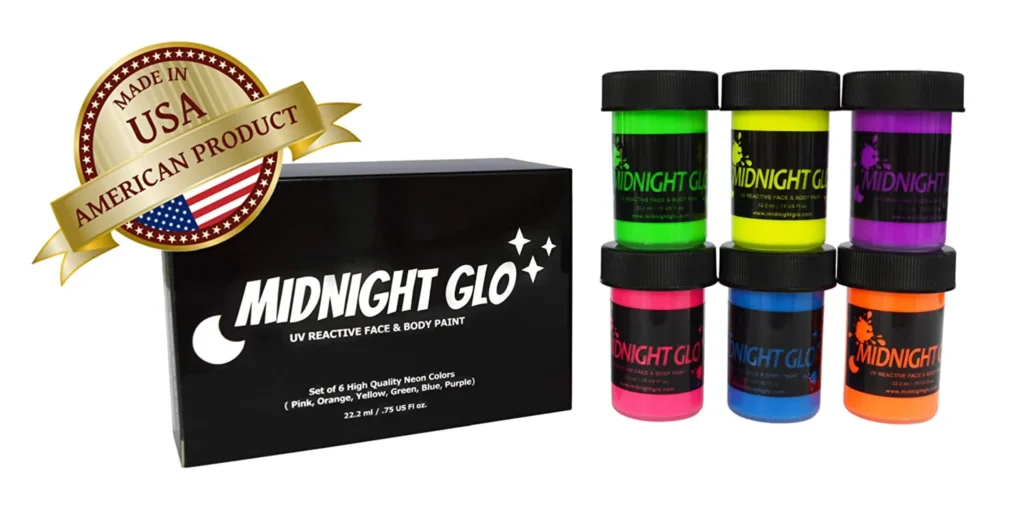 Midnight Glo's Black Light Paint is another excellent choice for glow-in-the-dark face and body paints, coming in a set of six 0.75 oz. bottles.
Like the Body Paint set, it comes with neon colors and a very reasonable price range.
These cream paints can be used for any glow-in-the-dark or neon occasion, with safe ingredients even for sensitive skin. It's easy to remove on the skin but can stain fabrics.
However, the texture is decent for going on skin smoothly.
What's great about this one is its longevity.
Even while sweating or keeping it on for a long period of time, the paint doesn't come off easily.
Once you put some water and soap on it, though, it is easy to remove yourself.
With such a great name, how can you go wrong?
Unicorn Snot is a hyper glittery gel for adding color to any look.
It's easy to use and creates a brilliantly sparkly look when applied.
No adhesives are necessary, just take a glob of the gel and apply it wherever you want to add a bit of shimmer to a look.
Just be careful around the eyes!
The gel dries relatively quickly and can be removed with make-up remover or wet wipes.
It's around the same price as other glitter and metallic body paints.
Thankfully, it is vegan and cruelty-free.
It also works in hair, if you don't mind having glitter flakes leftover for days afterward!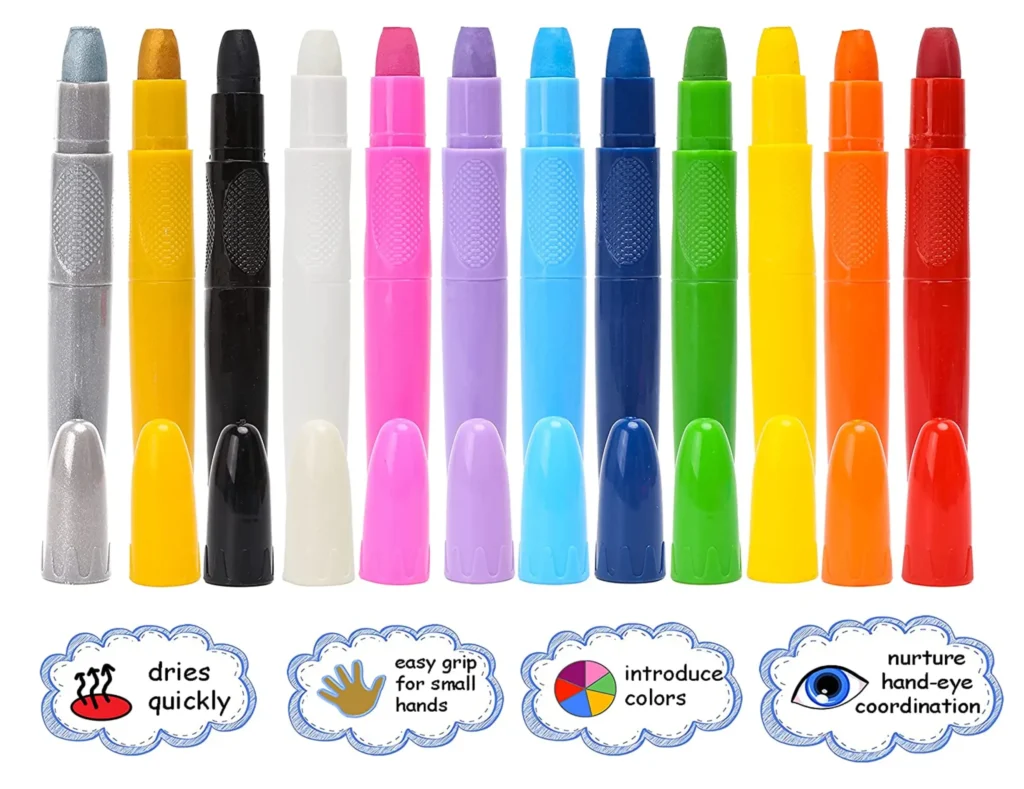 Mosaiz makes a great Halloween face and body art make-up kit.
It comes with metallic gold and silver and overall a vibrant set of colors.
Great for kids, easy to use, non-toxic, and very easy to wash off water-based paints.
As crayon pencils, these are very easy to apply without the need for paintbrushes.
Compared to other paint crayons, these provide more even coverage and are less messy to use overall.
I love that it wipes off easily too, just making it easy for when the kids or other family members are done for the night.
Overall, the longevity is ok as well.
It's not meant for professional looks, but if you are just looking for a bit of face painting fun, this is a great choice.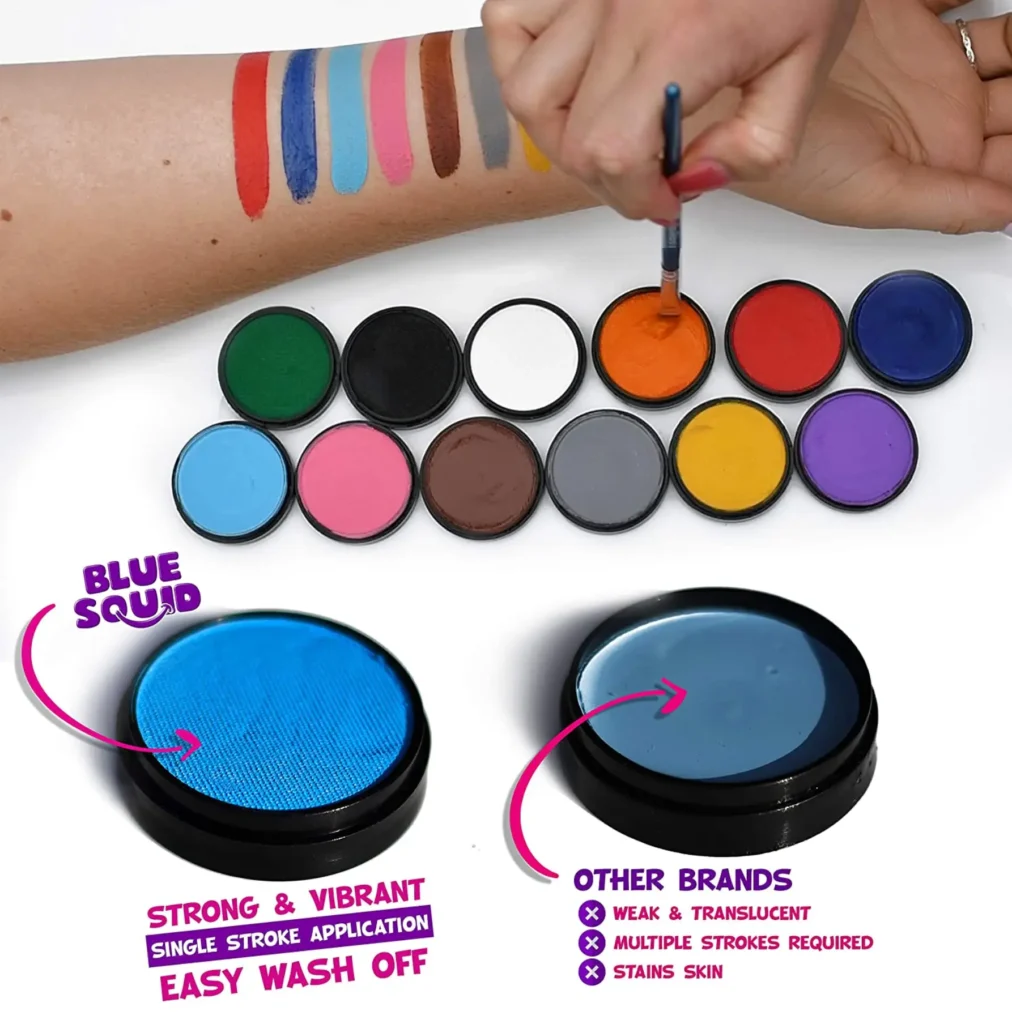 Blue Squid has recently improved their formula and made a great face paint kit.
These are water-activated and include a nice broad range of colors.
The formula is made for lots of skin types and not to harm sensitive skin.
It is vegan, cruelty-free, and paraben-free.
The kit comes with 30 vinyl stencils, three plastic templates, and three brushes to get you started.
This is another kit made for kid's face painting primarily.
These have decent coverage and longevity and don't crack too easily.
Artiparty's face paint kit is quite decent quality and will work well for theatre and festivals.
It's water-based, non-toxic, paraben-free, and hypoallergenic, meaning it doesn't cause allergic reactions.
The kit comes with three brushes and 10 solid paints, one of which is gold and one silver.
Just a little water mixed with the paint will go a long way, so it's quite a good deal.
It also comes off easily with just a little soap and water afterward.
The longevity and opacity are decent, fading only a bit over time.
You can layer it to achieve better opacity, too, and keep the layers on longer.
Unfortunately, the paints have a bit of a consistency problem, as they don't transfer perfectly smoothly.
That's one of the only major complaints with this kit.
These Craft paints are a great value kit with 16 removable and resealable face paints, including gold and silver.
In addition, the kit includes five applicators, 30 stencils, and a travel palette.
The face paint works for sensitive skin and has been tested in a cosmetics lab.
They are non-toxic, paraben-free, and fragrance-free.
They are also made vegan and cruelty-free.
Appling the face paint is easy, with a simple water-based formula.
Just add a bit of water to apply.
It should come out creamy and consistent.
It lasts a few hours and doesn't stain clothing.
Very easy to get clean skin.
You can wash it off with just a bit of soap and water.
The consistency is a bit different than most face paints but works quite well.
Just be prepared for a strange start.
Reasonably quick to dry and doesn't crack easily.
It can go on a bit thin, so multiple layers might be needed.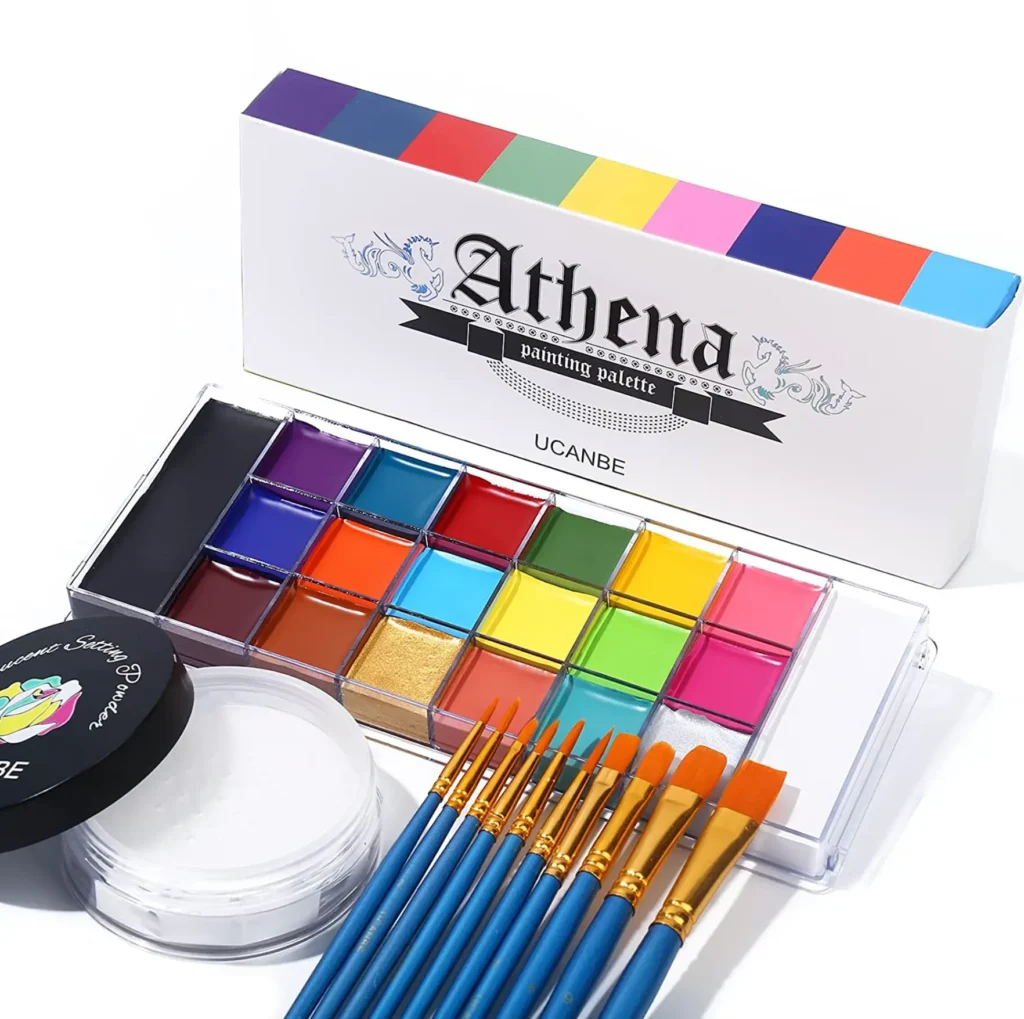 The Athena face and body oil palette are full of vibrant colors and thicker and more coverage than water-based body paints.
This is great for everything from photoshoots to special effects make-up.
The palette contains 20 colors and is excellent as a master set for Halloween and similar paintings.
In addition, there are extra-large portions for the black and white on the sides.
As oil paints, these are waterproof, which helps stay on all night or for long periods.
It also allows for much more creative blending and color mixing than with watercolors.
The kit also comes with 30 grams of setting powder and 10 makeup brushes.
The creamy texture goes on well for a full-coverage look with vibrant pigmentation.
The colors included have both matte and shimmer finishes.
The included paints are non-toxic and hypoallergenic.
It is more difficult to remove than water-based paints but can be done with makeup remover.
It's definitely some of the most clingy stuff on the list, so make sure you are prepared!
The Charmcode is a perfect palette for those who have a personal preference for a palette over bottles or tubes.
The 15 glowing colors are vibrant, and there's a matte black and white included.
All of the colors last for an exceptionally long time on the skin.
The paints are oil-based, so you'll need make-up remover or similar to get it off when you are done.
Oil paints such as these are also great for detail work, as they can be applied more precisely.
Oil paints are types of paints that are better for blending, longevity, and consistency than water-based types of body paint.
The colors of this palette are vivid and mix well, plus the formula is non-toxic, hypoallergenic, and doesn't stain skin.
For the price, this is great value as an oil-based palette.
Great to use as a cheap body paint that will last all day or night.
Finally, we've got an excellent glitter package for both face and body painters.
There are six flashy colors to choose from and add to almost anybody's painting look.
These are great for Halloween, events, or other occasions that call for a bit of shimmer.
It's easy to apply with a make-up brush or just your fingertips and can be removed with makeup remover.
It also doesn't cause skin irritation.
It's non-toxic and straightforward to use, as well as vegan and cruelty-free.
Conclusion
There are quite a few different types of face and body paints out there.
Therefore, we tried to cover various types, price ranges and uses to suit anyone's needs.
Depending on if you need a complete kit, neon paints, kid's face painting, or just a few good solid colors, we've got you covered.
Bodypaint is a great way to add something fun to your Halloween, but it also works for cosplay, kid's parties, and other events.