Getting into watercolor painting is one of the most accessible introductions to painting, but purchasing poor-quality paints can ruin the experience.
High-quality pigments will make all the difference in painting your first whimsical masterpieces.
The best watercolor paint sets are brilliant, with a vivid range of colors, and fine-grained, perfect for any project.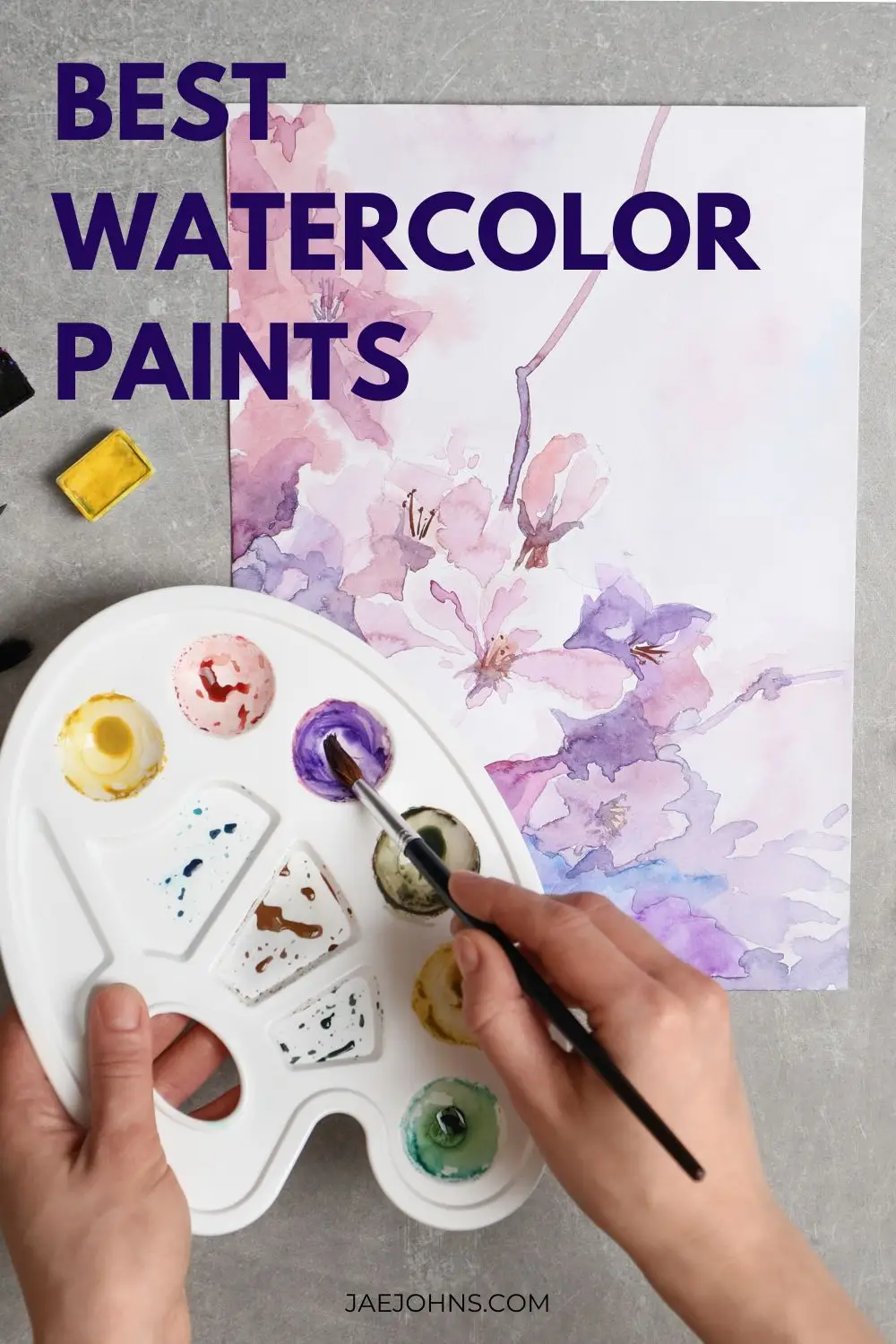 Please read: We can only do this with support from our readers. When you purchase an item through the links on this site, we may earn a commission at no additional cost to you. Thank you! Read our disclosure for more information.
What is watercolor painting?
A watercolor painting uses watercolor paints, with pigments made to be mixed with water as their medium.
It is a more delicate, transparent kind of paint, most often used on paper. The subtly of the colors tends towards bright and vivid images.
It is possible to paint watercolor on various other surfaces, including wood, canvas, and walls.
Because watercolor paints are generally more inexpensive, many people begin their painting journey with them.
But the medium's fluidity can surprise people, which has advantages and disadvantages. Using the best watercolor paints along with some easy watercolor painting ideas will help you achieve the best effects, including multiple wash layers, working wet on wet, and lifting out the color.
Best watercolor paint for beginners
MozArt Supplies Watercolor Paint Essential Set
For the perfect starting kit for beginners, the Mozart Essential Set is a great choice.
It's got easy to use, partitioned, a 3-part lid for color mixing, a versatile paintbrush, and a portable palette. With 24 colors, it's an excellent amount for anyone to really get started with.
To get started with the beautiful colors, all you need is a crisp sheet of watercolor and some water and you're all set.
The whole set comes in a portable, sturdy metal box that is still nice and lightweight.
It's super easy to put away when you're done for the moment and come back to later.
Best watercolor paint for tattoo flash
Winsor & Newton Cotman Watercolor Studio Set
If you need a robust and high-quality set that won't do you wrong, the Windsor & Newton Cotman Water Colors Studio Set won't fail you.
It has 45 half-size pans for a wide selection of deep and highly pigmented colors.
The built-in palette is helpful and suitable for beginners to experts alike. The set comes in a compact case with a built-in mixing tray that works perfectly for travel if you need to move it around.
The one issue may be their transparency, which can require multiple coats.
Best watercolor paint for professional artists
Daniel Smith Extra Fine Watercolors
Daniel Smith's Extra Fine Watercolors set is made explicitly for professional artists.
For that reason, the price may be out of reach for some hobbyists. However, the paints themselves make up for it with their top-of-the-line quality.
Their full range includes 261 different colors, and this starting kit provides 6 of them to begin your set.
The colors they offer and vivid and spectacular, with nearly unmatched quality to the pigments.
Their bright colors disperse well over paper with an even sheen, and the extra fine pigmentation produces highly granulated results.
Best watercolor paint for fabric
Arteza Premium Watercolor Paint 60 Water Colors
With its extensive collection of 60 paints included in the kit, the Arteza Premium Watercolor Paint set provides any combination of colors most people could need.
In addition, each comes in an easy-to-squeeze tube.
The non-toxic formula is excellent for fabric use since the paint will be close to your skin. You'll be surprised how easy it is to work with and blend.
The one issue may be the cost, since you are getting a wide variety of paint tubes.
Best watercolor paints for fashion illustration
Kuretake Gansai Tambi Watercolors
I love the elegant look and design of the Kuretake Gansai Tambi Watercolors, with my favorite pan design on our list.
The Japanese watercolor maker provides affordable yet quality paints that activate easily.
Now, they are slightly different in formula than Western watercolors, namely being more opaque and glossy in general. They are still transparent but look somewhere between Western watercolor and gouache.
This is perfect for fashion illustration.
It dries evenly on paper, making it work great with ink lines and working with illustrations in general.
The paint quality is about on par with higher-quality student watercolors.
Best watercolor paint for calligraphy
SCHMINCKE HORADAM Watercolors
The professional-level German brand has been making its own formula of excellent watercolor paint since 1881. What makes it unique is its use of natural ingredients of high quality.
This half-pan set comes with 48 of its best pigments.
For calligraphy, you want paints that remain where the brush lays them with vivid color.
These are some of the absolute best on our list for that quality. However, they are formulated so that if you add more water, they will flow wet and still deposit strong color.
Best watercolor paint for walls
Artsy Watercolor Paint Set
The Artsy Watercolor Paint Set unfolds like paint swatches for wall painting, making it perfect for use on walls.
The unusual style is also foldable, which makes it easy to travel with and hold up as you move around a room.
Now, the set is made for beginners, so you'll need a more serious set if you want to do a professional quality mural or similar. However, it'll fit your need for someone just starting out with wall painting, or watercolor in general.
The set includes 42 colors in its foldable palette, a detectable sponge, and comes with three brushes to get you started.
Best watercolor paint for toddlers
Crayola Washable Watercolor Set
The Crayola Washable Watercolor Set is the perfect set for toddlers.
Very affordable, non-toxic, and a trusted brand, you get some bright colors that kids will love. Best of all, it's easily washable from clothing, furniture, and walls.
The set comes with a paintbrush to get you started. The paint is easy to lift onto the brush and works well without too much thought.
Of course, the color range is limited, but that's ok for a set for kids. The clear lid it comes with can even double as a palette for mixing colors, if your kid wants to try their hand.
Best watercolor paint for wood
Van Gogh Watercolor Paint Set
Most watercolors will work on wood, as wood is porous like paper and will absorb paint. These near-professional quality paints are sincerely quite deep and gorgeous, meaning they will show up vibrantly on wood.
From a mixing perspective, the paints are also fantastic, as the colors they provide ensure a wide range of nuance is possible.
In addition, the half-pans of the 24 colors in this set includes a palette with many mixing areas.
Best watercolor paint for black paper
Paul Rubens Artist Watercolor Paints
The Paul Rubens Watercolor set comes with a beautiful collection of iridescent colors, including a metallic white and gold.
The 24-color set is perfect for the vivid colors it reflects on black paper.
The artist-grade paint is made extra fine and mixed with gum arabic for good consistency. The paints have good diffusion, good transparency, and a high lightfastness. The glitter effect in all the paints is perfect for visibility on black paper.
Finally, the kit it comes with is portable, opening and closing nicely. In addition, each watercolor in the set can be replaced individually in case you use some much more than others.
Best watercolor paint for cookies
Sakura Koi Watercolor sets
From the brand that brought you Pigma Micron pens, the Sakura Koi watercolor set is safe for painting on paper for cookies.
The colors are bright and saturated, perfect for cute and warm cookie paintings.
It comes in a collection of half-pans for an excellent and affordable price. In the kit comes a small watercolor brush, with makes it a little travel kit as well.
Best watercolor paint for canvas
Sennelier French Artists' Watercolor Half Pans
Sennelier's honey-based watercolors are a rich paint with excellent consistency.
The pans reactivate with just a little water with vivid color. Their particular formula remains slightly tacky after being put down, making them interesting on canvas.
You are also getting great value for professional quality paint.
With powerful pigmentation, the watercolor paint flows smoothly onto the canvas and mixes well on the palette.
Best watercolor paint for skin tones
Holbein Artists' Watercolor Paint set
Among Japanese watercolor paints, Holbein is perhaps the most respected.
They are often ranked one of the finest paint brands in the world and are a top choice among professional watercolor artists.
Following a long tradition in Japan of making high-quality artisanal products, Holbein is among the greats. Of course, this comes at a high price, but it is well worth it for those looking to make the best quality images.
Holbein watercolors can be bought in both tubes and pans, although we've linked the tubes here.
Best watercolor paint for cheap
Artist's Loft Necessities Watercolor Paint Value Pack
The Artist's Loft Value Pack is a great choice for an affordable set with excellent colors.
Coming in with 36 colors with vivid coloration and good consistency, you're getting solid coverage on many different surfaces. The pans are a bit smaller, but that's fine for beginners.
You can use these for various crafting projects, including painting on wood, ceramic, and paper, or for making cards, illustrations, and calligraphy.
Best non-toxic watercolor paints
Raphael Campus Watercolor Pan Travel Set
The Raphael Campus Watercolor Pan Travel Set is a great non-toxic travel set with a good balance of quality and value.
The compact form makes it perfect for traveling with, and the ten-half pans are an excellent selection.
Since it is affordable, you don't have to worry too much about making the wrong choice. However, the included brush probably has to be replaced, as it's small and doesn't hold much water.
Best metallic watercolor paints
Komorebi Japanese Watercolor Paint Set
What's nice about the Komorebi Watercolor paint set is that it has 8 out of its 40 colors devoted to metallic colors.
Coming in at a reasonable price, it's a nice set of student-quality paint sets with good pigmentation and lightfastness. The spread of vivid and bright colors available is perfect for many different projects, including mixed media.
The sturdy metal travel case is also helpful, keeping the pans nice and secure. It's perfect as a gift set for emerging artists.
Best watercolor paints for face painting
DALER-ROWNEY Aquafine Half Pan Travel Watercolor Set
An excellent set for students and watercolor beginners, you can practice to your heart's content with this affordable set of 12 watercolor paints.
Each paint tube in this travel set comes in a 12 ml tube and blends well when mixed to achieve many different shades. As a result, you've got a rich, flowing color with good transparency, solid lightfastness, and good tint strength.
For these reasons and more, the DALER-ROWNEY set works well for face painting.
Best overall watercolor paint
M.Graham Artists' Watercolors
For the absolute best balance of excellent quality and good value, the M.Graham Artists' Watercolors line is our perfect pick.
It uses blackberry honey as its binder for a smooth, highly viscous watercolor experience. This helps keep the paint from drying out while on the palette and remaining tacky.
The vivid colors are some of the best available, and the tubes don't dry up easily.
What's best about all this is that it's priced at the lower end of professional prices while still providing the highest quality of watercolor paint.
If there's anything missing, it's just the convenience of portability and not being an all-in-one set. If you're ok with getting your own brushes, palette, and travel kit, you can't go wrong.
How to choose the right watercolor paints?
To choose the best quality watercolor points, here are the main criteria to investigate: translucency, brand, lightfastness, pigmentation, and shade variation.
You can find most of this information in the specifications of each paint and through reviews.
On the product label, you can find symbols that indicate each of these.
What are the best paint brushes for watercolor?
The best paint brush for watercolor for beginners to start with is a round synthetic brush.
You don't need any specific paintbrush to paint watercolor, but you have some choices.
You can go with either synthetic or natural fibers. Synthetic is less expensive but somewhat worse than natural and breaks off more easily.
Round brushes are one of the most versatile types of brush and are therefore good for beginners.
How to care for watercolor paints?
You want to keep your watercolor paints away from heat and moisture, but generally speaking, they are quite resilient.
It's helpful to keep them in a closed tray or closed tubes; otherwise, they can always be reactivated.
Overall, it is much easier to ruin brushes than the paints to ensure you're cleaning those regularly.
Other Watercolor Topics to Help you Paint
Conclusion
This covers the best watercolor paints for various purposes.
Whether you're looking for professional watercolor paints, watercolor paints for face painting, etc, we hope there's something for you!
These different watercolor paints offer distinct charms.