Do you love working with acrylic paints? Are you on the lookout for some easy acrylic painting ideas? No worries! Read this blog till the end as there is much more to explore about acrylic painting!
Acrylic paint is a water-based paint that consists of pigment particles scattered in the polymer emulsion. It consists of three main components – pigments (substances that give color to the paints), binder (which holds the pigments together when the paint dries up), and a vehicle that carries the pigments and binder.
Acrylic painting is usually preferred by amateur painters as it takes less than 15 minutes to dry. As they are the water-based paints so they can be thinned very easily which makes it more fun to use. They are the most versatile paints as you can use them straight from the tubes or you can make them thin with water to create a lighter tone.
The best part of these paints is they are easy to use and easy to clean up as well. So, what comes in your mind, draw it using the acrylic paints and have fun making the mess.
There are various acrylic painting techniques that you may apply to your artwork for a creative impression. In today's blog, let's discover a few of those techniques. This blog covers some amazing and easy acrylic painting ideas to create interesting backgrounds for your artwork.
Whether you want to paint on canvas or you want to work in an art journal, these techniques will help you get started with acrylic paints as a beginner. So, wait no more and get ready to explore these ideas to inspire your creativity.
Are you ready to take a deep dive into acrylic painting ideas? Let's take a start now!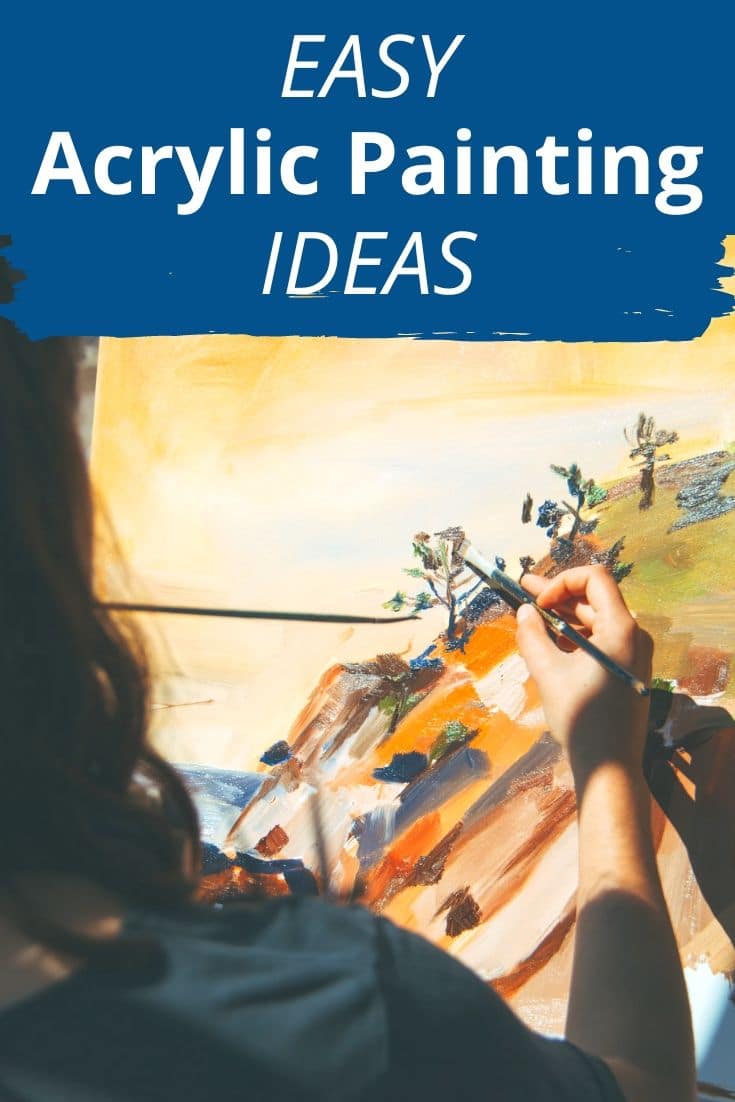 Acrylic Painting | Getting Started in Easy Steps
Are you ready to do acrylic painting but do not know where to start? Or maybe you just need a few pointers? Here are some simple acrylic painting tips that you need to know as a beginner.
The simplest yet popular acrylic painting technique is to create scraped backgrounds. To create a scraped background, all you need is a flat object. You may use your old or expired debit cards or gift cards as paint scraping tools to spread a few drops of paint on the canvas.
This will not only create a scraped look but you can also create straight blocks by scraping in any direction, left and right, up and down, creating unique color blends and textures.
You can create beautiful scraped backgrounds if you use a variety of colors. This will also create a blending effect as well. This technique is very helpful if you are creating an art journal and want to make pages with multiple backgrounds.
02. Mixing Colors to Create a Unique Artwork
Another acrylic painting idea is to mix colors to create a unique artwork. Mixing of colors and shades can not only add beauty to your artwork but can also expand your palette as well. For this, you must be familiar with the media you use. For example, you must get to know how the paint applies, how quickly it dries, and how to mix colors to create blending effects.
Acrylic paint does not require straight lines. A mix of colors is not only easy but creates very beautiful final results. So, get a canvas, acrylic paints, a good set of paintbrushes, and get to work!
03. A Technique of Underpainting
One of the easy acrylic painting ideas that you may use is underpainting in which you apply the first layer of paint in one color and when it gets dried, another layer of paint is applied in a different color.
This technique is used to reflect the tones of different colors as the second color is applied over the first color when the first one dries up. As a result, both colors do not mix with each other, allowing you to add many different shades and colors.
This technique is very useful when you want to draw and paint the images of objects or scenes as by using it, you can create a multi-layered effect. For creating an underpainting effect, it is better to use paints that have mixing, tinting, or shading formula, for example, Golden Fluid Acrylic Colors. These paints when mixed with a matte fluid medium may add a non-reflecting finish to the paintings.
04. Creating Sharp Edges
You can also create sharp edges in your paintings using acrylic paints. For this, first, you have to apply a layer of paint on your canvas and without disturbing the first layer, apply the second layer over it. To prevent a certain area from the second layer of paint, you can cover it using masking tape. This will help you in creating unique sharp edges in your artwork.
05. Experimenting with Different Paint Finishes
Acrylic paints come in different finishes, for example, matte, gloss or semi-gloss finish. You can experiment with different finishes in your artwork and can create unique beautiful effects. You can also use the matte, gloss, or semi-gloss finish together to add drama to your next painting.
06. Water Splatter Acrylic Painting Technique
You can create a lot of fun and excitement in your paintings using the water splatter acrylic painting technique. The technique uses a few drops of water to make the paint lift off from the paper or canvas.
To create a water splatter effect, first, you need to put a few strokes of paint with a brush. After a few minutes, put a few water droplets, use your brush or fingers to splatter the water on paint.
After about four to five minutes, dab the area of the painting where you put water droplets using a dry paper towel. This will cause the paint to lift off from the canvas, creating a beautiful effect.
07. Add Highlights
Adding highlights to the painting is one of the amazing and easy acrylic painting ideas. This is done by using light and dark tones of the colors to create a shaded effect as well. But before that, know exactly which parts to highlight and which parts to leave dark.
Gouache Resist technique is a popular and easy technique that you can apply to your acrylic paintings very easily. It can add uniqueness and drama to your artwork – that's the best part. To apply this technique, first, you need to paint those areas in which you want to remain ink-free.
After that, pour the ink and spread it using a paintbrush. Let the canvas dry. Wash the ink from your canvas and let it dry again. In the end, to create intensity, add colors by using acrylic paints.
09. Acrylic Abstract Painting
This is a unique technique that you can experiment with in your artwork. Bold colors and bright designs are added using a layering process. Adding layers of colors to create the painting is known as an additive process. It is widely used to paint abstract art in acrylics.
10. Painting with Stencils | An Easy Acrylic Painting Idea
Painting with stencils is a common acrylic painting idea most painters use in their artwork. It is used to create different textures and patterns in an artwork. There are a variety of brushes available in the market that you may use to get the best coverage while painting with stencils.
11. Varnishing an Acrylic Painting
Another acrylic painting idea that you must know if you are going to paint as a beginner is to varnish your acrylic painting. This is the most important step as it may protect your painting from dust, getting yellow, or even protect from UV radiation.
Varnish comes in different forms such as matte, gloss, or satin so if you want to bring out the vibrancy of colors in your paintings, using varnish is the best option. It can also pull the whole painting together, making it even more beautiful.
12. Making Marks with Acrylic Paints
Another fun technique to use acrylic paints is to make marks using different objects. You can not only use these objects to make marks but you can use them as stamps as well.
The plus point of this technique is that you can make marks with the objects that are usually used in the house, for example, a jar lid, a fork or a spoon, a tissue roll, and much more.
13. Use Acrylic Texture Mediums
Using acrylic texture mediums is one of the easy acrylic painting ideas that you must try as a beginner. It is a great method that can boost up the tactile quality of your paintings. Acrylic texture gels are used here that can create cool effects in your paintings that would be difficult to create otherwise.
14. Keeping Paints Moist through Misting
As a beginner, misting is a great acrylic painting idea for you. As we all know that acrylic paints usually dry up quickly. If you make them resemble watercolors, you can easily do this by keeping the paints moist. This process is known as misting.
There are a variety of misters available out there that you can use in your paintings. Choose the best mister and mist the paints with water.
15. Adding Texture using Materials
The plus point of using acrylic paints is that you can create a lot of different textures using them. For example, you may take oranges, ribbons, pieces of paper, jar, string, etc. for your artwork, paste them with glue and paint them over with acrylic paints.
The next technique you must try as a beginner is blending with the best acrylic paints. It is one of the trickier methods in which at first, a layer of white is painted, and then the color of your choice is used in the area where you want blending. Blending wet paints give the best results.
17. Create Effects Using Sprays
Create different effects in your artwork using sprays. Paintbrushes are also used to create a similar effect but make sure that you have mixed enough amount of water in the paints to dilute them.
You can also make your DIY acrylic spray paint by adding a few drops of water in the paints and then put them in a spray bottle.
18. Building Texture when the Color Underneath is Dry
Another fabulous acrylic painting idea for beginners is to build texture in the paintings when the color underneath is dry. First, you need to paint the canvas with color and let it dry. When it is completely dried up, use a different color over it. It will create a unique texture to your painting along with making it more beautiful.
19. Alcohol Marbling Technique
One of the best acrylic painting techniques is to create a marbling effect in your painting. This can be achieved by mixing paints, adding a lot of water, and then add rubbing alcohol.
20. Smudging
The last most important acrylic painting idea in our list for beginners is paint smudging. It is a creative technique by which you can smudge the paints using a paper towel. You can also use baby wipes in this case as they are dry and give a more unique touch as compared to the dry paper towels.
Before using this technique, make sure that the colors you are using look good together or not.
Conclusion
It is quite easy to learn how to use acrylic paints. You will be happy to know that you will soon be an expert when it comes to using them. Certain acrylic painting techniques can be developed over time such as merging several colors or working with messy or clean paints.
But the above techniques will surely help you get started as a beginner. Before applying these techniques, you must have suitable materials needed for acrylic painting.
Get the best paper and brush for acrylics. So, what are you waiting for now? Grab your canvas or an art journal, apply these painting techniques, and have some fun in creating a masterpiece. Happy Painting!
Question of the Day: Which acrylic painting idea and painting technique do you know?