Do you want to know the best iPad to use with the Procreate app?
Well, in either of the cases, you'll need an IPad.
If you don't have one already, then you'll have to decide which is the best iPad for Procreate and buy a new iPad.
To make the best choice for yourself, read further, as I have covered all of the crucial points in this article.
You can have your personal favorites, but according to most iPad Procreate reviews and my analysis, I recommend you an Apple iPad Pro (4th Generation). Apple iPad Pro provides a large screen to experiment with your skills and come up with your best designs. It can support quick processing and provides a decent display quality, which can play a significant role in making your designs perfect.
Let's dive deeper and see what different options you have from the iPad product range to use with your Procreate.
Other related topics to help you with Procreate: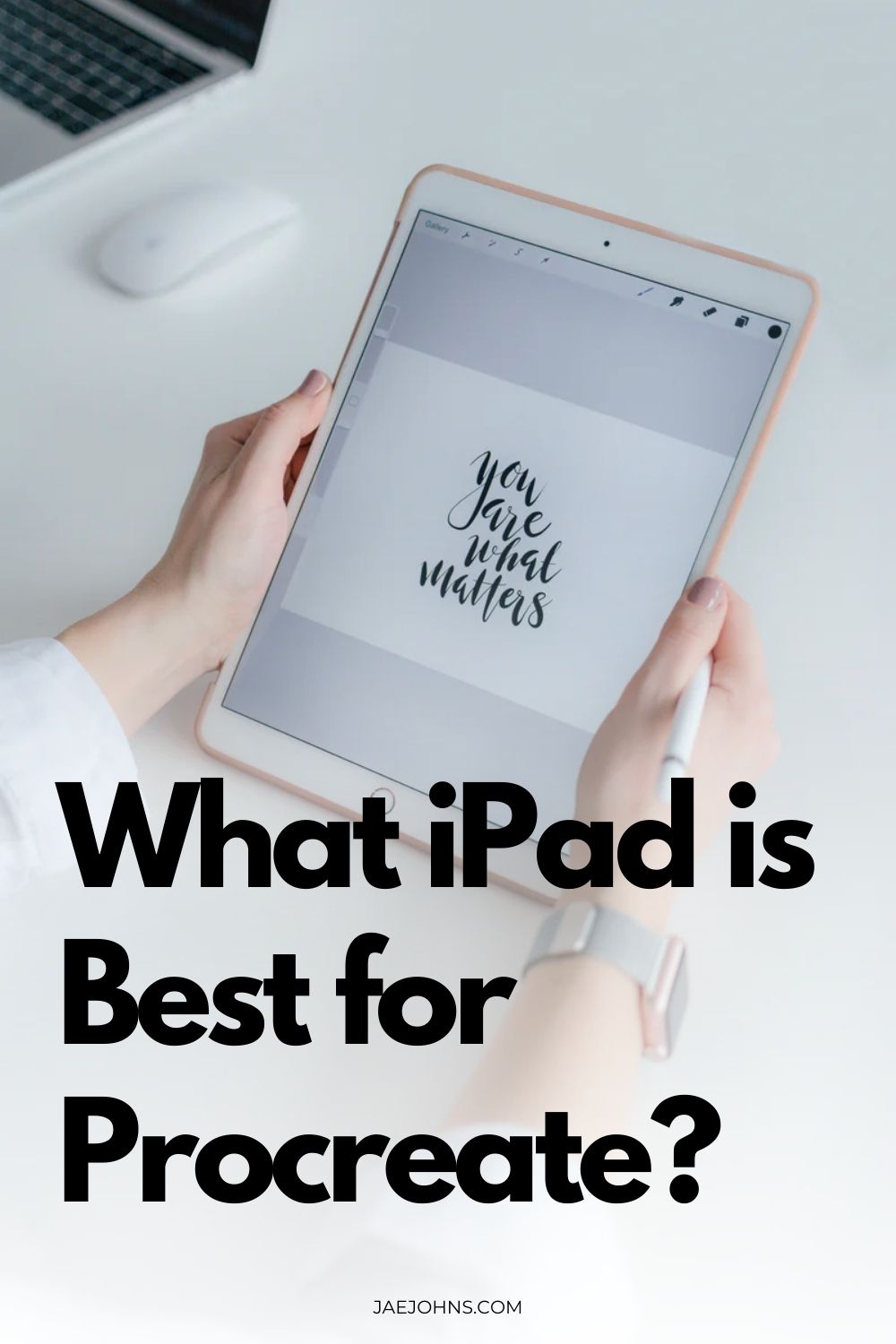 What is Procreate?
Procreate is one of the best drawing apps you can download from the app store.
It is made for digital artists, graphic designers, and professional artists.
It has gained lots of popularity and is a great tool for digital drawing, painting, animating, and many other artistic endeavors.
It's a great app that works on mobile devices, and if you include Procreate Pocket then you can use it on phones, too.
Even though Procreate does work with older iPads, you'll want to make sure that the latest version of Procreate supports the iPad you use.
What size iPad is best for Procreate?
Like you already know, the iPad comes in different sizes!
So let's have a look at some different Apple products you have in the range before you conclude an answer for this question.
iPad:
With this budget-friendly tablet, you can have a 10.2-inch screen at your disposal.
It is compatible with the first Generation Apple Pencils as well.
The low iPad Procreate price is the main feature of this tablet.
So, you can expect it to work appropriately when you are letting your creative self out.
iPad mini:
This one is typically for the people who want a functioning computer in their pockets.
Smaller in size than the iPad.
The performance of the iPad mini is similar to the iPad.
Moreover, it is also compatible with the first Generation Apple Pencils, but it will cost you more than a simple iPad.
iPad Pro:
With this pro version of the iPad, you can choose between the two size options and expect better performance than the previous two models mentioned.
The brightest display, swift processing, and big screen are the features making the market go crazy about it.
Even the iPad Procreate reviews praise them for these features.
Even though you can use other styluses like the Logitech Crayon on the iPad Pro, using the Apple Pencil is the best stylus.
You can get the iPad Pro 11-inch or iPad Pro 12.9-inch.
The main difference between these two sizes is that you have more breathing room and a large display to create art.
Because of the larger screen size, storage capacity, battery life, vibrant colors, true tone display, and the new M1 chip this is considered one of the best tablets.
Many even use this as a laptop replacement.
Apple iPad Air:
This model has the fastest processor in the entire iPad family.
The display of the processor might not be as bright as the iPad Pro, but you'll enjoy designing on it too.
The ultimate decision for selecting what iPad you need to use Procreate is yours.
But depending on the different models I have shared in this section, you would have got an idea about what these different iPad brands are and what features are prominent in each of these specific products.
So, when it comes to the best iPad for Procreate, you can go for iPad Pro as it offers the largest screen along with an option to choose between two sizes.
Besides, as a designer, you'll have to be precise about the color selection, so with this particular version, you can expect the best display, which can make things easier for you.
Also, the swift processing of this tablet will make it easier for you to run applications like Procreate, which might require you to perform multiple processes simultaneously.
Thus, making the overall processing a lot quicker.
Cheapest iPad for Procreate:
Well, I can't tell you that an iPad is cheap as it would require you to spend a lot of your money.
But within the iPad product range, as I discussed earlier, some options might require you to spend less money than some of the other versions in the range.
So for everyone who wants to know about the cheapest iPad for Procreate, iPad Air has won the battle.
IPad Air is a fast-performing tablet that is light in weight and can work with Procreate to the best of its abilities.
However, if you think it is the best in the range, it isn't (as discussed earlier).
But it is the cheapest in Apple's product range, which can offer you the range of features you would like for proper functioning with the best iPad Procreate price.
Does Procreate work on iPad Air?
This is a legit question if you have been thinking of counting on the cheapest options (not very cheap) from the iPad range.
As discussed in the last section, it is iPad Air.
So, now are you concerned about the compatibility issues of IPad Air with Procreate?
Let us clarify that you can use Procreate with iPad Air (4th Generation), iPad Air (3rd Generation), and iPad Air 2.
Therefore, you can go for any of these iPad Air generations and expect your best designing app to work perfectly fine for you.
This means that you can get your work done or let your design ability take hold of you by spending less money. Isn't it a great way to start?
Once you develop adequate skills, you can move on to the best performing iPad too. Wouldn't it be a great thing to do?
Conclusion
To get the best out of the Procreate designing application, all you need to do is use the iPad model that supports its usage.
Although different iPad models seem compatible but within the range, iPad Air is the absolute best iPad when it comes to good performance, whereas iPad Air is the cheapest option for the users.
So, whatever iPad type you choose, just believe in yourself, and you'll be able to create something unique.