When you paint in watercolors it's very common to make mistakes. You might even thing curious about how to fix watercolor painting mistakes.
Art is something sacred, and it doesn't need any direction.
When one sees the unimaginable sight of colors being mushed into one another to create something beautiful; it is indeed a curious sight for them.
Toying with colors isn't a child's game because you cannot usually undo or alter a mistake you might have made during the process.
Well, no worries, as we have researched some peculiar solutions that will surely help you fix common errors you can possibly make in watercolor painting.
Other related topics to help you with watercolor painting: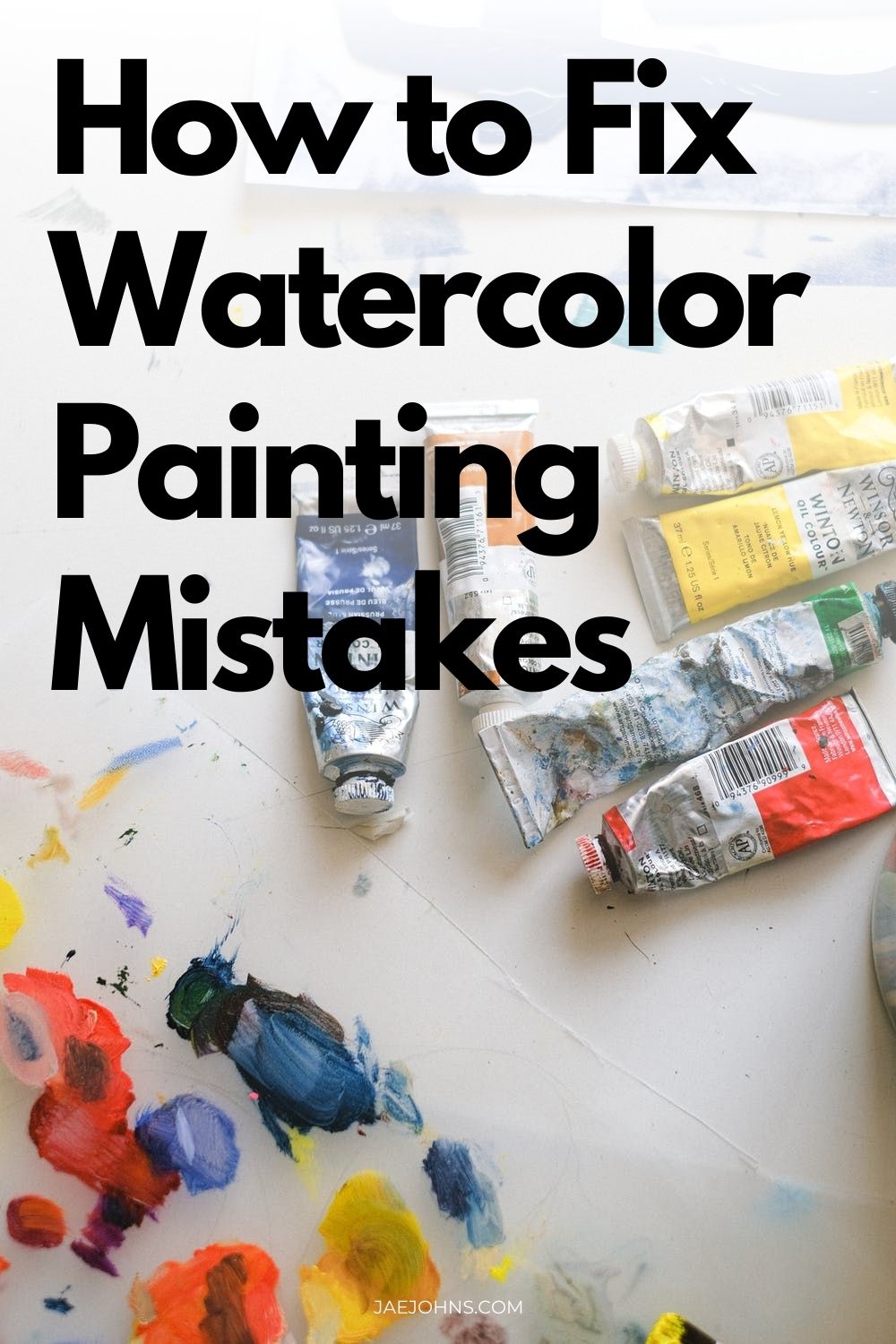 1. How to Fix Overworked Watercolor Paper
The first and foremost issue that everyone faces while working with watercolor painting is the inevitable dilemma of overworked watercolor paper.
When a person repeatedly works on the same paper, mishandling it, erasing frequently, the paper becomes overworked.
This is one of the most common watercolor painting mistakes.
It loses its capability of absorbing paint and representing it in a reasonable manner, which makes the paper dull.
When you work extensively on the paper and use the paintbrush or the eraser with a wee force, the fabrics of the paper get unraveled, making the paint or color go deeper, resulting in a lifeless illustration.
There aren't many solutions to fix an overworked watercolor paper, but one can take some precautions.
One such precaution is working as swiftly as possible with a confident grip on your brushes. Let your paint dry after a mild stroke between glazes.
Another precaution that you can take is to mishandle the paper and avoid sketching on it.
When drawing on a paper, one has to inevitably use an eraser to alter if there's been a mistake; now, this too damages the fabrics of the paper, causing you a problem when you'll shift to watercolors.
2. Watercolor Paper Pilling Fix
Pilling means when you have scrubbed the paper's surface far too many times with your brush making it all wet and overworked.
This usually happens when you use low-quality paper because when the damp brush hits the paper a few times in a short interval of time, the paper cannot absorb and sort out the colors.
The solution to watercolor paper pilling is to use a better quality of paper in your paintings, preferably 100% cotton rag or a minimum of 50%, at least. Also, be gentle with your brush.
Try not to scrub off the surface of the paper while filling in the watercolors. Another precaution that you can take is to avoid using too many shading layers. If you have to, you must let them dry.
Be sure to use less water and more color while painting, with soft brushes being the medium between the paper and the color.
A soft brush will make you more comfortable while filling in the colors without scrubbing hard on the paper.
3. How to Fix Dried Watercolor
This, too, is a peculiar issue when it comes to water coloring. Many say that you cannot reverse it, but with thorough research, we have found out that there is a solution to fix dried watercolors.
Once the colors on your paper are dried up, and you want to create highlights or alter them, you can pick up your brush, soak it in water and brush some water on the dry part of your illustration.
The next step that you have to do is to take a dry paper towel and soak up the water on the paper with some force; now what this does is that the paper towel soaks up the slightly wet paint on the papermaking space for you to fill in more colors or create highlights.
This does not happen in a single attempt. You might have to do this a few times, mainly depending on the quality of the paper and your colors too.
Keep in mind that erasers cannot remove dried watercolors, so don't make the same watercolor painting mistake before, making the paper overworked.
4. How Do You Fix Watercolor Painting Mistakes in Photoshop
Technology has made our lives easier; if you have created something using watercolors and you want to make it slightly better or do some alterations on it, you can just put your art in a scanner connected to a computer with the application Photoshop installed on it.
Photoshop is an application endorsed by Adobe that lets you create digital art on your laptop or computers, without the need of drawing or creating something by hand.
But, if you have a water-colored painting and you are wondering how to fix watercolor painting mistakes step-by-step, you can easily do that with the help of Photoshop.
When you put your piece of art in the scanner, it will show on the computer in a media format. You can modify it in Photoshop. Let us take an example.
Suppose we have some smudges on the paper caused by extensive scrubbing. We can quickly straighten them out by using the stamp tool.
If your painting is dull, you can stabilize the contrast making it look a lot better than before. If the paper gets dirty, you can erase the dirt marks with the eraser tool without a problem.
Photoshop lets you create and modify anything so make the most of it.
5. How Do You Fix Watercolor Painting Mistakes on Walls
Painting walls is undoubtedly a challenging task. Good news: we have got the answer right here.
If you somehow made a mistake while painting a wall with watercolors and now want to change it, it is pretty simple.
Just take a damp sponge and scrub it on the part you want to change. It will surely lighten it a bit; try to rinse it with a circular motion of your hand gently.
If the stain remains persistent, then take a clot of cotton, dip it in alcohol and try to blot the stain while scrubbing it gently. It will surely do the job.
Are you still wondering how to fix watercolor mistakes? We have compiled it all in detail, from scrubbing walls to creating and modifying art digitally.
Conclusion
Now we have the answers to fixing watercolor painting mistakes and fix dried watercolors. We produced this guide to help you all sort watercolor painting problems. Hope it helps!