Knowing how to seal a mixed media collage can be challenging.
Once you discover some simple things you can do to seal your collage, then it's quite easy.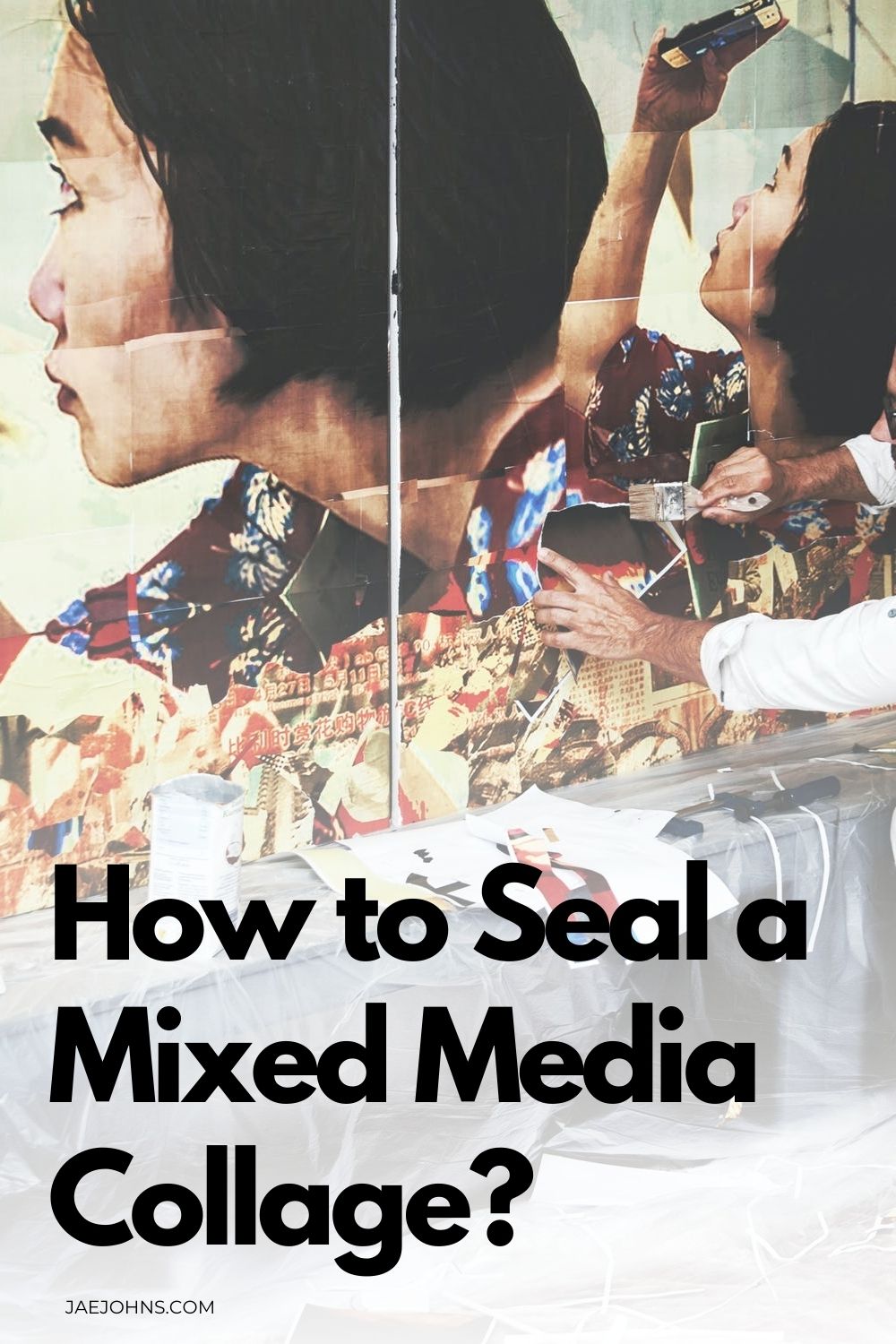 How can we protect mixed media art?
Mixed media is a flexible field of art for the artists to work in, as the artist has the option to choose the tools and substrate, the effect they want to create, their art style, and the piece they want to make.
Once you have created a collage and are happy with how it's come together in the end and now wondering how to protect it, it can be hard to know which medium is best suited for media surface.
Once it has been established which material you are working on, the use of appropriate sealing should be tested and applied.
While working with mixed media, the best display solution is UV-protective glass, which provides the ultimate protection against UV light, dirt, and dust.
Varnishing or top coating can be the best option if you don't want mounting behind glass.
However, the situation gets tricky when mixed media pieces contain sensitive materials.
Varnishing leads to permanent changes to artworks depending on the materials, which most artists avoid.
Options for sealing an artwork include varnishes, fixatives, or topcoat artwork that do not accept varnishes, and no suitable coating would adhere to these.
How to seal mixed media canvas?
Traditional canvases can be a little tricky to work with when creating a mixed media art piece, due to their flexibility and reliance on paint and brushes instead of other media.
However, if you want the canvas texture in your mixed media piece or intend to do a base layer painting on canvas, we recommend opting for canvas board.
In this case, the canvas is adhered to the hardboard to give you the best of both worlds.
The canvas is sealed by masking tape that is applied on the sides of the canvas to avoid the sealing mediums getting glued on the sides of the canvas.
Gloss Medium
If the artist prefers a glossy finish, they can gloss medium to fix the paint on the canvas, and it might be used while creating the painting, if you want to bring out the color more.
Matte Medium
If, however, you prefer a matte look to the painting, use matte medium-keeping in mind that if the painting has bright colors, they might get dulled by it.
Leveling Gel
Leveling Gel is used to even out surfaces on the canvas, goes opaque when dried up.
Wax
Take a kitchen roll, put on cold wax, and spread it all over the painting for a nice sealed look to the canvas.
And now is the time to take off the masking tape from the sides and paint the sides.
To be extra careful, you might want to cover the edges of the painting with masking tape so when the paint is applied to the sides, it does not mess up the painting itself.
How to seal paper art?
If your paper art is on a journal, you don't have to protect the pages as you can just close the journal, and it's safe.
But if you are working on a canvas, you will need something to cover your work to protect it from dust and light.
Liquid varnish may be the answer to this problem if the painting is two-dimensional.
It gives a bit glossy and shiny effect to the artwork, which is always a plus.
Varnishing
Decorative craft papers or prints used in collages are varnished if the paper elements are covered with acrylic medium or paint.
However, if not, varnishing could significantly change the appearance of the paper by saturating or darkening its color, changing gloss, or texture.
If using MSA or Archival Varnish directly on thin papers like rice paper or magazines, it could also cause the paper to become transparent.
Acrylic Gesso
Sealing mixed media with acrylic gesso prepares the watercolor paper for receiving acrylics and pastels.
Best adhesives for mixed media collages
Once you've created your first layers of paper and paint, you can add more paper, paint, and other elements.
These can be elements like fussy-cut flowers or butterflies, which can be either bought from art and craft stores or online, or you can use your creations.
To attach these embellishments to the collage, you will need adhesives specific for each media.
Suppose the collages have sensitivities that would require contradicting approaches.
In that case, it might be an option to seal certain materials before applying them to the collage or applying unvarnished materials onto a sealing mixed media art, which means the artist should think about varnishing during the creative process.
We would consider the approach as layering since applying more artwork on removable varnishes always puts these top layers at risk of being inadvertently removed during future varnish removal.
In these cases, it is recommended that applying a note on the reverse of the artwork will indicate how the various adhesives were sealed.
Adhesives for mixed media art include different types of glues, adhesives, and tapes.
Glues
Glues come in many forms, including liquid, solid glue, spray adhesives, and various tape strengths.
Adhesives
An array of adhesives is available in the market, and it depends on what is required to attach to the painting.
For example, if the majority of your collage materials are paper, you will likely avoid liquid glue, which could cause the paper to wrinkle or rip.
Materials to use on top of mixed media collage
Inks
Inks give a vintage look to the collage, especially sepia ink while sealing mixed media.
All you need is an ink pad or sponge.
Add ink around the edges and across the page to tint all the papers the same color.
Inks give a nice transparent layer over the paper.
Gesso
Gesso gives the white muted look to the papers.
You can add some gesso around the edges to further mute it and create a neutral-looking palette.
Acrylic paint
Add splashes of acrylic paint with your fingers across the surface to give extra color to the paper.
Conclusion
There are many tools you can use to protect and seal your mixed media project.
Using things like varnishing, masking tape, acrylic gesso, or the recommended adhesives will all help you add the proper finishing touches to your collage.