How much does Procreate cost? You might've heard the name "Procreate" floating around in the digital art world.
But what exactly is it, what does it offer, and more importantly, how much is it? Today, we're going to dissect this game-changer of a tool in the world of digital arts. So, buckle up!
Summary
Procreate costs $12.99, which is a one-time fee. There are no ongoing payments or subscriptions, making it an affordable choice for many artists.
The app is a comprehensive digital art tool that caters to both professional artists and hobbyists with its intuitive interface and robust functionality.
Key features include over 130 customizable brushes, an advanced layer system, expressive typography tools, and a unique animation assist function. The app also supports high-resolution canvases and a variety of export formats.
In addition to these, Procreate offers other artist-friendly tools such as auto-save, undo/redo history, gesture controls, a brush studio, and customizable fonts.
There isn't a free version of Procreate, but cheaper and lighter versions are available for iPhone users.
Procreate can be purchased on the App Store and once bought, it can be downloaded on any device using the same Apple ID without any additional costs.
Despite being an iOS-exclusive app, its user-friendly features and affordability make Procreate a valuable tool for any digital artist.
What is Procreate and What Does it Do?
Simply put, Procreate is an artists' dream. It's a comprehensive, multi-featured digital sketchbook, equipped with an arsenal of innovative tools designed to bring your imagination to life.
Loved by professionals and hobbyists alike, Procreate offers seamless functionality whether you're doodling on the subway or illustrating a graphic novel.
Features
Procreate takes 'full-featured' to a whole new level. With over 130 customizable brushes, advanced layer system, and expressive typography tools, it offers an unparalleled digital art experience.
The powerful Procreate animation feature lets artists bring their work to life, while unique tools like symmetry and perspective guides help turn ideas into masterpieces.
Oh, and did we mention its advanced brush engine, which lets you import free Procreate brushes or customize your own?
| Feature | Description |
| --- | --- |
| Customizable Brushes | Allows artists to manage their artwork by layering and blending different elements. |
| Layers and Blending | Supports high-resolution canvases for detail-oriented work. |
| Auto-Save Function | Automatically saves the current work to avoid loss of progress. |
| High-Definition Canvas | Supports high resolution canvases for detail-oriented work. |
| Undo/Redo History | Provides extensive undo/redo history, ensuring no mistake is permanent. |
| Variety of Export Formats | Allows exporting artwork in multiple formats, including PSD, JPG, PNG, and more. |
| Apple Pencil Compatibility | Fully compatible with Apple Pencil, offering pressure sensitivity and tilt functionality. |
| Gesture Controls | Offers a unique set of gesture controls for easy and intuitive workflow. |
| Animation Assist | Provides tools for creating simple frame-by-frame animations. |
| Color Drop and Color Pick | Allows easy color filling and selection with precision. |
| Brush Studio | Allows artists to design their brushes and refine them to perfection. |
| Fonts | Procreate comes with a vast library of customizable fonts. You can also import your own Procreate fonts for a more personalized touch. |
How Much Does Procreate Cost?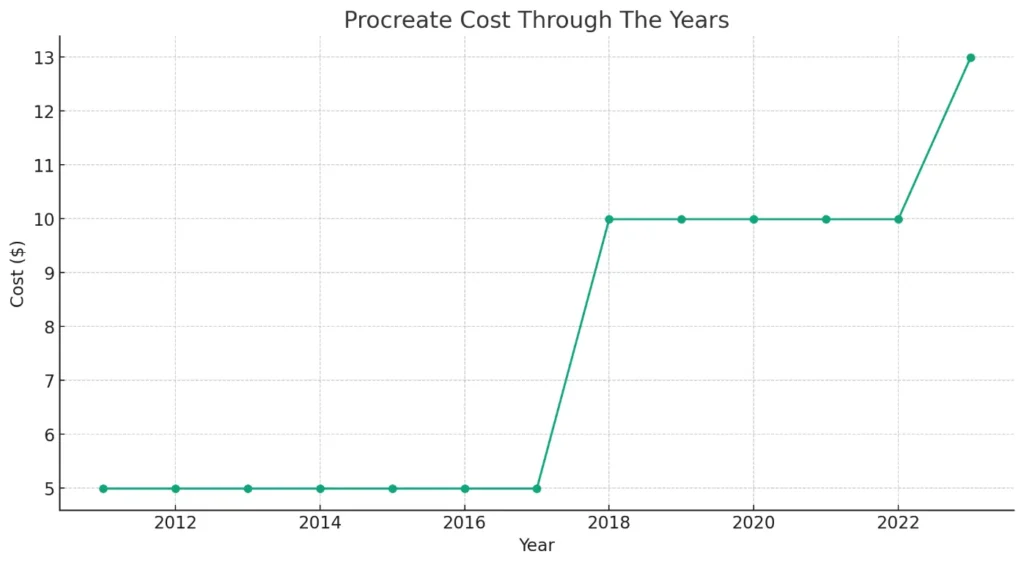 So, what's the price for this artistic nirvana? Hold your breath – Procreate costs just $12.99. That's right. It's less than a lunch date at your favorite restaurant!
Is Procreate a One-time Fee?
One of the most fantastic things about Procreate is that it is a one-time fee. There are no sneaky subscriptions or ongoing payments. Once you pay your $12.99, you're all set to get creative.
Is There a Free Version of Procreate?
There's no official free version of Procreate. However, Procreate Pocket for iPhone is less expensive, and Procreate Lite offers a taster of the app's basic features for free.
Is Procreate Paid on iPad?
Yes, Procreate is a paid app on iPad. You'll need to part with the one-time fee of $12.99 to enjoy its many features.
How Much is Procreate on iPad per Month?
Unlike other digital art software, Procreate doesn't come with monthly subscription fees. It's a one-time cost of $12.99, and the app is yours forever.
Is Procreate Worth the Cost?
With its sheer volume of features and one-time cost, Procreate provides excellent value. It's a pocket-friendly option for both beginners exploring their creative side and pros who demand robust functionality.
| Pros | Cons |
| --- | --- |
| Intuitive and beginner-friendly interface. | Only available on iOS, not accessible for Android users. |
| Powerful enough for professional work. | Lack of a free version could be a deterrent for some. |
| Low price and one-off cost make it affordable for most artists. | |
| Plenty of Procreate tips and tricks available to enhance skills. | |
How to Purchase Procreate
Ready to dive into the world of Procreate? Here's how to purchase it.
From the App Store
Purchasing Procreate is as simple as visiting the App Store, searching for Procreate, and hitting the "Buy" button.
From the Procreate Website
Unfortunately, Procreate isn't directly available for purchase from their website. But, their site provides detailed information about the app and redirects you to the App Store for purchase.
Do You Have to Pay for Procreate on Each Device?
You only have to pay once for Procreate. You can download it on any device that uses the same Apple ID without any additional cost.
Does Procreate Cost Money on iPad Air?
Yes, Procreate is a paid app on the iPad Air. The cost is the same one-time fee of $12.99. But considering the beautiful, expansive canvas of the iPad Air and the amazing things you can create, it's worth every penny.
In conclusion, Procreate is an excellent investment for any digital artist. The price point and feature set strike a sweet balance that's hard to beat. Whether you're a pro or just starting, your art is bound to take flight with Procreate.
Procreate App Cost FAQ
How much does the Procreate app cost?
The Procreate app is available for a one-time fee of $12.99 in the United States. However, you should note that pricing may vary based on your geographical location due to exchange rates and local taxes, and prices can change over time based on the decisions of the developer.
How much does Procreate Pocket cost?
Procreate Pocket, the iPhone version of the Procreate app, costs around $5.99 in the U.S. This provided a powerful suite of features that was slightly scaled down from the full iPad version to fit the smaller device. Again, please note that prices can change and can vary depending on your location.
How much does Procreate cost on iPad?
On the iPad, Procreate generally costs $12.99. This version of the app is optimized for the larger screen and more powerful hardware of the iPad, providing a comprehensive and professional toolset for artists. However, as always, be sure to check the current price in your location.