Now that the age of Instagram is upon us, having Photoshop skills can drastically improve your online presence. You might be looking for a way to edit the photos that you have taken or considering a Photoshop career.
Whatever your motivation might be, Photoshop is a pretty complex system with a lot of features. If you're going to be effective at managing your photos or art pieces, you'll need to learn Photoshop as a system.
Fortunately, there are plenty of free resources that can help you with this. Photoshop is a system made by Adobe that has a pretty steep learning curve depending on your needs.
People use this system to make the impossible possible, touch up their selfies, and more. Many popular digital artists even use this system to add to their creations.
Knowing how to functionally use Photoshop is a valuable skill to have in the modern age. People who can use it to its more extreme extents can use it beneficially to enhance their careers in some cases. There has never been a better time to learn Photoshop, which is why we found you some free ways to do so.
If you enjoy this, here are some other tools you can use to help you with your creativity: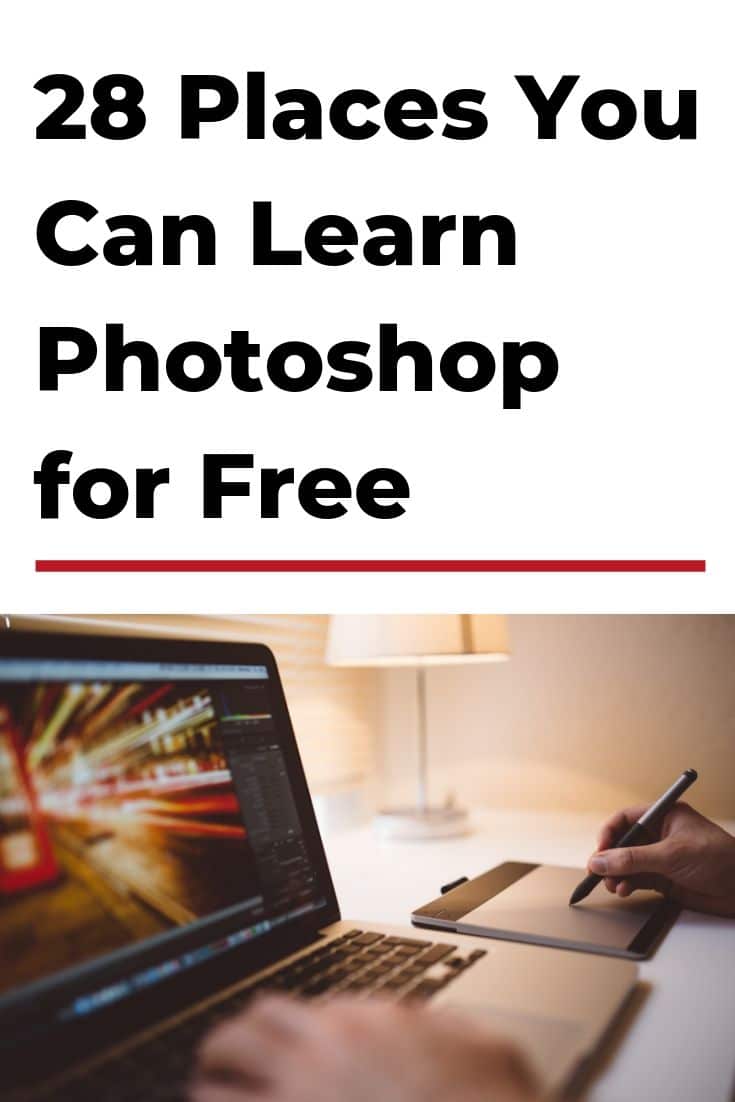 — When you're looking to learn how to use a new system, the creator tends to have some pretty good insights. Adobe offers a wide range of resources for people to learn from with ease.
They offer broken down tutorials and videos on YouTube to introduce you to the product. As far as the beginning goes, it can be helpful to see what Adobe prioritizes themselves. They won't teach you everything, but they can sure teach you a lot.
— If you're looking for a nice video tutorial, Alec Markarian is here to help you learn the basics of Photoshop. This can help you to build a solid foundation for your skill base. The tutorial is easy to follow and perfect for jumping into the Photoshop world.
— These quick guides can help you learn some tips and tricks for your Photoshop experience. You can enjoy learning about key features and new updates. This is a great way to stay modern with your learning.
— While much of Photoshop Café's content costs money, they offer up a collection of tips for free. These videos can teach you quick techniques that will help maximize your skills. They may be less comprehensive, but are still very helpful for gaining skills.
—The YouTube channel PHlearn has made a quick and easy video to teach you a Photoshop trick. This easy tutorial teaches you how to remove anything from an image in no time. You can learn from the professionals and enhance your images in no time by removing problem areas.
— In addition to a successful YouTube channel, Phlearn has their site. This is a great source for free tutorials to help you learn Photoshop. They highlight many popular effects and teach you how to do them.
— This enthusiastic YouTube video is perfect for a crash course in Photoshop. If you're looking to learn Photoshop basics quickly, this video will get you started. You can enjoy a collection of cool tricks that you can perfect in no time at all.
— This website offers a collection of tutorials on various topics. You can enjoy easy to follow guides that breakdown complex skills. This is a great free resource and the options are extensive for new skills.
— In the land of learning, also known as Youtube, an entire channel exists for this purpose. You can follow along with these videos and easily gain new Photoshop skills. The options vary widely in focus. This channel is a great way to learn Photoshop.
— This site is an easy to use collection of guides that can help you learn quickly. These tutorials come in a wide range of topics and change over time. It is an excellent place to stop by to pick up some new skills and is easy to follow.
— A website like this is perfect for you to learn Photoshop. You can enjoy a variety of free tutorials with easy steps whether it's drawing simple flowers, how to draw a dog, and more. These perfect guides can help you to learn valuable Photoshop skills quickly. They even offer content for a variety of skill levels.
— This site is home to a collection of online courses that can teach you everything and anything. While some do cost money, they offer free Photoshop course that cover various topics. You can enjoy working up through a full course to learn valuable skills.
— This unique website offers plenty of helpful tutorials to help you build your skills up. They focus on cool effects that can be added in Photoshop and also cover the basics. Since this is what the site is dedicated to, you know you're getting focused content.
— This YouTube video offers a collective insight into Photoshop basics. You can learn how to navigate the system and do a few key tricks. The videos offer a complete screen share so you can watch the pros to learn. Try working alongside these videos to help solidify your understanding of the product.
— A great breakdown for various Photoshop skills hides in these pages. You can enjoy all kinds of tutorials to learn valuable tricks. As a bonus, subscribing gets you more access to additional content. This is great for learning exciting photo edits quickly. They will teach you everything that you need to know to make awesome edits.
— This website offers a collection of great Photoshop resources. You can scroll through their guides for essentials and more. These quick breakdowns help you to get the most out of Photoshop without any additional costs.
— For those new to Photoshop, GCF offers a collection of great resources. You can learn all of the essentials to making great photos in no time at all. It walks you through the processes in a simple way so you can add to your skills quickly. Their website is easy to navigate and ready for users of any level.
— This amazing site is designed to help you make better photos. If you want to learn Photoshop, this is a great place to start. You can enjoy great beginner content and some advanced essentials. This is a great source of knowledge if you're looking to learn something new or challenge yourself.
— This great design website is here to help make the world a more beautiful place. You can enjoy full breakdowns of valuable Photoshop skills sure to make your images pop. This is a great toolbox for those looking to pursue photography in a more professional capacity. It comes with a collection of great courses ready to help you learn.
— You can sign up with this site and gain access to a collection of valuable guides that will get you up to speed. These guides are available for download and speak to all levels of Photoshop users. Each collection offers different focuses, making them great for a comprehensive crash course into Photoshop.
— This awesome collection of tutorials is designed to get you the skills that you need quickly. They offer a large collection of tutorials that can help you get the most out of Photoshop. Considering the price of Photoshop, it pays to learn how to use it for free. As a bonus, this location breaks them down by specific skills.
— At Guru99 they promise that you can be Photoshop proficient in only seven days. This unique collection of crash course tutorials is perfect for beginners. You can enjoy an easy to use approach to the essentials you'll need to get started. In just one week, you'll be ready to manage your Instagram in style.
— This website offers various collections of completely free Photoshop tutorials. They offer sets based on skillset and focus, and break things down easily so you can get to work. If you're looking for a greater focus on the system itself, this is a great place to start. To learn Photoshop, understanding the system is crucial.
— This website might be one that you have never heard of, but it is not lacking in Photoshop information. You can experience complete guides on some pretty complex topics o this website. It's perfect for getting people started or advancing on existing skills. Scroll through these pages to find all kinds of cool new skills for you to practice!
— Shutterstock is home to a wide collection of images that people love to use for various purposes. In a twist, they have jumped into the Photoshop tutorial world. They offer a collection of courses to help you learn Photoshop in no time. Since they know images so well, it makes it easy to understand why this might interest them. More experienced Photoshop legends means better supply for their photos.
— This unique website is home to a charming collection of videos that can help you bring your Photoshop skills to the next level. These are helpful videos made to offer insights into fixing common photo problems. On this site, you will find plenty of tutorials that will help you bring your photos into the future. With this collection of modern tips and tricks, you can learn in style.
— On this website, you can expect to find a collection of useful Photoshop secrets. From ways to use certain tools to popular techniques, this tutorial set has you covered. You can easily see the before and after images of these beautiful effects. This makes it easy for you to find a way to bend these skills to your needs.
— This tutorial website is perfect for bringing you a wide range of free Photoshop tutorials. Whether you want to learn Photoshop basics or build on your knowledge, they have you covered. This site even offers a wide collection of advanced tutorials to help you learn new tricks. As you continue to grow in your skills as a Photoshop pro, you'll need a challenge. You can enjoy trying some of the more complicated options on this site to advance.
Conclusion
Learning how to use Photoshop is a valuable skill in the modern age. It provides you with a chance to bend your images to your whim. This can be beneficial for photographers, digital artists, and everyone else.
In the age of viral images, learning how to make your photos pop is essential. You can use these skills to build up your Instagram profile or even just perfect a headshot. Photoshop is an expansive system, so the possibilities are endless.
Many people can become overwhelmed by all that Photoshop has to offer. As you begin progressing, remember that it will get easier with time. Use tutorial content that matches your skill level to avoid being overwhelmed.
You can enjoy the ease and comfort of learning from the professionals. Whether you're new to Photoshop or just want more skills, there are plenty of options available to you. You just have to explore and keep learning.
Which Photoshop resource would you use?
Learn Photoshop FAQ
How long will it take to learn Photoshop?
Learning Photoshop will be an ongoing process, especially as the software continues to upgrade. However, you can learn the core capabilities within a week with 3-5 focused hours of daily learning.
Which is the best site to learn Photoshop?
There is no one best site to learn Photoshop. Most likely you'll learn Photoshop from different sources. The best place to start is any site listed within this article.
Is it hard to learn Photoshop?
Photoshop is not hard to learn. It only takes takes time.