Whether you are thinking of going with any kind of acrylic-based painting, there are some acrylic painting supplies that you will require in every situation.
It is a set of supplies that help you beautify the paintings and help you create them from scratch. The different kinds of paintings have different kinds of needs, but the most basic needs can be covered by the following supplies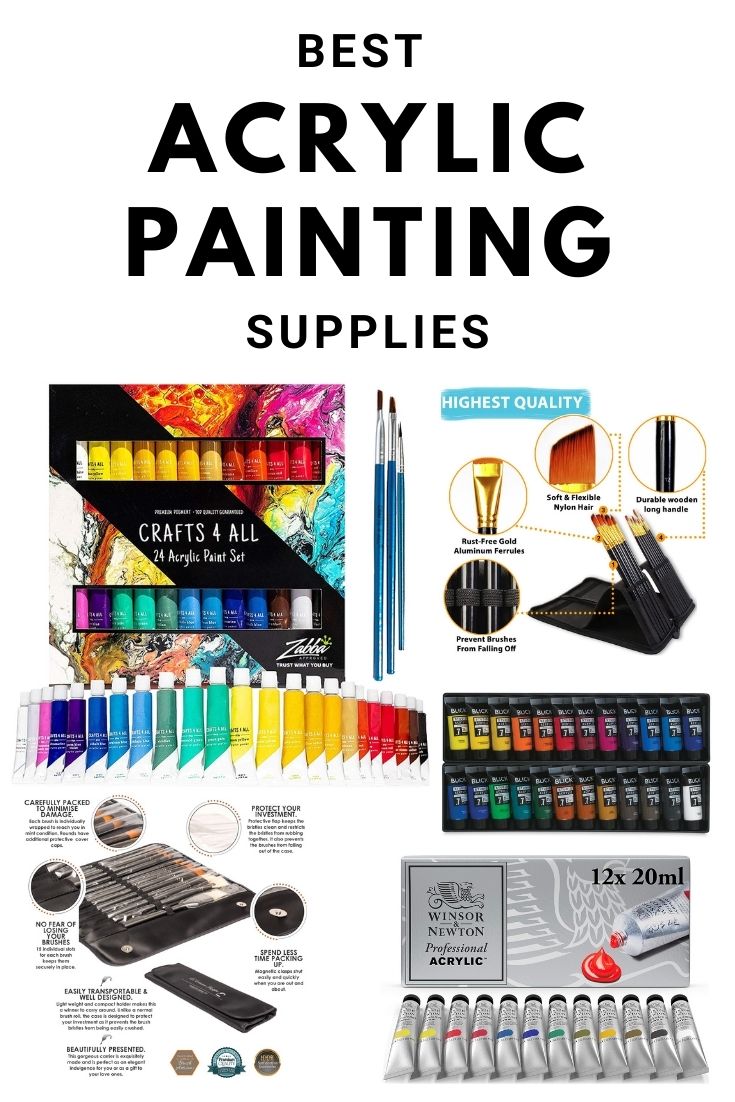 Acrylic paints
When you are working with acrylic paint, the first thing you require is, of course, the acrylic paints. There are different kinds of acrylic paints that you can find in the market. They all have different qualities and different price ranges. It is up to you what kind of acrylic paints you want to include in your acrylic painting supplies.
They can be the best ones in the market that can cost a fortune or the ones which give a good result but are still light on the pocket.
Paintbrushes
Paintbrushes are essential even if you are thinking about acrylic pour painting. They help you not just draw but also concentrate the paint on a specific point. They are one of the most important acrylic painting supplies and need to be selected carefully.
I have suggested the best paintbrushes for acrylic paintings in this article to help you choose the best one for yourself. While I have taken the liberty of choosing some for you, you will be the one who will decide whether they work well for you as well or not.
Surface
To make a painting, you need a surface on which you will be creating the painting. This surface can be a normal canvas or a word, a paper, or anything that you like.
Picking out the best surface is going to drastically change the way your paintings turn out. Not using a bright enough canvas or the paper can make your color intensity suffer, or using a rough wood can ruin your brushes.
Make sure you study the surfaces before you choose one for you.
Paper towels
When you are working with paints, you are naturally going to make a lot of mess unknowingly. There is going to be a lot of paint all over your hands, your face, and on the ground at times as well.
Keeping a paper towel with you while painting will help you clean all the mess up as soon as you make it. Tissue papers are not able to absorb too much paint and will end up making your hand even dirtier; that is why they are not very much preferred in the cleanup of the paints.
Best Acrylic Paint Supplies for Beginners
If you are a beginner, there are probably things very unclear to you. Every time you go to the market, you find yourself wondering what the best thing is I can buy to use in my paintings.
With so many varieties, you get confused and often start questioning whether or not this is the right purchase. There are some simple rules for every beginner to follow while shopping for acrylic painting supplies that you need to follow.
These rules will guide you on how to make every purchase for your acrylic painting supplies
Look for something cheap.
Choose the bright colored surface.
Start with the basics.
These brushes are stiff and economic for every beginner. They can be used with any kind of oil painting, especially acrylic painting to provide you the best experience.
Every beginner wants a brush they can rely on and these brushes are something you can actually rely on. They are well known in the market for their durability even after heavy use making them ideal for every beginner.
The best paint choice for every beginner. While beginners are trying to try something new all the time, they don't need to spend a fortune on buying paints for every purpose that they want.
Buying this one paint set will fit all their needs so they can use it for as long as they want and as much as they want. The paints are perfect and cost-effective so anyone can afford them. You can now use them on any kind of surface or fabric and can expect the best results from them.
Painting and coloring are two different things and before you can move on painting with acrylic paintings, you need to learn to color with these paints. This coloring book is everything you need to figure out how to blend the colors, use the brushes on the paper, and get a hold of everything.
You can move onto something more sophisticated like a canvas later but as a beginner, this color book will be your best friend.
Best Acrylic Paint Brushes
Paintbrushes are important for you in every acrylic painting that you will ever make. They are a mode of applying color on the surface, mixing the colors, and blending them in to create the painting. Until you don't have proper acrylic paint brushes, your paintings will not be of the quality you want them to.
You can try replacing the paintbrushes with anything that you want, but everything will still remind you that nothing can replace them. Whether you are thinking of trying finger painting or trying out something new with the buds, nothing can create the paintings which can be created using the paintbrushes.
Here is a list of the best paint brushes that you can get your hands on to improve your acrylic painting. It is not important to buy one of them; you can also pick one of your own choices and make it your favorite.
These are the perfect paint brushes for any beginner. With 15 different brushes in different sizes and styles, you can create anything that you want. You can get started with these brushes and explore more expensive choices later instead of wasting all your money on the brushes you do not need.
There are brushes available more refined than these, but they are the best pick for every beginner as they are cost-friendly and help you figure out for yourself what better you would rather have in your paintbrushes.
Their brushes are not cheap but are excellent for every professional. Every acrylic painter knows that they need a variety of brushes when working on a painting and something they can rely on.
These brushes are durable and can be washed off easily. They cannot be easily damaged like the other brushes and will last you a long time. It caters to the professionals instead of the beginners, but there is no labeling on who is professional, and if you feel like you are ready to make a big investment in just the brushes for your acrylic painting, then these are the must-have brushes.
Best Acrylic Paint
Choosing acrylic paint is hard work. There are different definitions of best when it comes to choosing acrylic paints. Some are talking about the paints, which are simply good in use but can cause cracks on the surface once it has been used.
Others might have an idea of the best acrylic paints, which cost the least, while others can think of them as the paints, which can cost a lot but give off the best results once they have dried up.
The different variety of acrylic paint might be confusing but before you make a purchase, think of the most important thing you are trying to get out of it. It can be the quality of the paint, the price of the product, or both.
There are also products available in the market which cost you a minimum amount and give off not the best, but a good quality once it has dried up. Try to check out the permanence of the paints, the viscosity, and the hue before you buy them. If you are making a purchase for a big project, then you can buy samples from every brand and figure out the best one after using them on the surfaces.
For every beginner, this is the best product as it is cost-friendly and still has great quality. You can spread out these paints on your canvas to create beautiful arts while still not paying a lot for it.
While using these paints, make sure that you are only leaving behind the brush marks that you want to remain. The paint can dry up a little quicker than the others, and it can leave behind some uncomfortable brush marks.
They are some of the oldest companies that provide acrylic painting supplies. They have been working for years and have launched a line for both the professionals and the students.
Their lines of beautiful colors are not so expensive and can be used in the practice or the professional paintings in the art museums as well. It is up to you how you use these paints and what you make out of them. Their paints have a buttery texture, which gives off the feeling of oil paint.
Best Acrylic Paint Sets
Buying every color one by one can be a headache. Especially if you are an artist who has experience in painting or who is switching from one kind of painting to another, you might have trouble at first.
It is a good idea to try out the different paints before, but once you know what kind of quality you are looking for or which brand works the best for you so you can pursue with them instead of trying something new.
Here are a few best acrylic paint sets that you can buy to make the best out of your paintings. The different colors will bring life to your paintings and will make it pop.
Liquitex is very well known all over the world for the good quality paints that it develops. It developed the first oil-based paint in 1956 and has been gaining popularity amongst artists ever since. It consists of a classic selection of colors, the must-have ones.
There are 12 tubes full of vibrant, clear, and superior paints in the box. You can buy it at once to get rid of the trips to the art shop every other day when you run out of your acrylic paints.
When buying the sets of paints, everyone is looking for variety. This set consists of 24 different colors, so you can use as many as you want on your canvas. They are ideal for all the students and the experts in every kind of painting.
They have a smooth texture and can blend easily with other colors. If you are thinking of using acrylic paints for acrylic pour painting, then this acrylic painting set is ideal for you. It is suitable for different surfaces like paper, canvas, rock, fabric, wood, paper, etc.
This set includes a superior range of colors. It offers you a variety of colors you have been looking for with 60 tubes of different colors. You don't have to contrast or mix the colors on the canvas anymore to create the shade you want, but you can have it all premade now.
Just squeeze the paint and enjoy it.
Product Specifications
| | | |
| --- | --- | --- |
| Acrylic Paint Supplies | Product Dimension | Product Weight |
| Hog Bristle – 10″ Long Handle | varies | varies |
| Acrylic Paint Set 24 Colors by Crafts 4 ALL | 8.66" x 8.62" x 1.81 " | 15.5 oz. |
| Komina Acrylic Paint Brush Set of 15 | 15" x 5.7" x 1.2" | 1.2 lbs. |
| D'Artisan Paint Brush Set of 15 | 13.3" x 3.9" x 1.5" | 12 oz. |
| Winsor & Newton Artists' Acrylic Color 12-Tube Set | 4.92" x 1.18" x 10.83" | 13.4 oz. |
| Blick Studio Acrylic Paints and Sets | tube | varies |
| Liquitex Professional Heavy Body Acrylic Paint | 1.06" x 7.95" x 8.19" | 1.1 pounds |
| Colore Acrylic Paint Set – 24 Colors | 10" x 7.72" x 0.79" | 1 pound |
Conclusion
It is not as easy as it sounds to go acrylic painting supplies shopping. There are different things that can affect your list and can render different materials useless for you and your paintings.
This article is a guide on things you need for acrylic painting and the best material that you can use as a beginner or as a professional.
Other Featured Topics to Help You with Acrylic Painting