Art Deco is another name for Deco that suggests a unique and aesthetic design to represent visual art and architecture. Art Deco was introduced in France for the first time after the period of World War I. Today, you see various ornaments and furniture items whose design is influenced by Art Deco. From everyday vacuum cleaners to huge buildings, Art Deco is involved in the design spectrum everywhere.
The original term that was used in Paris in the year 1925 to talk regarding the Art Deco is Arts Décoratifs. Art Deco is the eye-catching intermix of contemporary styles with excellent craft work done. Usually, Art Deco is done on qualitative material.
Currently, Art Deco entails luxury and glamour fused together. You will see Art Deco as a part of each aspect of society that is associated with technological and social progress.
You cannot get to learn about Art Deco without first being informed about the whereabouts it came from. It is brought into use to present the geometric figures of Vienna and Cubism. Not just that, but it is also used in a combination of luscious Ballets Russes and Fauvism.
The furniture built in the Louis era and the crafty landmarks in various regions of India, China, Egypt, etc. speak the magnificent tales of Art Deco.
It is used to craft the precious workmanship design of ivory material. Moreover, the savage skyscrapers in various metropolis cities are made with the usage of the Art Deco style.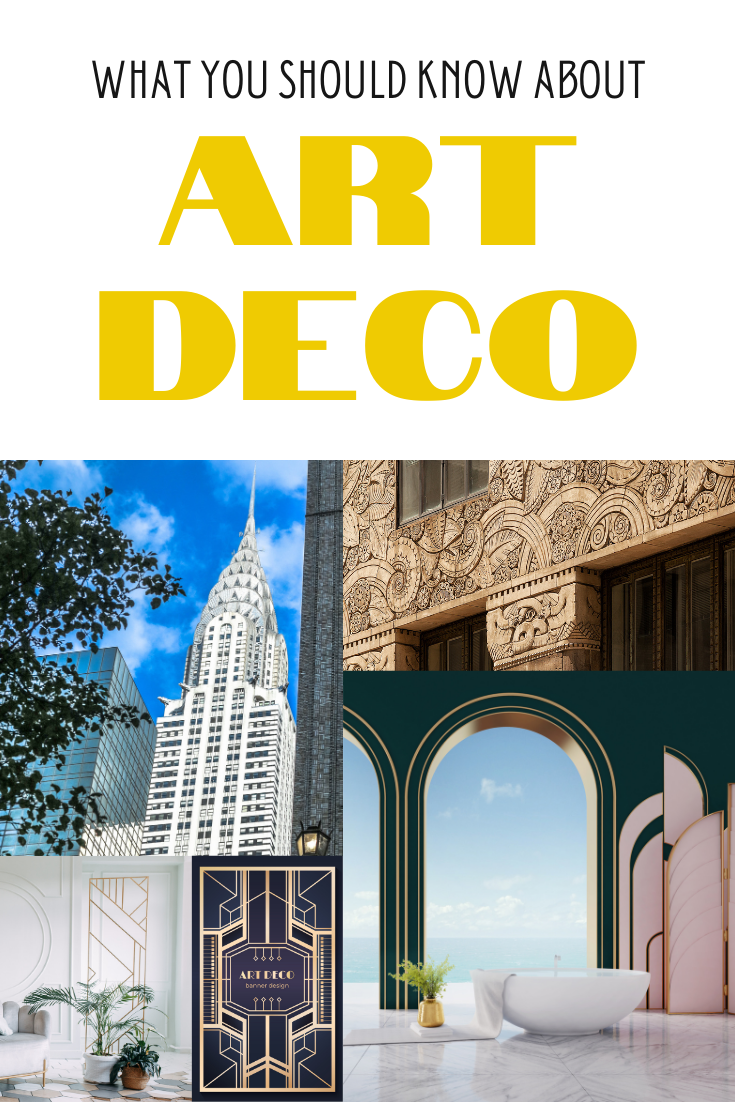 What is Modern Art Deco?
As the name suggests, Modern Art Deco is the reformed and reinstalled form of Art Deco as per the modern-day. Art Deco was well known in the 1920s and 1930s. Today, you see the old vintage essence of it brought into meaning with respect to the current age.
The contemporary day interior is designed with Art Deco, where it entails the perfect combination of the art today fused with that of the vintage art form. If you are looking out to effectively create your interior and make it look both glamorous and vintage, Art Deco is the answer.
Artists seek their aesthetic pleasure in it – You can never deny the significance of art and artists in your daily life. When you get worn out from everyday life, it is only the art where you can take a sigh of relief.
No art is complete without an artist at it's back. In the case of Art Deco, artists and architects come up with appealing ideas that help them conjure the beatific art pieces.
A perfect view for the spectators – A luxuriated and aesthetically pleasing view is offered to the viewers with the help of Art Deco.
Monuments, buildings, and every site that you see on the road attack straight to your heart if it looks appealing to the eyes.
Art Deco makes sure that you no more miss any opportunity of finding an art form anything less than pleasurable.
A more modern and pleasing world – Art Deco makes sure that a more aesthetic and artistic environment is being for the world dwellers. Since the time it first came up until today, Art Deco is cherished among all art lovers.
What are the characteristics of Art Deco Architecture?
Art Deco is characterized by its rectangularly built geometric structures having a sleek, modern, and linear design form. These designed pieces are arranged together with the help of bent ornaments.
Few parts of your home interior where you will definitely see Art Deco made into use are listen below:
Art Deco can be used in the furnishing of the smooth wall area at your home. Even if it's just a wall built smoothly, you can expect Art Deco brought into use in its manufacture.
Art Deco shapes up the linear modules having a sharp edge. Artificial objects having small sizes or buildings towering up the whole city, Art Deco is found everywhere.
Art Deco is everywhere, but it is used substantially in the zigzag-shaped geometric figures considered a necessary element of styling your home.
Low relief decorative panels
Art Deco is significantly used in the making of decorative panels that provide flamboyance to your ambiance.
The Low Relief decorative panels that you hang in your porches and lounges have brought Art Deco into use.
Low relief art is basically a subdued form of design that lacks the outlines and undercuts rising from the base of the panel. These designs look aesthetic and provide a luxurious glamor to your overall home space.
Presentable chandeliers
Chandeliers are a necessary art piece found in every lavish home. These ornaments are manufactured with the use of Art Deco in it. These pieces are constructed with the help of glasswork fused with the technical work.
Where can you find Art Deco Buildings?
The world is full of landmarks and accessories made with Art Deco. At very rare places now, you will see a design getting built without the essence of Art Deco in it. The designed figures manufactured without the use of Art Deco would be bland and will lack the real artistic taste from it.
One thing that is important for you to keep in mind is that only the luxurious, qualitative, and word-class equipment can make use of Art Deco. No ordinary ornament can afford to bring it into use.
Similarly, world-famous buildings are manufactured with the usage of Art Deco Designs.
National Basilica of the Sacred Heart in Brussels

It is very well known by all that only the well known and supreme artifacts afford Art Deco to be done on them. One of them includes the National Basilica of the Sacred Heart in Brussels. This landmark is inspirational for the spectators and is situated in the very heart of Belgium.
This place is considered holy and sacred for both Catholics and Parish alike. It is given in respect to the Sacred Heart.
Delano Hotel in Miami
This enchanting place is situated in Miami. With respect to its design form, it is very eye-catching. Manufactured with the use of Art Deco, Delano gives off a romantic aura.
Basically, it is a cocktail bar often visited by the elite class. The people who visit there can't resist praising the beauty of it as it is situated alongside a swimming pool. The usage of Art Deco in its formation is very tacky and appealing.
Rockefeller Center in New York

Rockefeller Center is another landmark formed with the thoughtful use of Art Deco. It is a magnanimous complex structure, including 19 buildings altogether, which cover an area of 22 acres in New York.
The buildings included in the Rockefeller center are mostly used for commercial purposes. Art Deco has made the building look more aesthetic; hence the site ends up being both a commercial resource and art form.
Eastern Columbia Building In Los Angeles

This building, located at 849 S in Los Angeles, was designed by Claud Beelman. Another name for this world-famous building is "Eastern Columbia Lofts."
This thirteen-story building is built with the use of Art Deco, which is given it a rather unique and crafty style. This landmark building was manufactured in 1930. The beauty and impact of the building are alive to this day. Spectators praise the architecture of the Eastern Columbia Building In Los Angeles for its nice cuts and Art Deco designs.
These are not the only buildings subjected to the perfect utilization of Art Deco, but Art Deco buildings are dispersed all around Europe and Asia.
Hindu and Buddhist temples, though lesser praised, have made the perfect use of Art Deco. These pieces of art and artifacts stand to this day in their original form without getting dull or worn out. To this day, their art is praised worldwide.
What are the Design Elements of Art Deco Style?
The Design Elements of Art Deco are very simple yet very breathtaking. This set of elements are found in every form and figure manufactured with the use of Art Deco style.
Here I would like to bring your attention to a few designs without which there is no question of design elements existing.
Trapezoids Figures
Trapezoids are artistic yet flamboyant shaped structures that you will notice in Art Deco-styled figures. From jewelry, furniture to skyscrapers, Trapezoid is a significant element.
Triangular Patches

Another significant element that every Art Deco form has is the triangular-shaped pattern. Triangular designs look very cool and elegant. All thanks to the masters of Art Deco that you have such an exquisite element in our everyday go-to figures.
Zigzag Shapes
Every Art Deco design would have zigzag-shaped elements in its building, which looks rather classical and sets Art Deco-styled figures apart from any of the rest.
How is Art Deco influencing the modern-day?
Art and architecture rule the modern-day. No building can get attention if it lacks artistic pleasure. It is a common belief that these are the technological times; hence the usage of Art Deco has shifted from tall and towering buildings to tech devices.
Even if it's just the portraits that you want hanging on your doors or the ornaments you place in your lounge, Art Deco is utilized everywhere.
Who are the main Artists of the Art Deco Movement?
Art needs an artist on its back to come into existence. Art Deco work has been brought into use by great artists and designers.
In the current day, many artists are busy creating jewelry, monuments, and artifacts of Art Deco. These designers got their inspiration from the leaders of Art Deco. The basic Art Deco movement was led by phenomenal artists including Tamara De Lempicka, Adolphe Mouron, and Rene Lalique.
Let's get an account of the major artists of the Art Deco Movement.
Tamara De Lempicka
Tamara is a painter based in France and the US. Her work life revolves around working on various portraits in France. She is famous for making portraits of the wealthiest big wigs with the usage of Art Deco in it. Majorly, she used to style polished paintings that had a hype among the aristocrats of her age.
Adolphe Mouron
Here comes another artist famous for his work with Art Deco. He is famously known as Cassandre, who was a painter based in France. Moreover, Adolphe Mouron designs posters for commercial utilization. He is also widely known for his aesthetic typeface designs.
Rene Lalique
Rene Lalique is unique for using Art Deco on the glass ornaments for the first time in history. This artist is based in France and is widely appreciated for the work done on jewels and glass.
Other than that, the various articles on which Rene Lalique has performed her master class work include vases, chandeliers and perfume bottles, etc.
Conclusion
Art Deco has never failed at mesmerizing art lovers. It entails a luxurious and enchanting aura wherever it has been brought into use. This art style was initiated back in the year 1925, and until now, its charm didn't go worn out.
Art Deco style is used in detailing world-class buildings and landmarks. From daily use jewelry to the ornaments you place in your home for the sake of decoration, Art Deco rules everywhere.
I hope this article brought you a demonstrated insight into the Art Deco designs and its use in the contemporary day. This article contains the significant characteristics of Art Deco that will help you in identifying the use of Art Deco. Moreover, now you know what are the major elements of the decor form.
The current day life cannot be imagined with the accurate usage of Art Deco. You see high-class buildings towering up the whole city and resonating an aesthetic pleasure to spectators. This only became possible due to the Art Deco usage. All thanks go to the artists who know the use of Art Deco and implement it in our everyday assets.
Other Featured Topics That May Help You