Adobe Photoshop had a good run in arts and digital arts, but now, GIMP is an alternative penetrating through the market. You can even get some amazing GIMP brushes to use with the program.
GIMP is a free tool for everyone and can be downloaded on your computers. As soon as you download it, you can start adding extensions to it according to your need, making it just as good or even better than Adobe Photoshop.
It is originally for the images but with the ad-on available on the platform now; you can use them as a complete arts tool. All of the brushes available in the GIMP have different functionalities. They are more dedicated to their functions instead of adding every function into one and making it complicated to use.
The basic GIMP brushes which come with the package might not be everything you need. They are very basic and can perform a small range of actions. But the best thing about GIMP is, you cannot just use the brushes with the GIMP extension, but all the Adobe Photoshop brushes can be used with it as well.
This means that all the brushes made for GIMP can be used by you and also, you have complete access to the Photoshop library. Here are the top GIMP brushes that you can use for your arts and do not have to pay a single penny for them.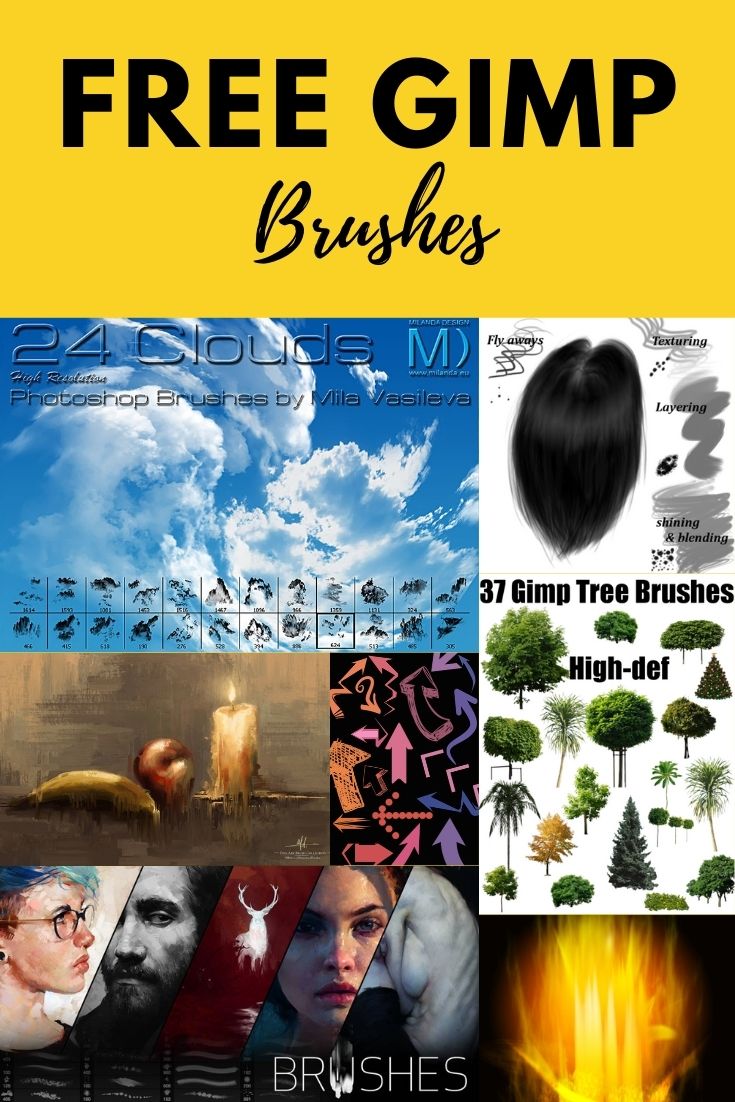 Everyone that loves a little greasy touch in their paintings is a fan of these brushes. These brushes have been designed specifically for Adobe Photoshop, but they work perfectly with the GIMP as well.
If you paint a lot and frequently, then these brushes will add to the feeling of real brushes and real-life painting. You have different options to change the brushes and make a complete look out of them. If you are a natural paint lover, then these are the brushes for you.
They let you control the thickness of your strokes, let you switch between the dry and the wet brushes, and you can also choose to have dirty and rough or clean brushes for every painting.
They are completely free and come in a set of 13. In addition to that, they serve multiple purposes and are popular amongst all the artworks.
Mixing colors can be hard on digital platforms. While you can stroke brushes with color one on another in real life, it is quite hard or even impossible on platforms like Adobe Photoshop.
These brushes are used to fit those needs so you can get a real-life look. This brush was made using a dry brush and watercolors, so the final results feel more realistic. You can use them a lot and get a lot of brushwork from this single pack.
These brushes might not be ideal for every work, but you can use other kinds of brushes with them to get the perfect results.
This brush pack is a mix of various brushes. These are not just one kind but various brushes, the oil paintbrush, dry brush, artistic brush, and other kinds of brushes in just one pack.
They are basically coupled up from Adobe Photoshop, but you can download them for free and use them with gimp. These are a must-have for professional artists as they are everything you have been looking for. You can create multiple artworks with it and include all the details you want to without having to look for any more brushes.
These are some of the easiest and general brushes that you can use that are yet quite helpful. You can resize the brushes, apply colors to them, and apply them to any picture that you are working on.
They are the most useful when you are trying to work on some kind of a tutorial or any other kind of informative piece of artwork.
When you are working with different informative pieces, you need to download or import some professional brushes from reliable sources to use. These brushes eradicate that and are completely free to be used by everyone. You can change the direction of the arrow as you like.
If you are working on a comic series or just looking to create an image of a person, an animal, bird, or anything else with hair, then you need to get this pack. It is not possible to draw hair-like you draw the rest of the things.
Using the normal paintbrushes for this purpose does not make any sense and looks bad. With the hair pack, you can create different kinds of hair. You can make them layered, give them a swing, add the shine to them, or just create a proper structure of the hair.
Everything that you want to do with the hair in your arts, you can do it using this brush pack. You get hundreds of presets once you download this pack, and you can customize them the way you want instead of having to create everything from scratch.
You can increase the sizes of the brushes to make the curls look bigger or to make the texture be more visible. This set makes it more convenient for you to draw characters using the GIMP software.
You can find 37 different kinds of brushes in this pack. These brushes cover you with the needs of trees in different sizes, shapes, and colors. Whether you want to include a full bloom spring tree in your painting or looking for the yellowed leaves in the autumn, they can be created easily by using the tree brushes.
The custom trees in the pack are something every designer wants. You can use them just the way they are, or you can customize them according to your needs. Every one of the trees in this pack is about 1000 pixels each, so you can use them even in big projects without worrying.
Every graphic designer is aware it can be a pain trying to perfect the patterns. It can be the polka dots, the stripes, or the normal zigzag design that you want; it can take you hours to just get one small part done.
The micropattern brushes take away your worries regarding all this and are basically just micro patterns in a brush. As you use it on your artwork, they will leave behind the pattern that you have selected in the color you have selected.
You can make the stripes or the polka dots or any other kind of design smaller or larger according to your needs. There is a total of 31 patterns included in this, and you can use any that you want. They can give you a perfect background or can become the dress design for your main character in the comic.
They save you a lot of time and effort when you use them accurately.
If you are a fan of nature and like to include the sky with some or a lot of clouds in the painting, then this is the tool for you. You can add in some realistic clouds in your digital paintings and can take them to the next level.
This set includes 24 different kinds of clouds, which you can choose from. These clouds include a small misty cloud in the sky to a frightening and scary blizzard. All kinds of themes can be given by adding some clouds in the sky and providing the missing information about the weather and the background.
You can add color to the clouds as well and decorate the sky as you want. The natural white color works perfectly as well, but if you are going for something more abstract, then making the clouds colorful can help you a great deal.
You can make the sky look a little greyish or make the clouds a little yellowish or orangish at the sunsets. You can add as many clouds in the sky as you want and mix and match all of the different shapes and kinds. They are completely free to be used and are just one download away from everyone.
Fire is a widely used element in different artworks. It does not just signify destruction but is a form of life as well. It represents different things, and artists all over the world use them widely.
These brushes have been made especially so you can create a fire easily. You can use just one brush, and it will work fine, or you can stack up to different fires one on another to create something new. It will highlight the fire more and help you come up with a new design instead of using mainstream designs.
There are originally 20 fire designs included in this set, but you can create more by using them one on another. These brushes are originally for Adobe Photoshop, but you can use them with GIMP as well.
These fires can be used when you are editing an existing photo to make things exciting. You can enlarge the fire at the bonfire by using the fire brushes and create a whole new look. You can also just add the fire close to the people and create a design that gives the feeling of burning.
Apart from that, the fire brushes can be used in your digital art as well. The night at the beach with a few kinds of wood crackling and on fire is a look a lot of people would admire.
Creating sketches is a fun activity but also one of the activities that you don't get to pursue when working with digital arts. With so many different brushes trying to depict the real brushes and paints, real pencil art is the most at a decline.
People mostly focus on the colors, and while there are tools or brushes that act like a real pencil, they don't give you the complete experience that you can get while drawing manually in a traditional way.
This set consists of three different real pencils that have different sizes and weights. Like on the real paper physically, you can sketch things out, highlight some of the areas, and just lightly stroke the others; you can do the same with the real pencil brushes.
You can change the force that you want to apply and completely change the kind of sketch that you are drawing. The more options that you will have in your real pencil brushes, the easier it will be for you to work with them.
It is now time to completely outdate the traditional hand sketches and move to a more digital way.
You might have seen the contact lenses option in every other editing app, but when you use the contact lenses brushes with GIMP, you get a result like no other. They create a real-life eye view, so you don't have to keep adjusting everything.
You can just change the eye color of a model or add in more color to your eyes before you upload your pictures to Instagram. There are 9 different color options that you can choose from these brushes.
Instead of just placing contact lenses on your eyes, this brush blends in the color of your eyes, the shape, the texture, and everything with the contact lenses to create a more realistic look. You can combine the color of your eyes with it or just the texture and the shape, all as you like.
The different apps change the color of your eyes, but they just place a lens on your original ones. They can easily be seen as they are completely blank without reflecting everything like a normal eye would. These are some of the ideal gimp brushes as they create the look of the natural eye easily.
Conclusion
You can use any of the brushes mentioned above to add more designs to your artwork. You can create them generally for fun as an activity or can start making money with it.
The different kinds of brushes open-up different opportunities to you so you can make use of them. GIMP brushes are revolutionizing the editing of images and new artworks.
Other Brushes to Help You With Your Digital Art