If there is one group of individuals that can find amazing content online, it is artists. There are plenty of amazing websites for artists to use that can provide all kinds of fun content.
The modern world provides an amazing collection of helpful tools.
The best websites for artists can help you to learn, grow, and get inspired.
Using the resources available to you is a great way to improve in all that you do.
The internet is packed full of exciting digital art websites that are perfect for helping you to grow every step of the way.
You can grow your artistic skills or use these as exposure websites to grow your brand.
The internet is known to house endless collections of exciting content.
Whether you're looking to watch another artist's process or just look at art, you will find it online.
There are so many exciting resources designed for artists specifically.
Every single day talented artists are sharing their knowledge and work with the world.
You will find that the right website can act as a gateway to the art world, as a digital studio.
Don't miss out on your chance to connect with peers and even share your work.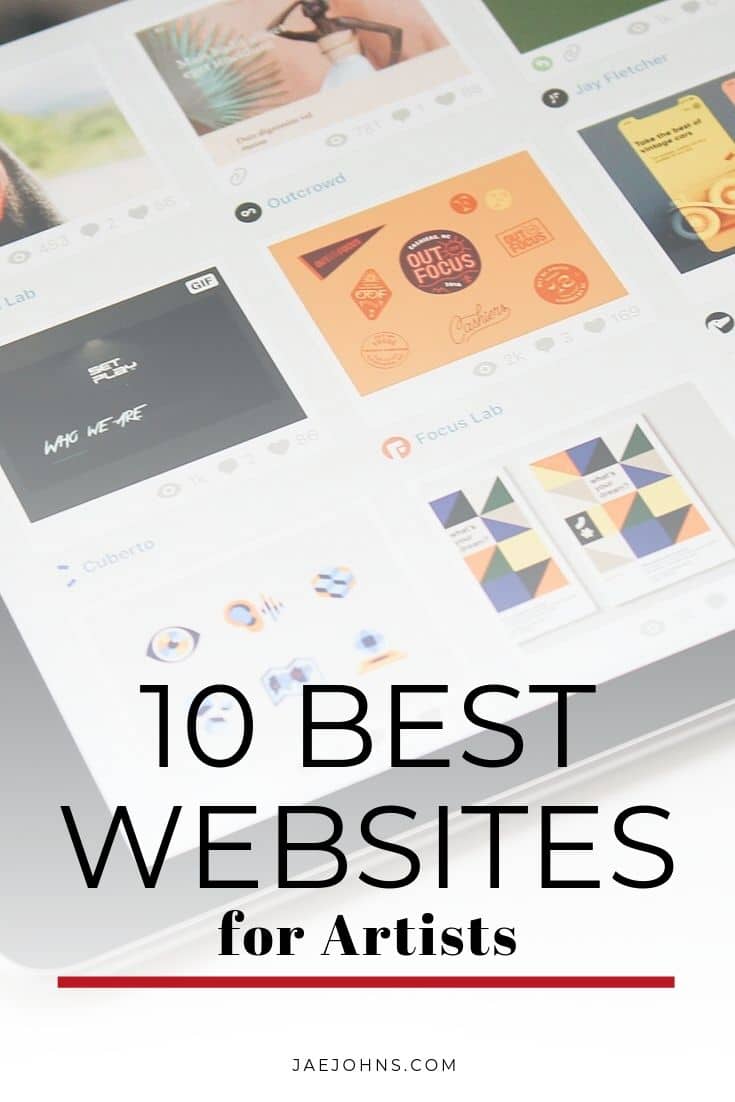 —If there is one community that loves art, it is Tumblr.
This blog site has been around for years and it is unlike anything you have ever seen.
The amount of content on Tumblr is honestly unmatched, and that is one reason it is one of the best digital art websites.
Everywhere you look you can find just about any kind of content that you might be looking for.
Plenty of talented artists post actively on this site.
More importantly, curators do an amazing job of bringing all of the content together in fun ways.
The best part about Tumblr is truly that you can not only find everything but those who appreciate it.
The Tumblr community does an amazing job of engaging in very specific ways.
The basis of Tumblr is a combination of humor and awe, making it a great place to share your work.
This supportive community will help you to show off your stuff with ease.
Tumblr has an audience for every kind of content, even your sketches on napkins.
Your fellow Tumblr friends will be there excited to cheer you on as you post.
You can also find amazing collections of tutorials on the site to learn from.
—The internet provides us with a new social media platform every few years that takes off.
In fact, many artists use various social media as exposure websites to help get their art noticed.
Instagram, a platform owned by Facebook, has owned the internet for some time now.
People love using this site. However, there is more than just the average user experience here.
Instagram houses an entire art community that is positively thriving.
Everywhere, people are looking for ways to share their amazing content on this site.
You can easily find endless pages of high-quality art and tutorials.
Many popular artists hang their hats here.
As far as websites for artists go, Instagram is the most popular spot online.
It brings a collection of amazing content, but more importantly, it brings the community.
Instagram is a great place to connect and collaborate with many popular artists.
In a sense, it mirrors YouTube with the stars constantly hanging out and working together.
This is a great way to connect with the people who also love what you love.
You can post your work online and talk with other artists as well as fans.
Artists who actively nurture their communities find tremendous success here.
—You might be thinking that YouTube isn't specifically for artists and you would be right.
This popular video site houses content on every kind of topic online.
You will love the way that you can effortlessly find videos on literally anything.
This is what makes YouTube so great for artists.
This website undoubtedly has the most tutorial content online.
It provides you with easy access to a variety of helpful tools and tricks.
In many ways, popular artists use YouTube to extend their presence, so it is full of good stuff.
If you are looking to learn about something online, YouTube is a great place to start.
This platform does an amazing job of providing quality educational content.
You can easily find endless videos of people perfecting their craft online.
It can be inspiring and educational to watch artists make their creations in time-lapse videos.
Many people find this to be a good way to glean inspiration and get to work.
You can also find amazing tutorials on how to use popular digital drawing platforms.
This is a great way to educate yourself on all kinds of ways to improve your craft.
—This is one platform that is different than the others, but important for any artist.
If you are looking to sell your art, this is a website that you want to know about.
Displate does an amazing job of helping you to get your art out to the world.
This amazing website lets you create a profile and add your artwork for sale.
There are a lot of selling points for Displate as a site, making it great for both artists and buyers.
The site is known for producing high-quality products.
An exciting benefit to using Displate is the fact that it comes with a variety of features to make selling art easy.
Displate is known for providing high-quality art and has a good reputation for doing so.
They easily print your work onto exciting metal backdrops that people can order.
The way that they print their designs is perfect for showing off the detail and quality of your work.
They print in vivid color displays and even help save the planet with every purchase.
If you're looking to sell art, start here.
—When you talk to artists, this is one of the most popular digital art websites that gets brought up time and time again.
As soon as you land on the main page, you will see why this is such a great site.
As far as websites for artists go, it is one of the best ones around.
This is a sort of all-encompassing site that can bring a lot to any style of an artist.
Whether you want to draw or you're a fan of typography, this has you covered.
There are all kinds of different artists just waiting to inspire you.
The real benefit of Dribbble as an artist is that it gives you an amazing platform to share your work.
Dribbble provides a great community that lets you interact with other artists.
You get to make a personalized page that allows you to share your work and talk with people.
Their websites make the perfect portfolio for artists who are looking to sell commissions or just need a landing page.
—Sometimes you want something a little bit more than your traditional social media experience.
Finding websites for artists who like fine art can seem hard, but we have you covered.
This website has all of the grace of a fine art museum and a beautiful tone to match.
You will love the way that this interface unfolds. It is not only easy to use but exciting to see all of the content that it provides.
This website makes it possible for you to share your work with followers and more.
Artsy is special because it provides a lot of information and news about the art world.
It is an amazing way to learn about modern art in a way that is engaging and precise.
You can enjoy exploring the content and galleries to fine arts of all kinds.
It's a great way to boost your knowledge base.
—When you're looking for a top of the line art news, this website has you covered.
Artspace is an online magazine that provides all kinds of amazing content.
Pretty much every artist around will be able to benefit from what this website has to offer.
It provides engaging content that will educate and inspire.
They also have a collection of artists posting works in galleries.
If you're an aspiring artist, it can be a great move to try to work with the site.
Getting your art out there to a wider audience is an amazing next step for your art career.
—This is one website that is perfect for reaching a great audience.
Pinterest is top-notch as a website for artists because it is so popular.
It makes it easy for you to share your work with a wide audience of people.
You can enjoy finding the right audience for your work with ease.
Since this site is primarily built around sharing, you'll find that your following naturally grows.
It is also a great way to find ways to get near content similar to yours.
Pinterest does an amazing job of making it easy for people to share your content to any site.
Many artists use this site as a way to link people to their portfolios.
If you use the tagging systems correctly, you can do an amazing job of reaching out to your audience.
It is also an amazing source of information and educational tools.
—When you are looking for a classic artist website, Deviant Art takes the cake.
This is one website that has been around for literal years.
It is one of the older and more classic places to post your work online.
Deviant Art is great because it houses a variety of different kinds of artists.
Whatever your niche is, you can find it here. People write, read, draw, and make brushes for digital art systems.
There is always something new to see and the community is dedicated to bringing a great sense of welcoming.
You will love posting your work here and seeing what people have to say.
—If there is one thing that Reddit is good for, it is pretty much everything.
Reddit houses endless communities focusing on everything and anything.
For this reason, it is a great place for artists to spend time.
You can easily find people who share your interests and are excited to discuss art.
You can quickly post your work to popular threads and see how people interact with it.
Reddit is known for its community involvement, so someone will always be open to talking with you.
Reddit does an amazing job of helping people to interact.
You can find Reddit threads to learn about how to do certain things.
You can find threads with other artists discussing common problems and solutions.
Also, you can share your work and see how the community feels about it or what advice they might have.
This is one place that you will love spending time as an artist.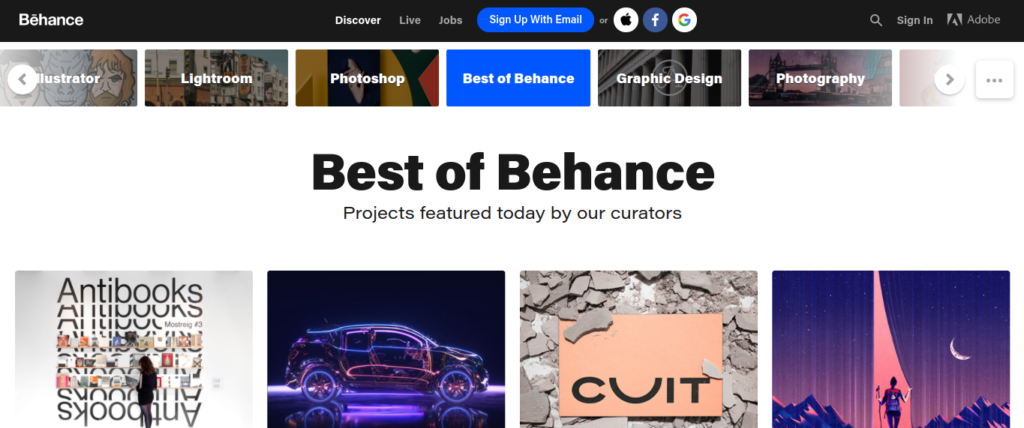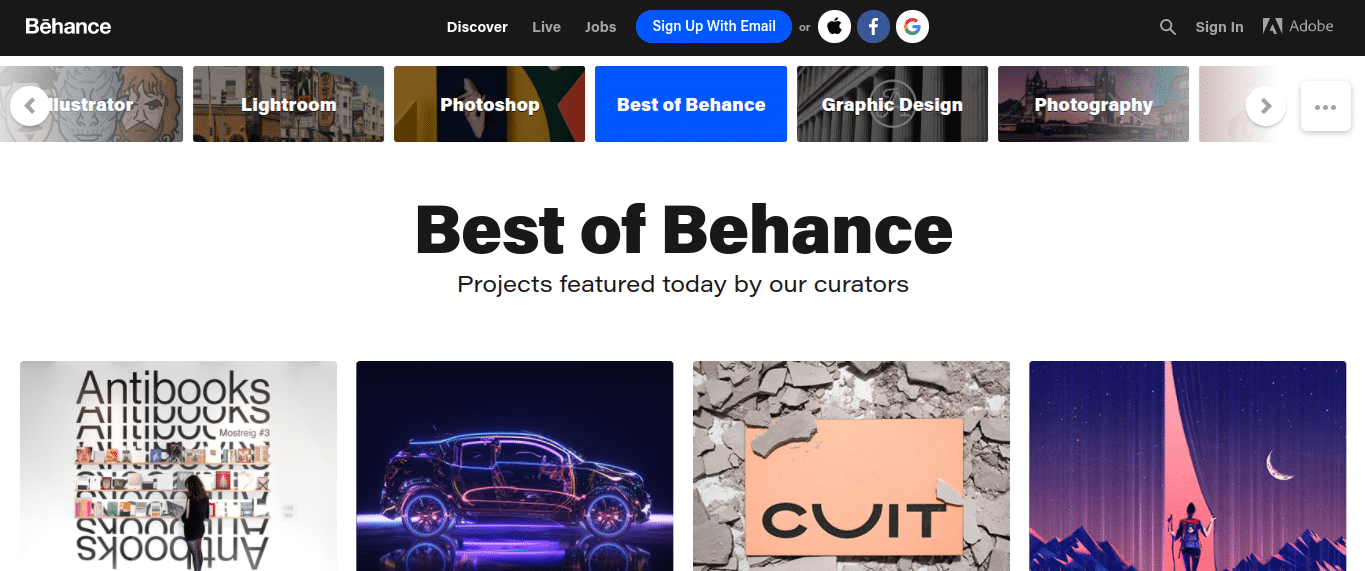 Behance is the go-to platform for artists and creative professionals who want to present their work in a polished and professional manner.
As part of the Adobe Creative Cloud family, Behance is seamlessly integrated with Adobe tools and resources, allowing for a smooth and cohesive experience.
With curated galleries and featured projects, talented artists have the opportunity to gain exposure and connect with industry professionals.
To make the most of Behance, focus on creating well-organized and visually appealing project presentations.
Engage with other users by leaving appreciations and commenting on their work.
Remember to optimize your profile with relevant keywords and descriptions to help potential clients and collaborators find you more easily.
ArtStation is the ultimate destination for artists working in digital art, game design, and visual effects.
This platform not only allows you to showcase your work alongside top industry talent but also provides access to job opportunities, art challenges, and the ArtStation Marketplace for selling digital assets.
Staying informed about industry news and trends is a breeze with ArtStation's integrated news feed.
To succeed on ArtStation, maintain a polished portfolio with high-quality images and detailed project descriptions.
Engage with the community by commenting on others' work and following artists you admire.
Keep your finger on the pulse of industry news and trends, and don't hesitate to explore the job board for relevant opportunities.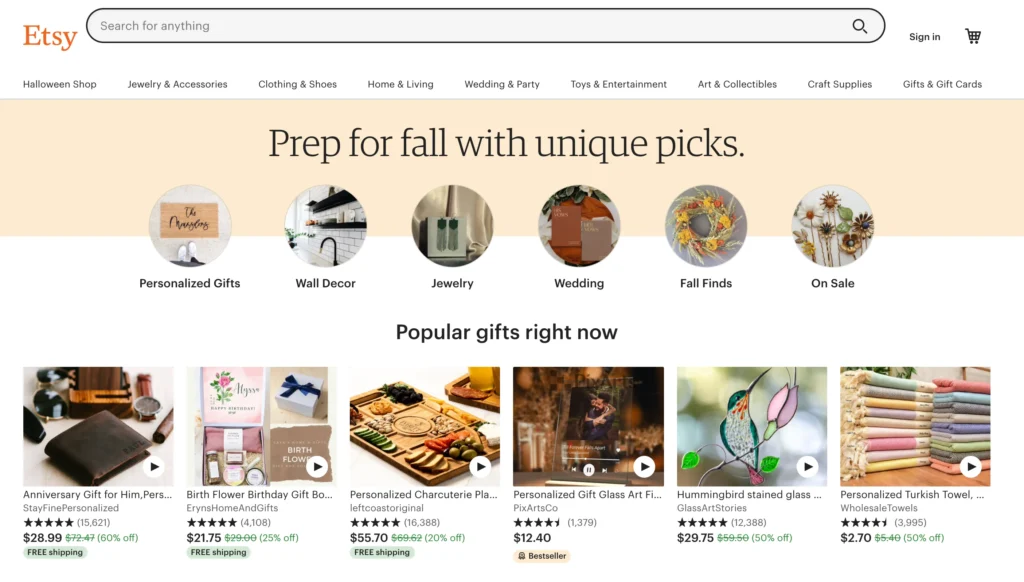 Etsy is the ideal platform for artists looking to sell their handmade and vintage items directly to consumers.
With a vast and engaged audience, you can reach potential buyers from all around the world.
Etsy provides various seller tools and analytics, as well as advertising options through Etsy Ads, to help you optimize and promote your online store.
To excel on Etsy, make sure your product listings have clear titles, descriptions, and keywords. High-quality images are essential for showcasing your products and attracting buyers.
Providing excellent customer service and communication will set you apart from the competition, and monitoring your store's performance will help you make data-driven decisions.
Facebook offers artists the opportunity to create a professional presence on a popular social platform.
With features like Facebook Pages, Groups, Marketplace, and Ads, artists can showcase their work, engage with a diverse audience, and even sell products or services.
Facebook Groups are particularly useful for connecting with fellow artists and potential clients.
To make the most of Facebook, optimize your Page with relevant information and a consistent aesthetic.
Share engaging content regularly and interact with your followers to build a strong community.
Participate in Facebook Groups related to your niche, and consider using Facebook Ads to target specific audiences and achieve your objectives.
LinkedIn is a powerful platform for artists looking to build their professional network and access job opportunities.
By showcasing your work and skills in a business-oriented environment, you can connect with professionals in your field and potential clients.
LinkedIn Groups and ProFinder can help you engage in industry-specific discussions and find freelance gigs.
To succeed on LinkedIn, create a comprehensive and polished profile that highlights your expertise and accomplishments.
Share updates, articles, and work samples to engage your network, and participate in relevant LinkedIn Groups and discussions.
Don't forget to use LinkedIn ProFinder to seek out freelance opportunities that align with your skillset.
Twitter is a fast-paced, real-time conversation platform that allows artists to share updates, connect with fellow creatives, and engage with potential clients.
Using hashtags and Twitter Lists can help you increase the discoverability of your work and stay organized.
Twitter Ads can also be an effective tool for promoting your work and services to a wider audience.
To make the most of Twitter, craft concise and engaging tweets with relevant hashtags.
Interact with your followers and participate in conversations to build relationships and showcase your personality.
Utilize Twitter Lists to curate content and organize accounts that inspire you or align with your professional goals.
Experiment with Twitter Ads to reach specific audiences and achieve your marketing objectives.
Conclusion
Being an artist used to mean having to find your tribe and a way to share your work.
In the digital age, it has never been easier to share or connect with people in an online capacity.
You will love finding people to discuss art with. It is a great way to remain inspired and encourage you to pursue your dreams.
Finding the right digital space to spend time can be a fulfilling experience, and you never know what you will learn.
If you are looking to take the next step and share your work, the internet is here for you.
It has never been easier to just upload work and see what people think.
While this might seem scary, you love what you do, and you should share it.
You will find a welcoming community and plenty of people who are learning and growing like you.
Don't miss out on your chance to connect with other artists.
There are plenty of websites for artists. Find one that works for you and get posting.
What website are you currently using to share your artwork?
Other Featured Topics That Will Help You with Your Art
Best Websites for Artists FAQ
Where can I post art instead of Instagram?
If you're looking for alternatives to Instagram, some of the best places to post art include DeviantArt, Behance, and ArtStation. These art sharing websites cater specifically to artists and provide a dedicated platform for showcasing their work.
Where can I get my art noticed?
To get your art noticed, consider posting on websites for artists such as Behance, ArtStation, and DeviantArt. These best sites for artists offer networking opportunities, exposure to potential clients, and a chance to receive feedback from fellow creatives.
What is the website where you post art?
DeviantArt is a popular website for artists to post their work, offering a large community of creatives and enthusiasts. It allows artists to share, connect, and grow within a dedicated platform specifically designed for art sharing.