Do you want to find out the real differences between MailChimp vs Flodesk? Similar to having a business license or the tools to sell your work online, having the right email marketing tool for a business is very important, no matter the business is small or large.
There are several email marketing platforms available in the market that sometimes it becomes difficult to choose the best one. In today's guide, I will be reviewing MailChimp vs Flodesk so you can get to know how you can choose the right program for your email newsletter. So, do not wait any more, and let's get started!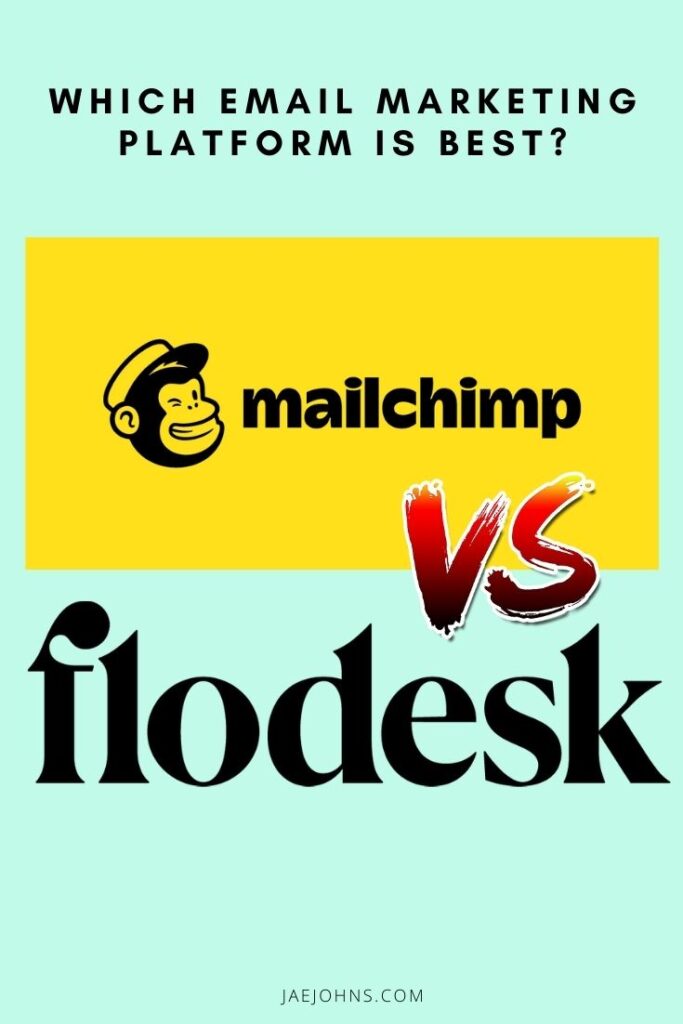 MailChimp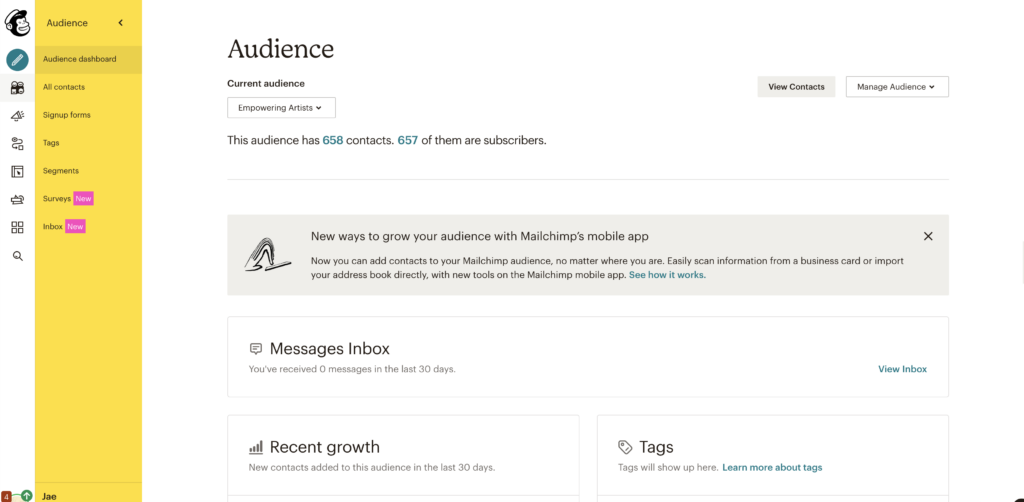 MailChimp is one of the most powerful email marketing platforms that comes up with several tools and guidance that may help small businesses to create or manage their emails. It is a single platform on which you can not only create data of your target audience but can also bring insights and marketing channels together by sending the right messages to the right audience on the right marketing channels.
This platform was launched back in the year 2001. Since then, it has been adding features. From a variety of email templates, forms and automation sequences to the integration of e-commerce platforms, landing pages, and postcards, you can find it here. There are clean and minimal templates. Plus, MailChimp is quite easy to use as well even for the beginners!
Both the free and paid versions of MailChimp are available. There are fewer features in the free version, but the paid plan of MailChimp offers powerful features for email marketing of your small business.
The following are a few features of MailChimp: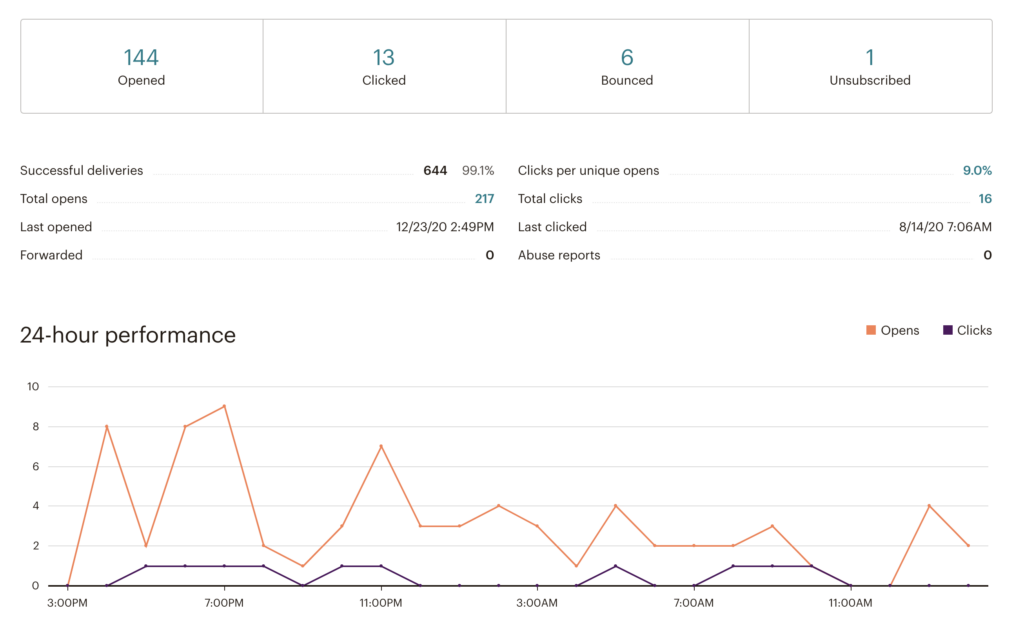 Audience dashboard
Domains
Templates
Landing pages
Segmentation
Digital ads
Marketing CRM
Transactional emails
Content studio
Reports and analytics
Behavioural targeting
Postcard
Automation
And much more!
Another plus point? This email marketing platform may help you design websites on the platform. Yeah, it is right! Now you can design your website on MailChimp and do your business online by purchasing a domain through the platform. Once a custom domain is purchased, a website will be created with some simple tools that may help you launch it. Pretty cool! Isn't it?
To make sure that you are not making over-payment for your MailChimp subscription, you must delete the low-quality contacts from your account several times a year. In short, MailChimp is a really strong email marketing platform as it offers a lot of features at a single platform!
Pros of Using MailChimp
MailChimp is quite easy to learn and use
The first and foremost benefit of MailChimp is that it is quite easy to use and learn even for beginners. Its user interface is simple and well-designed, and all the templates are clean and minimal. What I love about this platform is that it offers short but comprehensive guides that may aid you to get started with each and every feature of MailChimp.
MailChimp may allow you to create surveys on the platform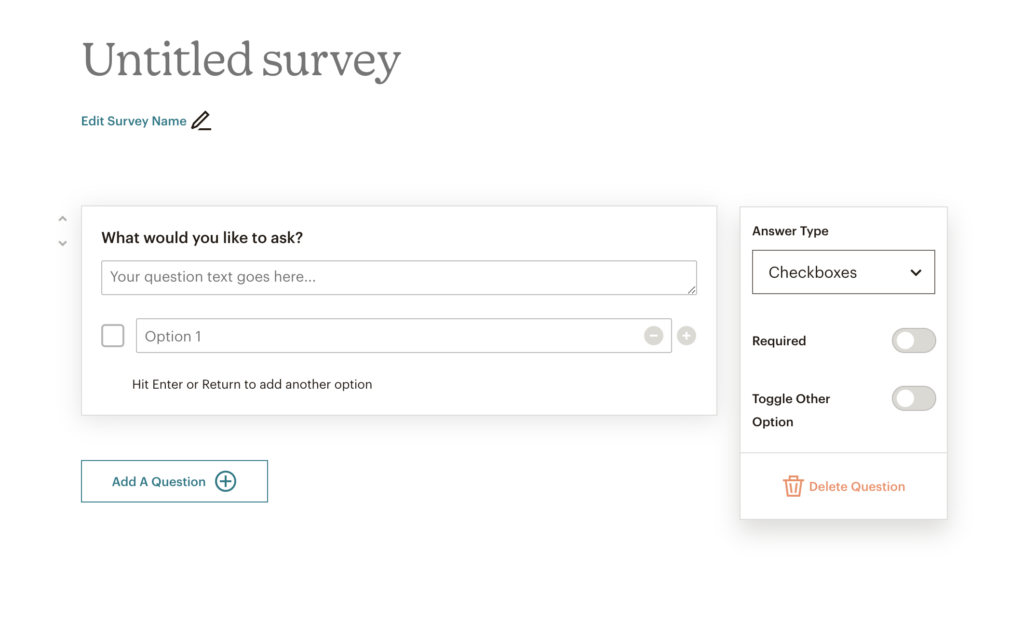 Every business, no matter it is small or large, requires customer research. And the best way to get to know what customers think about your offerings is by creating a survey.
Although there are several survey-creating sites on the Internet, when you create a survey on them, you need to send the survey link through some other email marketing platform. In this way, you need to manage two accounts to create or send a survey.
Why not integrate everything into one platform? MailChimp allows its users to create or manage surveys in the platform itself, hence keeping everything in a single account!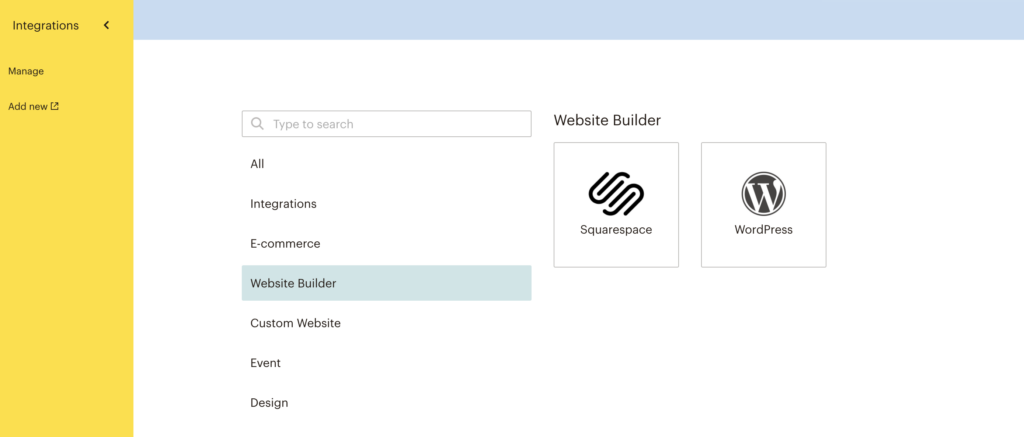 Another important benefit of MailChimp is that it can be integrated with the Squarespace's newsletter. In this way, with just a few clicks, you can easily collect email addresses.
Moreover, you can also connect MailChimp with the Squarespace commerce platform by which you can automate email lists on the basis of the purchase behaviour of your online store's clients.
MailChimp provides automations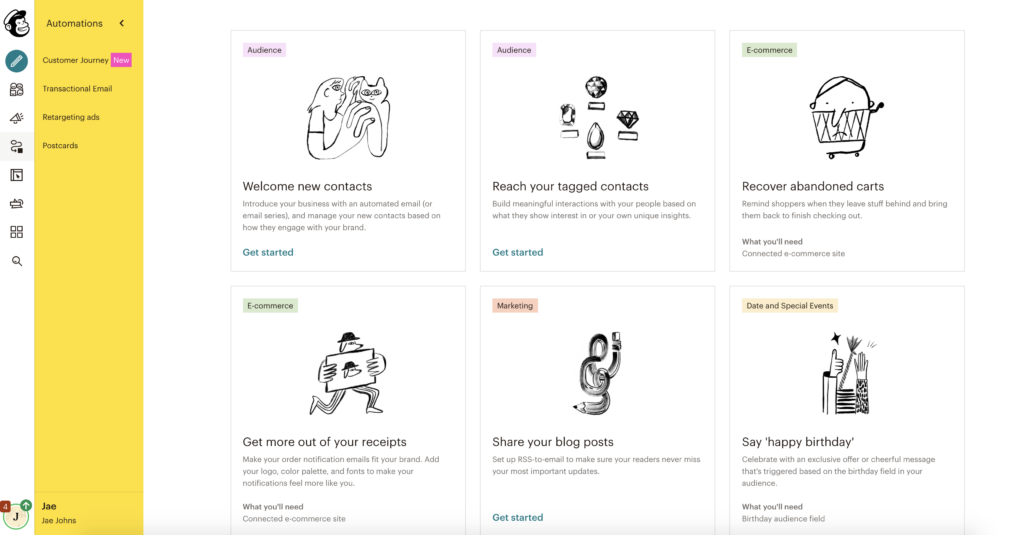 Automation is one of the powerful characteristics of MailChimp by which you can create automated messages that will be sent automatically to a certain list of the audience.
Cons of Using MailChimp
Counting of duplicate emails
In MailChimp, a user can create several lists of audiences. If the same email account of a customer is included in multiple lists, then MailChimp will count them duplicate email addresses that may affect the pricing of the plan that you choose.
There is no automatic tagging system
Although MailChimp provides several tagging options, there is no AUTOMATIC tagging system based on a link that a user may click in an email. Trust me, this tagging feature is great, but MailChimp lacks in this feature!
MailChimp is a little bit expensive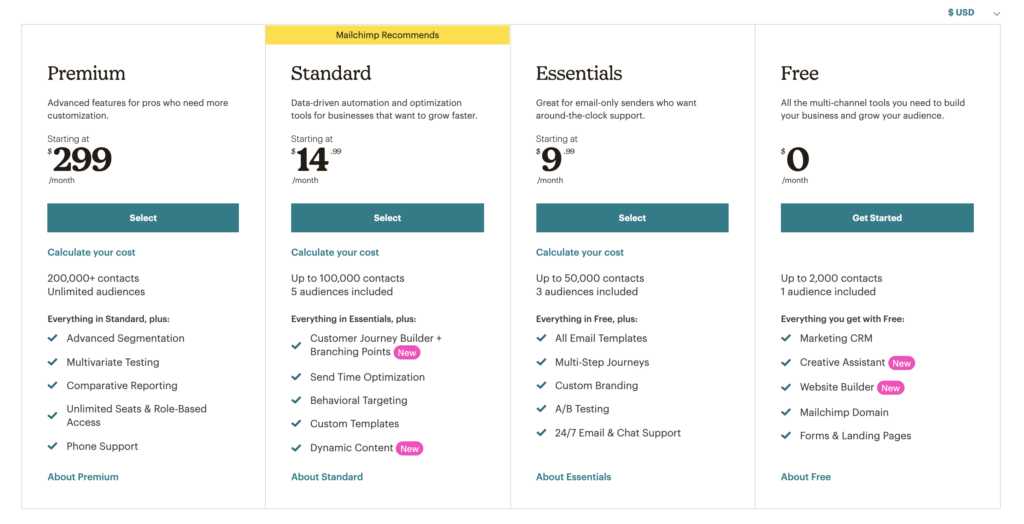 MailChimp is a little bit expensive option when it comes to email marketing platforms. Although it offers a free plan, there are limited features. The paid version of MailChimp is divided into Essentials, Standard, and Premium options that have different pricing plans. For example, the Essentials package starts at $9.99 per month, the Standard package starts at $14.99 per month, and Premium package starts at $299 per month.
Flodesk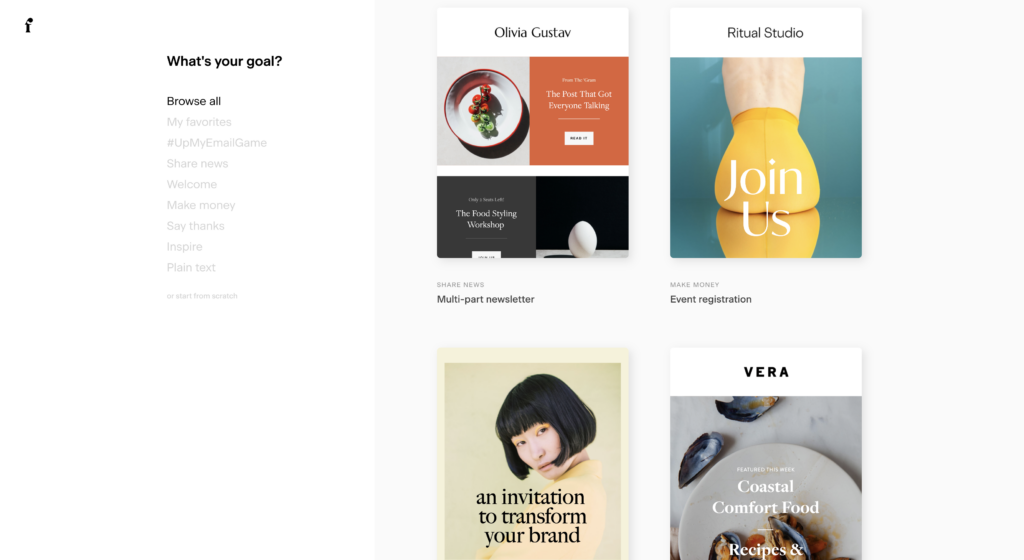 Launched back in the year 2019, Flodesk is another email marketing tool that comes with simple workflows, stunning email templates, and clean and minimal dashboard. From email builder and templates to forms, analytics, and automation, it has got you covered. The best thing it's free version is also available so you can start creating or designing emails at any time that people would really love to open.
You can not only create emails from scratch, but you can also start with the template as Flodesk offers a massive range of templates. Moreover, fully-responsive forms are also available by which you can create a list of subscribers, hence allowing you to grow your audience ultimately.
The following are a few features of Flodesk:
Email builder
Forms
Automation
Email templates
Workflows
Analytics
And much more!
So, if you want to create a visual and creative experience for your clients, you must use Flodesk as it allows you to create stunning newsletters – all in just a few steps.
Pros of Using Flodesk
Flodesk has a beautiful user interface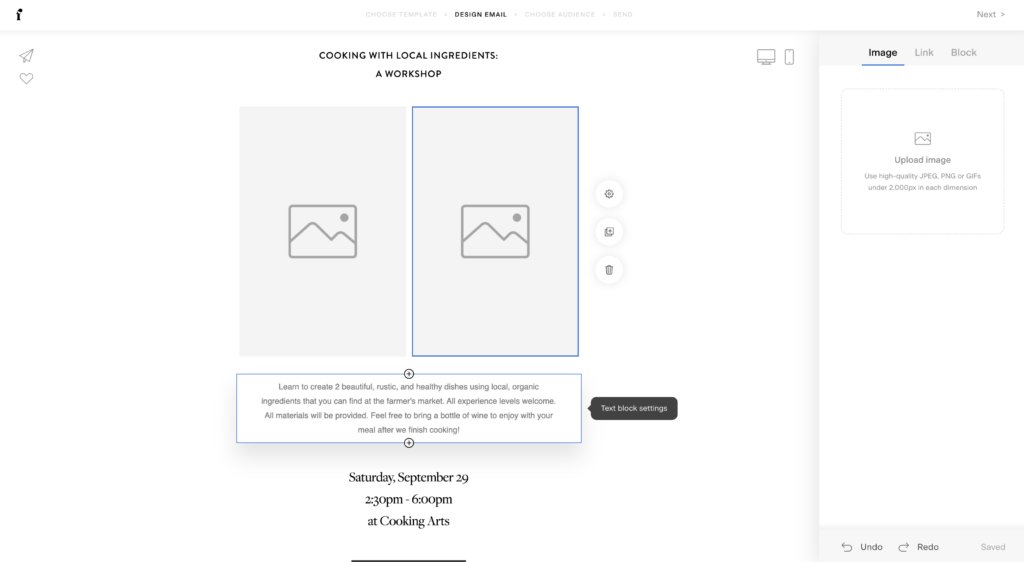 The biggest plus point of Flodesk is that it has a beautiful interface. The design is simple, elegant, and is beginner-friendly as well.
How much is Flodesk per month
Flodesk provides a flat pricing structure in which for just $38 per month, you can create a list of subscribers as long as you want. There is no standard or basic package; in a single package, you can avail several features offered by Flodesk and create everything unlimited for as long as your heart desires.
How to Get it for $19 per month
If $38 didn't sound like an incredible price then you can get it for 50% off by clicking the below discount link. What I love about this is that it always seemed like I was getting penalized by growing my subscribers on other email platforms, but Flodesk allows you to pay one low flat-rate price forever! Get 50% Off Flodesk!
Better email open rates and click-through rates
If I were to take my five most recent emails that had at least a week for people to engage with, my average open rate is near 30% and my average click-through rate is 3%. With Mailchimp, the average open rate of my recent 5 emails is 14% and average click-through rate is 1.9%.
With Flodesk, my open rate and click-through rate have doubled!
Flodesk does provide automations but they are called workflows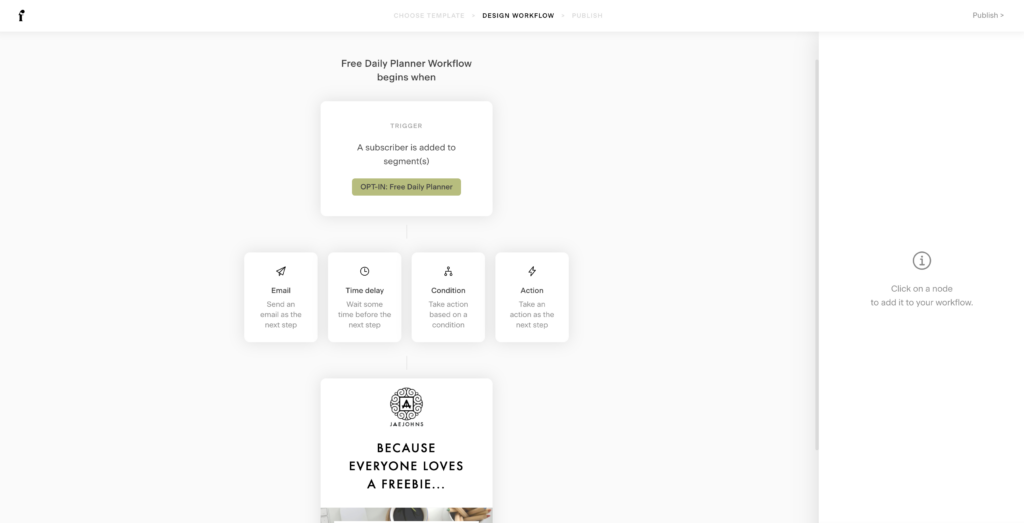 You can create automations, or workflows as Flodesk calls them, to help segment your lists. If a person opts into a form about "easy cooking tips", you can tag them with a "Cooking tips" segment.
Cons of Using Flodesk
Bugs or errors may appear in the platform
Unlike other top email marketing platforms, Flodesk is available in Beta version. Their support works quickly to fix any bugs that arise, but I have noticed a few bugs now and then.
There is no automatic tagging feature
You can assign tags to when people subscribe to email forms, but it would be nice to be able to tag people when then click on links within your email.
Doesn't provide extensive detailed reporting like other big email clients…yet
As of now, Flodesk doesn't provide an easy way to see when people subscribe to your opt-ins. You can download your entire list and then see that data, but it would be more convenient if this information was present in your dashboard. Flodesk does give the standard reporting details like open and click rates, subscribers who clicked on links, how many people receive the emails, deliverability, and a few others.
No integration with Squarespace
Moreover, you cannot integrate Flodesk with your Squarespace newsletter. There is a lack of e-commerce integration, as well. I believe this is being worked on in a future update. No dates have been confirmed yet.
No reporting analytics on emails generated by workflows
This is one thing I'm hoping will soon be updated. When emails generated from automations, or workflows, get delivered, you don't get to see how well they perform. You don't get any reporting details or metrics from workflow emails.
MailChimp vs Flodesk | Which is a Better Email Platform?
Now here comes the most important debate: MailChimp vs Flodesk. Which email marketing tool works well for your business? Well, the point is MailChimp is far more efficient and more robust than Flodesk in terms of features. On the other hand, the interface of Flodesk looks so pretty. I just love the way this platform looks. But if you compare it with MailChimp, it offers fewer features and integrations.
Not sure which email marketing platform you should select for your business for an email newsletter? Ask yourself the following questions as they may help you decide which platform is better:
Are you considering outsourcing your email marketing? Do you want to integrate your email marketing platform with other online tools of your business, for example, an e-commerce store? If yes, then MailChimp is the best option for you!
Do you want to do email marketing of your business yourself? Do you want to create your own workflows, handle email templates, set up your forms, and build analytics? At this point, you should go for Flodesk!
Now you must be thinking that you have a small business and whether you should use Flodesk to fulfil your small business email marketing needs or not. The answer is simple: It depends! If your email marketing needs are less, Flodesk is an ideal option for you but make sure to check out its limited features before making a switch to the platform.
Which email platform do I recommend: Mailchimp or Flodesk?
I'd recommend starting with Mailchimp first, if you don't have more than 1,000 subscribers or aren't making money through your business yet.
However, I would immediately change to Flodesk once you are close to 1,000 subscribers or you can afford to pay $19 per month for an email software.
You have the option to create stunning emails with ease and the biggest thing for me you start paying a premium price when you start having a large email list. I love the low flat-rate.
Click here to get Flodesk for $19 per month
So, what are you waiting for now? Now that I have reviewed MailChimp vs Flodesk, you can choose the best email marketing platform keeping in view your business needs. Enjoy!