Do you want to know who the greatest visual artists of all time are? Saying yes? No worries. Read this guide till the end!
Vision and talent play a great role in making an artist great but what about a truly great artist of all time?
Is it hard work, innovation, or perseverance that helps an artist earn such a title?
A truly great artist of all time is known for his/her work not only in a specific time period.
He creates a lasting legacy that becomes timeless.
If you ask art historians to know about the best artists, a lot of names will come up as there are different standards of measuring the greatest sculptor or painter of all time.
All the artists, since the time of the Renaissance, have exceptional abilities in creating masterpieces.
They all have made some important contributions that have changed Western culture.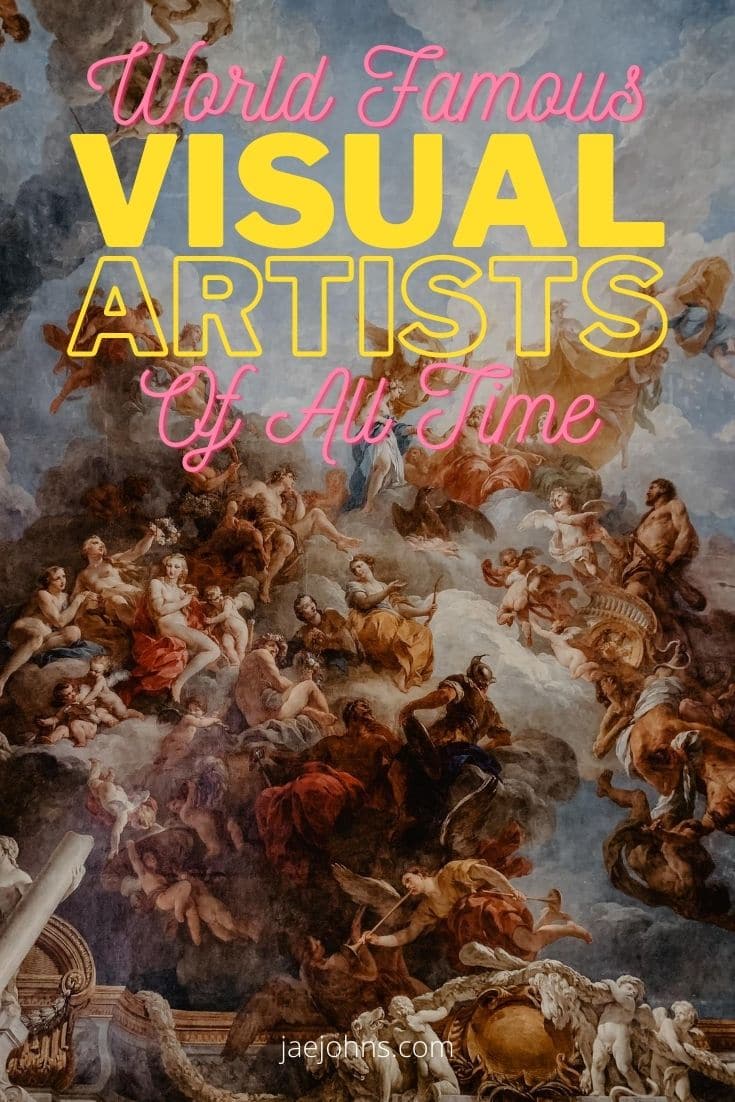 What Does Visual Artist Mean?
A visual artist is a person who creates amazing art pieces.
Drawing, painting, sculptures, filmmaking, design architecture, video, photography, and printmaking these all art forms are linked with visual artists.
They use different tools to generate visual arts based on their creative ideas.
They present their views on social and political issues through their artwork and other artworks depict daily life moments or explore textures, colors, and sizes.
In fact, there are various factors that determine the best visual artists of all time.
It may be the artist's work itself or the time period for which an artists' popularity has been prolonged.
All these factors have a big role in giving an artist the fame that can survive the ages!
Unfortunately in the field of art, there are many men and women artists but men artists are recognized more than female artists, ignoring the fact that female artists should be recognized for their great contributions in the art world.
Most of the works of female artists are not only superior but achieved success in their era in spite of the societal hurdles.
Here, in this guide, we will show you the top 20 greatest and popular visual artists of all time according to museums or on the basis of public opinion.
All these artists have made an indelible impact on art as well as culture.
We will mention not only the male artists but the female artists as well in order of reputation and popularity.
We will also discuss in detail who they are, what their famous works are, and what they did throughout their art career.
So, are you ready to explore the world's famous artists?
Without further ado, let's read on the guide until the end.
Who are the Top 20 World Famous Visual Artists
Known as the founder of college and cubism, Pablo Picasso is one of the top world-famous artists of all time.
He is an artist whose artwork is still fascinated by the people of this age.
He was known for his radical innovative paintings in the 20th century.
In fact, his name became synonymous with the visual arts of the 20th century.
He was not only a painter but a sculptor, ceramist, engraver, and a printmaker as well.
He created almost 50,000 art masterpieces throughout his art career.
These include sculptures, drawings, and paintings.
With his art pieces, he set the rate for other artists of the 20th century.
Pablo Picasso got much support from his father in building his painting career.
His father was also a painter so this gave him a chance to study in the finest art school in Spain.
The finest artworks of Picasso include My Pretty Girl, La Vie, Family of Saltimbanques, etc.
In short, he is the most influential visual artist in art history.
Read Also:
Leonardo da Vinci is known as the original Renaissance man.
In fact, the list of influential artists would be incomplete without mentioning Leonardo da Vinci.
He has inspired many art fans through his beautiful paintings and even drawings of technologies that were almost 500 years in the future.
These include the drawings of automobiles, aircraft, and tanks.
Being a Renaissance artist, his most iconic paintings include The Last Supper and the Lady with an Ermine but he got much fame for creating the most famous painting,
The Mona Lisa. Leonardo da Vinci is known to have mastery in painting.
With his paintings, he has influenced several artists and painters throughout history.
Michelangelo is a renowned Italian painter, sculptor, and architect who has influenced a lot of sculptors and painters of the time through his incredible mastery.
His few artworks including "David" and "Sistine Chapel Ceiling" are considered the best in the world.
This artistic genius of all time created such masterpieces that guarantee him a place of honor in the history of painting.
Another artist who has graced the world of art is Rembrandt van Rijn.
He is famous for his passion for still life portraits and paintings.
Along with this, he was also known for his artwork of genre scenes, landscapes, animal studies as well as historical scenes.
This Dutch painting genius has created several paintings that are known for the innermost thoughts and emotional content.
He usually applied the painting techniques of Caravaggio in his pieces of art.
In short, he is the greatest visual artist in the history of Dutch Art.
Artemisia Gentileschi, an Italian painter, is one of the first female artists who saw a huge success in the field of art.
Her role in art and her incredible skills have helped her to make a mark in the history of art.
She was the first woman who became a member of Accademia di Arte del Disegno.
She was known for her explosive as well as dynamic paintings.
Creative thinking and determination combined with technical skills, all can be found in the artwork of Artemisia Gentileschi.
Claude Monet is one of the most influential visual artists in art history who was known for drawing the countryside in most of his paintings.
While he was in Paris, instead of copying other artists in his work, he used to sit by the window and document everything that he saw including the changeable effects of light on the landscape.
He is said to be the best-known artist among Impressionists!
One of the most important figures of art history is Johannes Vermeer who was known for his beautiful drawings where he used to represent light as a tangible object.
He was famous for genre painting and even made a success from this.
The fact is he is one of the greatest artists of all time who influence lives on today.
If we discuss the Northern Renaissance, a name that always comes to our mind as a visual artist is Jan Van Eyck.
Jan was a respected artist of his time and still, most of his works are copied by the artists of today.
He was famous for creating some incredible pieces of art including Dresden Triptych, Crucifixion, and the Last Judgment diptych, The Fountain of Life, Annunciation, and much more.
His Portrait of a Man in a Turban got much fame.
He was the only painter in the era of the Northern Renaissance who used to sign his paintings.
Vincent van Gogh was a remarkable painter who was known for his unique bright color relationship and brushwork in his paintings.
He was born in the Netherlands.
Most of his paintings got success but especially still-life portraits earned him a huge success.
He used to draw the portraits of his friends.
In fact, his paintings are said to be the most beloved and famous of all time.
The next important artist in our list of world-famous visual artists is Raphael.
He is a great influential artist who became very popular in his time as he was a young artist.
Besides, he created many beautiful pieces of art that are still remembered and copied by the people of this age.
His most famous artworks include:
The School of Athens
Sistine Madonna
La belle jardiniere
Transfiguration
The Triumph of Galatea
The Portrait of Baldassare Castiglione
JMW Turner is a well-known British romantic painter whose outstanding pieces of work continue to thrill people after their initial creation.
Played with colors, brushes light, he was able to create some remarkable artworks, made with oil paints and watercolors.
His paintings are full of bold colors and brush strokes.
The painting techniques that he used in his work made his artwork a roadmap to modern art!
Another visual artist of all time is Auguste Rodin who is known as the best sculptor of the modern era.
This dedicated and hardworking sculptor used clay and model stone in his artworks to make them unique and famous of all time.
He is, in fact, an accomplished artist who never stops working with landscapes, nudes, still life, and portraits.
One of the most influential French visual artists of all time is Edgar Degas.
First, he studied law as wished by his father but he ended up with painting.
People know him for his pastel drawings as well as an oil painting.
Prominent in the Impressionist group, Edgar Degas fills the gap between traditional art and the radical movements of the 20th century.
His paintings are known for his ability to include the subject of dance and movement in his work.
Most of his work depicts dancers.
Born in Florence, Donatello was a great Italian sculptor of the Renaissance.
Known as the greatest artist of the 15th century, Donatello, he was quite skilled at working with bronze and marble in his artwork. His most important works include the sculptures of St. George and St. Mark.
Another world-famous artist is Titian. He was one of the renowned Italian artists who live in the hearts of people to date.
His beautiful pieces of art, painted with extreme attention to detail, represent the religious scenes.
The next most influential artist is Marcel Duchamp who has a great role in the Art Establishment of the time.
He is included in the list of those artists who have left their mark on the art world.
Known as the "Father of Modern Art", Paul Cezanne was a famous artist and painter.
He was known for his beautiful artworks including basic shapes and forms.
Through his work, he always tried to fill the gap between the Impressionism of the 19th century and the new line of art in the early 20th century.
People know him because of his search for solutions to the problems of representation.
One of the best and famous visual artists is Rene Magritte.
Through his artwork, he has influenced several musicians and painters as he used to create various witty as well as thought-provoking images.
Another artist of the early 20th century is Tamara de Lempicka who used to display rich and vivid colors in her paintings to make them attractive and unique.
The next influential female artist is Mary Cassatt.
She created attractive paintings and drawings using bright colors and loose brushstrokes.
People used to praise her work due to her focus on mother and children in her drawings.
In fact, she wanted to depict the feeling of motherhood through her work.
All the paintings of Mary Cassatt on the subject of motherhood continue to mesmerize us till date.
Conclusion
So these are the famous visual artists who are not only known for their style but their work is still fascinated by the art world.
We understand that most readers will not fully agree with the list but this list is only intended as a tribute to art, keeping in view the influence these artists have on the development of art movements.
These artists have adopted some incredible techniques to create a maximum effect in their artwork. Having a profound impact on art, all these artists have created amazing masterpieces.
They have not only pushed the boundaries but have also made some great innovations.
Remember art is not something that every person can comprehend.
It is much difficult for an artist to disclose his/her artwork to the people and communicate the message that he/she wants to show through the work.
The contribution of all these artists (mentioned above) in the field of art has made them popular.
Question of the Day: What do you think is the greatest artist of all time? Tell us in the comments section!